Embroidery Hoop Christmas Wall Decor
We've decorated with embroidery hoops before. I mean, why not?-it's not like we know what their real purpose is for, lol!  This was an easy craft to create…I wanted to use a pretty piece of white fabric for my backing.  Buuut, my 9 year old daughter had chopped up my last scrap to make mini doll blankets.  So, I used transfer tape.  Yes, transfer tape!  I didn't know if it would work but it did!  Like a charm!  Here's my easy tutorial for Embroidery Hoop Christmas Wall Decor!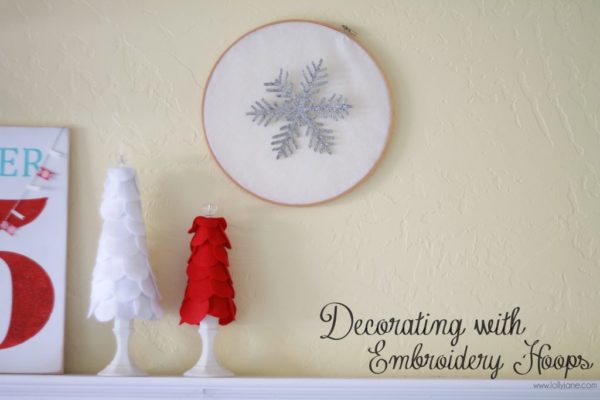 And here's how my fully finished mantel looks!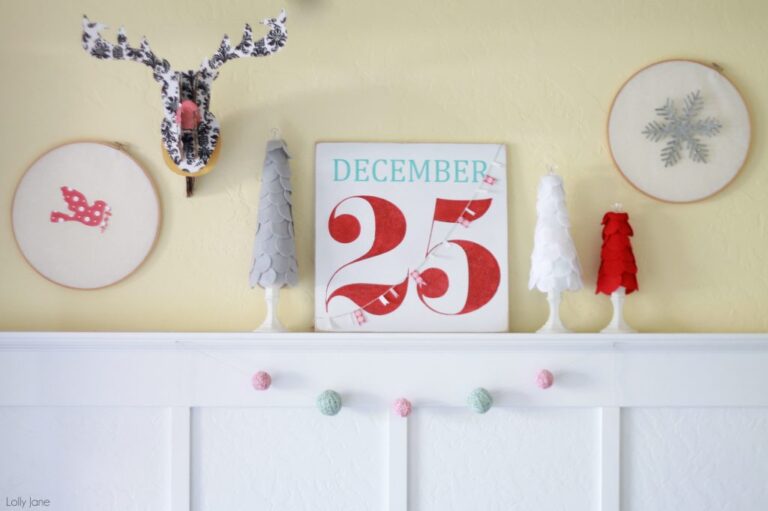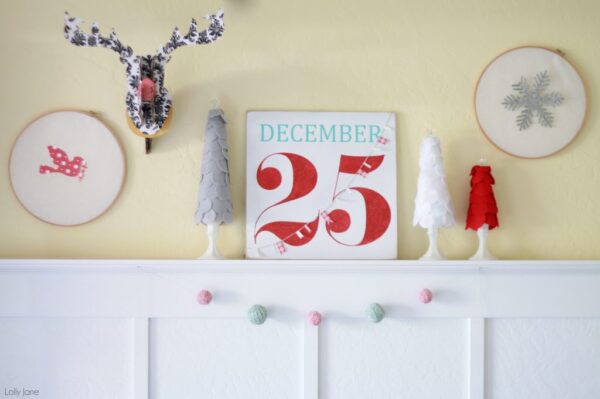 Reeeeeeeally simple this year!  I realized when I was pulling out my 3 Tupperware's of holiday goods that I really don't have a lot of decor.  And I'm okay with that!  Less to clean up (;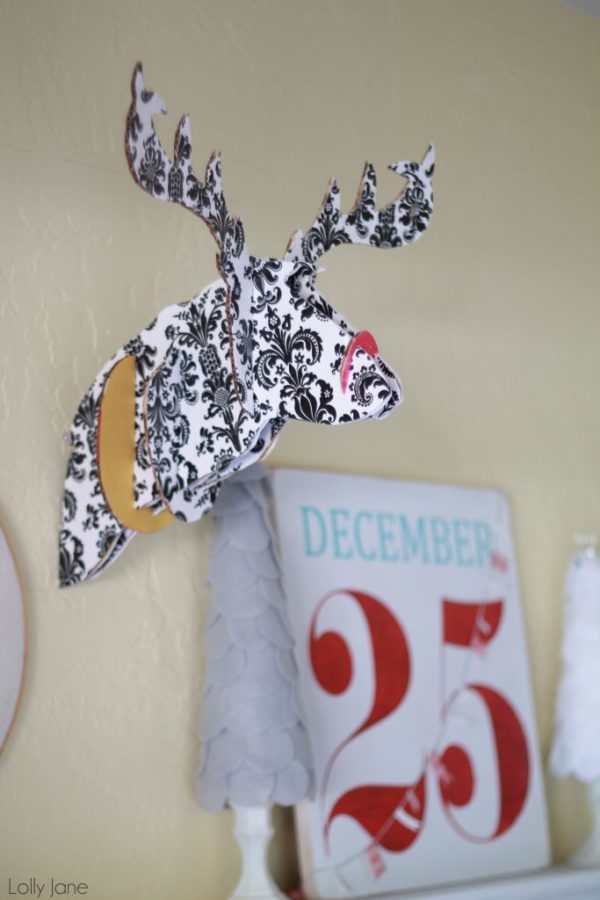 Are you cracking up at our fancy little Rudolph?  He's just diaper boxes recycled into this fun little DIY deer head!  HERE is the tutorial to make your own!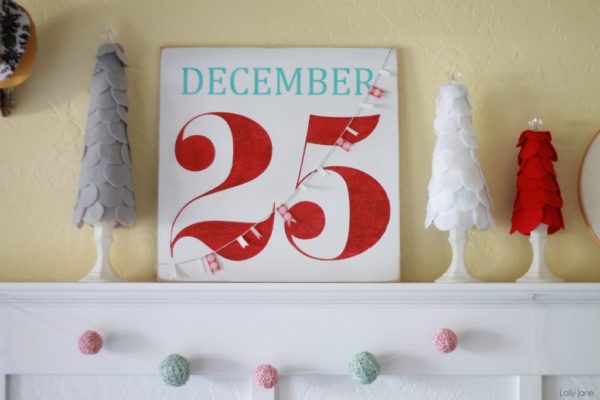 We shared the tutorial for this cute sign on Heidi's blog and guess what?!  We're doing a craft night in three days if you're a local and want to make your own!  We'd love to have you!  And that cute bakers twine garland and washi tape banner?  We have a tutorial on how to make them as well.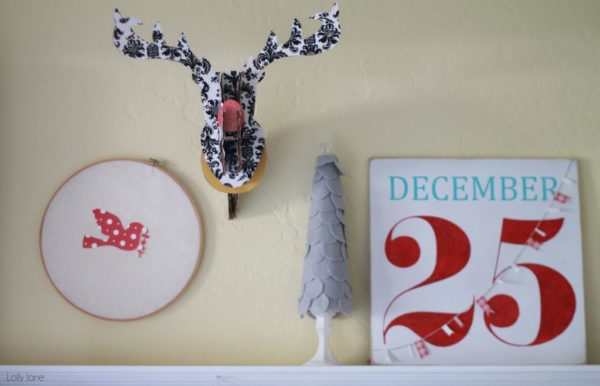 Alrighty, enough of the walk through!  Here's how to make your own embroider hoop Christmas wall decor!
Supplies:  You need an embroidery hoop, some transfer tape (or fabric), scrapbook paper and tape!  That's it!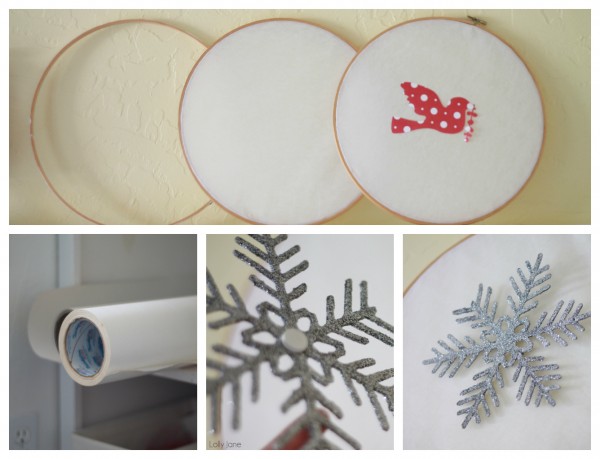 Directions: Cut transfer tape and place in between embroidery hoops, tighten.  Use a light weight object or scrapbook paper to mount onto center of hoop.  I used a snowflake from my big $10 box of ornaments, best score last season!!  For the other hoops, I eyeballed an image of a bird online, traced around it then cut it out and mounted it.  As long as it's light enough, you can put anything with any color scheme up there.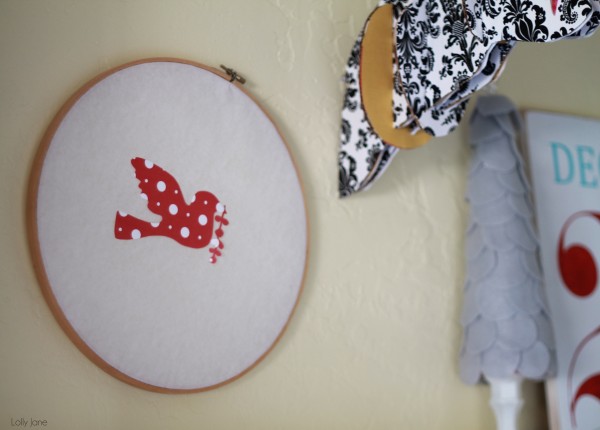 Pretty stinkin easy, right!?  That's what I call decorating like a cheapskate…but not looking like one, haha!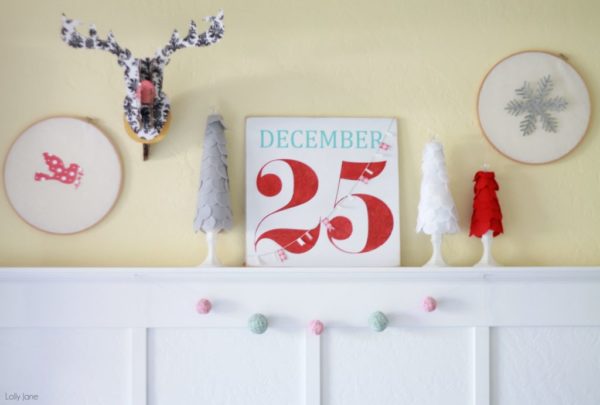 Be sure to check out the rest of our Christmas tutorials and recipes as well as our a couple fun roundups we've put together to help you decorate for Christmas!!
Top 25 Craft Christmas Trees of 2012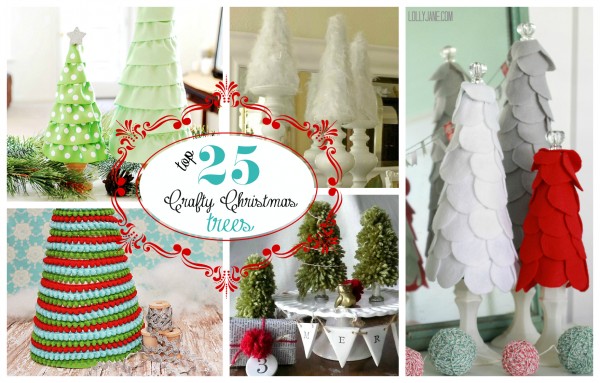 30 DIY Christmas Advent Calendars of 2012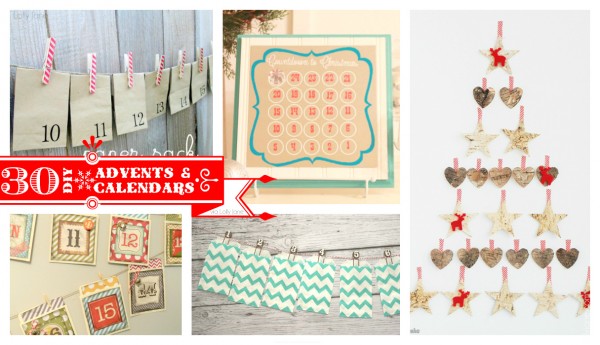 Have YOU decorated for the big day yet??