Learn how to create a DIY boho basket wall by adding wicker plates on the wall with small finishing nails. Such an affordable way to fill a wall!
We recently made over our dining room and had way too much fun in the process! If you missed it, head to our Instagram stories for lots of fun details like this wicker basket decor!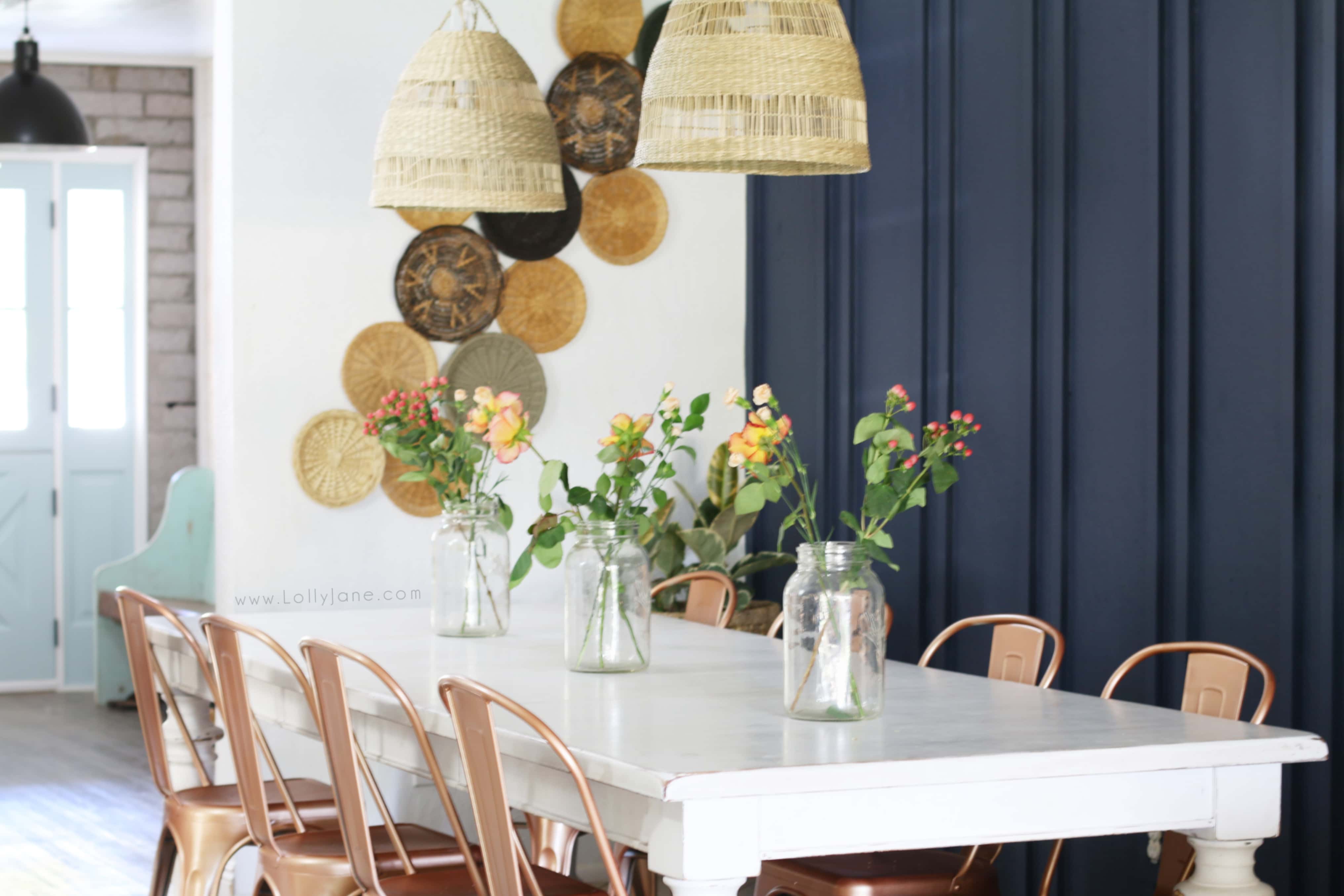 We started by creating a trendy double batten wall treatment which changed the look of the whole room! We painted it a pretty navy hue which made our light and airy farmhouse decor look out of place.
We decided to create a boho farmhouse vibe by adding natural elements to balance out the moody wall.
We swapped the aqua pendants for pretty basket pendant shades and spray painted the aqua to white.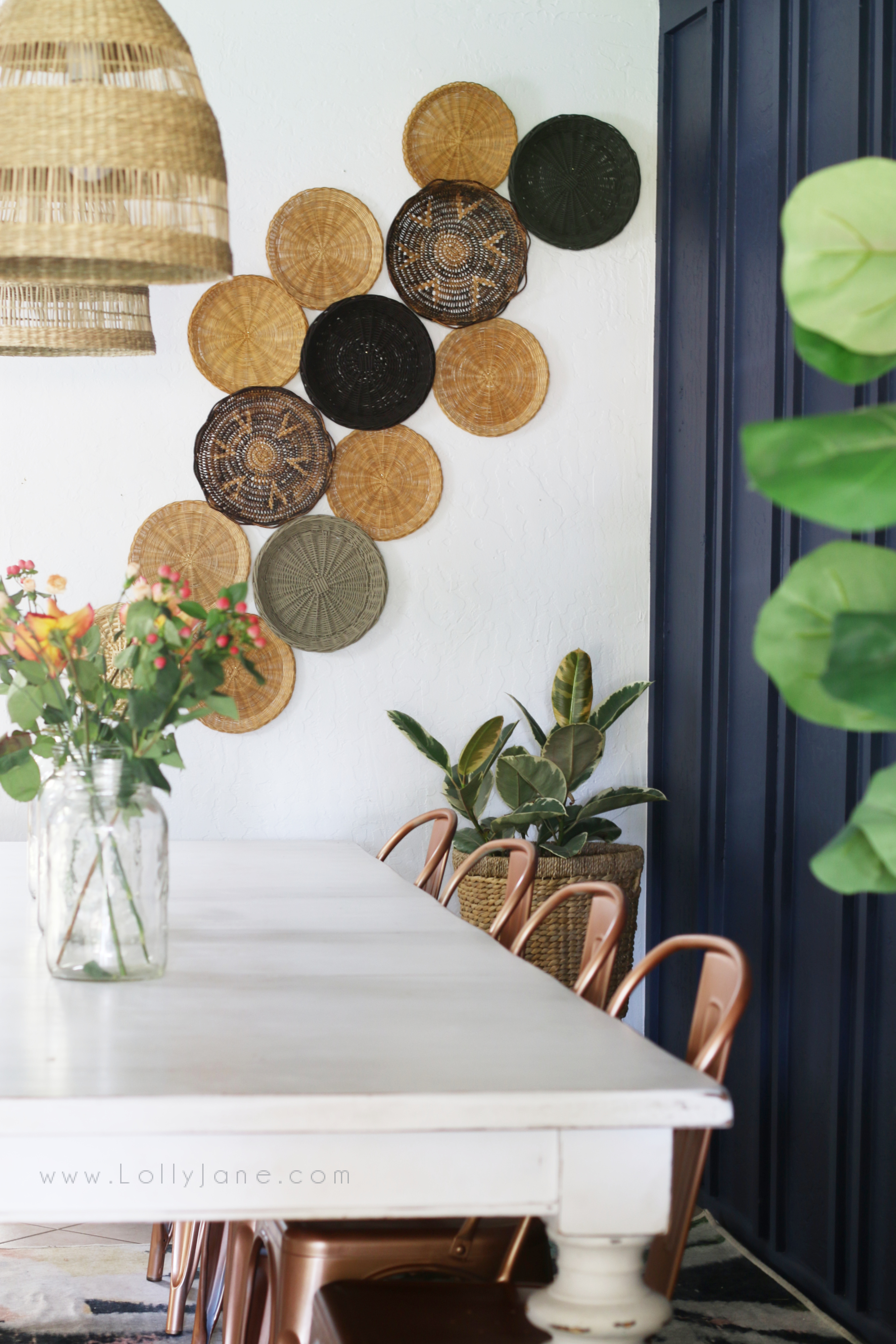 We also spray painted the aqua chairs to a pretty rose gold color which totally changed the whole look of the room!
After taking down our letterboard ledge (sob! sob!) and adding a wall treatment of thrifted plate holders, the transformation was complete!
Since basket walls are trending, we thought it would be fun to share how we created this boho style wall for just over $10.
where to find cheap wall baskets
We started by hitting up a couple local thrift stores, looking for neutral plate holders. The store bought baskets were around $22/each and sets on Etsy go for up to $65. EEK, no thank you!
I found 4 for $1/ea at the first thrift store then I lucked out and found a set of 7 for $6! I found 2 more with pretty scallops and subtle pattern inside for $1.50/each.
Don't underestimate THRIFT STORES!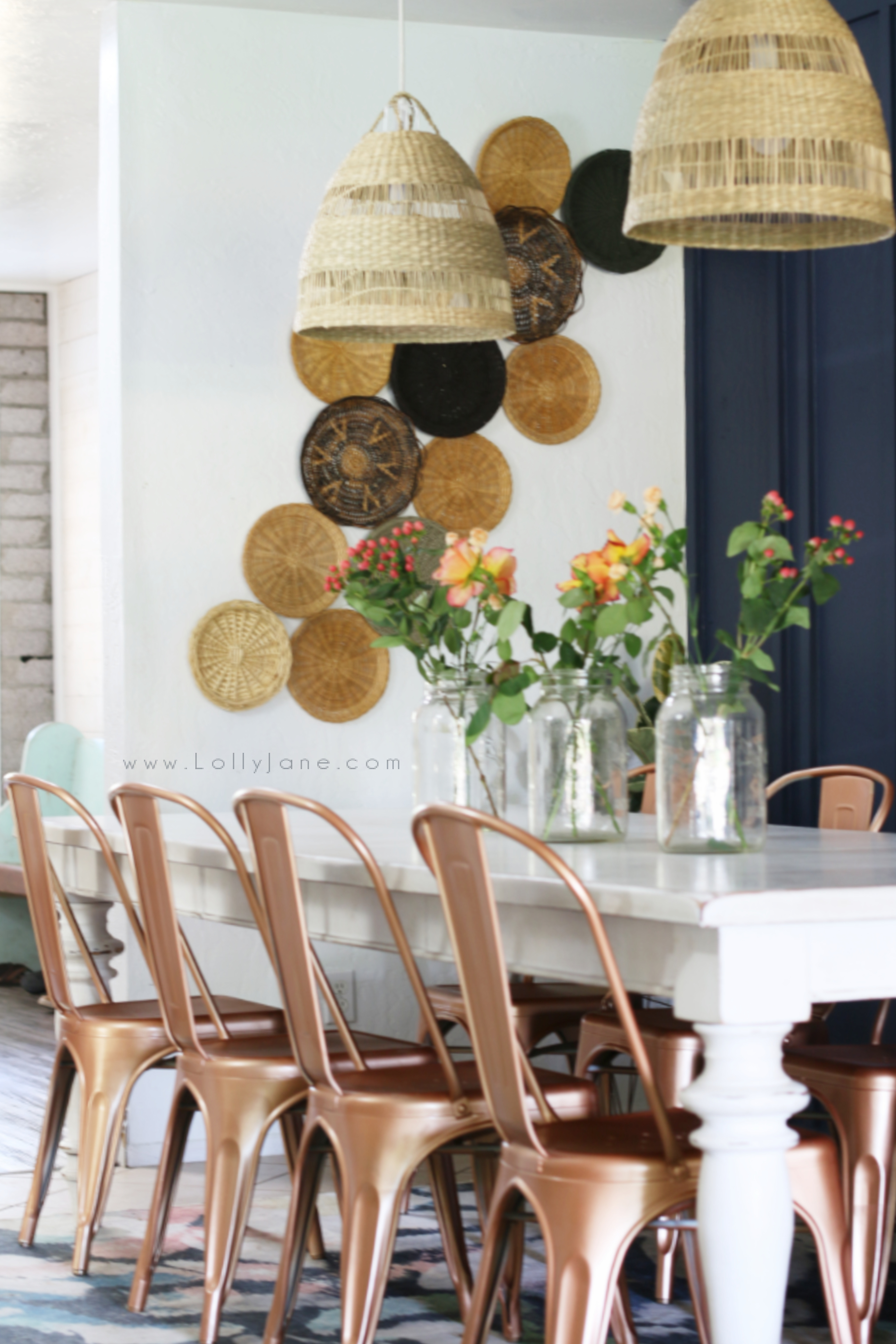 Since the thrift shops I visited are non-profit, there wasn't any tax so I spent $13 for 13 baskets total…I was pretty excited! Especially since I swap styles a lot and am not sure how long I'll keep the boho vibes around ??
Visit more of our wall decor ideas
Three of the baskets came in some pretty bright colors so I scoured my paint stash and found some camo colors. It was a gamble but they couldn't get any worse, matching-wise, so I sprayed them down and decided they matched perfectly with the rest of the baskets. Love this little diy basket wall boho style!
There are a lot of fun patterns people have styled their baskets on the walls with. We've pinned a few onto our home accessories board for more inspo! I decided to fill the wall for a minimal look and had the baskets trail downward from the corner of the wall.
how to create a boho basket wall
I started with the patterned one in the middle then hammered it in with a small finishing nail.
[WATCH THE PROCESS IN OUR INSTAGRAM HIGHLIGHTS]
I then filled the rest of the baskets around the main basket, trying to keep the same colors away from each other for variety.
It's hard to mess them up so get creative! Anything looks good ?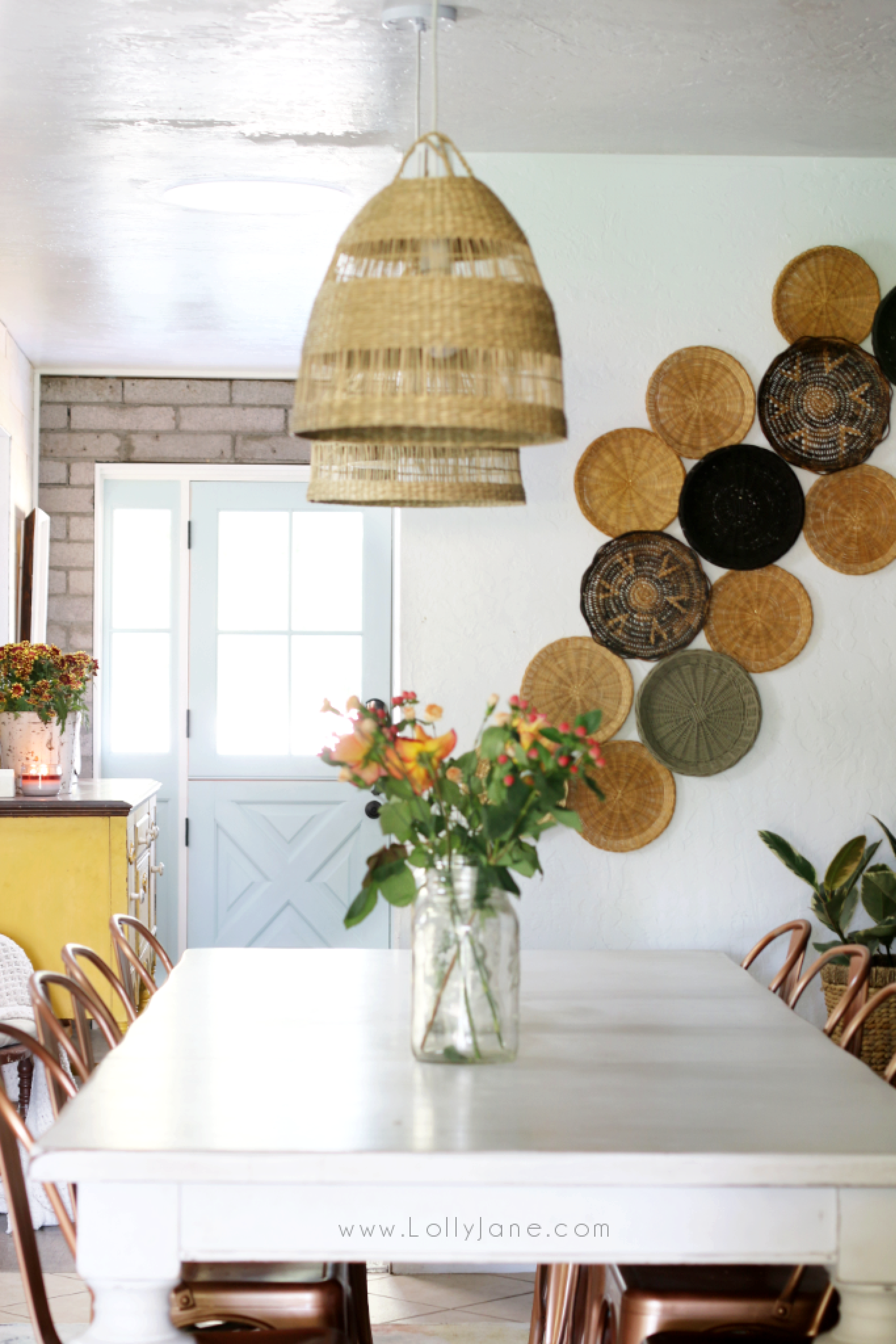 So what do you think? Are you a boho fan? Do you like boho basket wall art?
room source list
*May contain affiliate links which means we'll make a commission and NO extra cost to you!
where to buy boho wall baskets
If you'd rather buy wall baskets, check out Etsy. You'll pay more than thrifting prices but the talented sellers have some really pretty grouped baskets, ready to hang. You'll save time driving around then hunting the shelves! Or you can shop gorgeous baskets from Target but they add up quick!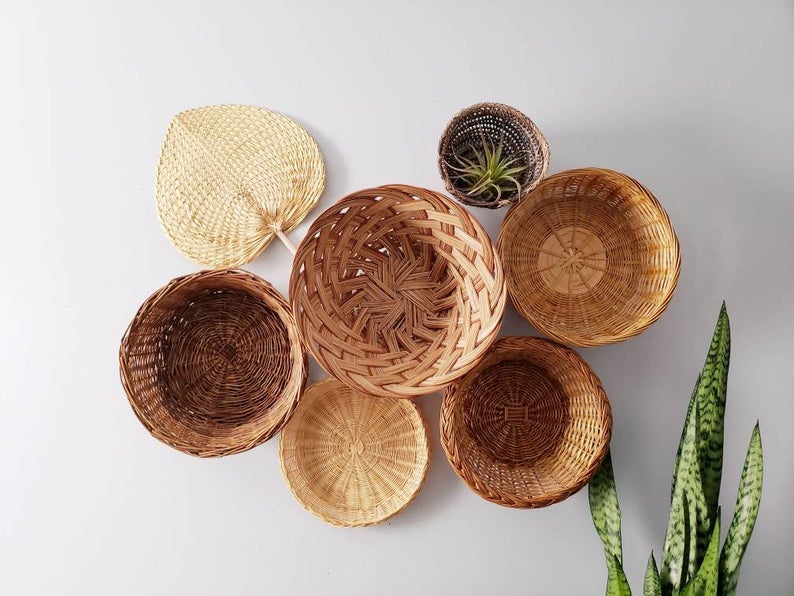 Ready to buy baskets via Griffins Art on Etsy
Check out some of the ready-to-buy boho wall baskets from Etsy, so darn cute!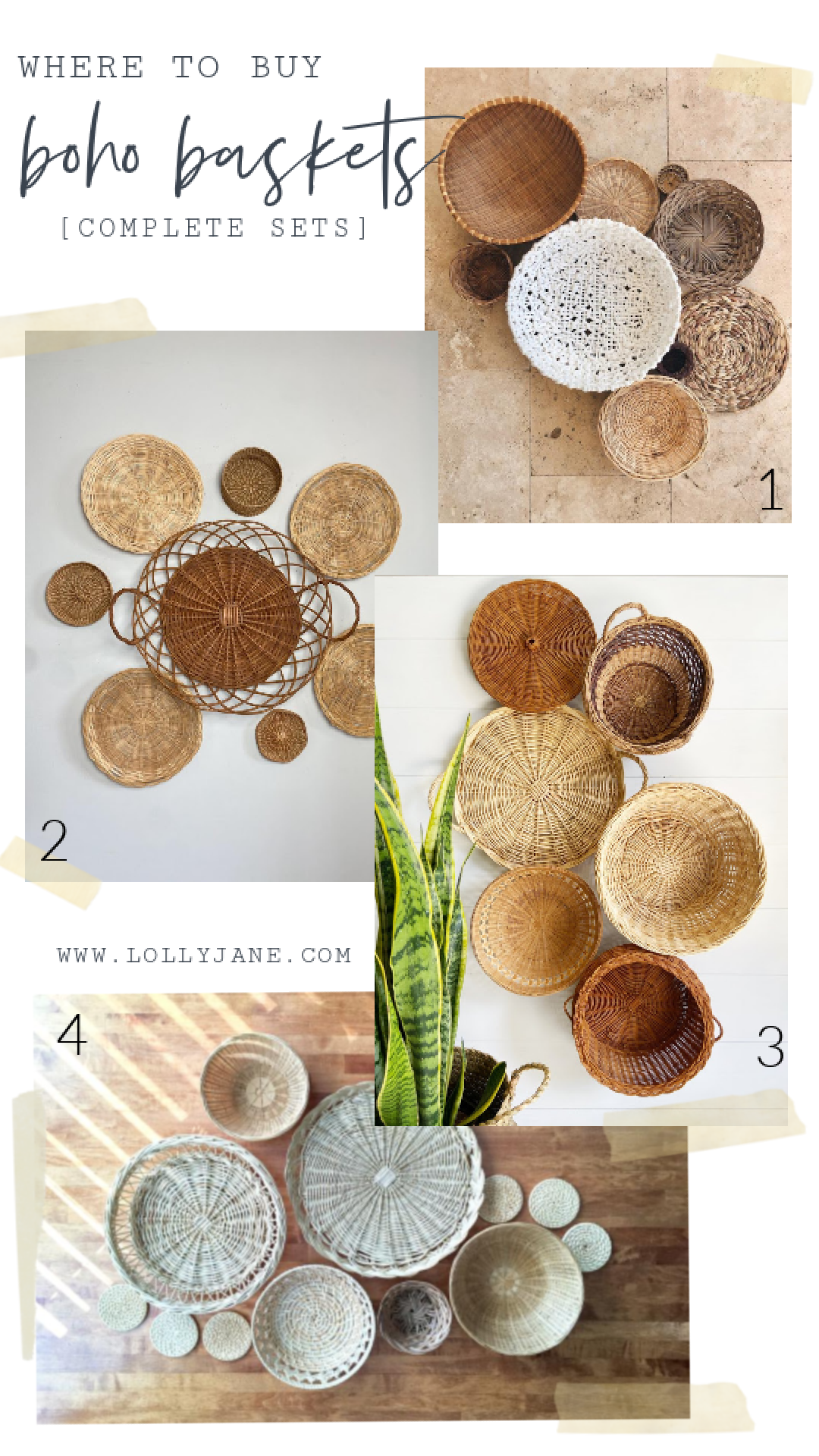 Style 1: Boho Beach Decor
Style 2: Refined Furnish
Style 3: A Riggs Artistry
Style 4: Jagas Attic
PLEASE PIN
We'd love for you to pin our easy to decorate boho basket wall so your friends and family can get inspired on the cheap, too! xo