Another big week here on Lolly Jane, starting with a major before/after.  This week I'm sharing my dining room reveal.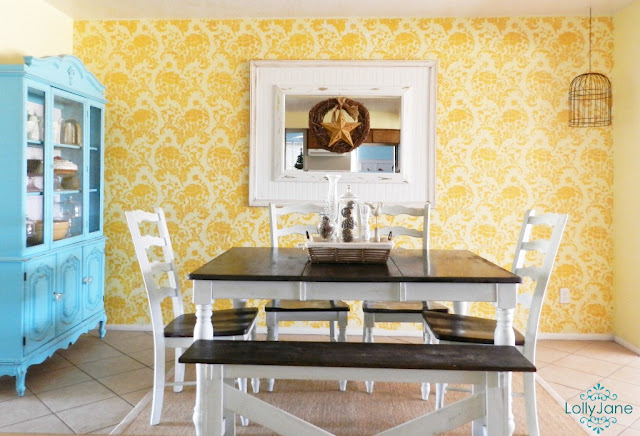 My completed dining room!  
SO glad to have this room checked off my list.  I think I'll get a bigger rug eventually but other than that, I'm happy with it!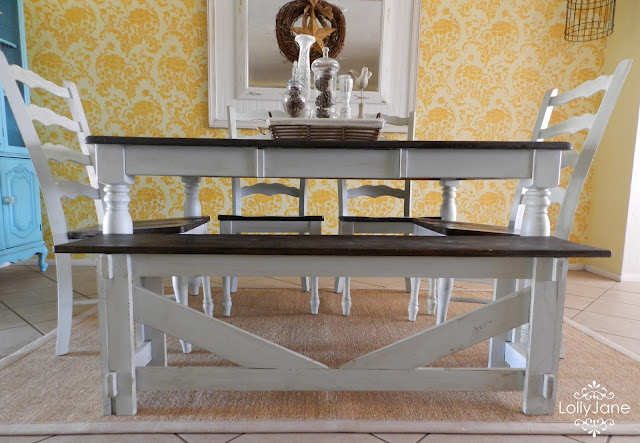 When I moved in 7 months ago, here is what I had to work with:
Left picture: you can see a bay window on the right side of the room.  We tore that out, opening it up into the previous "AZ Room" (which is now apart of the house).  Taking out that wall has added a couple hundred sq ft to the house and is the kids' new playroom/music room (piano on one side of the room). Right picture: the back of the pop out bay window which was torn out.

In this picture you can see how it flows from the front door now: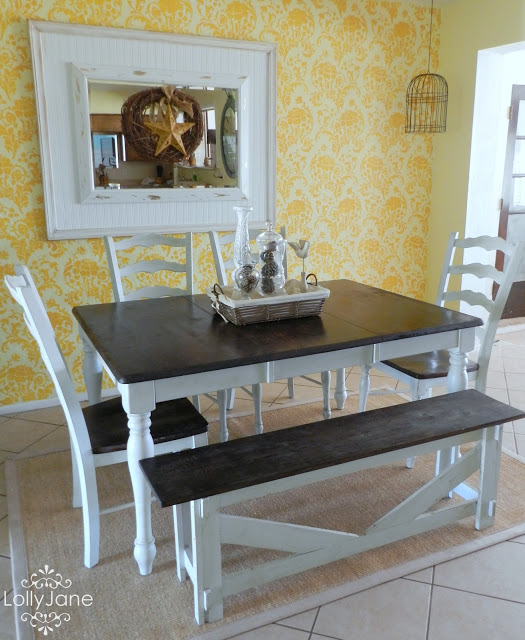 Loving it.  
Do you remember my turquoise hutch makeover? I love it paired with the top layer of mustard yellow on the wall…that mustard yellow bowl in the hutch was from my wedding nearly 10 years ago and it ties the colors together nicely, I think.  The color I used for the bottom coat is Sherwin-Williams Glad Yellow which Lowe's mixed for me, the top coat is a pretty mustard yellow called Jackson Square by Valspar.
I couldn't have completed the final look without the help of Cutting Edge Stencils.  And my honest-to-goodness review?  A+!  They're fabulous.  I truly think the stencil was very, very easy to use.  
BEFORE I got started, I actually took the time to read every page on the website.  Note: This is something I NEVER do, but I wanted to do it the right way instead of my typical impatient way 😉  I used the Julia All Over Stencil and studied all the tips before I began:
Pretty right??  I opted for one color this round but since the stencils are reusable, I'll go for the 2-tone next time.  
It was ridiculously easy.  Everyone that sees it thinks it's wallpaper.  All you do is tape the stencil up, starting at the top of your wall.  Use that level provided for accuracy!!  You don't have to wait for it to dry before you gently remove it and start the next block.  It's very forgiving and hard to mess up (:
If you're a nervous nelly, there are some awesome videos and tutorials they offer to help you along the way.  If I messed up, it was easy to hide (:  Also, the whole project start to finish was just 3 hours.  I timed one row, just for fun: 9 minutes!  Not too shabby.  Keep in mind my 4 kiddos were sleeping soundly as I worked alongside a movie.  I love the dining room now, such a fun and bright space to gather as a family for our meals:
FREE EMAIL COURSE
5 Low Cost Tricks to Make Your House Look Like $1 Million
It's Lolly Jane's 5 FAVORITE Tricks to spruce up your space affordably.

Don't miss these!