Tomato Cage Ghost Tutorial
Ready for the easiest and cheapest (and cutest!) Halloween decorations? Easily transform ordinary tomato cages into ghosts and witches for easy Halloween decor!
Have you seen the viral Halloween tomato cage ghosts floating around Tik Tok? We finally made them and they're SO easy and so darn cute! Why didn't we make them last year? Darn!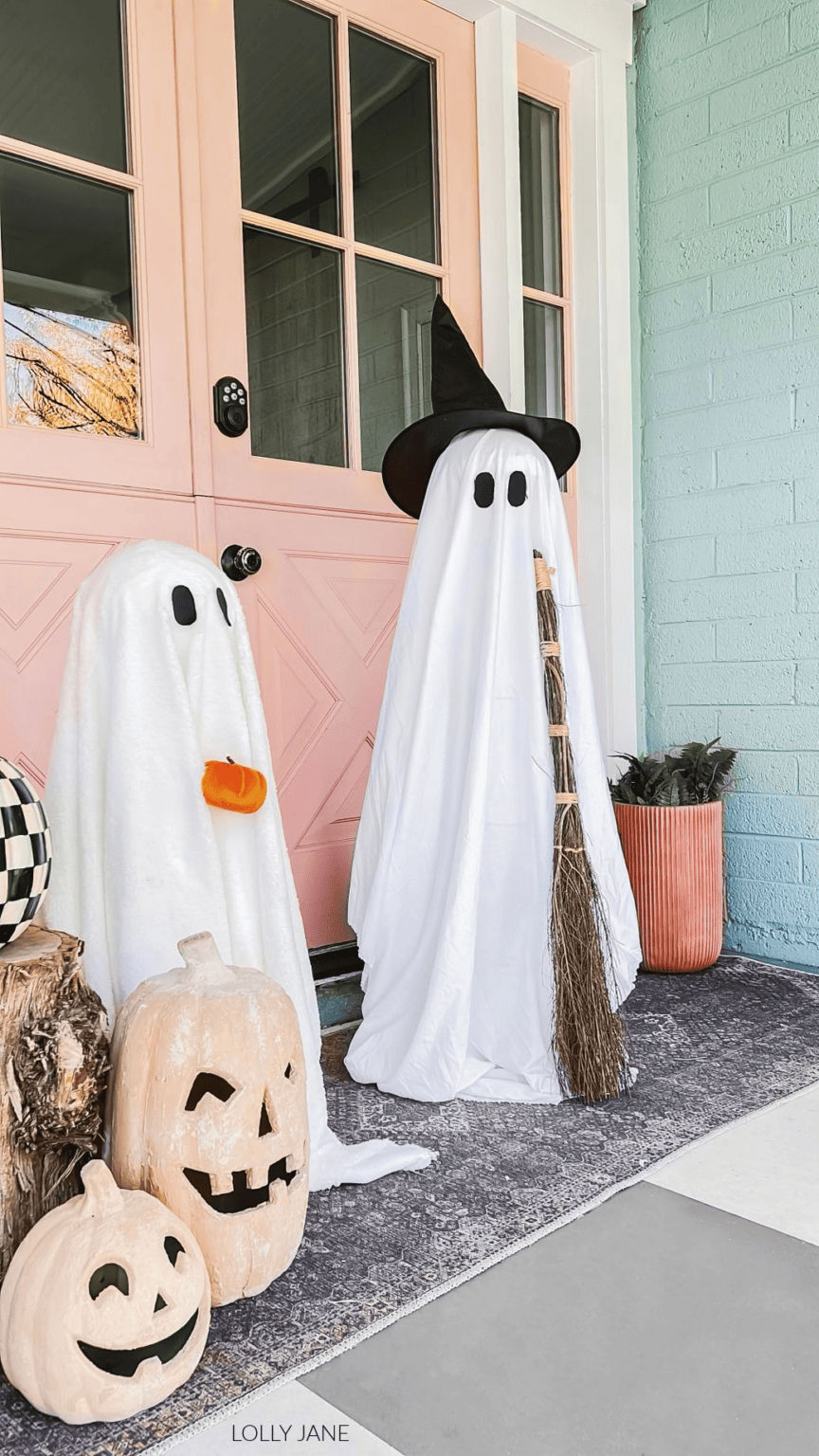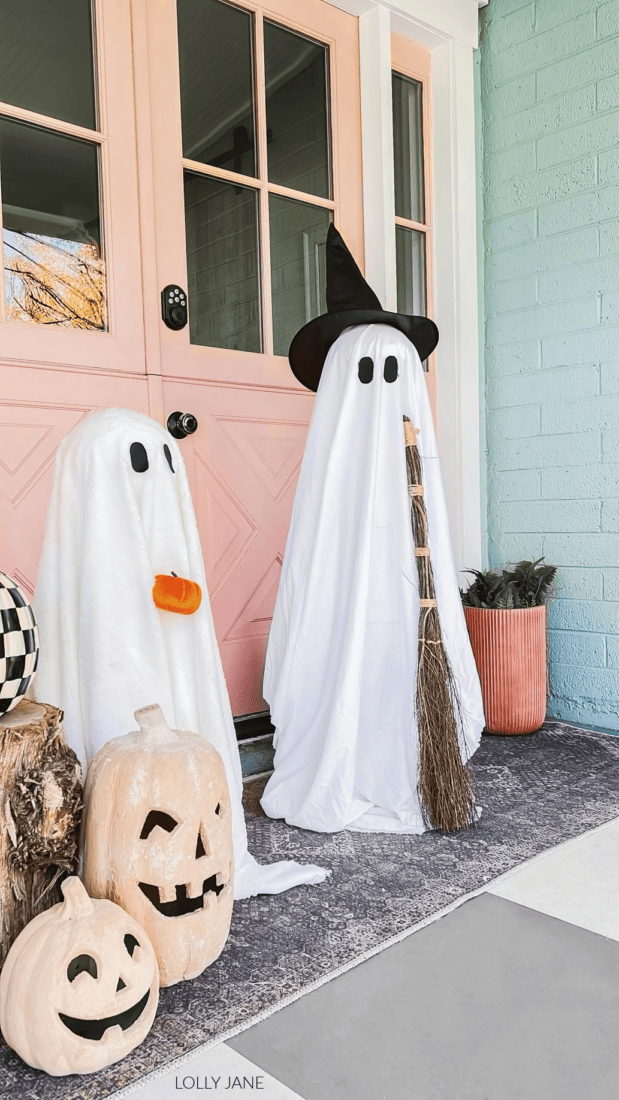 Let's dive right in and bring a ghostly guest to your front yard! BONUS: We made a friend for the ghost and created a Tomato Cage Witch!
DIY Tomato Cage Ghost Supplies
You only need a handful of quick goods to make a ghost. You may even have them all on hand!
How to make a Tomato Cage Ghost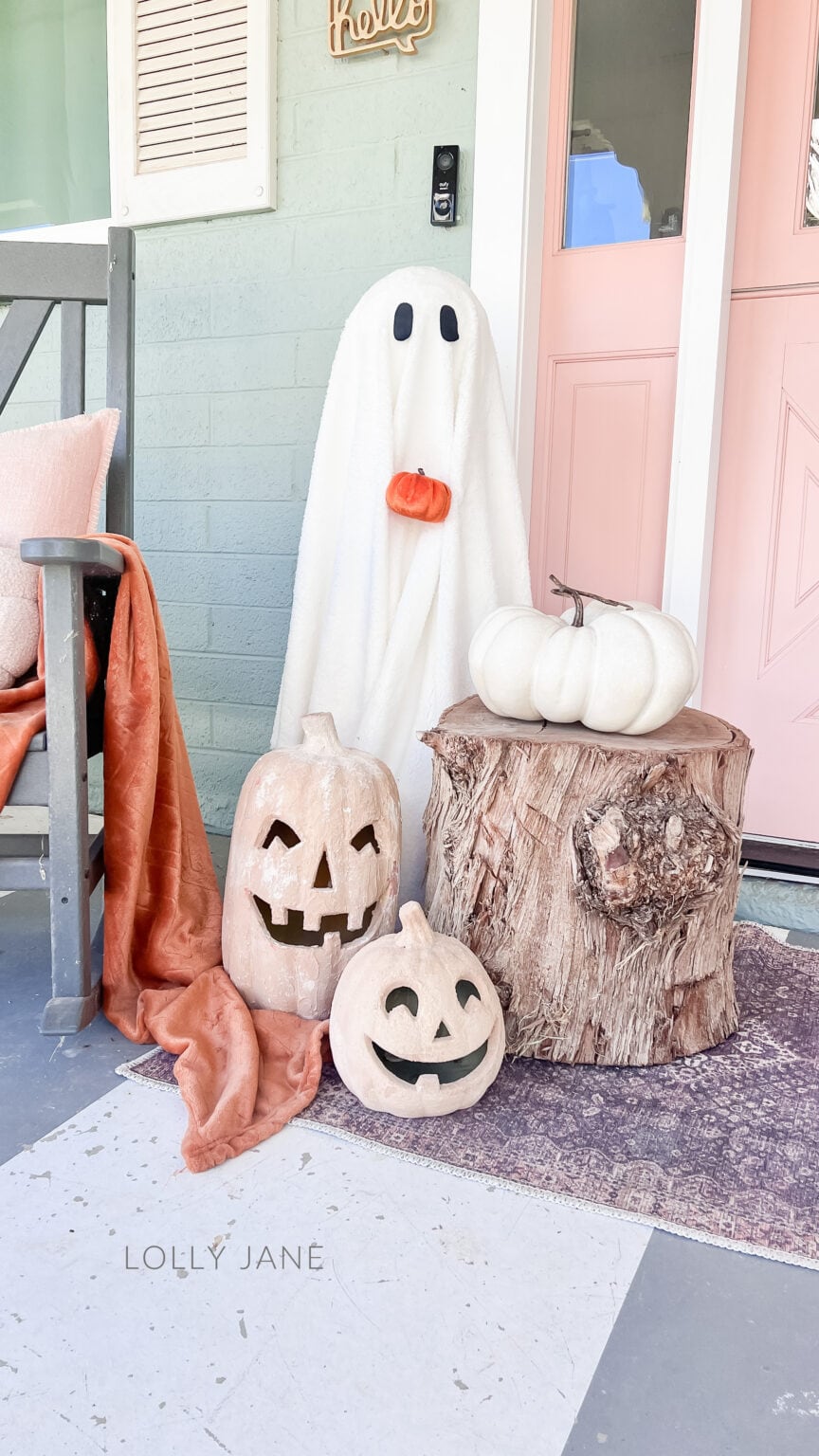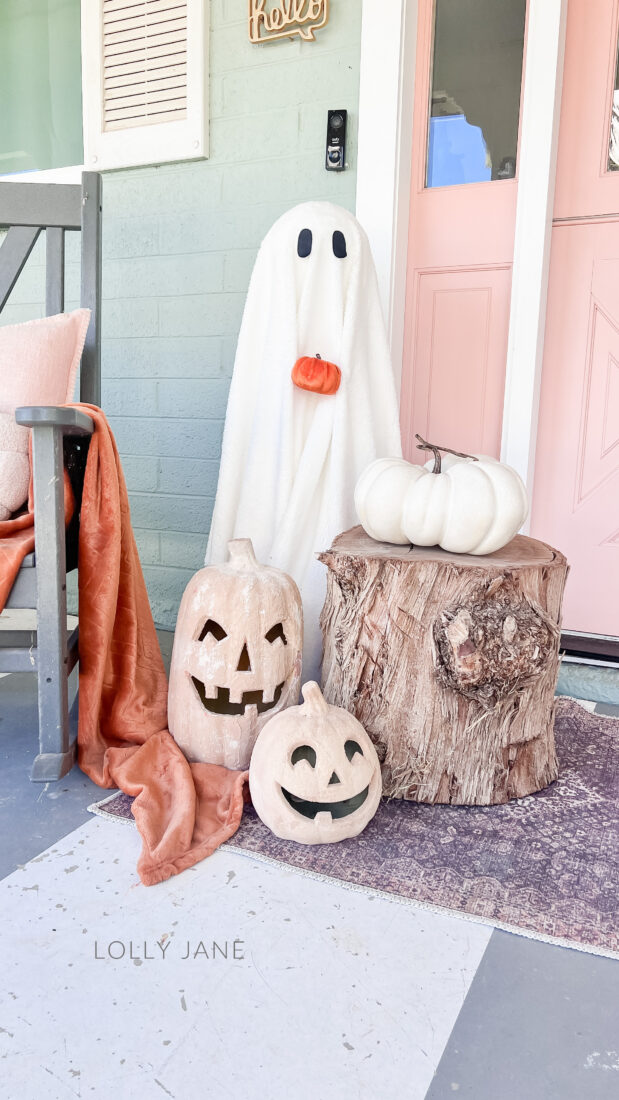 Step 1: Select Your Tomato Cage 🍅
First things first – find yourself a tomato cage. You might already have one lurking in your garden. If not, head to your local garden center or home improvement store to grab one.
Step 2: Dress Your Cage 👻
Grab that sherpa or teddy bear fabric, white sheet or cheesecloth – it's time to give your tomato cage ghost some ghoulish attire! Drape the fabric over the cage, ensuring that the top is covered completely and the rest cascades down like a ghostly gown. Secure the fabric at the top and bottom with some twist ties or ribbon if you live in a windy state.
Step 3: The Faceless Fright 😱
Part of the charm of your Tomato Cage Ghost is the playful face!. Use felt to add matching eyes. Don't be afraid to get creative with it – your ghost's expression sets the mood for your Halloween display!
BONUS: Mimic the viral Gus the Ghost pillow by adding a small pumpkin to your ghost. Simply glue the fabric to either side of the pumpkin so it looks like he's holding it. So cute!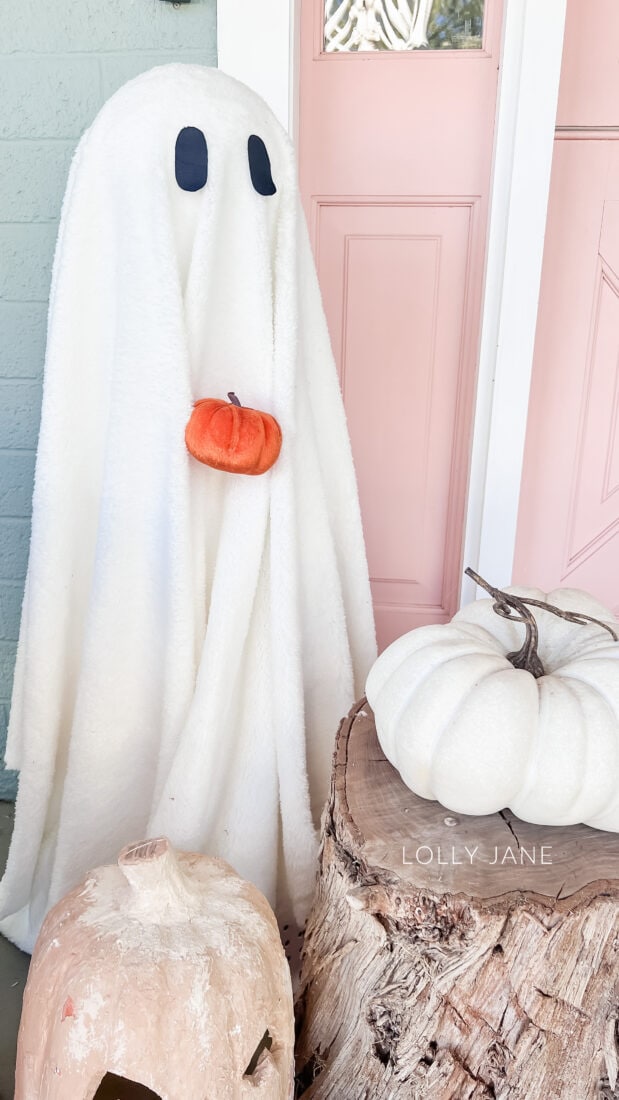 Step 4: Light Up the Night (Optional) 💡
If you want to take your Tomato Cage Ghost to the next level, add a string of clear lights inside the cage. Secure them with tape or twist ties and let your ghost glow with a supernatural charm. It's the perfect way to make your ghost visible even in the darkest of Halloween nights!
Step 5: Display Your Spirit 🎃
It's time to show off your creation! Place your Tomato Cage Ghost in your front yard, on your porch or wherever you want to spookify. You can even make a whole family of them for a more ghostly gathering!
How to Make a Tomato Cage Witch
Follow the same instructions to make the tomato cage ghost but add a witch hat and witch broom! So easy and oh so cute!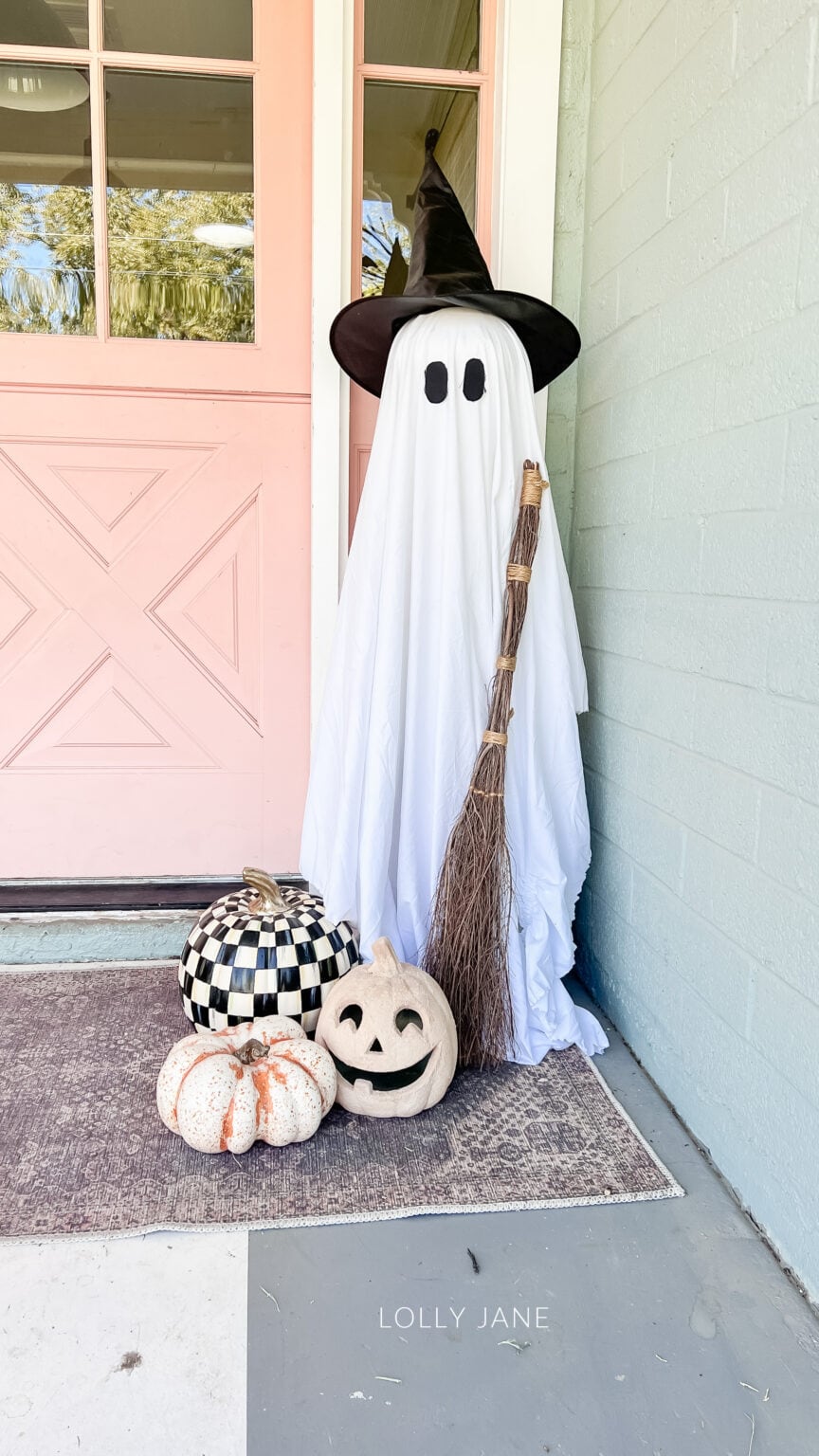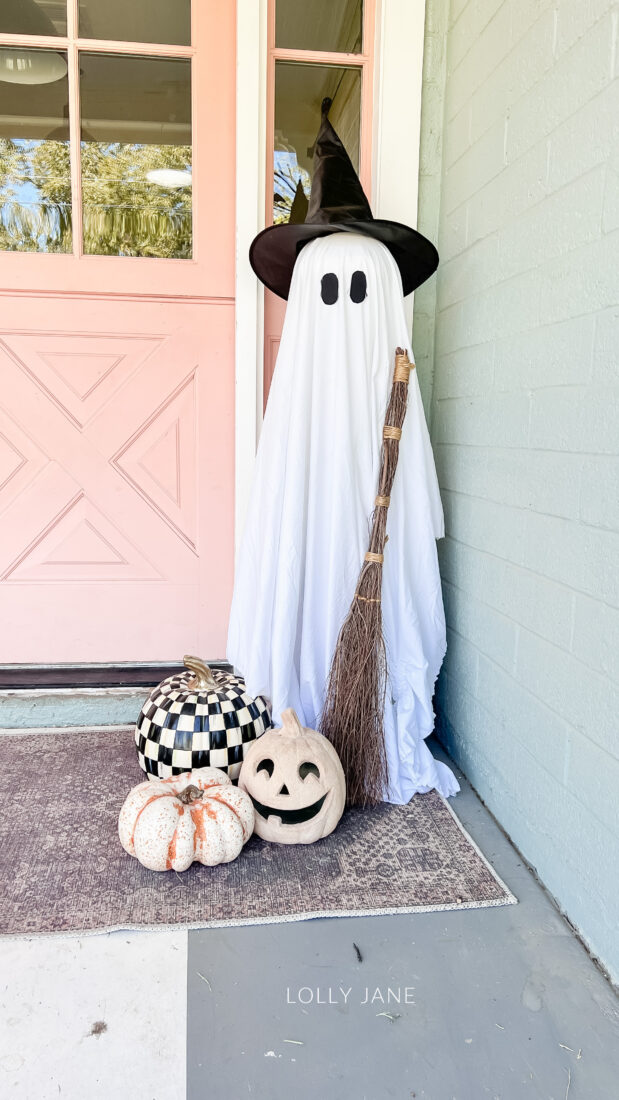 What other ghost characters could you make? Mickey Mouse ghost by adding mouse ears or a zombie ghost by adding strands of cheesecloth to name a couple, get creative!
👻 Now that you've just crafted your very own Tomato Cage Ghost Halloween decoration, add it to your porch for easy Halloween porch decor! Happy decorating!