As easy as (Halloween) pie! Make these spooky hand pies in an hour, makes for a great breakfast treat or addition to a festive party… add a frosted glaze for a "pop tart" style dessert!
Halloween is just around the corner, and it's time to get into the spooky spirit. While costumes and decorations are essential, let's not forget about the most crucial element of any Halloween celebration… the treats!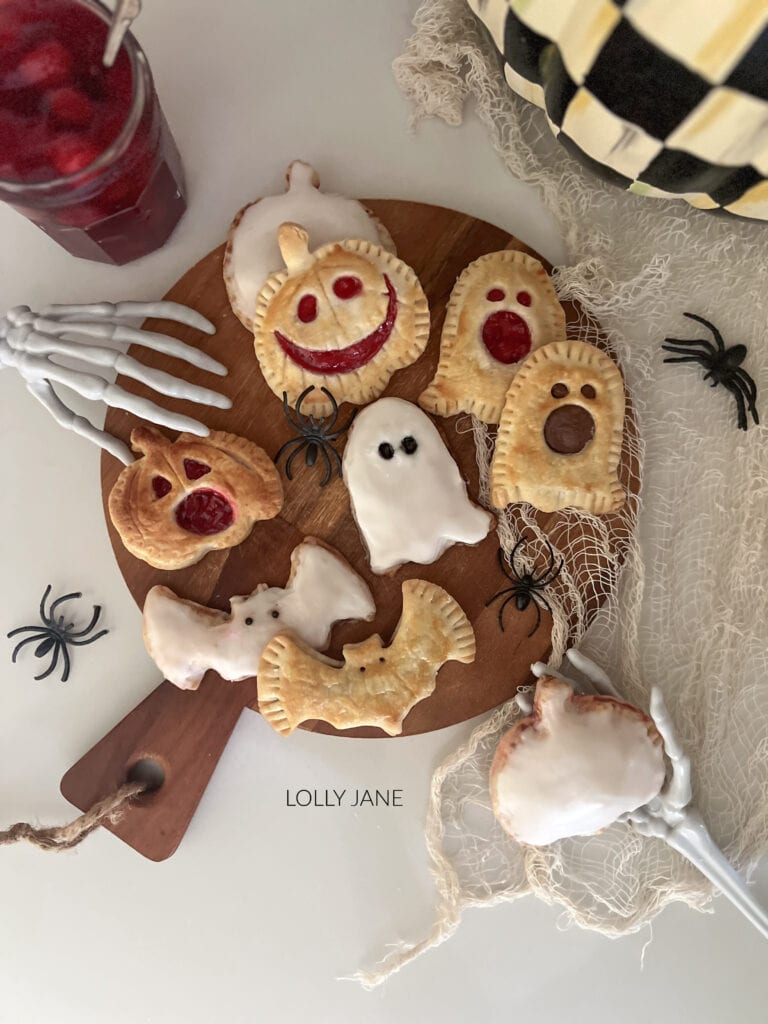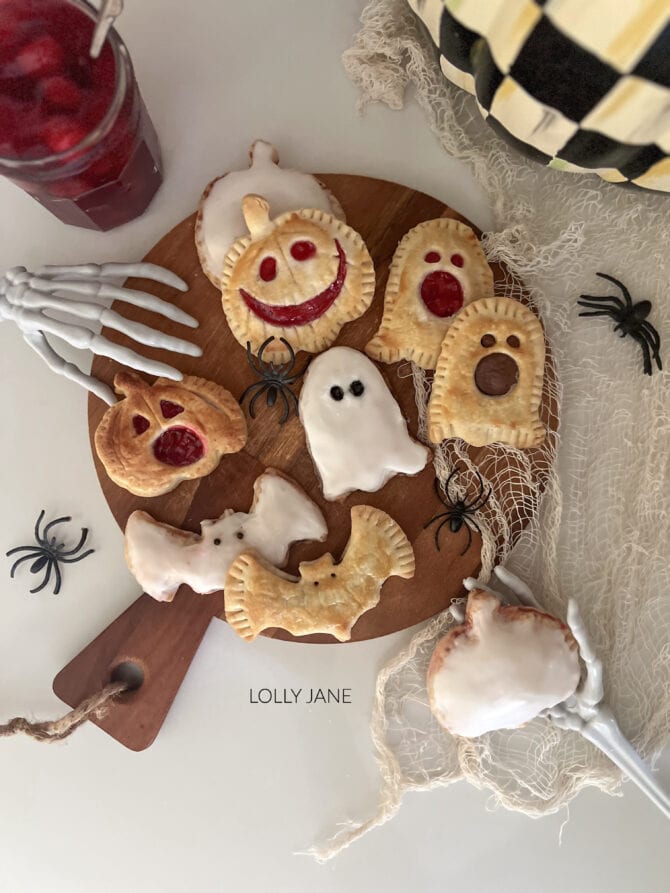 We've partnered with some of our creative friends to share festive desserts for any Halloween party or get together this spooky season! See our easy Halloween hand pie recipe below then visit each of our pals for even more tasty spooky foods!
Easy hand pies
Today we're conjuring up a whimsical, yummy, and super easy Halloween hand pie recipe that's perfect for a spooky breakfast or dessert at your festive party. We'll be using pumpkin, ghost, and bat cookie cutters to create these adorable, scrumptious treats that will leave everyone howling for more.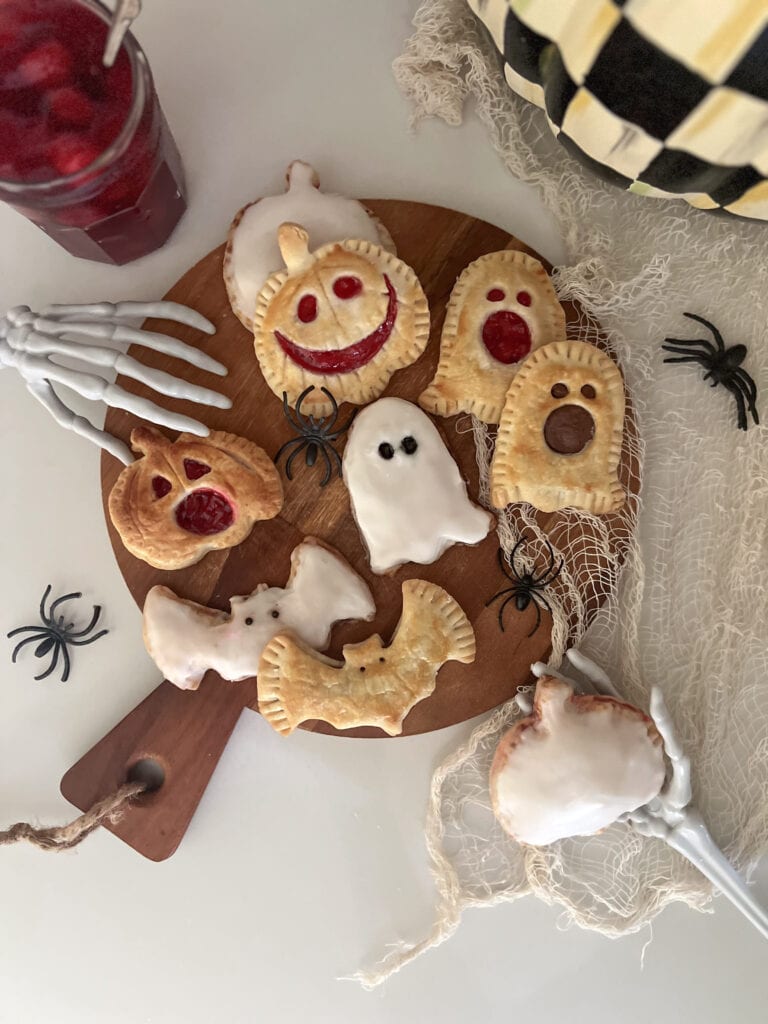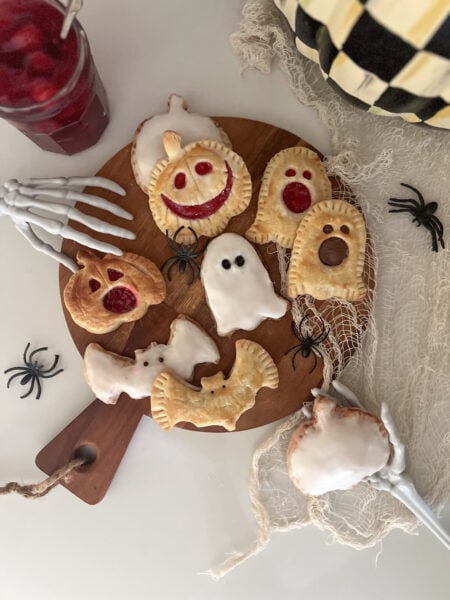 Instructions
Heat oven to 350°F. Spray cookie sheet with cooking spray.
Remove pie crusts from pouches; unroll on parchment paper (or lightly floured surface.)
Using 3-inch Halloween cookie cutters, cut 2 shapes from each crust.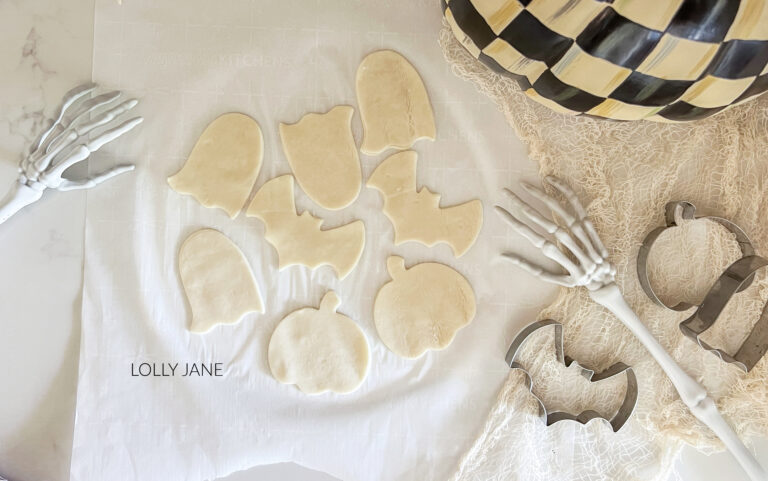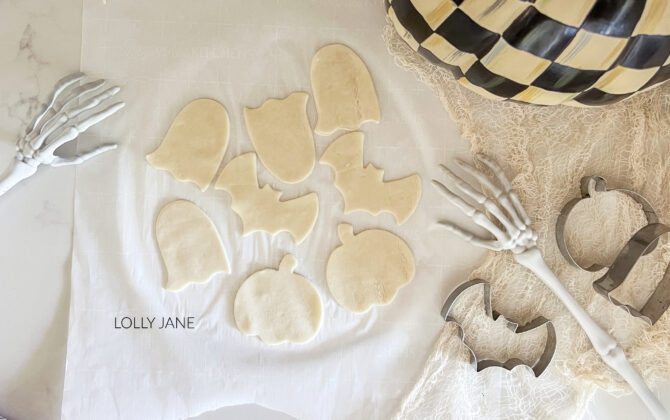 Optional: Cut out faces on pumpkin and/or ghost. I used a drinking straw for the round eyes, a bottle cap for the mouth, and a butterknife for the triangle eyes. Be creative!
Spoon or spread filling on each round to within 1/2 inch of edge: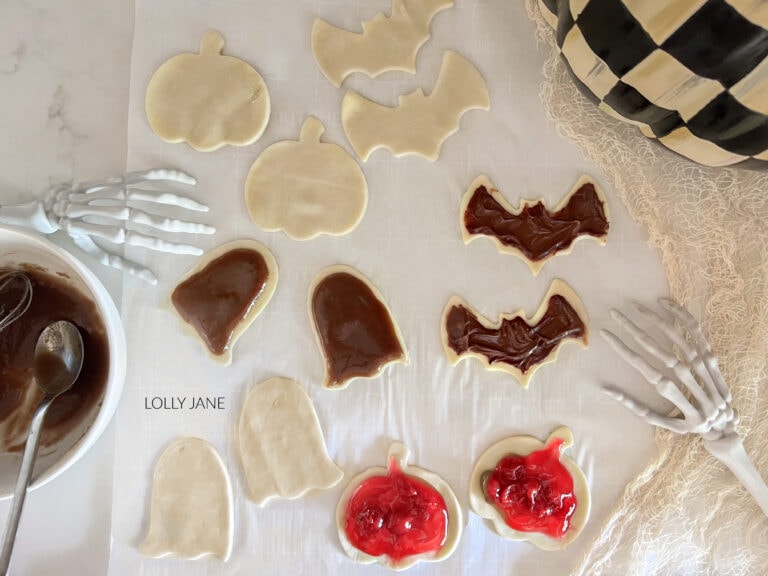 Brush water against edges of dough.
Top pies with remaining dough shapes; press edges together with fork to seal.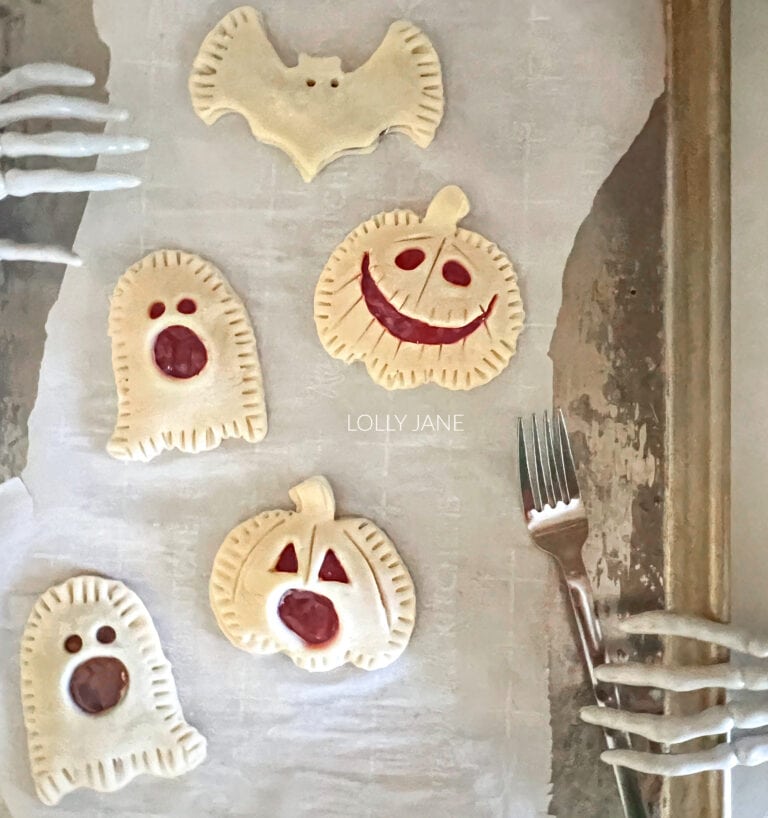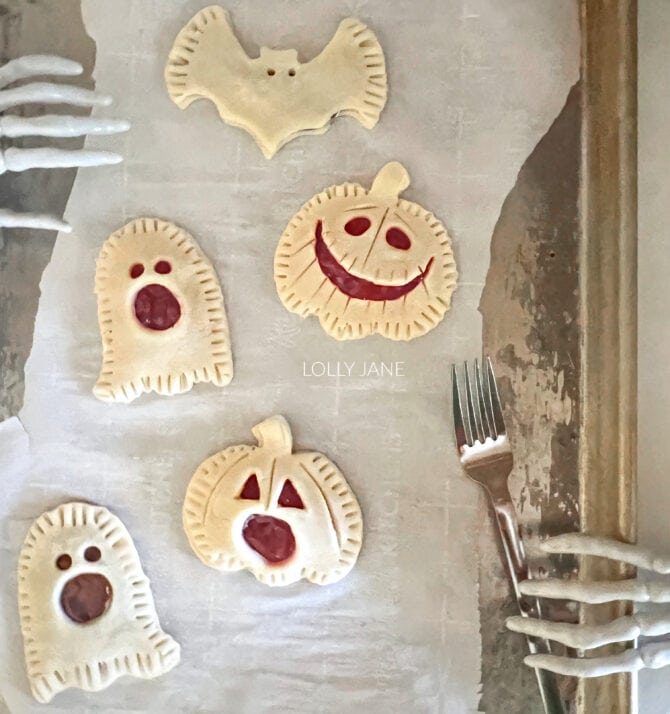 Brush with beaten egg.
Bake 12-15 minutes or until golden brown.
If adding a glaze frosting for a "pop tart" style treat, mix powdered sugar and milk to desired consistency and dip or spread onto hand pie. Let harden then enjoy!
MAKE AHEAD RECIPE: These are perfect to make beforehand, freeze and warm the day of. Baked hand pies can be frozen for up to 3 months. Thaw in the refrigerator then bring to room temperature before serving.
Boo-tiful Presentation
Allow the hand pies to cool slightly before serving.
Arrange them on a spooky Halloween-themed platter or a simple cutting board, and watch your guests eyes light up with delight!
There you have it, a yummy and easy Halloween hand pie recipe that will make your spooky breakfast or dessert a hit at any festive party. Whether you're enjoying apple-filled pies, you shake it up with ghostly cream cheese delights or create bat-tastic chocolatey treats, these hand pies are sure to add a touch of magic to your Halloween celebration.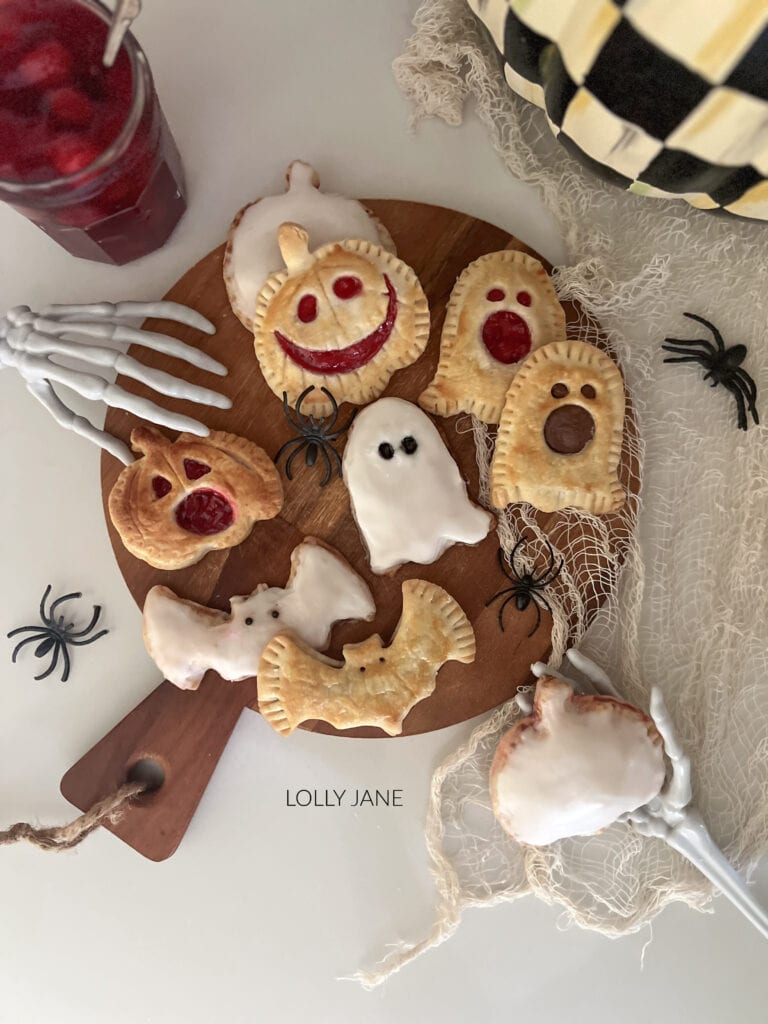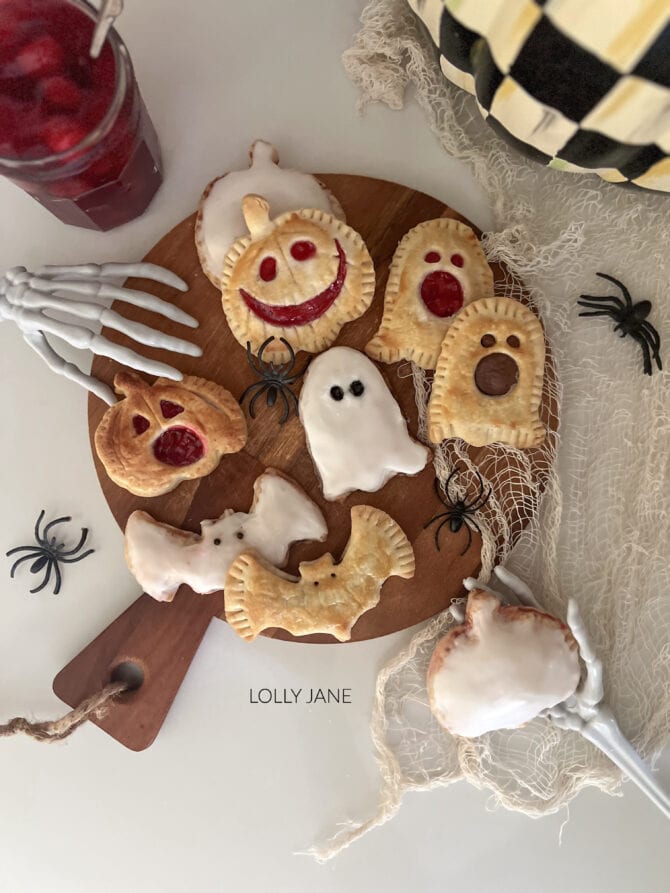 So gather your cookie cutters, don your apron and let the Halloween baking magic begin. Enjoy your hand pies and have a ghoulishly good time!
More Halloween Recipes from friends: