Two-tone coffee table tutorial | furniture makeover
Happy Monday! We're back with another easy tutorial today, this time sharing how to take a boring thrifted coffee table and turning it into a two-tone beauty! As y'all know, we like to share inexpensive alternatives to spending major money and this one was one of our cheapest furniture redo's yet. (;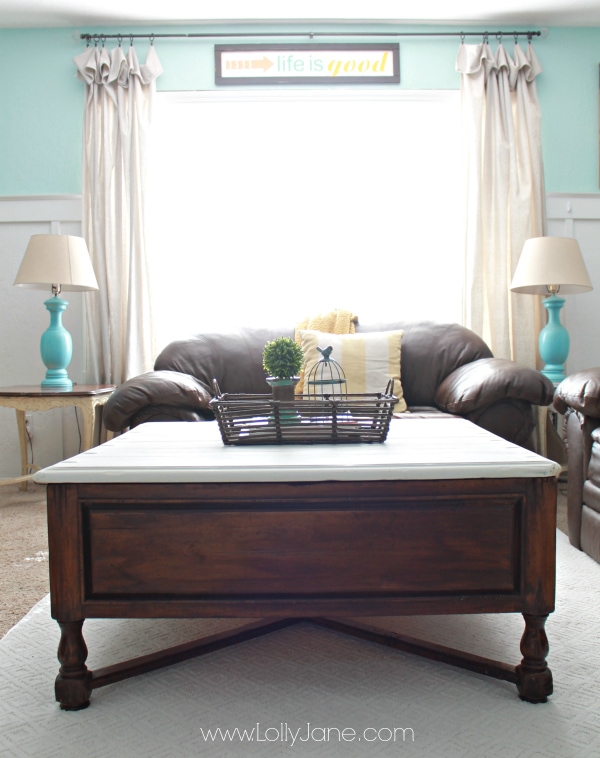 Take a peek at what the coffee table looked like before. I snagged it from my neighbor (who found it at Goodwill) for only $30- score! As you can see, it was in good shape with great bones! It just needed a little refinish job and I knew exactly what I wanted to do to it when I spotted it.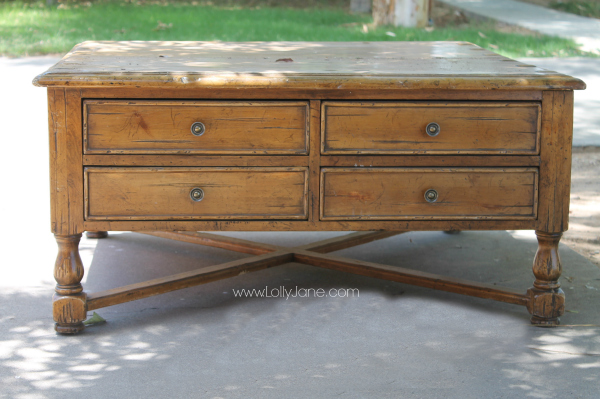 I first prepped the piece for staining by sanding it down on the corners. It looked like a beast of a dog used it as his chewing toy , darn it! I could have filled it in with wood filler and tried to repair it but since I have 4 littles and this is staying in the hub of our home, my family room, I decided to sand it down and blend it in instead. It's going to go through it's own form of torture anyhow! LOL!
I'm a huge fan of staining furniture and have been wanting to try Minwax's Gel Stain that I've heard so much about. It was fun to use since it went on with a rag instead of a paintbrush… yep, I said FUN. I looooove painting and staining as much as a girl loves shoes! Anyway the stain didn't need two coats which is a huge bonus as this ended up being a quick step! Since I live in AZ and it's always hot out, it dried super fast. See? There are perks to 120* degree weather! (;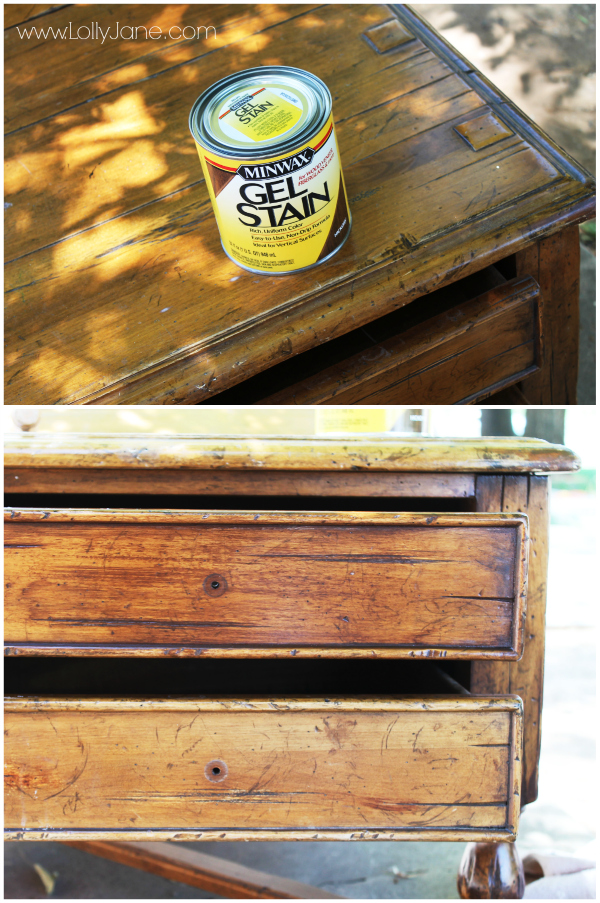 I love how the stain darkened it a couple of shades as you can see in the last picture above. I used a sample size from Home Depot of "Ruffled Clam" cream, this kept the cost down since the samples are less than $3. I then applied two coats with a foam roller, using up the whole sample.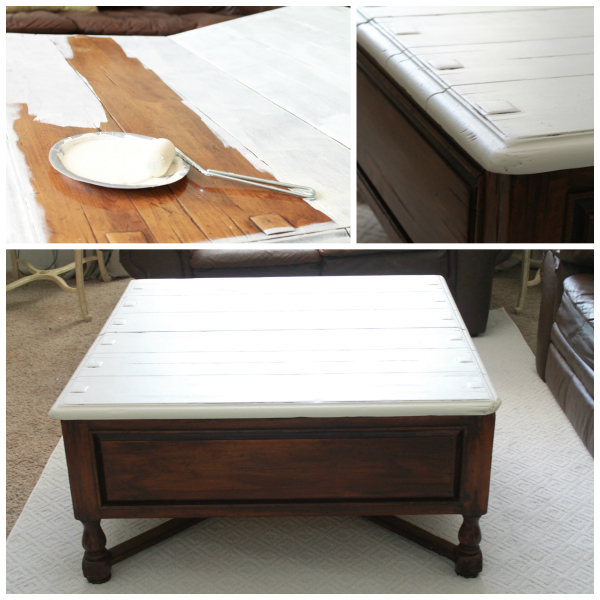 Ralph Lauren used to sell the perfect glaze "Smokey" but it's recently been discontinued from Home Depot, which totally stinks! I bought a faux glaze and paired it with another sample color, Brown Thrush. I then poured the brown paint into the glaze and was left with a light brown tint to compliment the cream. Truth be told, I would much prefer the RL glaze but I'm okay enough with the end product of this homemade glaze mix.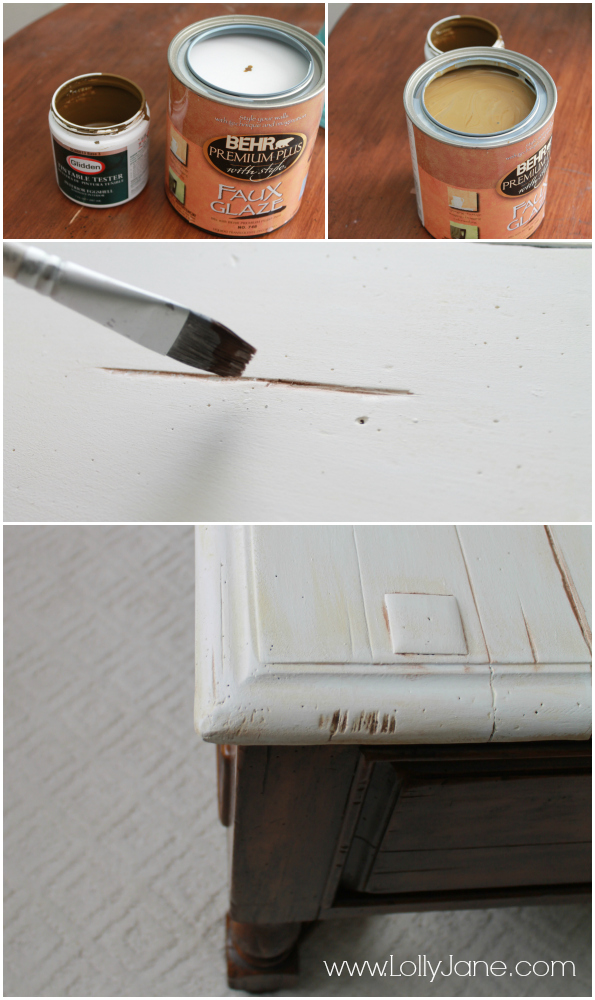 I used a small paintbrush to fill in the cracks to darken them. I really like the feel of a good aged piece of furniture so the paint + glaze was a good combination. It's really easy and forgiving so if you're tempted to try it, go for it! It's hard to mess up and you can always re-paint over any mess ups!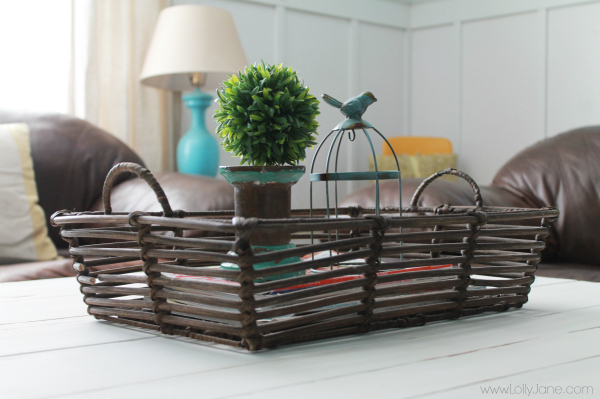 I love how the lines show above, it really gives the coffee table character.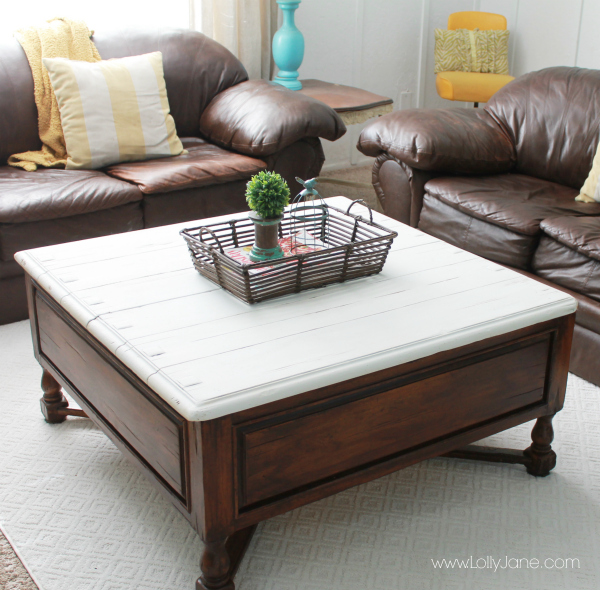 If the above picture looks familiar, we shared a similar angle when we scored this amazing Mohawk SmartStrand Rug. UPDATED: We've had a few questions on this project. Here goes:
Q: How much stain did you apply on the table to make it that dark? A: One quick coat was enough to darken it. The can comes in one size and I used a couple ounces is all; it goes a very long way!
Q: What did you do with the drawers? Leave the knobs off, or replace with solid wood? A: I actually put the knobs back on but didn't include it in the final pics.
Anyway this was a super easy project and once again, I'm amazed at how a bit of paint + stain can completely transform a piece! (:
Be sure to visit all our furniture before and afters like our crib to porch swing,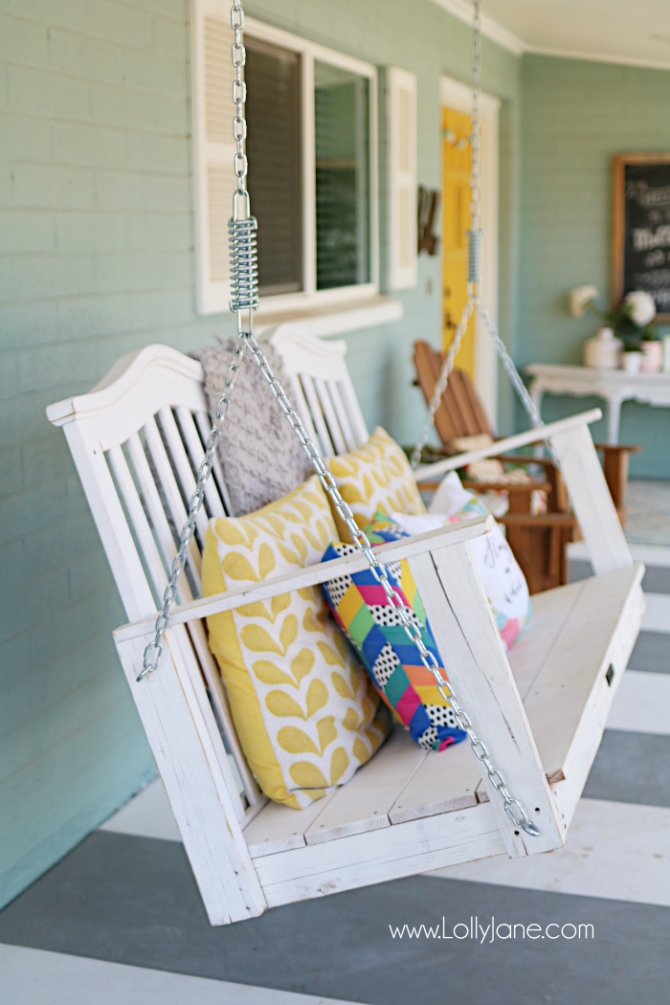 one of our many dining room table makeovers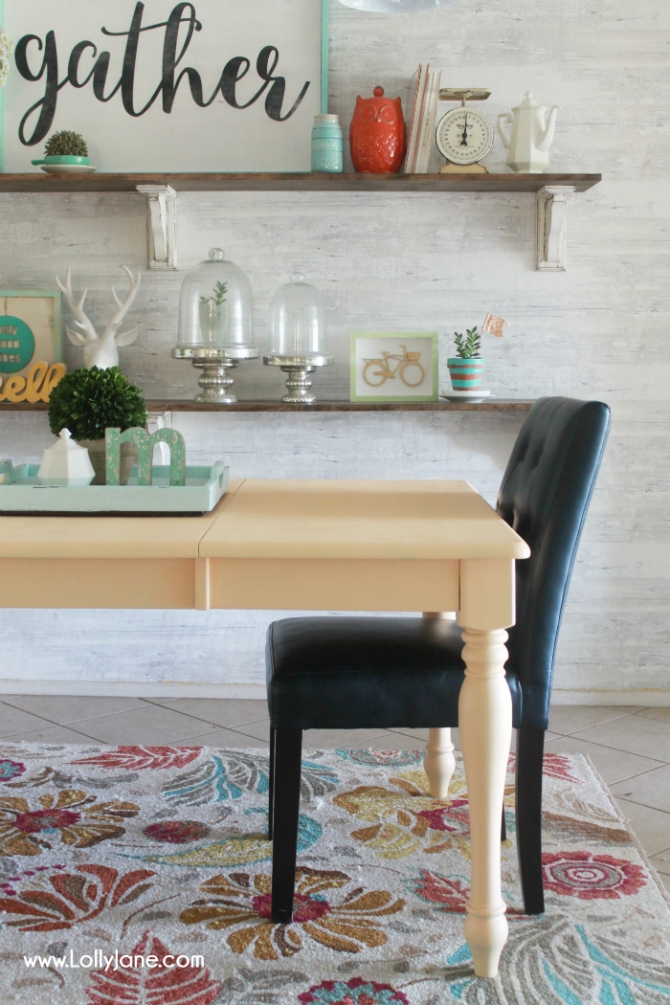 plus our black to teal bench transformation!