Gallery Wall Decorating Tips & Tricks
Have you ever wondered how to create a gallery wall? We've got step by step instructions with lots of tips and tricks for creating a gallery wall for a kids room. Say goodbye to bare walls!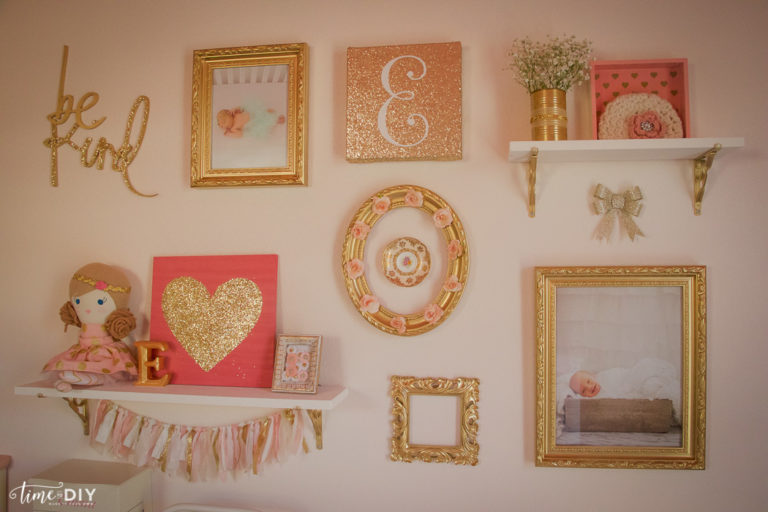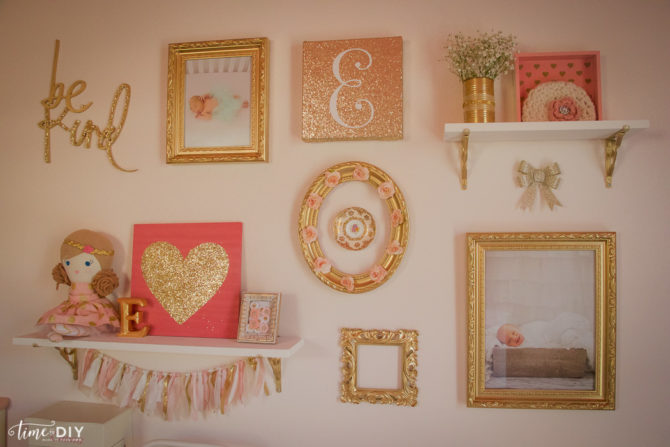 Hi, friends! It's Debby from Pretty Healthy House here to share some tips and tricks for creating a gallery wall for a kids room. A couple of my New Year's resolutions are to print more photos and get more walls decorated. Gallery walls are my favorite because you can add meaningful pieces and create interest with different textures and shapes. And I've got a few ideas for ya, especially if you're on a budget!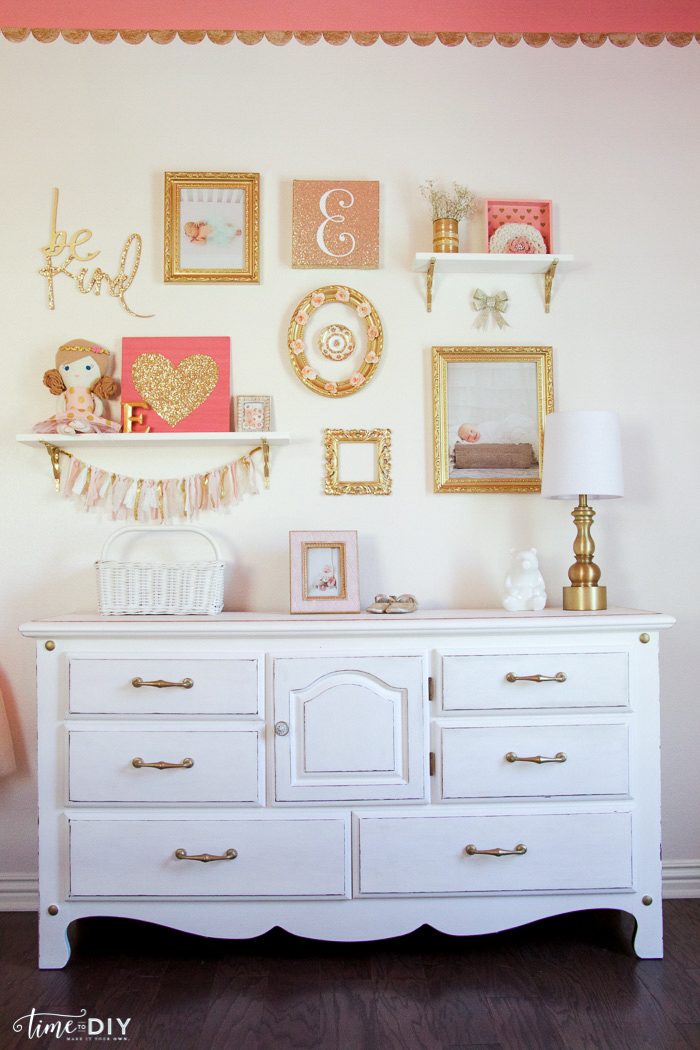 How to Create A Gallery Wall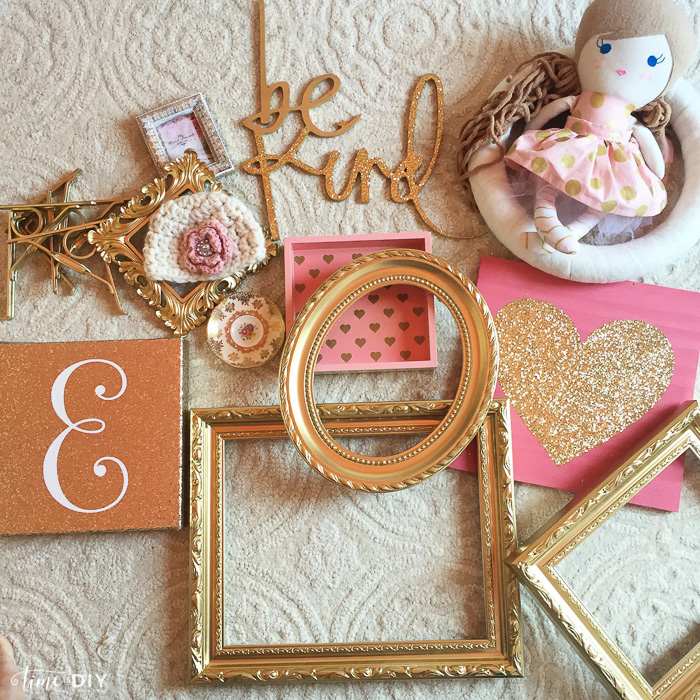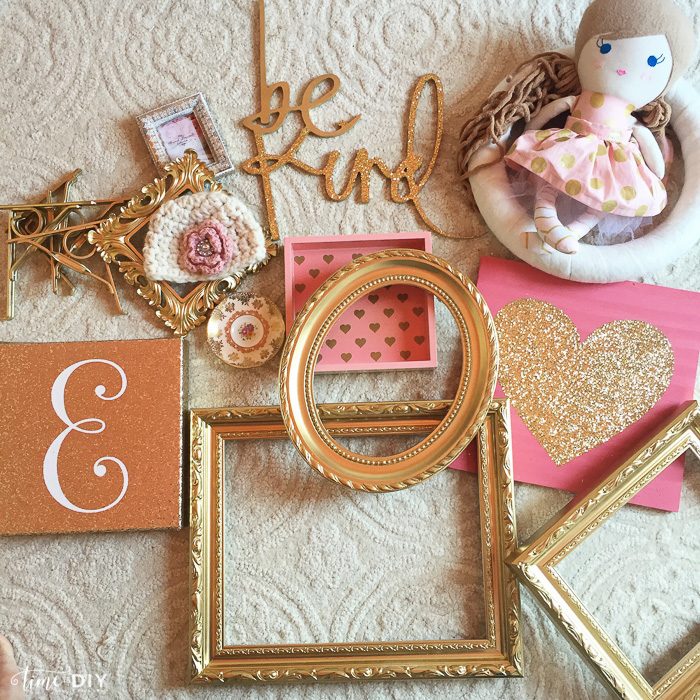 Gather all your wall decor.
Gather anything and everything, focusing on pieces that are meaningful, pretty or interesting (shape or texture). Start by shopping your house, and I mean the whole house! I found a gold bow in my Christmas decor stash, a small plate and a gold tin can in the kitchen, and some shelf brackets in the garage.
For meaningful decor, I chose a newborn hat and doll. I also love using letters or numbers, so I bought a couple at Marshall's and Hobby Lobby on clearance. Also look for things you can re-purpose or paint. I pulled all these frames from my daughter's nursery and spray painted them gold.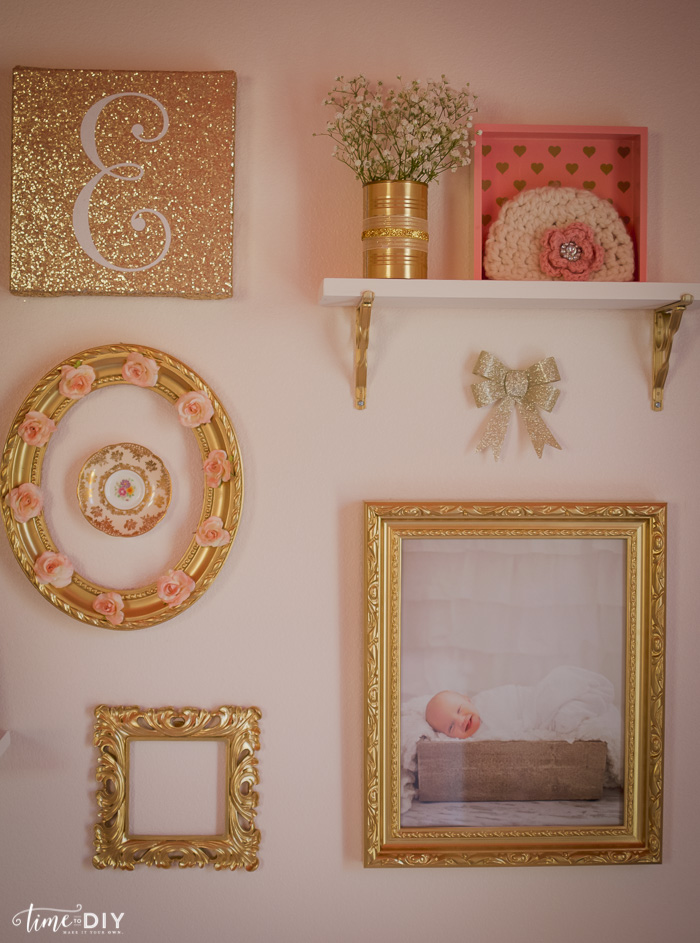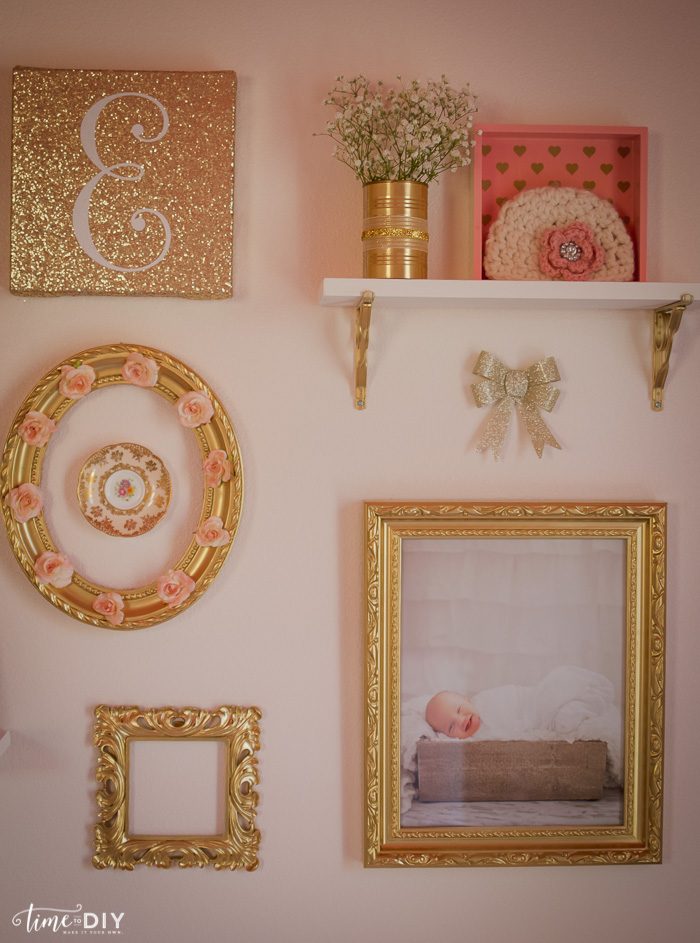 And these shelf brackets that came from my grandma's house got a gold makeover as well. I got the wood from Home Depot (they can make the cuts) for the shelves and then painted them white.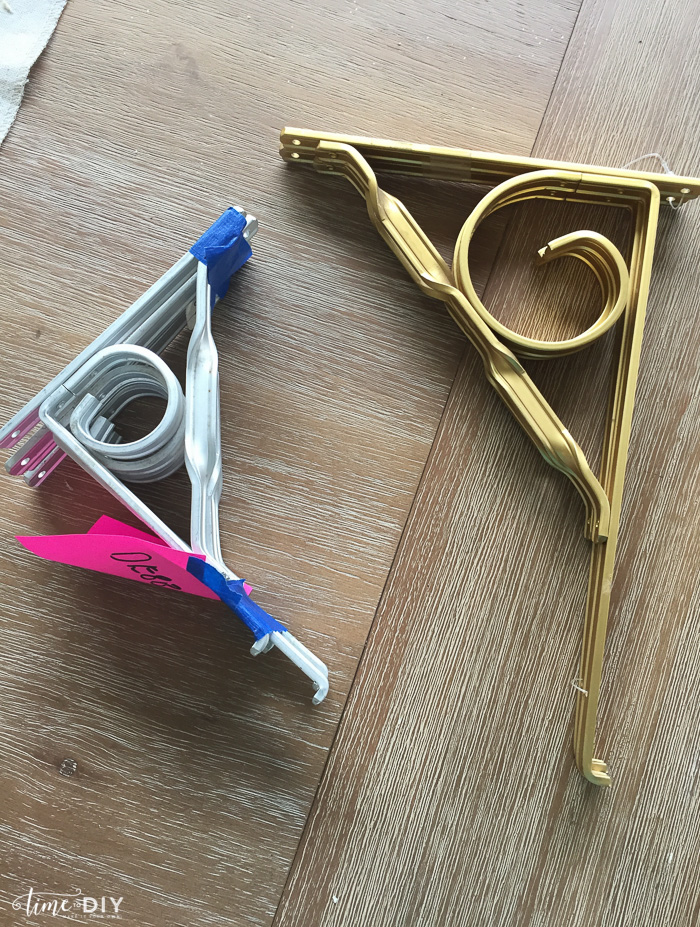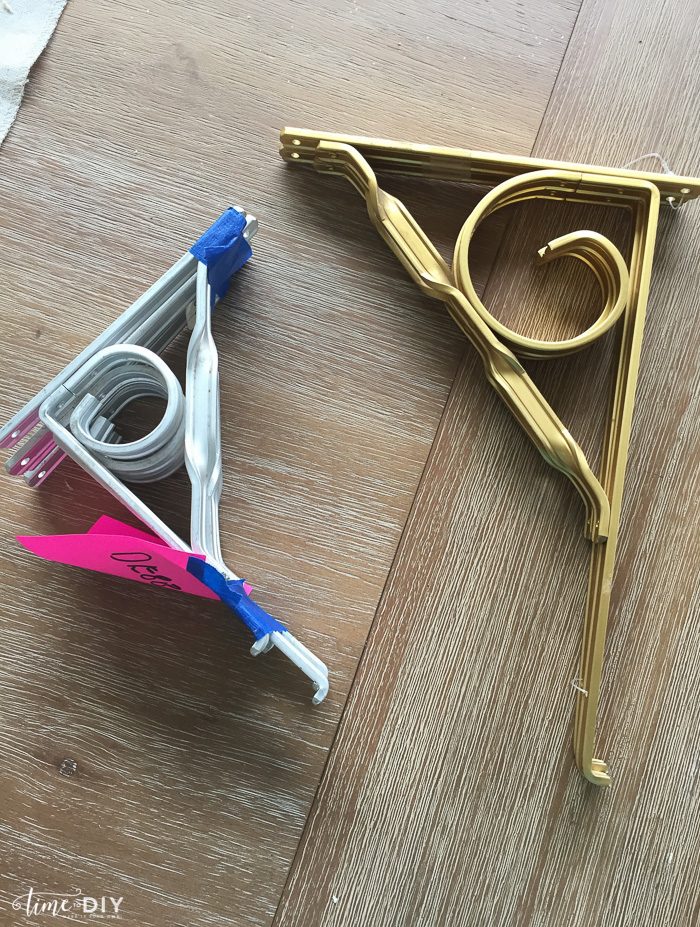 Shelves and ledges are great for kids room gallery walls because you can swap out easily when they have new special items, awards, etc. And, of course, I love to DIY decor so I painted and glittered the "Be Kind" wood cutout along with a heart on a piece of wood (at Queen Bee Craft Night with Katie from Just Add Sunshine).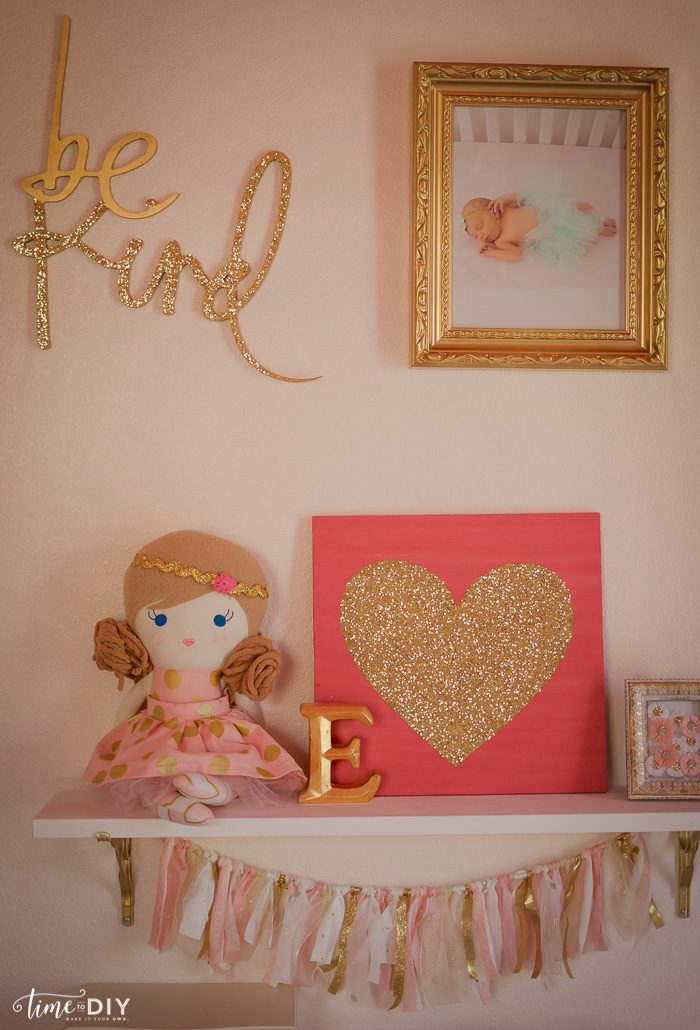 Get Creative. Add Handmade Decorations.
And I also made a banner with some ribbon, fabric, and lace scraps.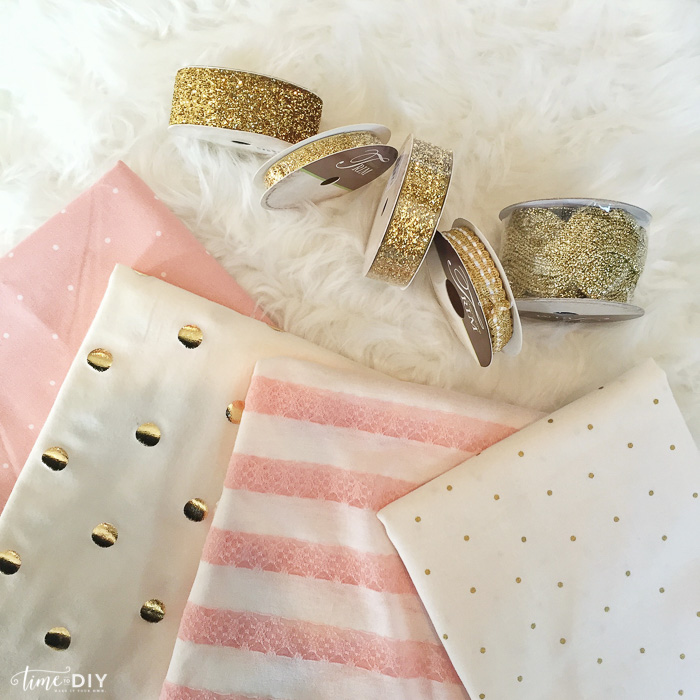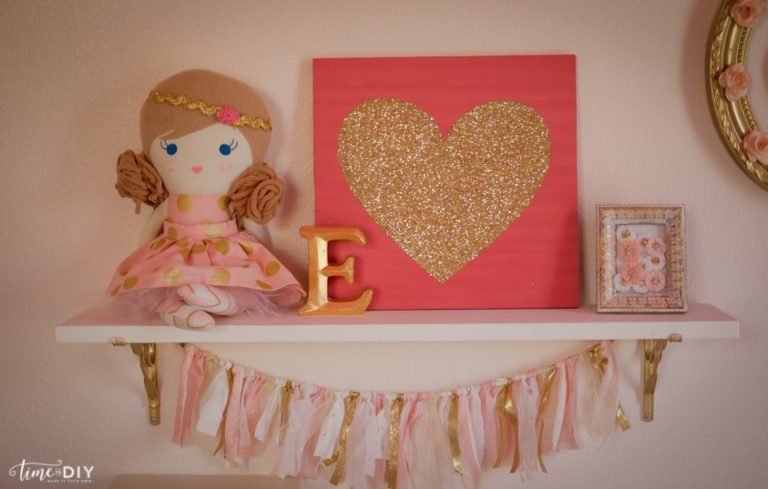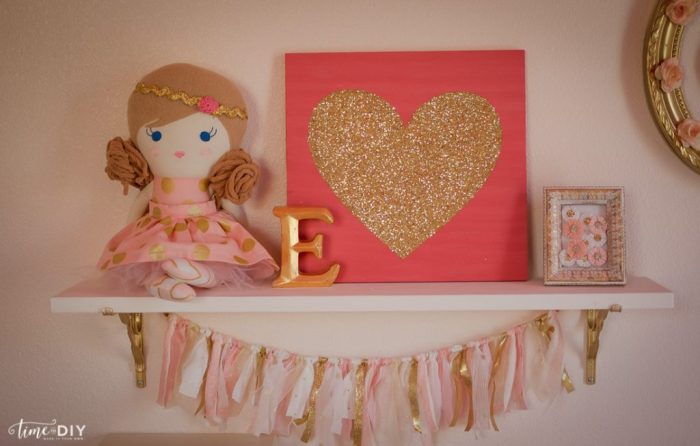 And added paper flowers to the little gold frame.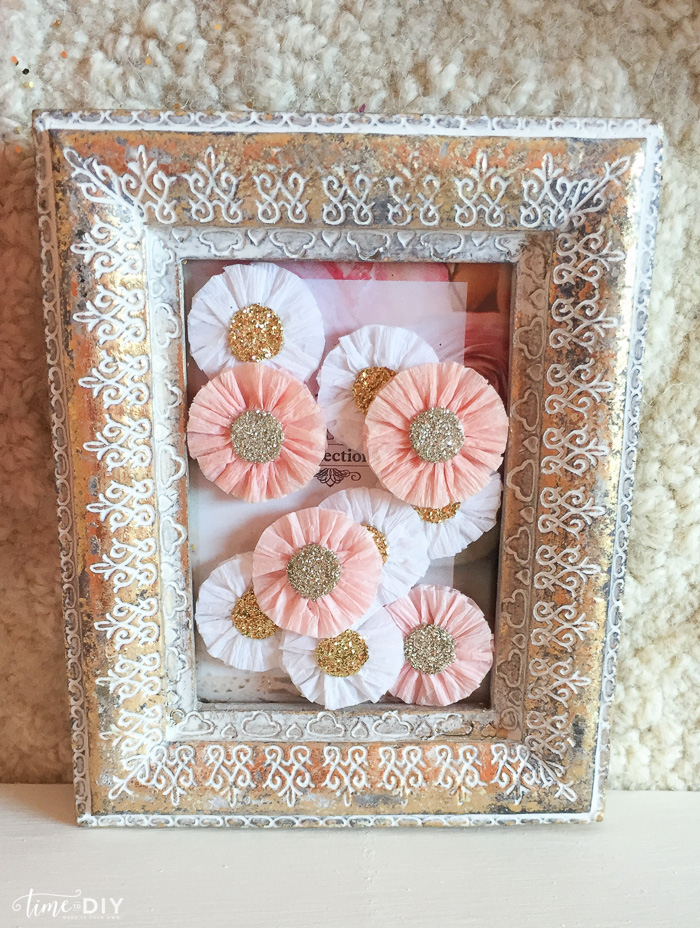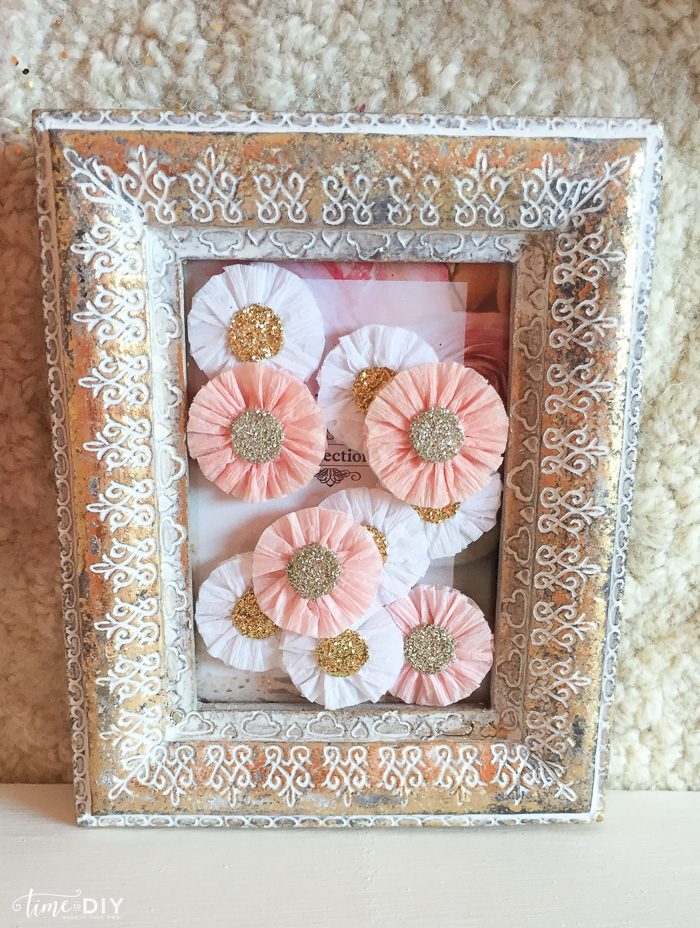 And you can even dress up a can with some ribbon and baby's breath!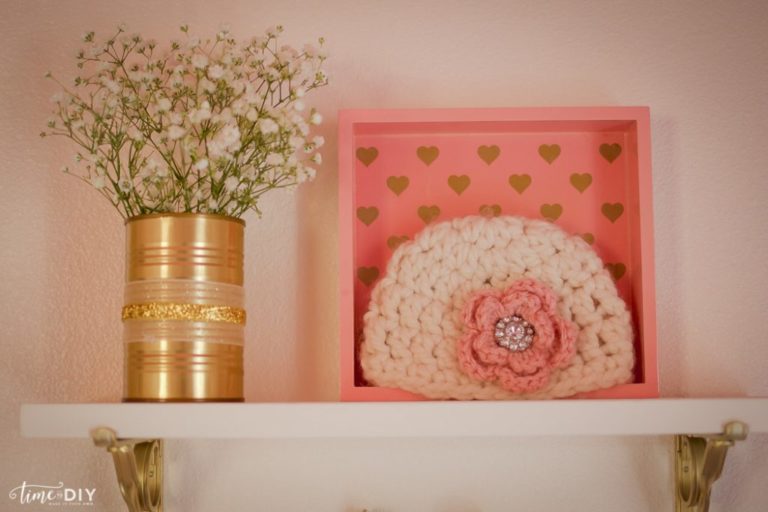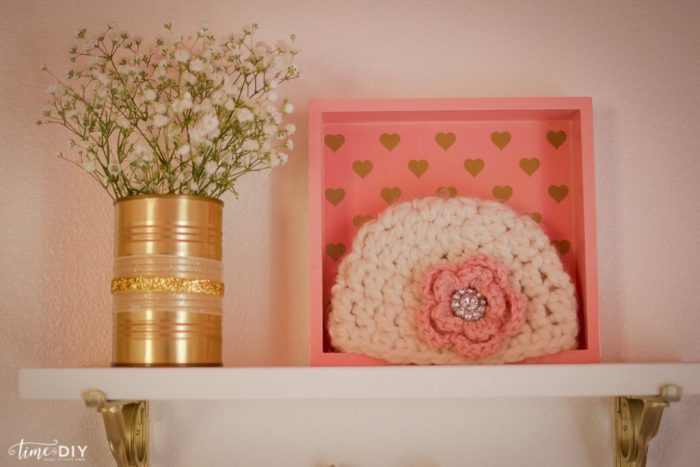 I smile every time I see that newborn hat- brings back so many cute memories. To spruce up the oval frame, I hot glued some flowers.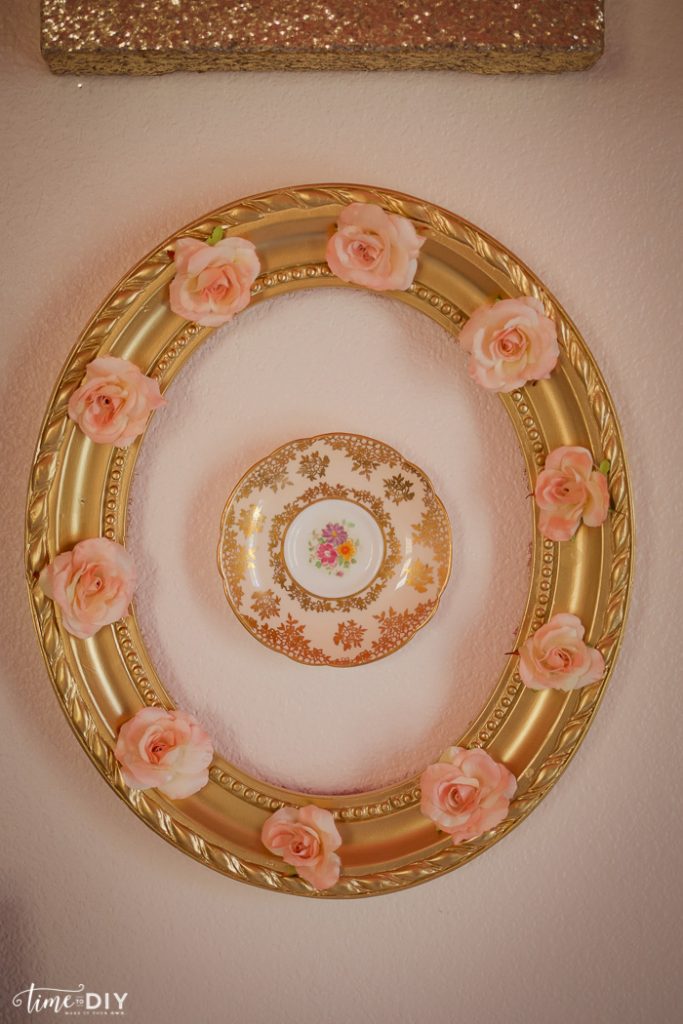 Then it's time to put it all together…
Measure and Draft your Gallery Wall on the Floor.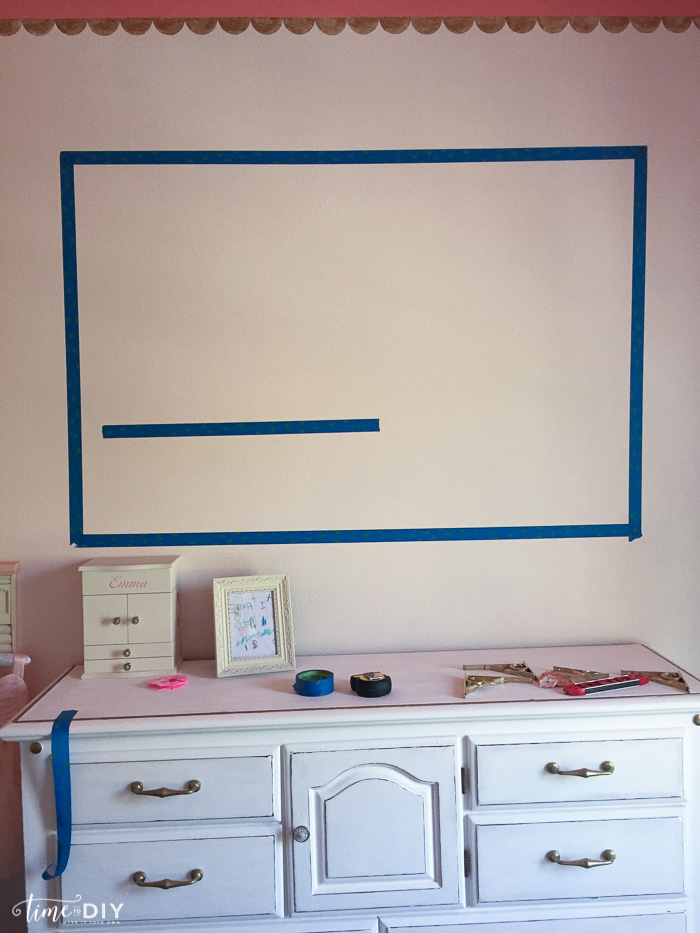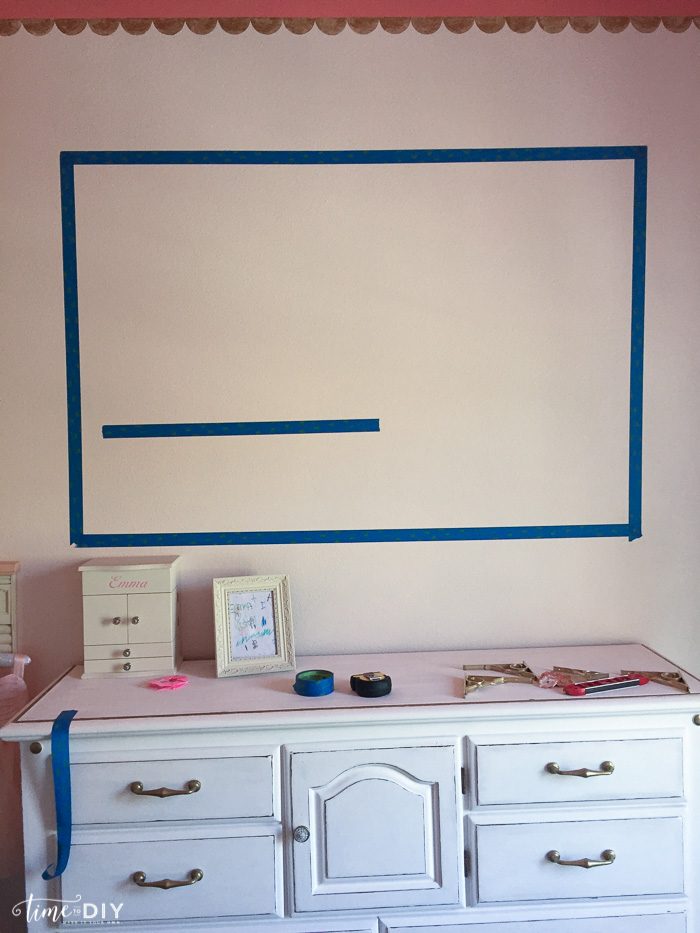 I tape off the area, measure, and then draft on the floor so I can play around and see what works.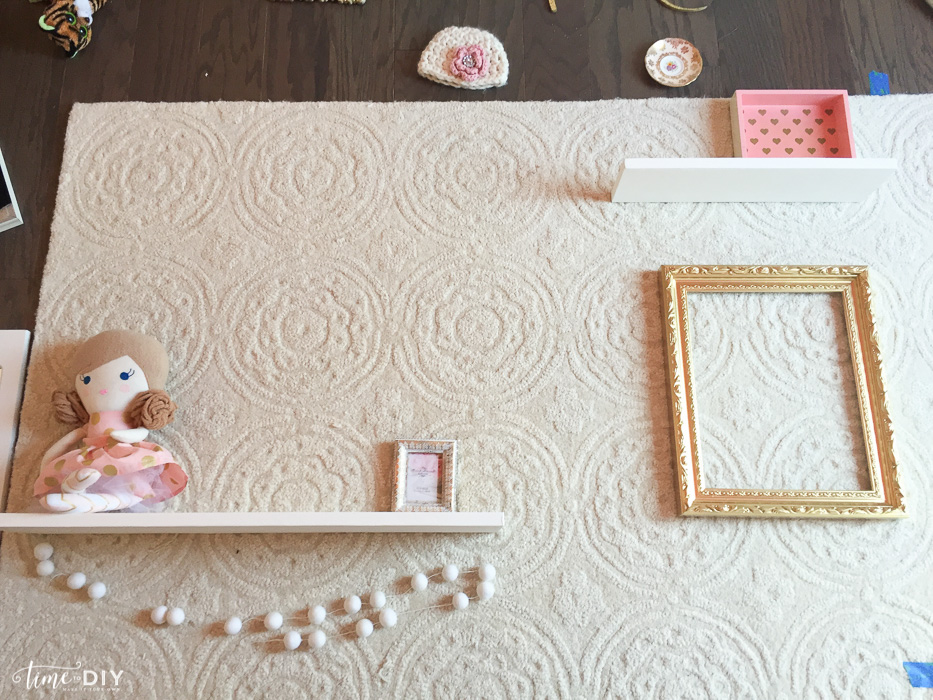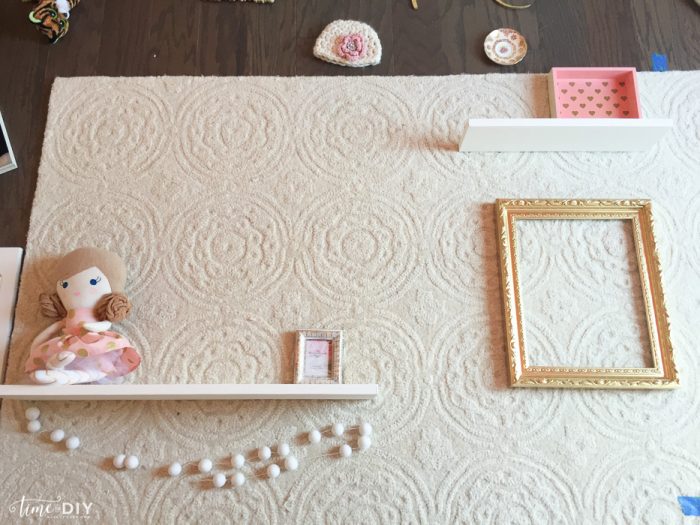 I started with the shelves (longer shelf on the bottom since it's "weightier"), and styled them with some of the larger items so I knew how much room I had left.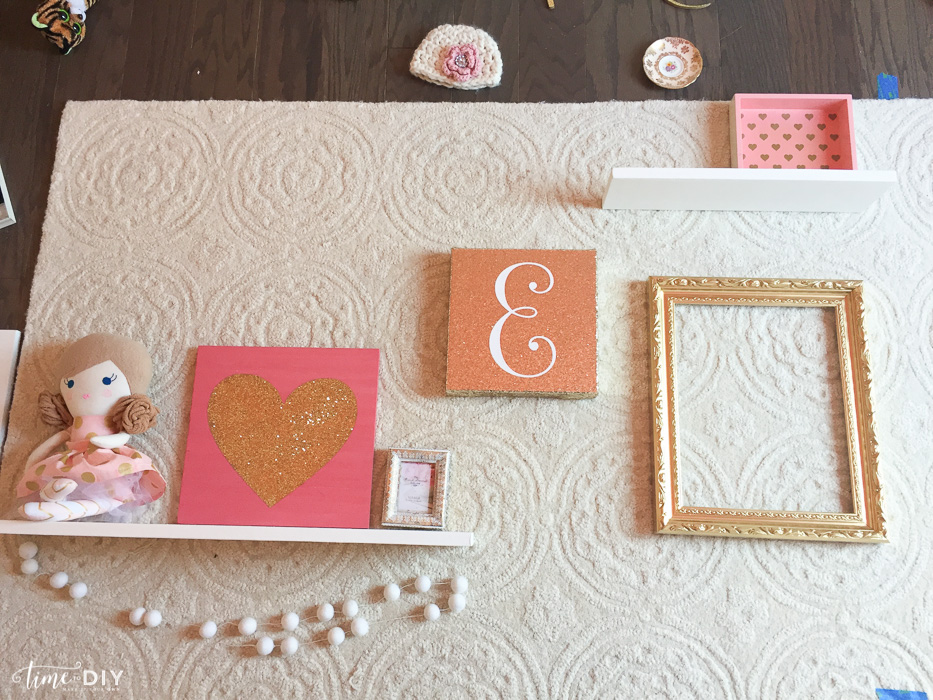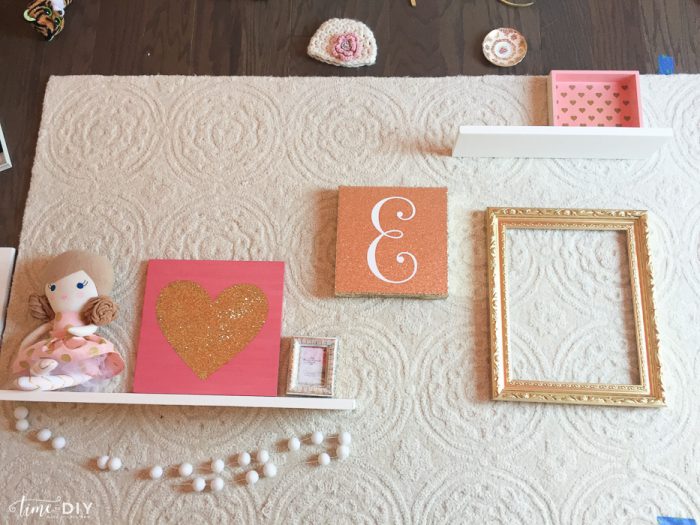 I always start by placing the biggest pieces to help create balance.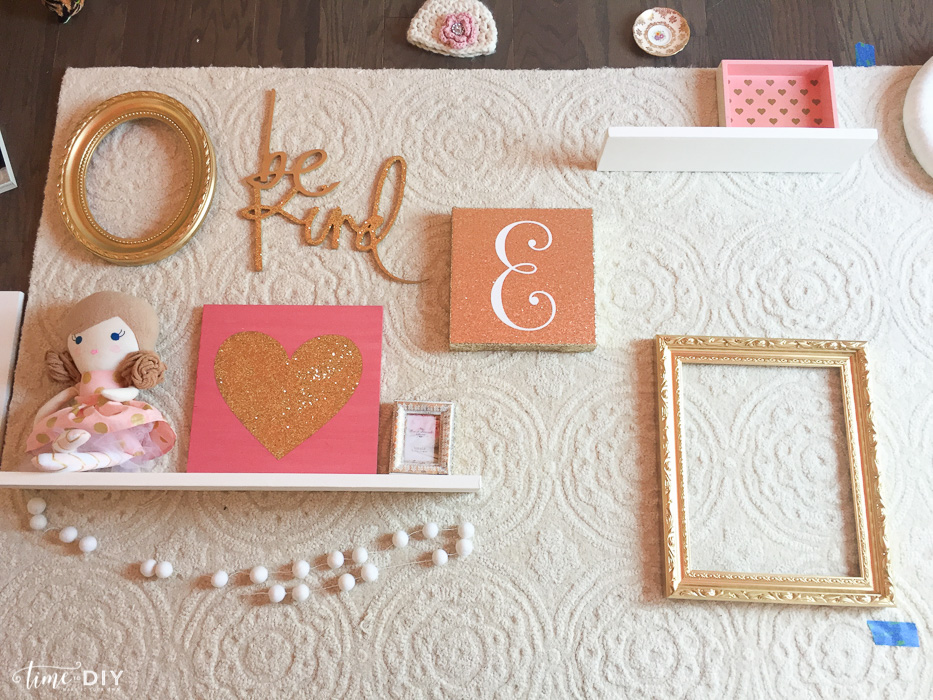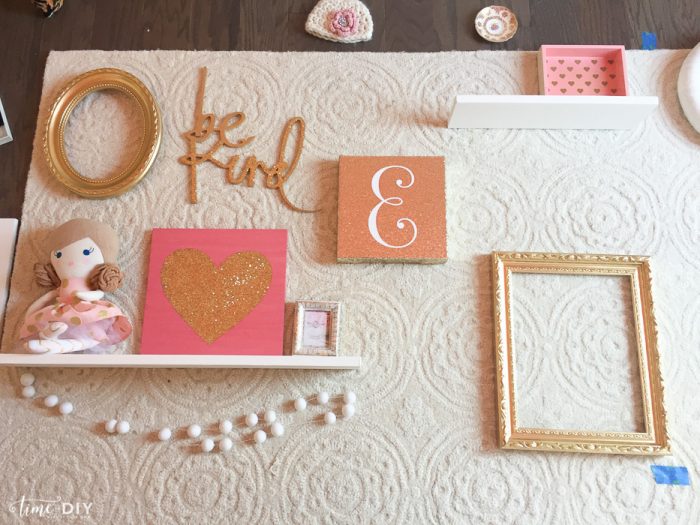 I try to mix up the straight and curved edged pieces with equal amount of spacing (as much as I can) in between each piece.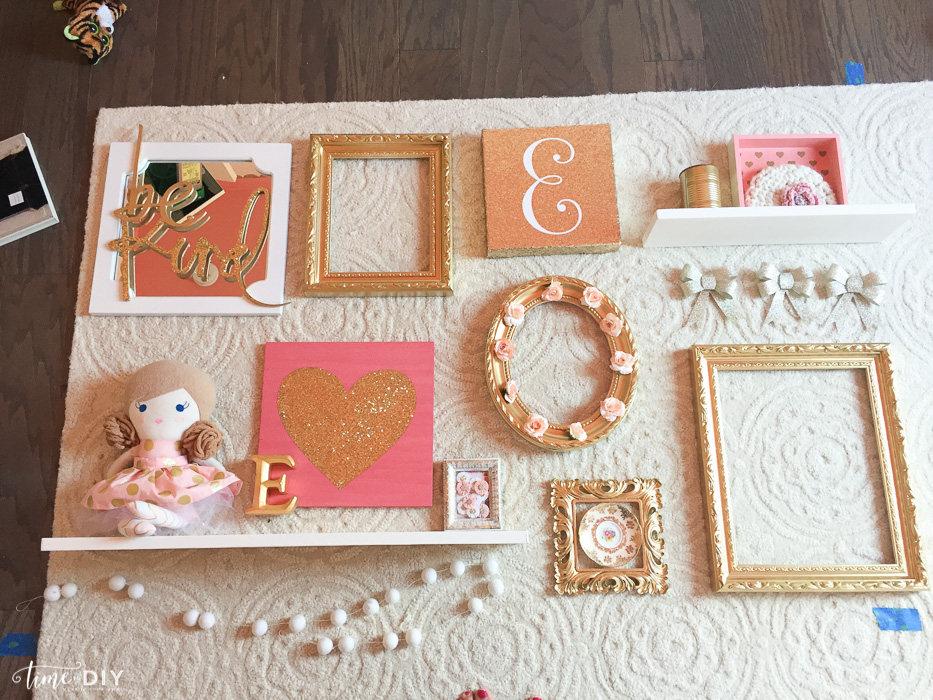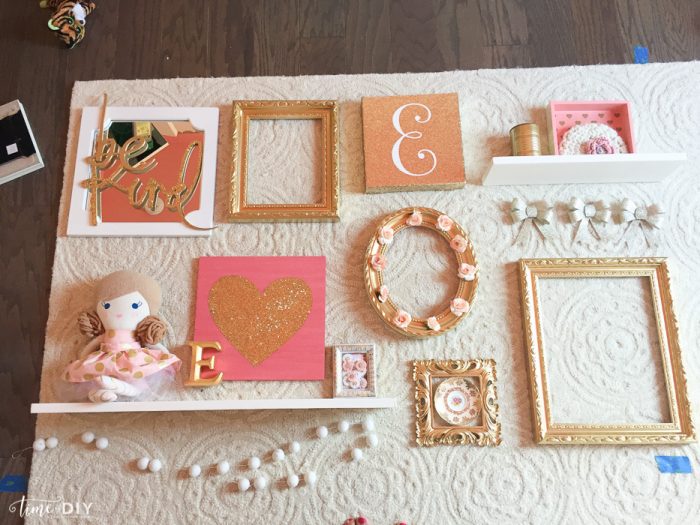 I ended up having too much decor and had to remove some things to make it all work.
Tape your Gallery Wall then Hang!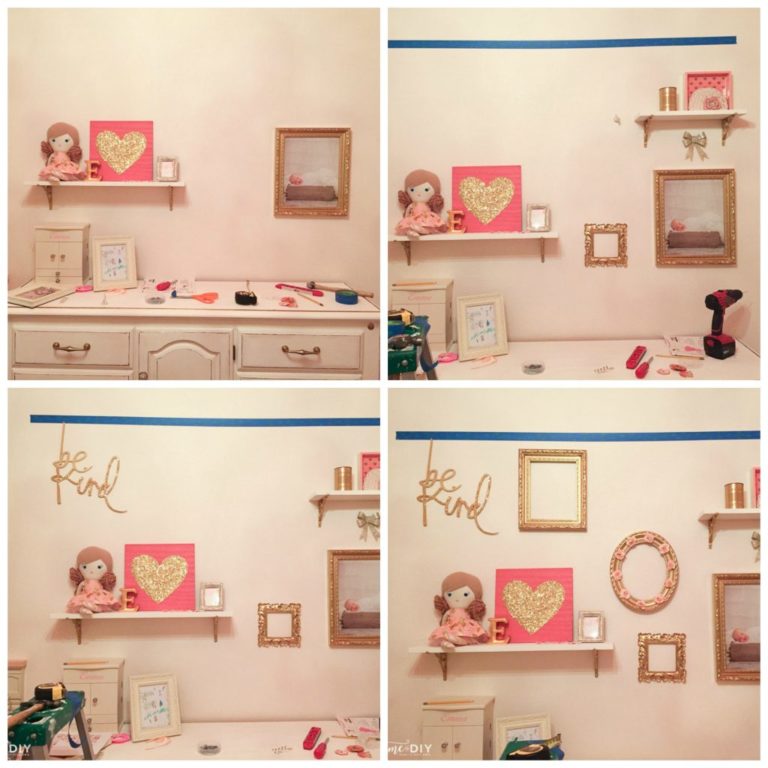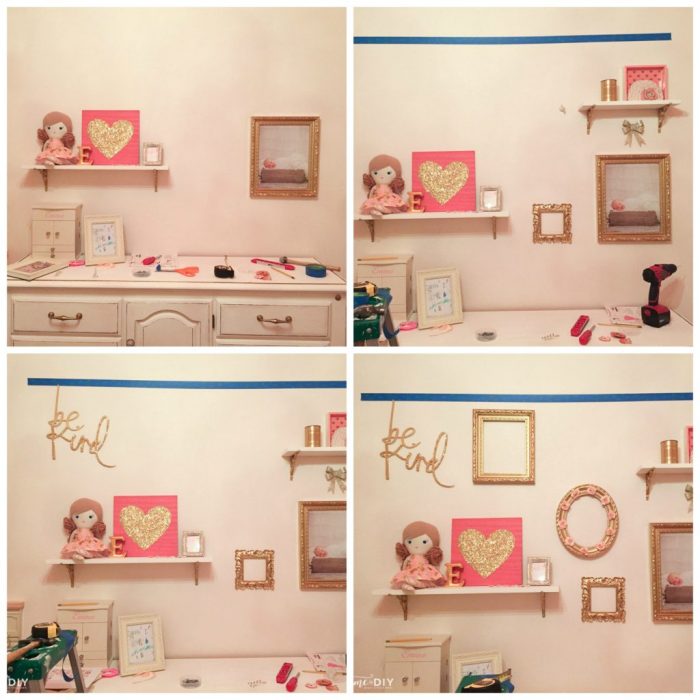 I use both nails and 3M Command strips and start at the bottom and then work my way around each corner and end with the middle so I can center the pieces better.
And that's it!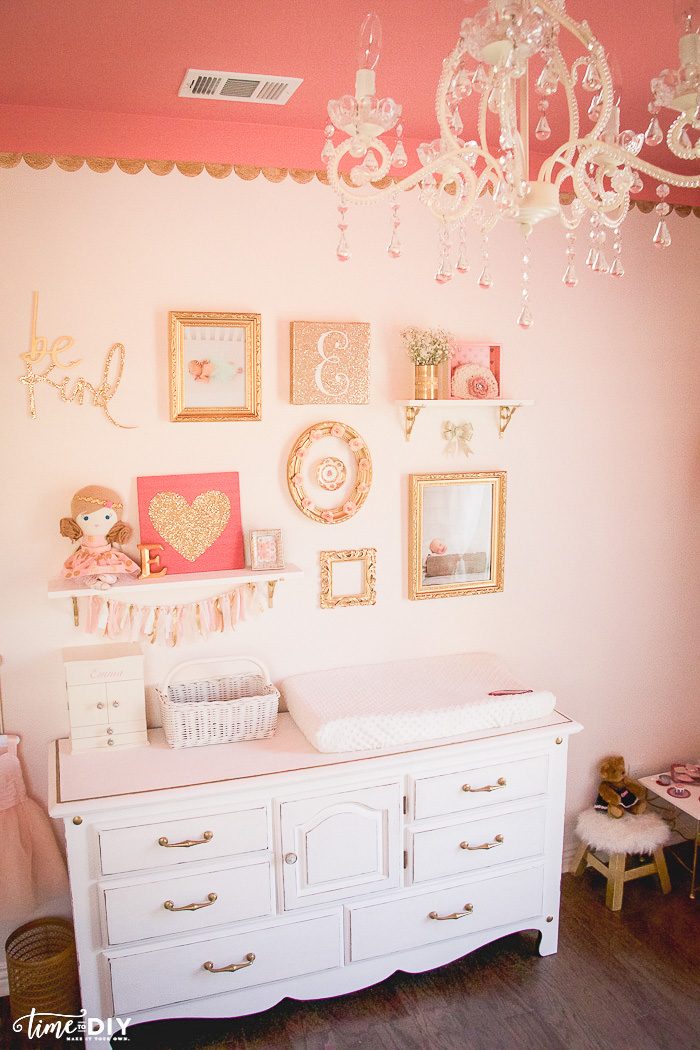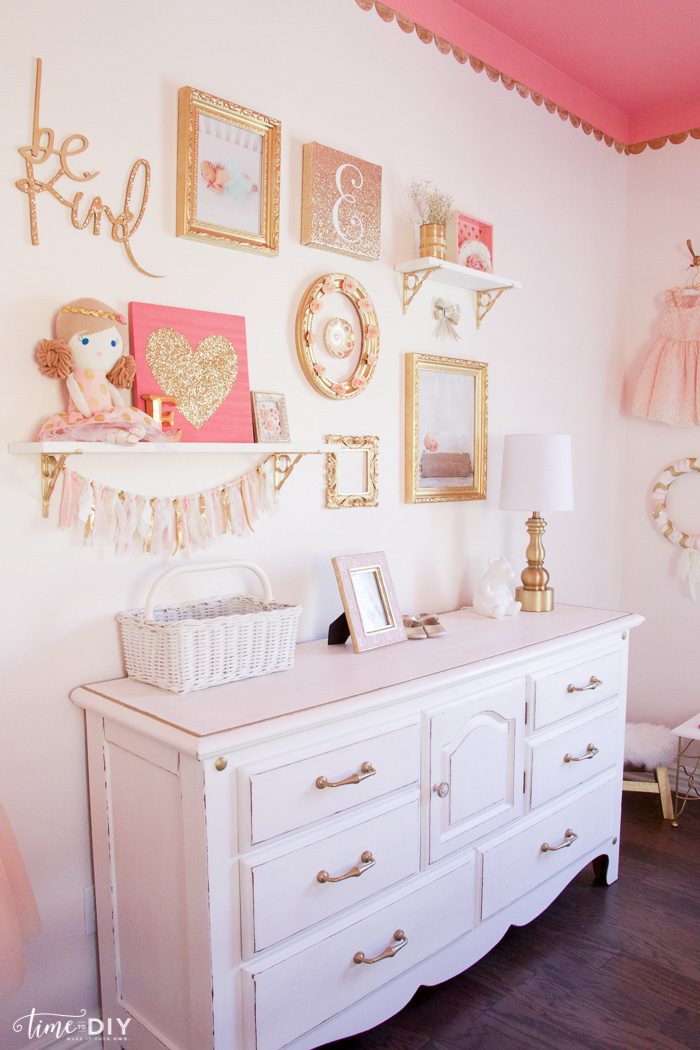 Visit Our Other Girl Toddler Bedrooms Here: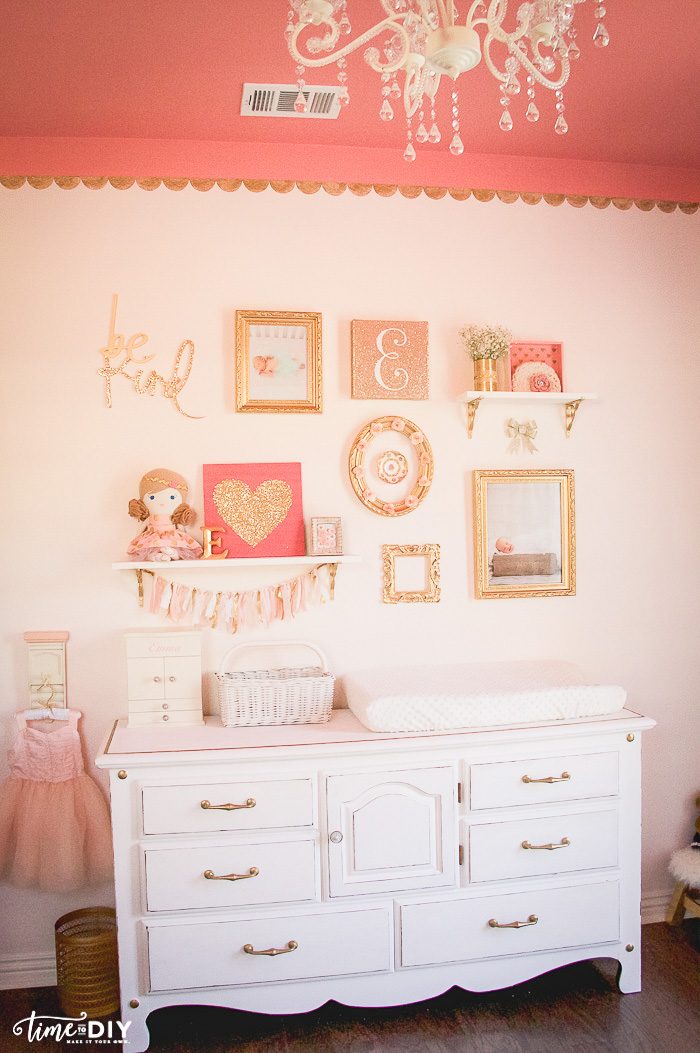 If you'd like to see the full room, check out Toddler Room Reveal.