This week my in-laws are visiting and I finally got my craft room cleaned up a little. Which reminded me I never posted final shots of my mint farmhouse table and my review of trying homemade chalk paint, I love how cheap and easy it is!! I've seen tons of these tables in people's houses throughout the years. I see them for sale all the time on FB groups and Craigslist. Maybe you even have this table in your house? Maple tops with white legs. I swear this it what every newlywed couple uses as their first table! There's nothing wrong with it; it's in good condition but it's just a little… boring. There I said it, it's boring AND dull! Where is the color? Where is the UMPH? I turned into into something to fit my style, specifically, my craft room's style! I needed an inexpensive table that I wouldn't feel guilty about spilling paint on, getting hot glue stuck to and tipping over Diet Coke on.
This baby fits the bill nicely, a mint farmhouse table that adds more color to my friendly room!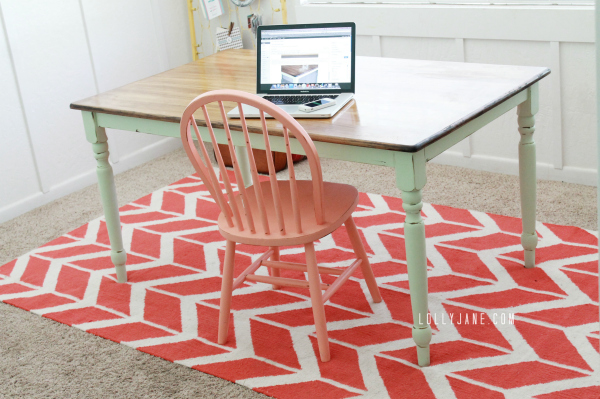 Painting this table was a breeze, I experimented with homemade chalk paint for the first time…. mmm mmm mmm!
I scored the above table with 5 chairs for $70 from a local buy-and-sell FB group I'm in, (I'm only refinishing 4 chairs, the 5th chair is lonely but I don't have plans for it as of yet). I needed a new craft table for my herringbone bookcase craft room I'm still working on. I really wanted to try chalk paint but was too cheap to sink any money into it. So I went online and found the best chalk paint recipe ever from Elizabeth & Co. I spent $6 on a milk jug size of Plaster of Paris that will take the rest of my life to use and recycled mint paint leftover from my dresser makeover. Click on over for her full recipe and tips but basically it's 2 parts paint to 1 part Plaster of Paris + a little water to thin, if needed.
After the chalk paint, it was time to remove all that shiny finish from the table. I loved a pretty stain top (obviously since my dining room table, mustard yellow buffet and chippy dresser were all painted this way too- dark walnut from Minwax is our fave!!) and colorful legs. Oh my word, removing the previous finish WAS A BEAST! I've N E V E R had such a problem with removing varnish from furniture before. I started with my fav stripping gel:
Sad to report this time, Citristrip didn't do a thing for this stubborn table! Wha??? I bummed some more powerful lacquer from my awesome neighbor, Wes and unfortunately that didn't do much either. Me and awesome hubby sanded and scraped and sanded and scraped until we got to the last layer, which was still stinkin' stubborn and didn't fully come off the table. Admission time: I ended up dumping stain on the table… yes, I'm publicly admitting this because I was so frustrated with this tabletop! I brushed on a nice, thick layer going with the wood grain and walked away.
Luckily my temper tantrum worked out. After ignoring the table for 2 days, I went back to inspect it and loved it! Faux stained lines- I can live with that. See my worming?? (ie: the holes in the corner?) That's faux too but I love it! I usually add that on my pieces to age it a little and give it more characteristics. I use a giant nail, nothin' fancy around these parts.
See the distressed edges? That's fake. If you look at the before picture…the legs are shiny white. I wanted the look of aged, chippy wood but knew I couldn't get it with white. I guess technically I could have sanded and stained/painted them dark then chipped away the chalk paint but that's a whole lot of work considering I could go over the edges with brown acrylic paint and call it good. It IS going in my craft room after all so no biggee.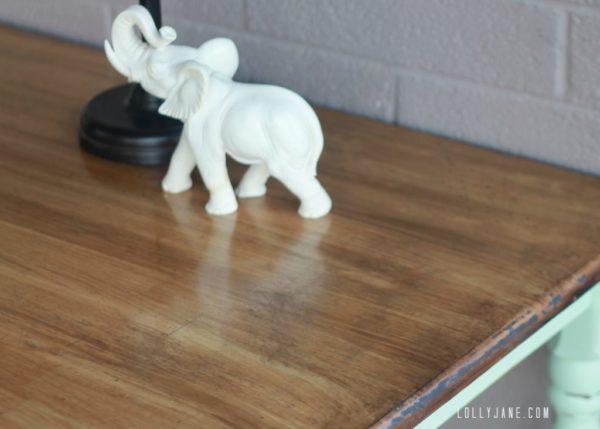 Wow this is confession time…I've never used wax as a finishing agent. I gooped it on the top of the table and brushed it around carefully. Kristi walked up and laughed at me saying I did it completely wrong. Say what?? She showed me you rub rub rub to buff buff buff it in the furniture. And I'm SOLD! Love it as much as I love chalk paint. See the shine?? That's a good shine..the before shine wasn't so good. When I spill my Diet Coke, yes it will happen, it'll bead up and wipe right off. Perfection.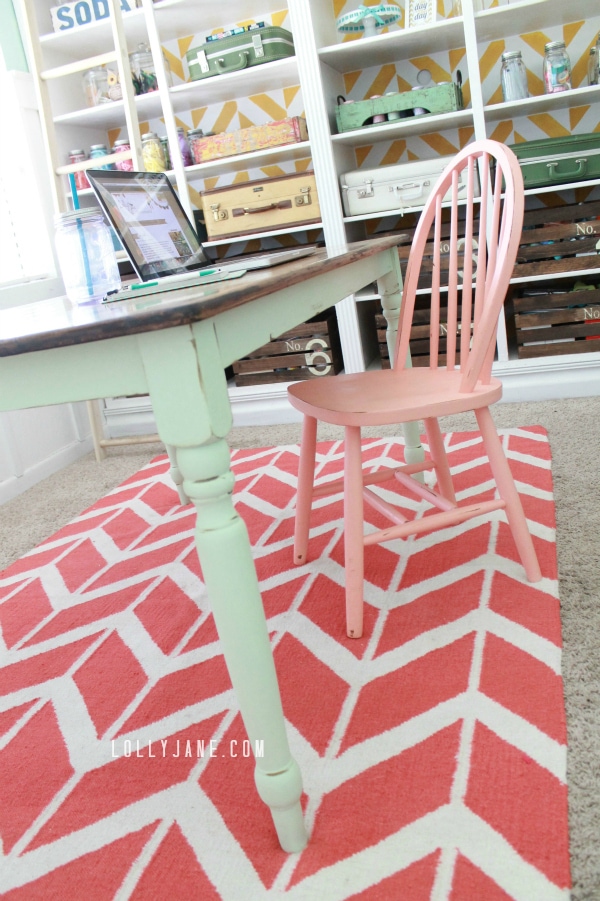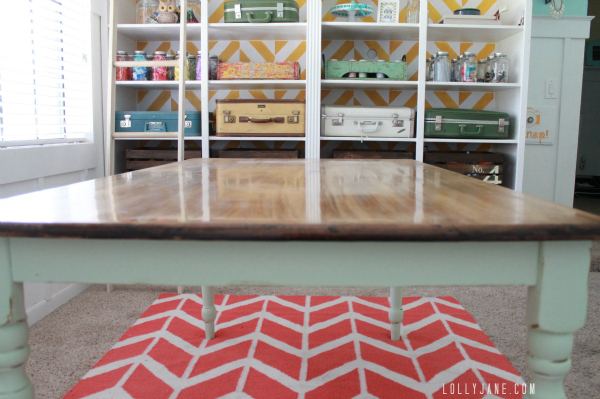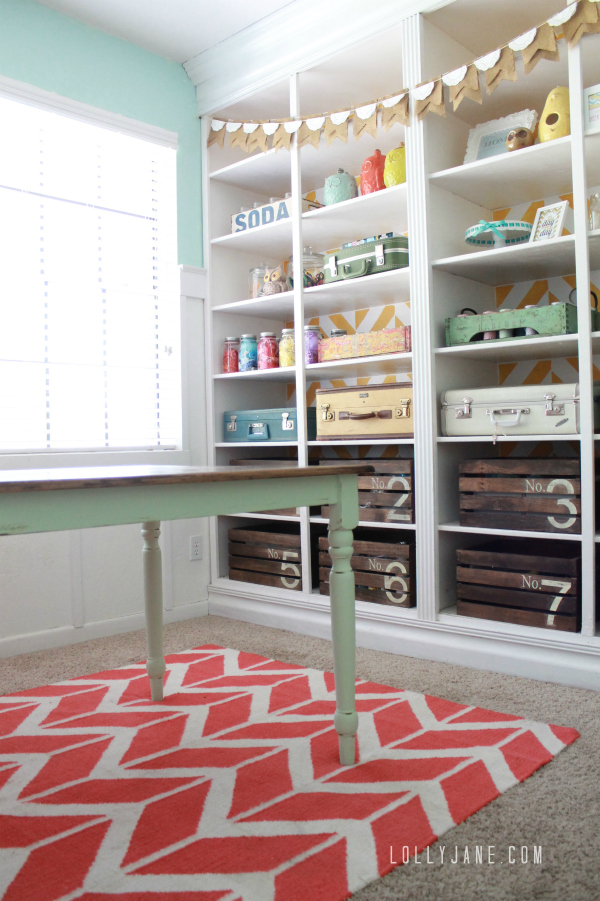 Our older sister KT was over when we were taking these pics are dared me to post this…I have no shame. (Please note: This room has been completely cleaned out since these pics were taken weeks ago, all the clutter is gone, yippee!) It's always humorous to me when I'm taking beauty shots, what is behind me in real life. Who wants to see the ugly in life?? Not me (; Okay since I'm baring all here…question! See my coral chair (yep, on top of the comfy chair, lol)?? It's been homemade-chalk-painted as well. The other three chairs are still raw because I can't decide what to paint them…4 matching corals or 4 different chair colors?? Advice please!!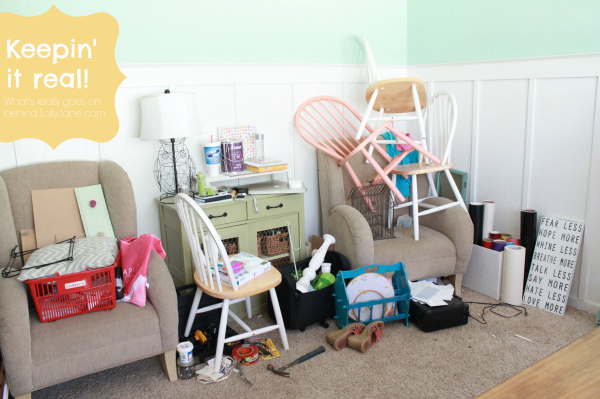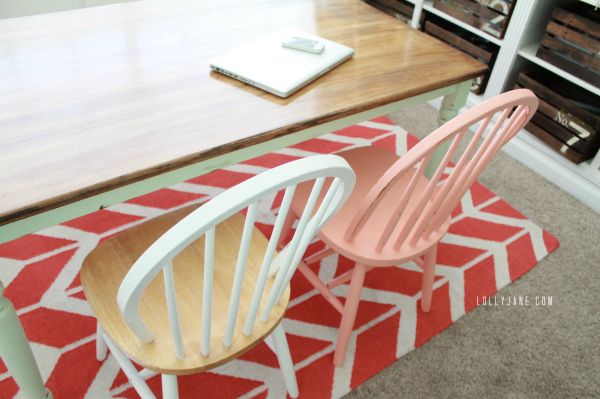 And one more hilarious shot…because we were in a giddy mood when snapping these pics…us sisters have too much fun together… We're re-enacting Fat Amy from Pitch Perfect:
Aubrey: What are you doing?
Fat Amy: Horizontal running…yah no, don't put me down for cardio!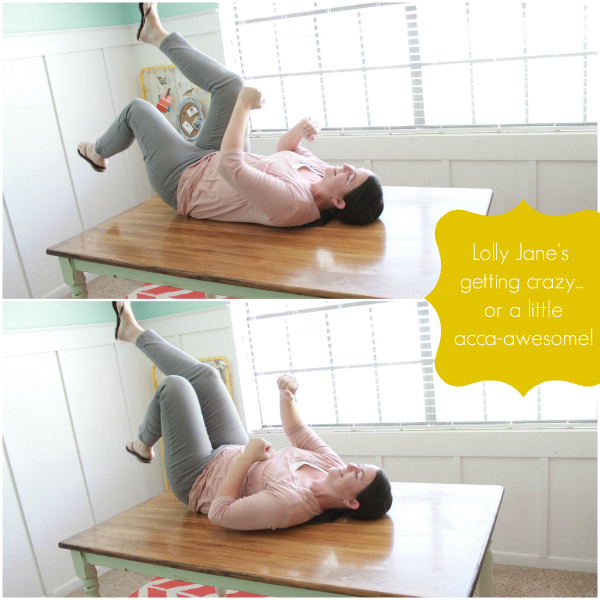 Okay back to business…my final review of homemade chalk paint? Love it. I can take ANY left over paint, add a little Plaster of Paris then use it on more signs and furniture PLUS I can S K I P priming and painting?? WHOOP! Brilliance. Check out all our furniture makeovers and tutorials. We love painting!