We love paint. Like, love it to the point where we inevitably end up in the paint department at Walmart or Home Depot on any given trip just looking at swatches with a little bubble emoji above our heads, thinking about what we can paint or REpaint next. True story.
Every time I walk past the foyer in my entryway I think of this cute black bench that was gifted to me as a wedding gift almost 13 years ago. As you can see, it's black and has a nice retail store lacquer finish on it. With 4 kids, it has actually held up well…. but, it's black. I don't think I even own a black piece of clothing, to be honest because black is just not me. So, I decided to take on my next furniture revamp. But now I needed to find a paint that would hold up well on this little number… of course I headed to Pinterest for inspiration! After pinning handfuls of furniture to get the perfect color to mesh with my yellow-walls-meets-white-wainscoting, I discovered a lot of the colors were in the blue family… we are absolute suckers for anything turquoise, teal, aqua, robin egg blue or any hue in between!
Enter this amazingly gorgeous hue "Teal Zeal" by Glidden Paint.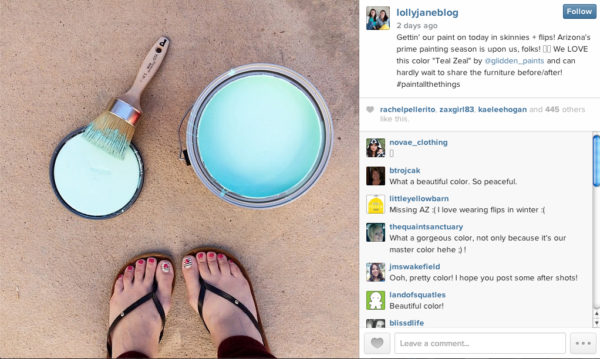 It was love at first swatch, you guys… oh, I mean sight. 😉 We shared it on our Insta and over 400 people liked this color too so we knew it was a keeper!
We need to distress it Lolly Jane style then wax it so it WILL last another 13 years or longer… well, fingers crossed it survives the upcoming teenage years anyway! I hope my kids just keep kicking holes in the drywall that I can quickly patch up instead of taking it out on this beaut. Haha! #keepinitreal
Stay tuned! 🙂
FREE EMAIL COURSE
5 Low Cost Tricks to Make Your House Look Like $1 Million
It's Lolly Jane's 5 FAVORITE Tricks to spruce up your space affordably.

Don't miss these!