Easy Christmas Tablescape Ideas
Put together an Easy wintery Christmas tablescape, complete with mugs + cocoa! These are our easy Christmas tablescape ideas in just a few steps and without breaking the bank!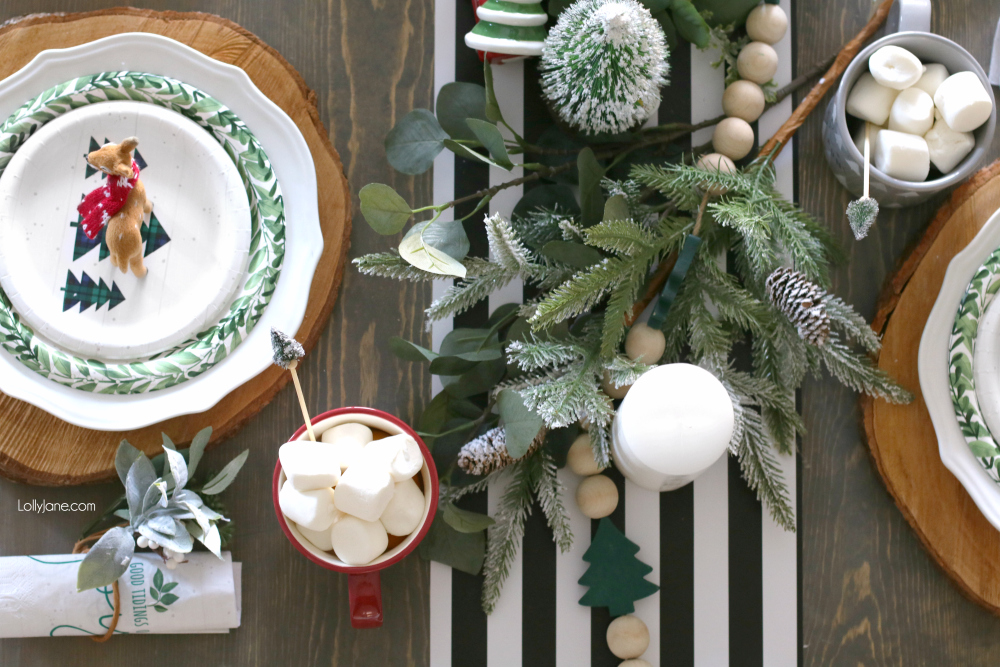 Today's post is sponsored by JOANN. As always, opinions are our very own but we really do love JOANN! 
Easy Christmas Tablescape Ideas
If you're a long-time reader (or even new) then you know (or have quickly picked up on) that we are both very frugal and like to recycle our decor into many areas of the spaces we shoot. Take today's easy Christmas Tablescape… we first "shopped" our home, made a little trip down the hall to our staging buffet, then filled in with a few new items (some winter decor but others not related to at all but we get to be creative!) to eventually mix 'n match to pull the space together. Here's a peek at what guests see when they enter our dining room: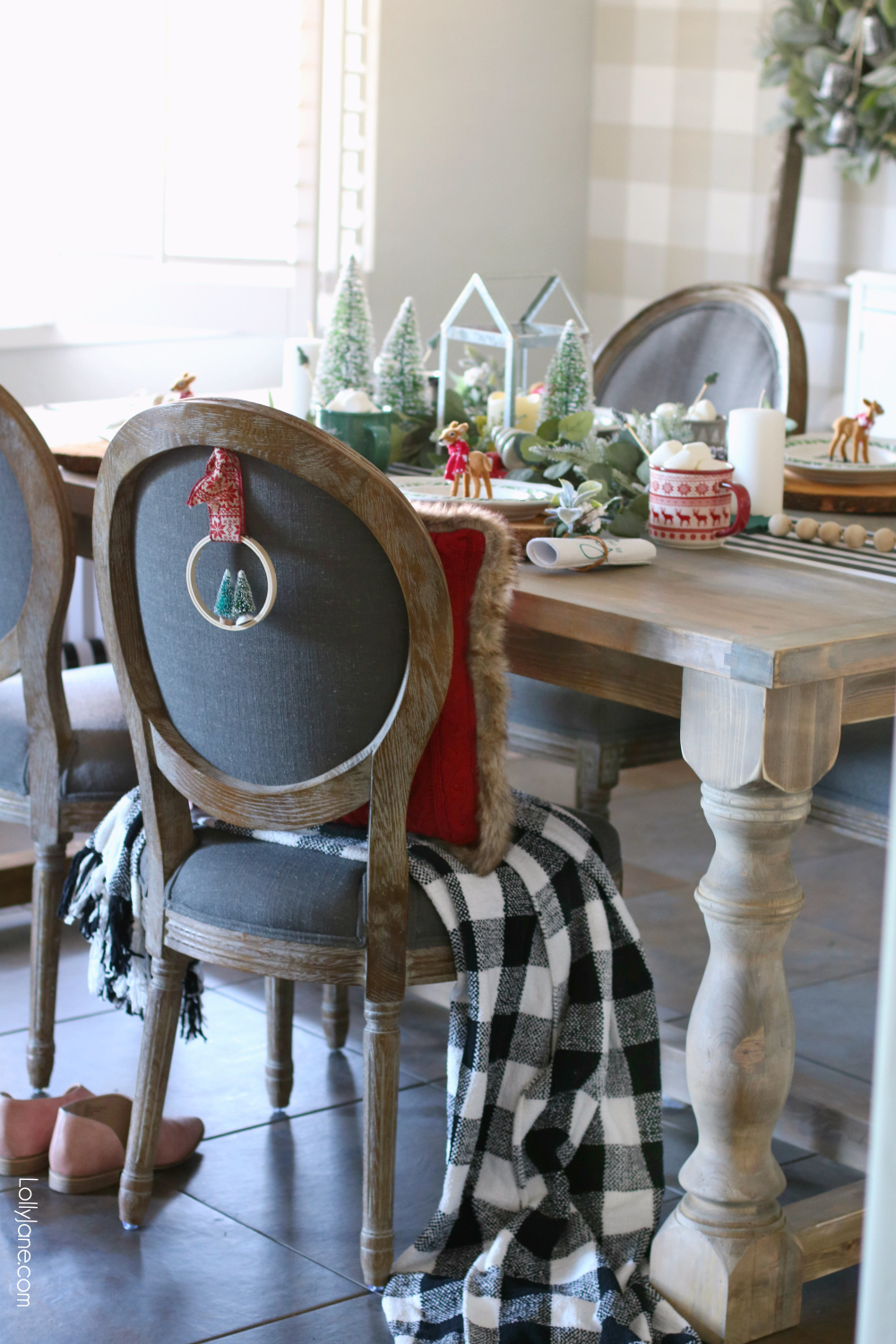 Supplies for Easy Christmas Tablescape Ideas
*Affiliate links may apply. See our disclosure here.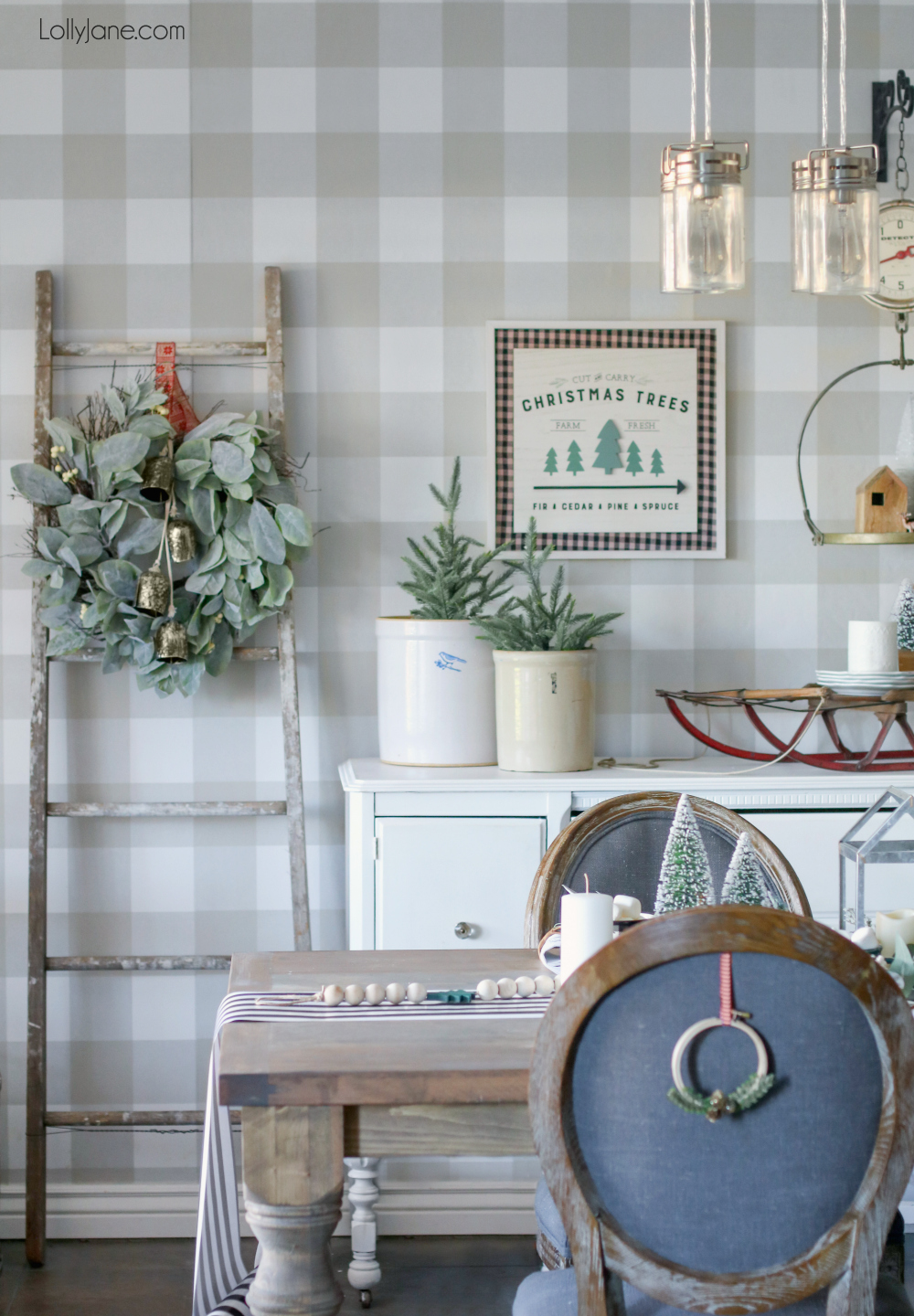 How to Decorate a Christmas Tablescape
I can usually whip up a tablescape in a matter of minutes because I have a little system that works– you'll be able to create one yourself with these 5 easy tips!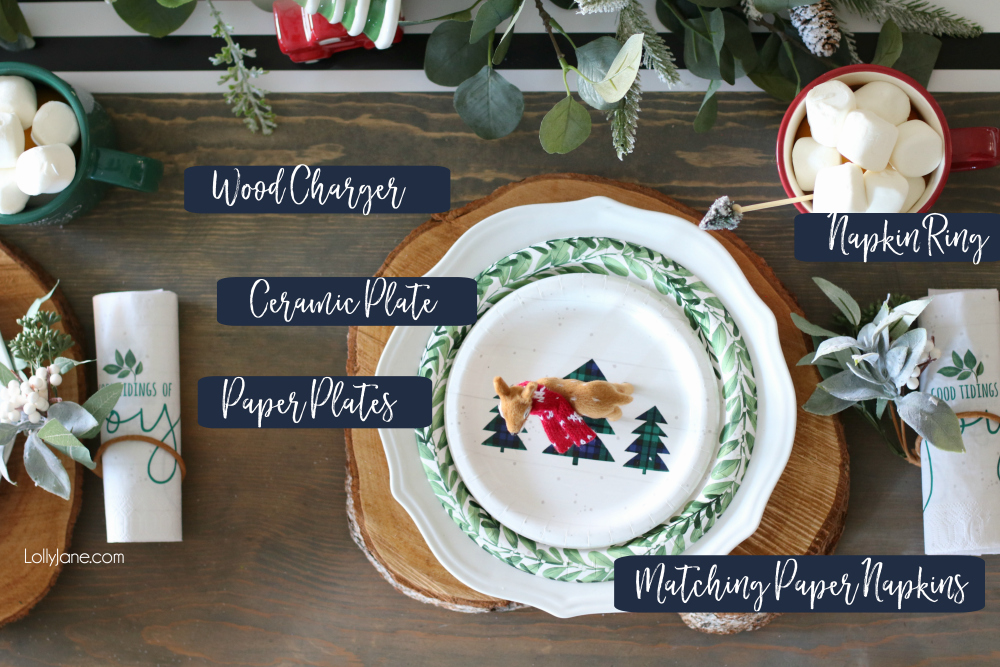 Start with a Table runner: Your table runner sets the tone for the "theme" or color scheme anyway. Note that this does NOT need to be fancy… we used a roll of paper and simply unrolled it and let it hang off both ends of the table. BAM.
Layer greenery. Greens are a surefire way to say, "It's winter! Merry Christmas!" aaaand, if you live in a warmer climate like we do in Arizona, you can simply "shop" your backyard and bring a branch or two in from your favorite tree. I paired a eucalyptus branch (free) with a pine tree branch bought from JOANN, ($3!)
Add your centerpiece. Add your biggest, chunkiest centerpiece smack dab in the middle of the table. Then…
Fill decor (like candles/candlesticks, trees, florals, vases, etc.) around your centerpiece. We found this super cute metal house faux candle (that glows so pretty!) and knew it would be the perfect centerpiece. After I set it in the middle, I added some bottle brush trees, dollar store candles, and a wood beaded garland with the cutest green trees on it (also from JOANN) that bring some warmth to the space.
Add your place settings, (reference the picture below.) My biggest money saver has been the purchase of a neutral (white) set of 8 ceramic dinner + dessert plates. (That and having my husband slice me off a set of 6 now-wooden chargers that came from a dead tree last summer.) Anyway, I am able to layer the plates for any occasion (because white matches any decor + any theme, yay!) and swap out the charger.  I topped it with coordinating dessert plates and used paper napkins inside the napkin ring. Paper plates are a great way to match the theme and to save you loads of cleanup time. 😉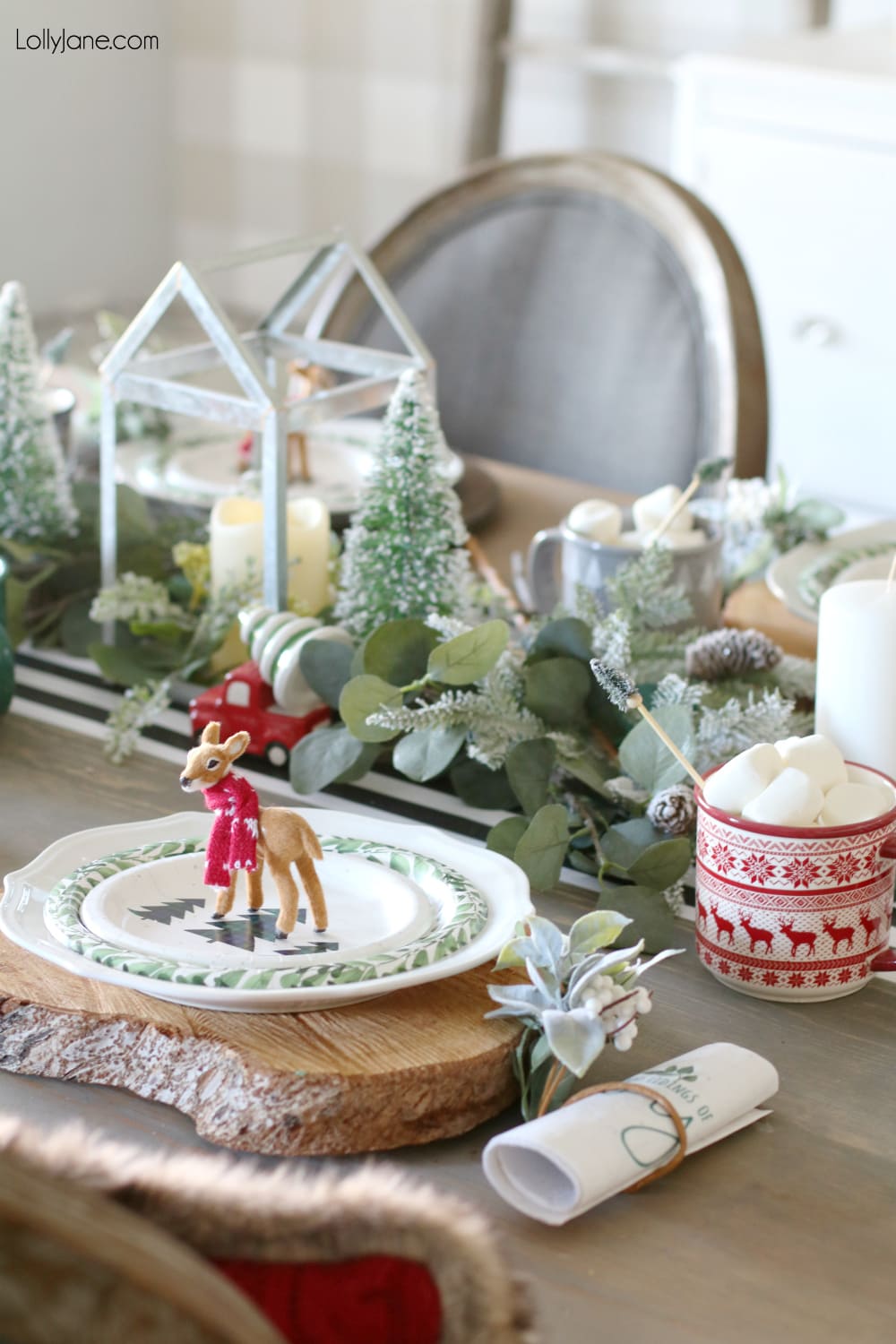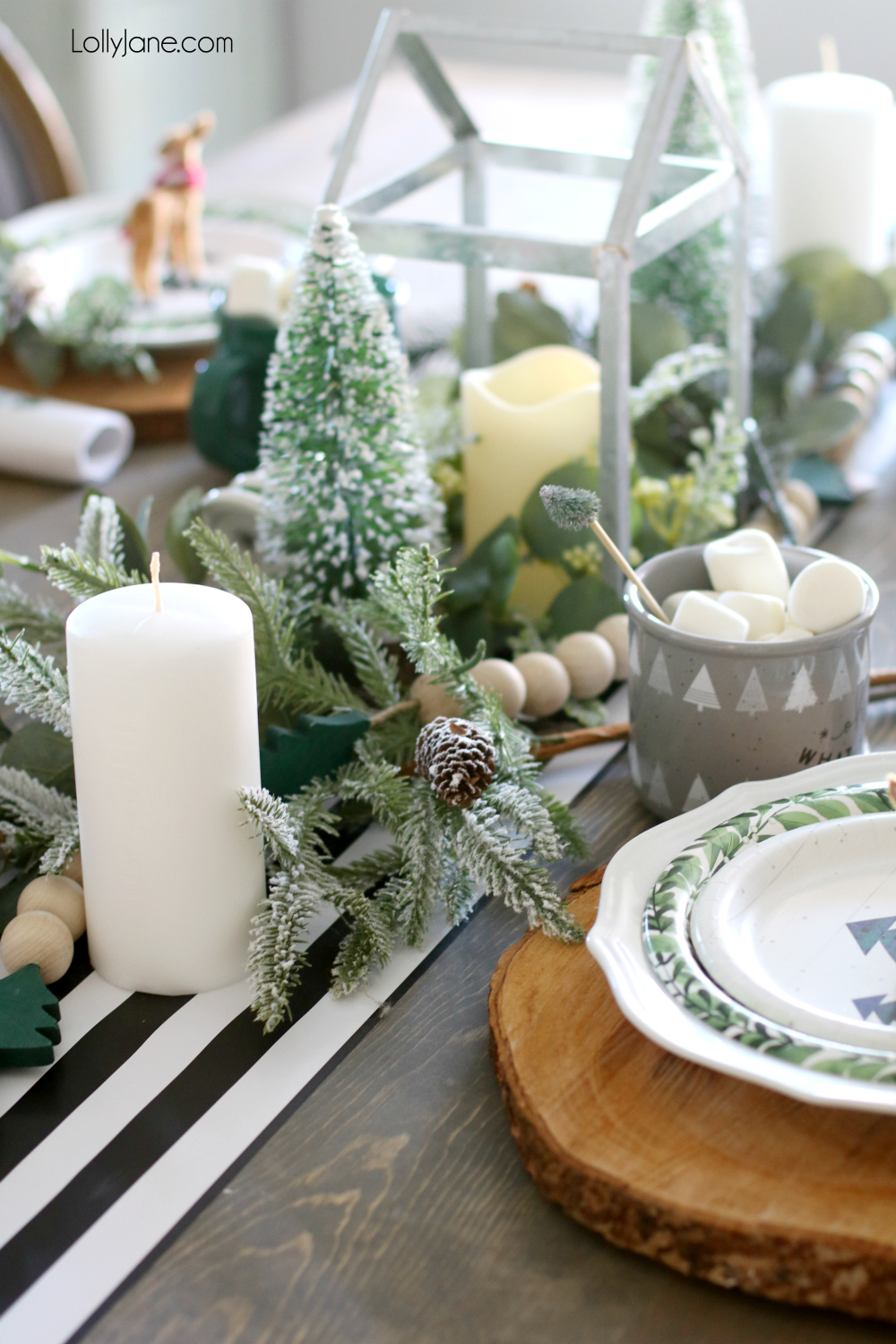 Tips for an Easy Christmas Tablescape
You can really bring the theme of your tablescape to life by adding touches of coordinating decor here or there. For example, I spied these darling deer ornaments at JOANN and turned them into deer figurines by simply removing the ornament string and then setting them on top of each plate to make it a little more festive: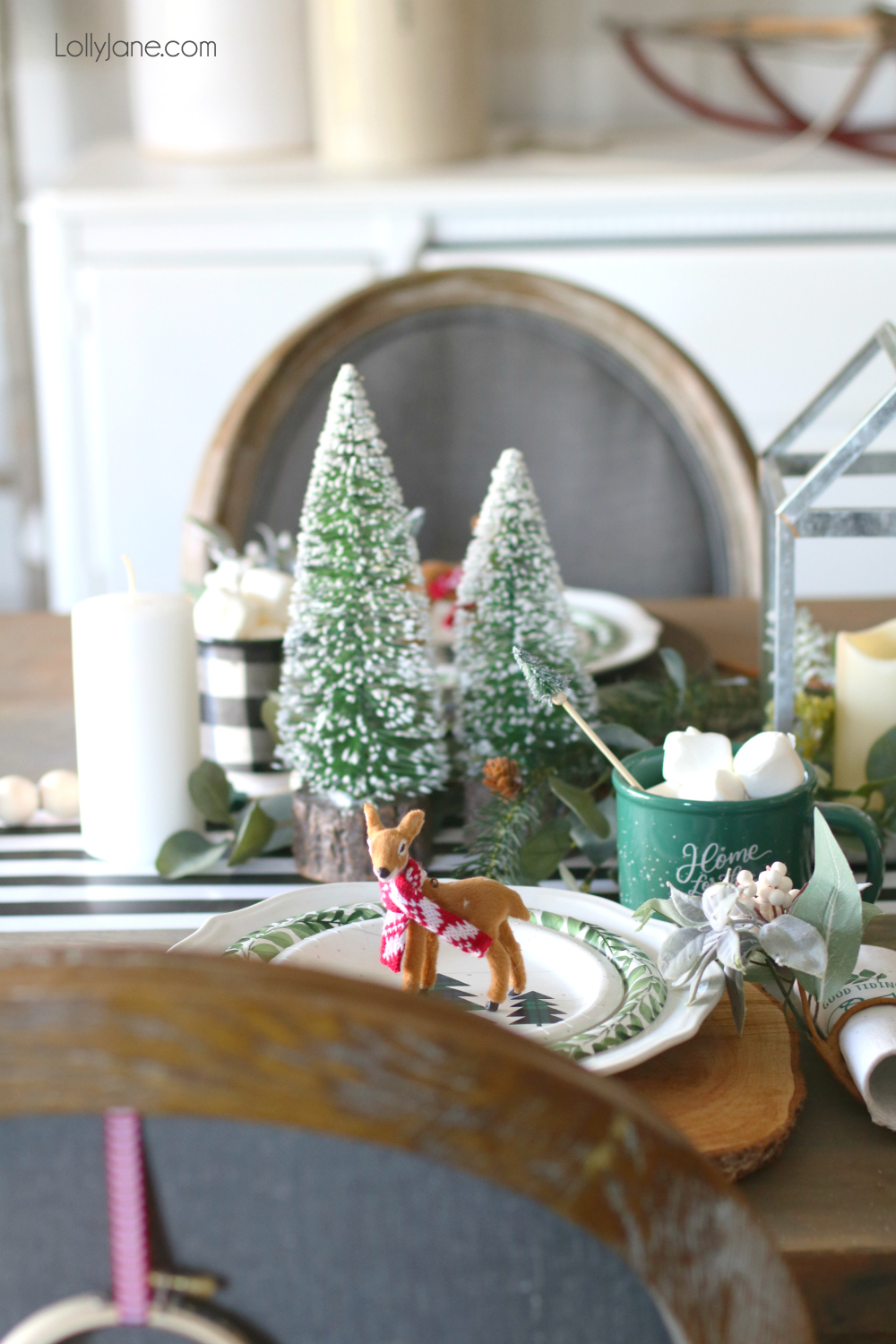 Also spied at JOANN was this adorable vintage truck with tree salt & pepper set so I snatched it up and set it on the table directly. Finding little ways to bring the theme in without breaking the bank is our jam!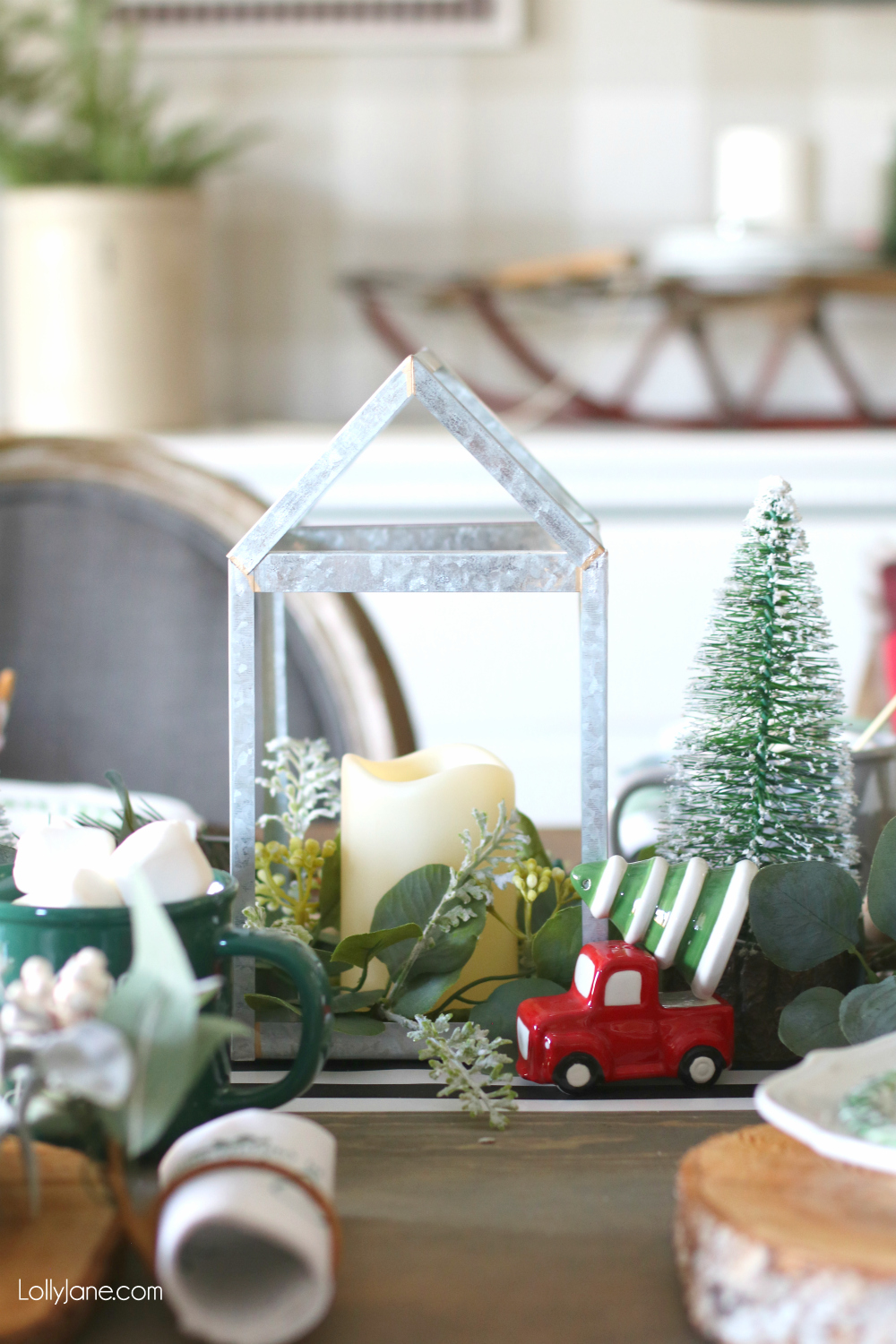 Lastly, extend your theme to your surroundings. I propped up an old ladder and hung the prettiest wreath from JOANN on it with some of their beautiful Christmas ribbon, then tied bells to the front. So easy!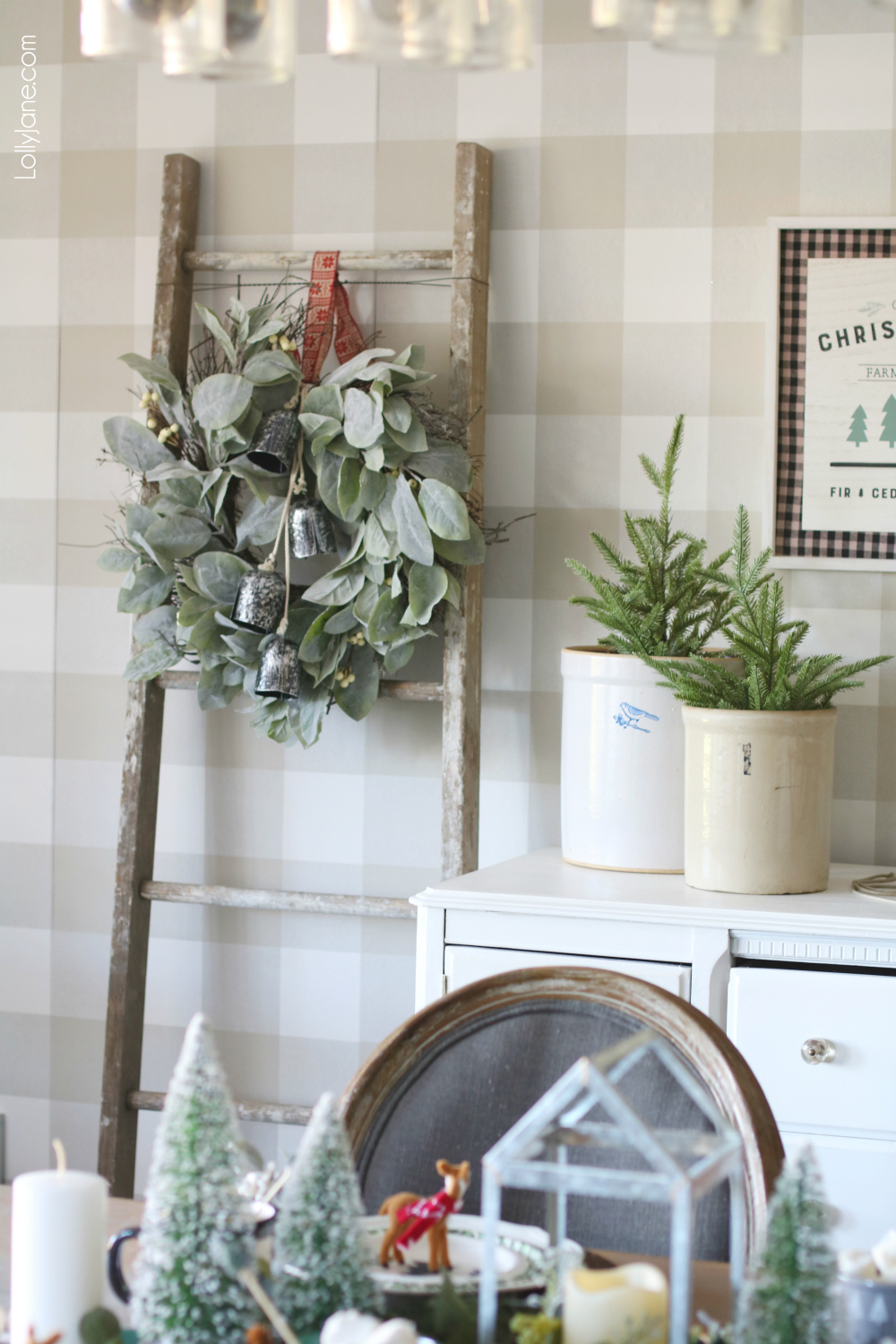 DIY Embroidery Hoop Ornaments
One thing I like to do is not let leave my guests empty-handed… usually, that would be a doggy bag with a piece of leftover dessert, ha! I thought it would be fun to make them an ornament to leave with and to remember our evening together. Awww. I know, so cute. 😉 I saw this darling idea from our friend Home Stories A to Z's Instagram and immediately knew how I could display the little DIY ornament I made for my guests that can also double as decor. (Thanks Beth!)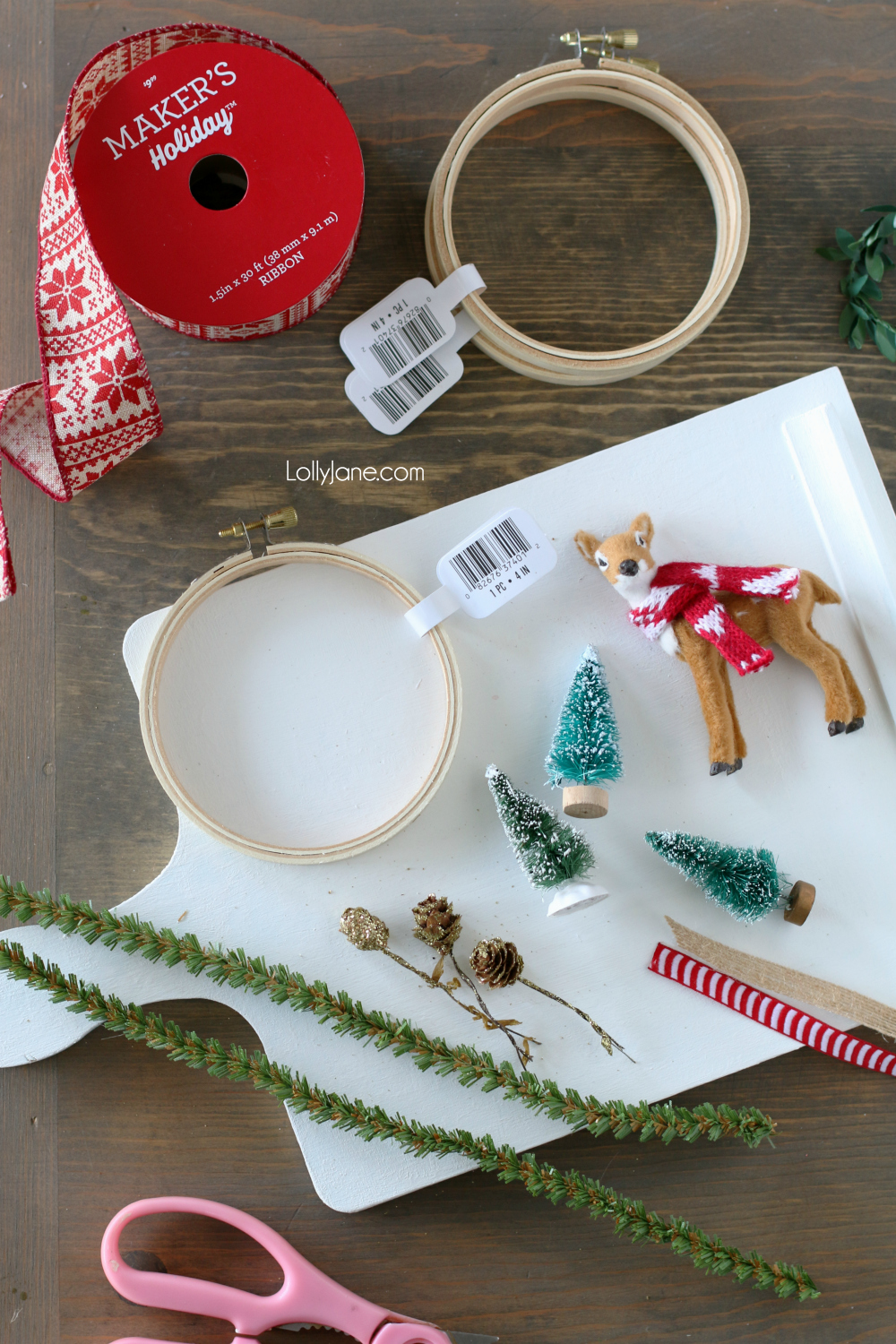 You can see the full tutorial for our DIY Embroidery Hoop Ornaments on the JOANN's app or here.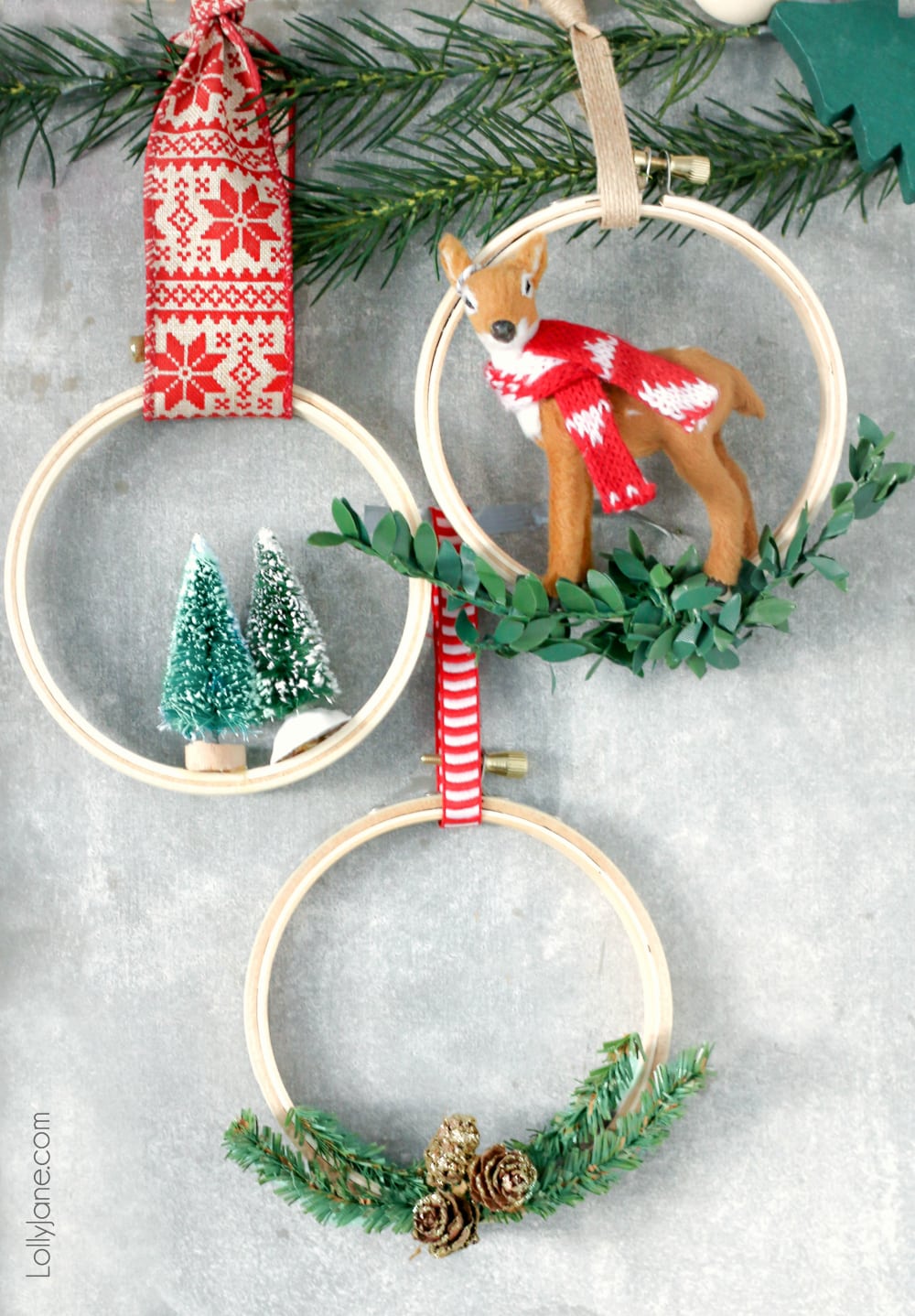 Here's another peek of it simply pinned underneath the ribbon onto my chair. So cute!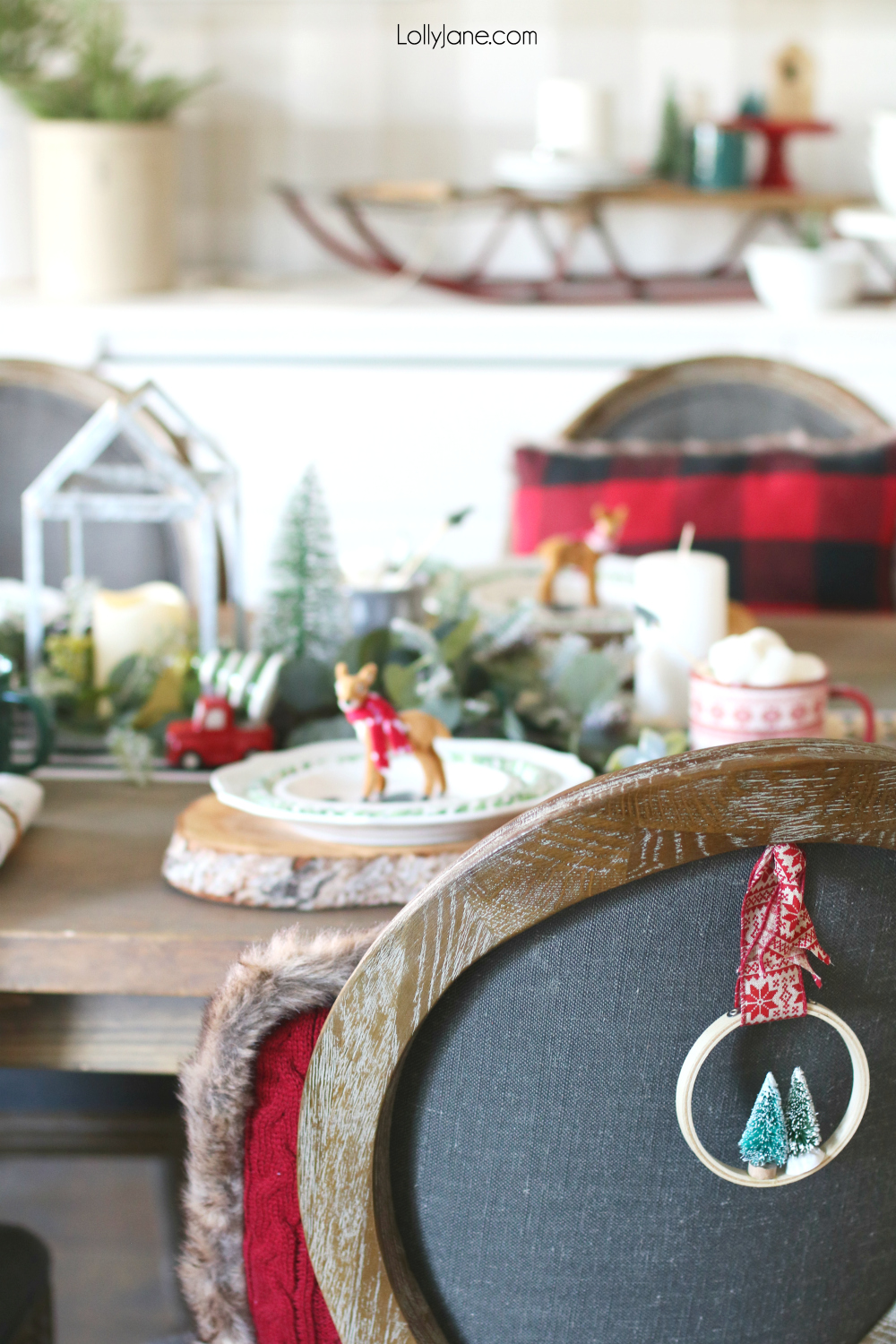 We would love to hear of your favorite finds from JOANN or how YOU decorate your own tablescape! Do tell! 🙂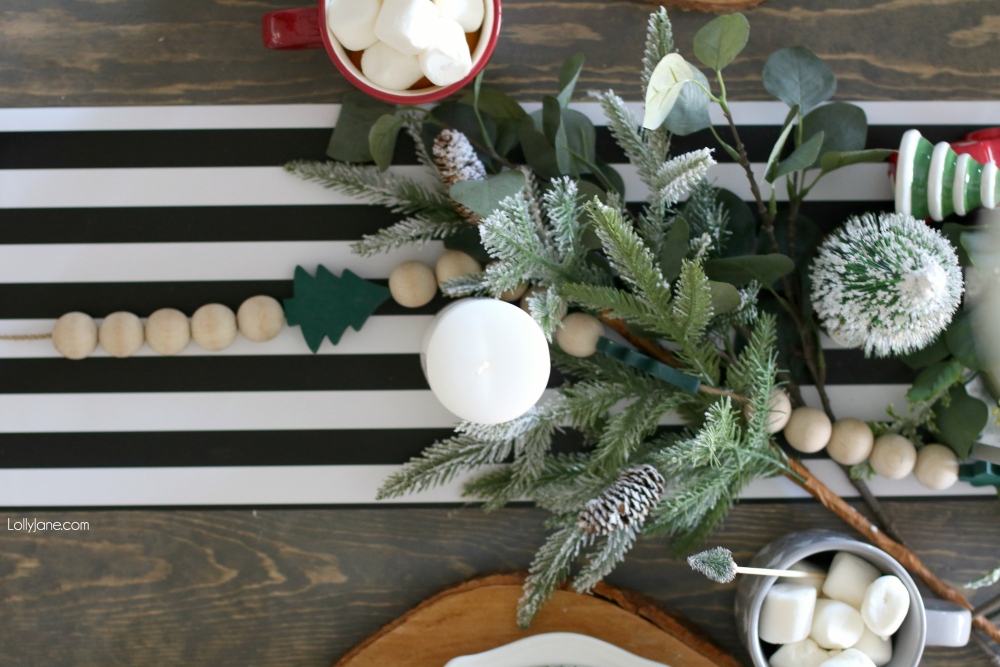 More Christmas-themed decor ideas:
We'd LOVE to have you follow along with our DIY successes & fails! Plus, our live fave home decor finds along the way:
*disclosure: some affiliate links used.