Christmas Kitchen Open Shelves Decorations
If you love your decorated Christmas tree in the family room, add some leftover decor to the open shelving in your kitchen! With a handful of items, you can easily transform your everyday shelves into a festive focal point of your kitchen.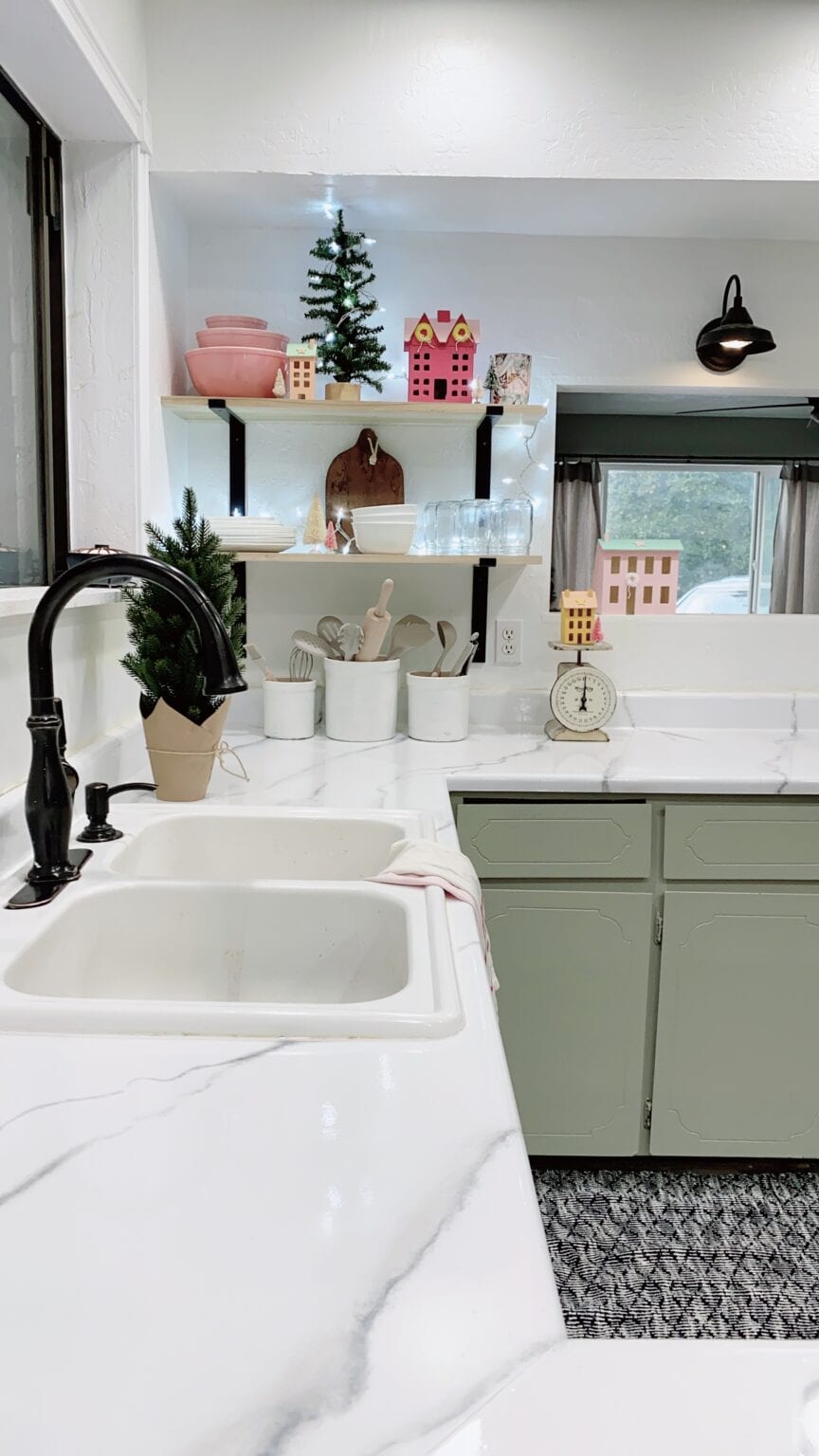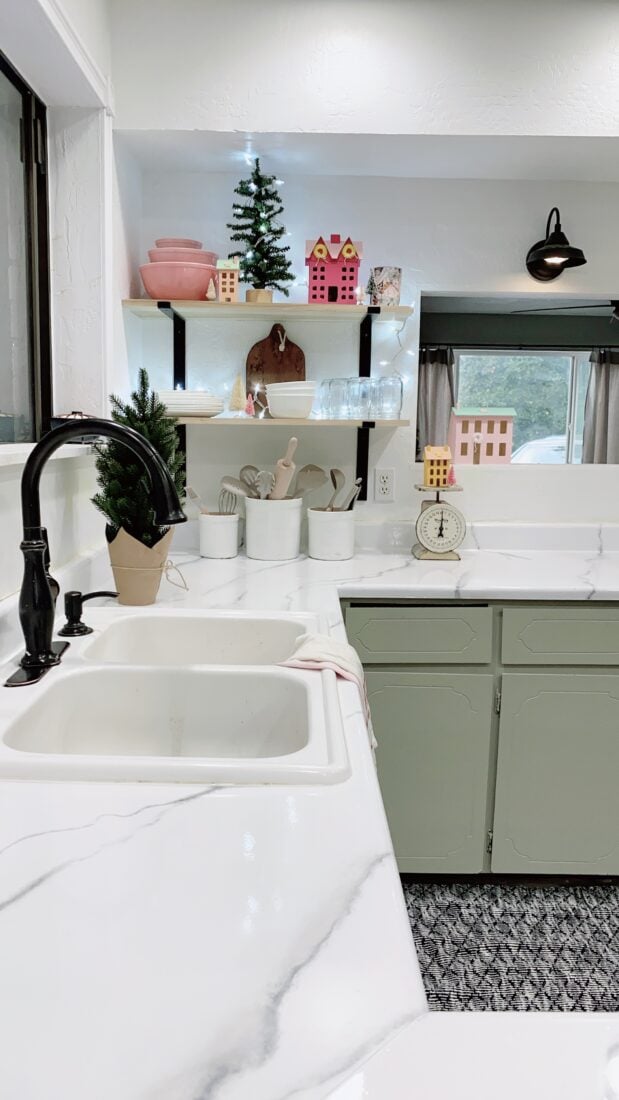 We installed these easy modern kitchen open shelves over the summer and have loved them! They're so fun to decorate seasonally so we were so excited to dress them up for Christmas.

how to decorate open kitchen shelves for christmas
We used our leftover Putz houses and bottle brush trees from Village Christmas Tree several years ago. So simple. They add the perfect amount of decor mixed with our everyday dishes. We also added an inexpensive strand of lights to turn up the cozy factor plus a small fake tree with a cute wood base.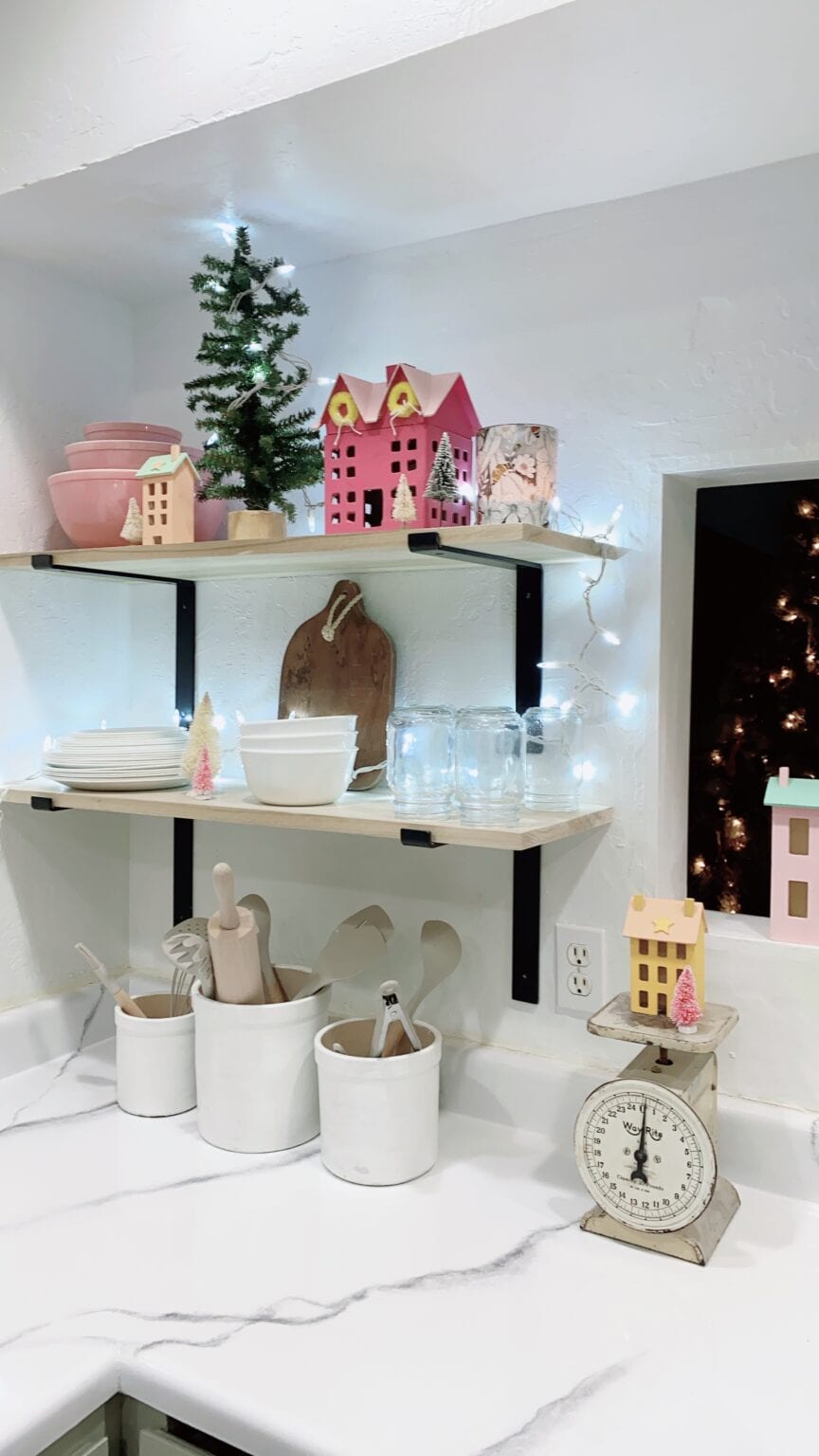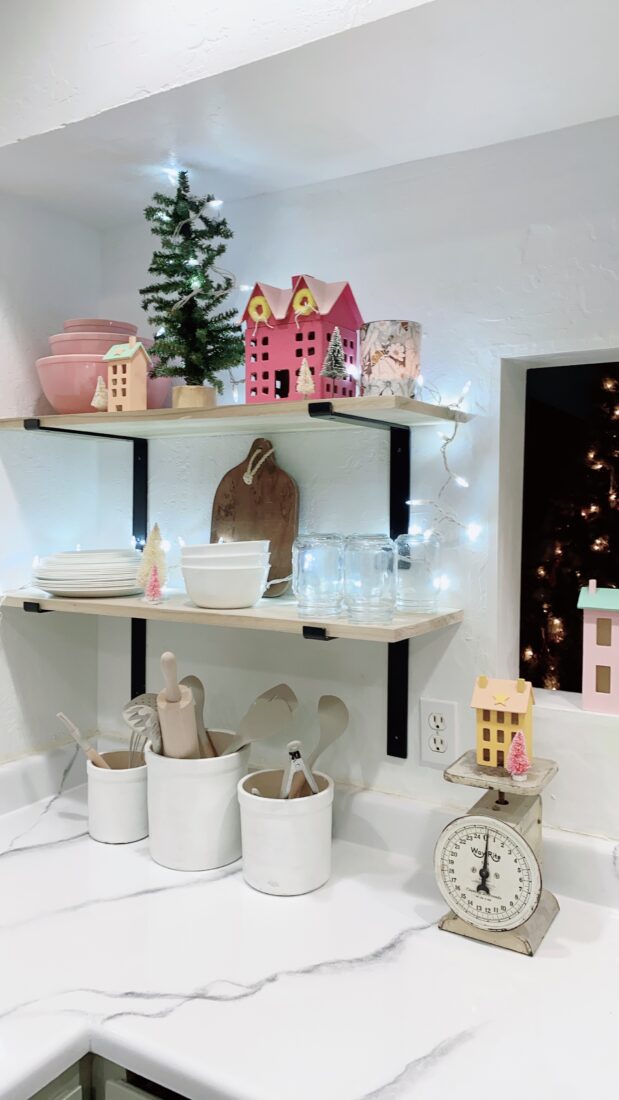 CHOOSE A THEME
For your shelves, decorate with what you love since you'll be seeing it everyday. If you love neutral colors, look for greens and rustic bells or white trees. If you love traditional red and green colors, a cute Santa would look cute front and center.
I personally love color which is why I chose to display the houses. I love the pops of pink that match my vintage Pyrex bowls that I leave up there year round. This way, they were able to match my existing bowls and plates so I didn't have to move to many things around. Toss in something fun and festive like moose cups from Lampoons Christmas Vacation.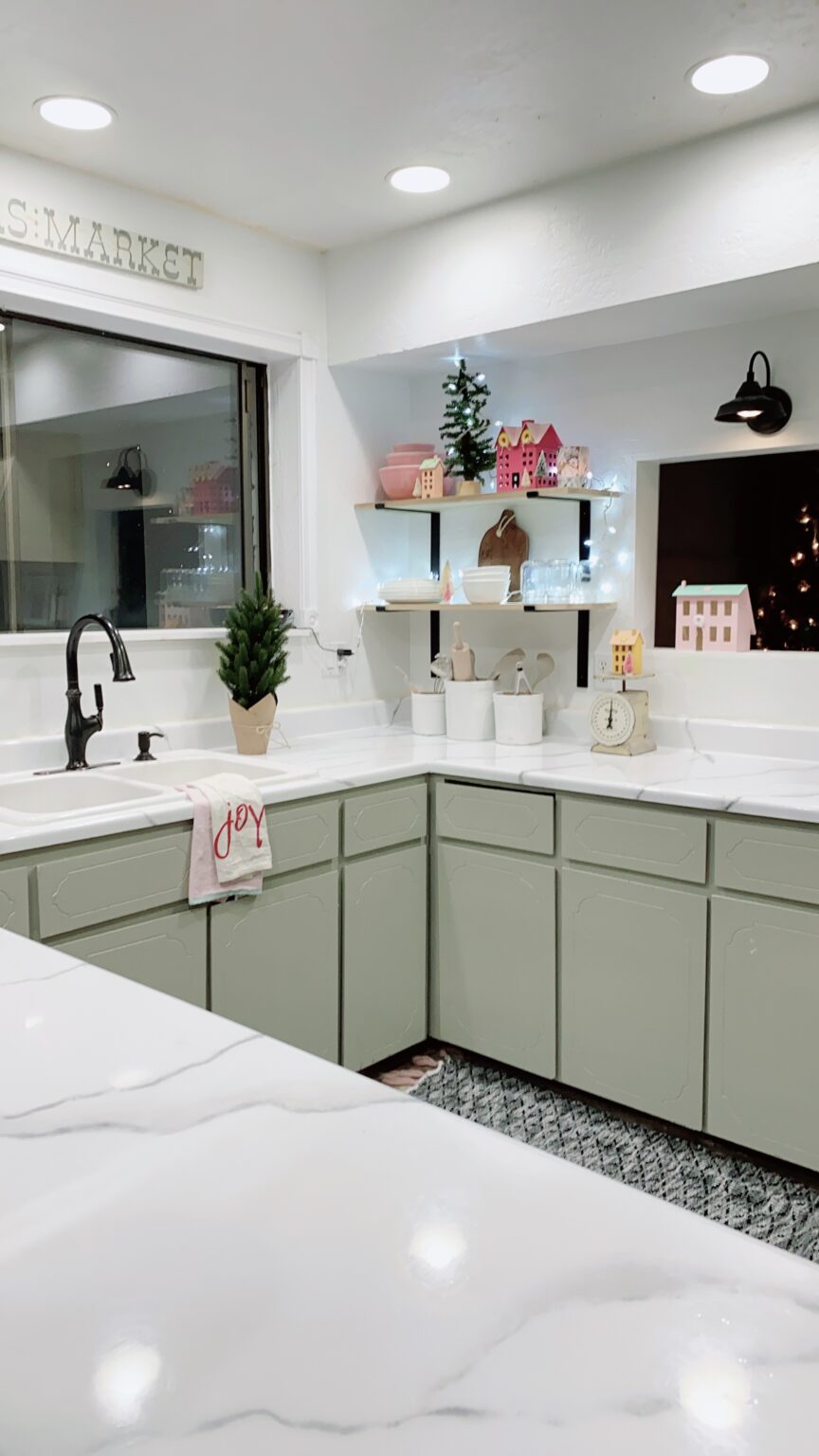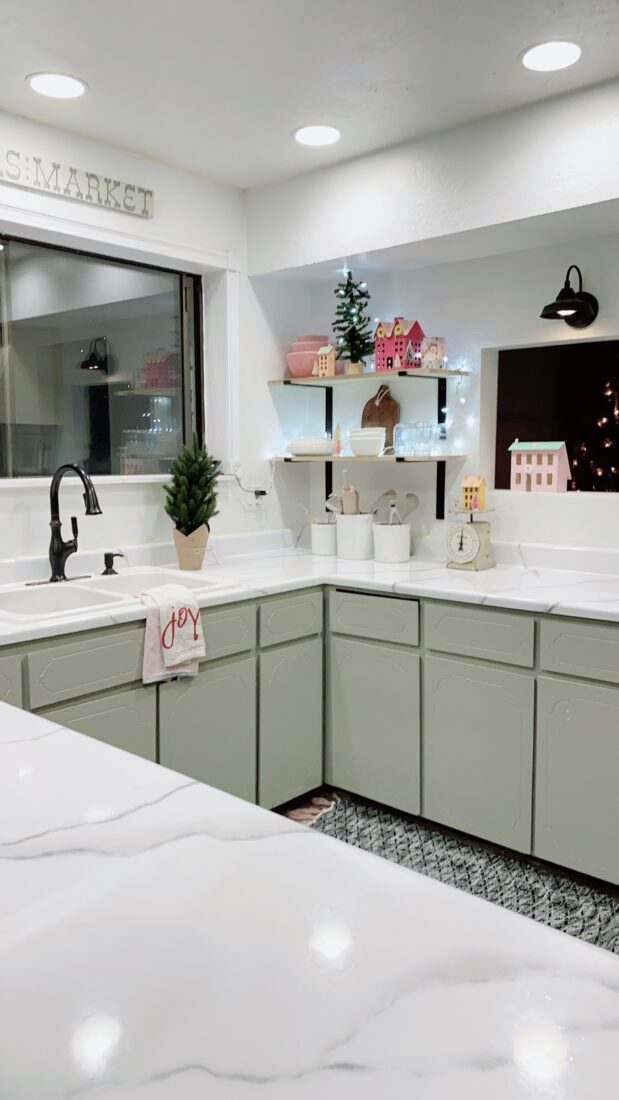 gather your items
We love lights as they give off a cozy vibe come nightfall. Consider adding fairy lights or a strand of lights from the dollar store. Candles create the same feel so pop one within your decor for the ultimate cozy.
Greenery is an easy way to fill the shelves too. Garlands are so popular and come in a variety of colors and sizes and this time of year, they're freeee! Well, scraps of them are anyway! Tip: Head to the home improvement store and take the trimmings from the fresh trees. They're more than happy to unload them on you!
layer your decor
Decorate in the rules of three:
We like the tallest item to be in the middle then flank it with smaller items.
A tree is the perfect way to create height; they come in a variety of styles so it's easy to find one to fit your style.
Place small items like bottle brush trees, traditional trees, mini Santas, nutcrackers or gnomes around the shelves to add little bits of Christmas. We left our bottom shelf alone for the most part except for 2 small bottlebrush trees. It's the perfect amount of decor that won't take away from grabbing our dishes but continues the theme.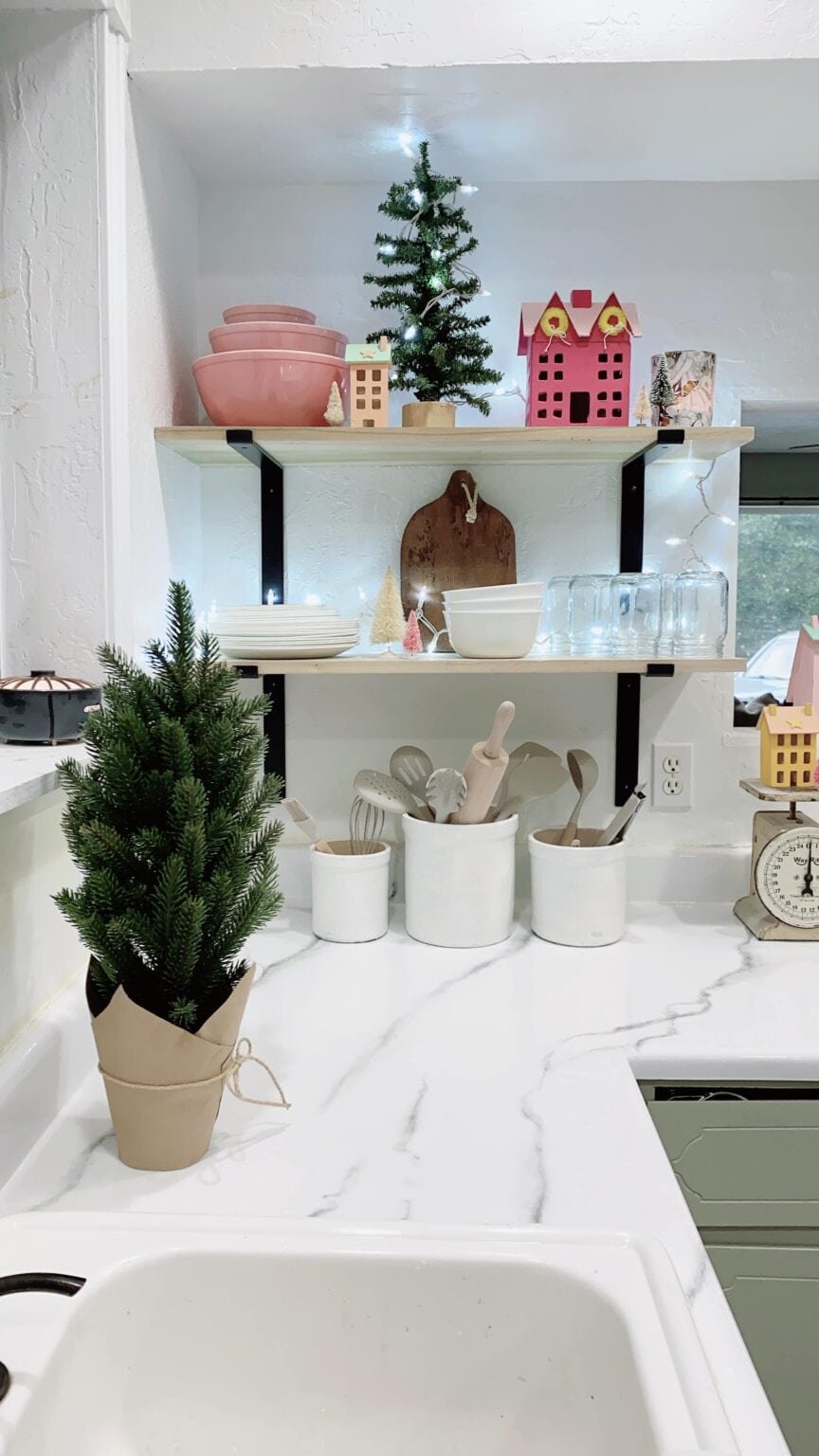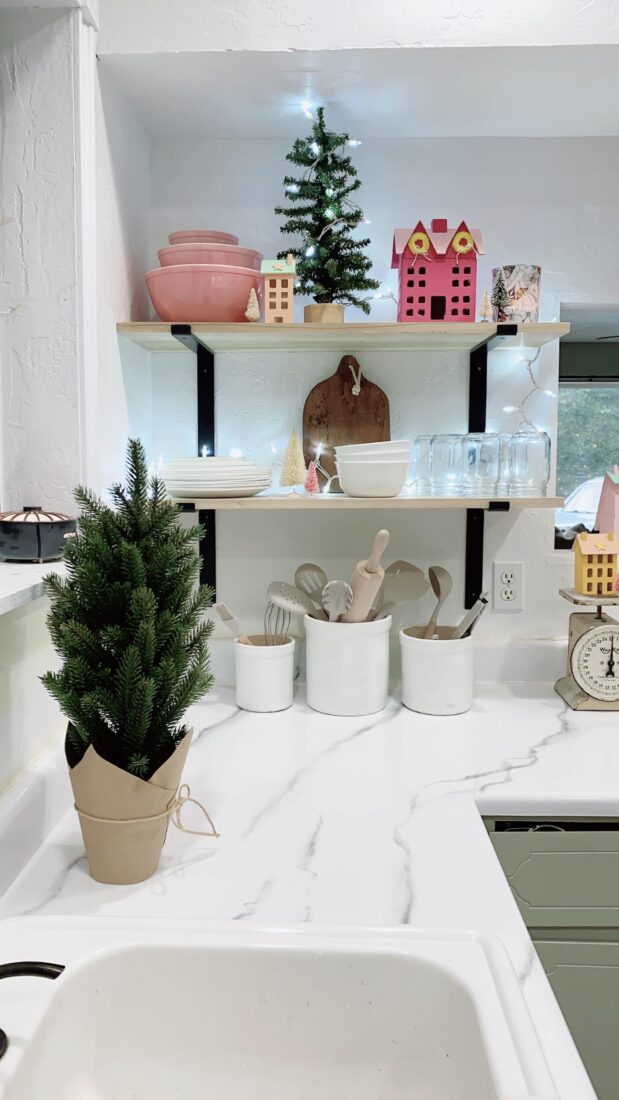 We hope these tips will help you jazz up your own sheves!
More Christmas Decorating Ideas
Check out our friend's Christmas ideas to decorate every room of your own home this holiday season, you will love these gals styles… be sure to hop over and tell them LJ says HI! A big thank you to cute Stacy for putting this together!

Like the goods in this post? I've linked all of it for below. Merry Christmas!
xoxo, Kelli