Rhonda is here to share an easy Chicken Pasta dinner, you'll love it!
Some days I like to make a meal that takes a while. I think about it ahead of time and I'm on top of things. And some days are not like that at all. It's late and I need something quick. But I still want it to taste good. This meal came because of that situation. Add that I was at Costco and I was looking around for something that I could make but quickly.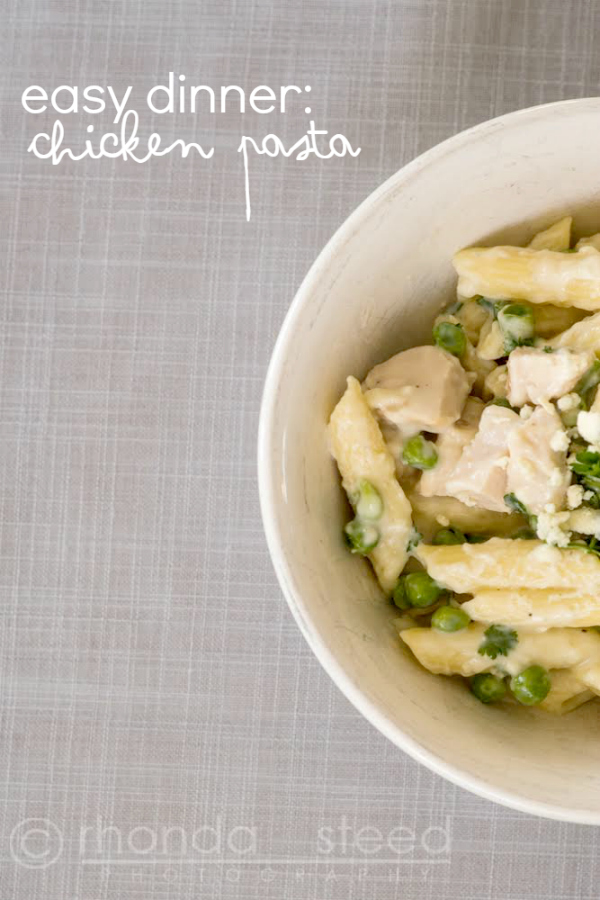 If I have to buy something pre made, I still want to be able to adapt it to make it taste more homemade. This meal is all about that.
Two things that make this meal quick (As in 10 minutes quick):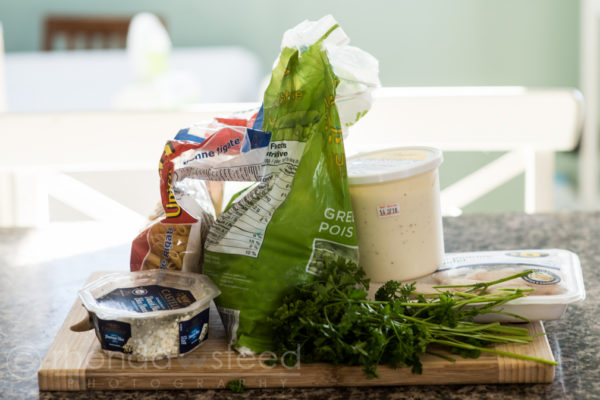 1. I got a pre made Alfredo sauce at costco. They great thing about them is that the come in a two pack and they have a long shelf life. So I can keep thing in my fridge for a night when I need supper quick.
2. Precooked chicken strips: You can buy these at Costco or at Walmart even. Probably most other stores too. Yes, if you plan ahead you could grill a whole bunch of chicken and cut them into strips and freeze them in portions and then use them on nights like this. All you'd have to do is thaw it in the microwave.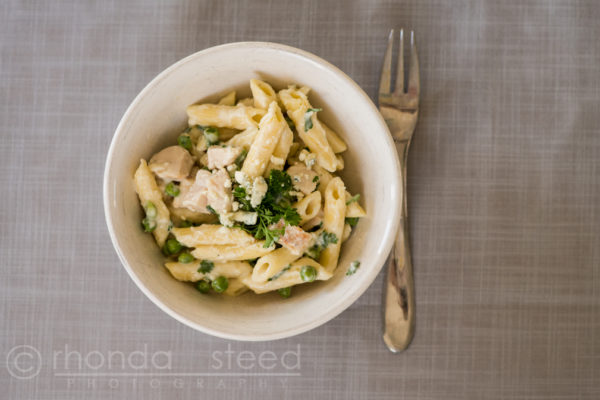 Easy Chicken Pasta
3 cups Pasta: I used Penne cause my kids like that shape 😉
2 cups premade Alfredo Sauce
2 cups precooked grilled chicken strips (You could TOTALLY use shredded chicken from a rotisserie chicken which I love to use for quick meals as you can see with my downloadable 40 easy meals from a rotisserie chicken (
https://rhondasteed.com/40-rotisserie-chicken-dinners
). )
1/4 cup crumbled or grated cheese: I used blue cheese cause I love the little bite it adds to sauces.
3/4 cup frozen peas
1/4 cup chopped parsley (Fresh makes all the difference!)
Put on your water to boil and add in your pasta to cook. Heat up your sauce and peas.. In your serving bowl, cut up your chicken into chunks. Add you crumbled cheese and chopped parsley to it. Drain your pasta. Add to the bowl and pour your sauce over it. That's it. Dinner in 10 minutes.
If you don't like blue cheese or parsley you can adjust the flavors. Other combo ideas are:
1. Basil & garlic & fresh tomatoes
2. mushrooms and sage
3. pecans & ricotta cheese & sage
4. Gruyere Cheese & nutmeg & Ricotta