Easy Slow Cooker Hawaiian Meatballs recipe
Fall is FINALLY in the air here in Arizona so cooler weather means crock pot season! My kids are always heavy on the meatballs when I make a pasta dish so to mix things up, I decided to try a new spin on the standard red sauce meatballs and try them Hawaiian style.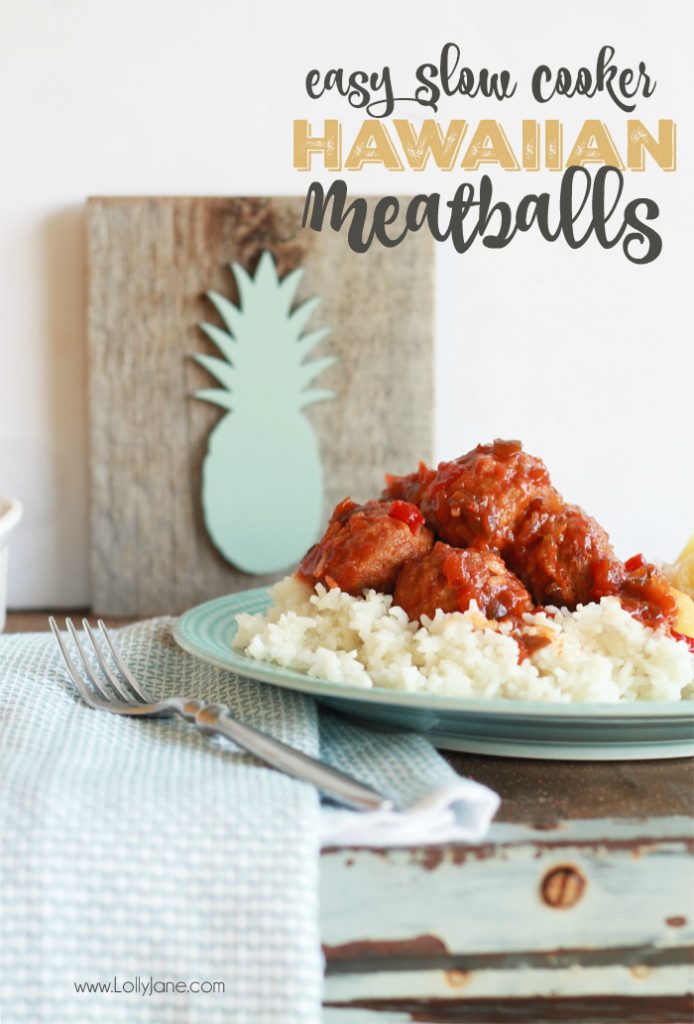 Wouldn't you know it? All 4 of my kids scarfed it down… it is rare that they ALL love something so much so this meal is being added into our monthly rotation, for sure! And not only our monthly rotation but all winter long as this was just too easy not to make again. For our upcoming game nights, this recipe will be our go-to. Phew!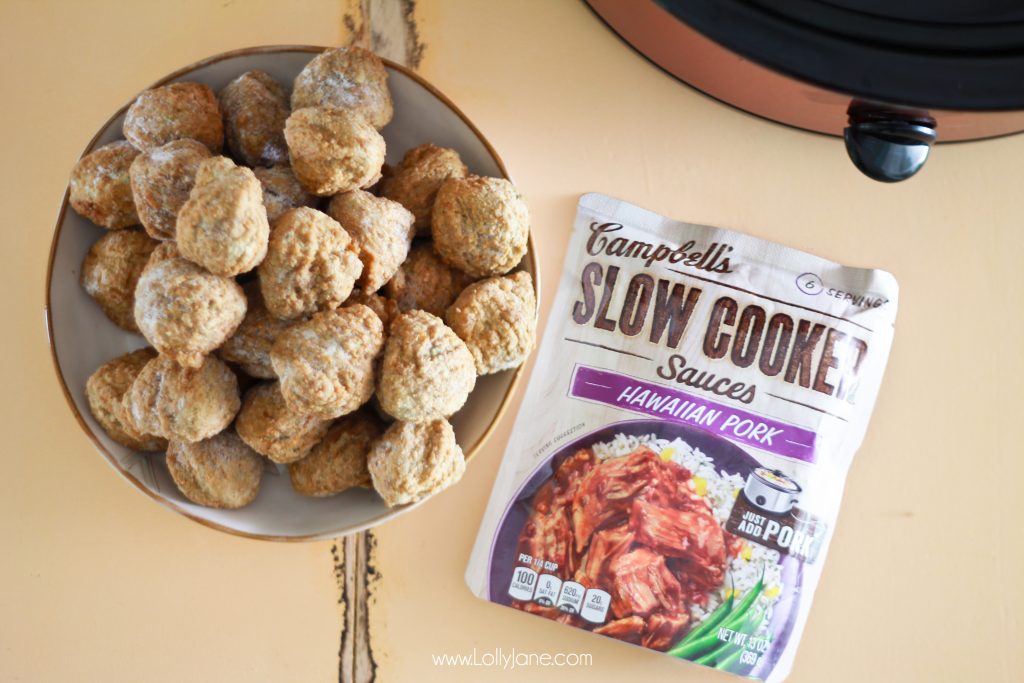 You know we are big fans of Campbell's Slow Cooker Sauces and this Hawaiian Pork flavor has all us, "Mmmmm!" With our winter sports for my daughters (soccer) having already started on top of my sons football season, Campbell's Sauces are a great because they cook a real meal for me lickity split, especially during the weekday madness that is school/homework/sports/church activities/etc.! Because the meatballs for this recipe came in a bag and there was no handling of meat, I let my 6-year old daughter pour the meatballs directly from the bag into the crockpot then the Hawaiian Pork sauce over the meatballs. She was able (with supervision) to turn on the crock pot and set the lid on. These sauce packers are really THAT easy to use, you just need a few minutes!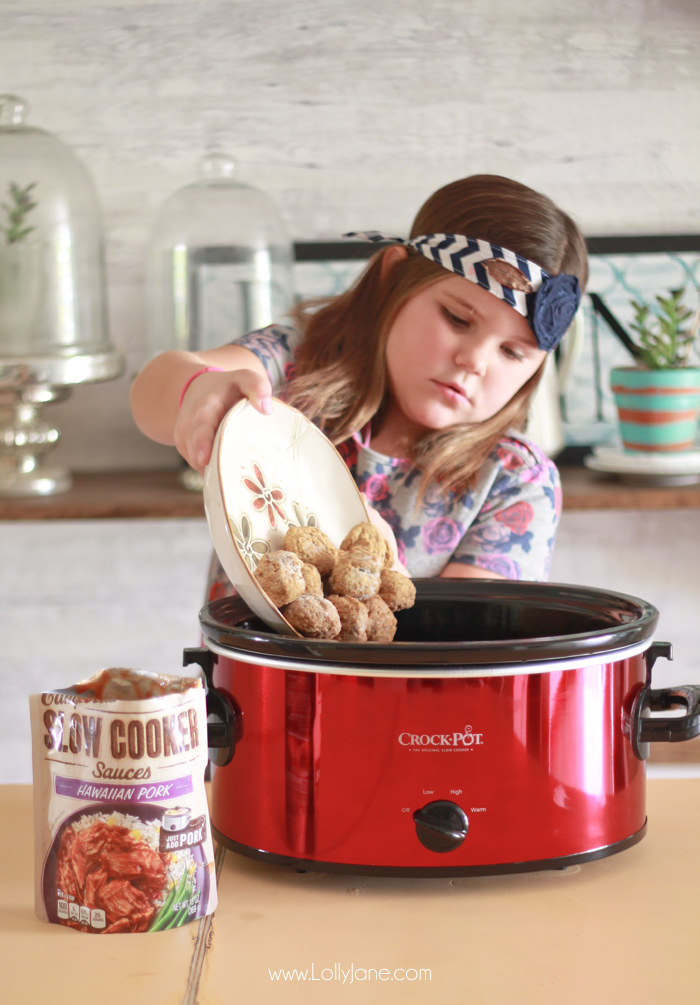 Besides every day meals, CSCS are awesome for game day gathering with friends. Meals with Campbell's Slow Cooker Sauces are delicious and so easy to make… I'm thinking tacos, loaded nachos or sliders for a tailgate party! Yum. Take the Game Day Freat, Every Day Easy Challenge and experience it for yourself. Be sure to try the other flavorful sauces like Tavern Style Pot Roast, Apple Bourbon Pulled Pork, Beef Stew, Southern BBQ, Sweet Korean BBQ and of course Hawaiian Pork.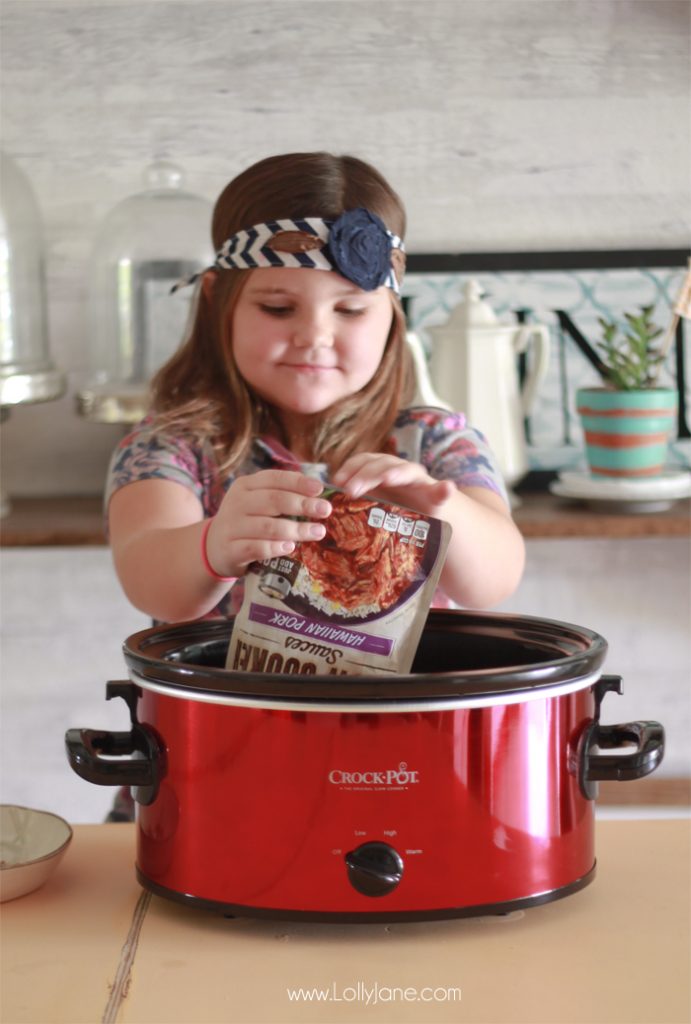 Slow Cooker Hawaiian Meatballs
Ingredients:
Frozen Meatballs
Hawaiian Pork Slow Cooker Sauce
Directions:
Set frozen meatballs inside crock pot.
Pour packet of Hawaiian pork sauce over top of meatballs.
Turn crockpot on high for 3-4 hours or low for 7-8 hours.
Set warm meatballs over cooked rice and a side of pineapple, enjoy!
This recipe is so easy a 6-year old can put it together! (And mine did! LOL)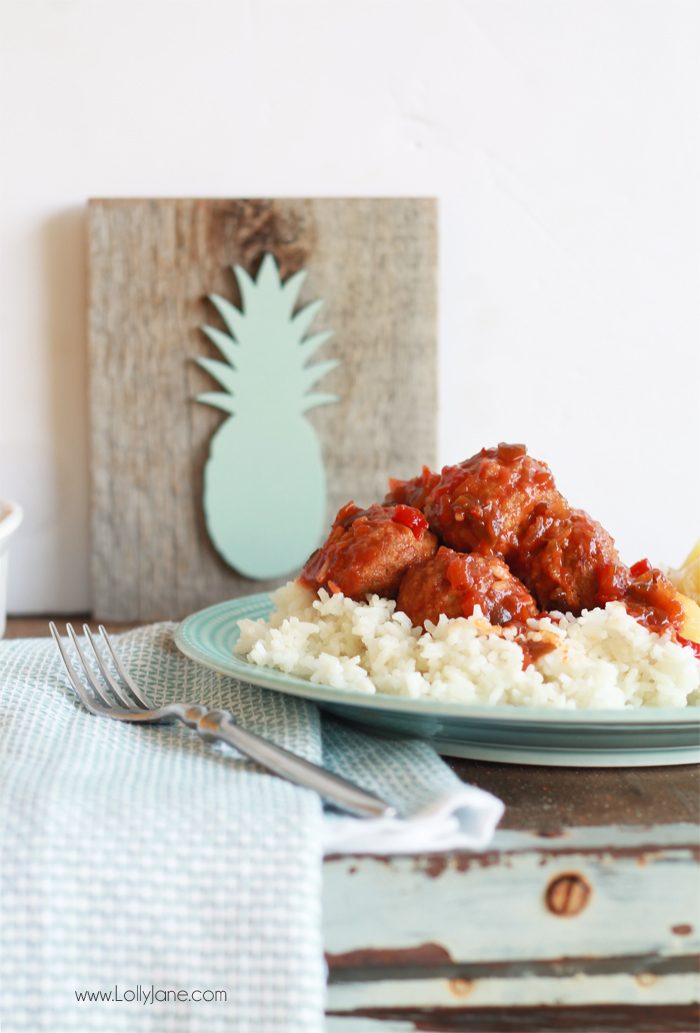 We paired our Hawaiian meatballs over a bed of white rice and a side of fresh pineapple chunks. Delish!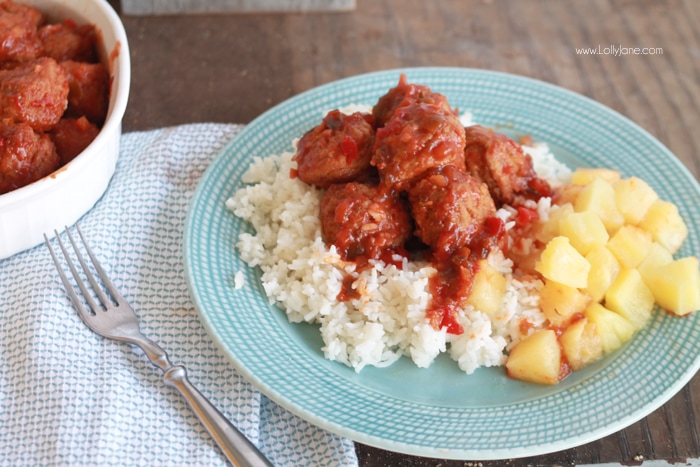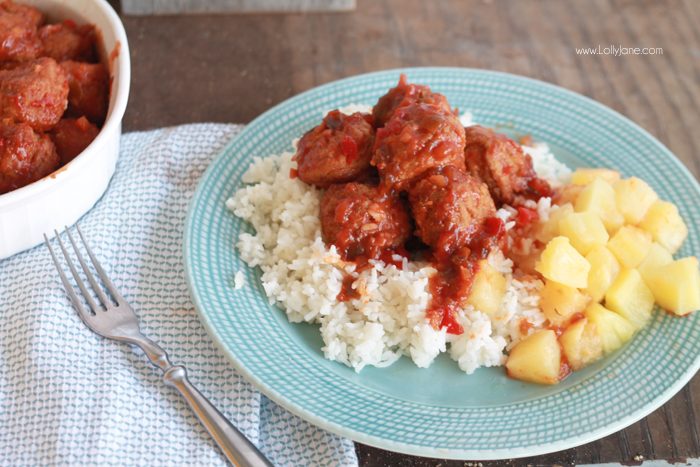 It is the perfect combination of sweet and savory!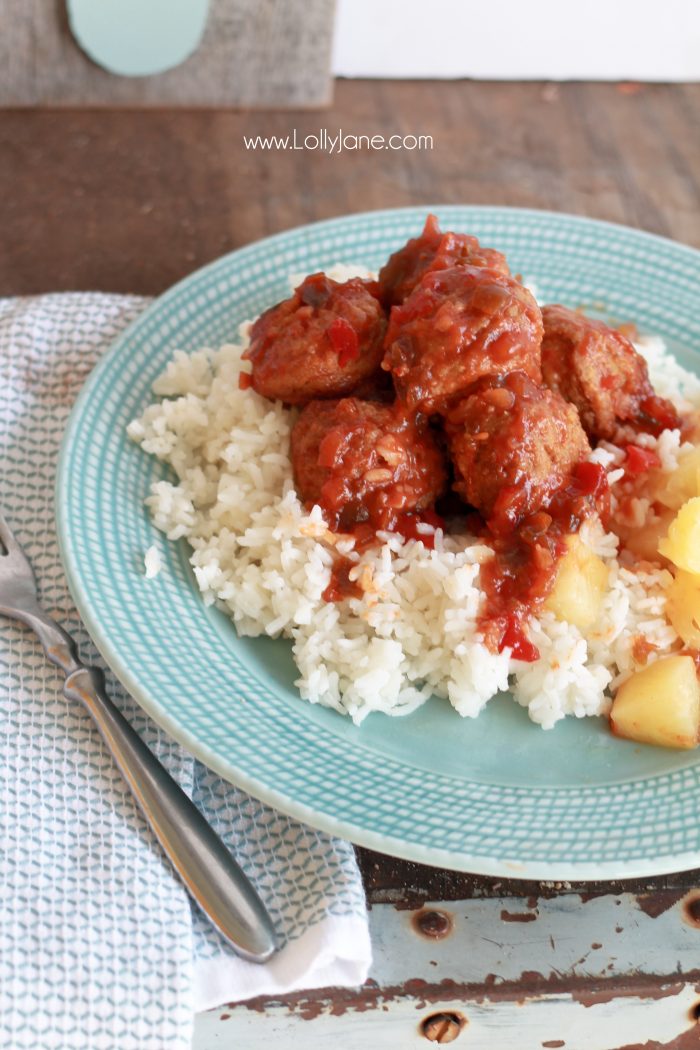 Don't forget to check out Campbell's Sauces month long promotion that features a recipe "Playbook" generator, where you will find the solutions for your own dinner dilemmas PLUS a coupon. Sweet! "Campbell's – Made for Real, Real Life"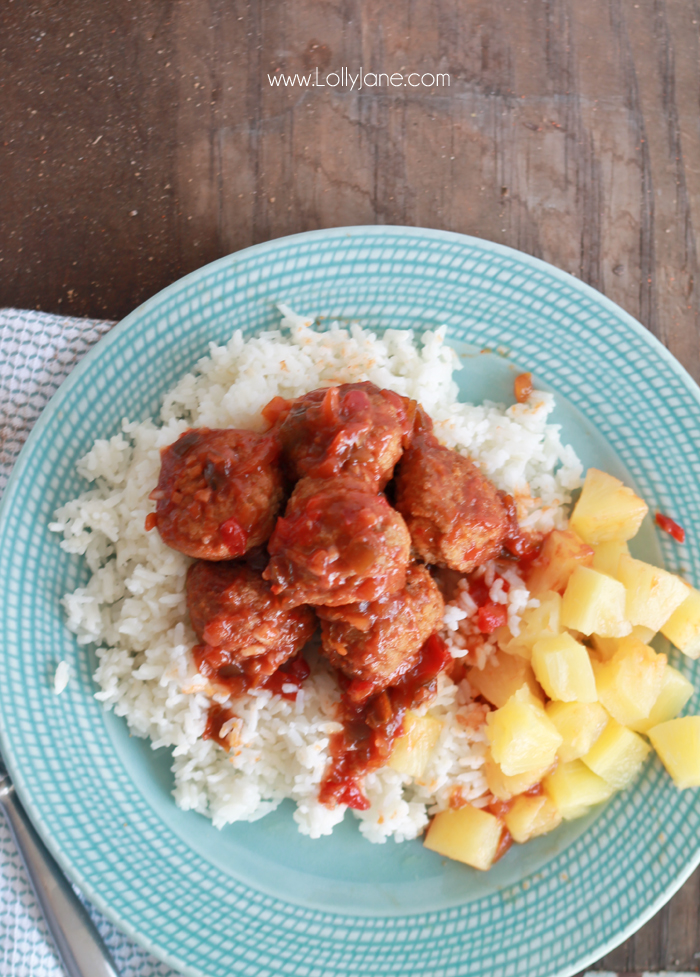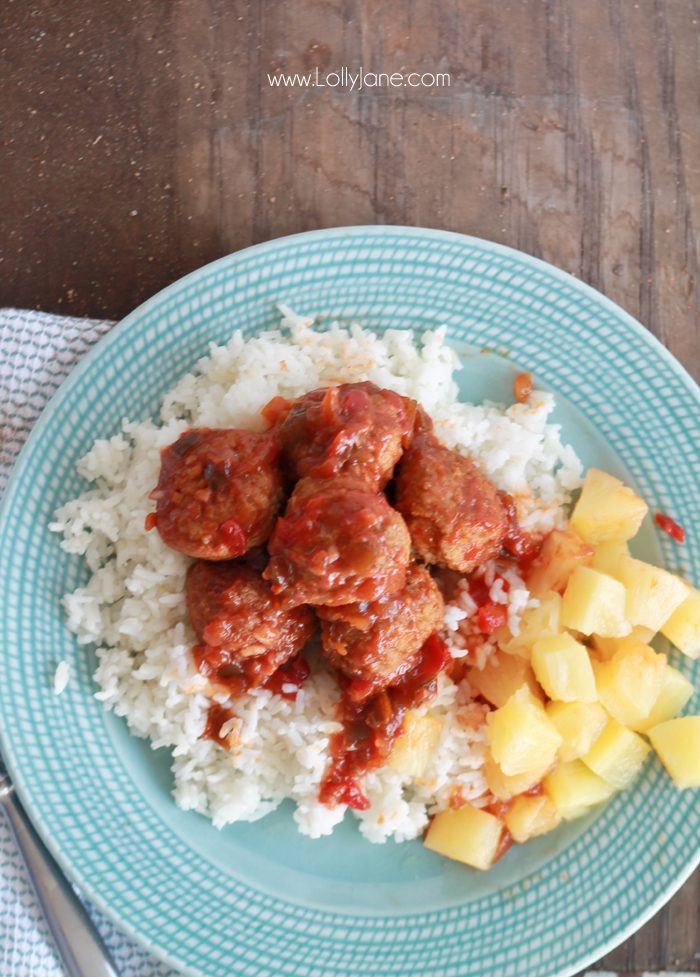 Try more of our recipes using the CSCS like our Apple Bourbon Pulled Pork,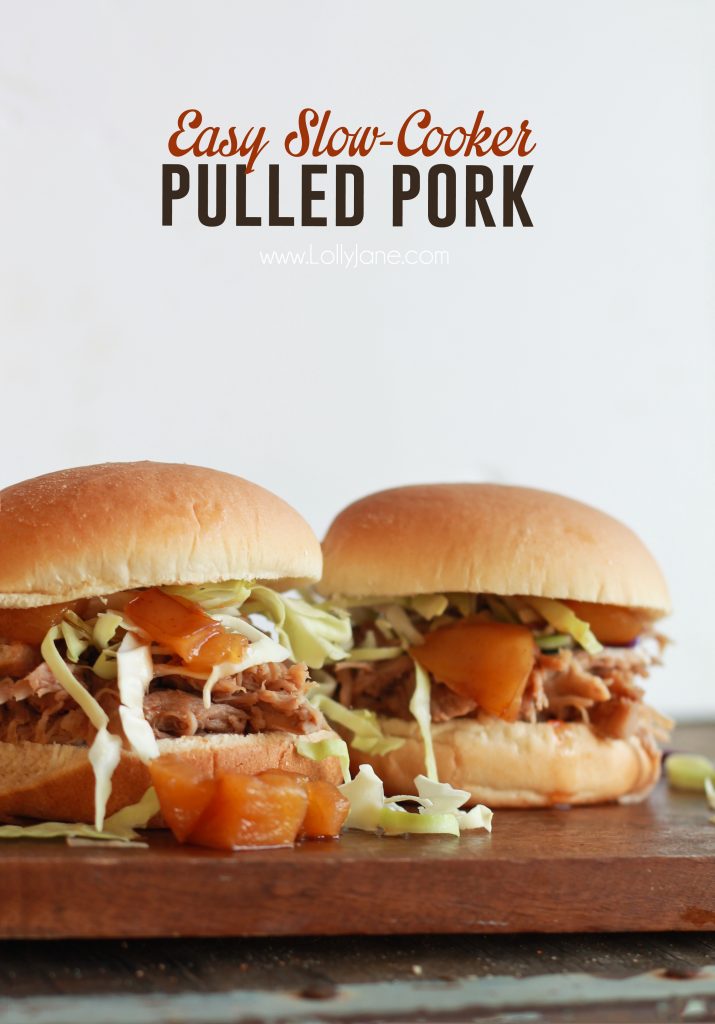 and our amazing Slow Cooker Beef Stew. So so good!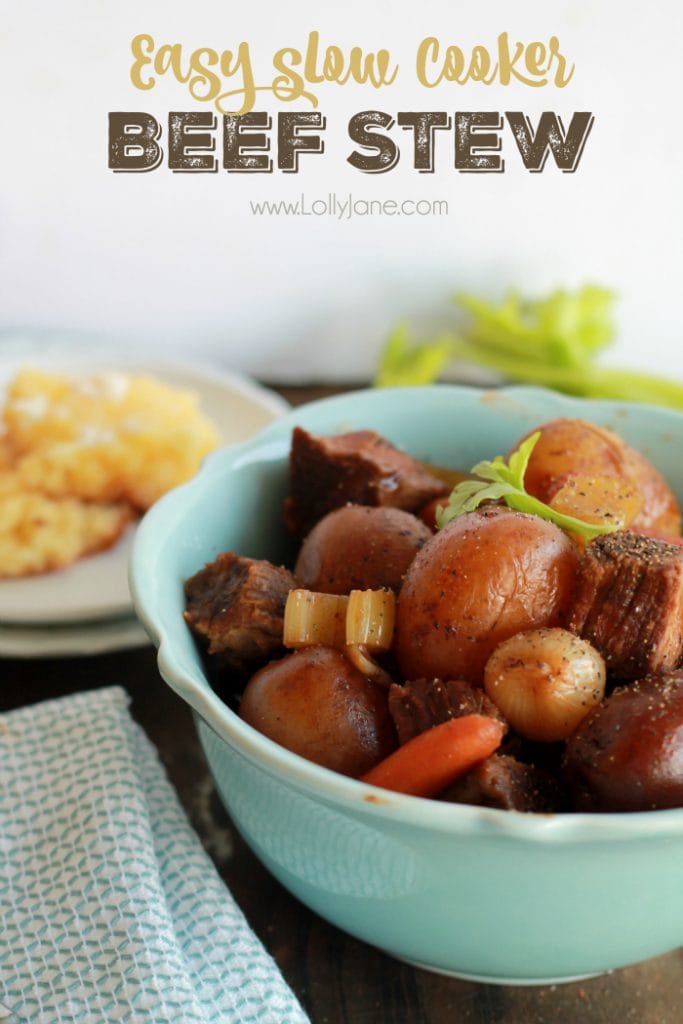 This is a sponsored post written by me on behalf of Campbell's Slow Cooker Sauces for IZEA. All opinions are 100% mine.