Happy to have our monthly contributors Carrie from My Recipe Confessions back today!
Growing up, Memorial Day was always one of my favorite holidays. We always started out our day by placing flowers on the graves of our loved ones. Then we went to the city park and had a big picnic with all of our extended family. There was always tons of amazing food. There would be so many extended family members there that some of them I had not seen since our previous Memorial Day picnic. We ate, visited, and then ate some more. What more could you ask for than great food and great company? Memorial Day is soon approaching and this easy Tuscan pasta salad is what I'll be taking to our annual Memorial Day picnic.
When I take this salad to a pot luck, I always have people asking me for the recipe. When I give them the recipe they are usually shocked at how simple it is. Then again, who doesn't love a recipe that is easy to make but tastes like you slaved all day in the kitchen making it?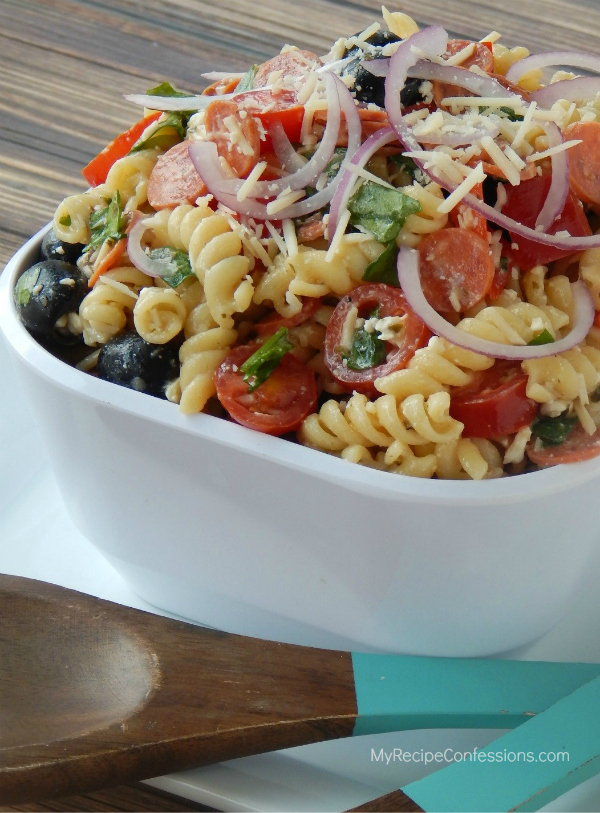 Tuscan Pasta Salad
1 (16 oz.) bag of Rotini pasta, cooked and cooled
1 can of medium sized olives
1 (5oz.) bag of pepperoni minis
1 red bell pepper, seeded and diced
1/2 cup feta cheese, crumbled
1 cup of grape tomatoes, sliced
1 cup of spinach leaves, sliced into strips
1 cup fresh parmesan cheese, grated
2 tsp. pesto
1/2 cup of red onion, sliced thin
1 cup of Kraft Caesar vinaigrette
Directions
1. In a large bowl toss all the ingredients together and serve immediately.
*If you want to make the salad ahead of time, toss all the ingredients together except the dressing and cheeses. Toss the dressing and cheeses together right before you are ready to serve.
Until next time,
Carrie

Blog | Facebook | Pinterest | Instagram| Google+
__________________________
Wow, that looks yummy and easy, you know we love easy dishes around this joint! Check out our growing number of recipes here on Lolly Jane then head over to see even more tasty desserts from Carrie! Yum!
Grilled Chicken over Spiced Wild and Brown Rice
Cupcake Graduation Caps
Roasted Tomato and Spinach Tart
Stop by My Recipe Confessions for even more yummy reciped from this talented little lady! Check out more information about Carrie and a giant thanks to her for being here today 🙂