Grilled pork chops with pineapple mango salsa
Barbecue week continues and this next recipe is seriously mouth watering! The smell is amazing and the brown sugar glaze caramelizes while cooking so it tastes as good as it smells! You will love these grilled pork chops with pineapple mango salsa, promise.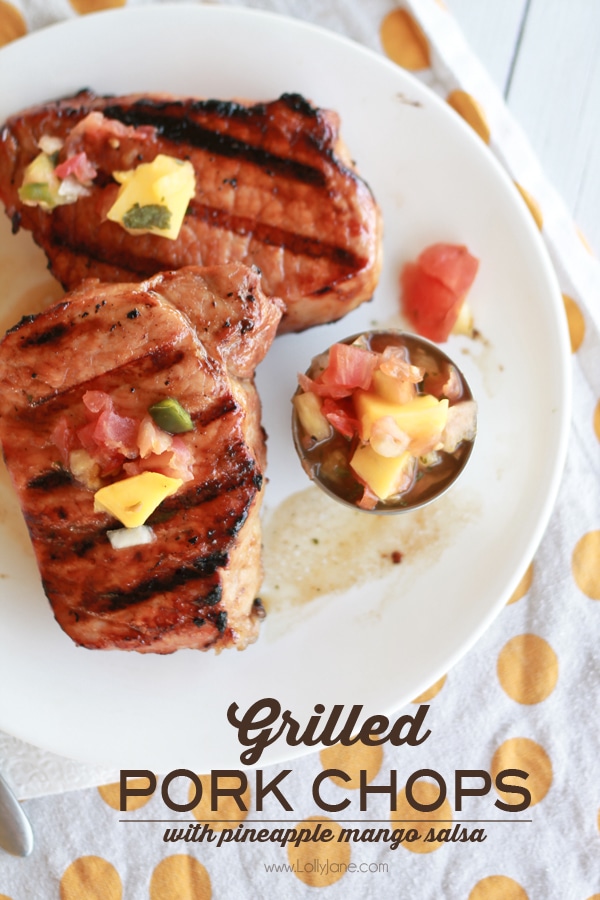 Confession: We did not make the salsa from scratch! Gasp! I know. A) We're not really foodie bloggers but are enjoying cooking as of late B) Mangos are not in season here so it was easier to buy it freshly packed. C) It tastes as good as from scratch and we didn't have to do the work. 😉 The marinade is all from scratch so you do have a bit of work to do, you know, if you like that sort of thing. (Okay but not much as our recipes are all cook-as-as-fast-as-you-can-to-enjoy-the-meal-sooner, you know! Ha!) Plus, our STOK grill is bomb diggity and we were able to cook these in no time at all. Score!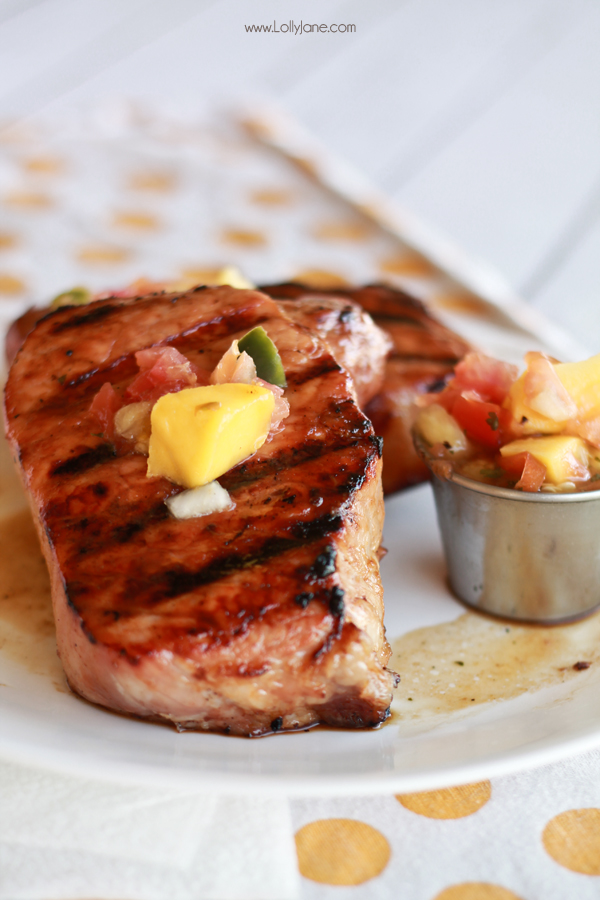 While you're grilling though, throw our grilled pineapple rings with cinnamon-sugar glaze on the barbie! It pairs well with this meal and also makes a delicious dessert if you add ice cream! Yum! In the meantime though, read on to see how we made our pork chops…
Grilled pork chops with pineapple mango salsa
A tasty entree with a caramelized brown sugar glaze and topped with fresh mango salsa
Ingredients
4

pork chops

boneless

2

tbs.

butter

1

c.

brown sugar

1

tsp.

paprika

1

tsp.

garlic powder
Instructions
Preheat grill to medium heat.

In the meantime, heat 1 tbs. butter in a large skillet over medium heat.

Add garlic powder, brown sugar, and paprika, stir.

Simmer 1 minute or until sauce thickens slightly.

Brush glaze onto both sides of chops.

Place on grill.

Cook for 5 minutes, flip then cook for another 5-6 or until no longer pink inside.

Remove from heat and top with mango salsa.
Notes
Pour any leftover glaze on during cooking or afterwards for extra flavor!
Hope you enjoy them as much as our family did. My husband ate one for leftover lunch the following day and because it sat all night, the flavor really soaked in and he said it was better than day 1! We can safely say it makes for great leftovers!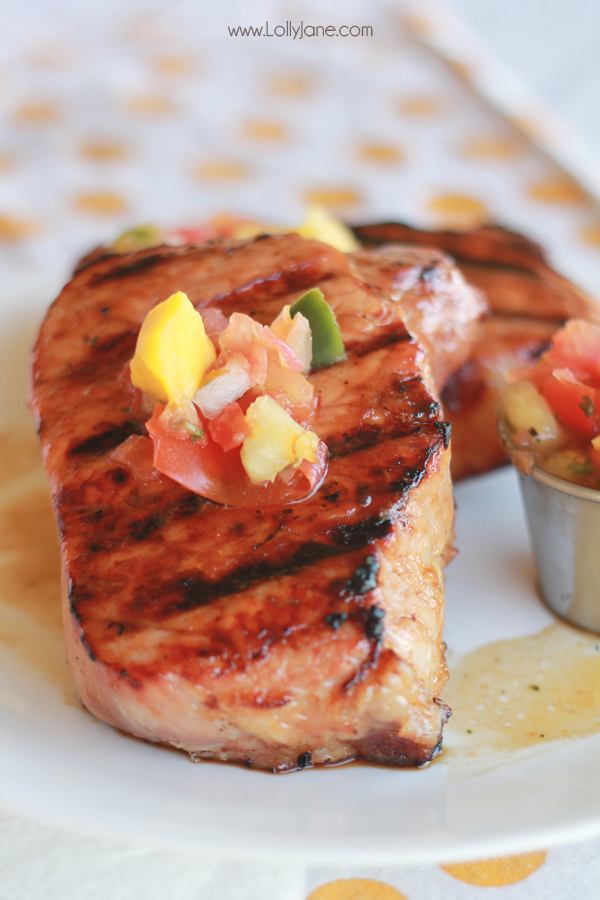 You can see our other recipes here or check out our latest grilling creations, all made on our fab
STOK grill
using their sweet inserts!
Grilled pineapple | Chipotle lime chicken skewers | Perfectly grilled corn on the cob | Fruit Pizza