Pumpkin Snickerdoodle Bread recipe
I'm so excited to share this amazing Pumpkin Snickerdoodle Bread recipe I created by altering two separate recipes. It's so good! Moist and flavorful, it's my new go-to recipe for neighbors!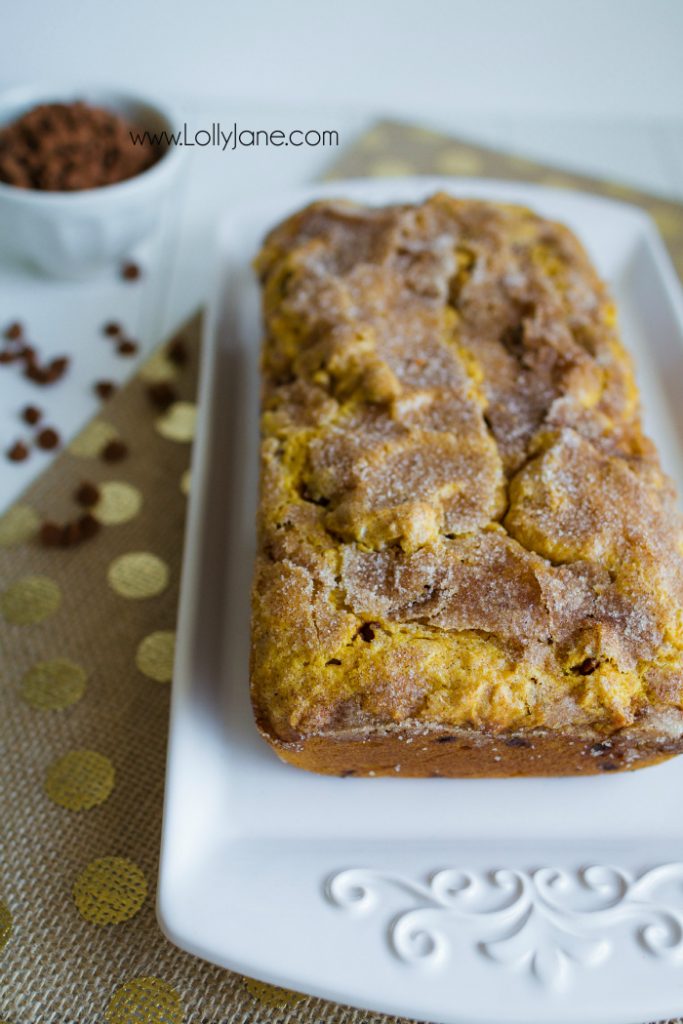 This Snickerdoodle Bread looks so good, doesn't it? I do love snickerdoodles but more than that, I love anything pumpkin. I always bring cookies to my extended family's Sunday dinner and since the holidays are upon us, I decided to test this recipe on them. I found Martha's Ginger Pumpkin Bread and after closely comparing her recipe to Barbara's, I figured out the best way to combine the two to create an amazingly delicious Pumpkin Snickerdoodle Bread recipe. (Which I google'd like crazy and haven't seen any other like this!)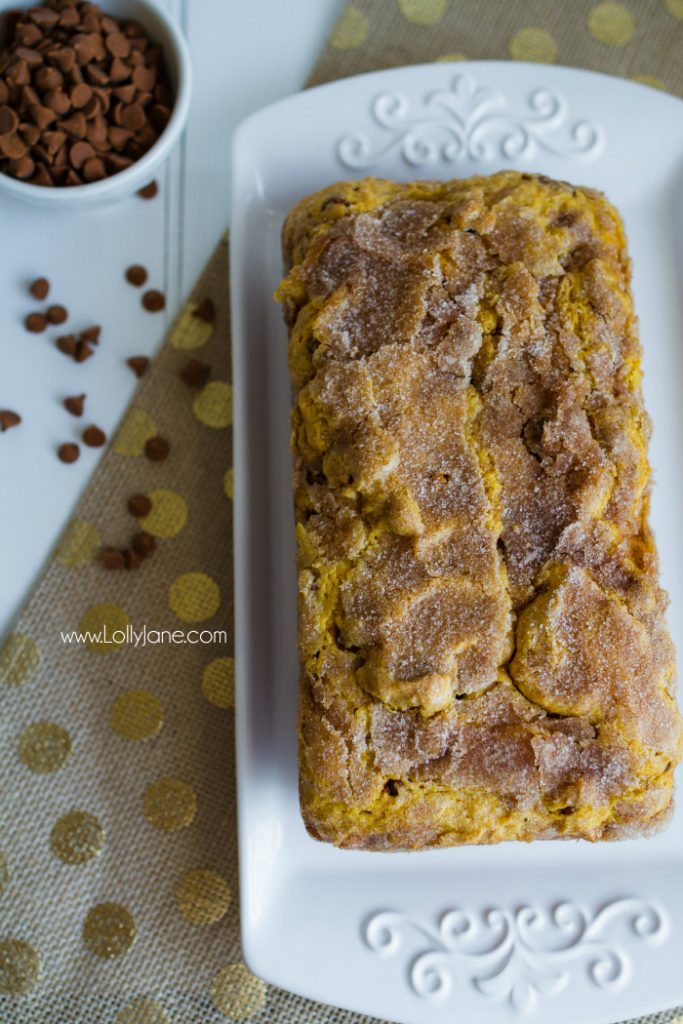 Pumpkin Snickerdoodle Bread recipe
Ingredients
Ingredients
1

c

sugar

1

c

brown sugar

1

c

butter

softened

3

eggs

1

tsp

vanilla

3/4

c

sour cream

1

can

15 ounces pumpkin puree (1 3/4 cups)

1

tsp

cinnamon

1 1/2

tsp

baking powder

1

tsp

salt

2 1/2

cups

flour

1

pkg cinnamon chips
Instructions
Cream butter, sugars, cinnamon and pumpkin.

Add eggs and mix lightly.

Add vanilla and sour cream, mix well.

Mix in the rest of the dry ingredients and stir just until combined.

Stir in cinnamon chips.

Topping:

tb sugar

tsp cinnamon

(Shortcut: use McCormick's cinnamon sugar like I did and generously sprinkle on top.)

Separate into 2 full size loaf pans.

Mix 3 tb sugar and 3 tsp cinnamon and sprinkle generously over the batter in each loaf pan.

Bake at 350 for 40 minutes or until toothpick comes out clean.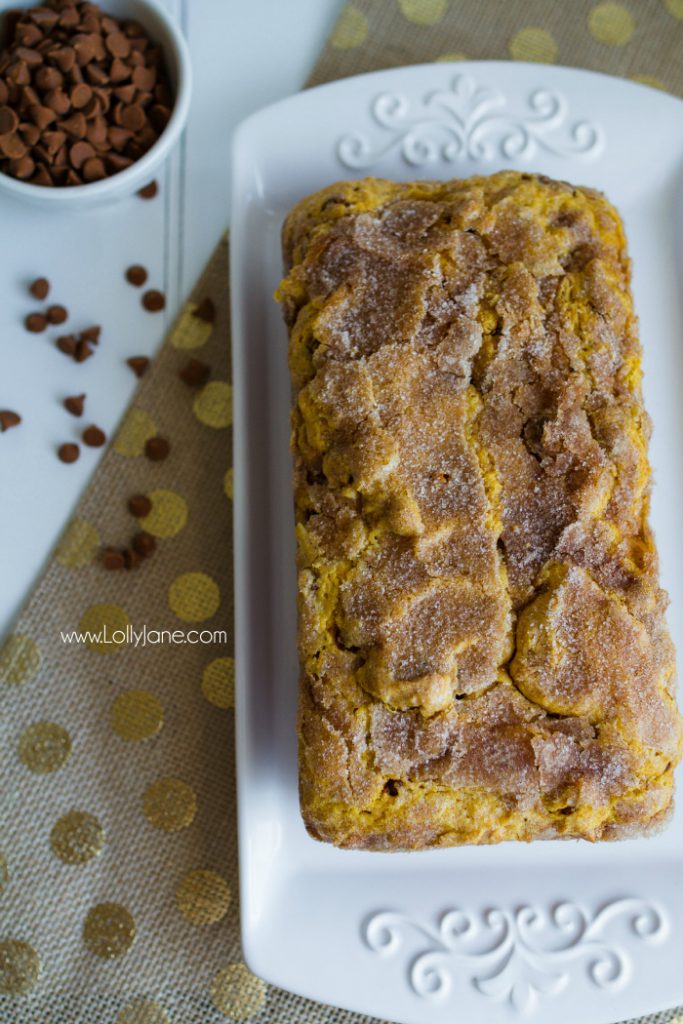 I hope you like this recipe as much as my family and I did!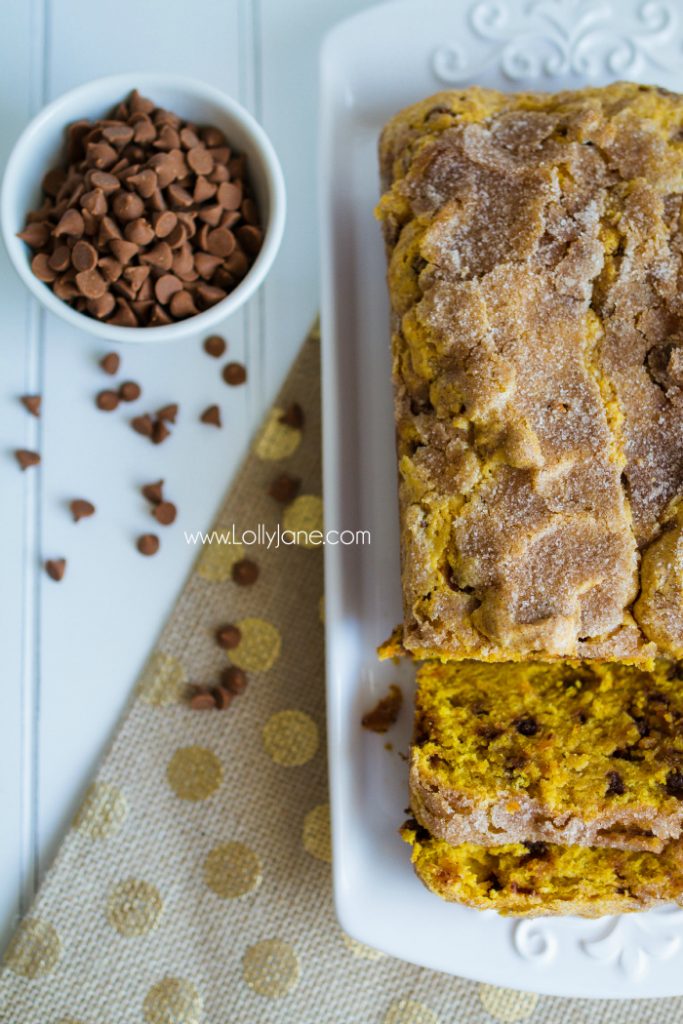 Leave a comment if you try this and let me know how it turns out!! Please pin so your friends can try it too!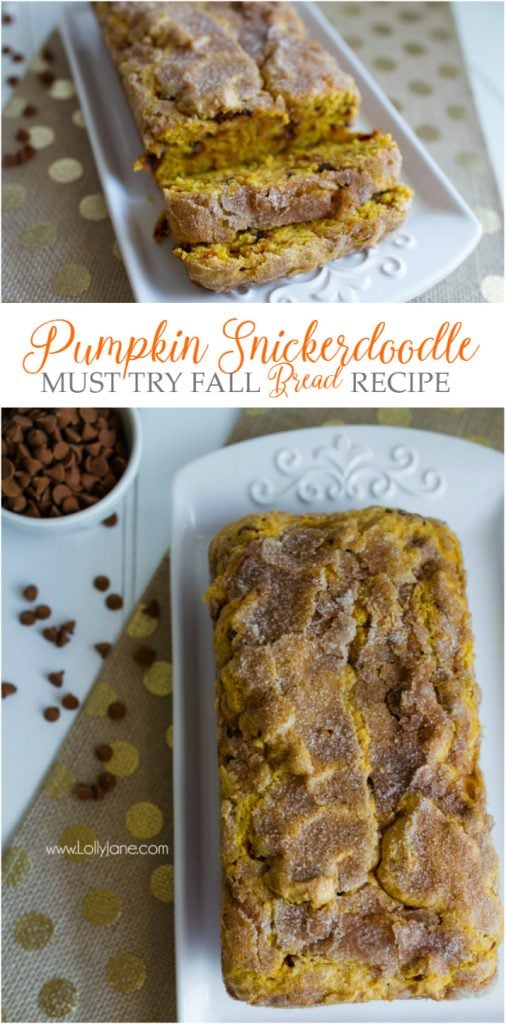 Visit all of our pumpkin recipes like our incredible Pumpkin Cheesecake Ecstasy,
and these tasty Pumpkin Brownies, mmm!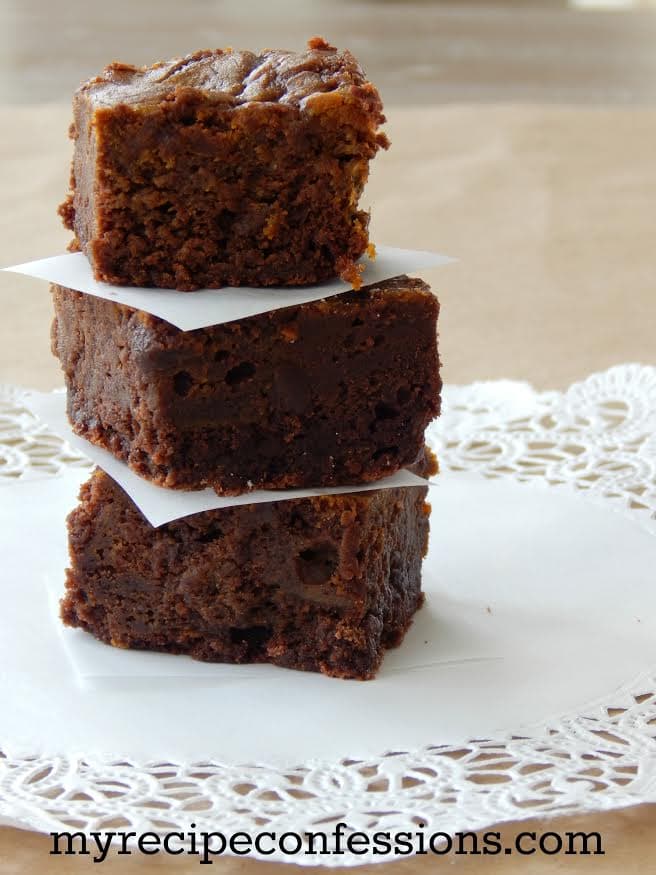 Need more pumpkin bread in your life? Visit the top 50+ pumpkin bread recipes to make this fall:
and this yummy Poppyseed Grapefruit Loaf, mmm!