What is Thanksgiving without some sort of a pumpkin dessert?  And what is giving thanks really all about?  For us it's about neighborly love.  So why not combine the two and give pumpkin desserts to neighbors, just because it's the season!  Here is an easy recipe for Sensational Double Layer Pumpkin Pie which Kristi's family has dubbed "Pumpkin Cheesecake Ecstasy." Yes, it's THAT good.  She only makes it on Thanksgiving and it is so worth the wait all year to enjoy it!  This year we'll be delivering some to our neighbors, hopefully they'll be thankful they live next to us (;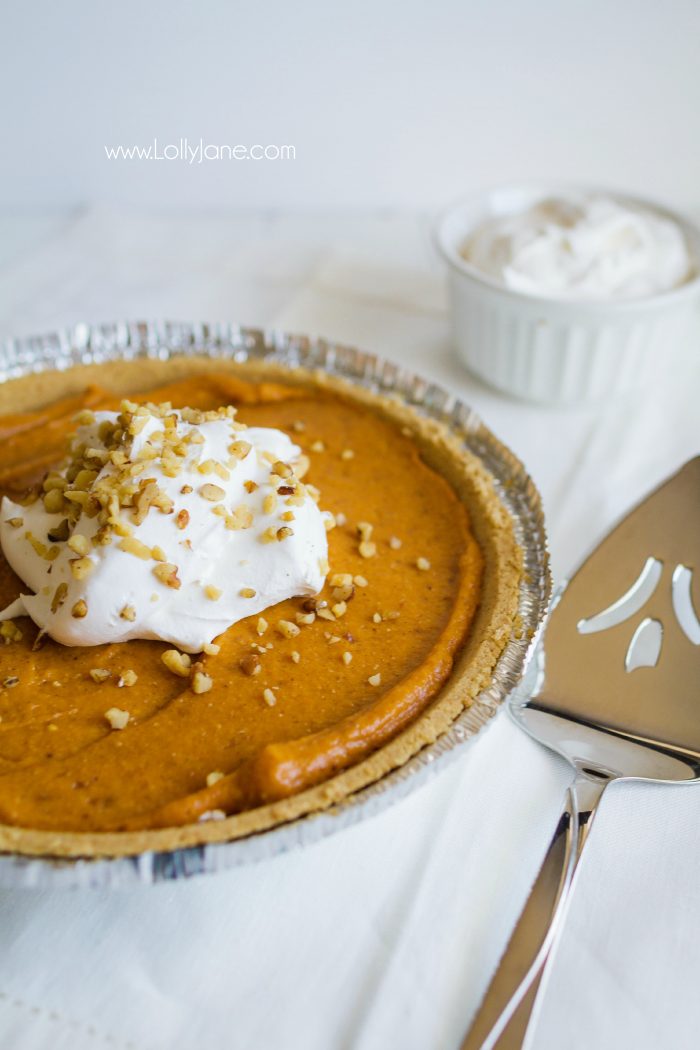 Here is the recipe you won't want to lose!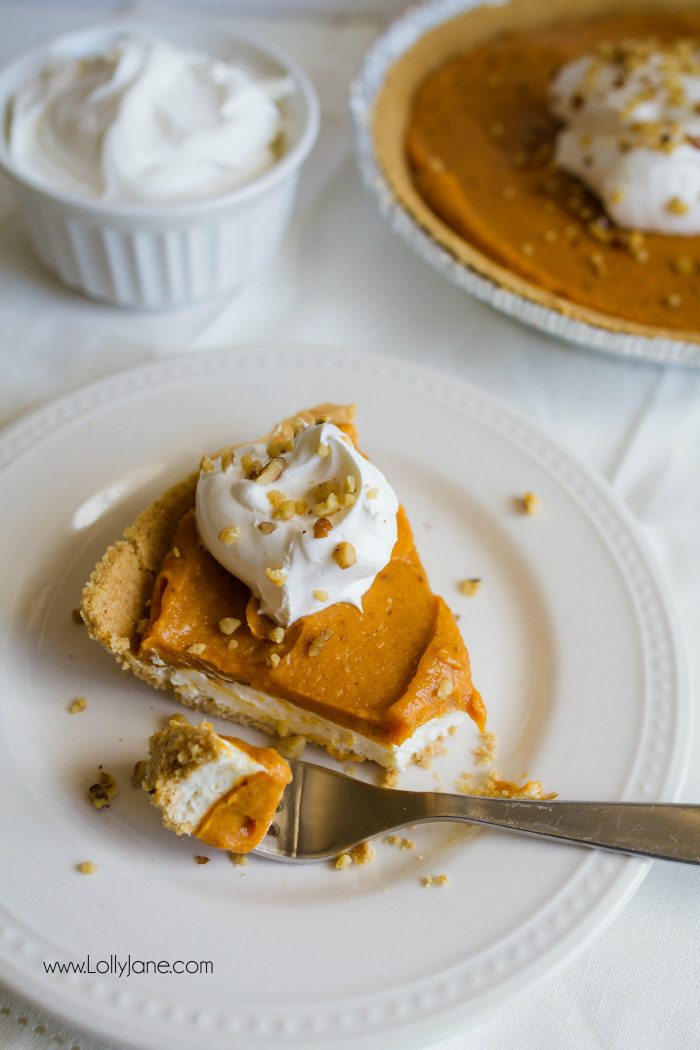 Ingredients:
1 pkg. softened cream cheese
1 TBSP. half & half
1 TBSP. sugar
1 1/2 c. Cool Whip (save the rest for the top layer)
1 graham cracker pie crust (you can make your own with graham cracker = a little sugar + melted butter)
1 c. half & half
2 pkgs.Vanilla instant pudding
1 can (16 oz) pumpkin (with spices added)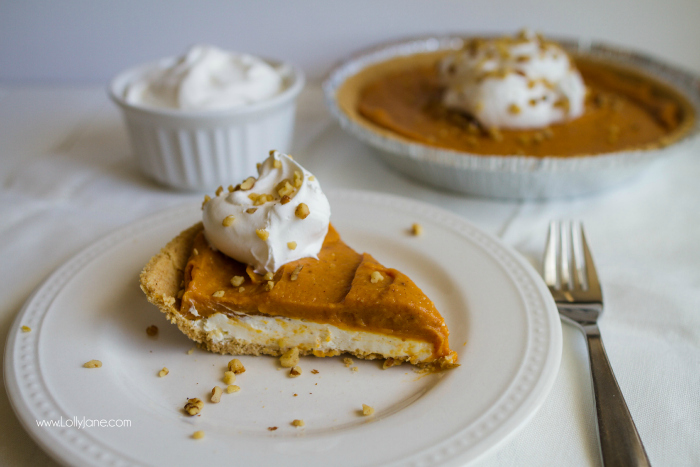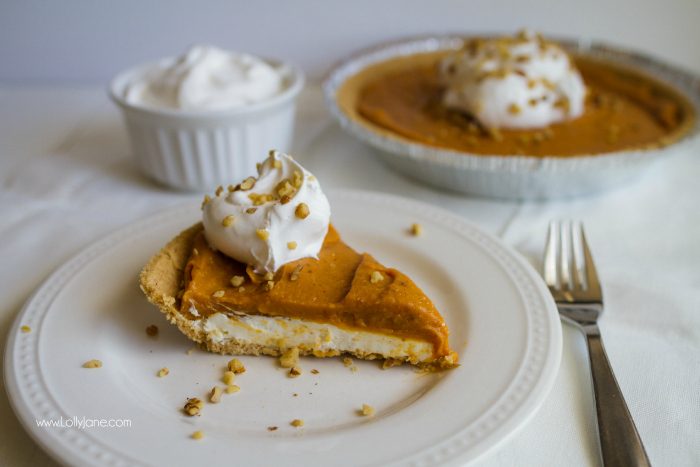 Directions:
Make graham cracker crust if you didn't buy one and pat into a 9×9 baking dish.
Mix cream cheese, 1 TBSP half & half + sugar in a bowl until smooth.
Add cool whip and spread over crust.
Pour 1 c. Half & half into bowl then add pudding mix and beat until well blended. (Note: Mixture will be thick)
Add pumpkin and mix well.
Spread over cream cheese layer.
Add the rest of the Cool Whip on top and sprinkle with finely chopped pecans or pumpkin pie spice or both!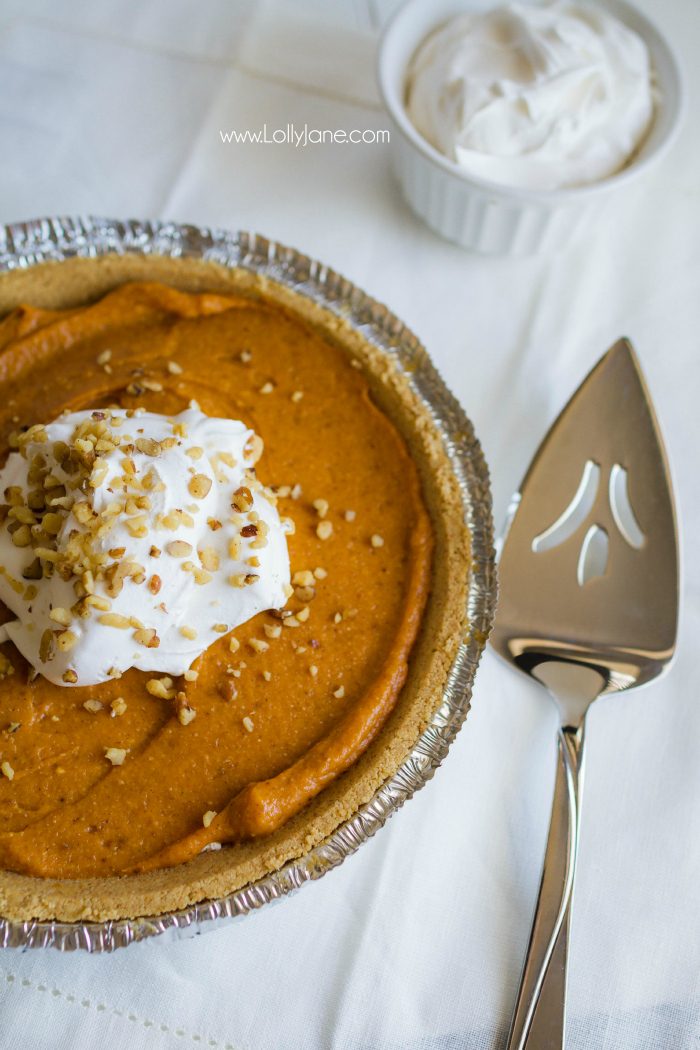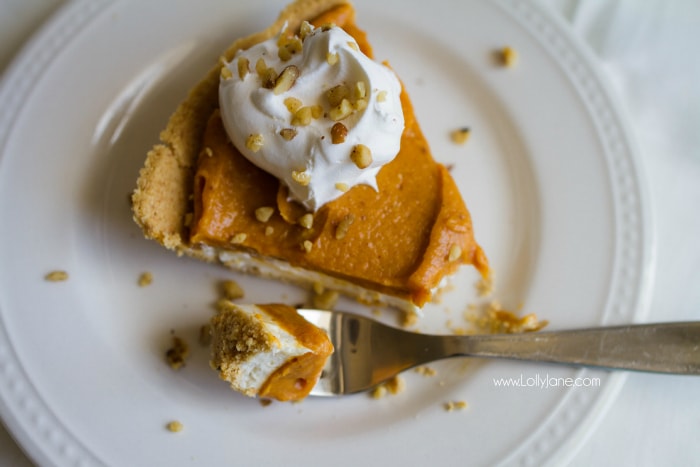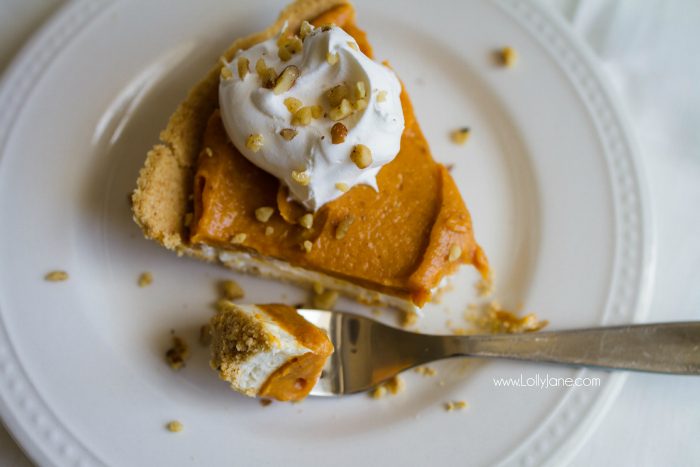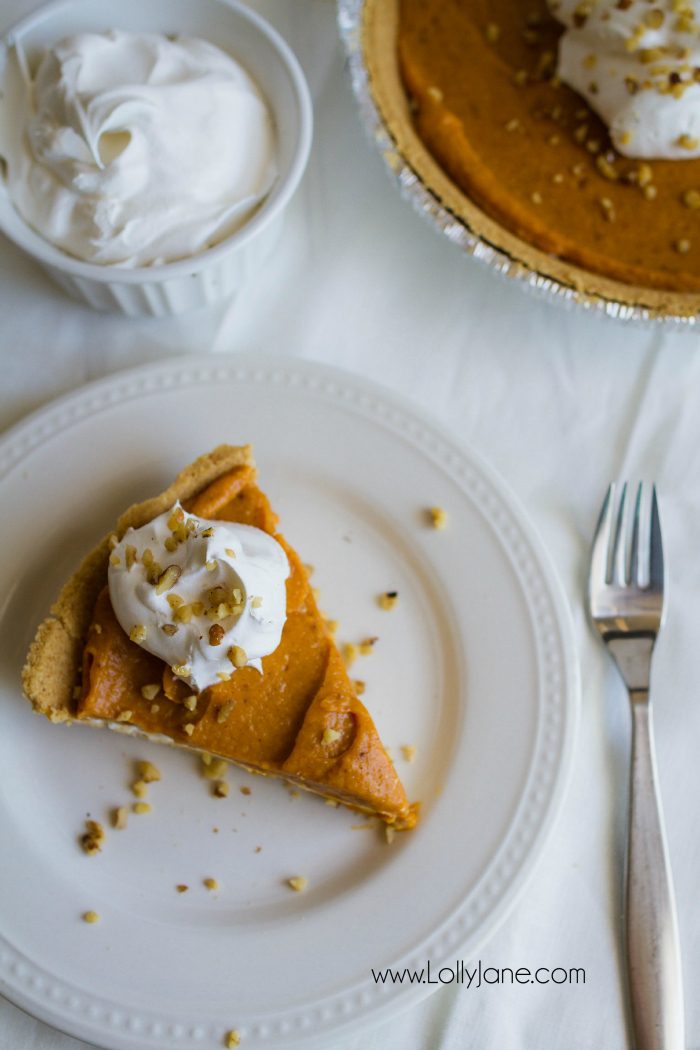 Grab some disposable aluminum pie tins for easy neighbor gifts or great for transporting to a fall or Thanksgiving party!
Check out all of our yummy pumpkin recipes (we have a TON) like our incredible Pumpkin Snickerdoodle Bread,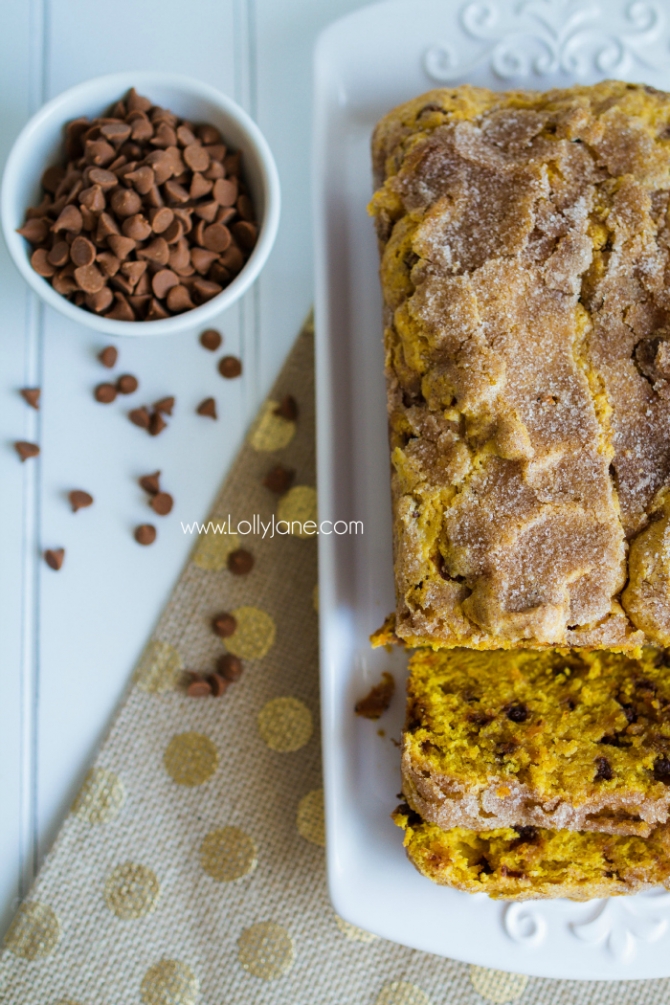 this amazing Pumpkin Bread with Fudge Frosting,
yummy Marbled Pumpkin Cheesecake,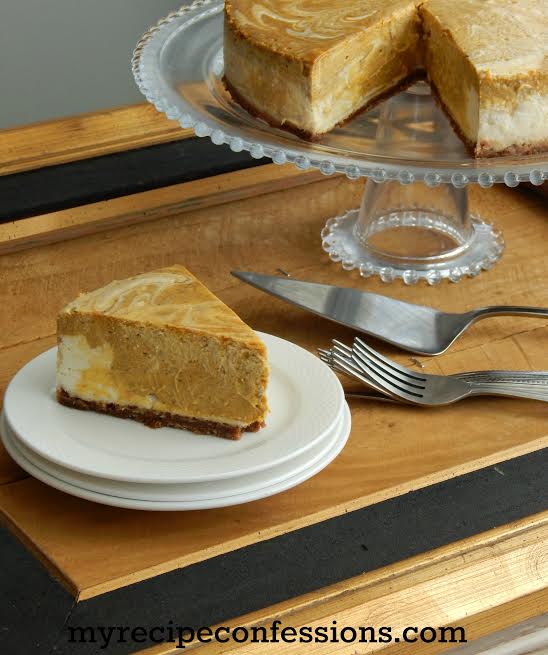 and these tasty Pumpkin Spice Caramel Corn Pops,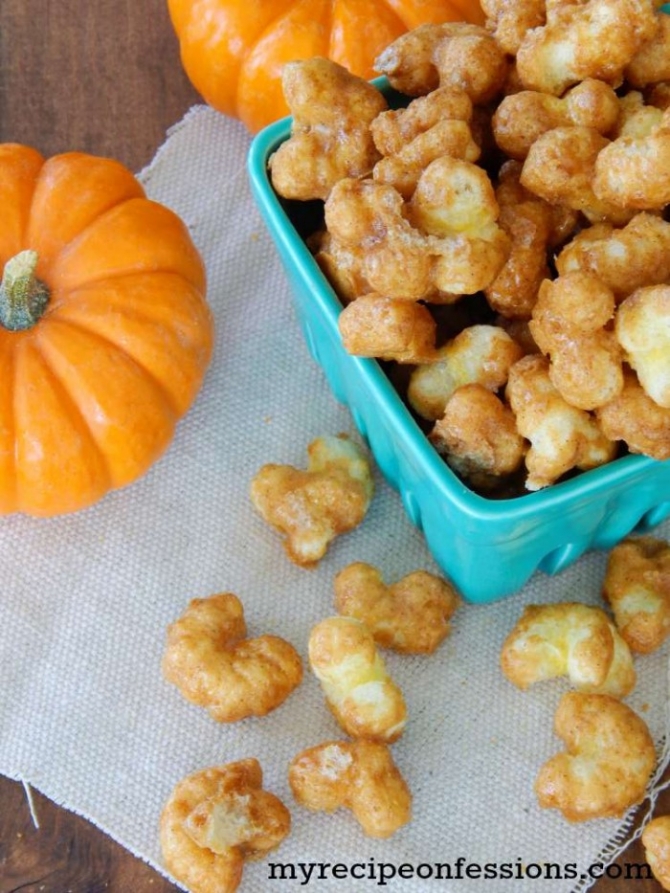 and be sure to check out our 50+ non-pumpkin pie desserts, mmm!