Placemat infinity scarf | tutorial
Well y'all, it's officially FALL for me in northern Arizona.  [For Kelli, much to her relief, it's still warm summer-ish weather with cool nights in central AZ.]  But fall for me equals scarfs, cardi's and flats: my fav!  I saw this easy peasy tutorial on Sweet Verbena to make an single loop infinity scarf so I gathered what I had and tried my hand at at…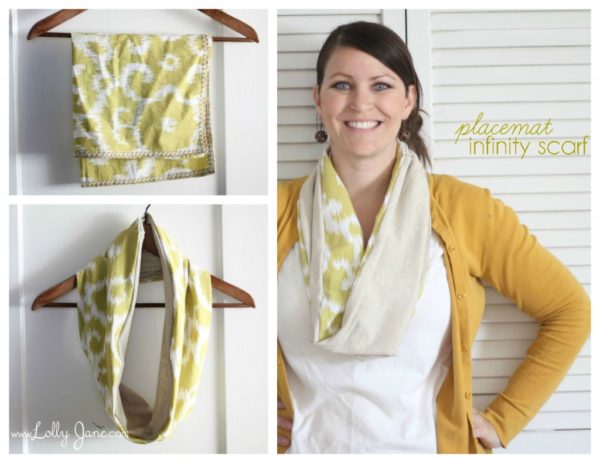 …and yep, what I had on hand was a placemat! Uh huh, that's right- a rare Lolly Jane sewing tutorial involving a placemat… aaaand also a sweater vest from Goodwill!  LOL  Well then, let's have a go at this and see where it takes us, shall we? 😉
To get started I used a $3.50 placemat from World Market, a half-off sweater vest from the thrift store and my dusty sewing machine.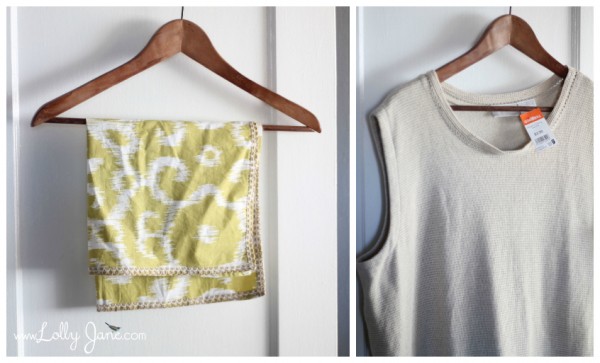 I kinda-sorta followed the instructions from Katy but since my infinity scarf was created from unconventional fabric, I had to modify it a bit in the beginning.  And yes, mine has not one but TWO visible seams… gasp!  The horror!  Just kidding.  I love love love the ikat print on the placemat so to me, that it is worth an extra seam 😉 Anyway, here's what I did to create this warm little number: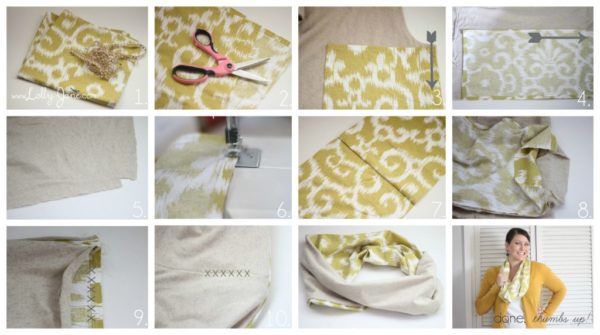 1. Remove decorative finish.  2. Cut placemat in half horizontally.  3-4. Use each placemat piece of fabric as a stencil on the vest to cut fabric for the back side of the scarf .  5. Yay! Two even pieces from one cheap vest!  6. a. Sew the placemat fabric together end-to-end creating one long strip. b. Repeat with vest fabric.  7. Match the fabrics up… yes, there will be a seam as I mentioned earlier.  8. Sew fabric together (inside out!) to create a tube.  9. This is where Katy and I's tutorials merge: she is much more sewing-savvy than muah so feel free to use her instructions to complete the scarf as mine lacks proper sewing lingo and well, measurements and more thorough pictures, for that matter! LOL  So anyway, sew the placemat fabric together first, then the edges, leaving an opening to be able to flip the fabric right side out.  10. Flip fabric right side out and whip stitch closed.  Phew!
This scarf also doubles as a pouch for your little kangaroo's snacks.  Just kidding 🙂
Now the fun part: wrapping the scarf up to give to Kelli as a gift!  (Stop reading, Kell!)  We love Lifestyle Crafts and I was able to tie this cute scarf wrapping together using some cookie cutter dies from their cute new Wintertide die release.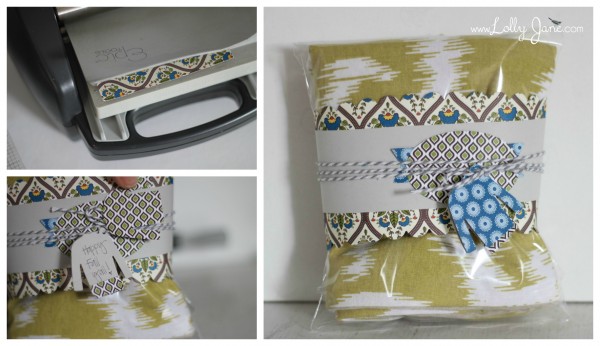 How cute is the little sweater tag die?  Doesn't it go perfectly with the gift?  I wanted to tie a matching infinity scarf around the sweater but I didn't have any scrap fabric from the placemat leftover.  BUT, still cute paired with bakers twine and the cute accessory dies pictured below, right?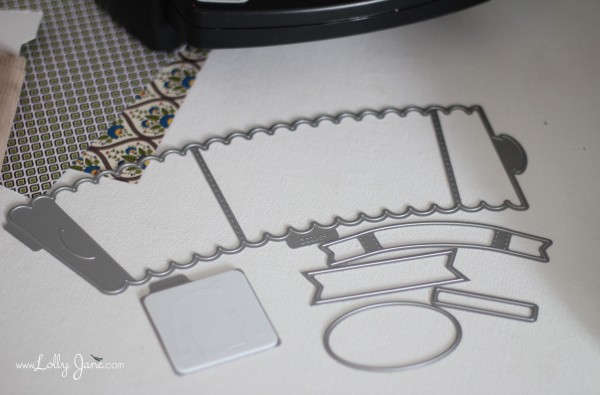 This cozy collections drink sleeve die went nicely together wrapped over a yellow mug in bright, cheery fall-toned paper… filled with dark hot chocolate packets, of course.  Mmmmm!  A fresh loaf of cinnamon chip pumpkin bread , wrapped mug and infinity scarf are the perfect fall gift for a friend, neighbor or (twin) sister 😉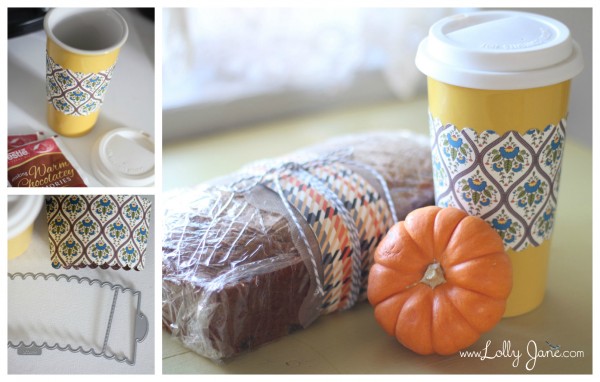 Be sure to enter promo code LollyJane for 20% off your entire order!  And if you have any questions on the tutorial, leave a comment or e-mail me at [email protected].  See y'all soon!