Mint Dresser Redo |painting tutorial
I recently refinished this dresser for a friend's nursery. I debated about saying it caught fire so I could secretly keep it, lol…but it was her childhood dresser and she's actually a close friend so in the end I gave it back to her (; I'm pretty much in love with this mint dresser redo, I need to find one for my house now…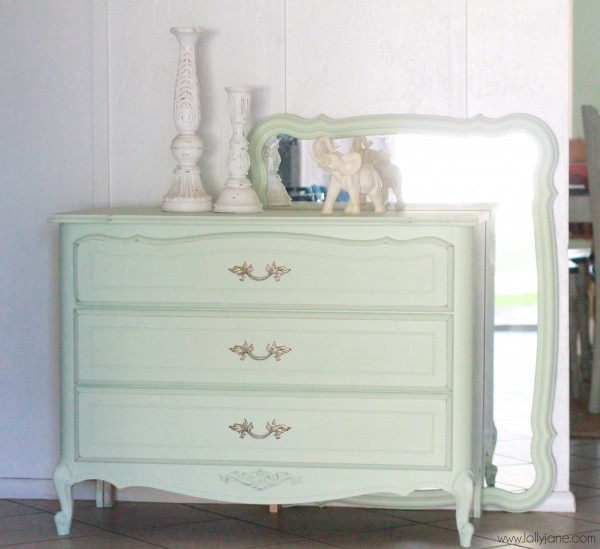 When my friend asked me to paint this for her, I looked at it and thought, no prob! After she dropped it off, I realized it was a veneer top and pressed wood underneath. Wah-wahh…bummer! I'm a big fan of real wood as it lasts forever so I was nervous that the end result wouldn't look great and she'd be disappointed! So here's what I did to ensure it was a success and up to her high standards: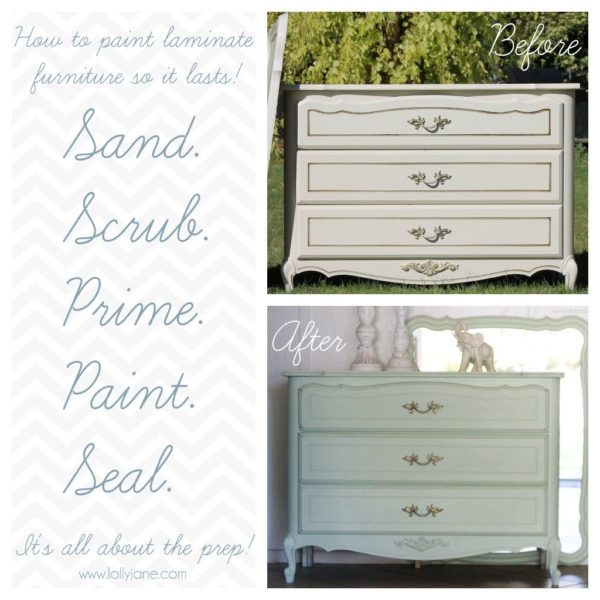 Prepping is SO important. You cannot take short cuts if you want a high quality end product. It's time consuming but worth the work. I timed this (as I charge hourly) and this only took me 3.5 hours (since my kids were all in school and I had little interruptions). Here's the before.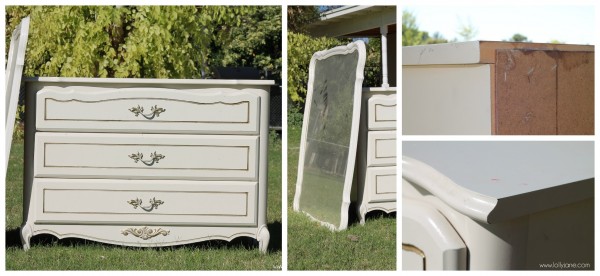 Very glossy but in good shape for being 30 years old! Remember to PREP PREP PREP!!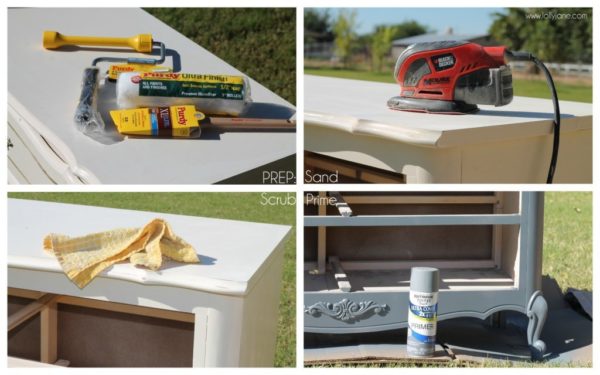 First I sanded the piece so the primer would adhere to it, using 60 grit paper, I didn't sand heavily as my automatic sander did my work for me. When I primed, I used a spray paint. This is important since it will help the final paint to adhere to the furniture. I used a gray spray paint instead of white. You really only need to use white IF you're painting your final product in white. Otherwise, any other lighter color primer is acceptable. After you prime, sand it again with a 180-200 grit to smooth out the surface for your paint. Wipe it down and start painting.
Since I had received free paint from Dutch Boy (this color is Airy Mint) I wanted to use it as it's the perfect match to my friend's nursery. Purdy came to my rescue for this project so I could use the free gallon I had on hand…I used the rollers and 9″ cage for rolling the top, sides and dresser drawer fronts. Perfectly smooth!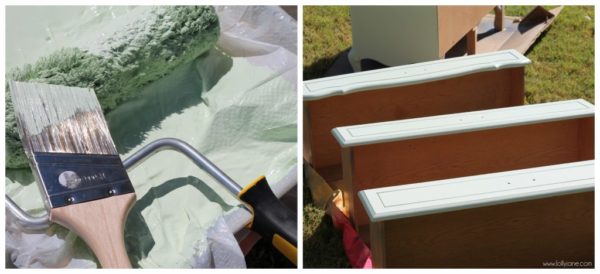 The 3″ brush was perfect for the hard to reach spots that the roller couldn't fit in.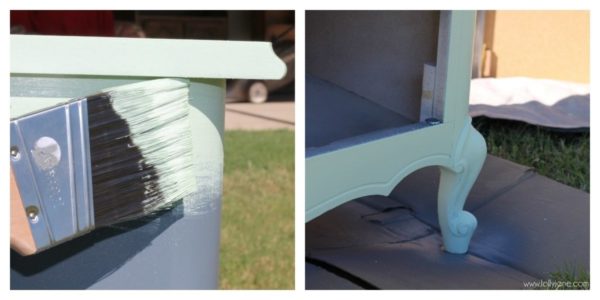 Definitely a doable project for anyone to complete…all it takes it confidence! I've shown you the correct tools and steps to do this yourself! Now get 'er done!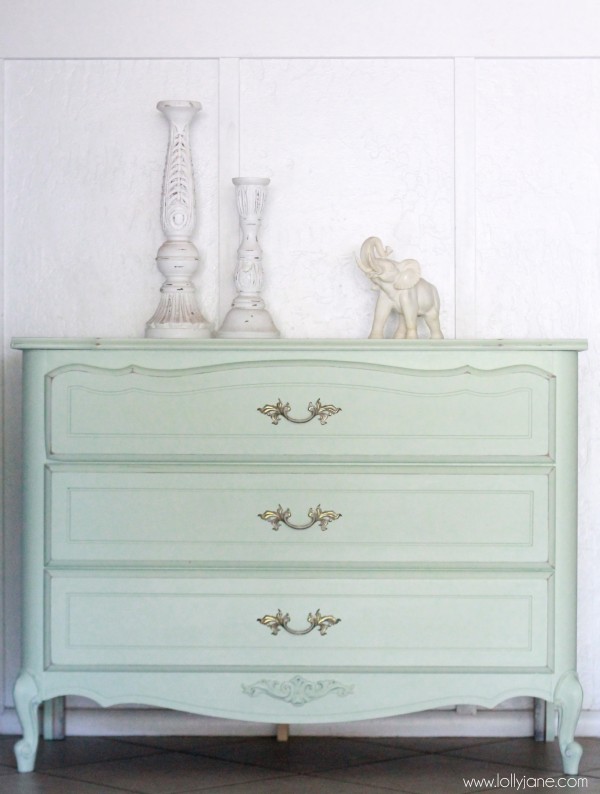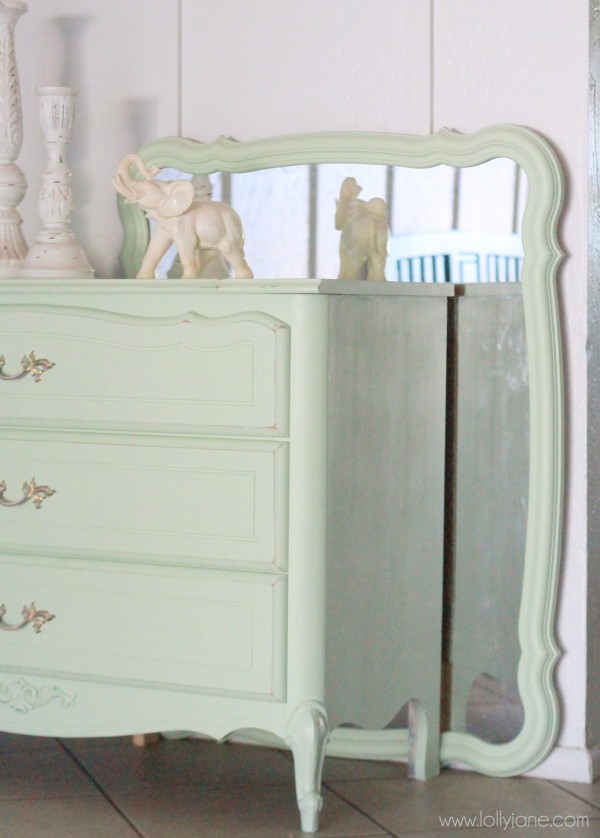 BIG THANKS to our fav paint accessory supplier, Purdy, for gifting us the products shown! DIY ROCKS! Follow Purdy on Facebook and Twitter to keep up with their latest! Check out all of our mint projects like our farm house table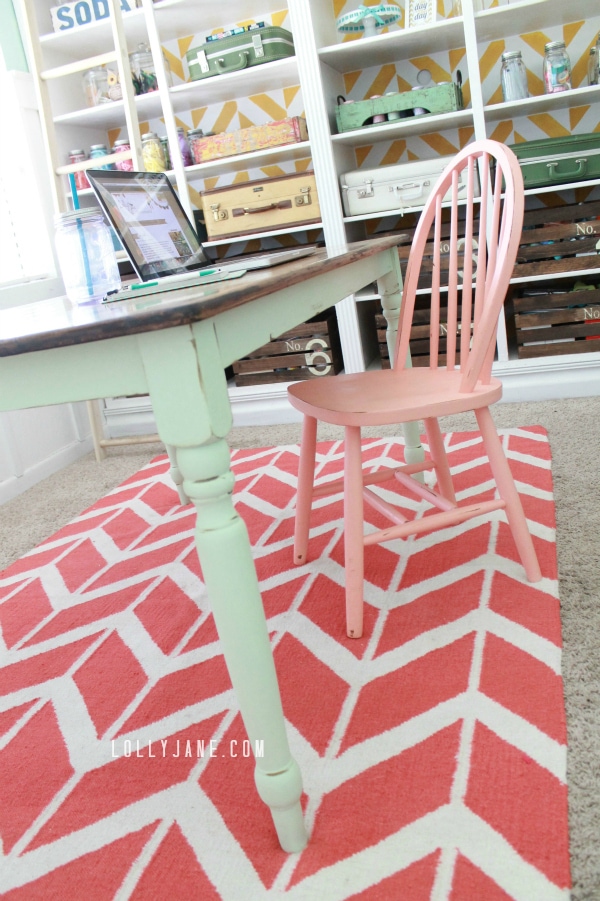 and our spray painted mint mirror!