We are planning a fun family party in a few weeks and wanted to have something that both adults and kids will enjoy and since our dad is a popcorn fanatic, we decided on an easy Fall Popcorn Bar to satisfy any sweet or salty tooth. 😉 Because Hayneedle has the most gorgeous fall decor right now, and because we are suckers for all things pretty, we snagged some string lights, twig pumpkin, serving bowl and the comfiest coral throw to give our bar the right fall look.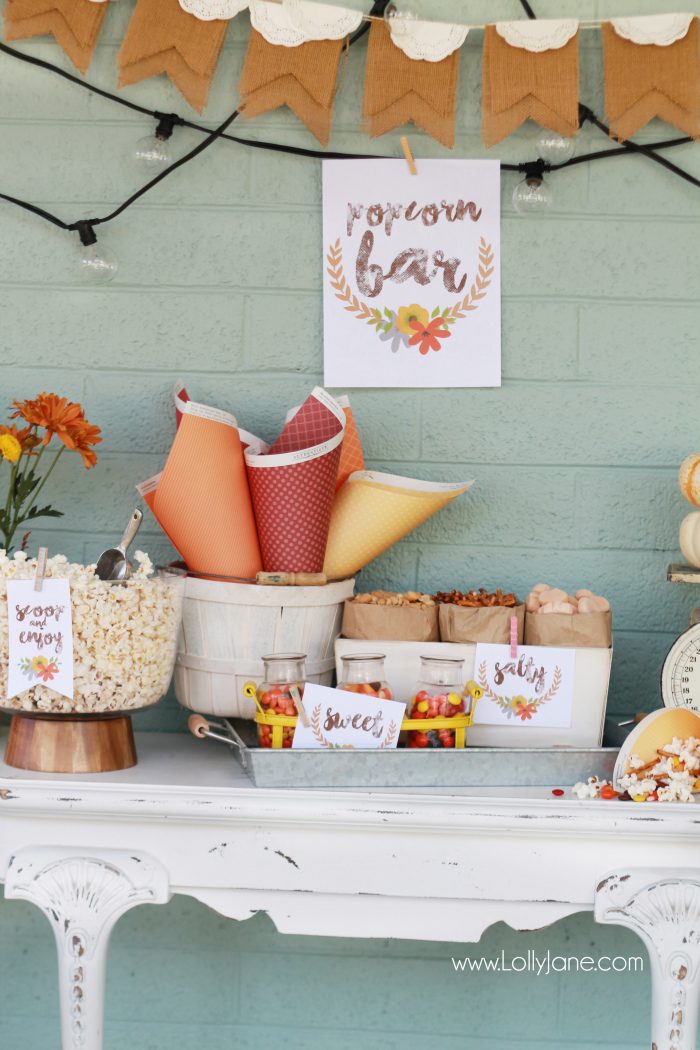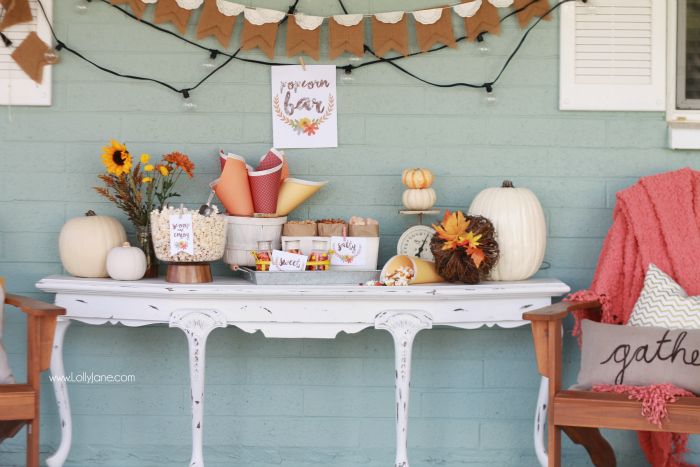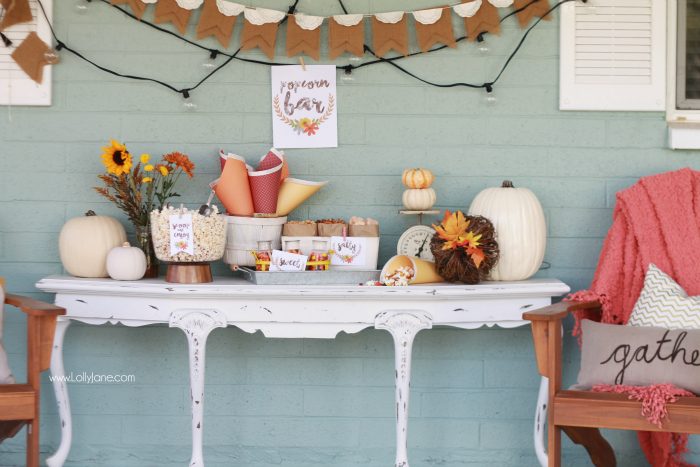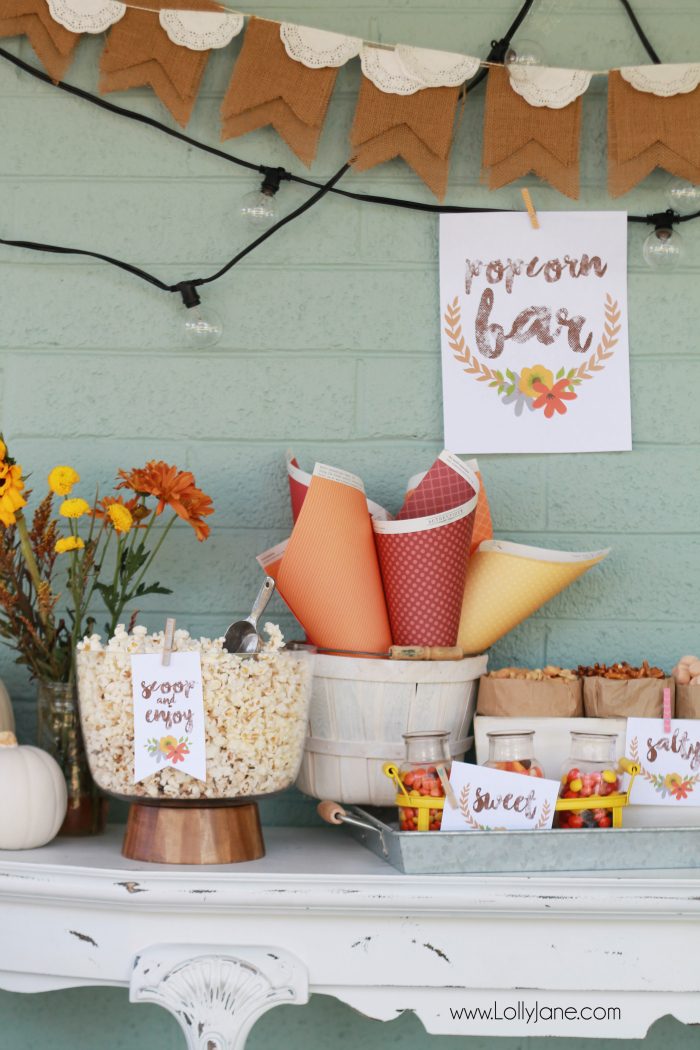 To make your own popcorn bar is a breeze. In fact, you'll probably have what you need around the house! We used: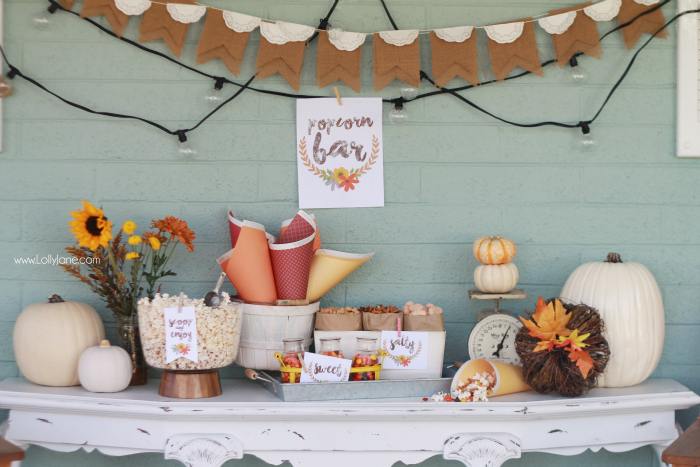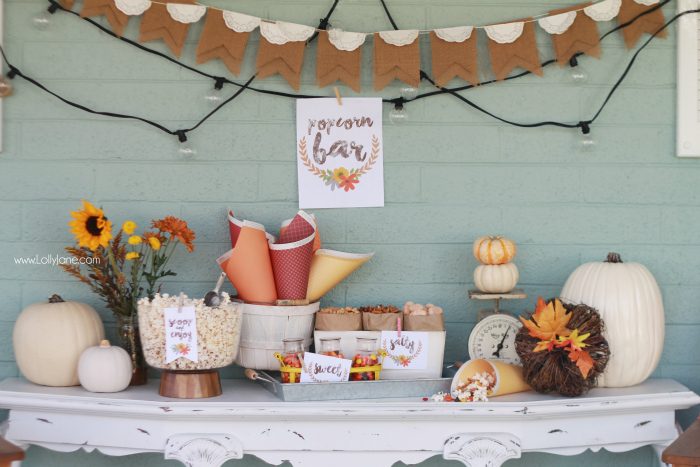 Serving Bowl or Basket to hold the popcorn
Scoop
Brown Paper Bags to hold the chunky toppings
Mason or Milk Jars to hold finer toppings
Scrapbook Paper in fall hues, 12×12
Fall Decor like our DIY burlap doily bunting
Fresh Autumn Flowers (optional)
Printable "POPCORN BAR" Sign with coordinating tags
>DownloadPopcorn Bar or Popcorn Bar Tags
You can be as dressy or as casual as you'd like with your own popcorn bar. For ours we hung a few strands of string lights over a table and paired it with a bunting. Next we filled our serving bowl with popcorn then folded the tops of brown paper lunch sacks over 2-3 x's and filled with goodies. Here's what we used:
Pretzels
Peanuts
Marshmallows
Reece's Pieces + M&M's
Candy Corn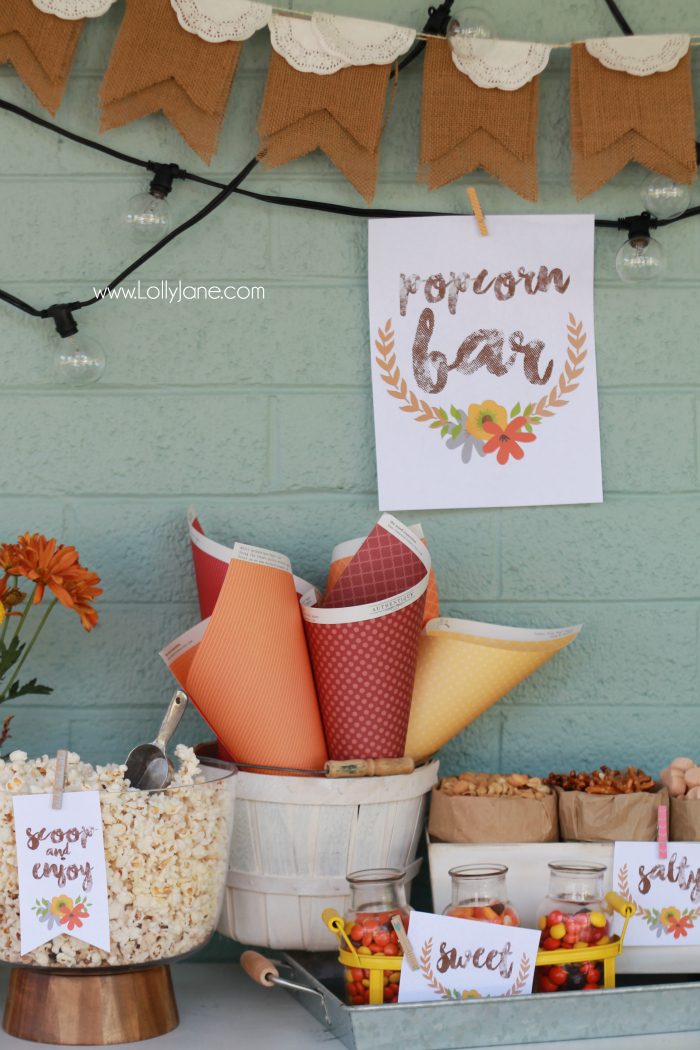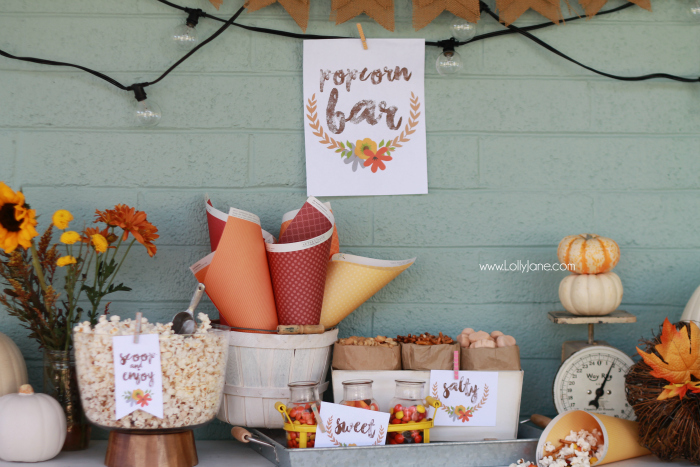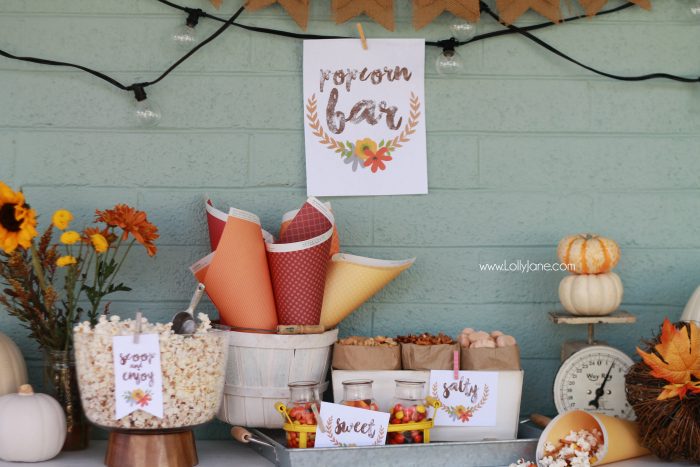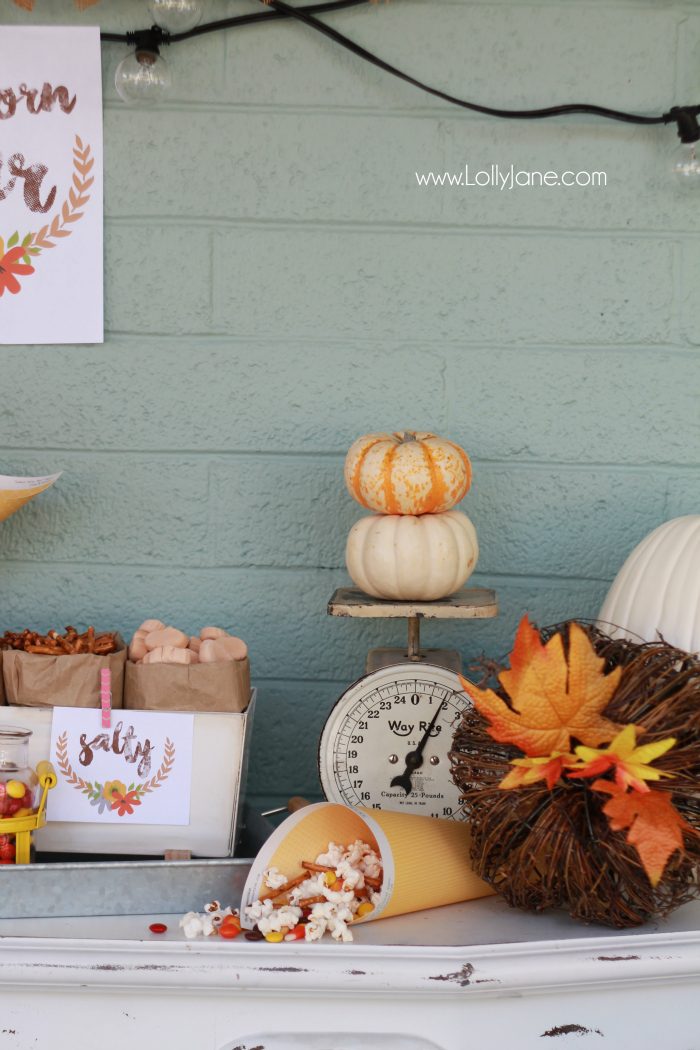 To hold the popcorn we just shaped a 12×12 piece of fall colored scrapbook paper into a cone and taped the bottom to secure it. Easy, inexpensive and cute!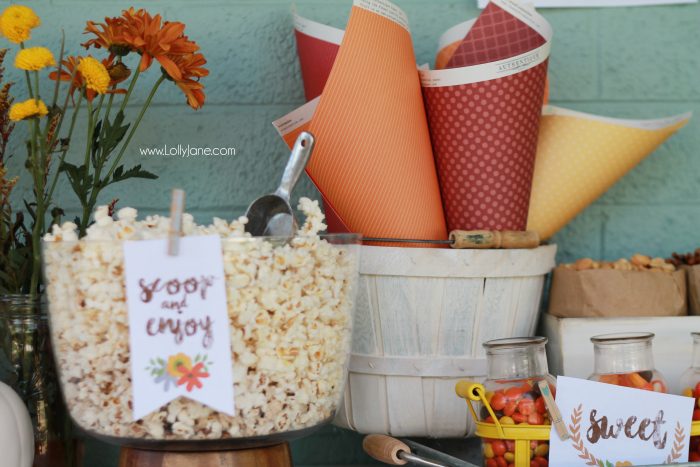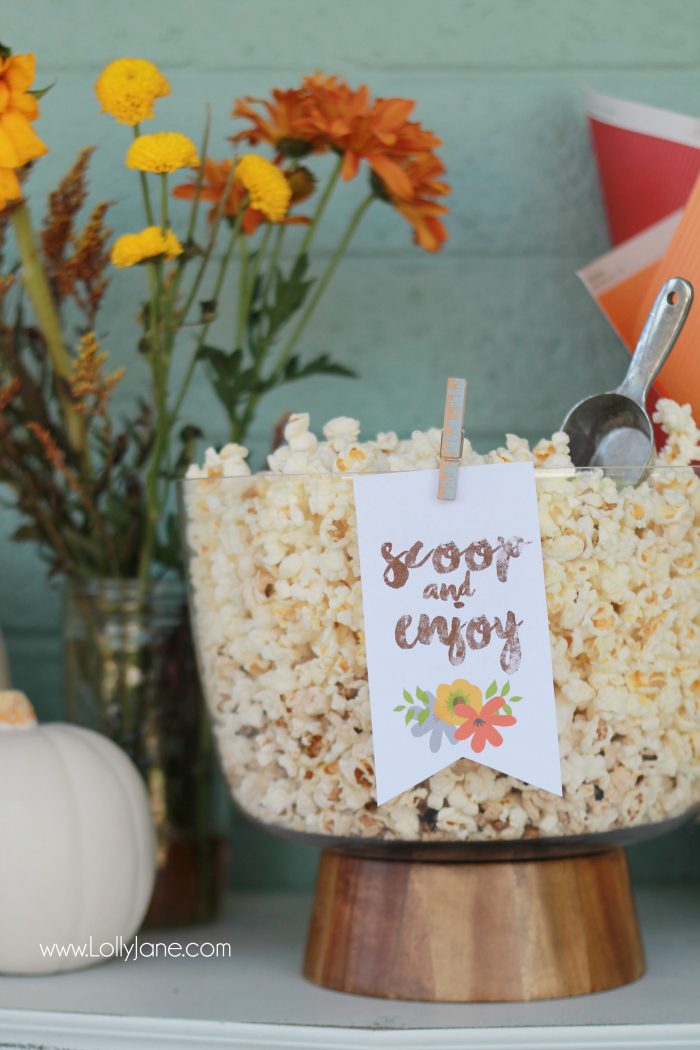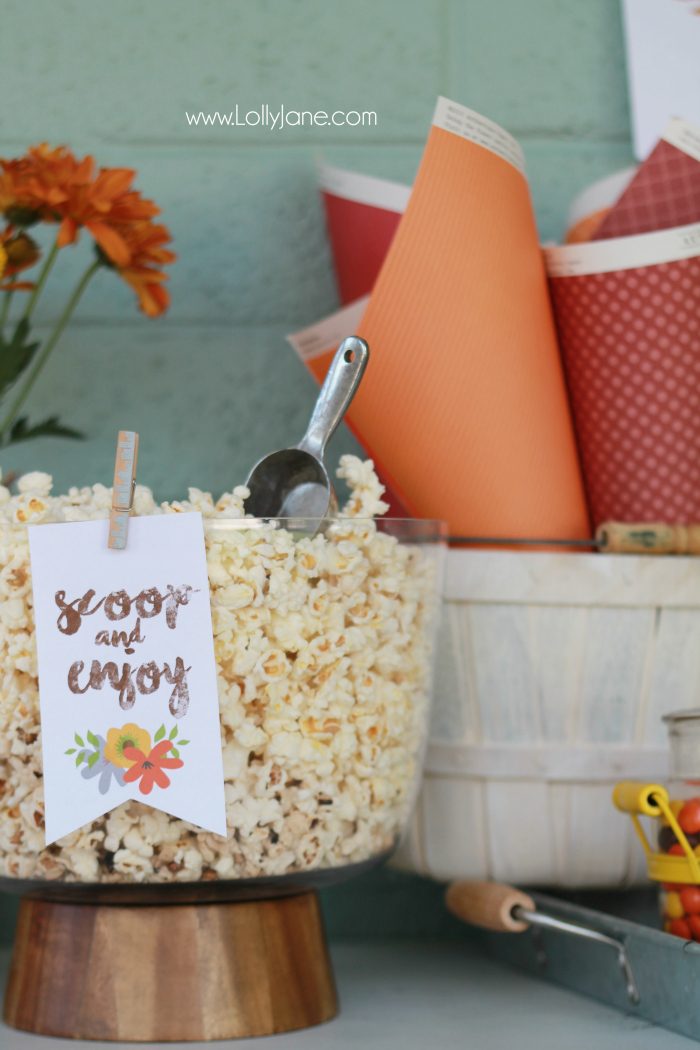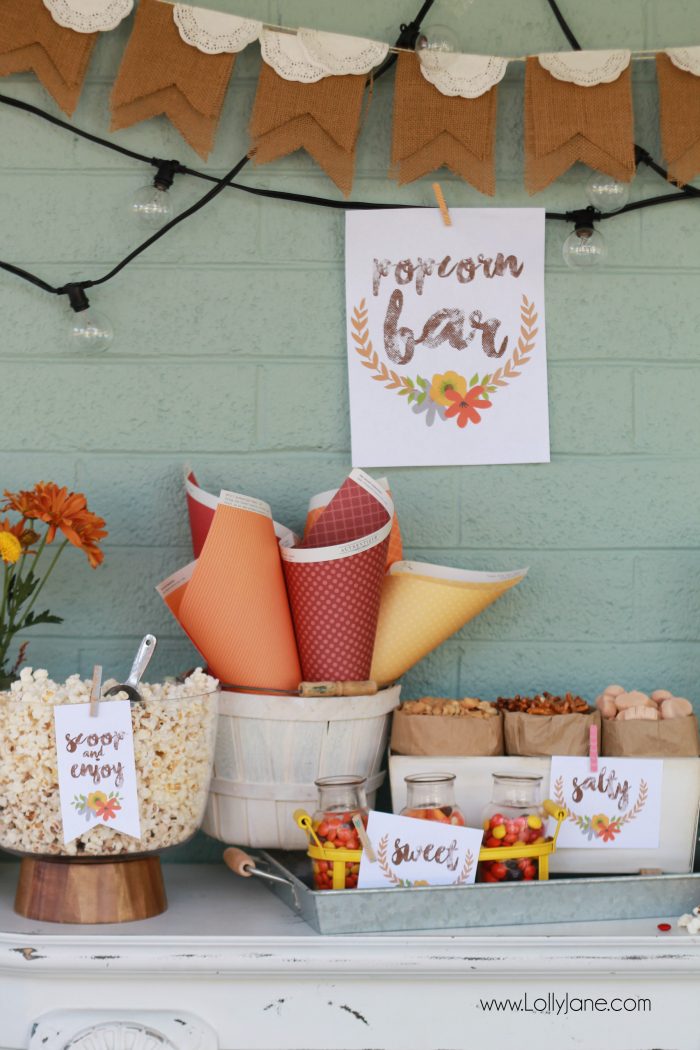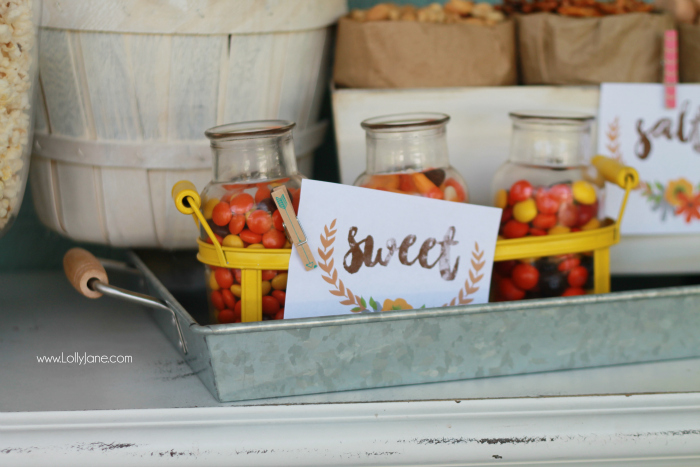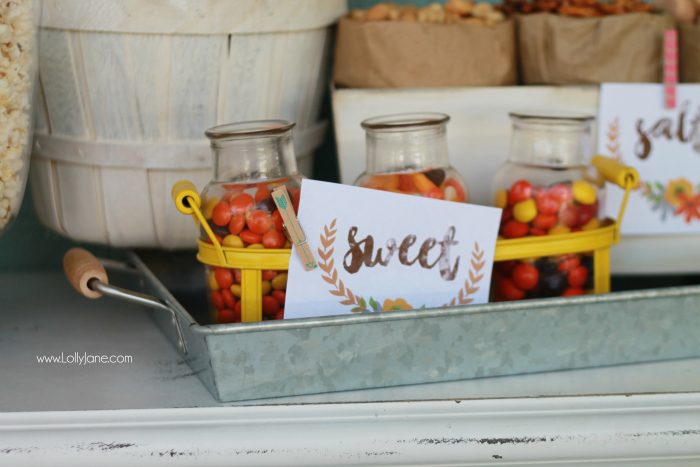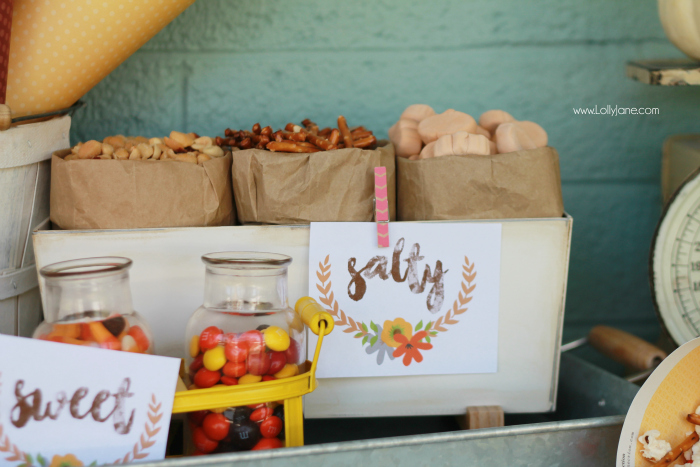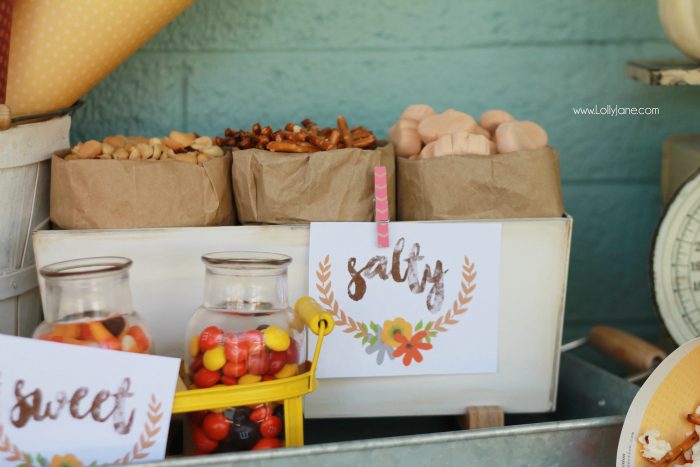 We love the coral pop of color against the stain and neutral porch colors.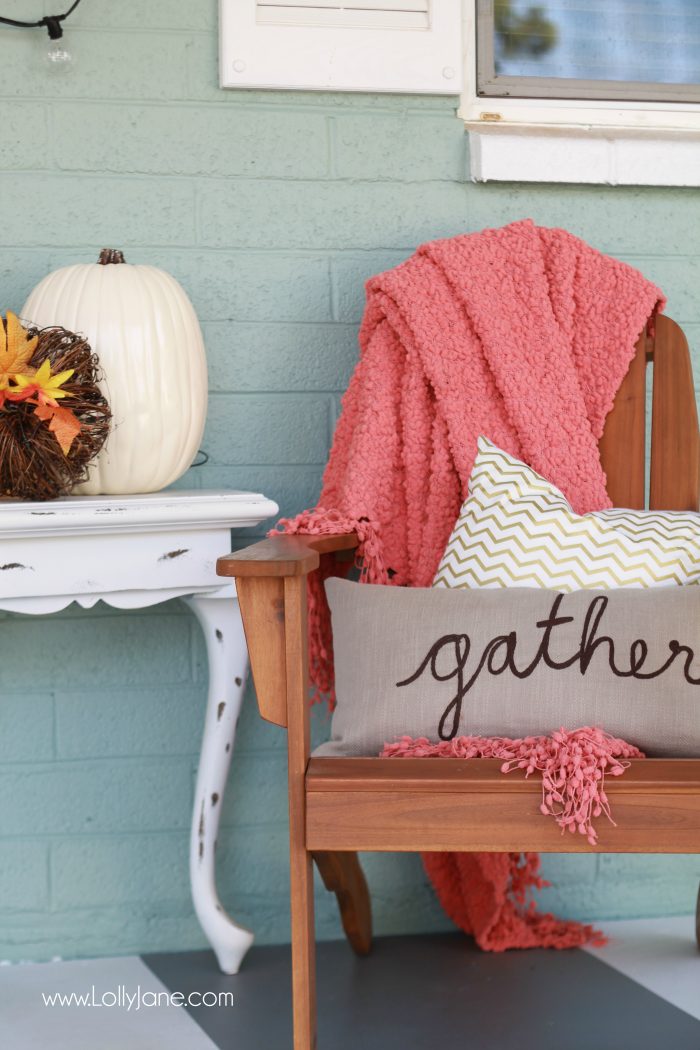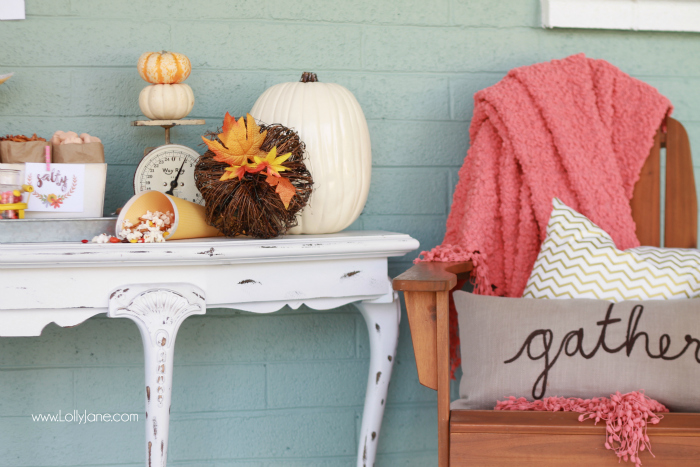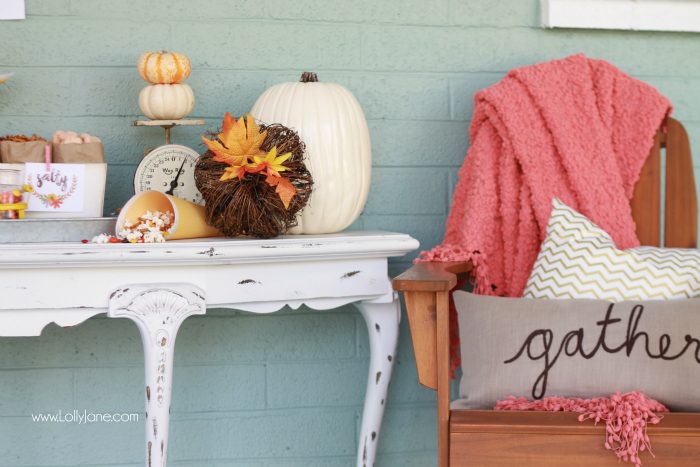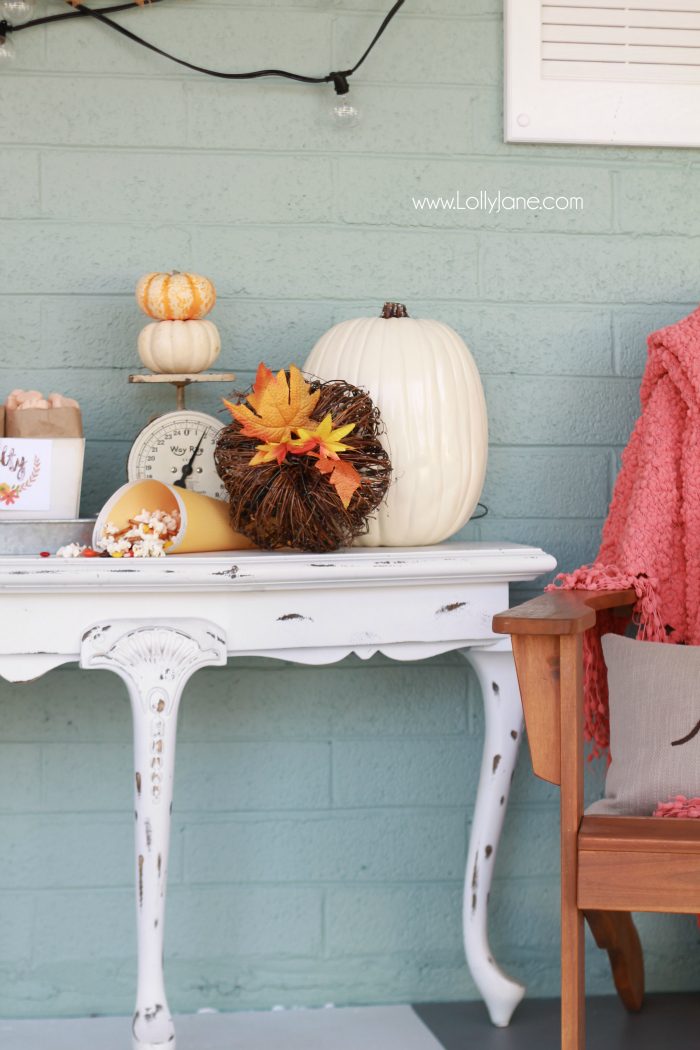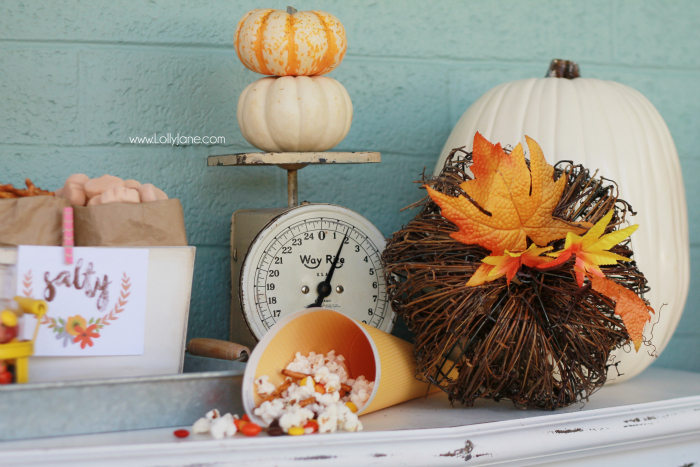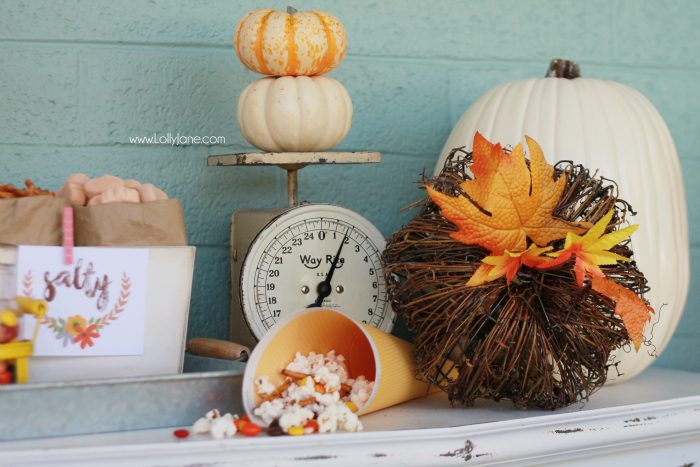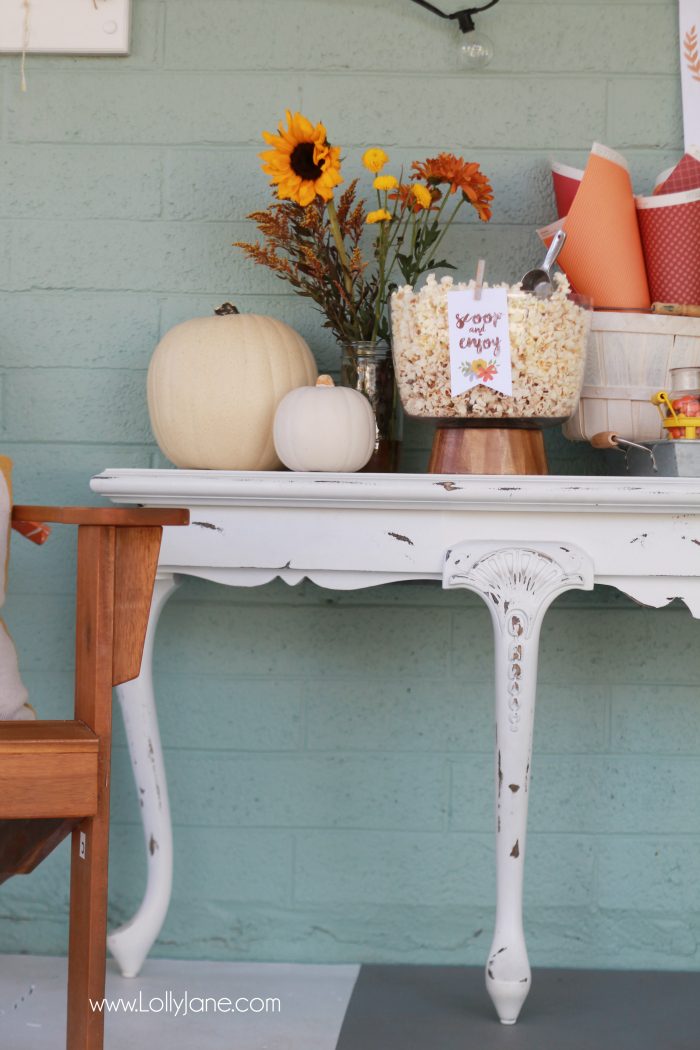 Here's a little peek at the pretty ambiance those pretty string lights give off in the early evening: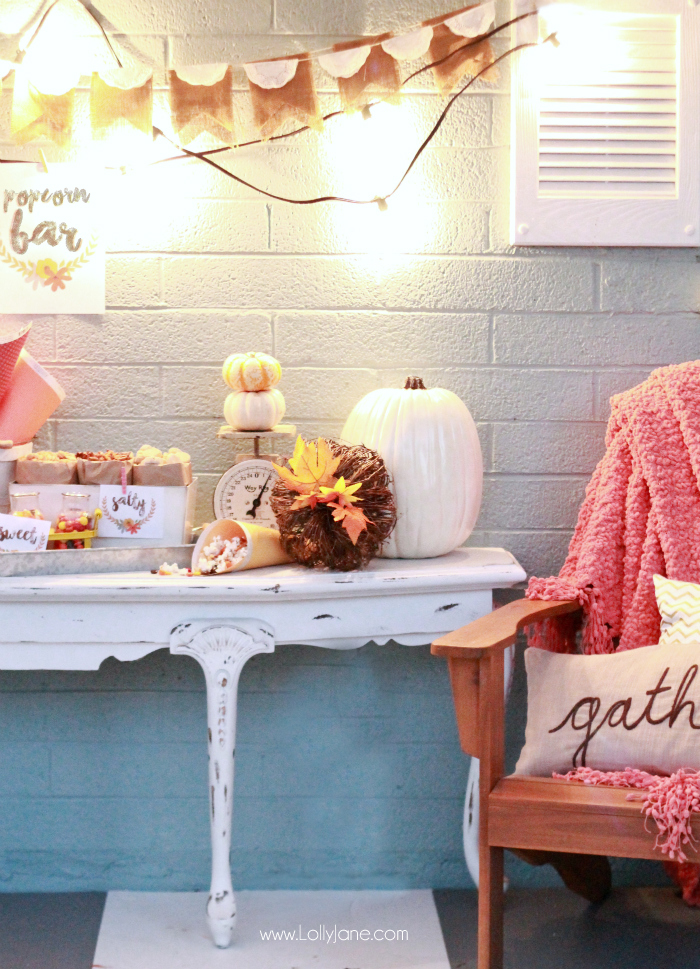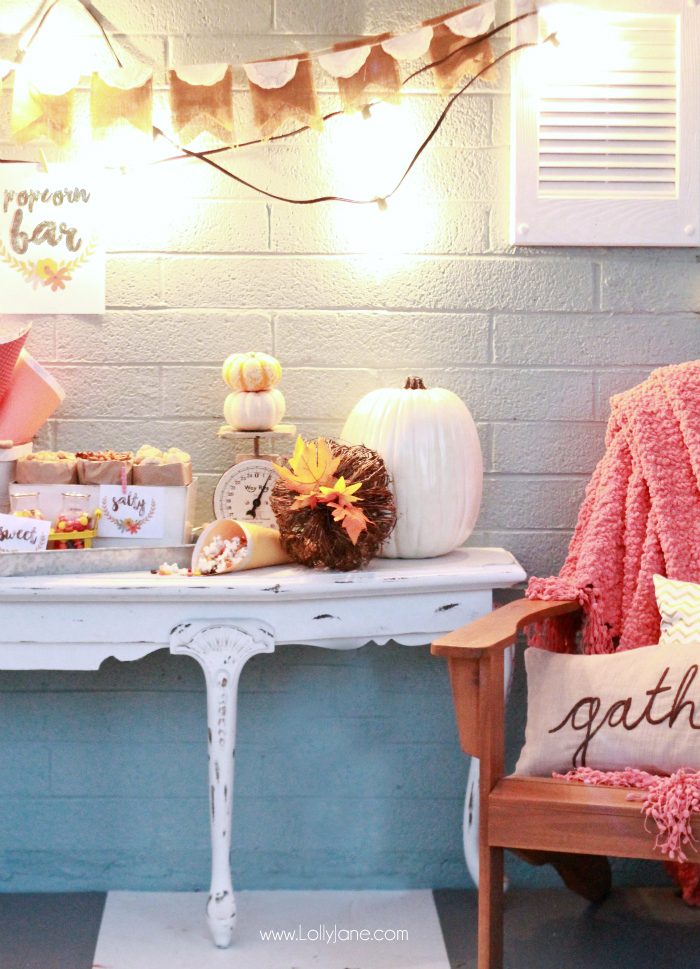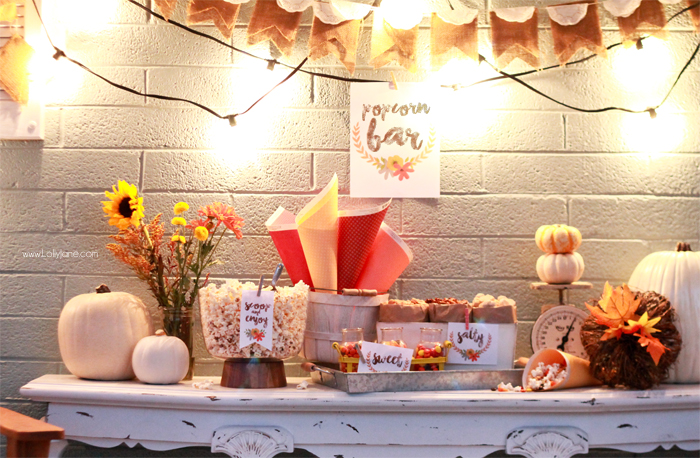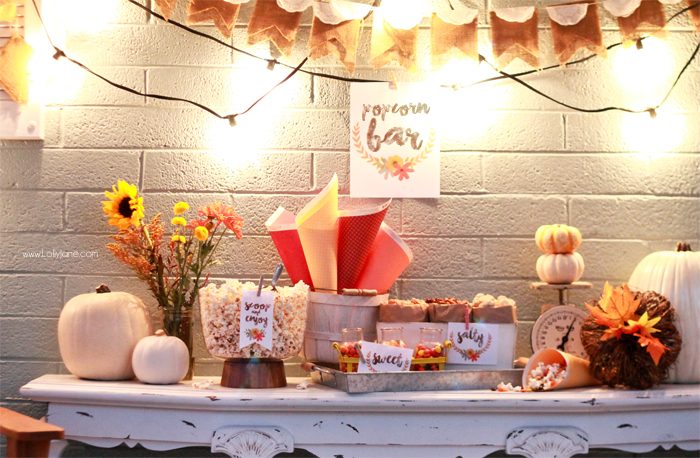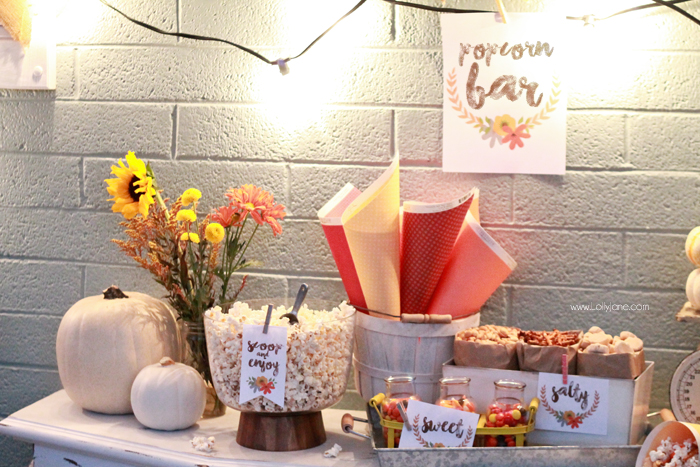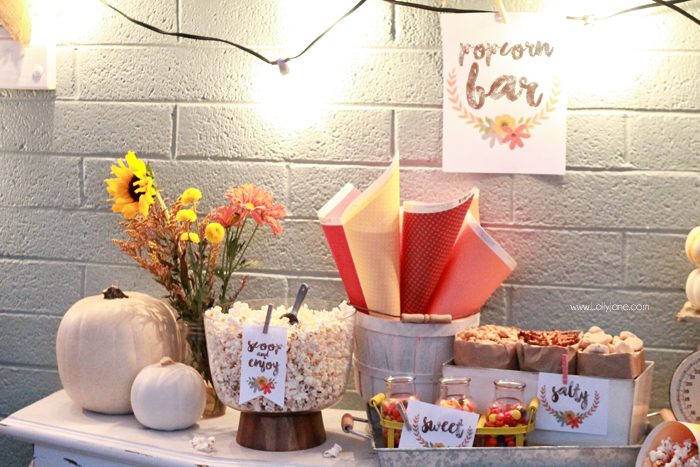 Have you checked out Porch yet? Besides featuring beautiful work from fellow creatives, they are a one stop for all things home… from advice to DIY's to improving and maintaining your home, Porch works with quality professionals that do quality work. In fact, they have a fabulous new Porch Guarantee that gives you the peace of mind knowing professionals on their site have been pre-screened by Porch and meet your highest standards; you can feel confident in working with them to complete your next home project worry-free! If you're not completely satisfied, Porch backs your job up to $1000! Check them out. 🙂
Thank you, as always, for supporting great companies like hayneedle and Porch that sponsor posts like this s0 we can keep these tutorials and decorating ideas free for readers like you! 🙂