This mustard yellow buffet was a fun little teaser when I showed you all my living room makeover challenge. I figured you should see this lovely lady before I freshened her up with leftover paint from this project. (Color is Jackson Square by Valspar)
I love this buffet. It was my great-grandma's dining room buffet before it was handed down to my mom. She recently inherited a piano from my grandpa and didn't have room any longer for this so she offered it to me…on one condition: I must not paint it!
I explained to her that in it's current condition (above/before shot), it was disrespectful to leave it as is. It has years of neglect, a broken drawer, faded spots, rings from cups being left on it, missing hardware, etc.
After making some small repairs, (knobs from Michael's dollar bin) I was left with a pretty buffet but not pretty cords…
Want to see my secret solution?
With the help of my dad/next-door-neighbor (hubby was at work), I cut the drawer apart and added hinges so we could tuck our cable box inside and simply close the drawer when the tv is off. Brilliant, right?
I'm not going to lie, this project was way out of my league. I'm so glad my dad is handy and took over for me. All I had to do was screw in the hinges, and I stunk at it! My hubby came home and dremel'd out the space for the hinges so it actually functioned, LOL! So I stink at turning regular drawers into hinged drawers, but at least I can paint decently. Right??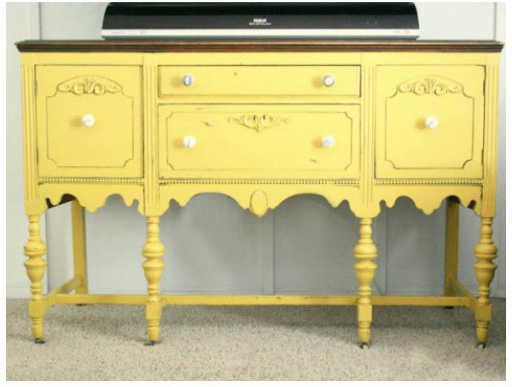 I
♥

the chippiness. It doesn't scratch the actual wood, just chips away the mustard yellow paint so if I ever do refinish it back to it's bare bones, I won't have to repair anything. Let's have one more look at the before and after:
Anyway, I'm glad to inherit this lovely buffet turned tv console. I purposely left the top alone to keep a bit of my great-grandma in my home. And I love that it's both pretty and practical (:
So let me have it: my mom says I should prepare for some backlash…would YOU have painted your great-grandma's 100 year old buffet?? Or am I insane?
FREE EMAIL COURSE
5 Low Cost Tricks to Make Your House Look Like $1 Million
It's Lolly Jane's 5 FAVORITE Tricks to spruce up your space affordably.

Don't miss these!