How to Decorate a Living Room
Aaah, the big room reveal is live and we have compiled tips for decorating a living room in 7 easy steps since starting the space but in case you're wondering what the heck we're talking about, let's back up and explain. If you follow along with us on Instagram + Twitter, you'll remember we were in North Carolina a few weeks ago at the La-Z-Boy showroom that is part of the fabulous High Point Market, (the largest furnishings industry trade show in the world,) competing against 4 other bloggers in the Design Dash!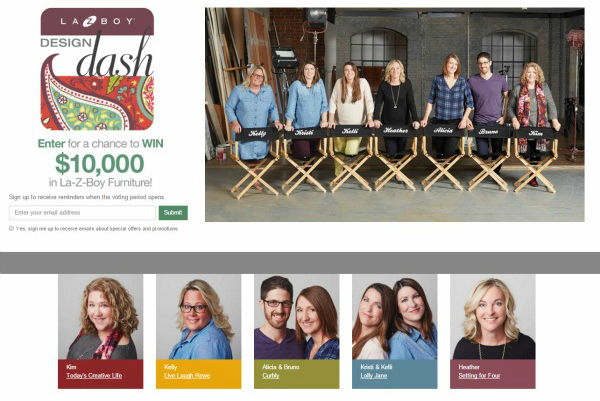 Check out the official madness in video form HERE. 😉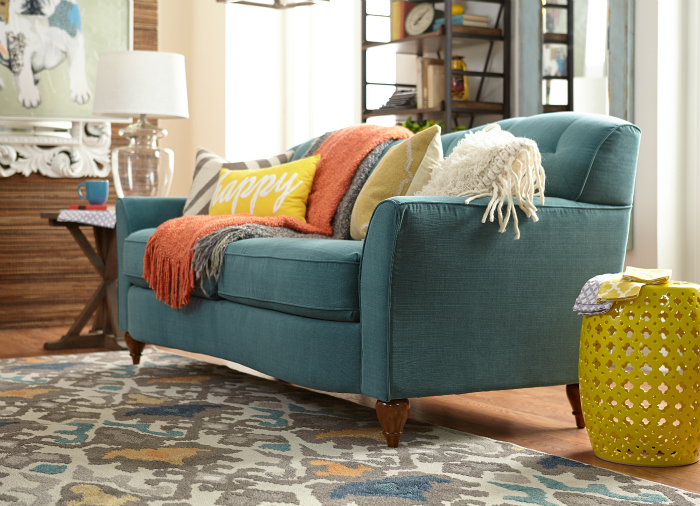 We started off this fun competition in late September at our local La-Z-Boy furniture store in Mesa, AZ and got to design a couch of our choice. We went with the gorgeous Melina premier sofa because hello gorgeous! The tufting, the lines, the feet and the color is a seriously fabulous combo. (We chose this fun bright pattern on our 2 pillows to accompany the sofa but ended up not using them.)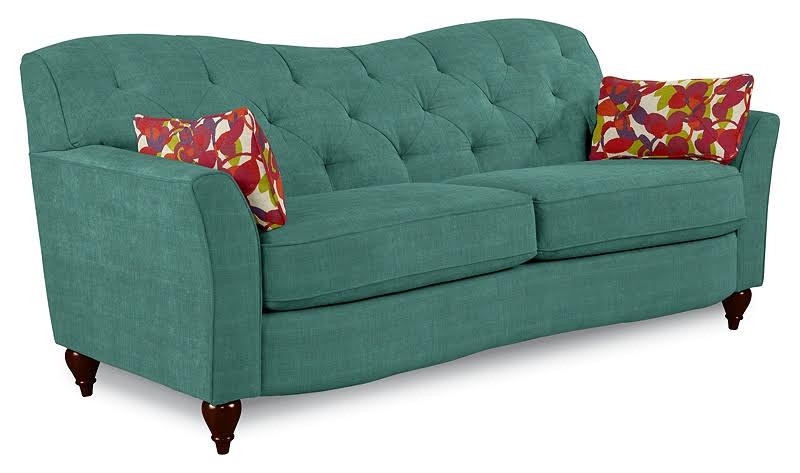 Fast forward to late October arriving in North Carolina with fellow creative bloggers Kelly of Live, Laugh, Rowe, Kim of Today's Creative Life, the cute husband/wife team of Curbly and Heather of Setting For Four. We met at the starting line ready to dash throughout the La-Z-Boy showroom and grab just 20 pieces of accessories, art, ottomans, accents, pillows and anything else we thought would style well with our Melina sofa, freshly made, sitting in an lonely empty bay nearby and ready to be filled up with these gorgeous pieces that would make the space.
Here's a cute peek of the dash:
We met the next day to fill up the room with our 20 items in a blank bay (walls painted Alabaster Gray in SW) that just had our pretty sofa in it; although we chose not to use all of the items chosen that were sent to
Kreber
, the studio that shoots all La-Z-Boy products, we had the help of a team of amazing La-Z-Boy designers (plus the seriously fantastic Kreber designer/photographer) to give us input and help us out with the layout and final touches.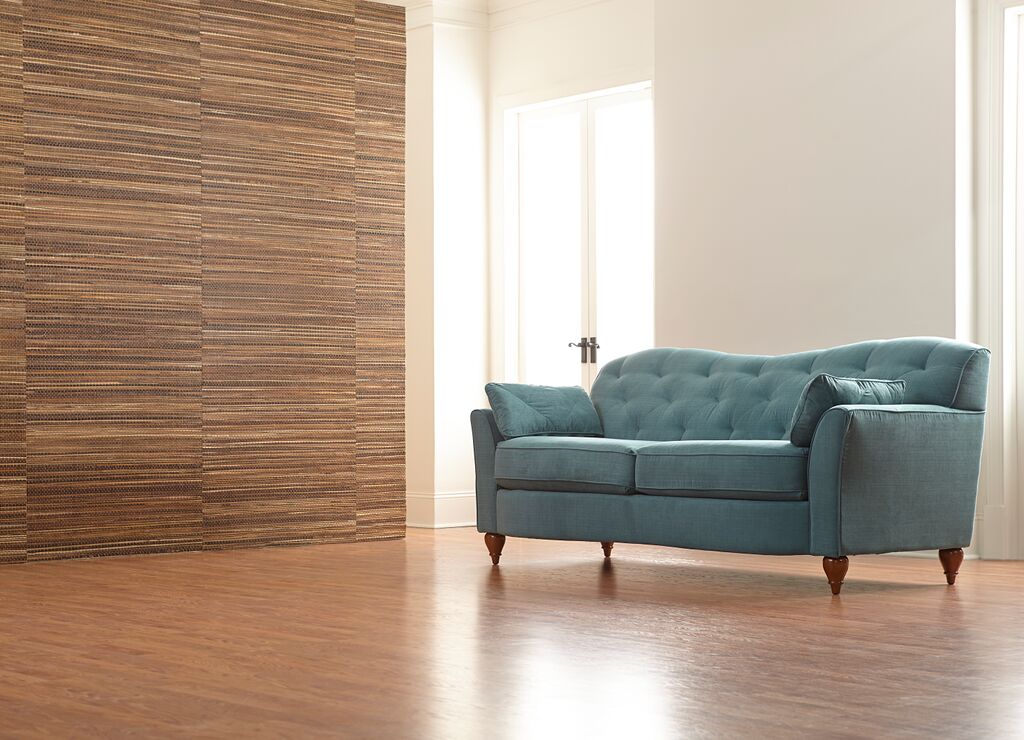 Here is the final space! Ga ga goooorgeous, am I right or am I right? It's fun, bright and cheery… and yes, it has all of the typical Lolly Jane hues incorporated so of course we love it! Haha!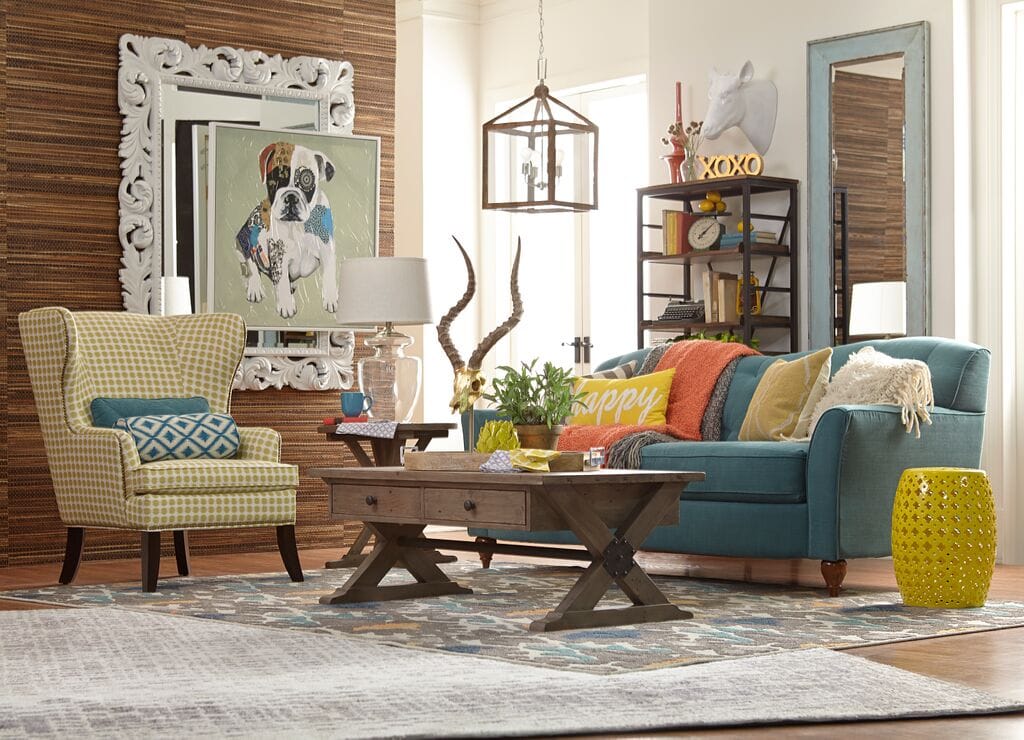 So here's a few tips of what we learned in designing our own living room (in 48 hours!) from scratch:
Choose your sofa or largest piece of furniture first. Since the sofa, in this example, is the staple item in this space we knew (because it was pretty bold) to decorate with lots of neutrals around it THEN add pops of color to pull it back into the room.
Mix and match your furniture. Just because the sofa or sectional you chose at the store comes with a matching ottoman or love seat DOESN'T mean you have to get all matching pieces. In fact, we would say in our best Jimmy Fallon voice, "Ewww!" LOL! Be playful and let each piece bring something to the table… er, room. 😉
Add layers. As you can see, our furniture (sofa, chair + coffee table) is fairy short in comparison to the ceiling height so we pulled tall mirrors and a vertical shelving as well as hung an accent chandy lower to give the space some height and allow our pieces of furniture to be the center of attention. Rugs (single or layered) are also a great addition for added textures and to make all of the colors come together.
Pillow power! None of our pillows match BUT they all blend. Just because we don't have the same print on each pillow doesn't mean it can't be allowed in the same space or on the same piece of furniture; blend your patterns and hues to one unified theme and everything goes!
Accent, accent, accent. Our shelving was SUPER drab until we spent 20 glorious minutes in heaven (aka: the 2-floor Staging Closet) and filled in empty spaces. Knick knacks of all sizes, (vintage scale, typewriter, books, mugs, faux fruit, etc.) are a great way to minimize the blank areas and really make them pop instead.
Moo says the cow. Animal heads are all the rage right now, as is animal art and of course, the classic animal print. Mix and match to give the space a playful vibe but don't go TOO crazy with too many animals. We chose a white ceramic cow head, bulldog mosaic art and an antelope (we think that's what it is, haha!) for the coffee table.
Let there be light! The last element that really pulled this space together was the lighting. Besides having gorgeous natural lighting, we chose a farmhouse style lamp for the end table and paired it with a rustic cage chandelier that really pulls all of the neutral pieces (coffee table, wood wall, etc.) together as well as brightens up the space.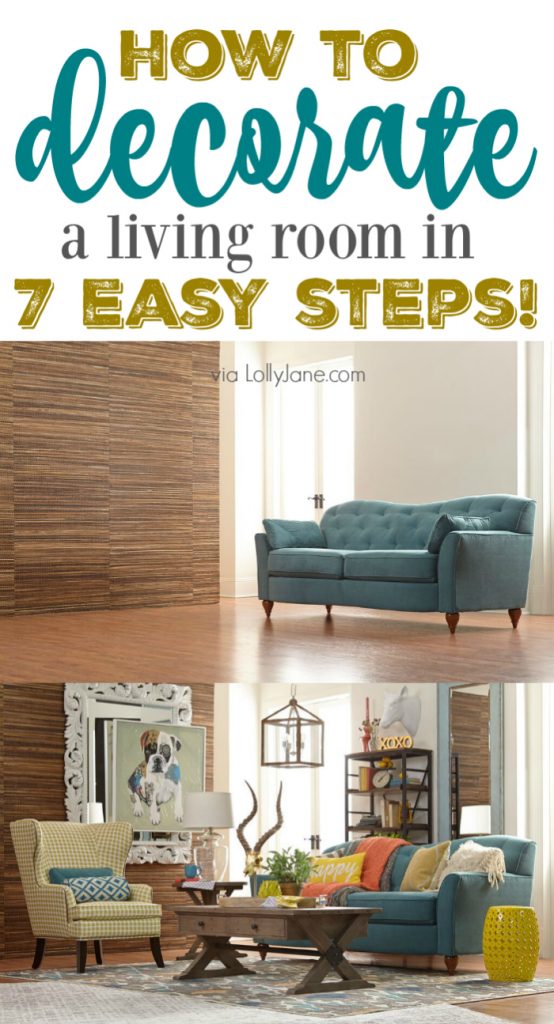 So there you go! Hope you will take a quick sec to VOTE on our space because now it's all about YOU! You could win $10,000 just for voting and nope, there is NO PURCHASE necessary to enter. Just click on our picture at Design-Dash.com and fill in the required fields once a day until the contest is over and you have a chance to win $10k in furniture from La-Z-Boy.
UPDATE: We didn't win the competition although it was close, phew! BUT we are winners because we were able to customize a piece of furniture and I LOVE how my gorgeous leather sectional turned out: