New Beginnings Dr Seuss decorating ideas
We had the most amazing New Beginnings last week! I'm the 2nd counselor in Young Womens and was in charge of last year's New Beginnings. This year our amazing 1st Counselor, Amy, chose a Dr Seuss them and it was seriously SO stinkin cute!! I wish I could claim these ideas as my own but I can't! I made the banner and asked Kristi to design the invite and food table tags but the rest of it was Amy and her darling advisers and Mia Maid presidency. Hope you benefit from our New Beginnings Dr Seuss decorating ideas for your own event! Here is what greeted the attendees as they walked in: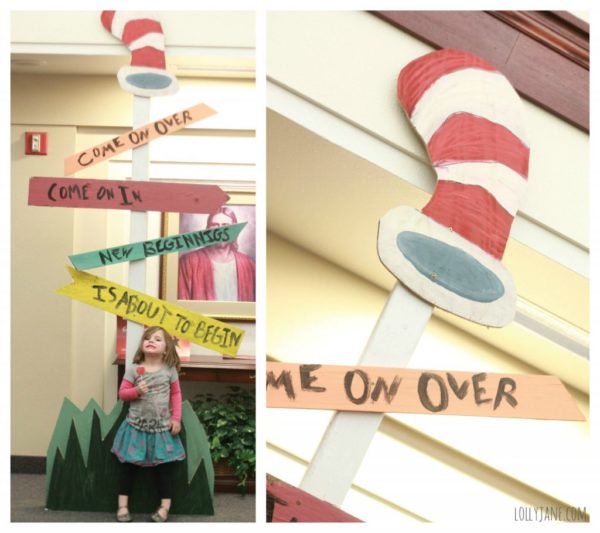 Isn't that adorable?? COME ON OVER, COME ON IN, NEW BEGINNINGS IS ABOUT TO BEGIN with the famous hat from Cat in the Hat to top it. Love it. And here is what they walked into as they entered the cultural hall. The Lorax was made from an orange plastic tablecloth with cardstock eyes, eyebrows and a giant mustache. Across from him is a blue plastic tablecloth with Mr Cat in the Hat himself! He was a pre-made posterboard cutout.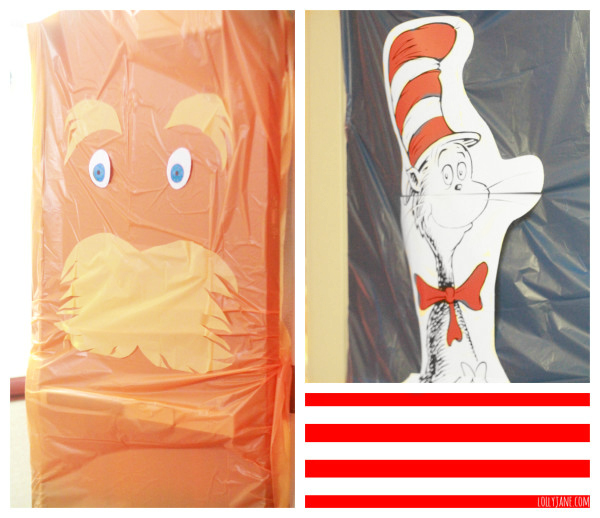 Here are the programs! Suuuuper cute, right?! We used the same exact layout for the invites too! Kristi is a lifesaver and did a phenomenal job!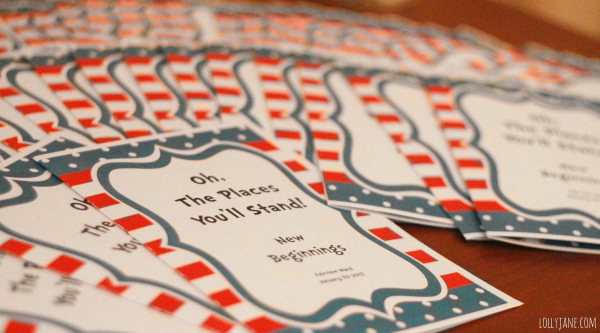 Click to download our Cat on the Hat printables:
We'd appreciate a pin as a thank you! 😉
TO PRINT ON THE TAGS OR INVITE >>You can upload the PDF into Photoshop (we use Elements) then type over it to personalize it, so easy! Otherwise, print off the blank tags or invite then type up what you want the verbiage to be on the tags and/or invite in Word or Pages then print directly onto the tags/invite. There may be some trial and error with this method but it works! 🙂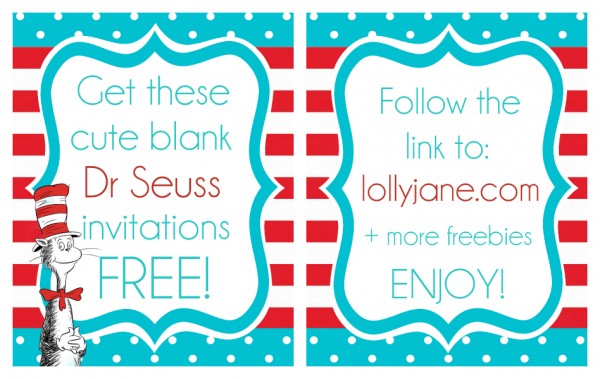 The food. Man alive, the food was so cute!!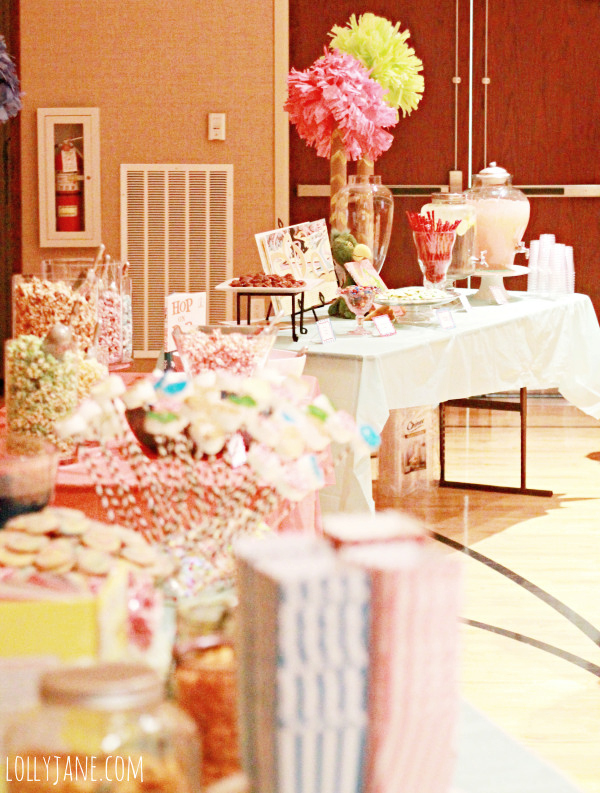 Aren't those 6 foot truffala trees AMAZING?? One of the MM advisers built them! 8 of them ranging from 4-12′ tall. Incredible. She doesn't have a tutorial but I found THESE cute trees that look inexpensive to make! We had a HOP ON POP popcorn bar! Amy made 6 different flavors of popcorn using jello to flavor them. They tasted like candy!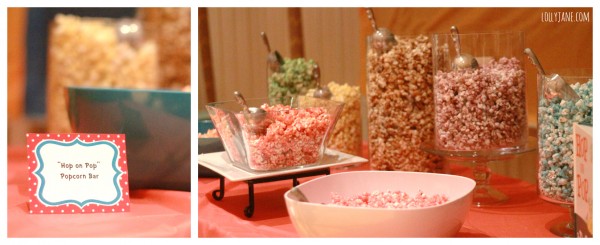 I think my favorite are these cute Truffala Trees! Jumbo marshmallows dipped in sprinkles on striped straws.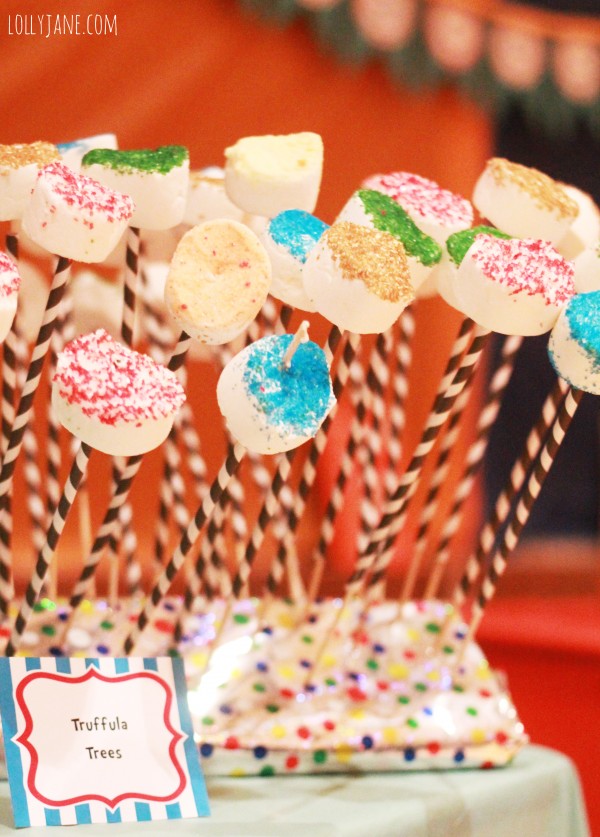 The green eggs and ham were yummy too! I'm a huge white chocolate fan so these vanilla flavored baking chips with green M&M's on top were tasty!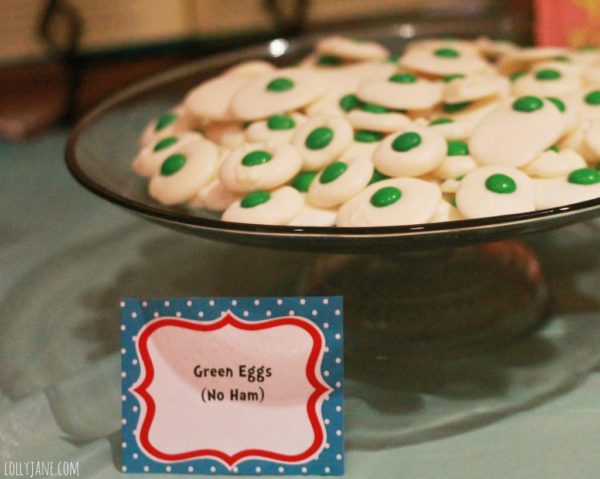 Oh The Places You'll Go cookies! Recipe here.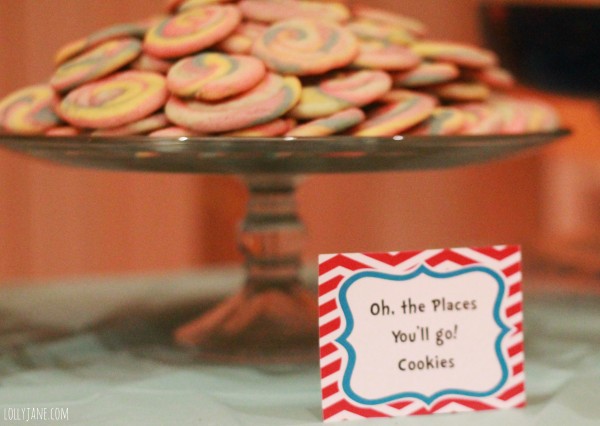 A Dr Seuss party wouldn't be complete with out One Fish Two Fish Red Fish Blue Fish bar!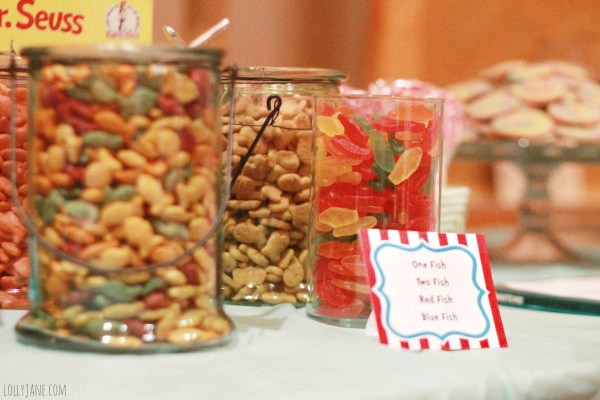 For drinks, we had Drink Pink Ink lemonade! I didn't get a close up but on the left of this pic are Yertle's Caramel Turtles (Rolos and Pretzels). Twizzlers were a good filler for height and color.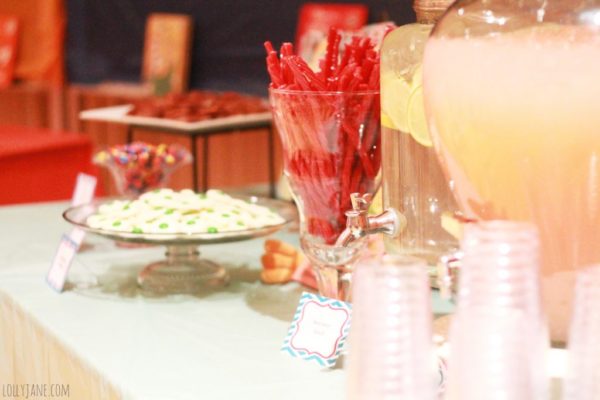 The last thing we did was display crazy socks on a chicken wire bulletin board as favors for the girls (socks from Target, $2/each). We want the girls to remember to stand in holy places and found the cutest poem HERE to go along with the fun socks!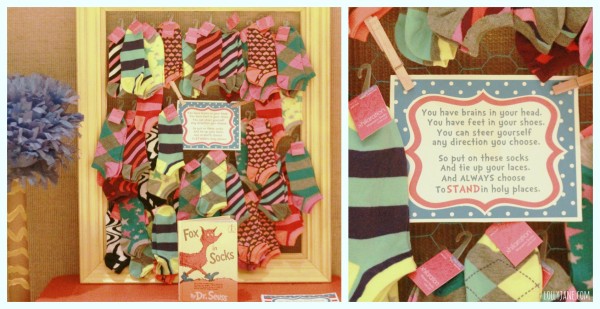 "You have brains in your head. You have feet in your shoes. You can steer yourself any direction you choose. So put on these socks, and tie up your laces. And ALWAYS choose to STAND in holy places." We made our own tag from the food tags, easy peasy.
Read about our religion HERE. And check out last year's New Beginnings, last year's Young Women in Excellence, Camp Ideas, 2013 Young Women Binder Covers, 2013 Primary Binder Covers and our always growing list of Young Women ideas!