Girls Camp Crafts and Ideas
I'm the 2nd counselor in my ward's Young Women's program which meant I was able to attend girls camp a couple weeks ago. Our stake did a fun trek (pioneer re-enactment) with the 14-18 year olds so we had Beehive Camp for the 12-13 year olds. It was a blast and I am so blessed that I was able to go and watch my 17 young women (yes SEVENTEEN from our ward!!!) grow their testimonies and relationships with each other. Here are some cute girls camp crafts and ideas, hopefully you can use them for your girls camp!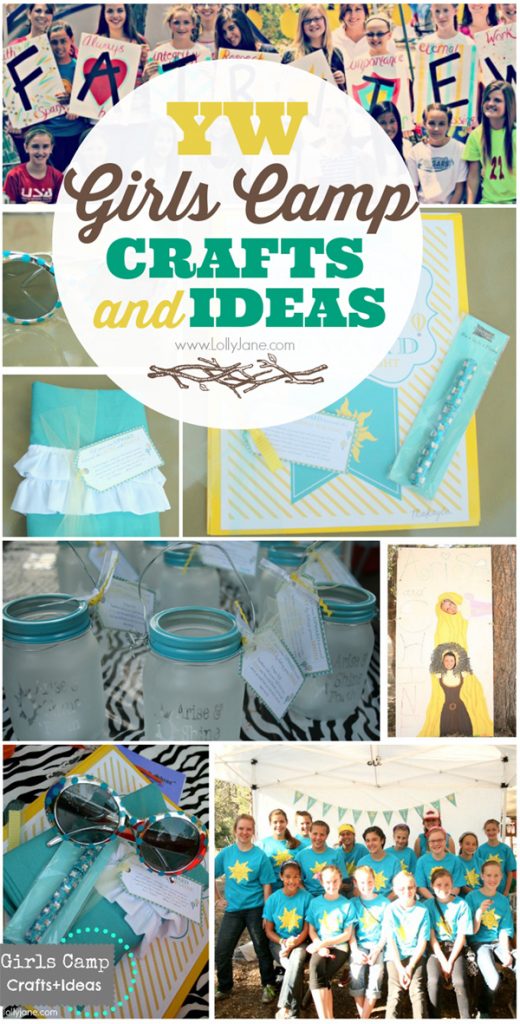 First of all, the stake handled a lot of the big things leaving us in charge of nightly gifts to the girls, 1 devotional a handful of cheers. Camp was only 2 nights so it was short and sweet but jam packed with certifications, crafting, laughing and fun. One of the Stake YW Presidency Counselors is in our ward which meant I got first dib on our camp color hence all the turquoise! Such a fun bright color to compliment yellow! The theme of camp was "Arise and Shine Forth" and they used the movie 'Tangled' to compare the lanterns/light Rapunzel yearns for to Christ's light. It was a great comparison and easy to put correlations together.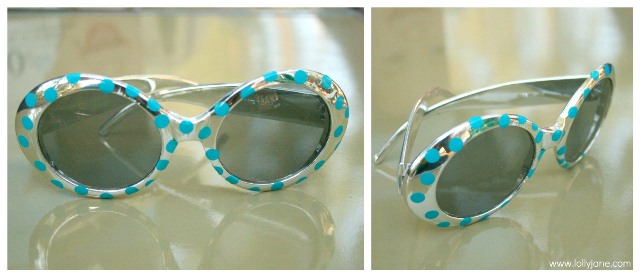 These turquoise polka dotted sunglasses were free and FUN!! We lucked out big time since my awesome advisor Kristen got these silver sunglasses free from a friend, left over from last year's girls camp. I thought about spray painting them but added a bazillion turquoise polka dots from my vinyl cutter. Yes, it took a couple hours over a few days but they stuck really well since they're 1/4″ each and it was well worth the time to save on cost. We handed them to girls as soon as we got settled and unpacked so they could all match for their opening cheers!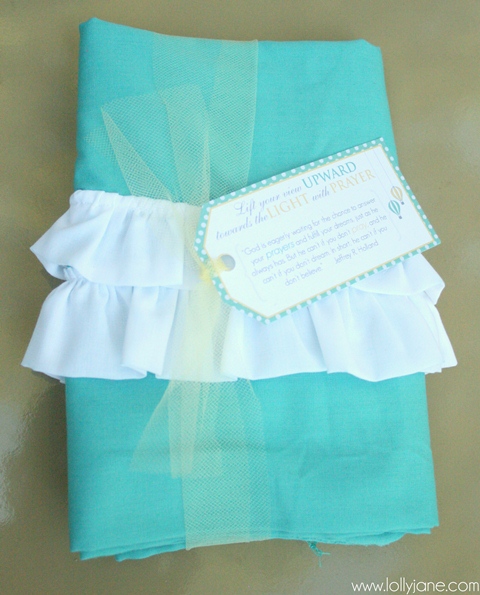 These cute turquoise pillowcases with 2 white ruffles were our first night gift to the girls. We passed them out after our night devotional so they could use them immediately. I bought a 2 pack of turquoise pillows at Walmart, then my awesome sister Katie and I worked on them for 5 hours straight getting all those cute ruffles sewn on! I gave Kate a $10 gift card to Circle K as a thank you but I think I owe her something else, she is amazing! Our ward's theme was "Our Future Looks Bright, Lifting Your View Upward Toward the Light" since we're the FairVIEW Ward. Cute right! The darling tag says: Lift your view UPWARD toward LIGHT with PRAYER "God is eagarly waiting for the chance to answer YOUR prayer and fulfill your dreams just as he always has. But He can't if you don't PRAY and He can't if you don't dream, in short He can't if you don't believe." -Jeffrey R. Holland. Great way to send them off to bed.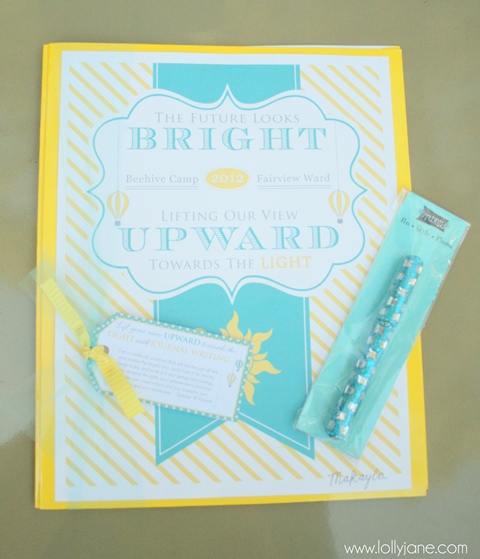 My wonderful adviser Kristen has such an eye for detail! She really wanted to give the girls some cute camp journals and wow did she ever! She used yellow folders and had her talented sister, Kim, whip up these amazing coordinating covers and tags! The tag says: Lift your view UPWARD toward the LIGHT with JOURNAL WRITING with another coordinating quote. I found the PERFECT turquoise sequin pens in the dollar bin at Michael's and was so excited to pair them with the journals! Note: We had pj's night every night which stands for Prayer Journal Scripture, pretty cute acronym for those who haven't heard it (like me!).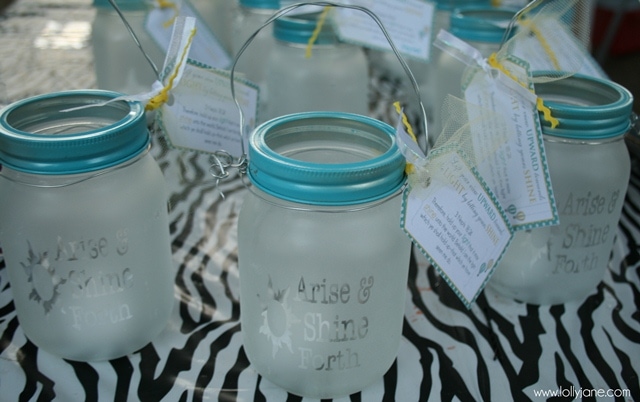 I'm pretty sure these lanterns were my favorite! They were cheap to make and had such an amazing affect, seriously, I am so happy with how these turned out!! I followed Melinda's instructions and altered them to fit the camp theme and my own style. I opted to spray paint the outer lid turquoise to give it a pop of color and instead of using shapes to glow, I used the camp theme along with Tangled's sun (cut from my vinyl cutter). Topped with Kristen's cute tags "Lifting your Light UPWARD toward the LIGHT by letting yours SHINE" and some cute ribbon, they were a hit! We handed them out to the girls as soon as we did the Bishop's welcome cheer and had them put a battery operated tea light in them to carry to a quiet spot for Bishop's testimony meeting. I cannot tell you how strong the Spirit was sitting in the middle of the woods in the pitch black dark, seeing nothing except a glowing jar at each girl's feet. It was incredible.
To make these cute hanging mason jar lanterns, follow these steps!
1. Supplies: mason jars (Walmart: 12 pk/$6 no writing on them), wire (Walmart $2), Spray Frost (Walmart $4: 1 can covered 17 easily), vinyl (I have a cutter)
2. Apply vinyl lettering.
3. Make sure it's on the jar firmly, no air bubbles.
4. Frost jar, spray paint lids.
5. Wipe down any loose frost.
6. Carefully peel off vinyl lettering with tweezers. Go SLOW.
7. Attach wire. Melinda's tutorial rocks!
8. Attach tag + cute ribbon.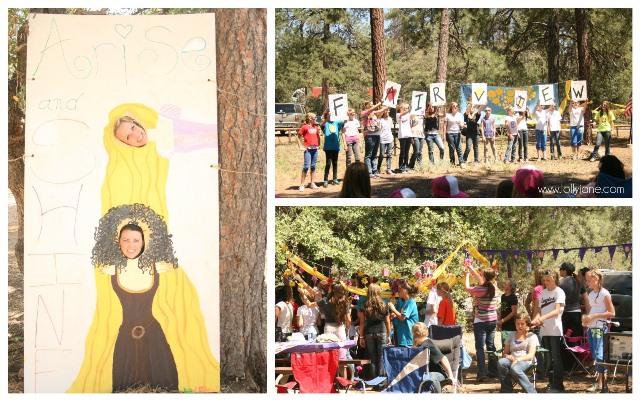 This cracks me up! On the left is a giant wood mural of Mother Gothel peeking through Rapunzel's hair, just for fun for the girls to take silly pics. I'm on the bottom on my ward buddy, Crystal, (the one who hooked me up with turquoise) is on the top. Too funny! On the upper right hand you can see my girls cheering but if you look behind them, the stake has the cutest setup for this theme. A blue banner with Arise and Shine Forth words, but there's a tower with Rapunzel's hair leading you off the banner. They then took yellow plastic strips and knotted it together, probably 50 feet of it at least, and draped it all around the trees so it looks like Rapunzel's hair is coming off the banner, so cute. On the bottom left you can see all the flower hair clips the stake and YCL's (Youth Camp Leaders) provided after they braided the Beehives hair. Pretty darn cute!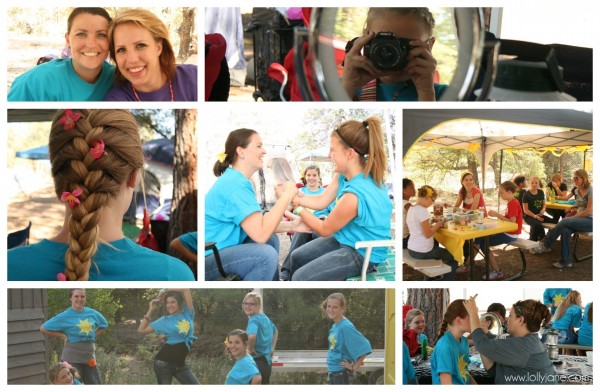 Thought it would be fun to show some cute pics of my darling girls. I love these beautiful young women with all my heart! I'm amazed at how my mind can think about them along with my 4 kids and busy life! How I can love them when I already have a full house of kids of my own. It's so fun! Love all these pics of practical jokes, activities, putting on makeup, chatting, laughing, bonding, posing, being silly, getting certifications, playing games, all in 3 days!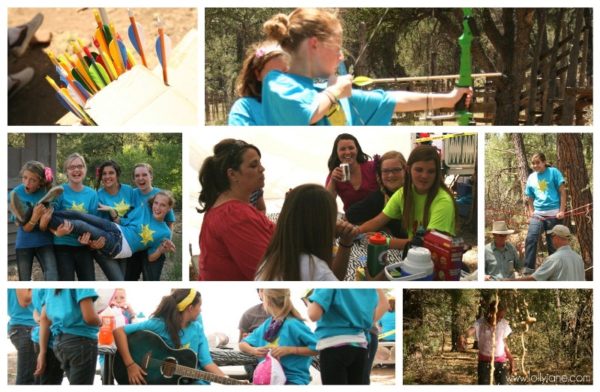 I sure love my girls!!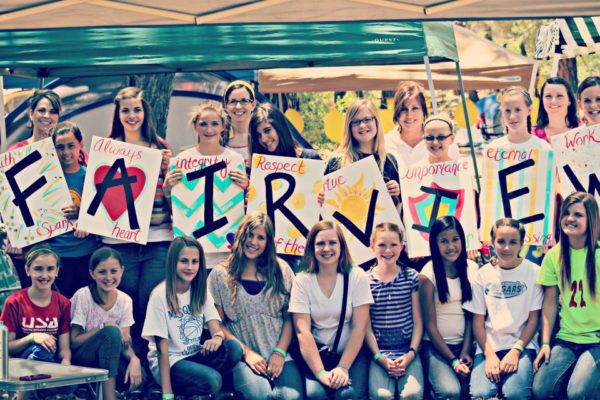 Check out what we did for Young Women in Excellence, Girls Camp and New Beginnings! And check out our list of always growing YW, Girls Camp, Mormon and Handout ideas on Pinterest