Life is good sign |tutorial
Do you have ADD?! I swear I do sometimes, lol!! I'm super spontaneous and it drives my husby batty! I decided I didn't like the arrangement of my furniture in my family room. Wait, back it up, we built out kids a fort (if you follow us on Instagram, you'll have seen this already) and husby stood on my trash-to-treasure coffee table and broke it! I was so sad!! So that got me thinking, I should replace it. Then I should rearrange the room and finally add some more character to our most used room anyhow. Soooo…here's a quick and easy life is good sign that I made to go above the couch, final touches on my newly rearranged family room!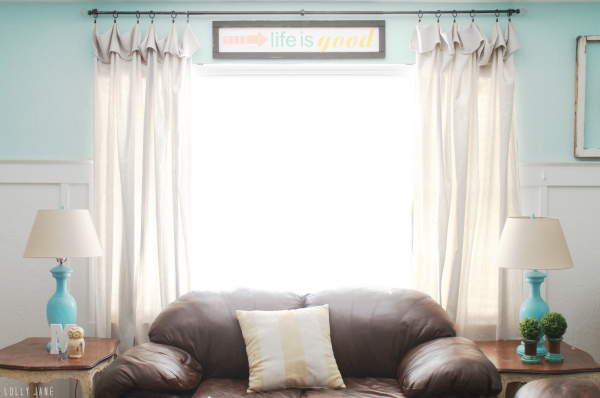 I was reading Ashley from Little Miss Momma's family motto post last week after our 10 Creative Blogs Blog Hop post went live. I love it! So inspiring and made me think the same thing: What do I want our kids to take away after living in our home 18 years? I already have my BE KIND sign in our dining room, screaming loud and clear at them every day as they walk past it a million times. As I was pondering what I say to them daily, "knock it off" "be grateful for your siblings" "quit arguing" didn't seem quite right, lol, I thought about the more serious things I talk to them about. "Be grateful", "You are so blessed", "You have a great life". I want them to realize that no, their parents aren't perfect but they have the necessities to be great adults: food, clothing, shelter, education, love and the church. Life is good. It's not perfect, but it's good.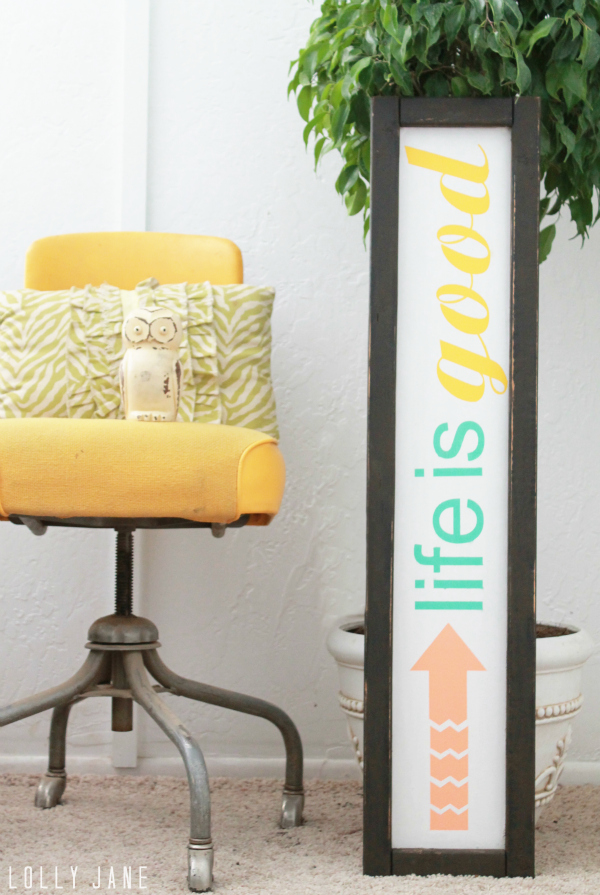 And now it hangs in our most well loved room, the room we gather in to watch 'Good Luck Charlie'. The room we squish in to build 6 foot tall forts and keep them up longer than necessary. The room we crowd around the coffee table and talk to God in our nightly prayers. The room we read from the good book and learn from old prophets how to be better people today. Indeed, life is good.
So, do you want to make your own? Here's what I did to create this fun sign.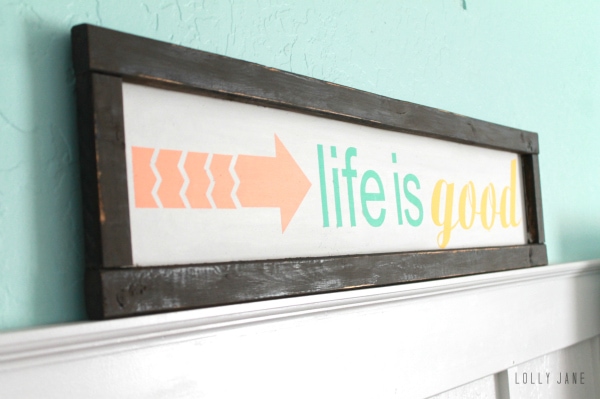 Supplies:
Piece of wood: Mine was upcycled from an old sign I got at a garage sale (thanks Kristyn/Lil' Luna who lives a mile away from me, remember our fun post where we made over HER sign??)
Acrylic paint: We used Americana's Raw Umber/brown, White Wash/white, Peaches 'n Cream/peach, Sea Breeze/blue, Cadmium Yellow/yellow.
Foam brushes.
Vinyl lettering/Stencil: We have an industrial cutter.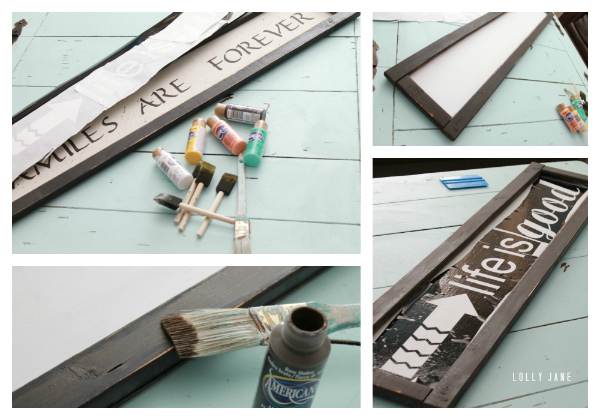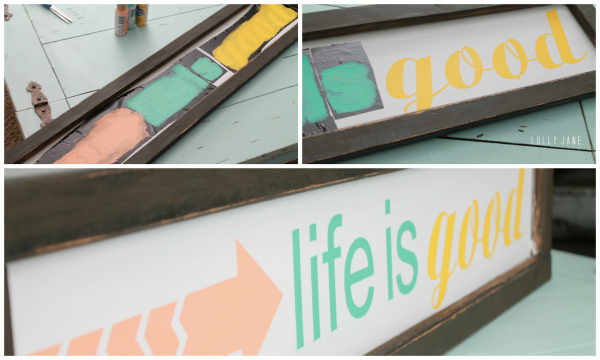 Directions:
Paint inside of sign white OR if you're starting from scratch, paint your board white.

I went over the black edges with Raw Umber brown to match my room better.
After the white was really dry (tip: I often use a blow dryer to speed up the process, I'm an impatient crafter), I laid my stencil down.
Then I painted inside the different stencils my 3 different color choices.
Really easy!! If you have a cutter/vinyl supplier, the fonts used were Arial + Ariston. (If you don't have a cutter, we recommend Marni: [email protected])) We created the arrow from Arrows2 fonts. >>>PLEASE don't knock these off to sell, just for personal use, thank you!<<<
My kids are already getting annoyed with me saying "quit complaining, life is good!" (;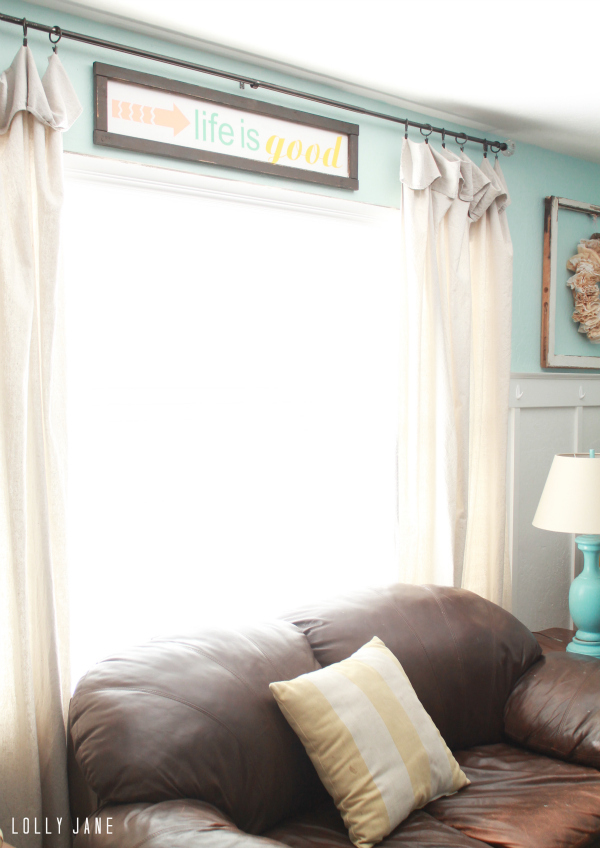 Wow, can't believe we've been making signs for 6 years now, check out all our tutorials and vinyl lettering/stencils for more ideas. Plus you gotta see our latest hand painted arrow sign!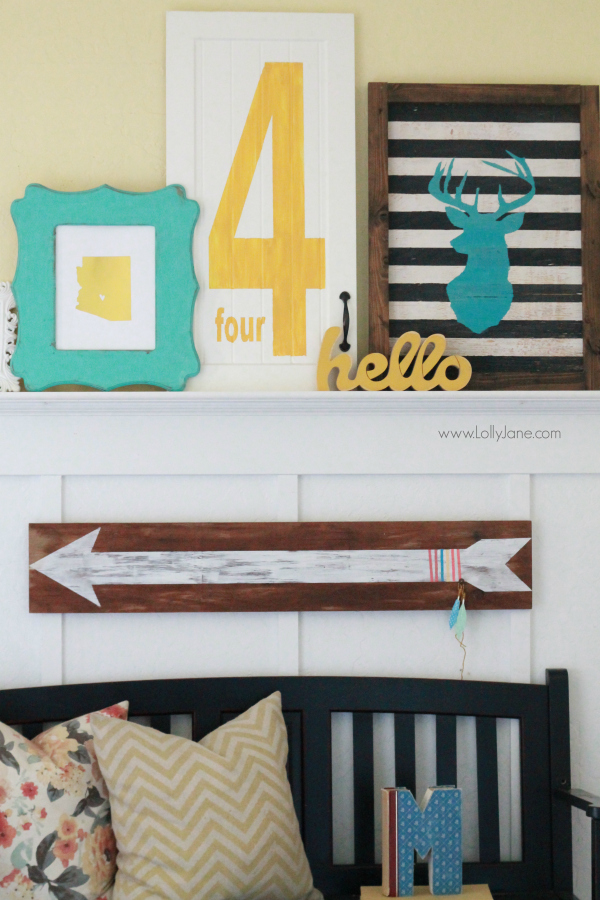 lollyjane.com">
and maybe you'll like our fun moose sign too?