distressed glass painted mason jar
Any fun plans for the weekend? Well, I was able to sneak in a quick project and was excited to see how it turned out! I've never used frosted glass paint before so when my hubby pulled an old mason jar from a pile of junk on our property (check out our old house post) I knew this was the perfect item to try it on. (ps Who else has jumped on the mason jar decor craze? We love it and even have an entire pin board dedicated to hundreds of uses for them! They are not new to Lolly Jane and we will keep sharing them, we're sure… yes that is foreshadowing! Lol)
I love storage. But the only thing I love more than storage is cute storage, and in this case, cute storage containers. Using Deco Art's frosted glass paint in turquoise, I was able to distress the glass on my large mason jar. It's my new cotton ball holder and I'm so happy with how it turned out! Loving this distressed glass painted mason jar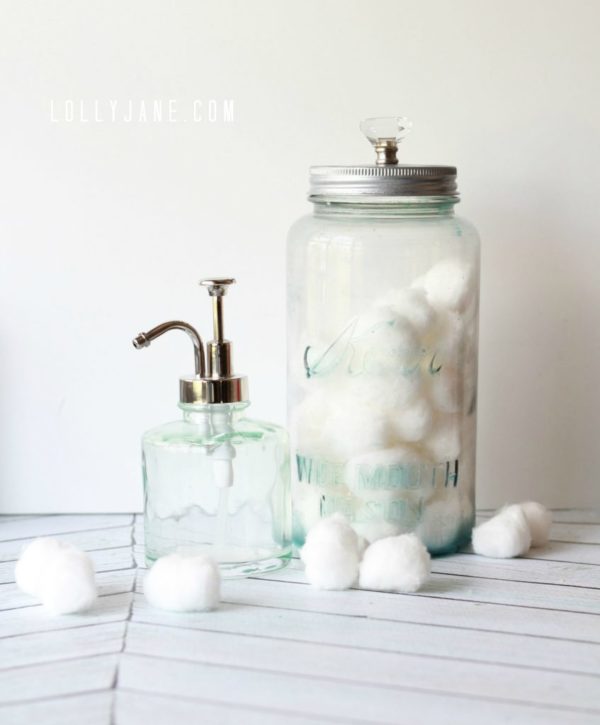 Take a peek at the easy tutorial below: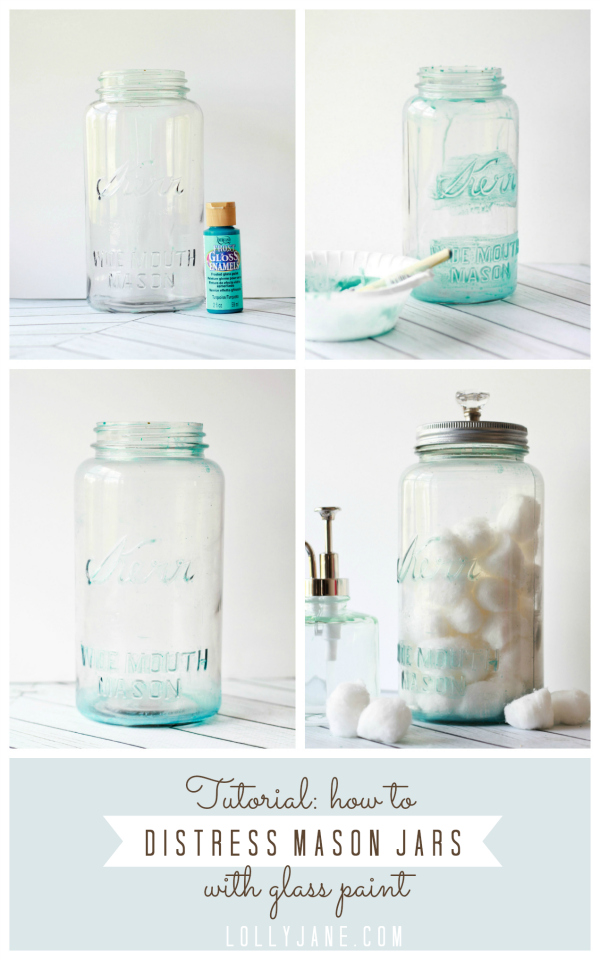 1. Wash jar (I had to clean out cobwebs and grime from being in a 100-year old shed for years! Gah!) then clean with rubbing alcohol. Dry completely. 2. Pour a small amount of Americana frosted glass paint into a bowl. I used the turquoise color to mimic the look of the pretty blue heritage mason jars but Deco Art carries a variety of colors at Michael's craft store…. black, white, pink, red, orange, yellow (I aaaaaaalmost chose this one) green, blue and purple. Lovely! Using a foam brush, light brush a coat of glass paint onto the areas you want to "distress" (I chose the inside rim, inside bottom of the jar and outside logo. 3. Just before it's dry (no longer sticky) lightly wipe off excess glass paint from the areas you don't want to the color to be seen, (like the inside of the lettering.) That's it! Because this will be used as bathroom storage, I let it dry for 24 hours then filled with cotton bolls. You could also fill it with soaps, facial wipes or other every day bathroom necessities. Cute, right?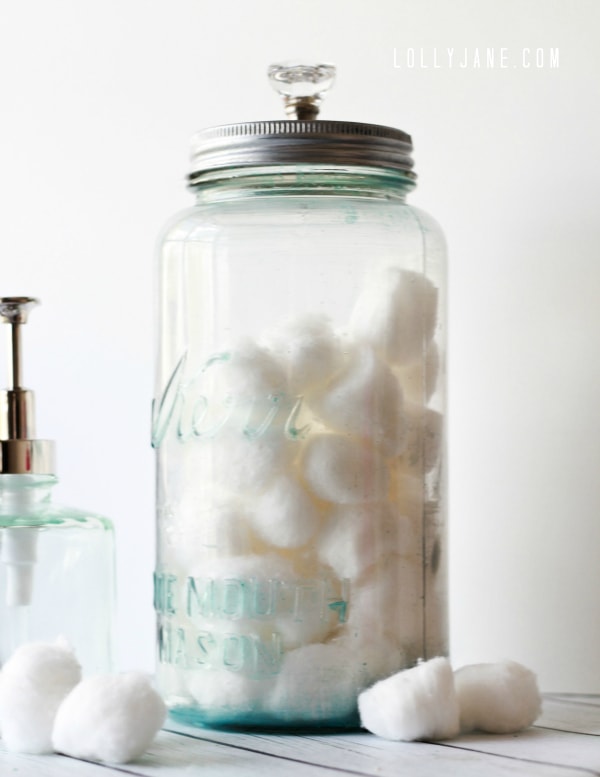 To polish off the look, I applied Deco Art's metallic Shimmering Silver acrylic paint with a foam brush to the original blue lid, (this was an old Miracle Whip jar… how cool would it be if condiments still came in mason jars?) then glued on a glass knob. (See our quick tip on how to spruce up a cake stand dome with a glass knob.)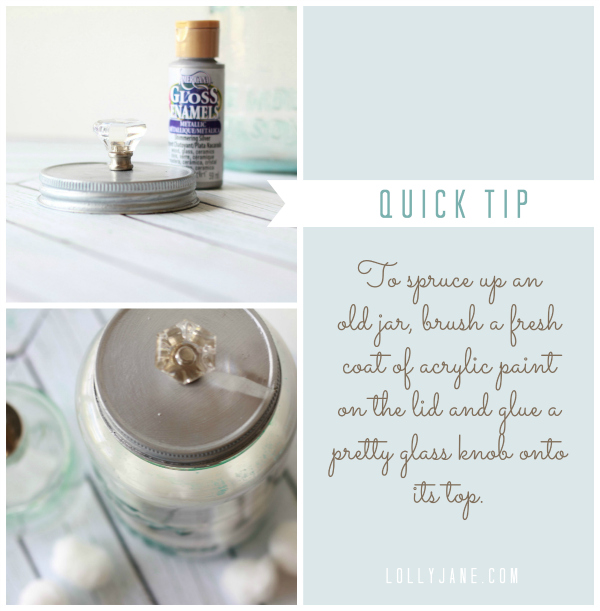 I am excited to finish building our house and have this on display in our master bath. Here's a closer peek at the pretty hue: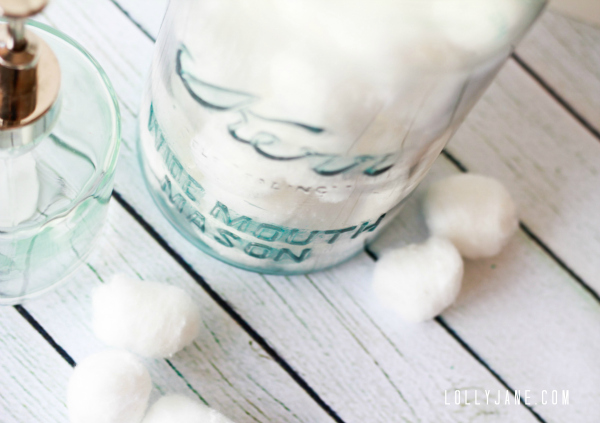 Try something new, gals! I am super glad I experimented with frosted glass paint and can hardly wait to use it on something else (; Stay tuned!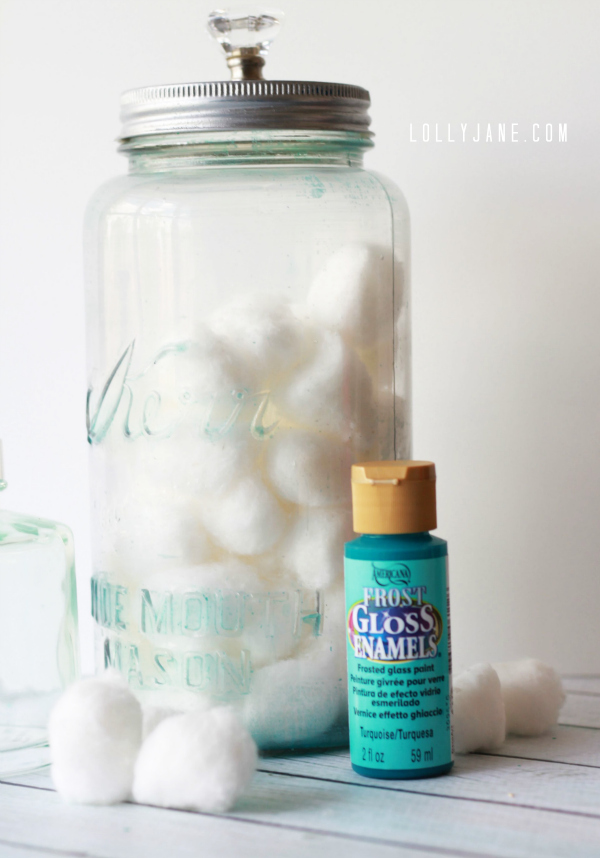 Happy weekend! XO