Happy Monday! We are kickin off the week with a fun DIY project, isn't this moose wood framed sign so fun? We love the animal head trend and thought we should add to the collection. This mustard moose is the perfect rustic touch to your home. The gray and white diagonal stripes would match any style since they're neutral but that fun colored moose wood framed sign is a great pop of color. Keep reading for the free moose head printable if building this frame seems out of your league (;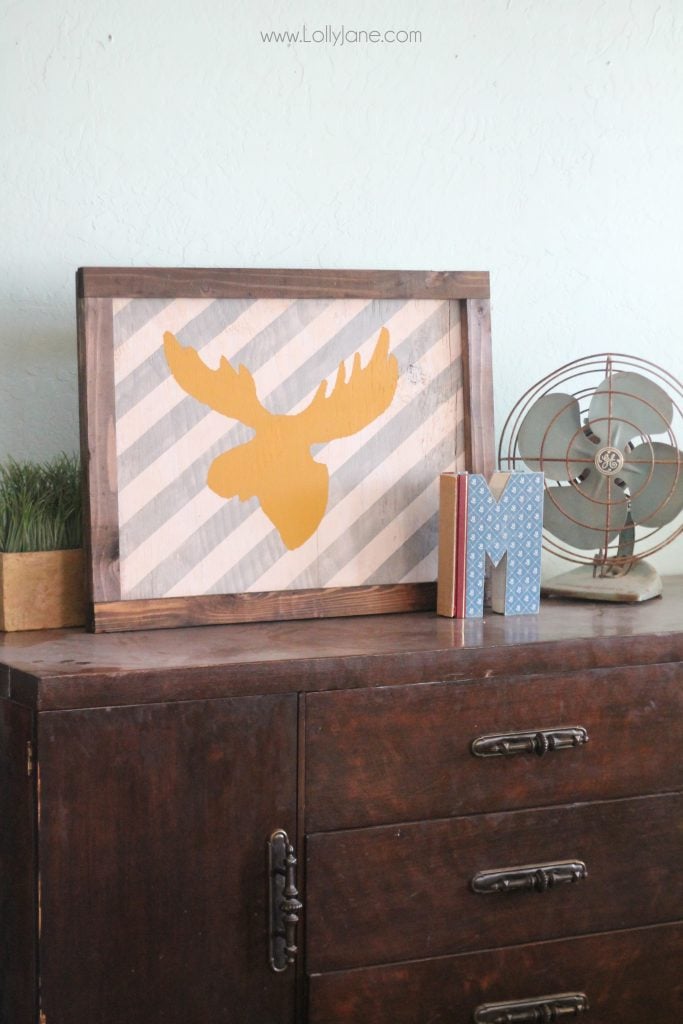 After we nailed down our design, it's time to build your frame. You'll need four pieces of 2″ x 1″ (two sized at 14″ and two sized at 20″ long) plus a piece of rough plywood (sized 16″x20″). We purchased a large sheet of plywood at our local home improvement store and had them cut it in thirds so we could get four signs from one sheet. You will also need stain (dark walnut) and acrylic paint (we used DecoArt's Steel Gray, Cotton White and Mustard Seed.) Be sure to have a sander, 3M 2″ painters tape and drill ready with 1″ screws.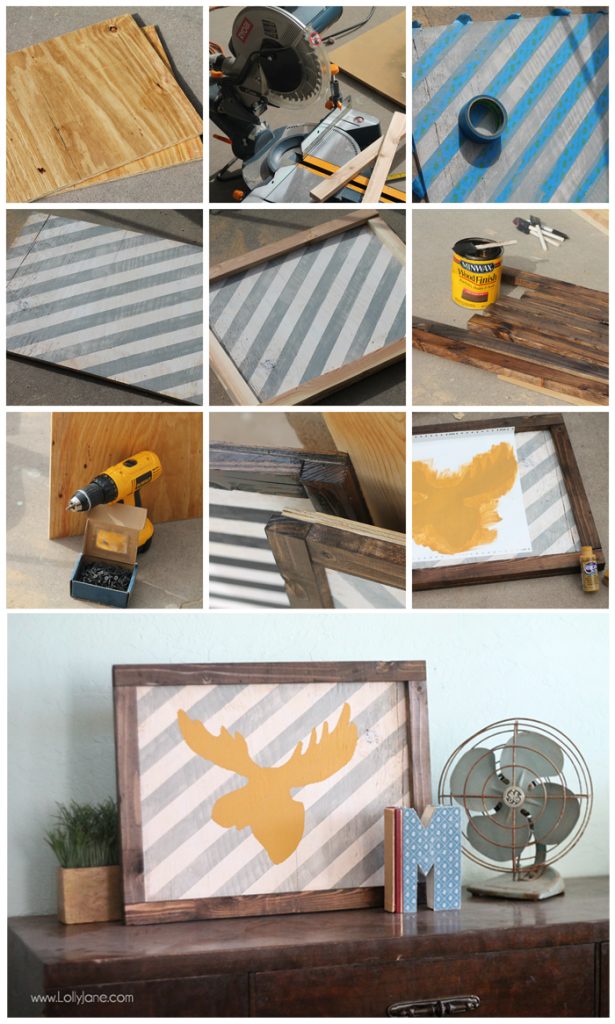 To make your own sign:
Cut your wood.
Stain your 4 pieces of 2 x 1 and let dry completely.
Paint your plywood white.
Tape in a sideways striped pattern, 2″ apart and until the board is covered.
Paint over the tape in gray.
Assemble the "frame" by screwing the 4 pieces of 2×1 onto the plywood, screwing from the back.
Stain the edges of the plywood to match the "frame."
Cut out a moose head stencil, (free image below.)
Paint head yellow then peel stencil.
Display new sign!
Yes there are a lot of steps, but it is an easy project overall!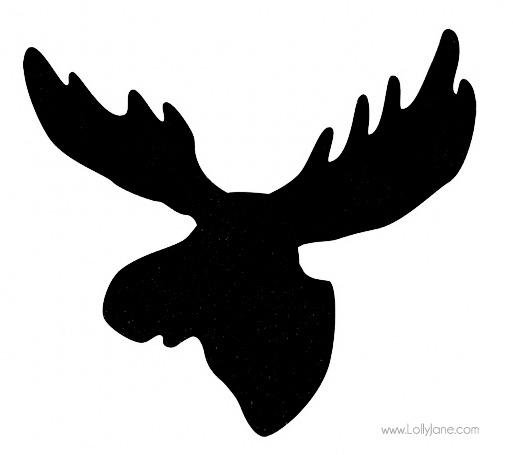 (Right click to save. Personal use only, please.)
If you're not up for building the signs, you can simply click for the Moose Head high quality free printable, for personal use only, please.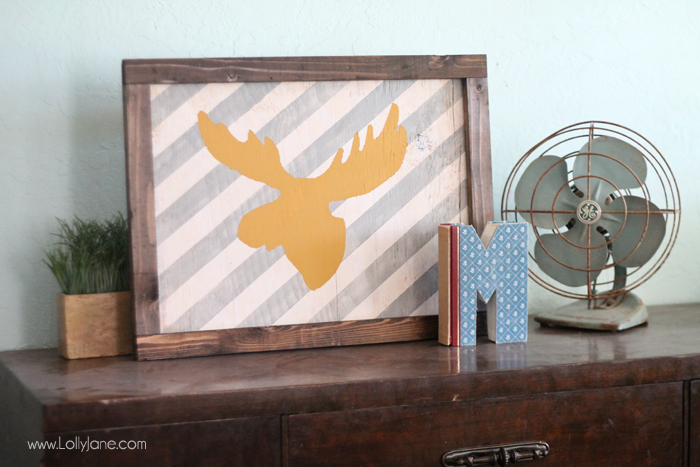 Hope you love our cute mustard moose head! Please pin so your friends can nab a freebie too! (: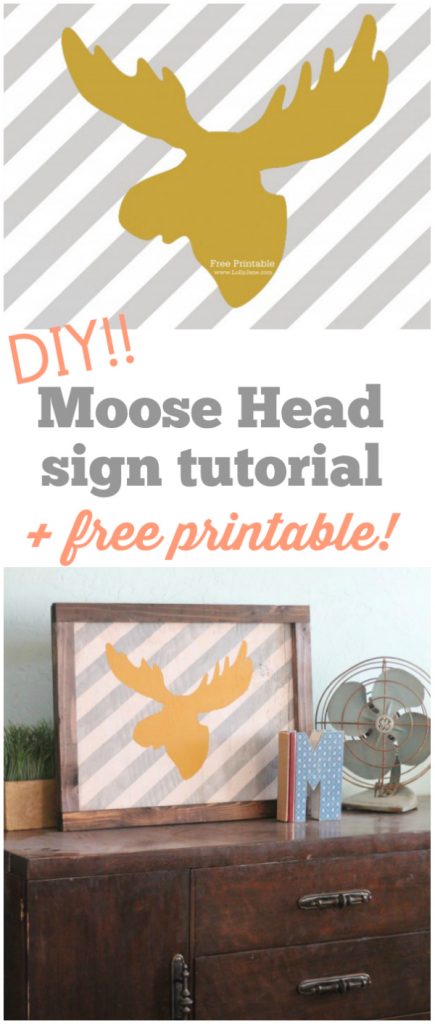 Plywood goes a long way! We made 3 more boards we got from the piece of plywood and yes, we are kind of loving the stripes sans a design, too! (How cute would they be with a boxwood wreath over them?!)
You know we are seriously in love with the animal head trend right now…we may need an intervention (; Besides our deer head made from a cardboard box,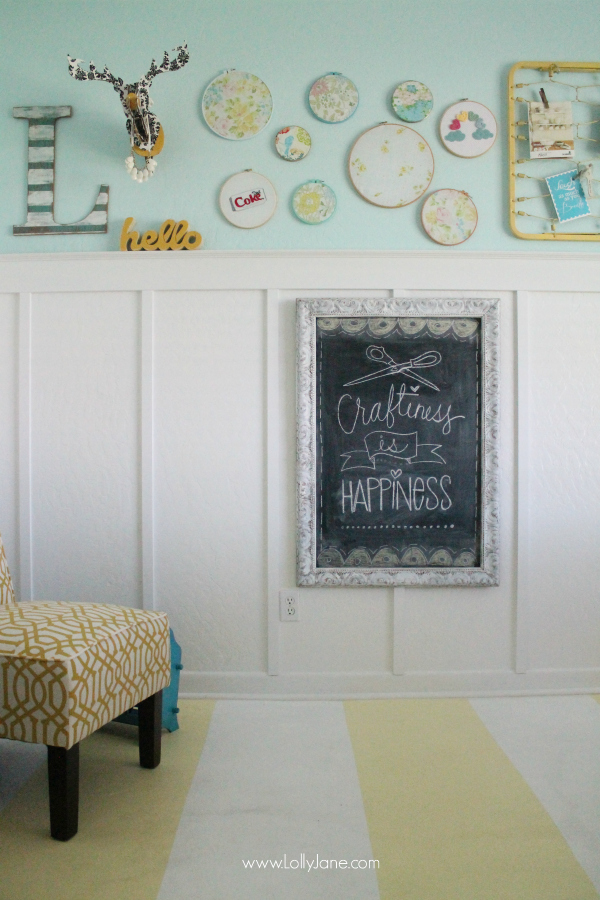 we have made clay deer head ornaments, deer wall art, glitter antler deer head art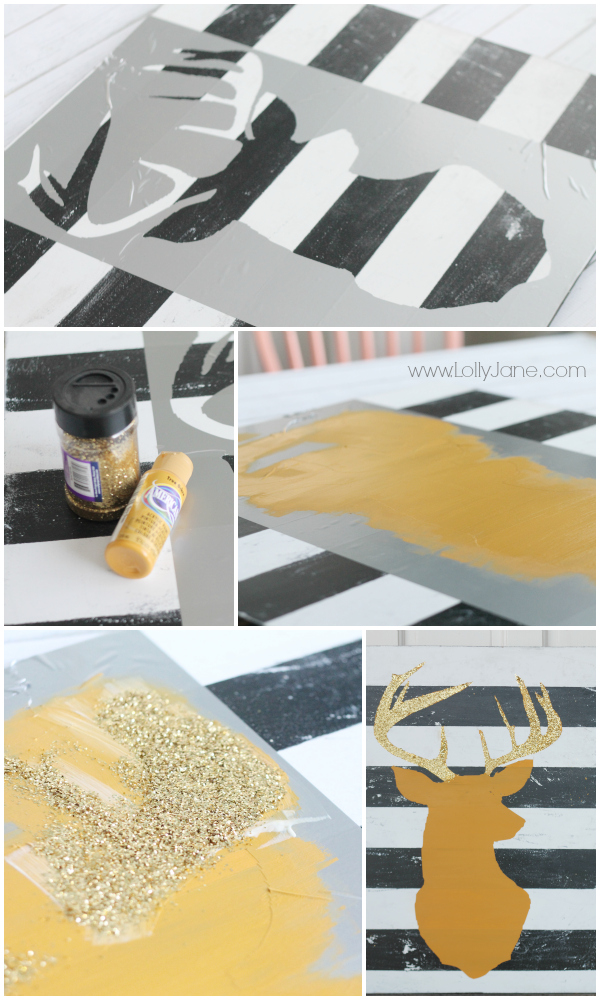 and a deer head faux pallet art.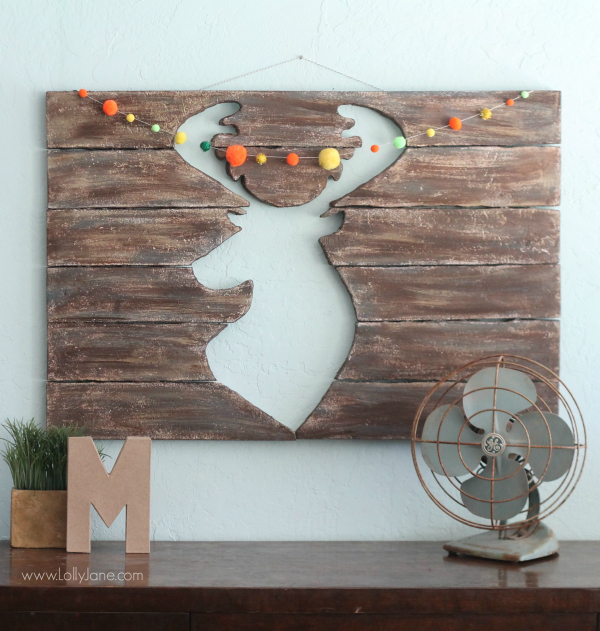 And now, by request, we have created a wood framed striped moose head sign. (Hey, at least we're branching off a BIT from the deer head! lol!) Check out all of our DecoArt projects, DIY goods and Home Decor ideas too!