We're excited to share some news that's been in the works for awhile… we've teamed up with 10 of our blogger besties to introduce a fun monthly collaboration starting today with 10 creative blogs. Each month on the 10th, the same 10 blogs will share a project around the same theme and you can hop to their blogs to see and save their projects after viewing ours. Pin this collage below, and make sure you come back on the 10th each month! To kick off the hop, May's theme is CITRUS for this beautiful spring weather!
To see each contributors Citrus posts up close, join the Blog Hop!
1. Capturing Joy shares Citrus Photography Art Prints for the home
2 .Eighteen25 sharing their Orange Party Punch recipe
3 .Landee See, Landee Do shares a Crusted Lemon Cream Bars recipe
4. Little Miss Momma sharing diy Typography Mantel Art (Using Lemons)
5. Lolly Jane shares a diy Chevron Citrus Wreath tutorial
6.Or So She Says shares a recipe for Lemon Ricotta Gems
7. Simply Kierste has a recipe for Lemon Cupcakes
8. Six Sisters Stuff sharing a Creamy Lemon Bars recipe
9. Thirty Handmade Days shares When Life Gives You Lemons, Make Lemon Cookies! Printable and recipe
10. Your Homebased Mom shares a Lemon Cream Cake Recipe
——————————————–
I love love love the chevron print chunky burlap ribbon I've seen around Blogland and Pinterest and could hardly wait to put this citrus-inspired project together using the lemon and lime colors found at Hob Lob! My poor neglected front door is sportin' a spring wreath and with triple digits blaring here in Arizona, it was time to swap it for more summery decor. Without further adieu, here is my chevron citrus wreath: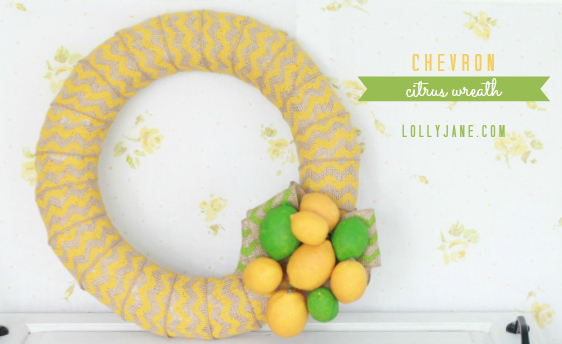 I used a handful of supplies to make this cute wreath: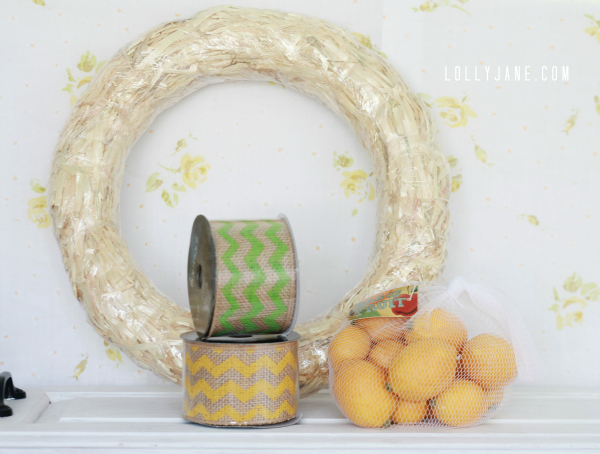 yellow chevron ribbon, green chevron ribbon
wreath form
fake lemons
shish kabob sticks
pins
Talk about easy peasy! See if you can follow along: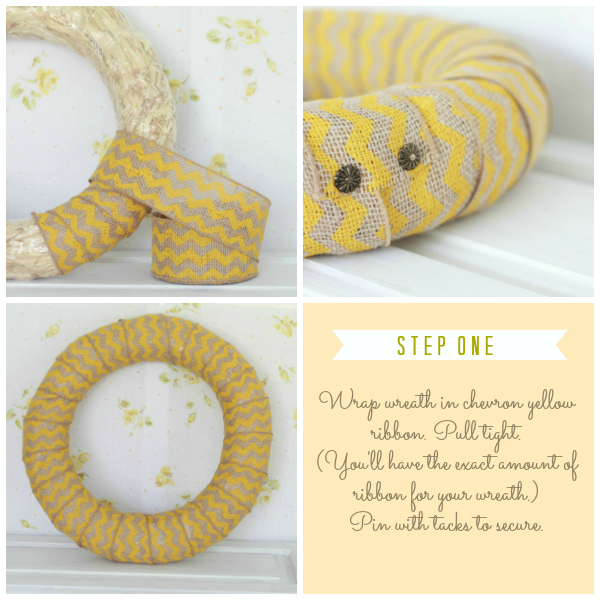 Already it's SO darn cute, right! (: Let's move on to the embellishments now, shall we?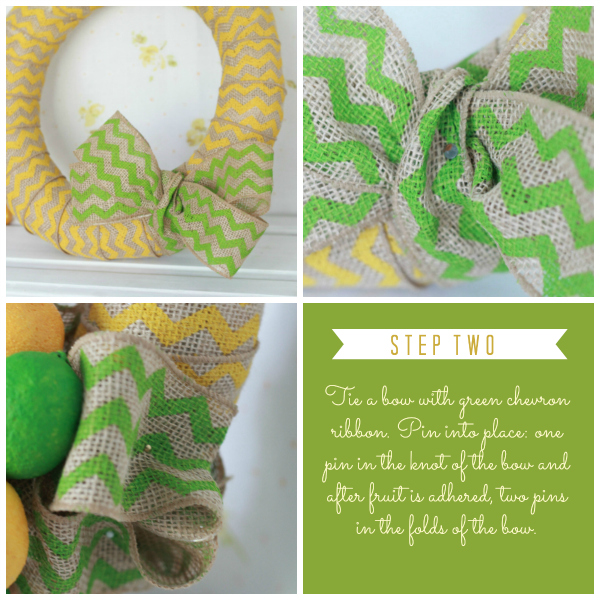 Here's the cheapskate in me: not wanting to spend $6 per bag of lemons AND limes… and here's the smartie in Kristi, which is why we're a great team:

Yep, I totally painted a few lemons the perfect shade of lime green to save $6! LOL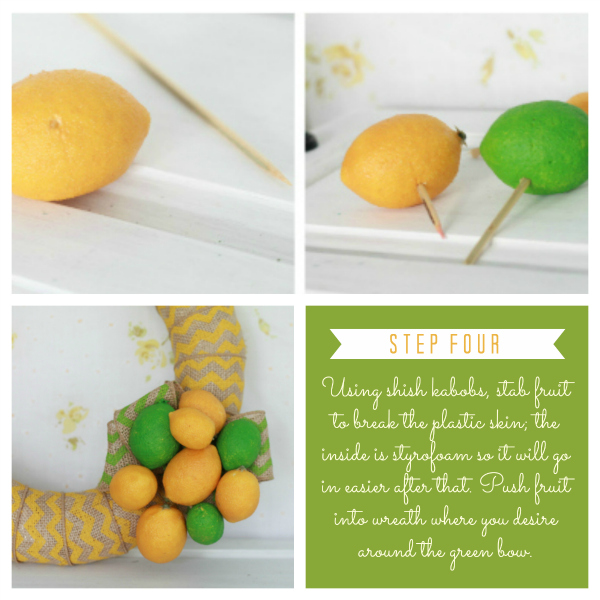 From there, simply hang with bakers twine and enjoy.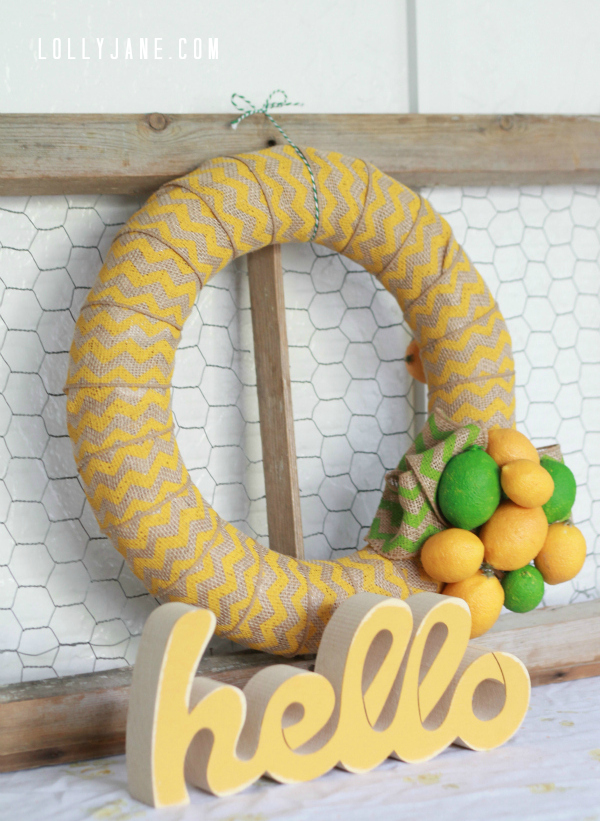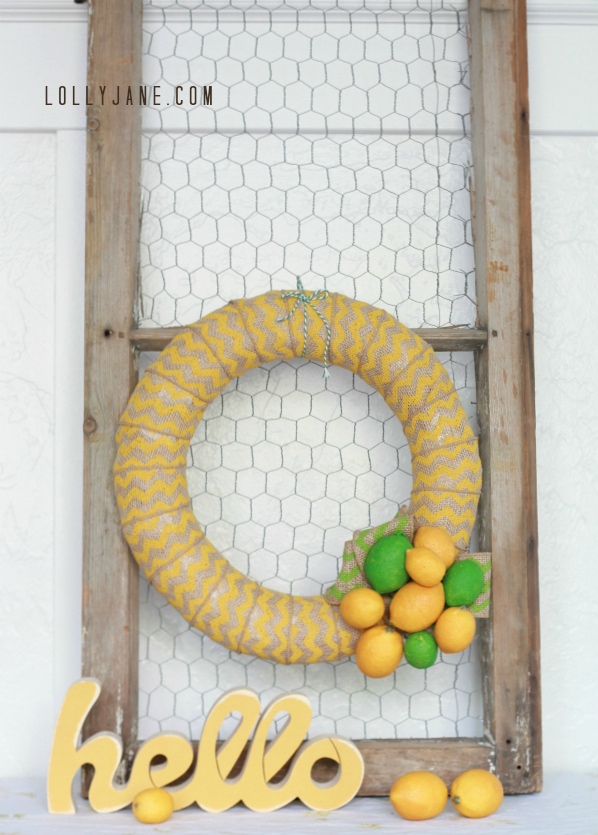 Now I'm off to find some REAL lemons and limes to squeeze a cold glass of limeade… and by "squeeze" I mean head to Sonic! Ha! (;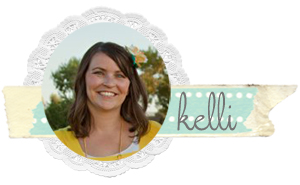 Don't forget to stop by each month on the 10th- snag a button and place it on your sidebar so you'll remember!
<div align="center"><a href="https://www.kristendukephotography.com/" title="10 Creative Blogs 10th each month"><img src="https://www.kristendukephotography.com/wp-content/uploads/2013/05/blue1.jpg" alt="10 Creative Blogs 10th each month" style="border:none;" /></a></div>