How to start a successful blog!
TEN YEARS. Lolly Jane is officially T E N years old! Crazy how fast it's gone by and how much blogging has grown and changed in the last decade. We've worked very hard to grow our blog and have been intentional along the way. We're happy to share how to start a successful blog, how we personally started a blog from the ground up and how we've managed to grow it to a full time income, all while working from home.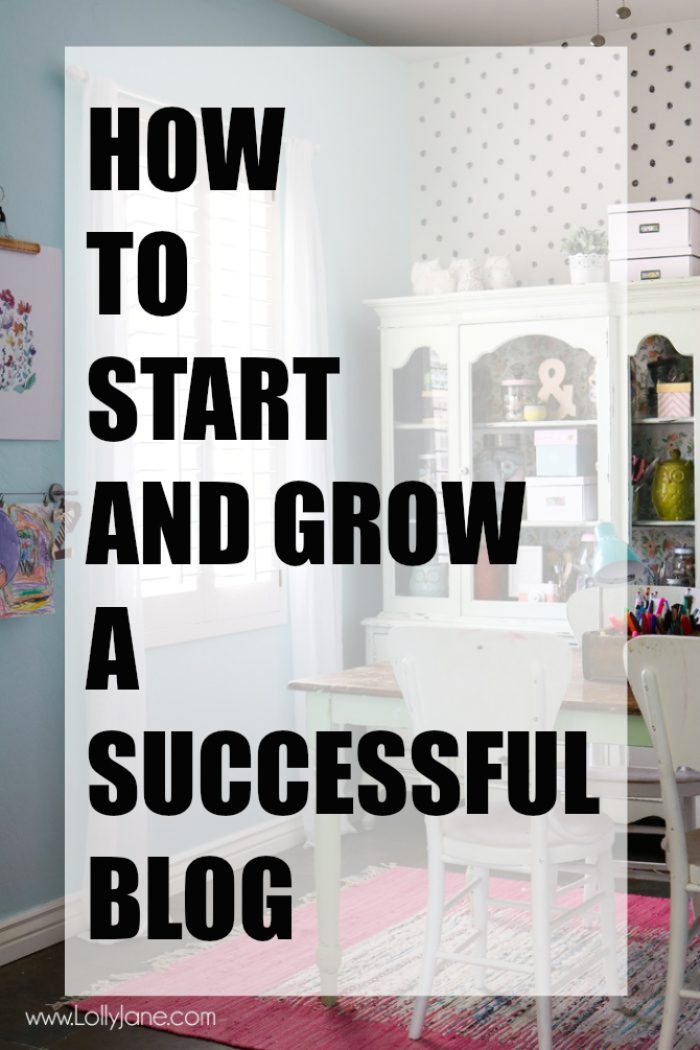 We started Lolly Jane when Kelli's husband switched from a high paying desk job that he hated to become a police officer which he loves, although he took a 50% pay cut. With 2 kids and another on the way, Kelli asked for Kristi's support in buying a vinyl cutter to start cutting vinyl wall saying and signs. The .com started to document what was currently for sale. Kim from Today's Creative Life was the first DIY blog we came across when she featured a sign we made. We got 30 sales immediately, (WHAT?! So grateful!!) and she said she featured us because she simply liked our design (PS: Kim is still a very good friend of ours to this day!).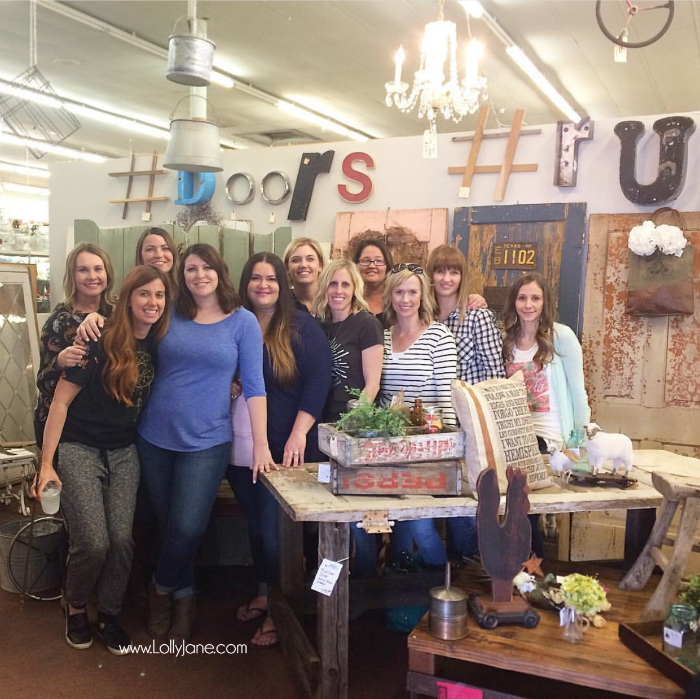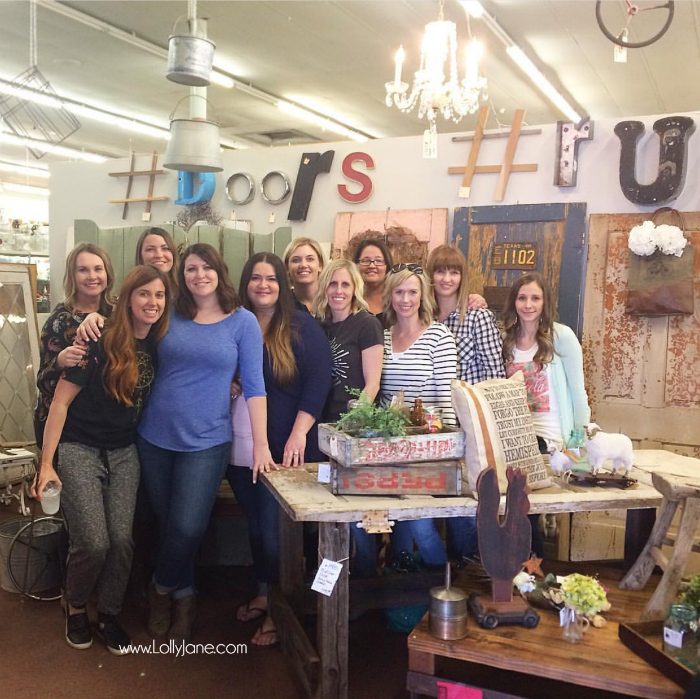 (Recent girls weekend with our blog besties from all over the country 🙂
That tipped us off to the power of blogging. Within 2 years, when Kristi adopted her oldest child and became a stay at home mom, we faded out of the sign making business and dove into the DIY, craft world of blogging. We shared tutorials on anything and everything home decor related, what we were naturally working on, just taking time to document the step-by-step. Kristi's husband became a lineman (also leaving the same company as Kelli's spouse) which meant both men worked long hours, mostly at night. This gave us time to create new content and connect with fellow mamas and bloggers while the kids were sleeping. LOTS of late nights, tweaking our site, growing our social media numbers and painting late at night. Was it worth it? We make as much as our husbands do now, from our home office(s) while the kids are in school, without being a slave to our computers. So yes, it was worth it. We have a full team of amazing, talented women who support our brand with like-minded projects and recipes. We work with our favorite brands to continue to decorate our home, a passion we adore, and to fill our kids with tasty recipes and get them to join us in the kitchen. Choosing to blog was very natural for us and although we don't make several hundreds of thousands like some of our fellow blog friends do, we do okay and are very grateful for where we are. We are proud to say we've grown by being kind to blogs of every size and calliber and by keeping our ethics and morals in check. Our blog is running smoothly so we reopened our shop for the creative outlet and go through spurts of selling signs, wood cutouts and printables. It's been an amazing journey! If you're just getting started, you are in for a FUN ride 😀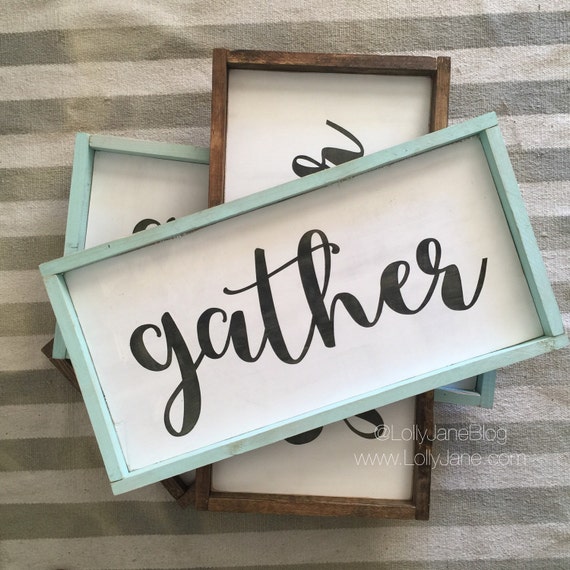 Onto the technical stuff! How the heck do you get started with a blog, you ask? When people they think of WordPress, they think "blog." And while WordPress is one of the world's largest blogging platforms, WordPress is also a complete content management system and is a great way to build many different types of websites. We'll show you how easy it can be to get your blog, or website, up and running quickly.


There are many hosting companies out there, but for a WordPress site, Bluehost should definitely be at the top of anyone's list. Bluehost is the only hosting service officially recommended by WordPress and has been the number-one recommended hosting service for their platform for almost 10 years. There are many reasons why Bluehost is so highly recommended, but here are just a few:
Premium customer service, reliability and usability

Easy-to-use control panel

Custom-built servers to provide the most stable and reliable hosting environment

Quickly get started with our one-click WordPress install provided by MOJO Marketplace

Expert, in-house technical support provided 24 hours a day, 7 days a week

Unlimited websites, email accounts, and domains – all on one account at an affordable price

No gimmicks, no contracts. Enjoy the comfort of a 30-day money back guarantee and the option to cancel at any time.
And to sweeten the deal even more, if you sign up through this tutorial, you'll get a special offer of shared hosting at $3.95/month for 36 months, as well as a free domain name for a year!
To set up your hosting account with Bluehost, follow the steps below. It will speed up the process to think of a domain name you want to use and to have your credit card for payment ready to go before you get started.

To get started, go to Bluehost's home page and click "Sign Up Now."
Next, you need to choose a domain name for your site. If you already own a domain name, you can enter it here, and you will just have to go through a few extra steps to make sure you get your DNS pointed to Bluehost. If you don't already have a domain name, you can purchase one from right in the sign up process, and the best part is, it comes free with your new WordPress hosting account purchase.
Once you've entered a domain name, you'll fill in your personal information.
Then, you'll choose which hosting package you want. Normal, shared hosting is priced at 12, 24 and 36-month terms. To help save you money, the longer term you purchase, the lower the monthly rate will be. For example, by choosing a 36-month hosting term, you can get the great introductory rate of $3.95/month. And, because you've chosen to host with Bluehost, if you ever need more than a shared hosting account, Bluehost provides seamless upgrades to VPS or dedicated server hosting accounts from inside your control panel.
There are few other offers provided at sign up, which you can include at your discretion. One we recommend is Domain Privacy, a paid service that allows personal information to be kept private on WHOIS databases.
After you've filled in your information and chosen your hosting package, click the "Next" button to complete your purchase. You'll then be asked to create a password for your account. You can use the Password Generator to create a strong and secure password, or create one yourself. It is required to have both capital and lowercase letters, a number, and a special character (?!#, etc.) in order to have a strong enough password to protect your account.
Now that you are all signed up and are able to log into your account, you can get started installing WordPress!

This may seem like the most complicated step, but Bluehost has worked hard to make this one of the easiest things for you to do by using the new MOJO Marketplace for installing WordPress and other applications. In your cPanel, scroll to the section titled "MOJO Marketplace" and choose the "One-Click Installs" button. This will take you to a page inside MOJO Marketplace called Scripts and Platforms. The blog section is at the very top, so all you have to do here is click on the WordPress icon.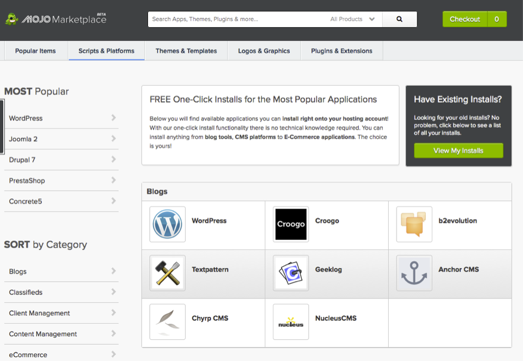 This will open the installation window. Click on the green "Start" button that will start the WordPress installation process, which has a few easy steps.
Step 1: Choose where you want to install WordPress. This can be any domain on your account, or a subdomain or a folder for one of your domains. Next, click on "Check Domain," which will make sure the domain is assigned and pointing to your account. You may get a warning that you are overwriting files, but as long as you don't have another website built yet, you can check the box and continue. This is mostly to make sure that you really want to install in that location. If you do have other sites built, you will want to make sure you're not overwriting something important.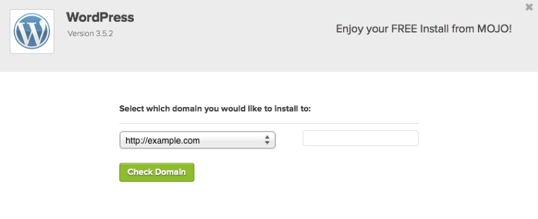 Step 2: Show Advanced Options. This section allows you to set up your own username and password for your WordPress install. IT is recommended to use a different username than "admin" and a very strong password. Make sure that the "Automatically create a new database for this installation" box is checked, unless you have a database already set up that you want to use.
Step 3: After you've read the terms and conditions, check the box indicating that you've done so, then click "Install Now."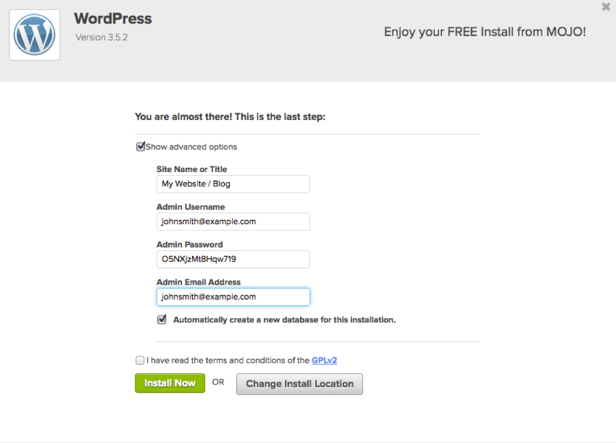 Now you'll see the progress page, which will show you how far along the installation is. Once WordPress is fully installed, it will provide you with your site URL, the admin login URL, your username, and password. You will get a copy of this information, except your password, in your email as well. Make sure to keep it in a safe place.

Now you can log into your WordPress site by going to the admin login URL. Enter your username and password, then click "Log In." This will take you to your WordPress dashboard. From here, you can control everything to do with your WordPress site, such as creating pages, writing posts, and changing the appearance. Remember, if you sign up through this tutorial, you'll receive a special offer of shared hosting at $3.95/month for 36 months, as well as a free domain name for a year! Need More Help? Check out this video that will walk you through the steps of installing WordPress: https://bluho.st/sfvBT
WHEW! That was a lot of technical jargon, wasn't it?? BUT follow the step-by-step and you'll get it done easily 🙂 NOW, onto the FUN stuff!


Pick your WordPress Theme, we're on Genesis (most bloggers are). We have gone through MANY designs. Like, a LOT.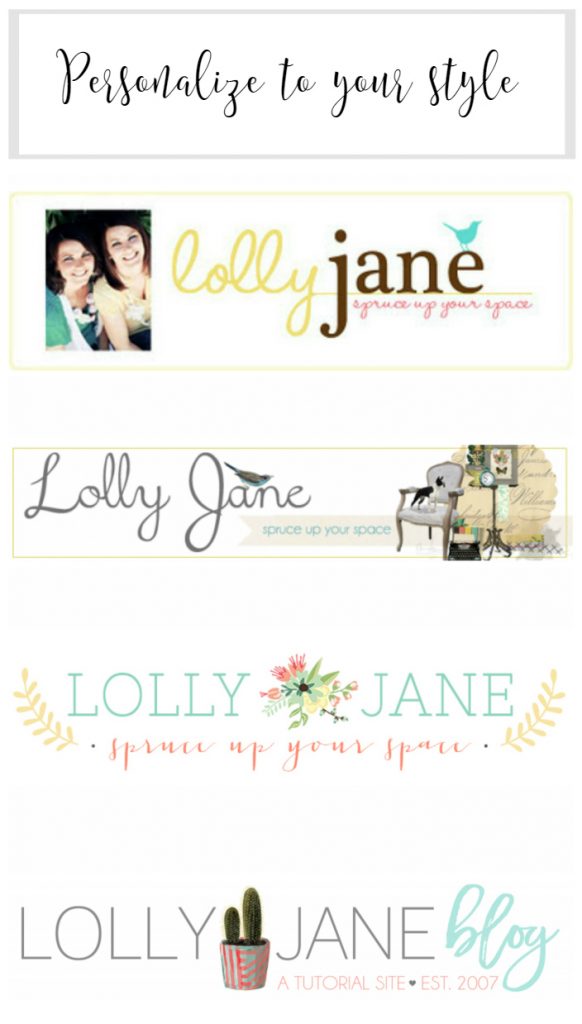 The top logo we did ourselves on Picmonkey. The second one we paid $2,000 for. The 3rd one was $650.00. The fourth one we did for free in Photoshop. (Of course it helps to purchase pretty fonts to use). Now, you don't have to keep changing. Kristi loves to keep altering our design while Kelli thinks it's unneccessary, lol but do you notice a theme in the years? We've always stuck with aqua, mustard and coral. We switched a bird graphic to trendy succulents which are actually fitting since we're based in Arizona. There are lots of amazing designers out there and as you can see, you can create your own or hire out. We're currently re-branding with Tiny Mountain Studio, she's very affordable and thorough, tell Stacie that Lolly Jane sent ya! Etsy has some great designers too.


We LOVE blogging, we love the friends we've met along the way and the opportunities it's opened up for us. We've traveled to NYC, Iowa, Kentucky and North Carolina to name a few states that we would have never been to otherwise.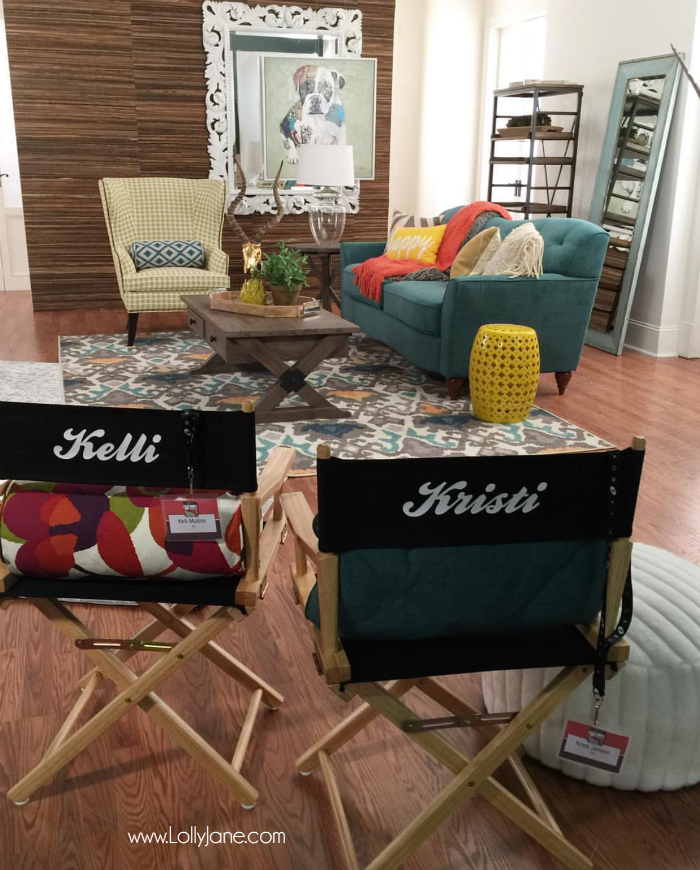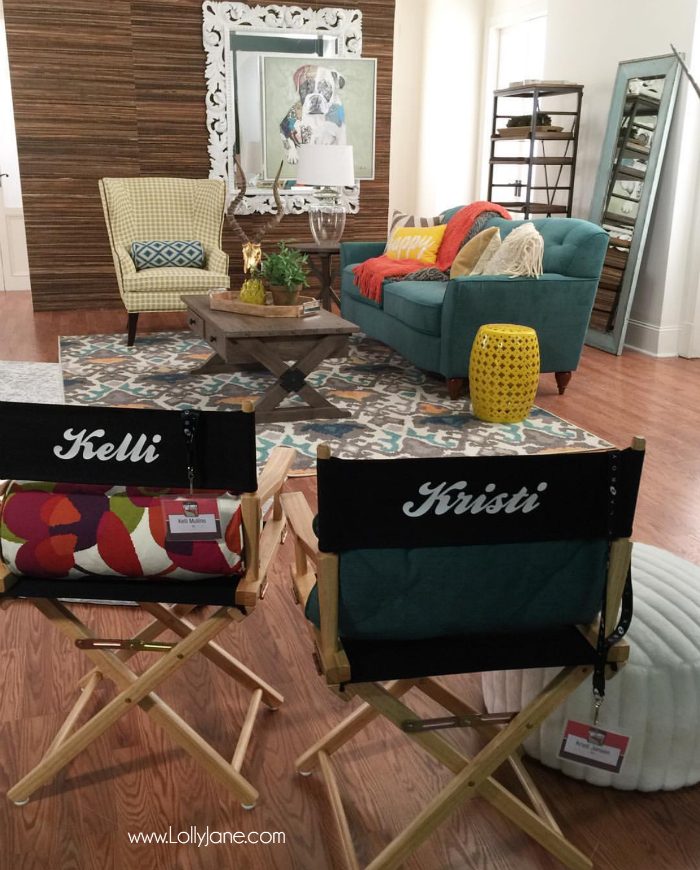 (We had directors chairs waiting for us at the Furniture Capital of the World, collaboration with La-Z-Boy.)
How amazing is that! If you love what you do, it doesn't feel like work.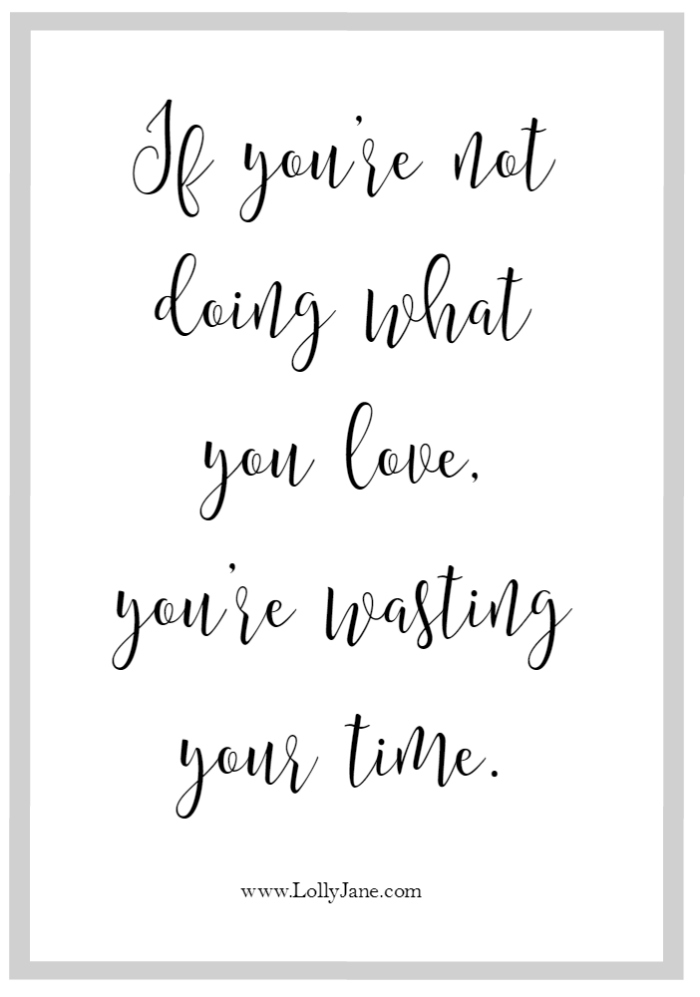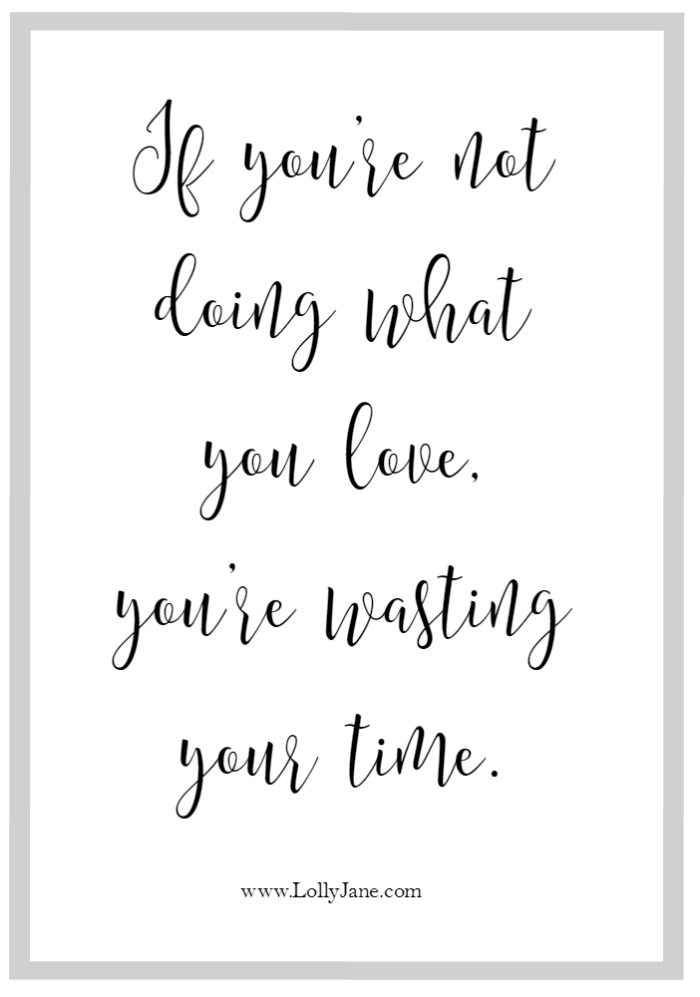 What will make your blog a success is GOOD CONTENT and PRETTY PICTURES. (We're speaking from a DIY point of view since we blog about home decor and easy recipes.)

We can't stress this enough! If you have an amazing craft or recipe but take a picture at night without additional lighting or you leave your messy house in the background, people will see the mess and not your brilliant ideas. Pay attention to little details, your readers will too! Set yourself apart from the other million talented creators out there.

Create an about me page that explains who you are and about your space on the interwebs. Share a picture that makes you shine! We love color and decor so we're wearing brightly colored clothes and surrounded by pretty, DIY decor.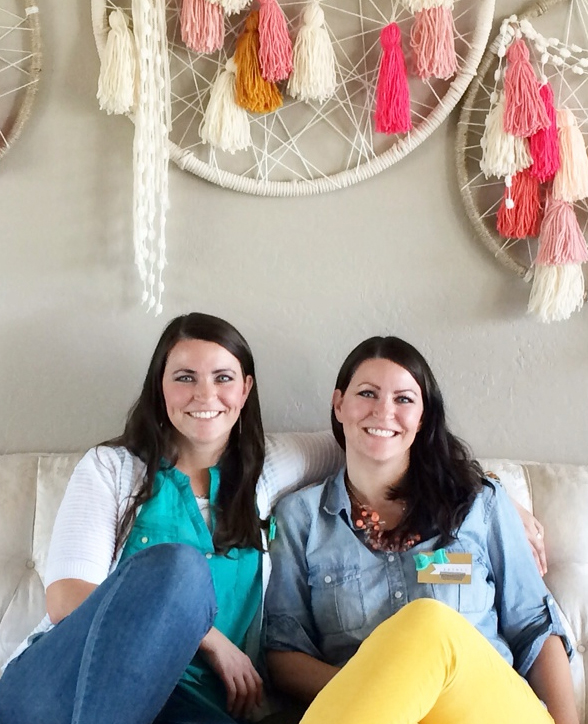 Your sidebar needs to be intentional. Have your social media icons up top, a friendly picture of you so readers can put a face to a name, a quick about me, a search bar, a newsletter/RSS sign up and maybe your most popular posts so followers can get an immediate feel for your site.


Immediately reserve your name on Facebook, Google +, Pinterest, Twitter, Instagram and Snapchat accounts for your blog. Keep all your handles the same for ease of readers finding them. Ours are all @lollyjaneblog.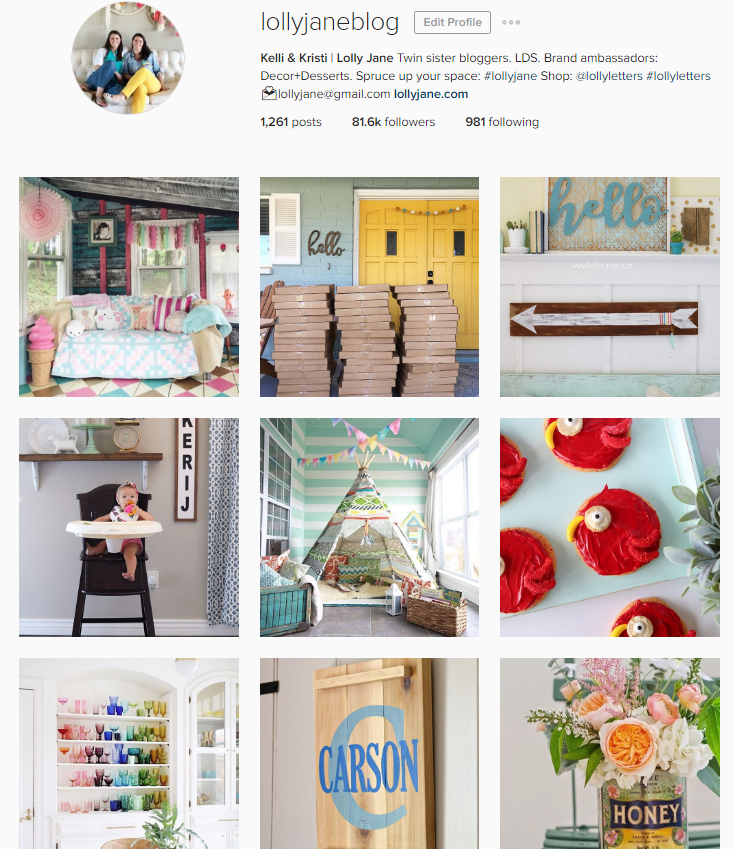 Social media has changed so much over the years. We're battling social media to keep the traffic on your site but people are happy to party on social media so you've got to find your favorite channel and concentrate on it. We prefer Instagram and Facebook right now. We've talked about how to grow your Instagram following a couple of years ago so give that a read too! You can tell from our IG page that we keep the same blog theme on our social media as well as our site. You can tell right away we love home decor, fun recipes, own a shop and prefer bright and pretty, inspiring images.


First of all: DO NOT COPY. Nothing ticks off a blogger faster than seeing their original ideas reproduced with someone else's name on it. Especially when it goes viral. YIKES.
source
If you're inspired by someone or a product, give a quick linkback or leave a comment letting them know you've put a spin on their original idea. We can't stress this enough!! Not only is it common sense (plagarism is covered in school), it's going to help you make friends and we promise you, you need friends to grow.

Connect with other bloggers (see our first picture above, we've been nurturing those same relationships going on 6 years now :). Comment on their blogs. Share their content across your channels. Repin their projects. Retweet their tweets. Looking to find blog friends? There are established Facebook groups from new blogs to advanced stages of blogging like newsletter help, plugin advice and everything in-between. You can also join local blogging groups in your area or start your own. The end goal is to connect and encourage each other. This is a great way to get support from your fellow bloggers and to share each other's content.

We used to host link parties and loved them! We don't have the time now to host but still link up to other blog's link parties weekly. Here is a great list of link parties going on now. What is a link party? A blog will host a "link party" with a few rules. Some are desserts only, some are new DIY's, some are free for alls. You add your blog link to their party then leave a thank you comment. Hopefully you'll get featured throughout the week by the host(s) which is free exposure!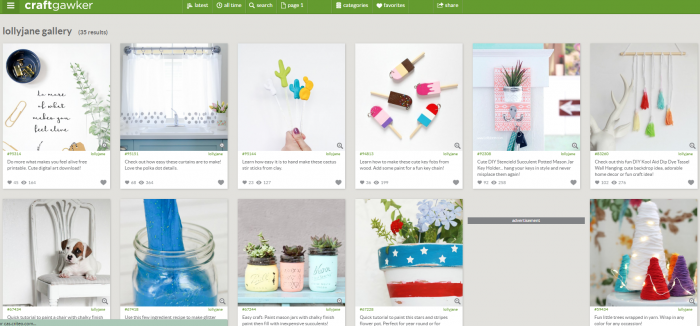 You can also link up to craftgawker, dwellinggawker and foodgawker sites. Find hashtags on Instagram that fit your niche and "link up" to those as well, several IG accounts host their own hashtag and feature their favorites.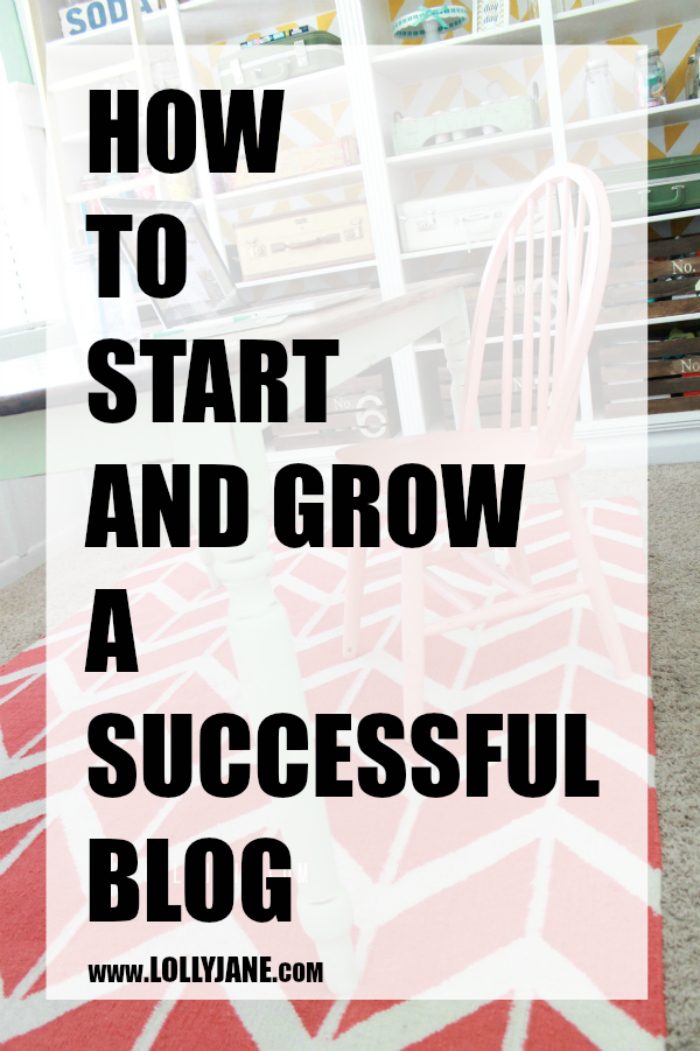 Information overload?? Leave your q's below and we'll be sure to help you as best as we can. We are an open book! Remember, Bluehost is the only hosting service officially recommended by WordPress and has been the number-one recommended hosting service for their platform for almost 10 years, they're the same age as Lolly Jane (:

Keep up with us on Instagram, Pinterest and Facebook!!
XOXO, Kelli and Kristi