spraying a table with Glidden Premium
You know we love a good furniture makeover and you know we adore COLOR! When we were asked to review Glidden's Premium paint line, we went for bright and cheery. Apricot Nectar is a happy shade of all things girly and I'm happy my hubby isn't picky about the inside decor (; This is phase one of the table, I'm going to rough it up and go to town sanding it but wanted to share how to get a nice smooth finish with a paint sprayer, a few tricks I've learned since using a sprayer for the first time this year to get a professional finish.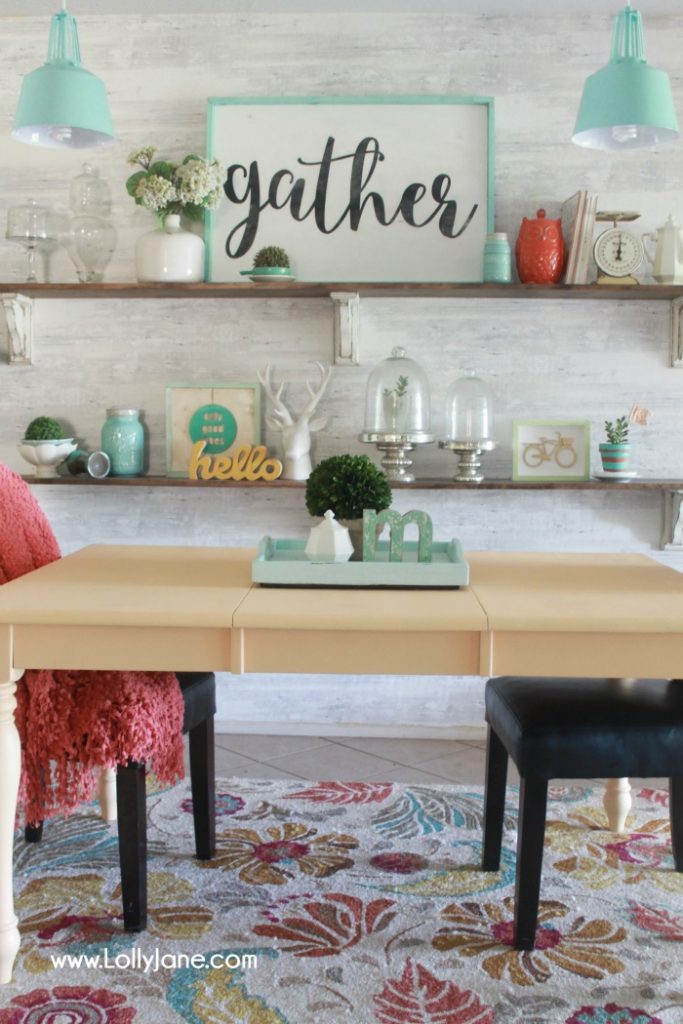 Here's the table before, pretty and muted. Since I changed the stencil wall to wallpaper, it went from bright to neutral so I wanted the table to bring in color in the new design.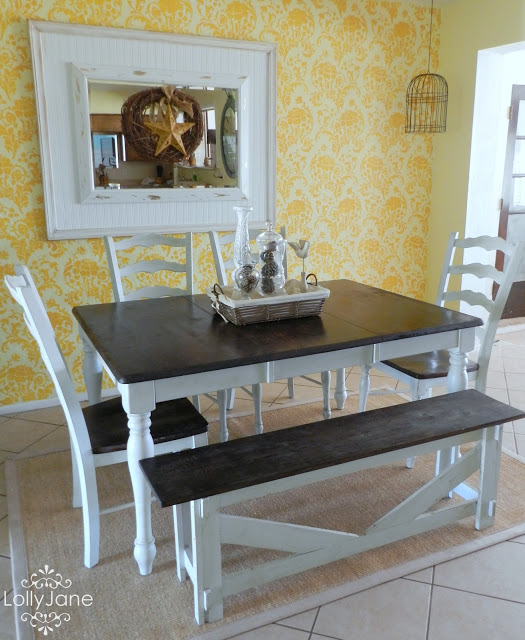 I started with Glidden premium in eggshell. Glidden paint provides color and coverage that's so beautiful, you're guaranteed to be happy with the results. The Glidden Premium Paint Collection includes low-odor, no-VOC interior paint and tough yet elegant exterior house paint.
Paint + Primer in One
Provides a mildew resistant coating
Guaranteed results
MPI certified
Contributes towards satisfying LEED® Credit EQ4.2
Let's address primers real quick too: I didn't use a primer since I never sealed the table. And since Glidden Premium is a paint and primer in one, I didn't need to take extra time to primer it beforehand. Can I just tell you how nice it is to skip a full step?? Kudos, Glidden!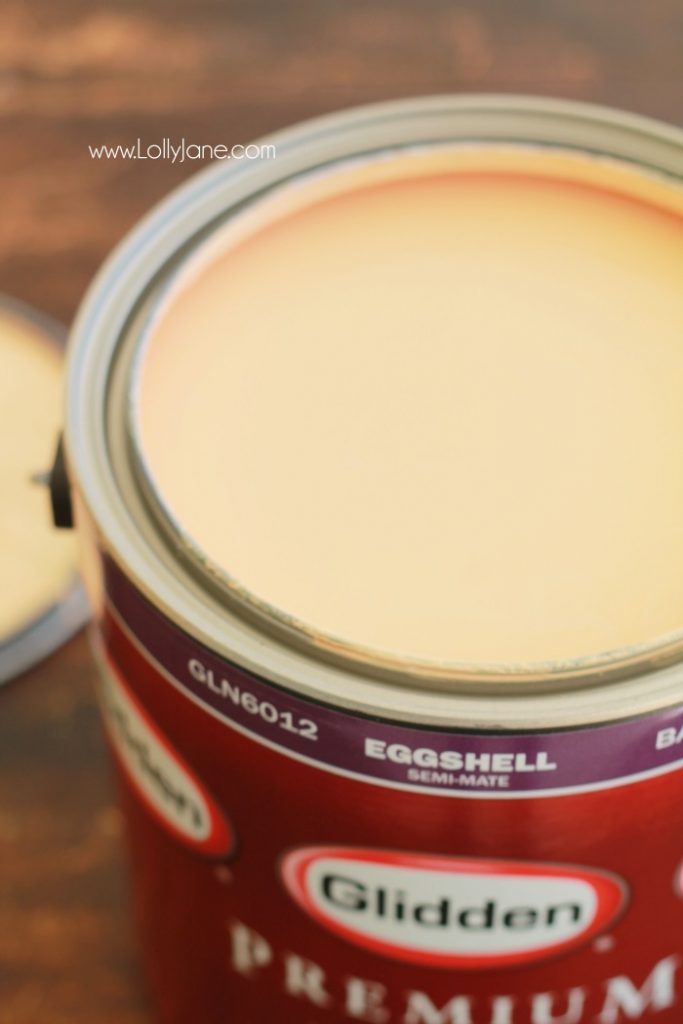 Be sure you're using a good quality paint like Glidden. Start with the right tools. A good quality paint, a sander (80-100 grit sandpaper), lint free cloths and a paint sprayer. Let's talk sandpaper for a sec: the 100 grit is heave enough to penetrate old finishes. As the old finish comes off, be careful not to damage the bare wood underneath. And be sure you sand parallel to the grain, never across grain patterns. I didn't fully sand the table but instead did a light sand, enough for the new paint to grip it. Then I wiped it down with a lint free cloth. Laziness won out this time, lol, I always recommend a sealer to protect your hard work!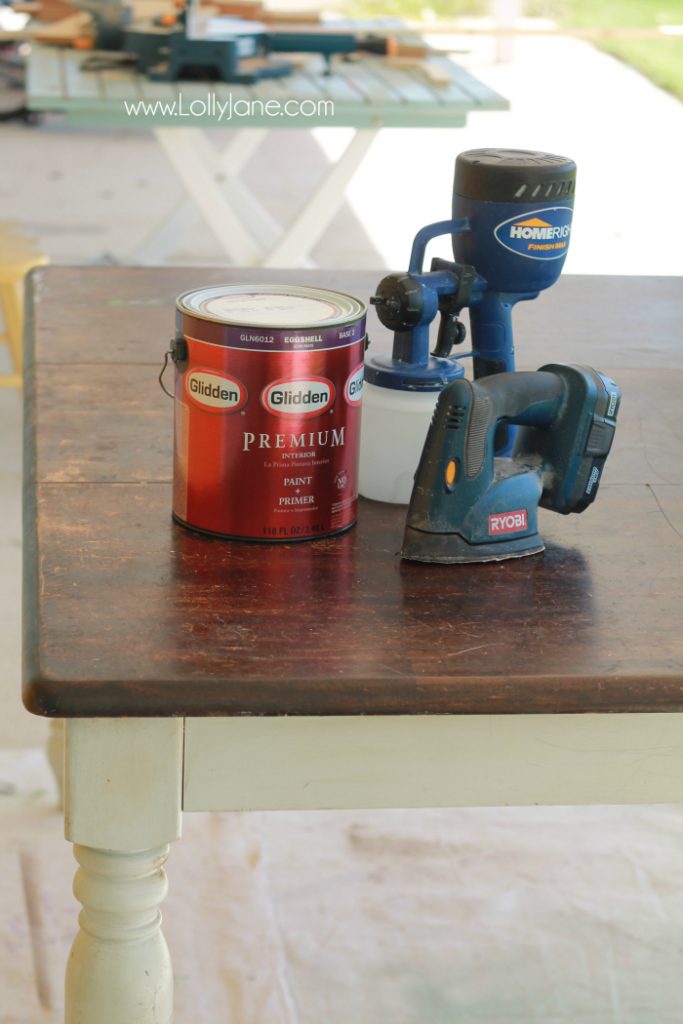 Using your sprayer, stand 4-6″ away and spray continually in long strides across the whole piece. Don't stop throughout the process. Here is the table after one coat, note the even coverage. Tip: spray nice and slow.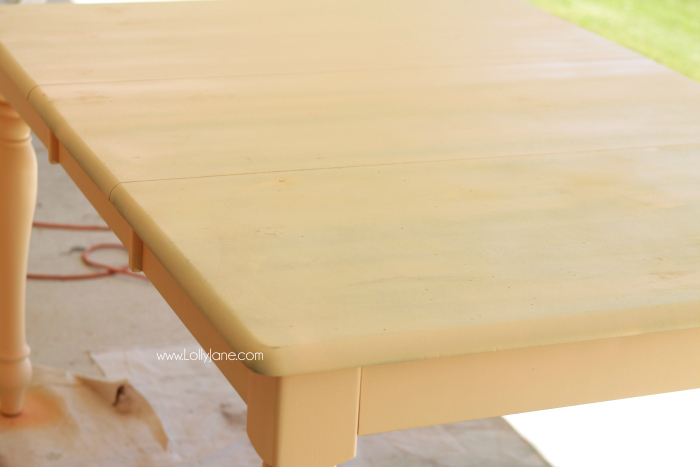 This step is vital: lightly sand between coats. Using a sanding block is perfect for knocking down little pieces of paint that will ultimately leave a rough feel if not "erased". Use a light grit, 220 by hand only. Fine grit sandpaper also helps seal pores in the wood. and creates a glassy, smooth surface for the lacquer we'll be sealing with later. Again, it's vital to move parallel to the grain in long strokes. Trust me, this quick step will make your finish amazing!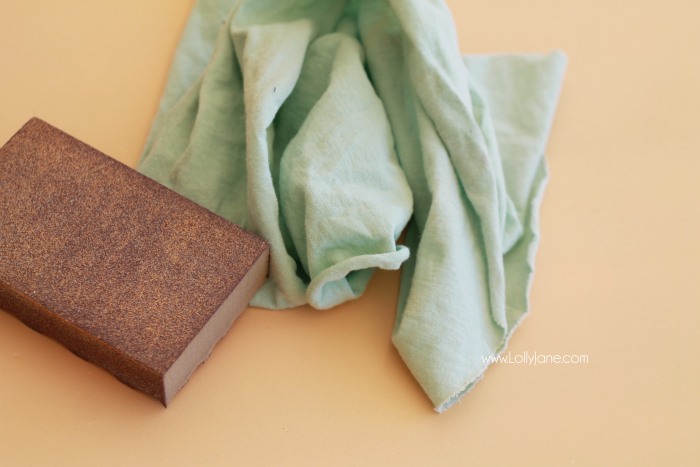 I ended up with 2 coats on the legs and 3 coats on the top of the table. Look at this finish!-nice and smooth and even! Note: I haven't sealed since I'm going to rough it up this week to add distress to it. Then I'll finish with a clear lacquer to seal for durability. This will lock in the paint and also be easy for sanitizing purposes.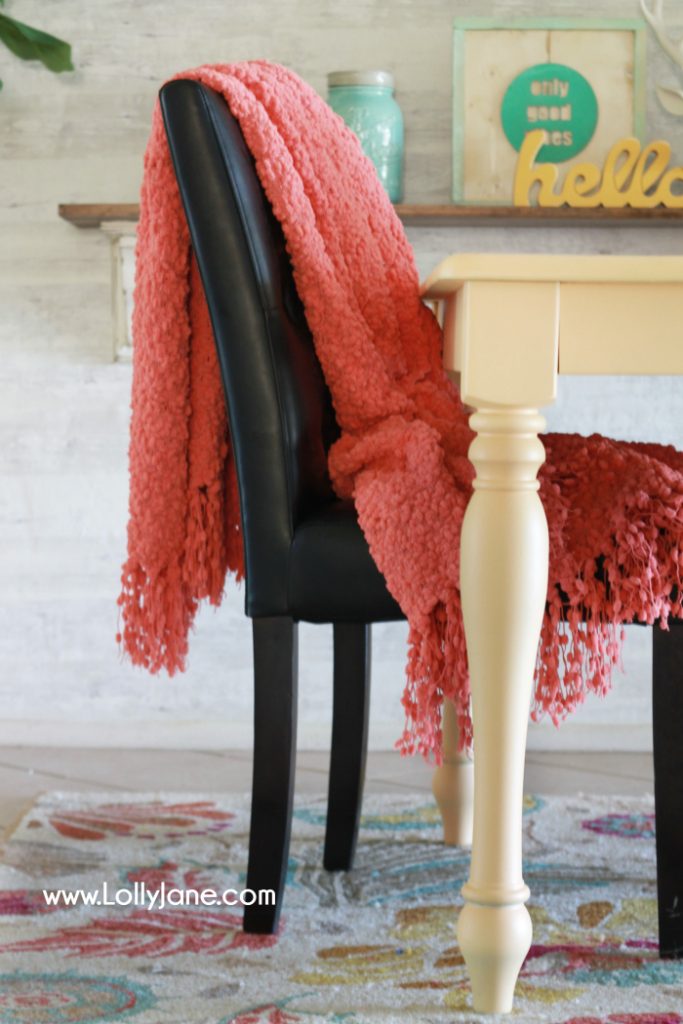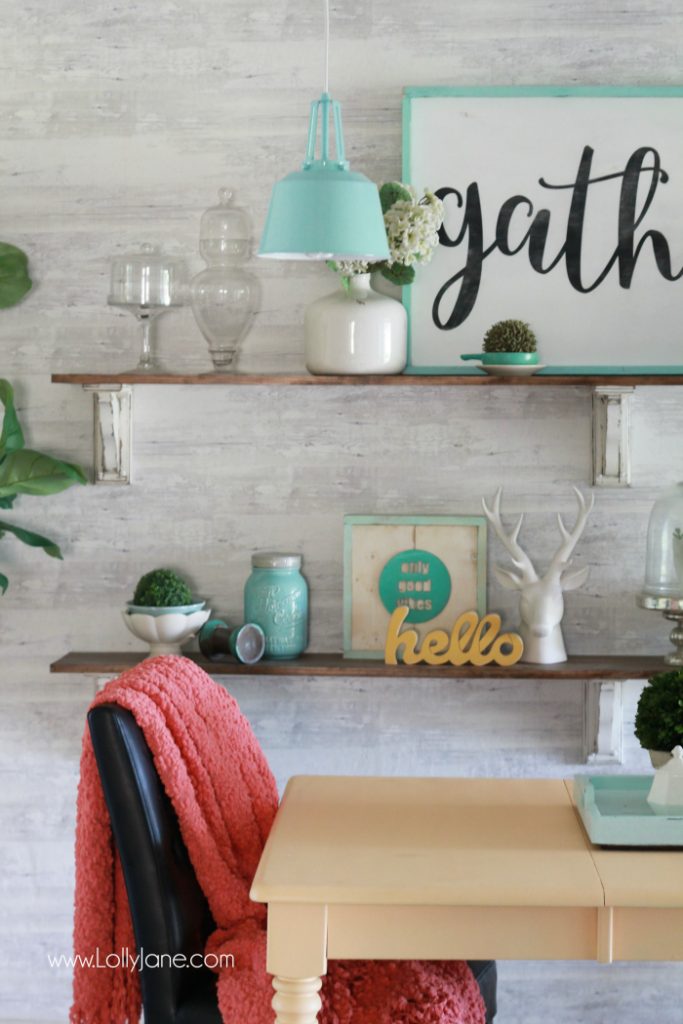 Hi, Miss Pepper! This puppy always want to be in on the action!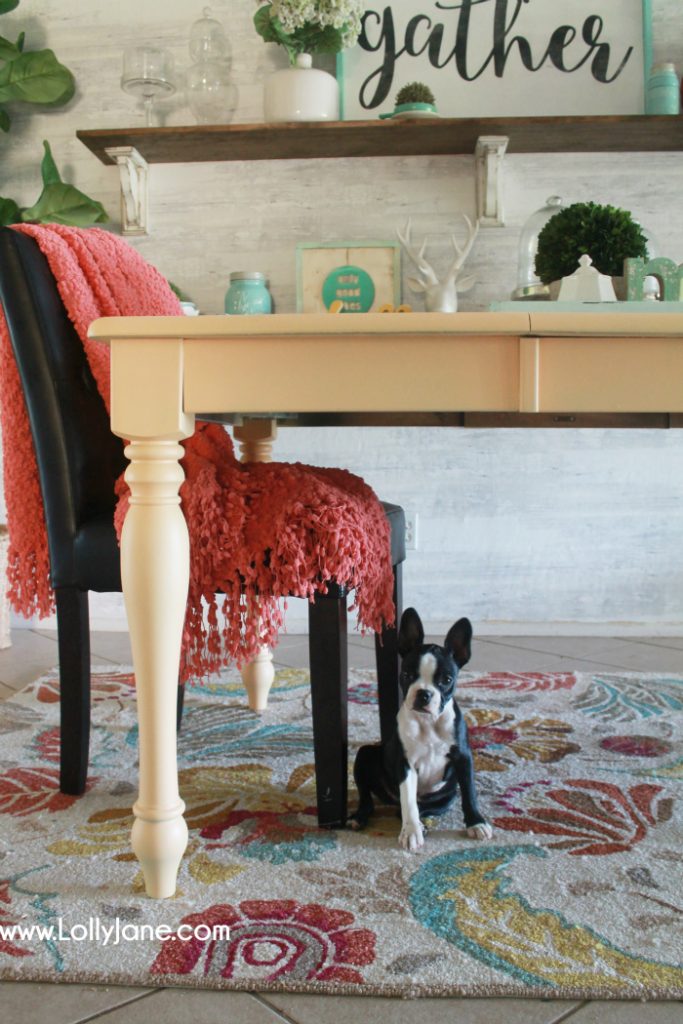 Looking for cute decor for your shevles? The 'only good vibes' sign from our friend Salty Bison, 'hello' from our friend Hollyhocks & Honeybees, 'gather' sign made by us, bike sign from our friend The Urban Post, flag banner from our friend Natalie Creates.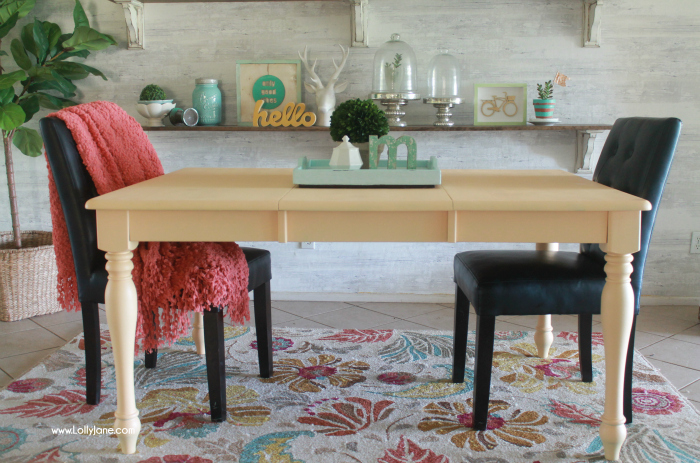 Source List >>> wallpaper: Walls Republic | chairs: HomeGoods | throw: Hayneedle | lights: Feiss/Del Mar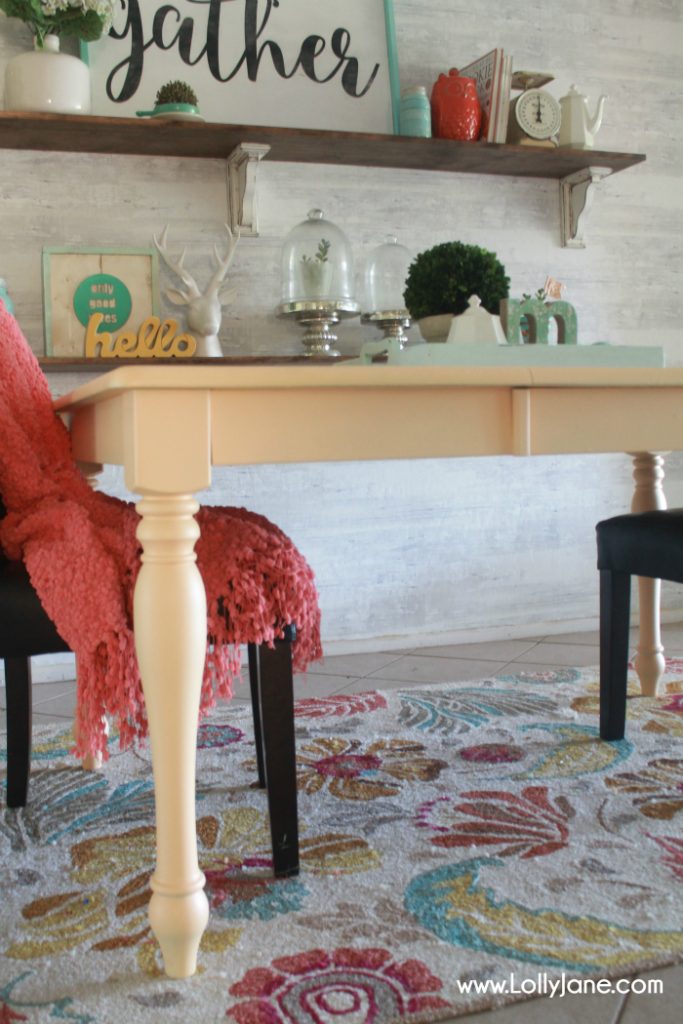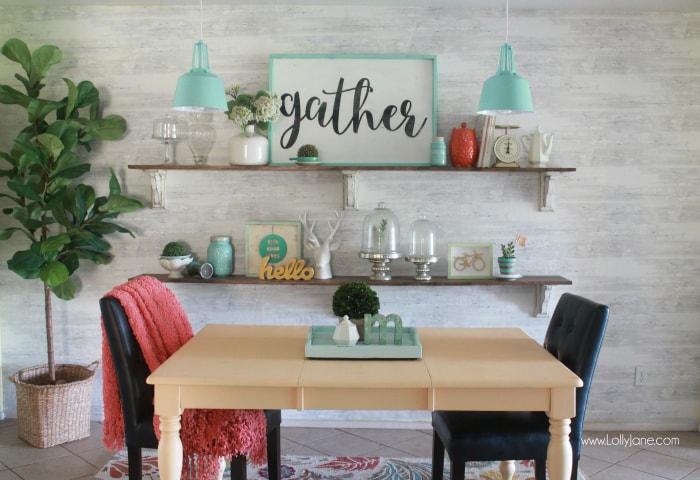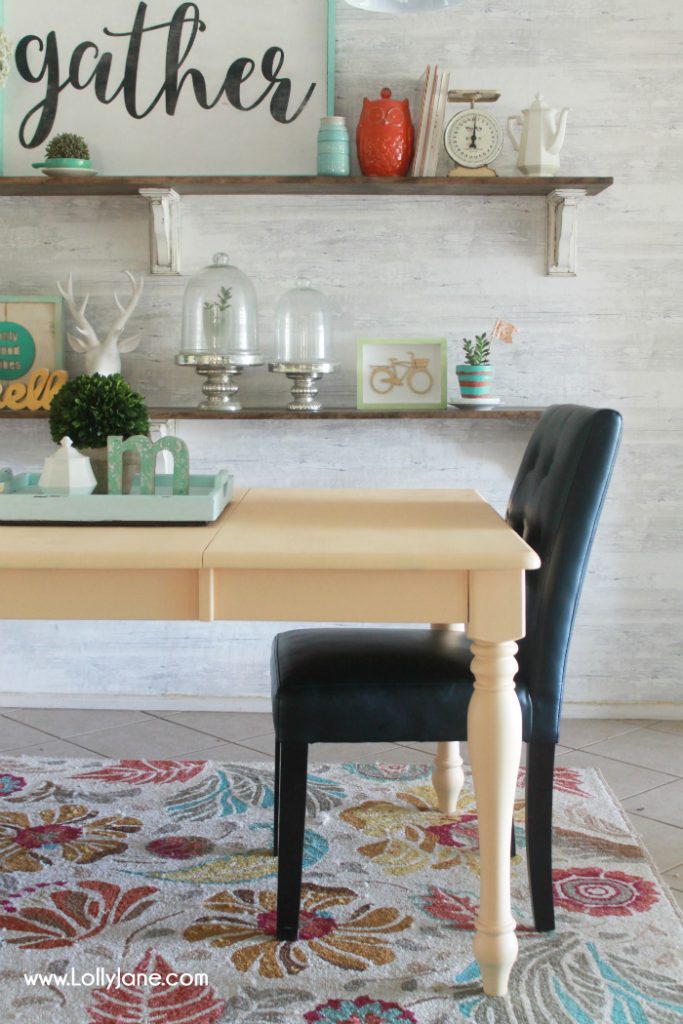 This post was created in partnership with Glidden. We have been sponsored by the Glidden® brand paint for PPG to write this post but the thoughts and opinions expressed are my own. Thanks for supporting companies that keep LJ rockin' and rollin' with free tutorials! Visit more of our furniture ideas like our Teal Zeal bench makeover.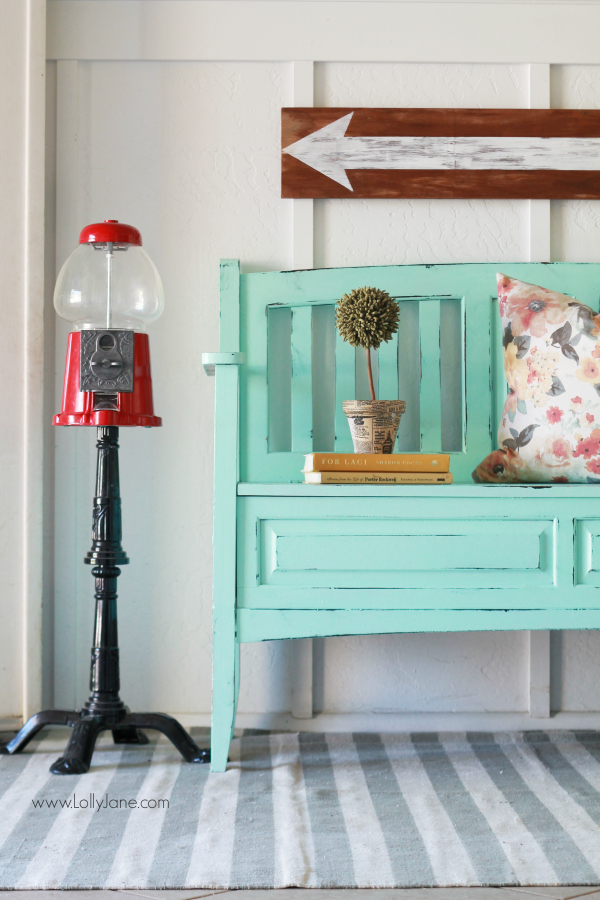 Visit the full dining room tour too!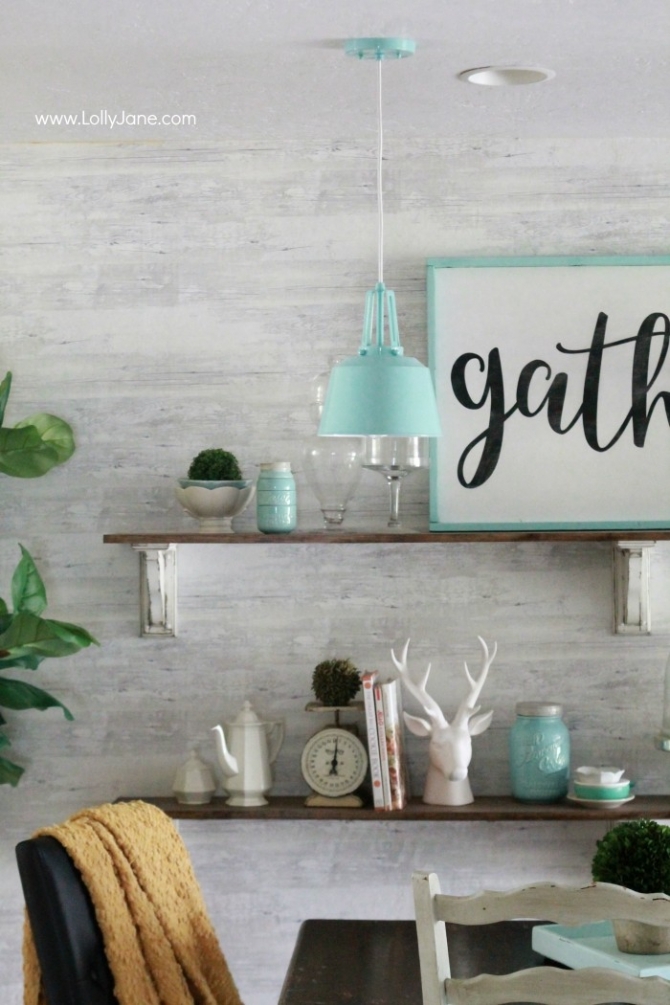 Update: If you follow us on Instagram, you'll have seen our sneak peek of sanding the table down and let the 2 previous colors show through, look forward to a second reveal soon!