So you know when you go out of town and stay up 'til 5am chatting with other women and forget all your home responsibilities?  And you sort of forget you were supposed to have all your crafts prepped since you're going to be on a LIVE news segment the morning after you get back?  Oh no, you don't know that feeling? Hmm, yah… me neither, I have no idea what that's like.  I totally had this egg topiary tutorial planned… (sheepish head nod.)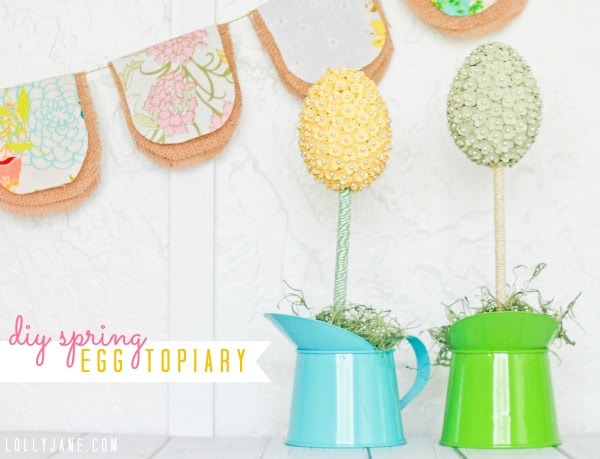 I shared some spring decor ideas on my fav local news channel, AZ Midday.
>>> 1) Valentine's Day decor // 2) St Patrick's Day decor <<<
This was my third time going on this year and because it's not as nerve wracking, I wasn't stressed. At all. But the day we rolled into town (at 2pm, less than 24 hours before the show started), I realized I didn't have as much to display as I thought. Oops! I had to think quick… lo and behold, here are two spring topiary (aka: egg trees) that what I came up with lickity split: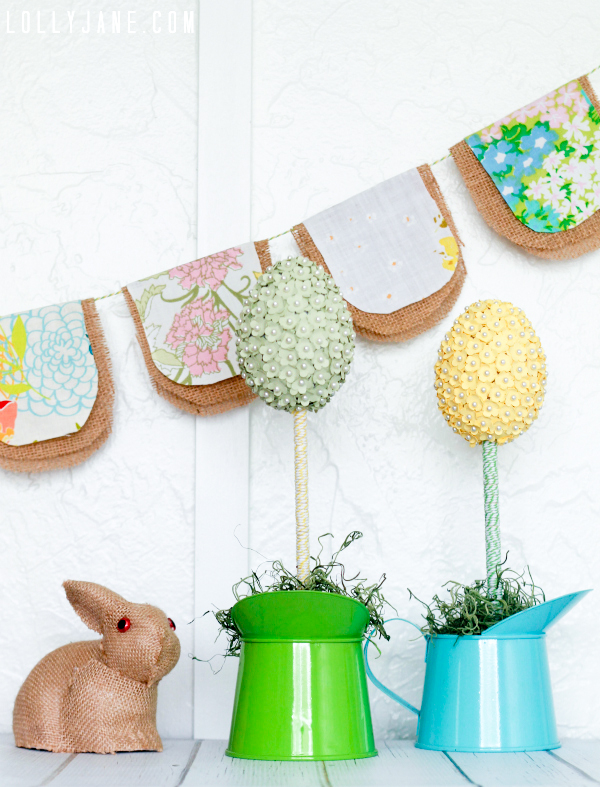 Think the term 'egg trees' will catch on? Nah, probably not!  To make your own, you'll need pomander eggs, dowels (JoAnn's), bakers twine (order from [email protected]), fake moss (JoAnn's) and planters (Dollar Tree, that's right…holla for a dolla!)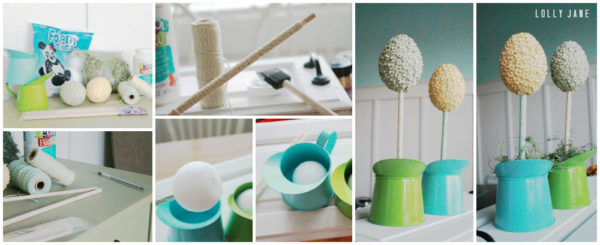 First up, mark your dowels and cut down to size on your miter saw, (2 quick cuts, don't be scared of power tools, they're a girls best friend!) Coat the dowels in decoupage and wrap with coordinating bakers twine. Cut the bottoms of your styrofoam balls off so they lay flat. Jam your dowel through it so it's perfectly straight and then repeat with the bottom of the egg.  Use the scraps from the ball bottoms to help center if needed and over with fake moss.  Stinkin' simple, right?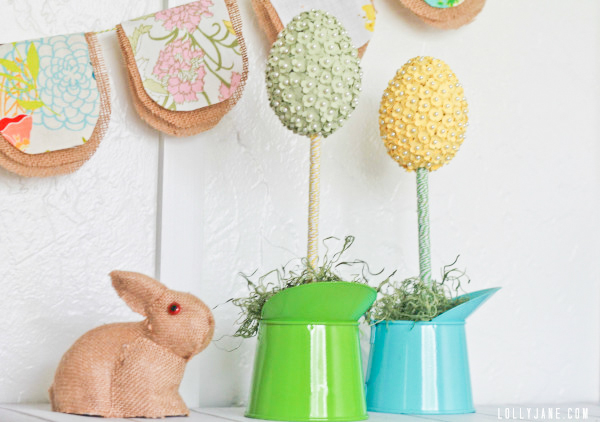 See the cute bun bun?  Trying to decide if he's darling or creepy?  Those red eyes…. now that I see them in a picture they are sort of freaky! LOL I snagged him for 50% off at JoAnn's, which is a smokin' deal for a little demon bunny! (;
Is this tute too much work? How about hot gluing Smarties onto styrofoam eggs?
Check out all our Easter/Spring idears!
ps: Will post the spring decor video as soon as AZ Midday shares it on their site!