Whopper robin egg cookies
Hi everyone! In case you don't already know I'm Karissa from the blog Sweet as a Cookie. I'm one of the new monthly contributors here on the Lolly Jane blog. Every month I will be coming here to share a recipe with all of you. I would just like to thank Kristi and Kelli for this wonderful opportunity. You wonderful ladies are the best!
Without further ado, I give you Whopper Robin Egg Cookies.
So what exactly is a Whopper Robin Egg Cookie you ask? Well, it's a deliciously soft cookie full of crushed Robin Egg Whoppers and mini chocolate chips. To be honest it's one of my favorite cookie recipes so far. There's just something about the crunchy shell of the Robin Egg against the soft and chewy cookie that makes you want seconds… and thirds.
The colors of Easter are so happy and bright. I think when I realize Easter is right around the corner I get more and more excited for summer. I live in Pennsylvania where the temperature hasn't been above 60 degrees in five months. Don't get me wrong, I love love love the snow, I just hate the cold. These bright and cheery cookies are perfect for Easter! They'll make any day bright and happy!
I'm obsessed with Whoppers. They're one of the only chocolatey treats that I actually enjoy. My boyfriend is the exact opposite. He will eat about anything that's chocolate unless it's a Whopper. I guess that just means there's more Whopper Robin Egg Cookies for me. Lucky girl, right?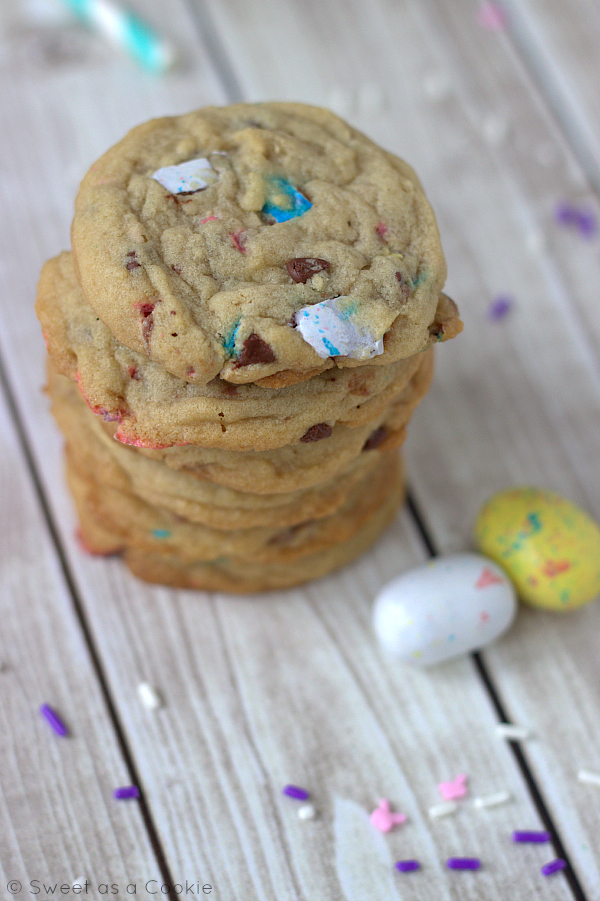 Ingredients
3/4 cup salted butter, softened
3/4 cup light brown sugar
1/4 cup granulated sugar
1 large egg
2 teaspoons vanilla extract
2 teaspoons cornstarch
1 teaspoon baking soda
2 cups all purpose flour
3/4 cup Whopper Robin Eggs, crushed
1/4 cup mini chocolate chips
Directions
Preheat oven to 350°F.
Line a baking sheet with parchment or a baking mat; set aside.
In the bowl of your stand mixer combine butter and sugars until fluffy.
Mix in egg and vanilla until well combined.
Mix in cornstarch and baking soda until just combined.
Slowly add in flour (dough will be very stiff).
Once well combined mix in crushed Robin Egg Whoppers and mini chocolate chips.
Place tablespoon sized balls of dough onto prepared baking sheet.
Bake for 8-10 minutes, allow to cool on baking sheet.
Remove and enjoy!
Blog | Facebook | Twitter | Pinterest | Instagram