Dollar Store Fall Decorations
Introducing the Dollar Store Mystery Box Creative Challenge: 5 bloggers, $10 worth of goodies from the dollar store and 2 weeks to turn it into gorgeous fall decorations! Check out how easy it was to transform cheap dollar store Fall Decorations into Something beautiful!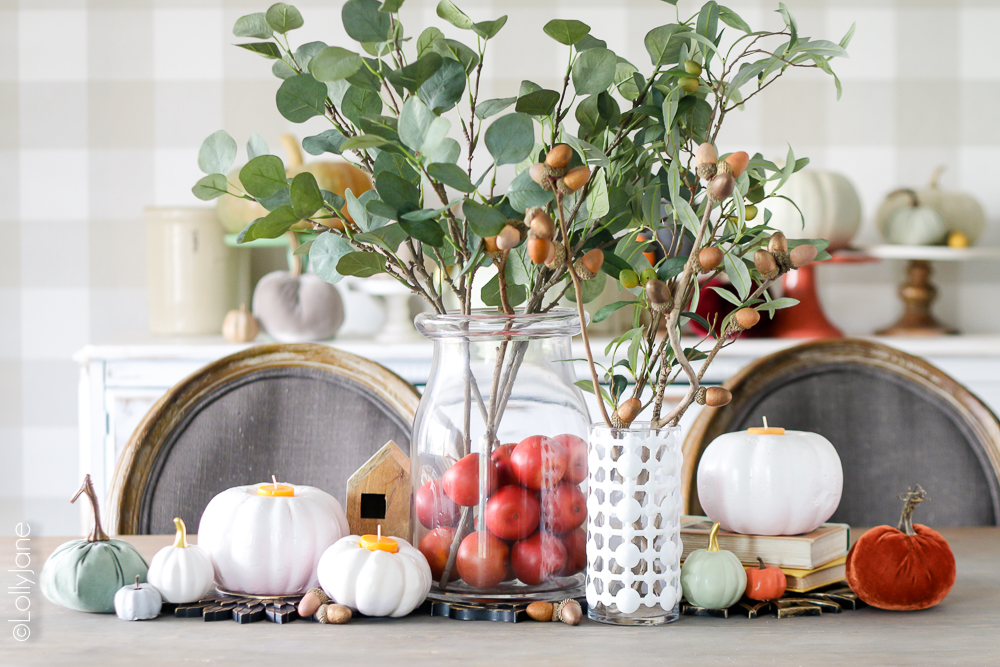 Mystery Box Creative Challenge
The Handmade Home created a fun decor challenge this season: buy $10 worth of RaNdoM goods from the dollar store then send it to a fellow blogger whose challenge is to create beautiful fall decorations for your coffee table. Did we mention we had no control over what arrived?? 😉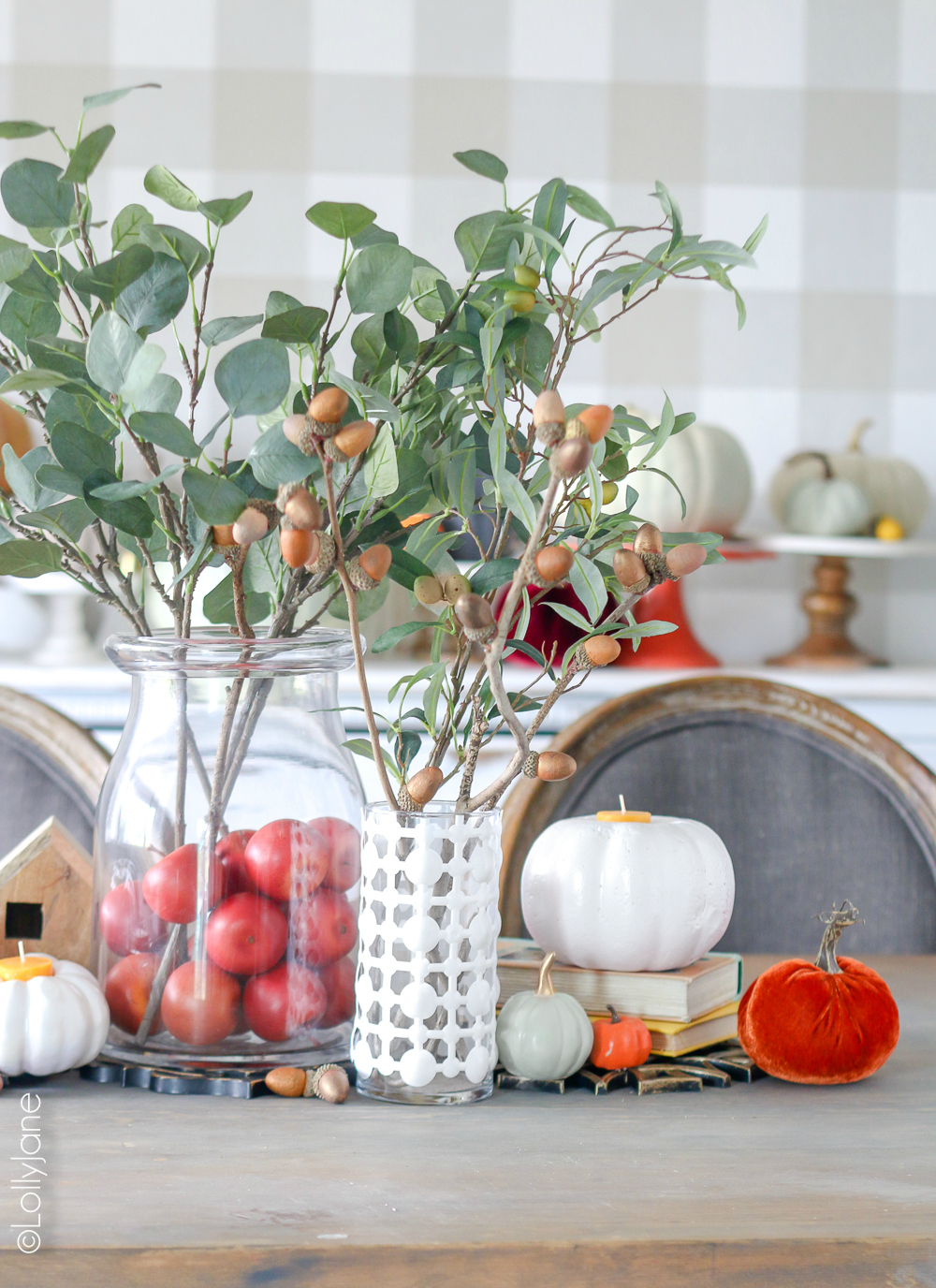 THE CHALLENGERS:
Ashley and Jamin from The Handmade Home, Kariann from Thistle Wood, Annie from Zevy Joy and Melaine from My Sweet Savannah are joining in the challenge with us and you won't believe what they created!! We sent our box to Melaine and tried our hardest to make it easy for her, HA! We then received an eclectic box full of goodies from Ashley and Jamin aaaaaaaand we knew the challenge was just that: 10 years of blogging every kind of craft was about to come to fruition! After seeing our fun makeover below, scroll down to see the rest of the challenger's gorgeous spaces…you'll be SHOCKED at how quickly you'll want to head to your dollar store to recreate the looks!
Visit more of our easy-to-make fall decorations:
How to Decorate with Dollar Store Fall Decorations
Before we break it down, be sure to visit ALL of our fall/autumn ideas like our Wheel Wreath tutorial, our easy fall porch decor, or our painted floral + buffalo check pumpkins!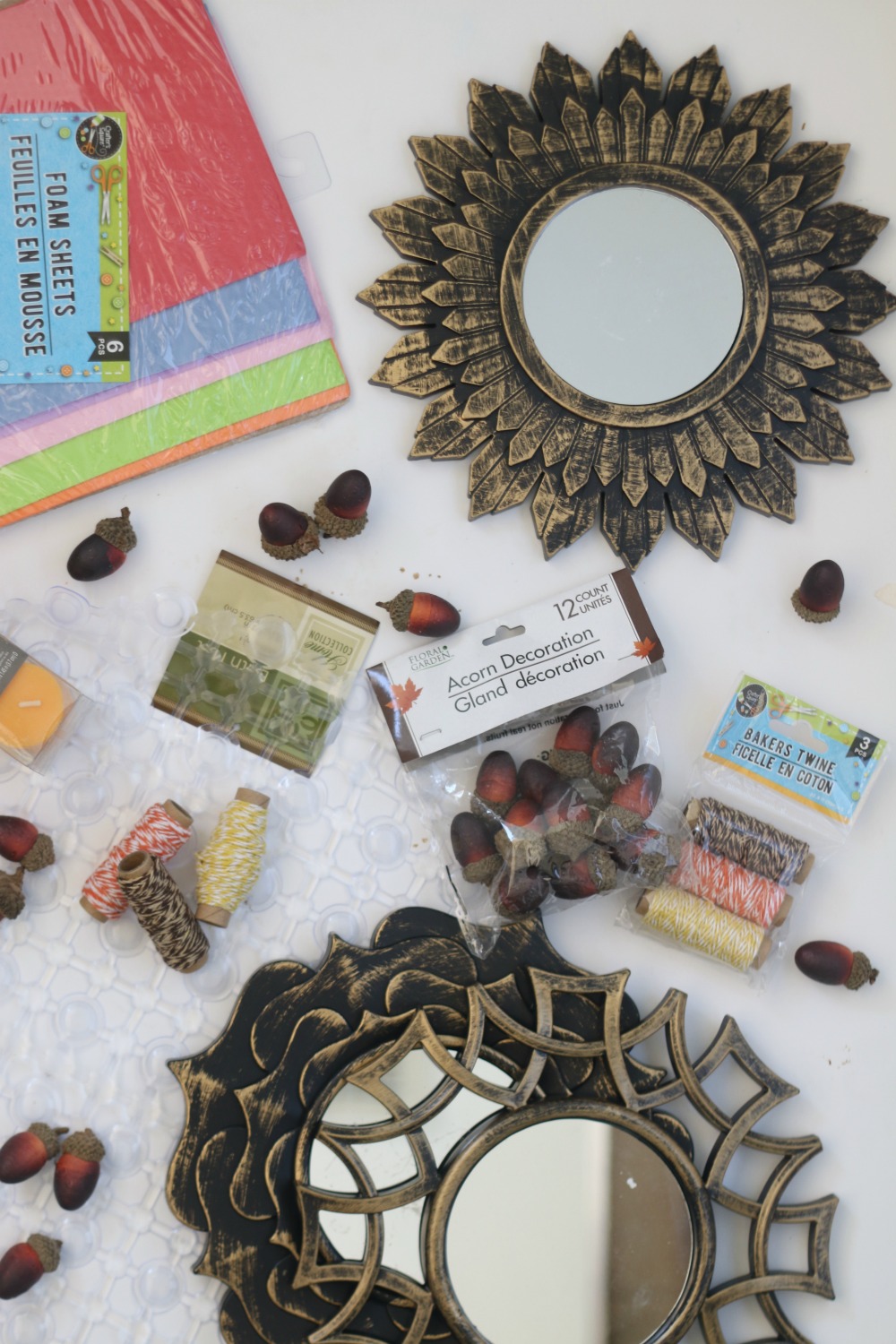 Here's what came in our haul:
3 framed mirrors
Bakers twine
Faux acorns
Foam sheets
Orange tea light candles
Clear bath mat
Vase of choice (mine was leftover from a Valentine's Day bouquet but Dollar Tree sells a similar style.)
Hot glue gun/glue
Sticks from yard (or, my neighbor's yard, haha)
I know what you're thinking: what! How would one turn that into a fall tablescape? (Or, coffee table decor IF I had a coffee table, haha.) Read below to see what I did!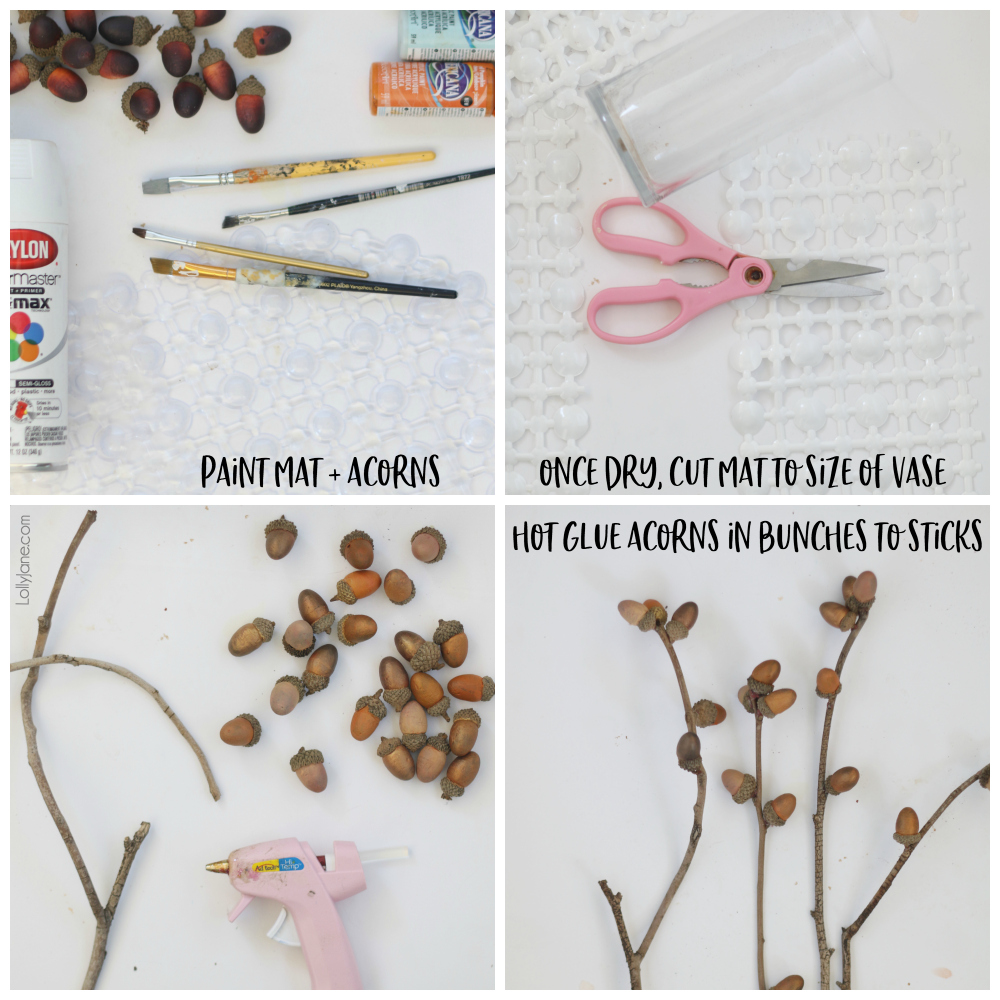 Spray paint the bath mat white.
Hand paint acorns browns and golds.
Once dry, wrap bath mat around vase and trace then cut out according to size.
Secure bath mat with bakers twine, (I just tied it together on the back seam.)
Hot glue acorns to stick in bunches.
Plop greenery into vase and enjoy the touches of fall!
Dollar Store Fall Decorations
To get this look, I first layered the 2 mirrors in a row down the center of my table. Then I just plopped a vase filled with faux apples + dollar store pumpkins on top of the mirrors to create a bit of height and texture. I really tried to stick to the challenge and use items genuine to dollar tree and was so glad I had those leftover orange pumpkins from last year. To accent my newly up-cycled vase and acorn stems, I decided to make pumpkin candle holders lickity split. I simply spray-painted them white then cored out the center (with a butter knife) big enough to twist my candles into place nice and snug. Voila.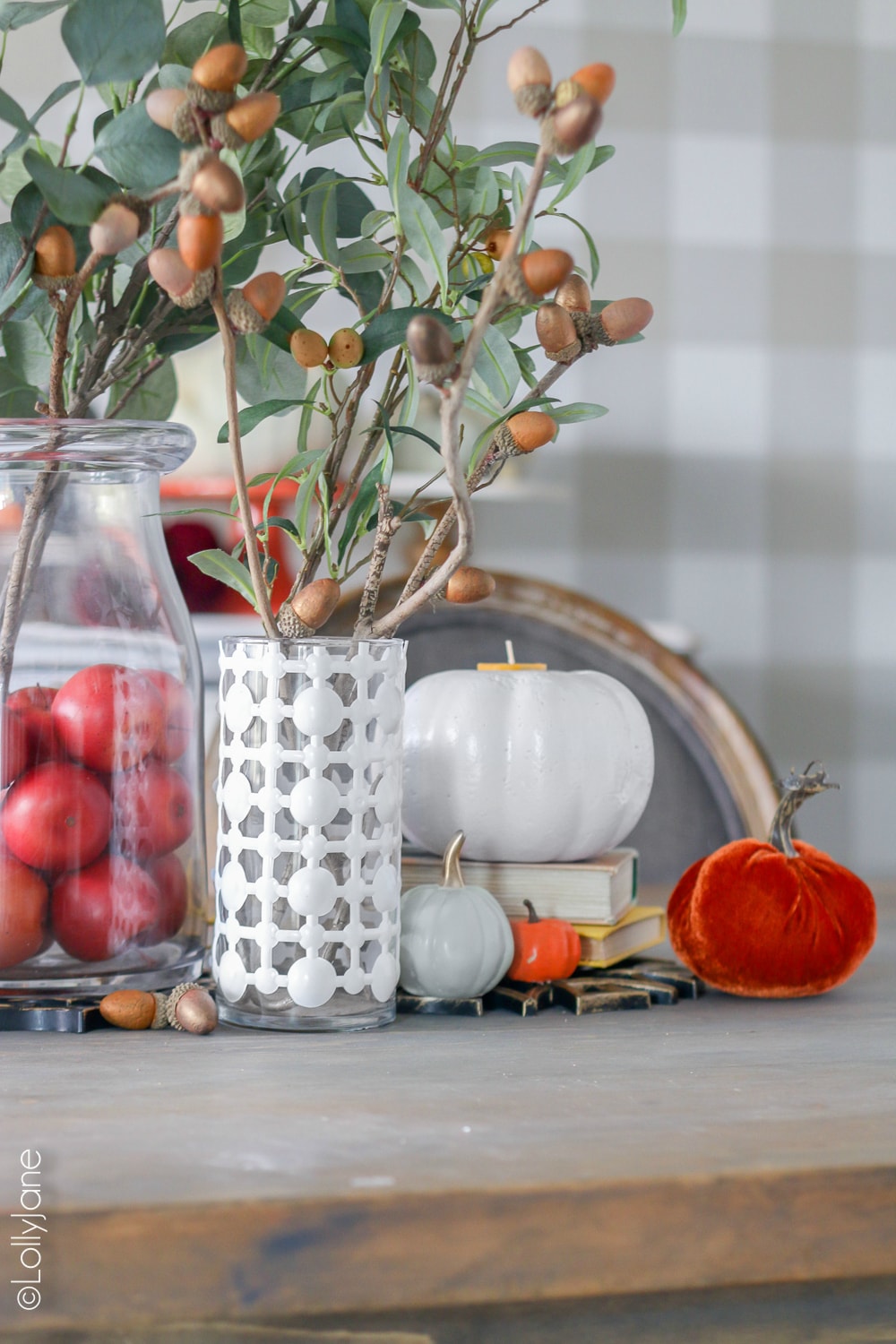 I spread a few other pumpkins from around the house and instant fall tablescape (or coffee table centerpiece!) made. I also LOVE decorating with books so, to create height, I added a few behind some mini pumpkins to really make one of my candlestick pumpkins stand out.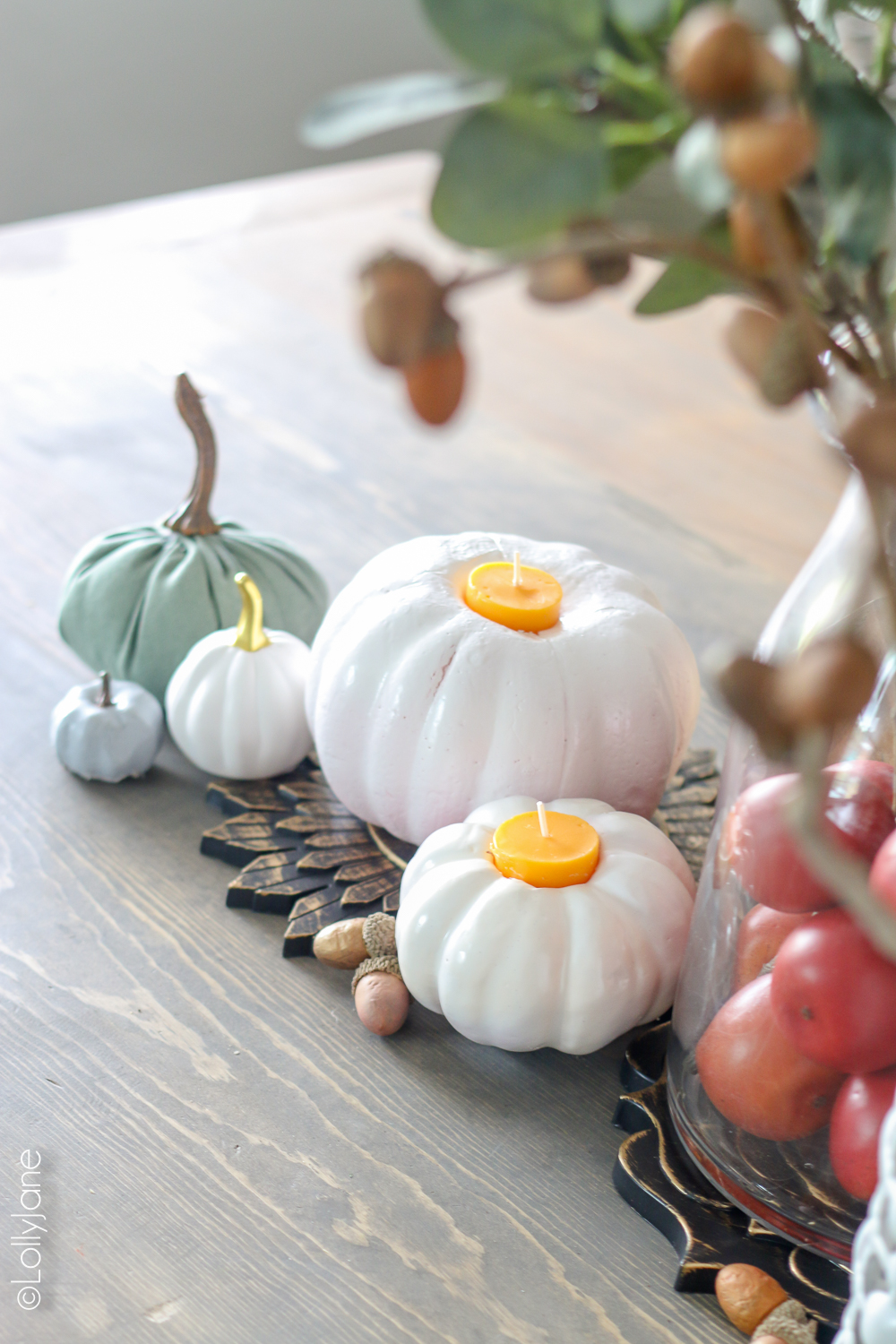 Too cute and SO EASY!!! And cheap, of course! 😉 You don't have to spend a lot of money to make your home look festive for the holidays, you would be surprised what other goodies your own dollar stores have! Give it a whirl and tag @lollyjaneblog on social media if you try your hand at it– we would love to see it and share!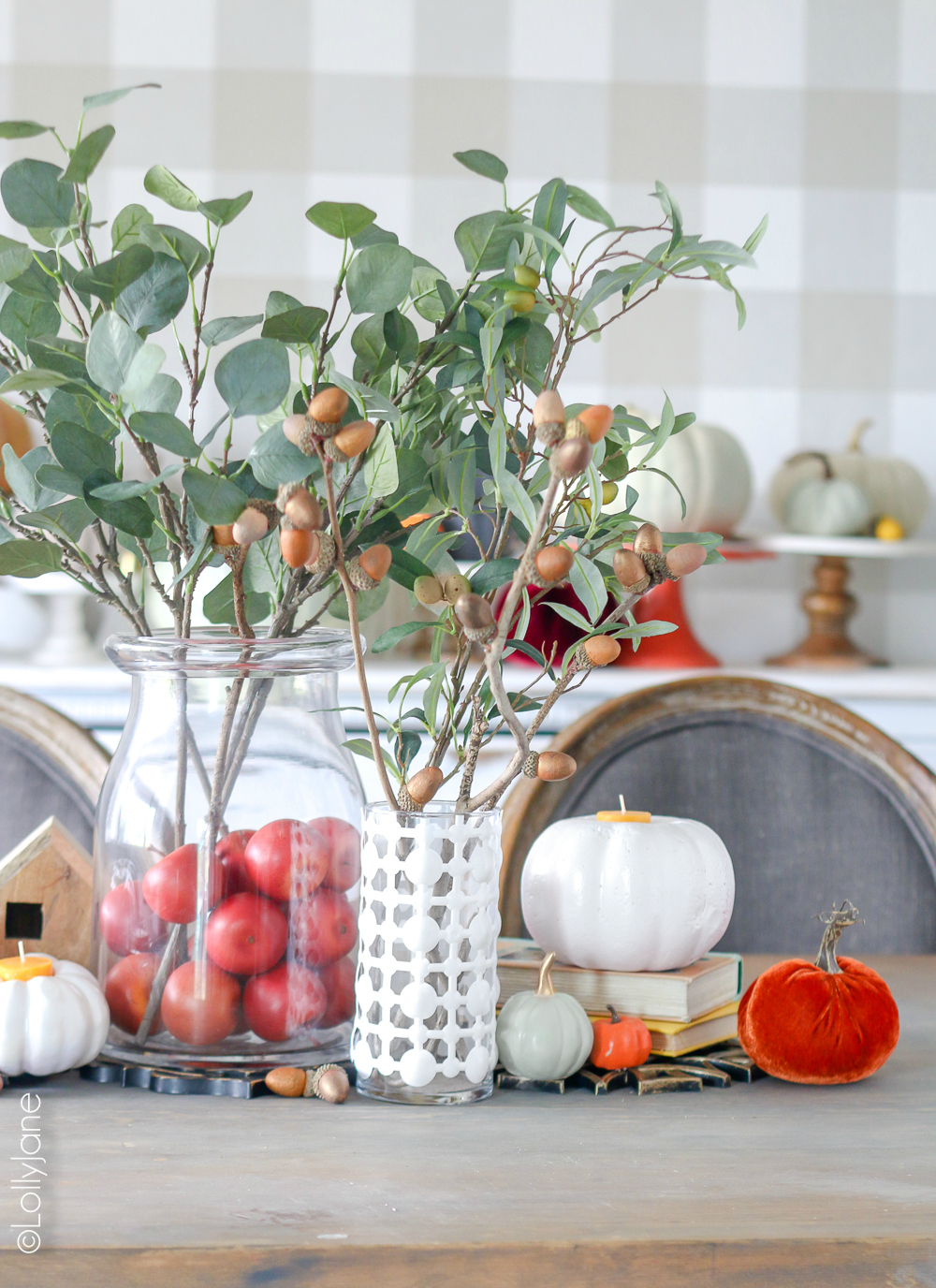 Be sure to check out the fellow challenge member's fall coffee table decorations!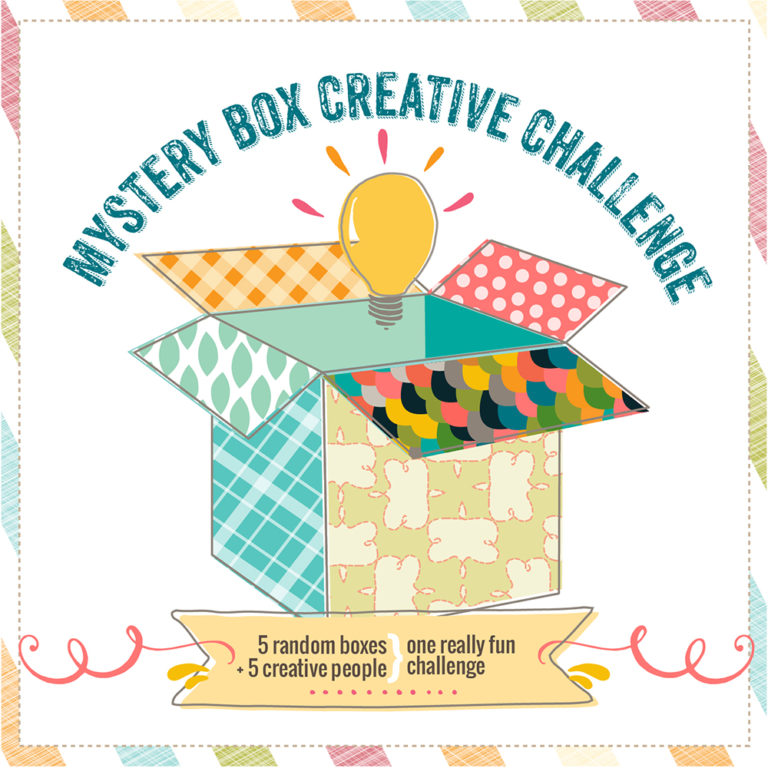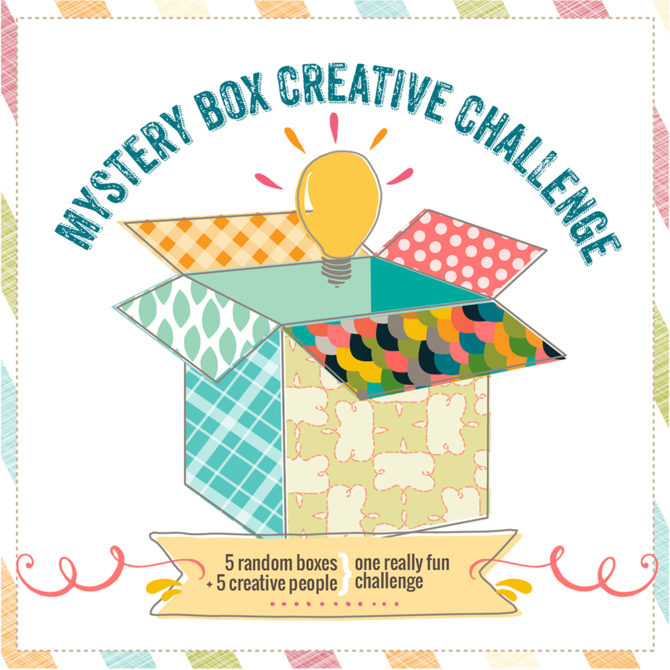 The Handmade Home | Thistle Wood | Zevy Joy |  My Sweet Savannah
If you loved this post on our Dollar Store fall decorations, we'd LOVE to have you follow along with our DIY successes & fails! Plus, our live fave home decor finds along the way:
*disclosure: some affiliate links used.