gold antler reindeer makeover
Today's Christmas post is sponsored by minted. My Christmas cards just arrived and I couldn't be happier. Keep them in mind for your holiday needs! It's the 10th of the month which means it's our creative group blog hop! This is our 16th post as a group and we think it'll be our last, sad face. It's a big commitment and we are trying to simplify. Love these talented ladies, please visit their fun GOLD posts when you scroll past this pretty gold antler reindeer makeover, he's a cutie, right? We love thrifting and this little guy has been on our to-do list since we found him! We snagged him at a garage sale for a couple bucks and couldn't resist taking him home…with an intent to spruce him up, of course!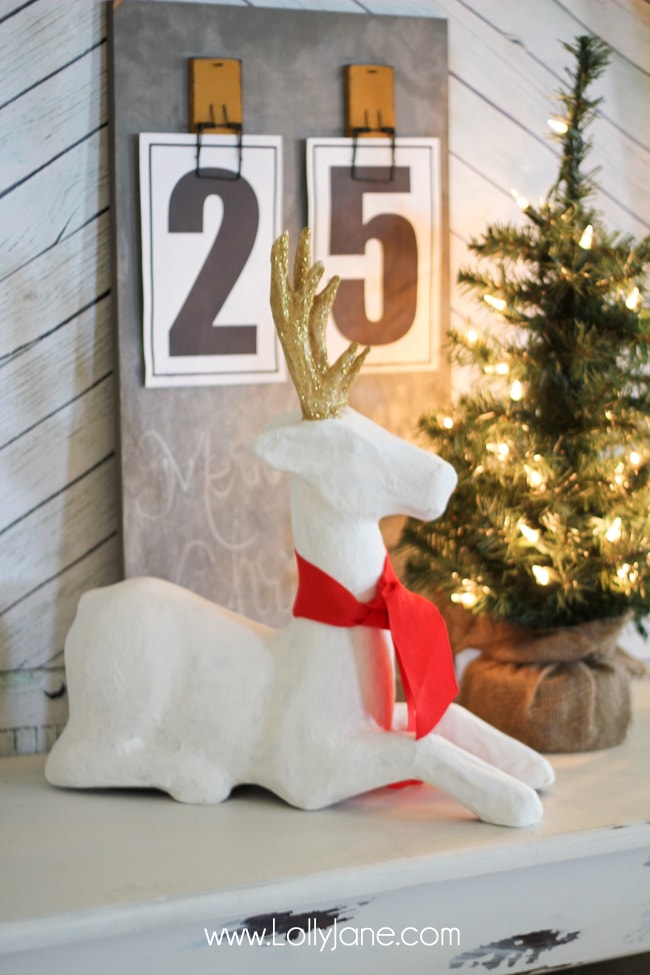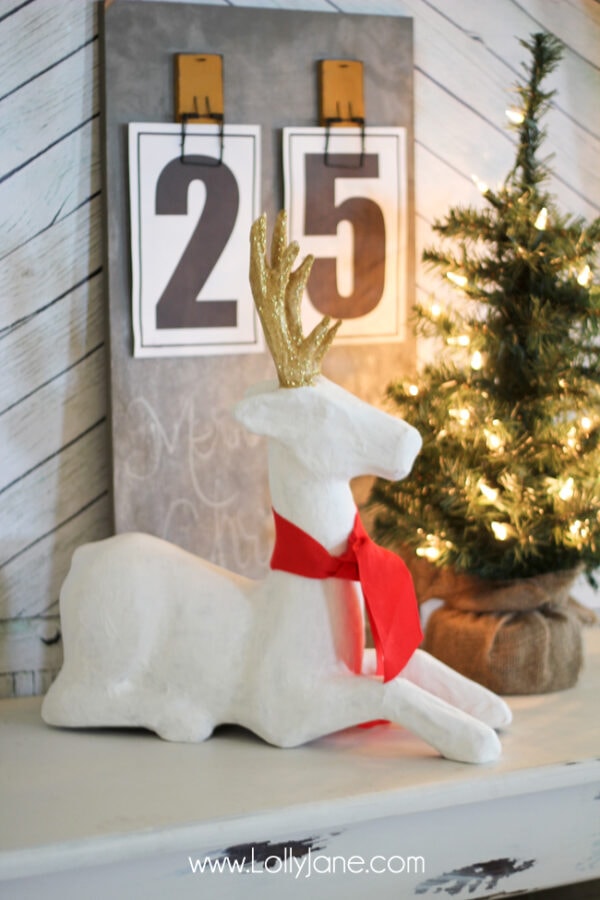 Take a peek at the before, (which was practically screaming at me as I walked by him to be made over! LOL!)
Into my car we went and I knew right away he would be displayed at Christmastime in a fresh white hue. A few coats of white acrylic paint was all it took.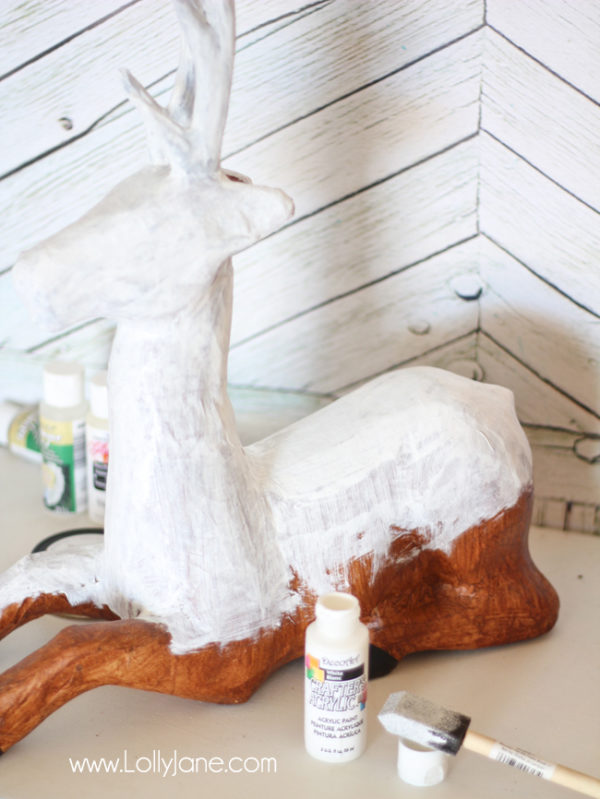 We are constantly amazed at how a bit of paint can completely transform a piece!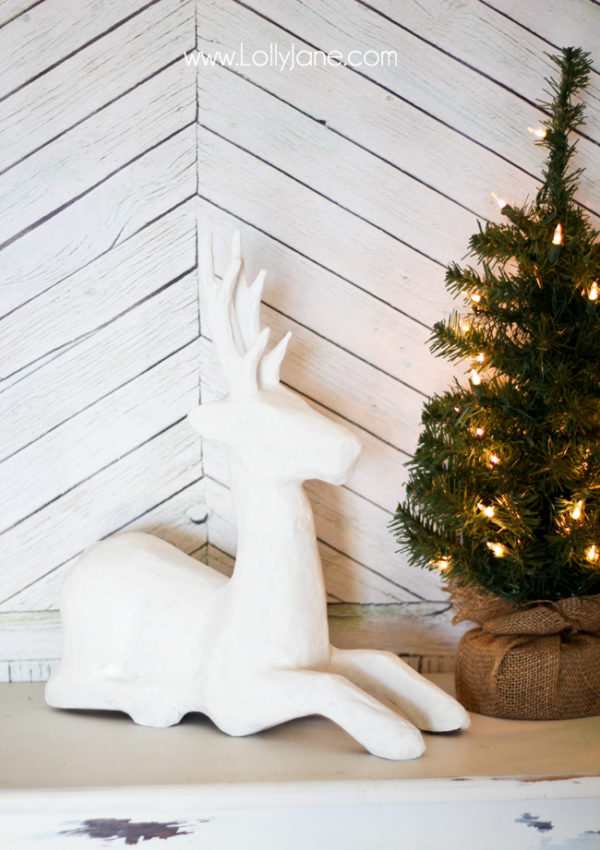 Buuuuut, even with a fresh coat of paint he didn't look complete. In fact, he was just a bit washed out.
So, I glammed up his antlers with some gorgeous glamour dust and viola! The buck is now a deer! And, a fun touch to the beginning stages of this years Christmas mantle.
But wait, there's more! (Haha, I sound like an As-Seen-On-TV commercial, right?) Even with the glittery antlers, she needed something else. I tried a cute mini grapevine wreath but it was too rustic. (Had I left him a buck, it would have been fitting. LOL!) I went through my stash of ribbon and simply tied a remnant around her neck for a quick pop of red. Perfect. 🙂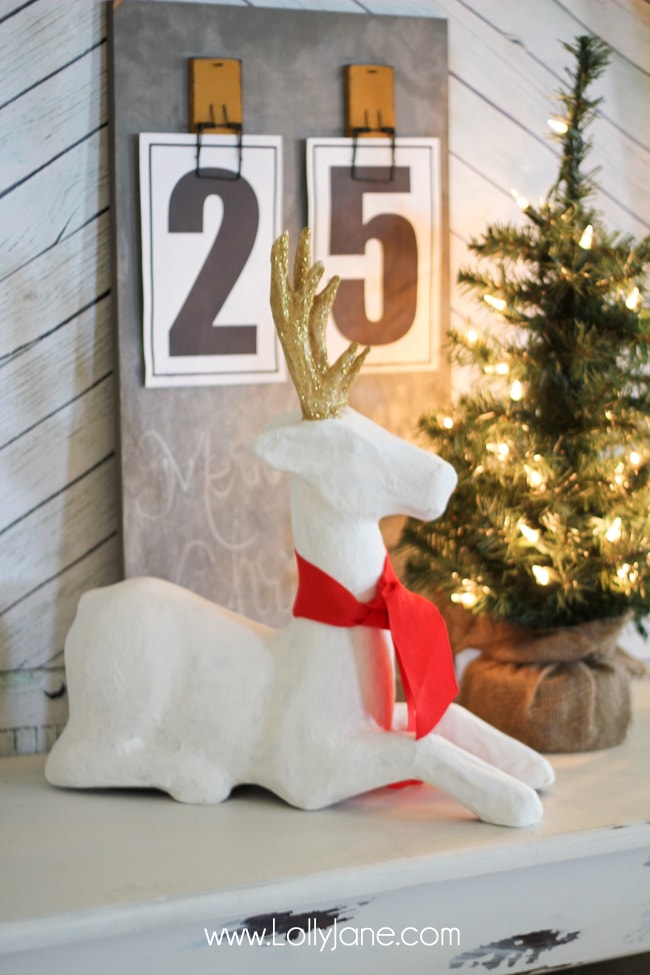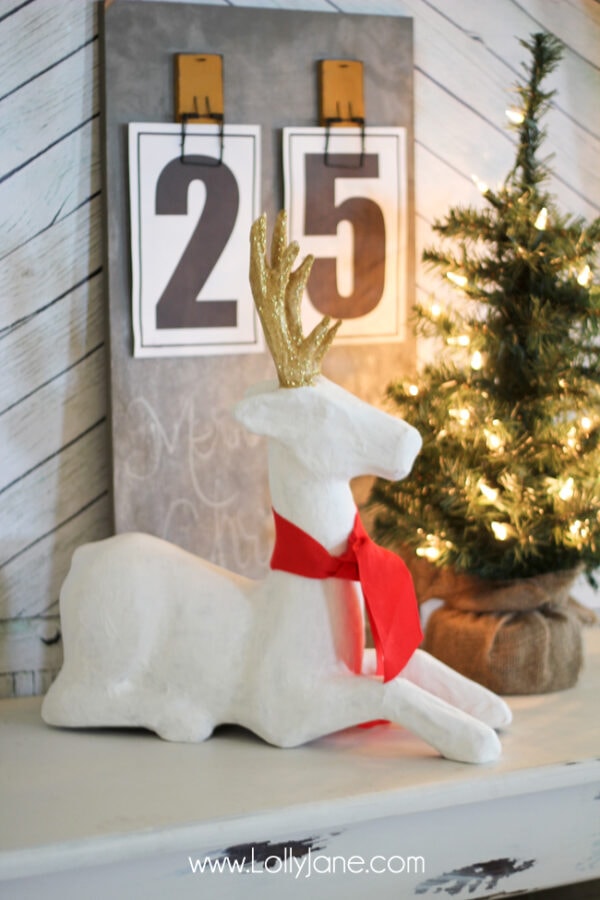 Check out all of easy Christmas and decor ideas (such as our chalkboard calendar pictured) like our DIY Christmas card display,

7 Ways to Add Gold Flair to Christmas Decor,

our Merry & Bright antler pallet art,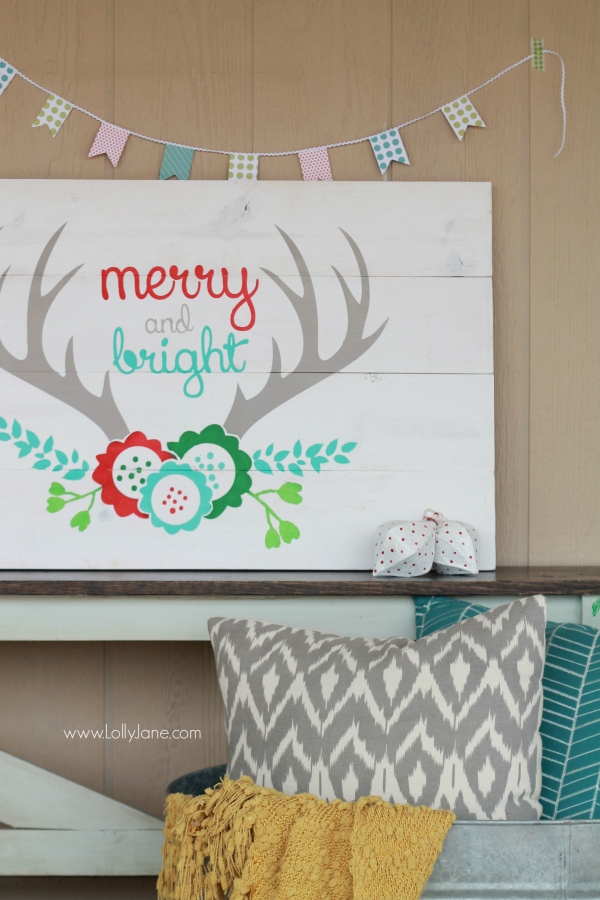 our paper wrapped trees,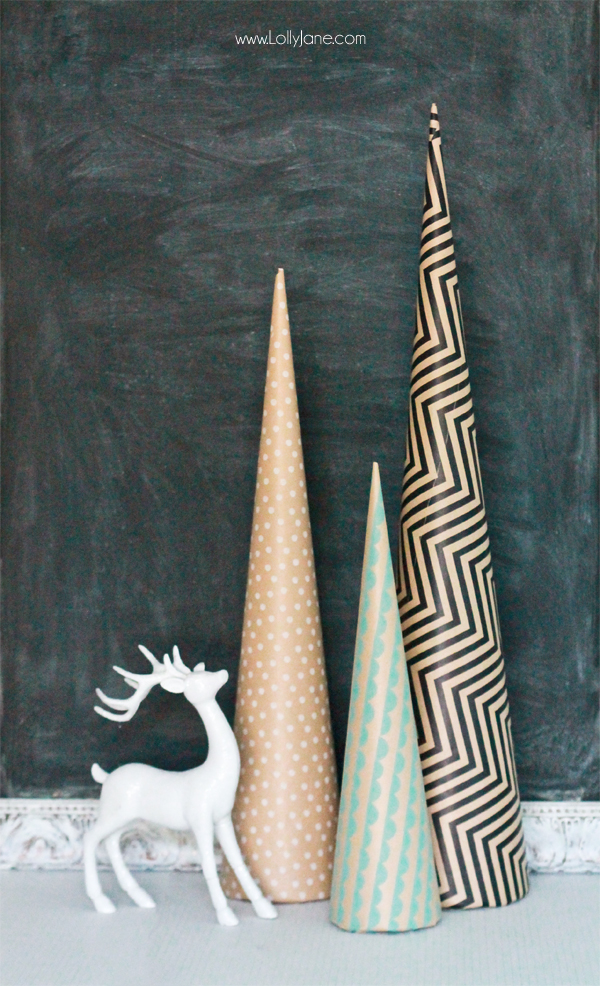 and all of our inspiring roundups like our 35+ GOLD Christmas decor ideas!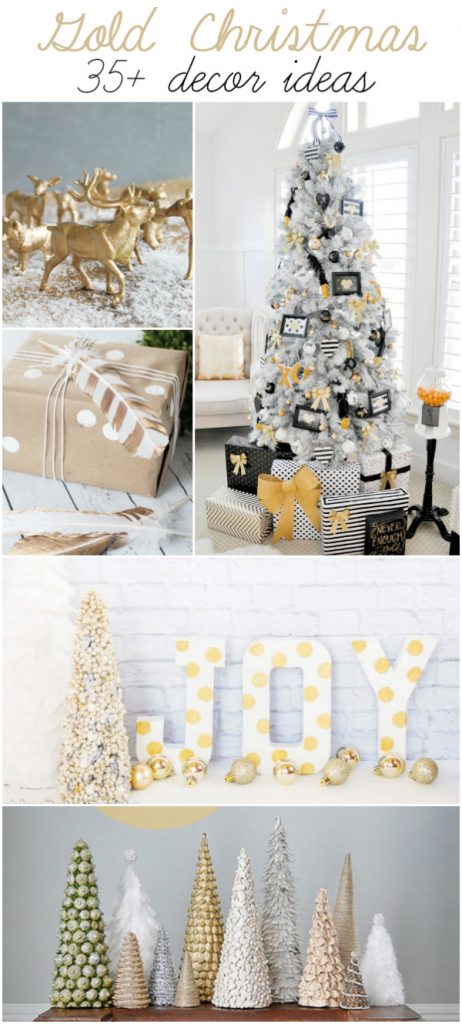 Don't forget to use minted for all your holiday card needs and much, much more! Seriously SO THRILLED with how these adorable luggage tag holiday cards turned out! Big family picture on the front, one of hubby/wife + kids solo on the back PLUS a quick recap of each family member. Perfect, right?? Their sale ends TODAY: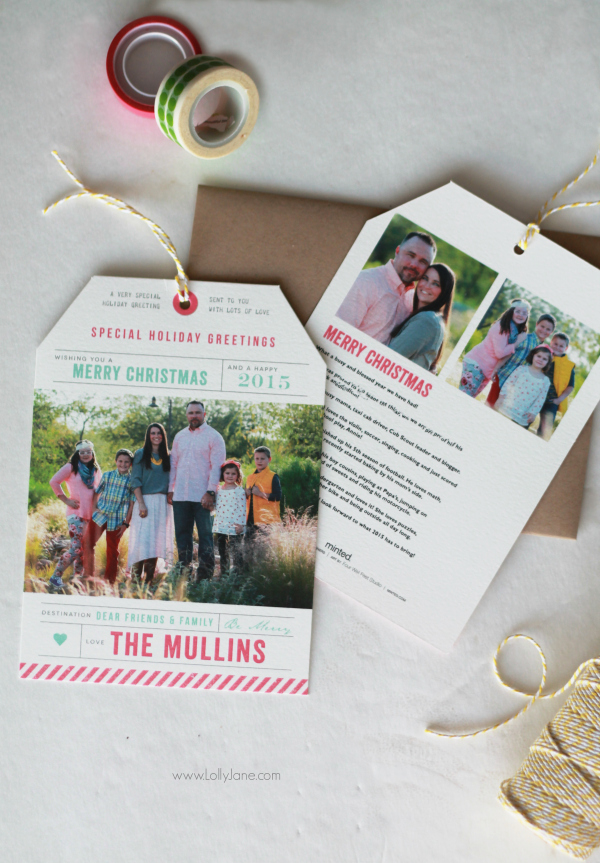 ENDS THURSDAY | ENJOY 15% OFF ON HOLIDAY CARDS $150+. CODE: JOY15. | 10% OFF $100+. CODE: JOY10.