How to Paint Furniture the Ridiculously Easy Way
Check out How to Paint Furniture the Ridiculously Easy Way: this easy DIY Painted Hutch Makeover before and after looks amazing! You'll love this gorgeous gray hutch with floral paper makeover. Such a dramatic before after furniture makeover Using less than a jar of Paint and some wallpaper.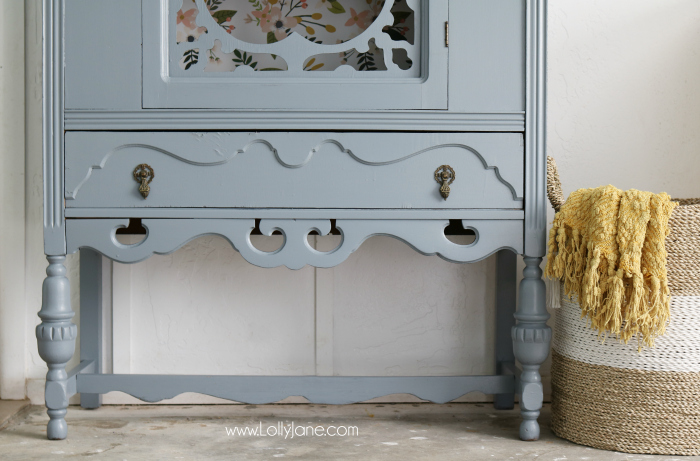 DIY Painted Hutch Makeover – Satin Enamels Paint
We are so in love with our newest furniture makeover, this lovely gray hutch. Our friend Heather knows us well and when was selling this beauty for $100, she knew I would be first in line. I don't have anywhere to put it in my cozy little farmhouse but I knew she needed a facelift so I brought her home and am now determined to find her a space to shine! Americana released a new Satin Enamels paint so I grabbed a jar and am so happy with how it turned out! I documented my whole process on Instagram (@lollyjaneblog) and you all were loving it too! I was debating about distressing it or leaving it as is. Giving it a hearty distress would compliment the "wrinkles" on the top of the hutch from past wear and tear but for now, I think she's pretty darn gorgeous as is. I really love my new gray hutch with pretty floral paper backing.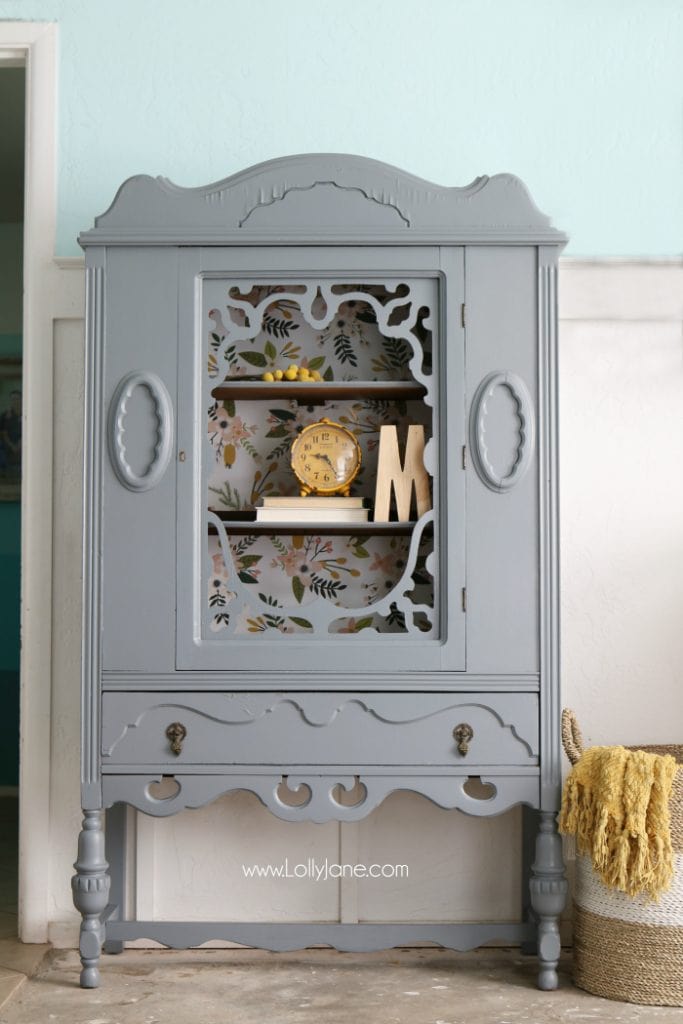 Here is the beautiful antique before it was painted. We found faded paper on the backside that said it was built May 21, 1928. It was in pretty rough shape: the lock was broken, the top had severe water damage, the bottom sides were chewed up and it was covered in light scratches and dings. Who treated this beauty so badly over the years?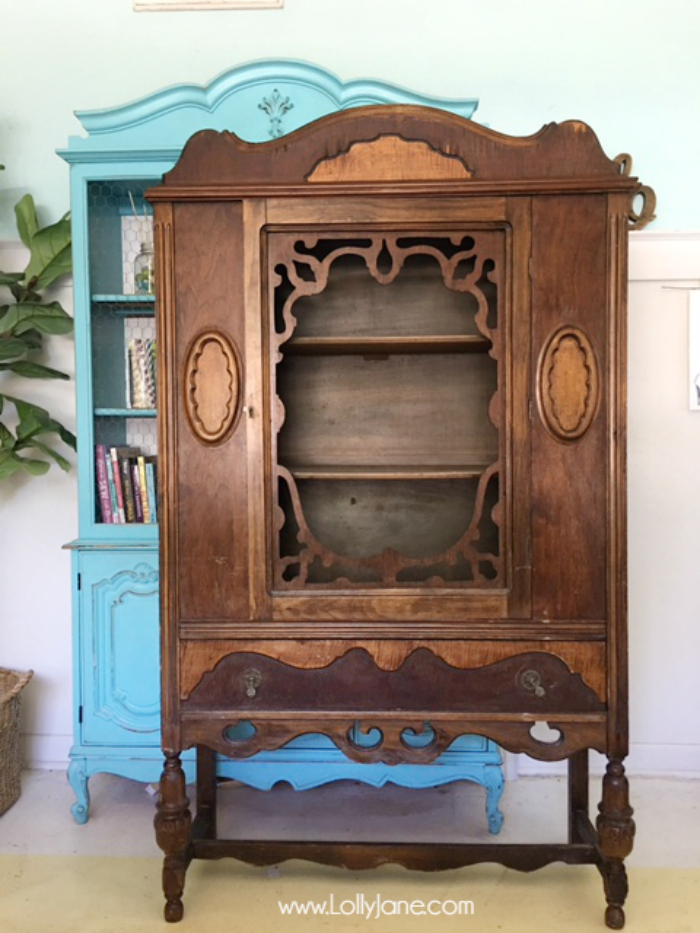 Supplies Needed For DIY Painted Hutch Makeover
1 Roll of Floral Wallpaper
1 Jar of Decoupage
Measuring Tape, Scissors, Pencil
Optional: Sealer + New Paint Brush *I didn't seal since this it's stored in a low traffic room.
We knew we wanted to pair "Smoke Grey" with a floral paper on the backside of the hutch like my aqua hutch shown behind this one. We found this sprigs and blooms design and chose the gift wrap option. Doesn't it look amazing with the paint?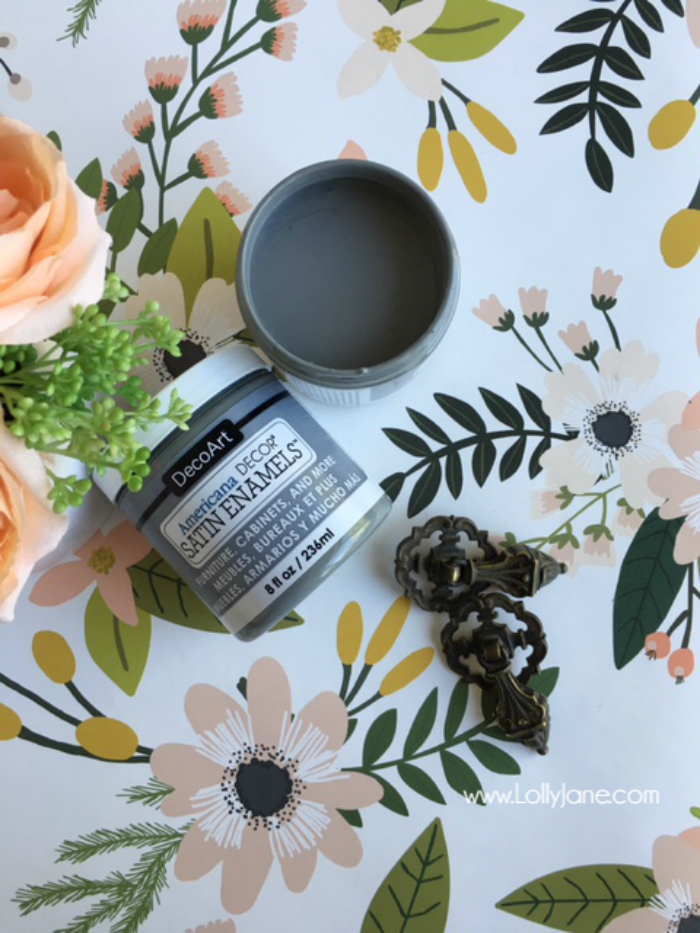 How to Paint Furniture The Easy Way
When we first started painting furniture over a decade ago, there were so many rules and it was really intimidating. Since painted furniture is so trendy now, paint companies have really dumbed it down for consumers so all you need know is a jar of this satin enamel paint. No prep, just paint! I started hand brushing the paint on and immediately noticed how fast it dried. I had to move fast which was great because I was able to immediately start my second coat. When painting, be sure to go WITH the grain of the wood, not against it, for a more natural look.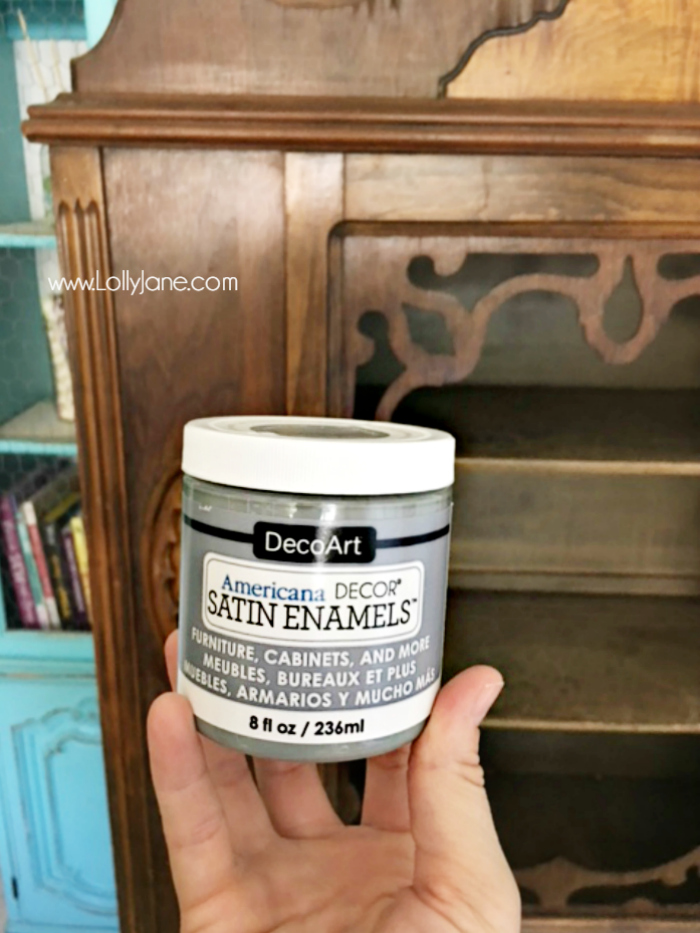 DIY Painted Hutch Makeover – No Brush Strokes!
Notice how smooth the paint is? I was pretty surprised how thick it went on and that it didn't leave brush strokes. That's a major win to this pro painter!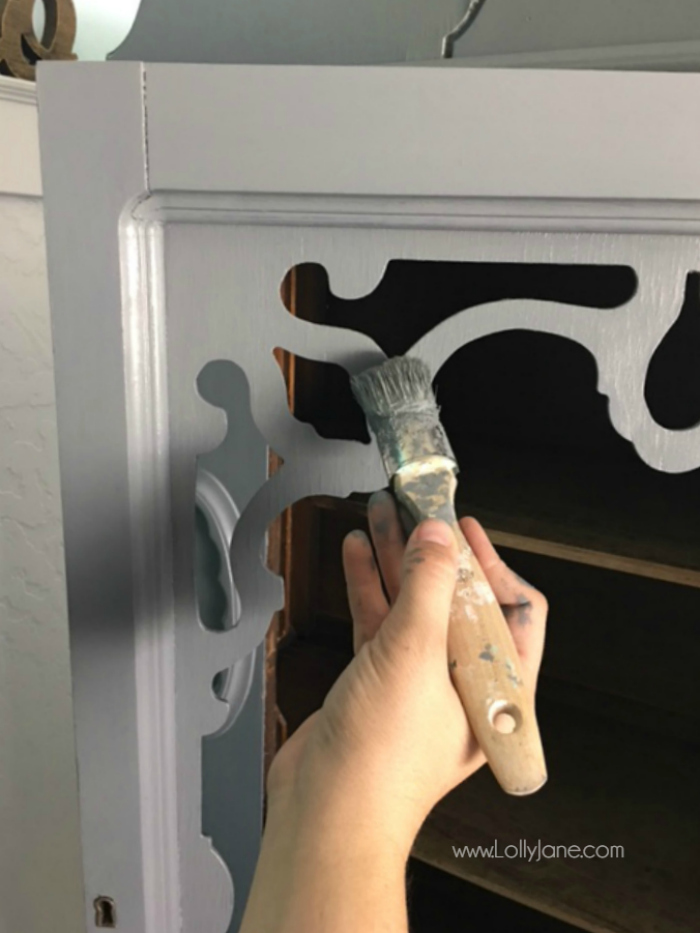 Here she is again, freshly painted! Isn't it so pretty? What a transformation!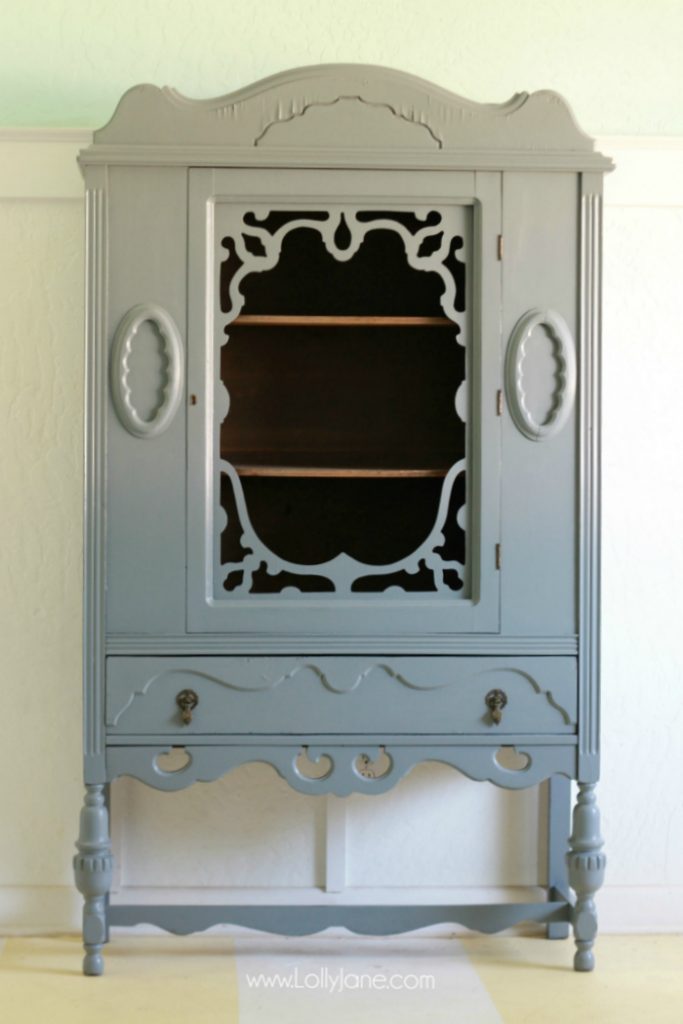 I decoupaged the paper onto the back using a foam brush, very fast process. Simply measure, cut, paste.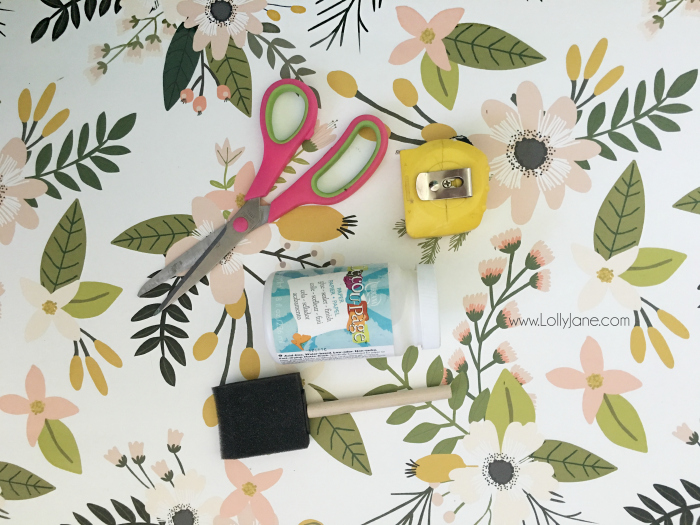 DIY Painted Hutch Makeover – Easy Floral Accent
Isn't this paint/paper combo perfect together?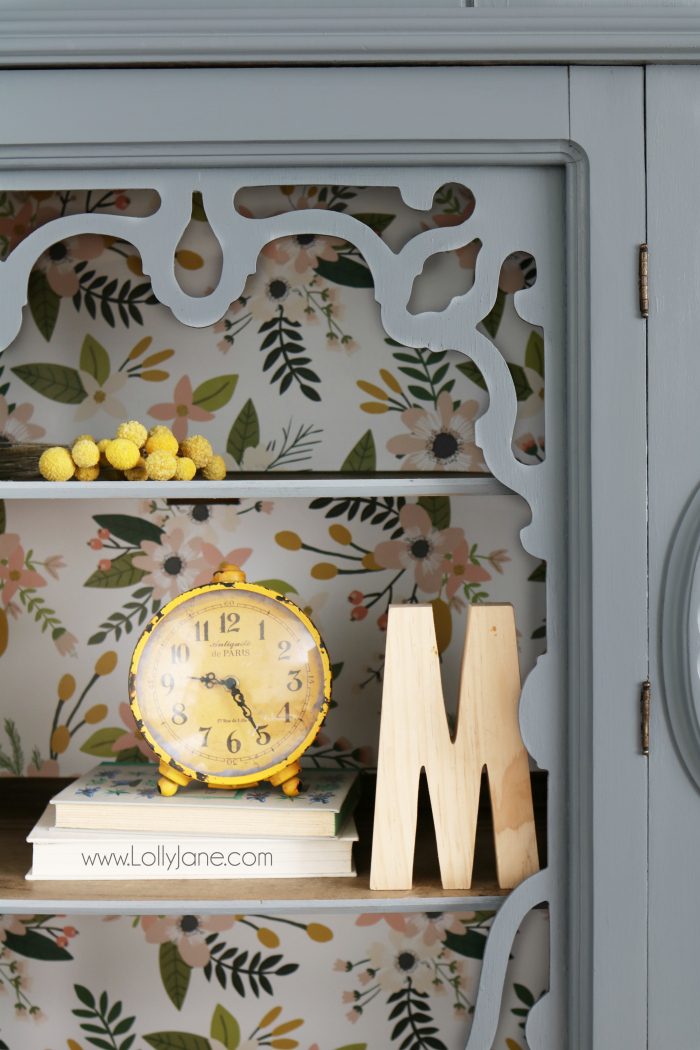 I did a light sand but the water damage was pretty gnarly. I still love the outcome, character counts.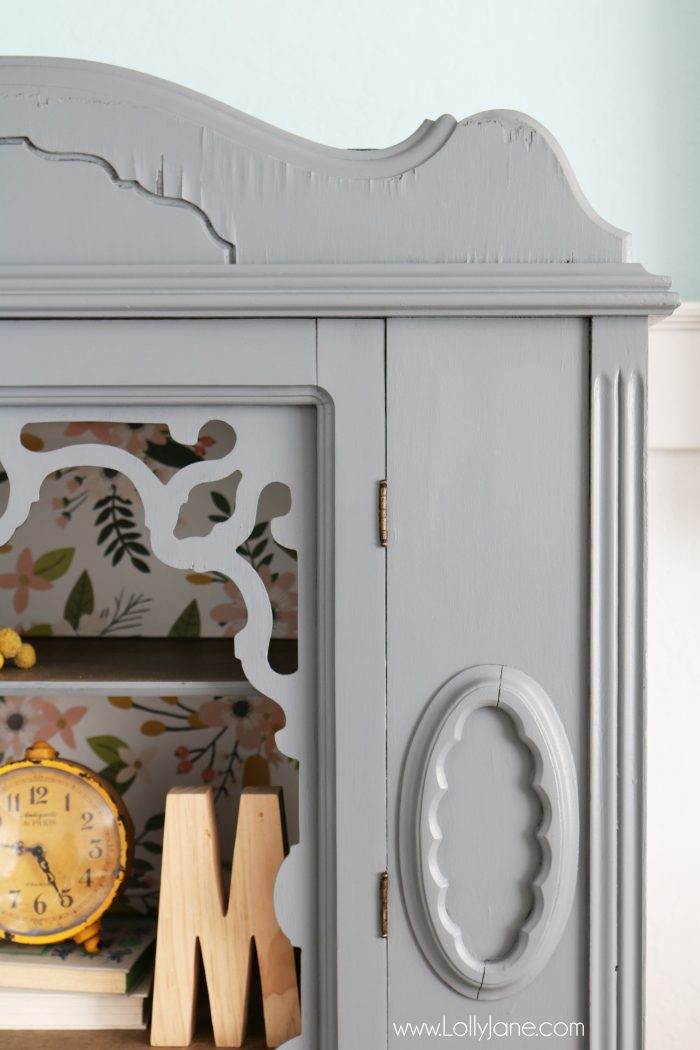 Visit more of our Furniture Makeovers: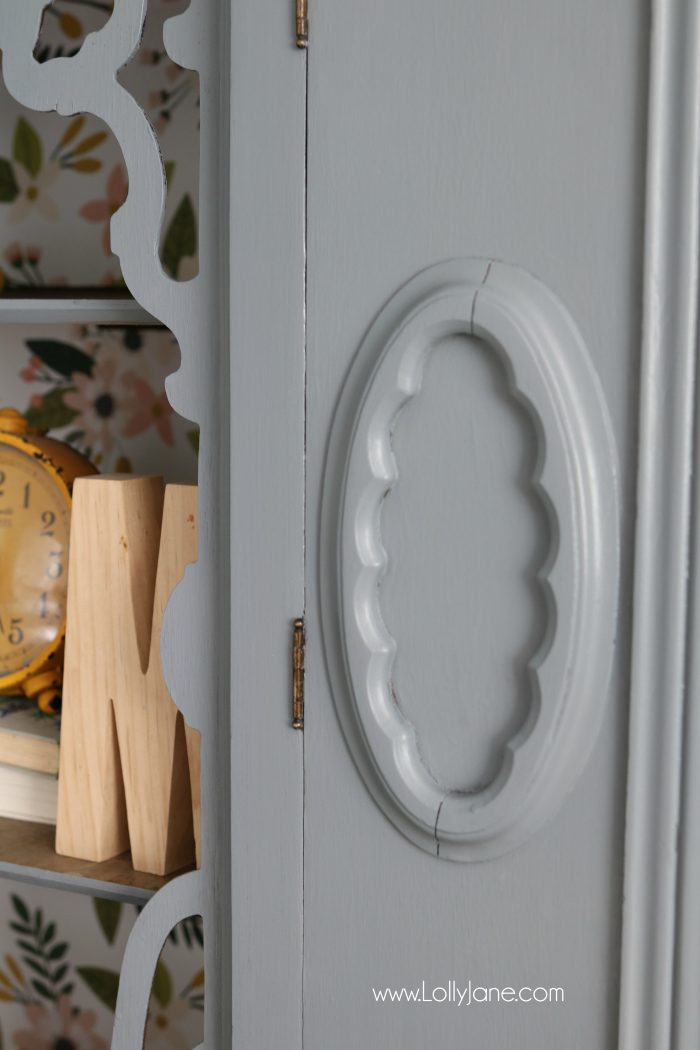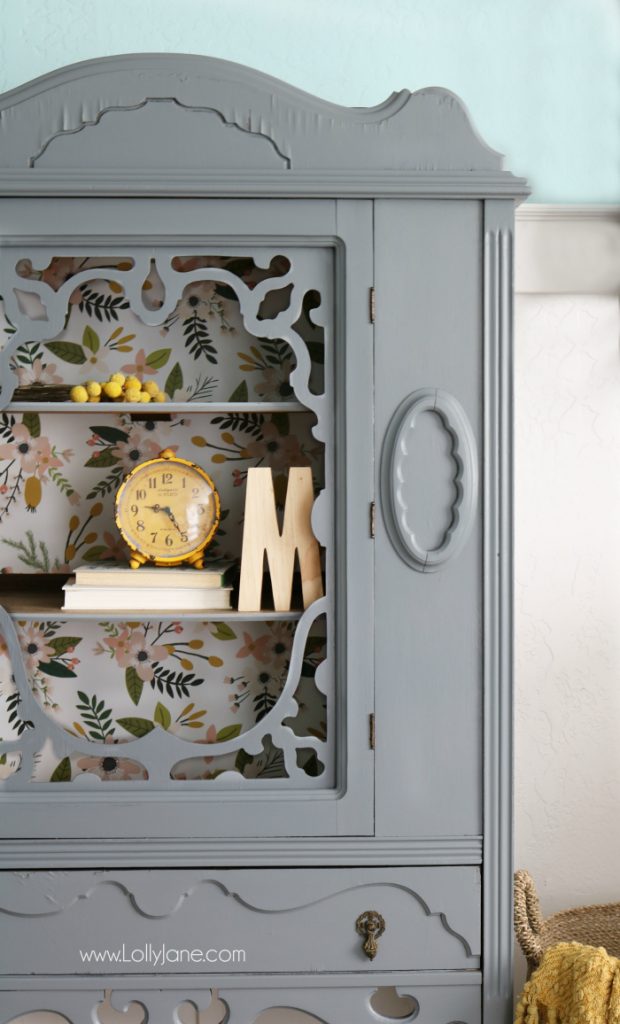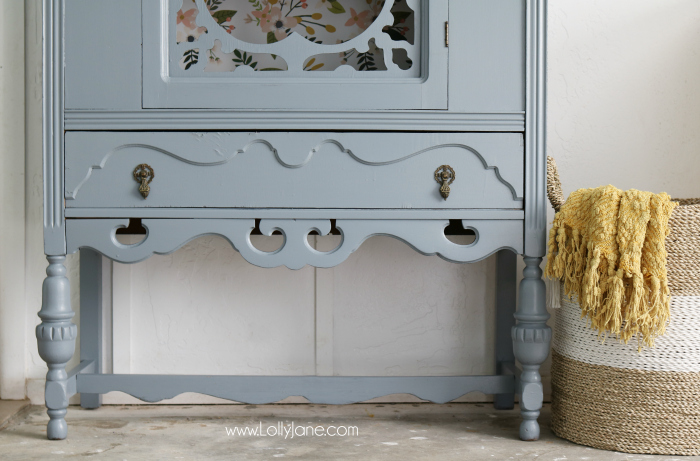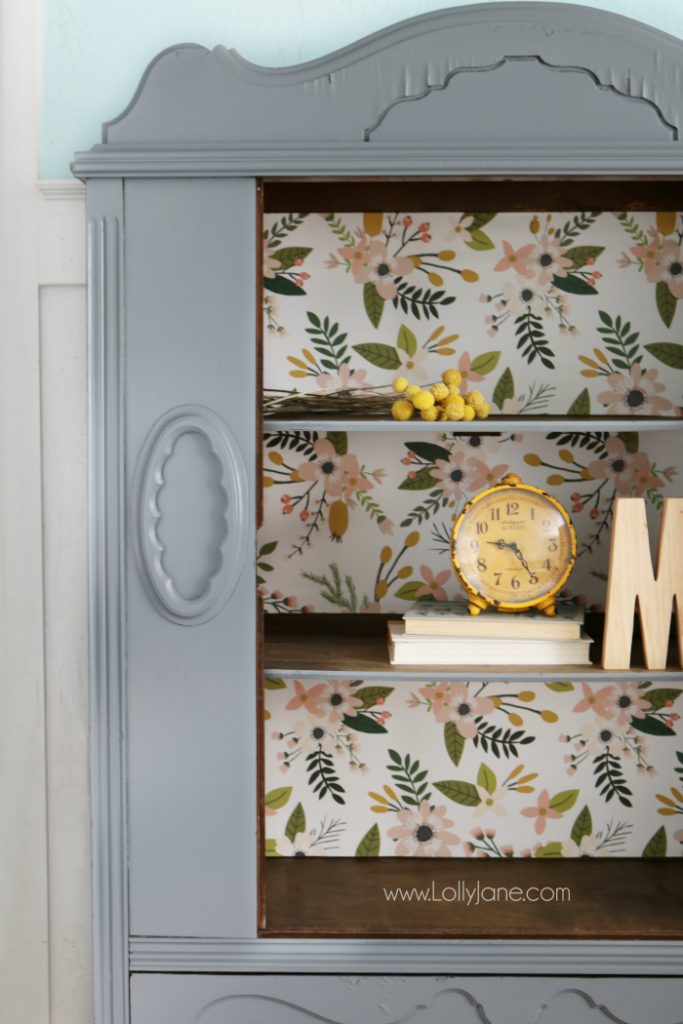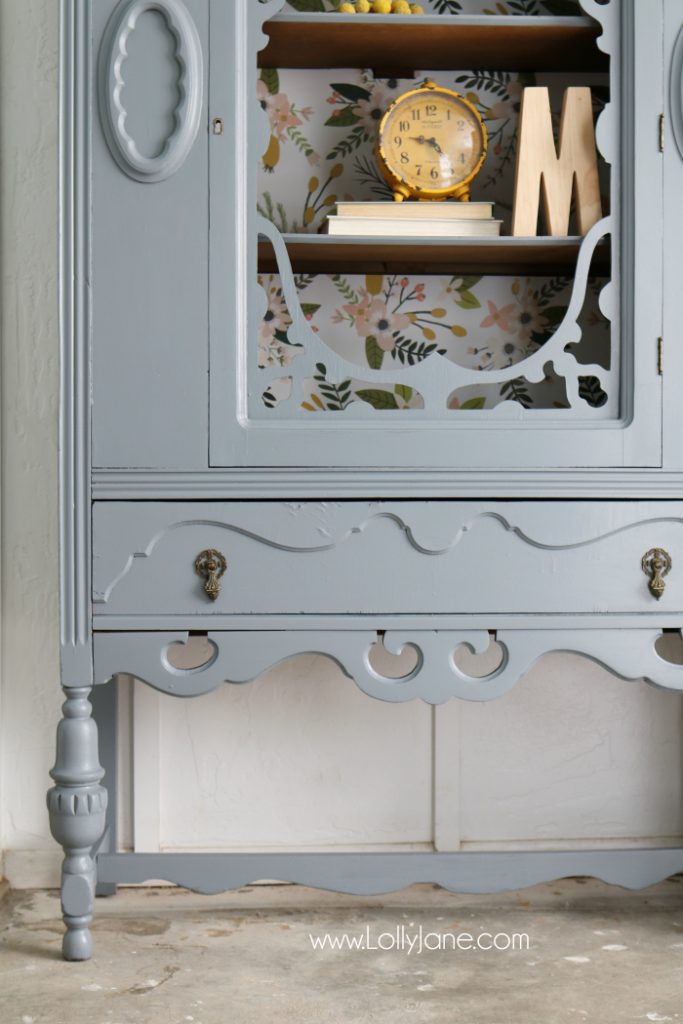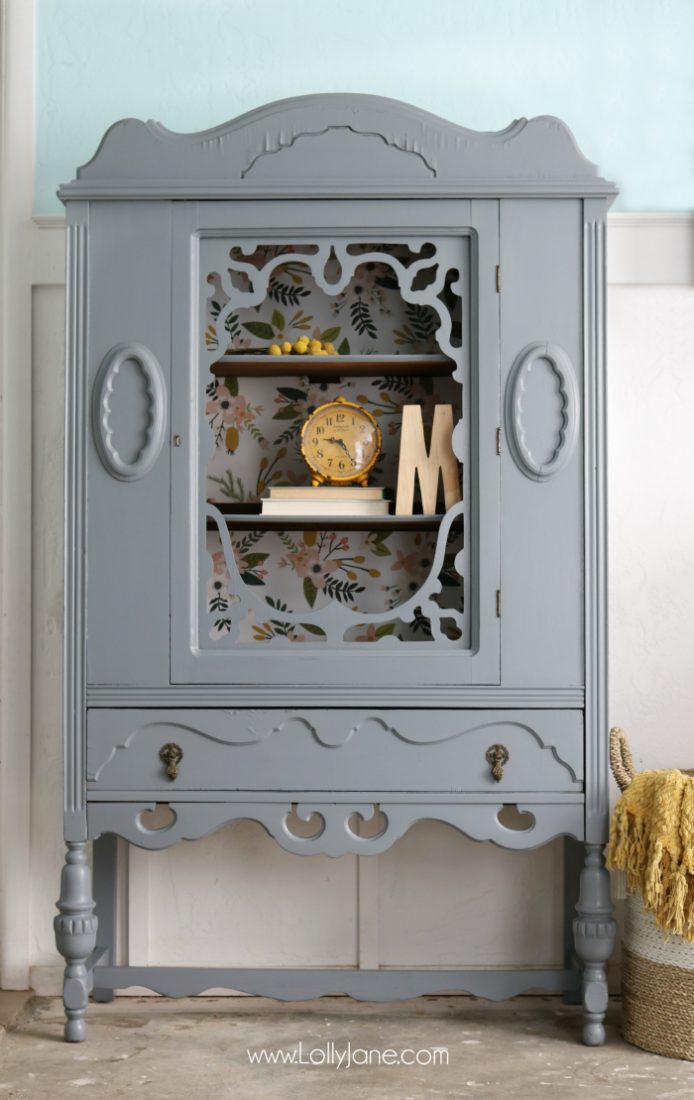 DIY Painted Hutch Makeover – Satin Enamels Paint For The Win!
I had 3 jars of paint ready for this hutch and was happily surprised to use 2/3 of only 1 jar! Wow!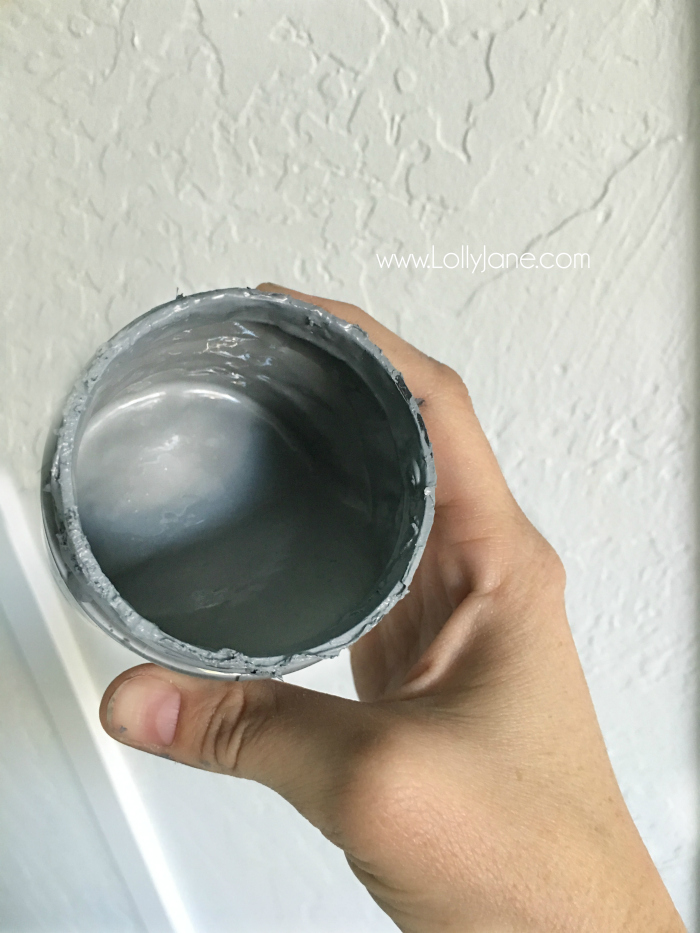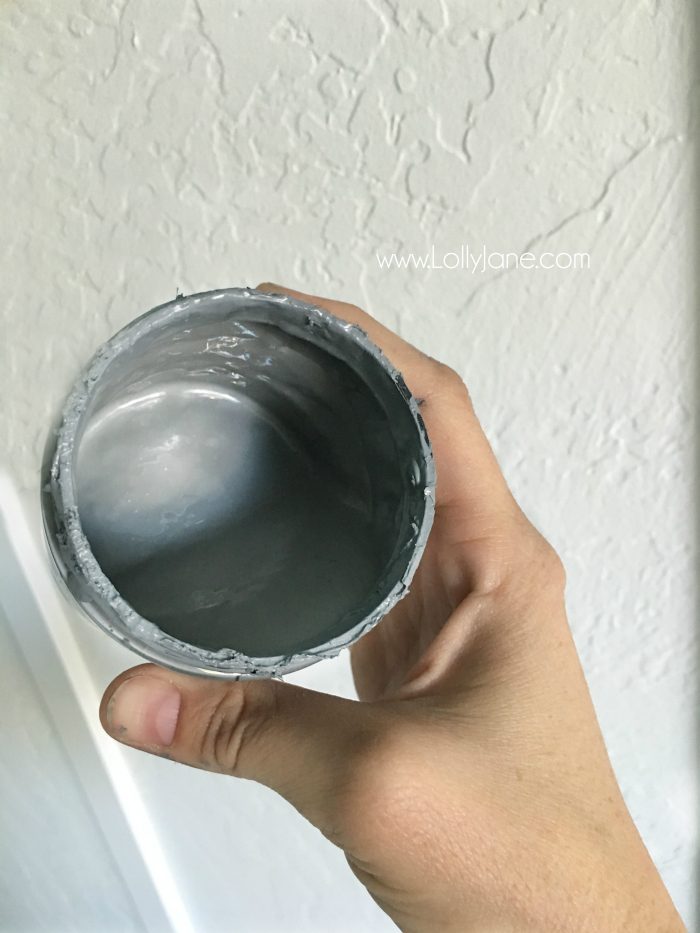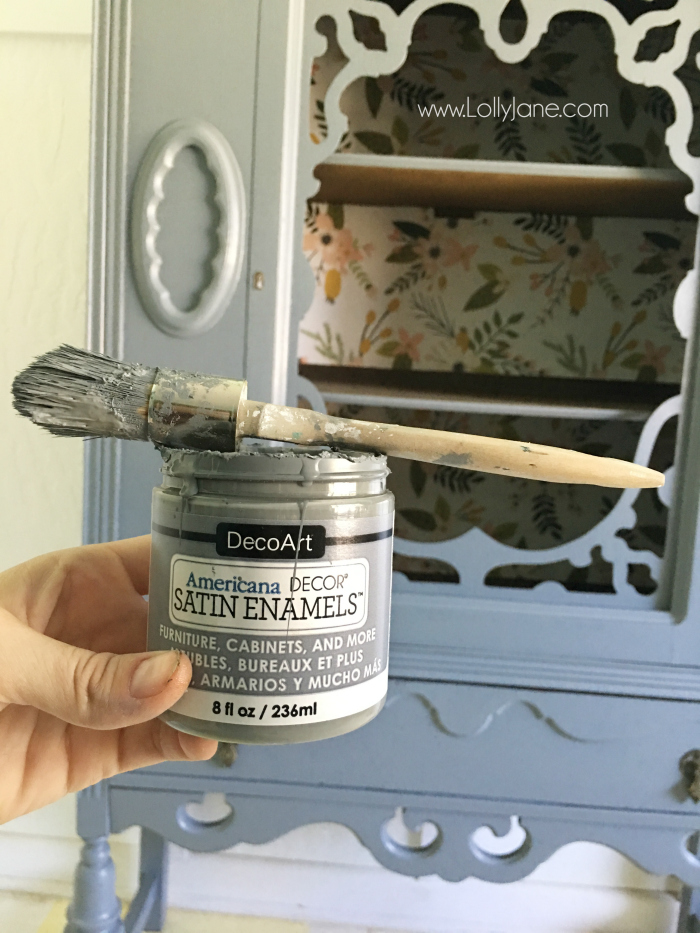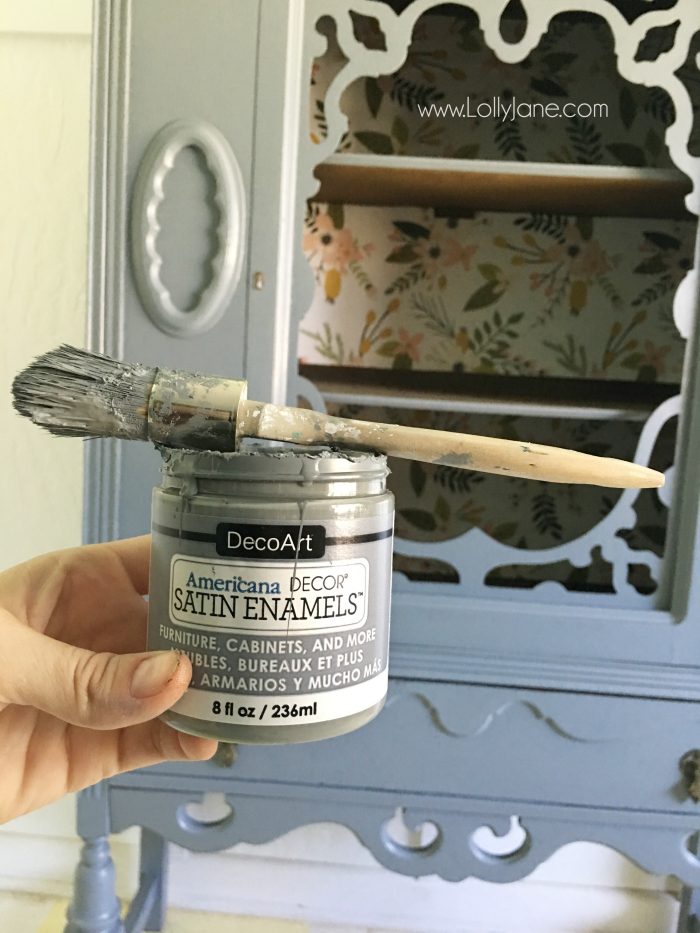 Please pin so your friend's can see how easy this DIY is as well!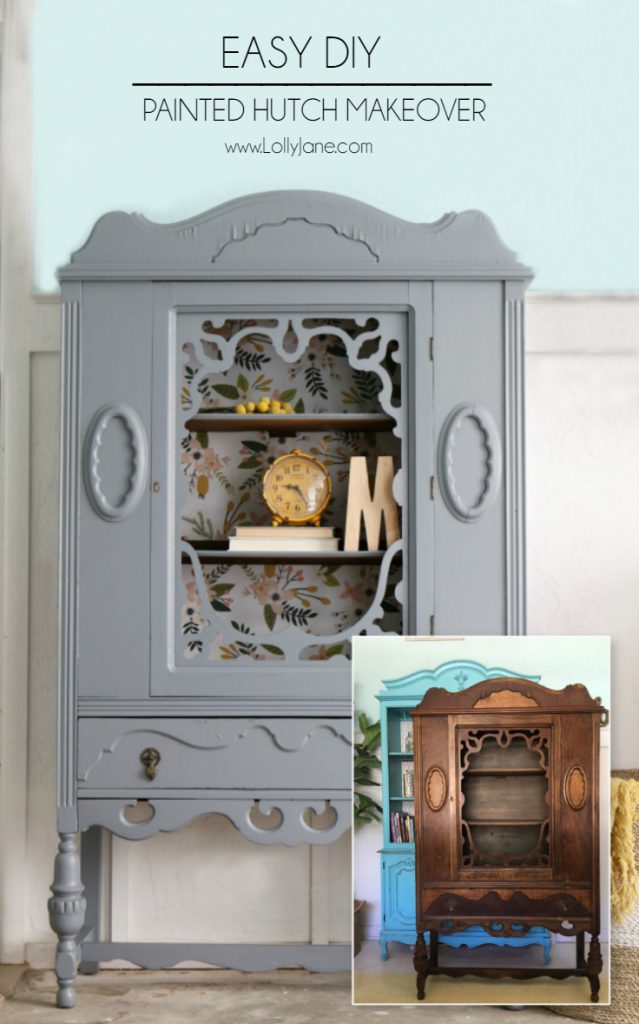 Thanks so much to our favorite paint company, DecoArt, for sponsoring today's post, see our disclosure. And thanks to you for supporting companies that keep LJ rockin and rollin! See more of our DecoArt furniture makeovers like our baby crib turned porch swing using Outdoor Living paint, plus our chalky finish chair makeover and lastly, our chalky finish rolling garden cart.