cupboard door subway art sign
I'm pretty much in love with my master bedroom makeover that I completed last month. I may or may not have been caught on Instagram saying I wanted to make out with my closet doors.  I've never had custom doors in any past home so I was stinkin excited about those doors!  And next to those gorgeous doors is this little sign.  A cupboard door subway art, specially made by me to represent me and my hubby.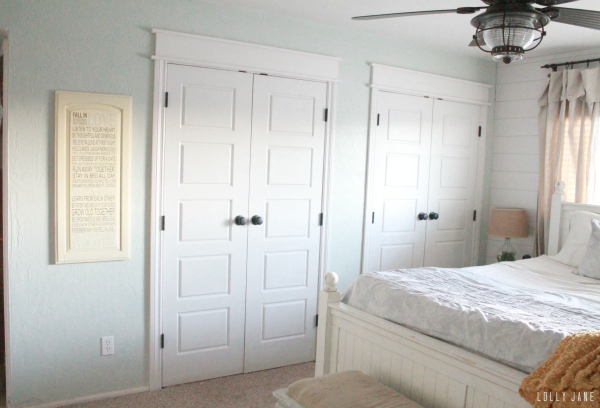 I have to tell you, as soon as I completed this sign, not even 2 hours later my husband was involved in a shooting.  He's a police officer and has never been in one before.  Thanks to our loving Heavenly Father, my hub was spared that night but I have never been so shaken as I was that evening.  I looked at that sign and thought, 'Wow, this could have been part of his funeral…'  Again, thanks to good man upstairs, hubby is safe to enjoy this sign in our newly revamped nest.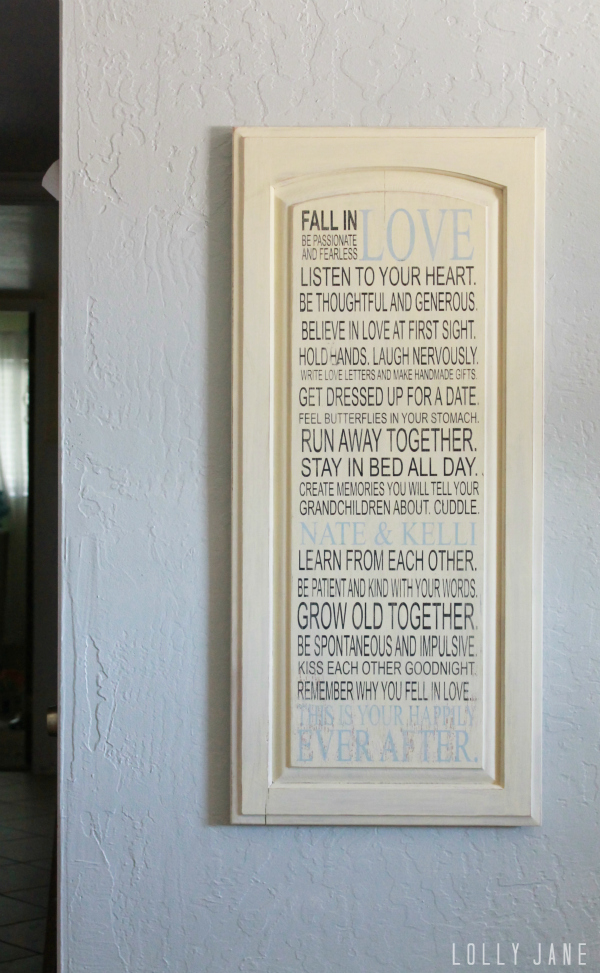 The shooting was coincidentally timed well with my master bedroom makeover schedule.  And surprisingly, it brought happy moments of bonding among some dark moods with this time off.  It was refreshing to get our minds off what we were going through to complete this project together.  The sign is just one step in completing this bedroom remodel, and it all started with a canvas from Marshall's.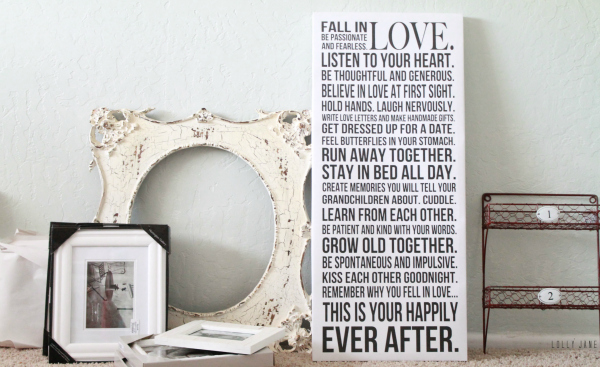 I love to browse stores like that, where treasures are to be found.  When you shop Pottery Barn, okay, wait…hubby's a cop and I'm a stay at home mom…correction: when you shop Target for home goods, you're going to see predictable items in specific locations.  Marshall's is full of randoms, just like Ross, TJ Maxx, etc.  When I saw the canvas, I loved the saying and but not the $30 price tag.  This sucker is tall and just what I needed for the skinny wall next to the doors.
Here is how I made this sign, (very easy since I have an industrial vinyl cutter and got a ton of free cupboard doors from my nice uncle.)  I started out by painting the base 'Buttercream' with Americana acrylic paint.  I applied the vinyl lettering, eye balling it to center it.  For the lettering, I brushed on black so it looked worn.  When I typed it up, I added mine and hubby's names in the middle to customize it.  I painted our names, LOVE and HAPPILY EVER AFTER in a light blue so it would stand out a little.  I used Arial and Times New Roman for the fonts, basic and clean.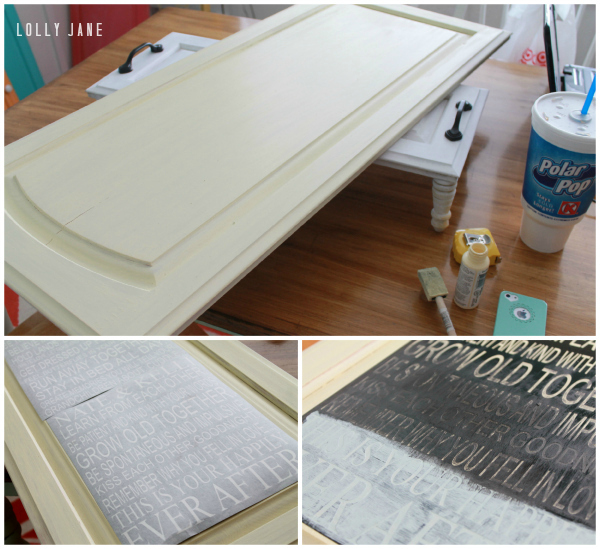 That's it.  I hung it next to the hallway as we're leaving our room so we can see it daily.  Our marriage is far from perfect so this sign is a good reminder what we should be doing.  "Get dressed up for a date" and "Create memories you will tell your grandchildren about" are my favorites.  "Be patient and kind with your words" is common sense but doesn't happen enough.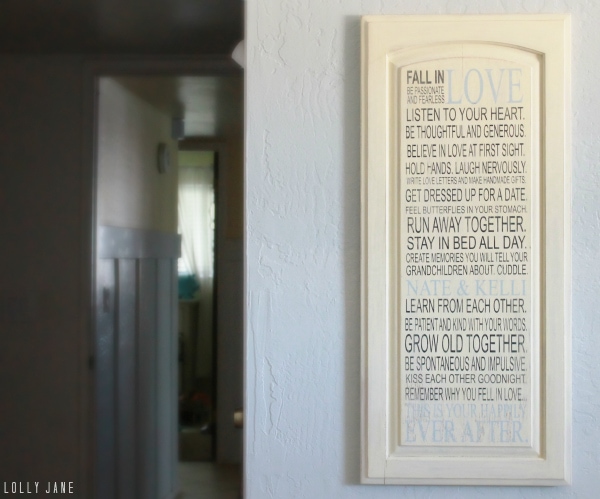 I'll be back to share more aspects of my coastal bedroom makeover.  Here is the final reveal:
And check out more ways we've upcycled plain ol cupboard doors. These colorful chalkboard doors have been a reader fave (: