dining room fall tablescape
This post is in partnership with Better Homes and Gardens and Walmart. We are proud members of the BHG Live Better Blogger Network. All opinions and ideas, as always, are our very own. 😉 This post contains affiliate links to sources we adore!
Arizona is always late to get the fall weather memo…we are wishing it was cooler outside to match our freshly decorated dining room fall tablescape! Although my husband is from Utah, we chose Arizona for his job choices back when we were first married. We both wish we could live in 2 states at once, Utah's amazing summer weather is so tempting but so is Arizona's amazing winter weather. While cozy sweaters and boot socks look tempting, we quite enjoy short sleeved shirts year round (; So we'll just enjoy our warm weather and pretty fall decor, as much as it seems like an oxymoron some days!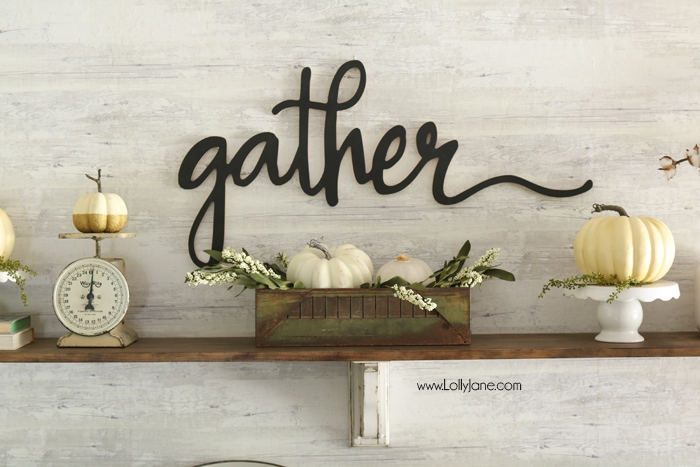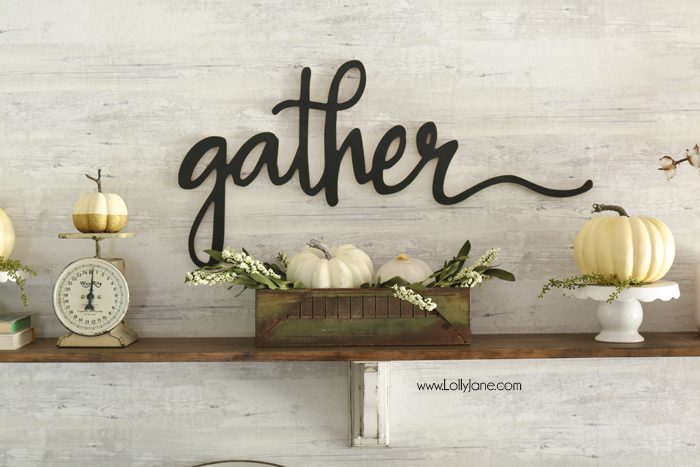 This year I paired old with new and lots of pieces in Better Homes and Gardens new fall line in Walmart. I know, Walmart! They're all so pretty that I kiiiiinda went a bit crazy shopping! (Good thing the price points are so low, lol!)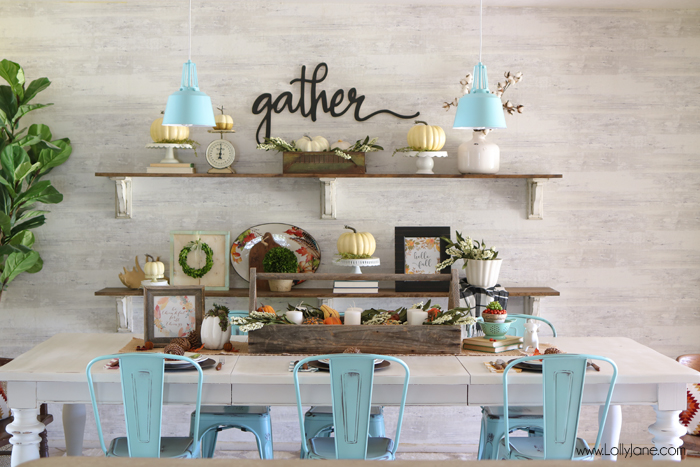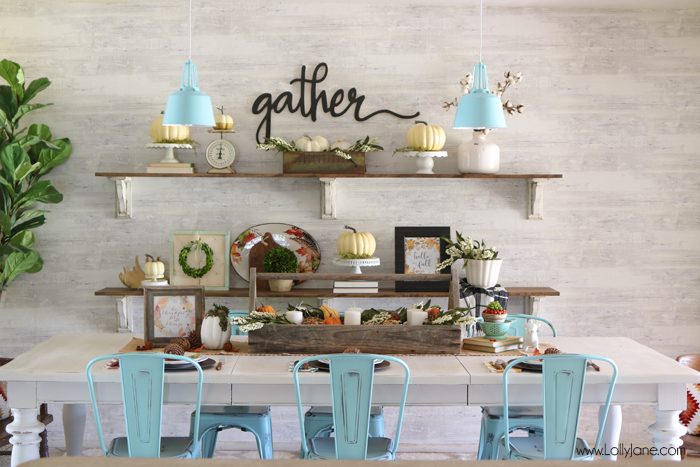 I'm pretty sure my favorite thing about this new line is the consistent theme of feathers with pumpkins and leaves on their dishes.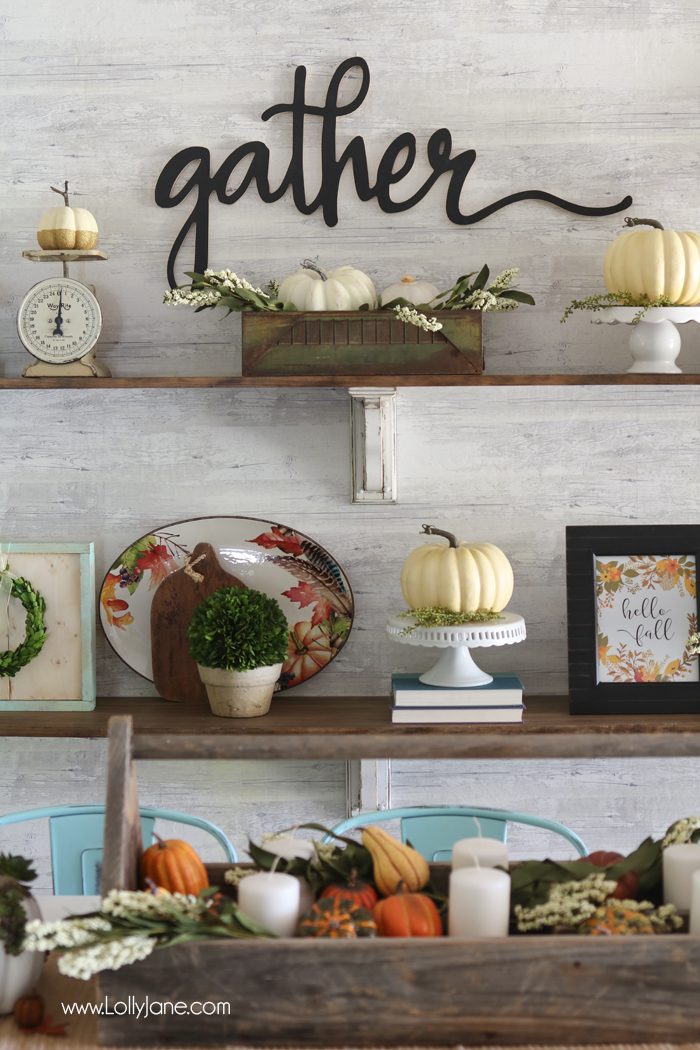 I love the platter paired with an old cutting board and that it matches the small Better Homes and Gardens salad plates on my table so the theme stays cohesive while I'm not serving dinner and can just display it!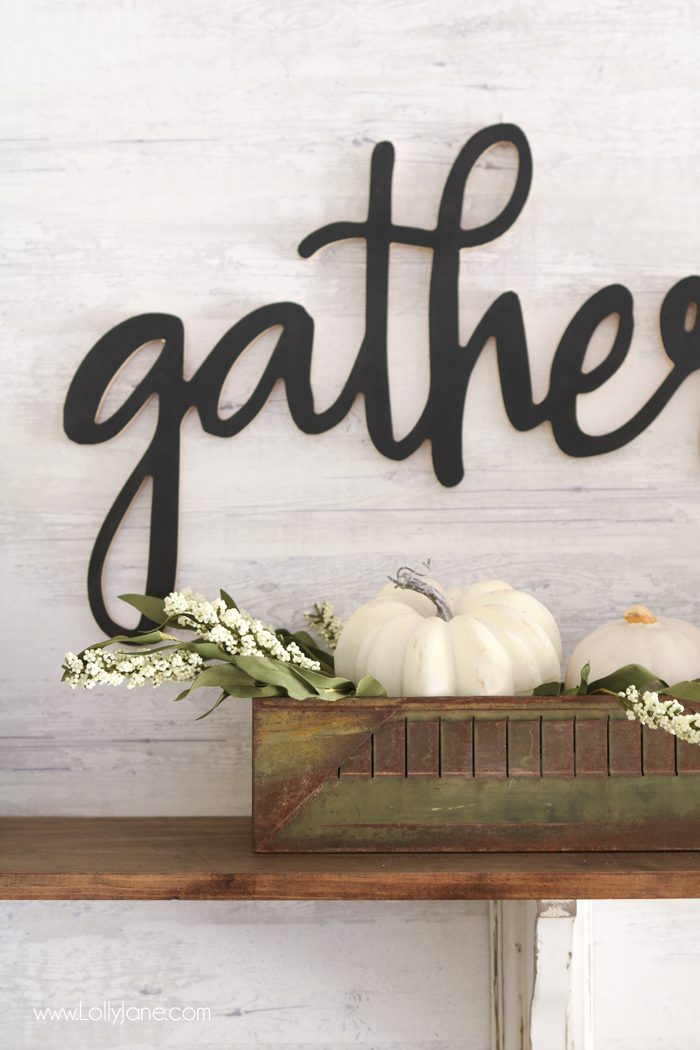 Pop quiz! Do you know what my pumpkins are sitting in under my sister's hand lettered gather cut out? It is an old ammo box! One of my favorite things to do is make old things new again and give it a new purpose like this; yes, it is pretty unconventional but yet it works. Well, I think so anyway! 😉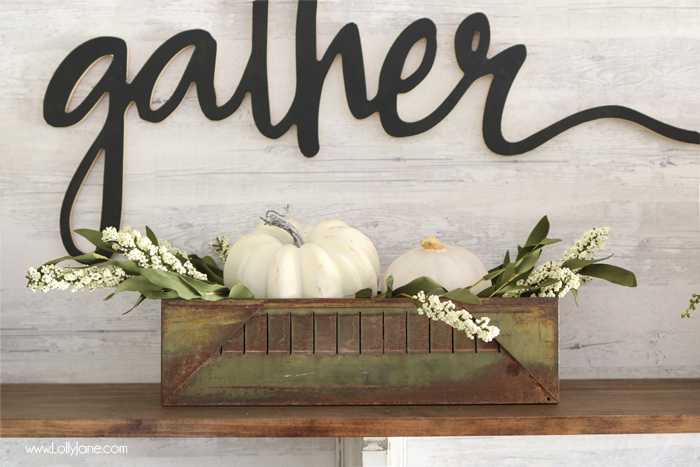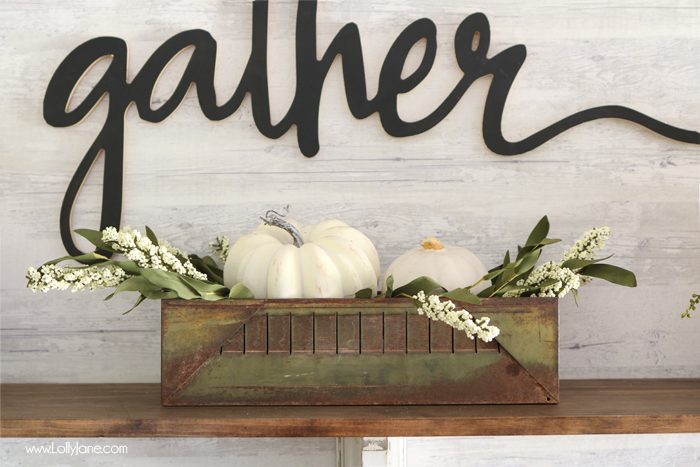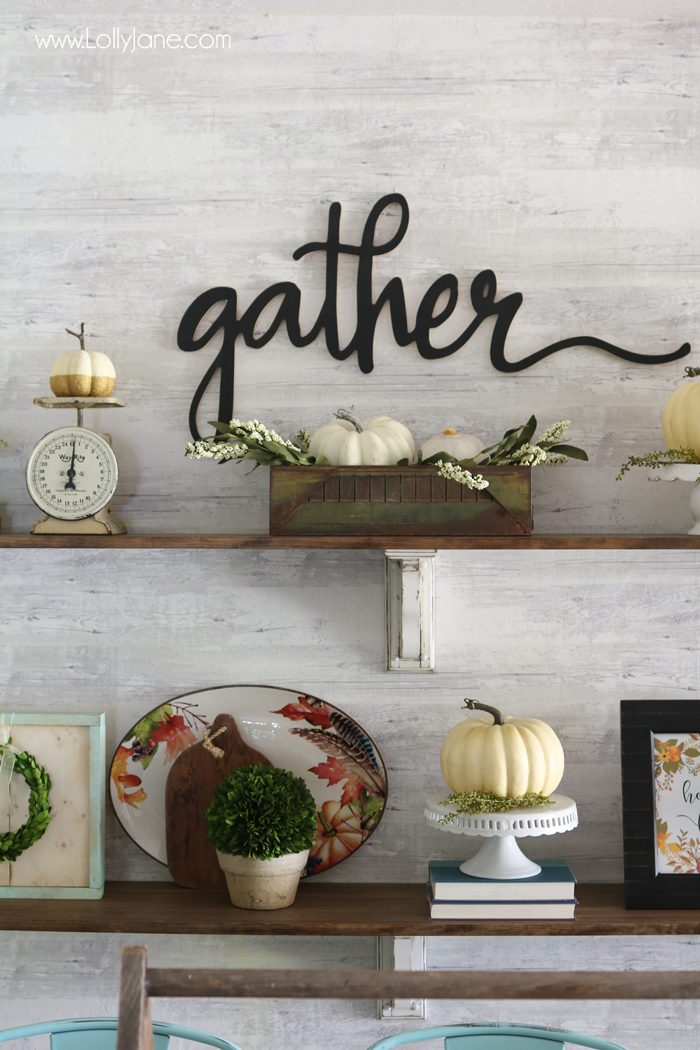 I matched some greenery on hand to pull the greens from the Better Homes and Gardens platter.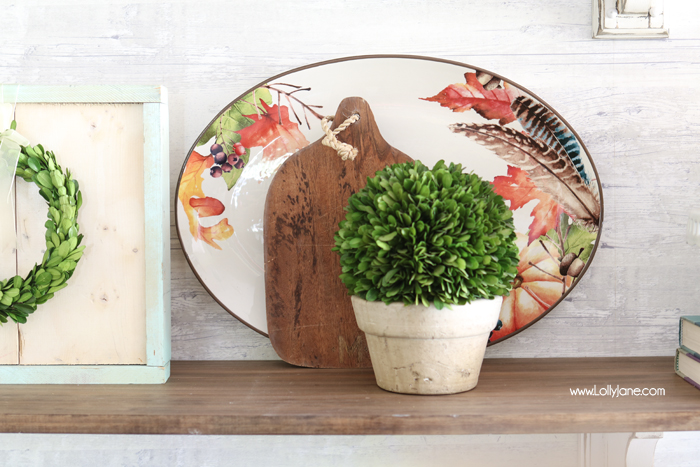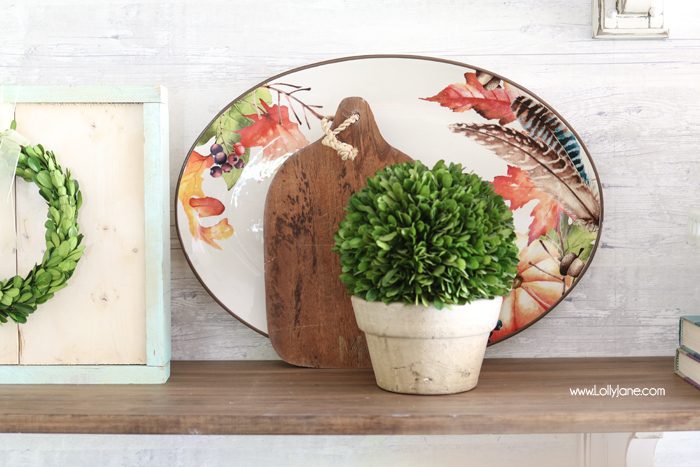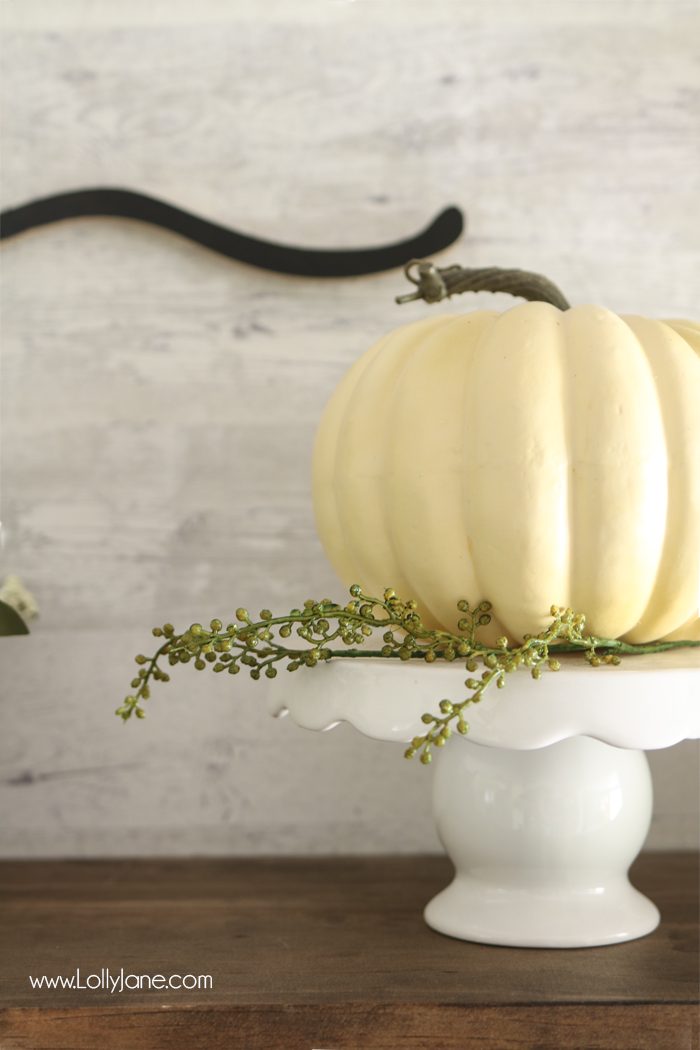 Walmart carries a great line of faux pumpkins and gourds. These creamy white ones are especially pretty!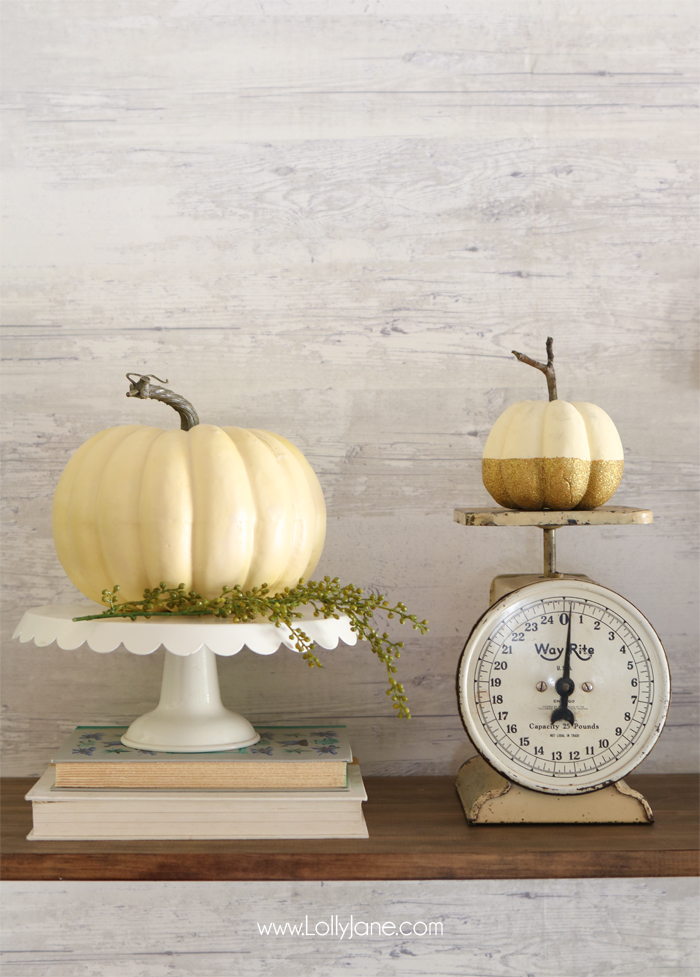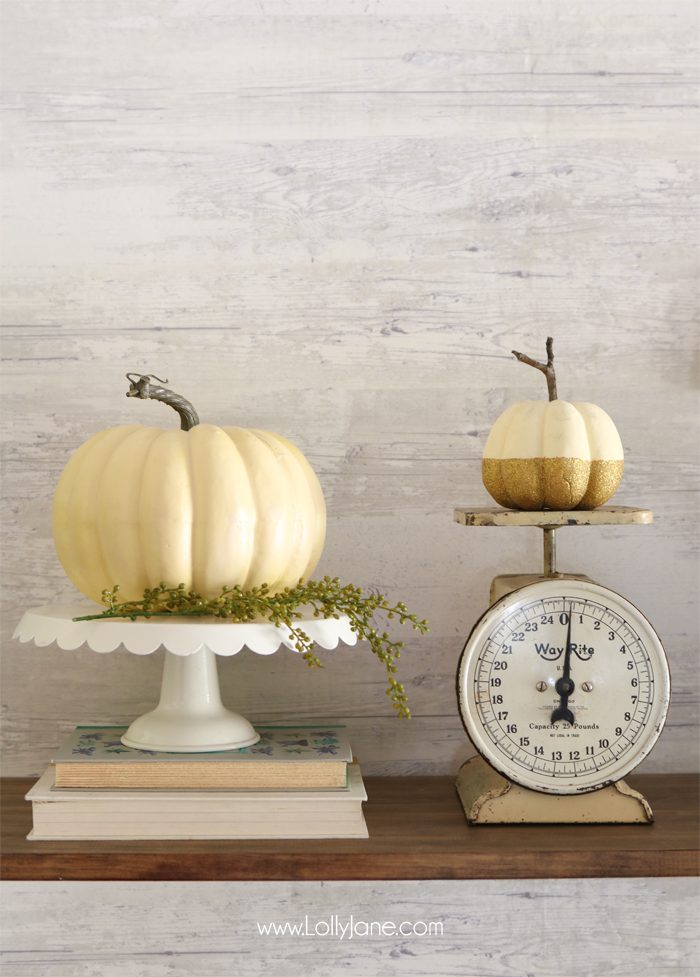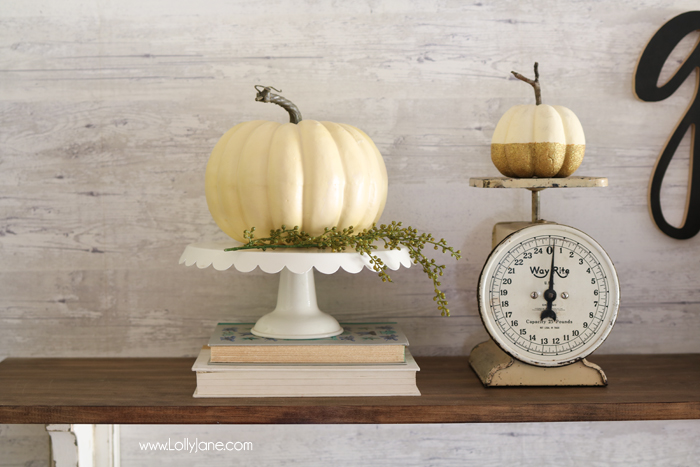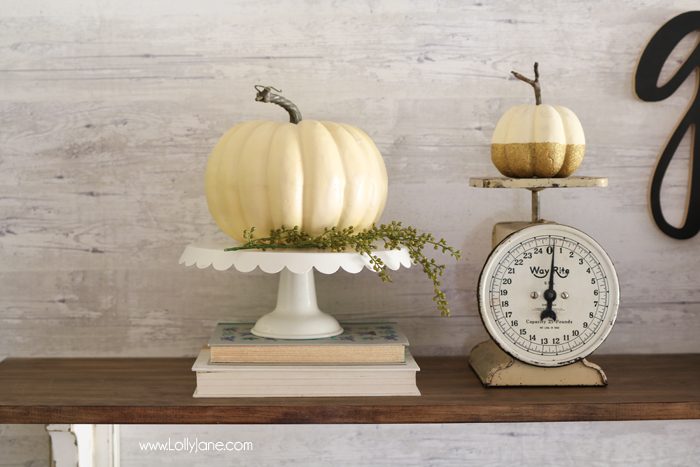 I stacked them on a cake stand, old books, and a vintage scale to give them some height so they really stick out. You can snag the tutorial for our glittered pumpkin here.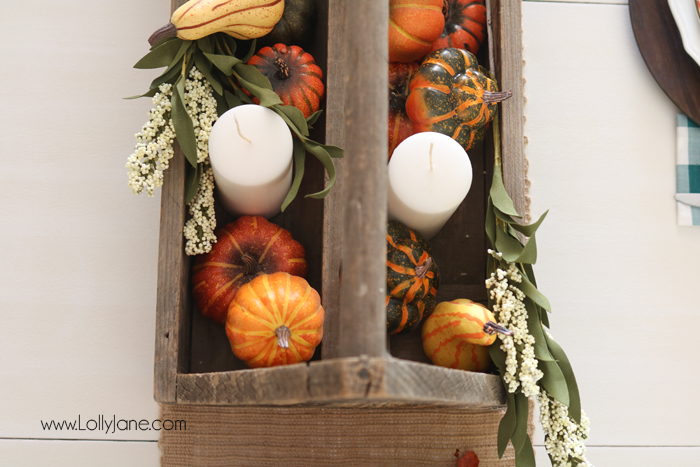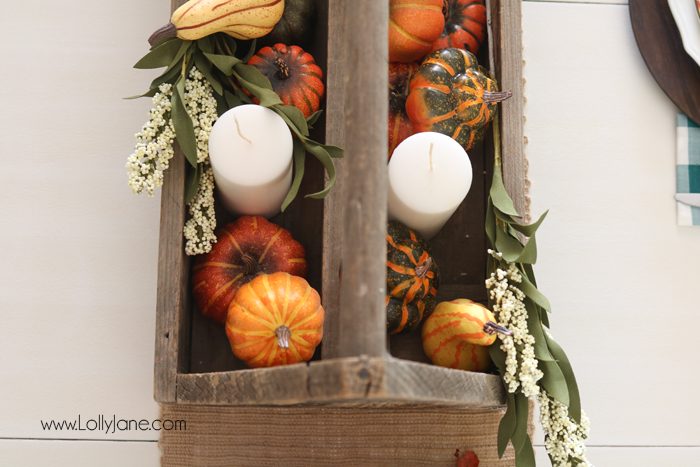 Okay let's talk about this 3′ toolbox. I nabbed it from my friend Amanda, a local junker whor runs Off the Dirt Road. A toolbox on my table?! I know, my husband thought I was weird until I filled it with greenery and all those pretty faux gourds snagged when I was in Walmart. The white candles really pull it together for a relaxing fall dinner, just imagine them lit up and the lights lowered with great conversation.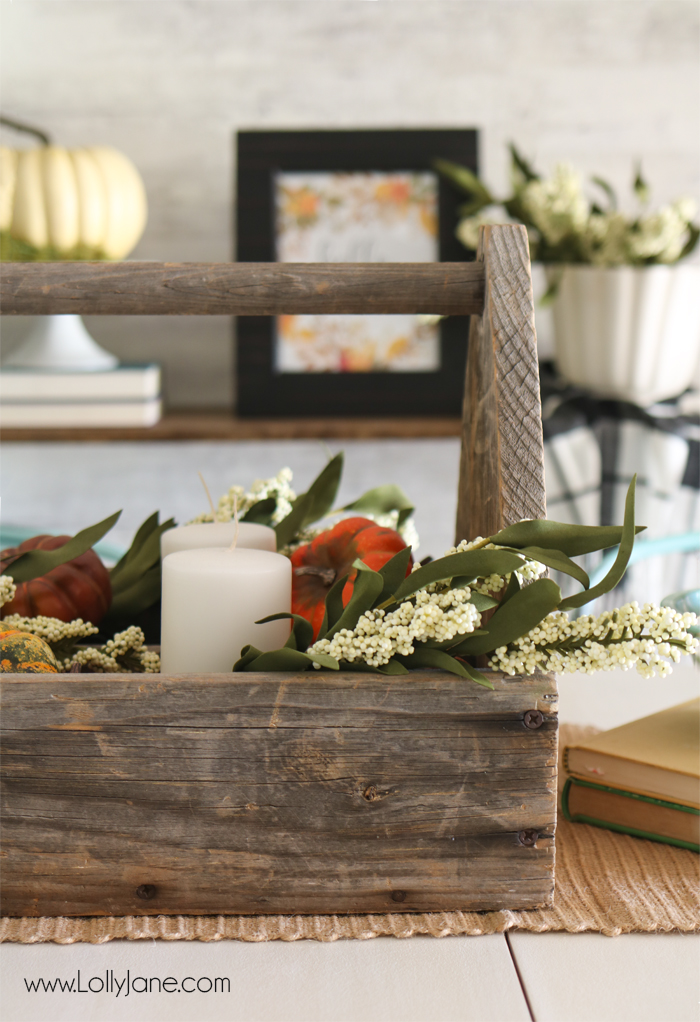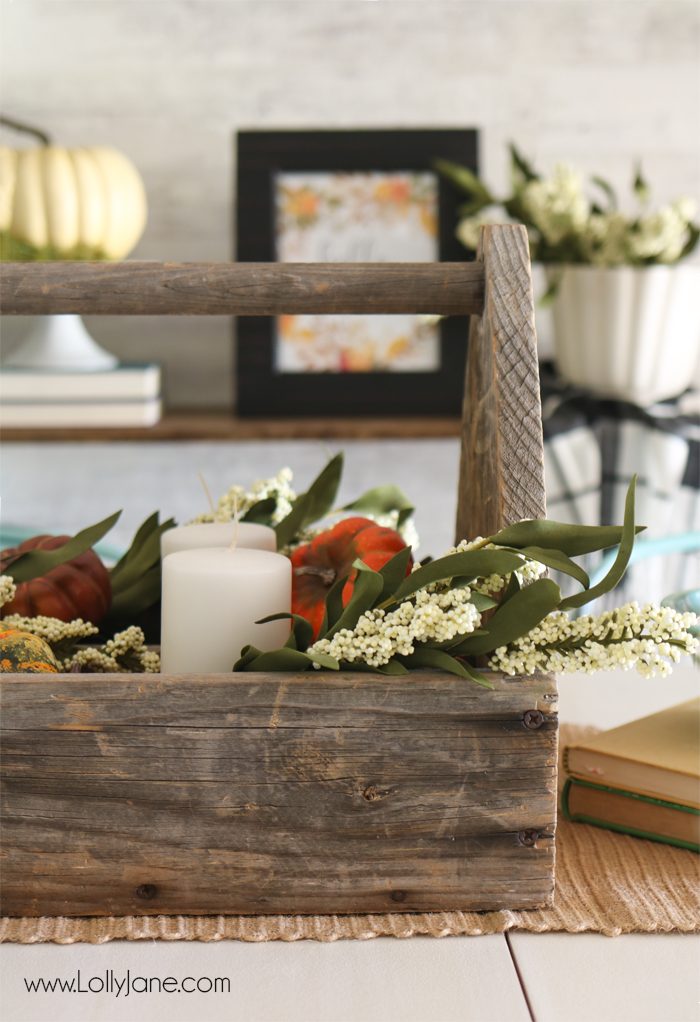 The toolbox sits on my new Better Homes and Garden linen table runner and I am loving all of the contrasting autumn browns in this space!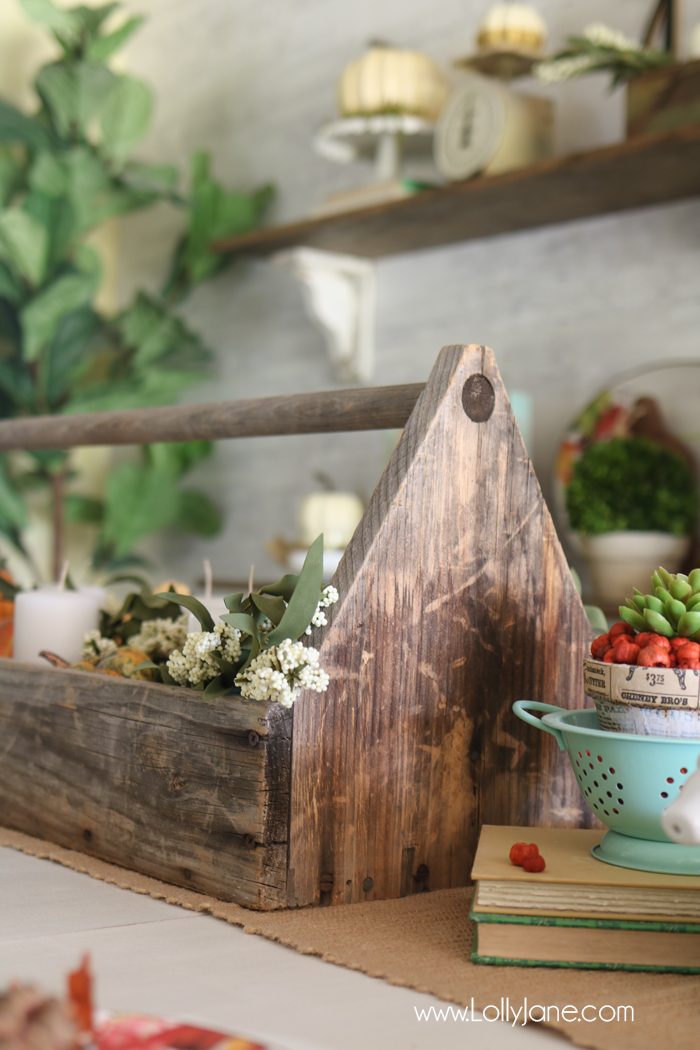 Those gourds are so pretty, aren't they?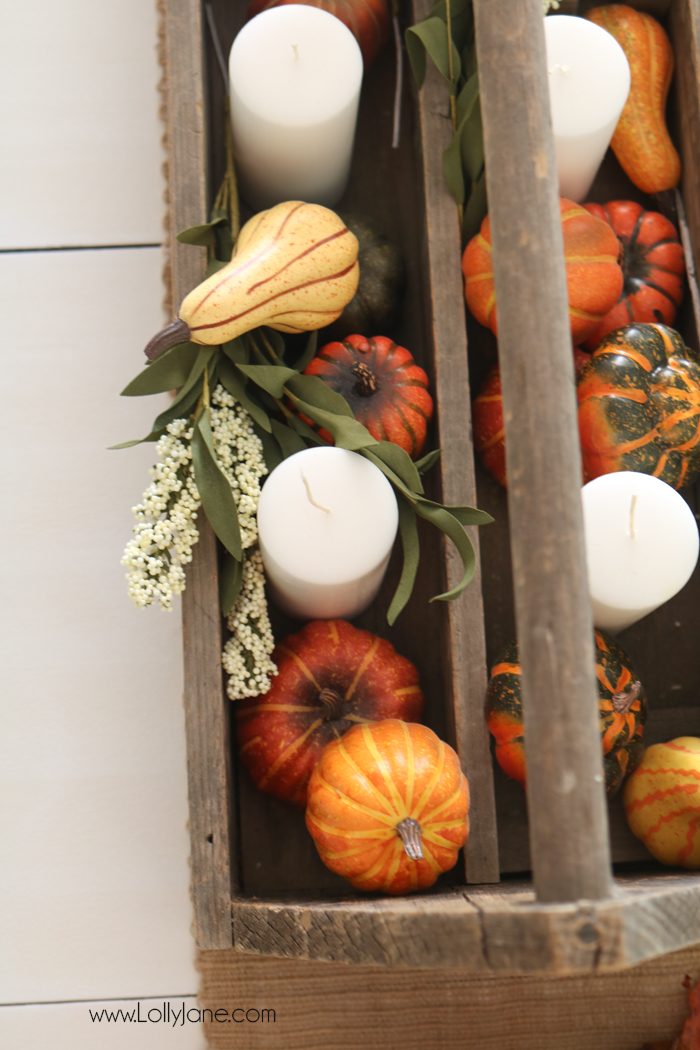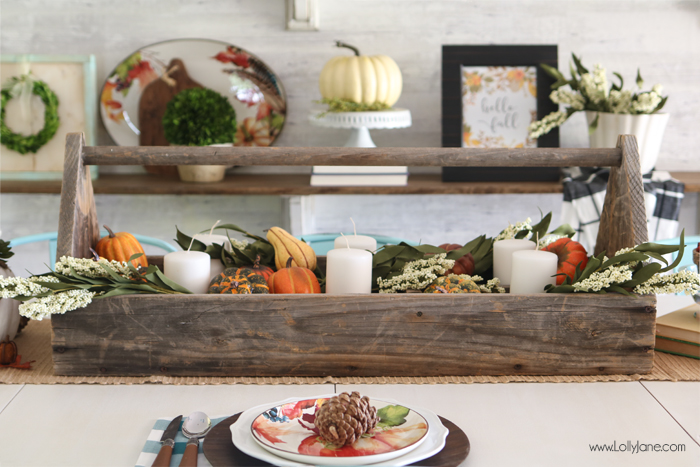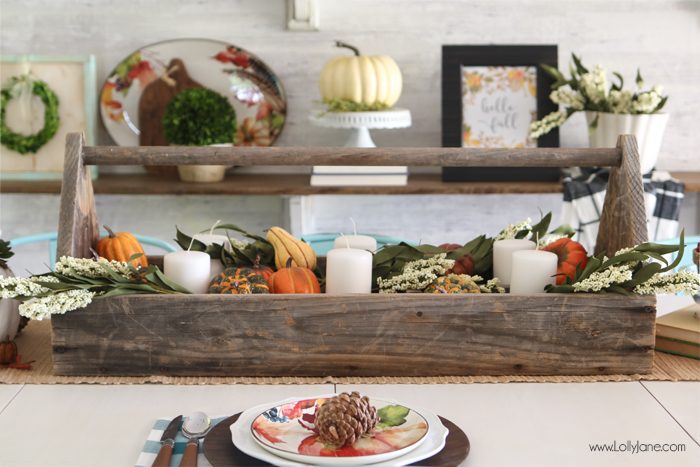 Did you spy these faux Better Home and Gardens wood chargers?! I know! I almost died of cuteness when I was in Walmart and wanted to load my cart up with every single one in the store! And how about those buffalo check plaid napkins. Too cute for words… so I nabbed them in a pretty yellow-y orange AND blue. Love!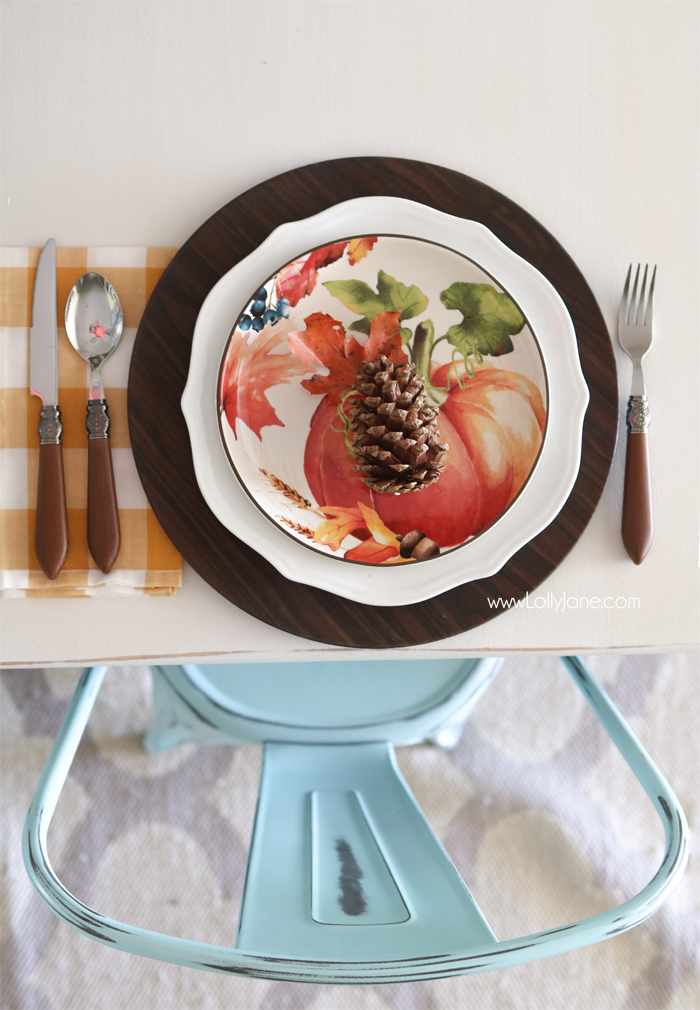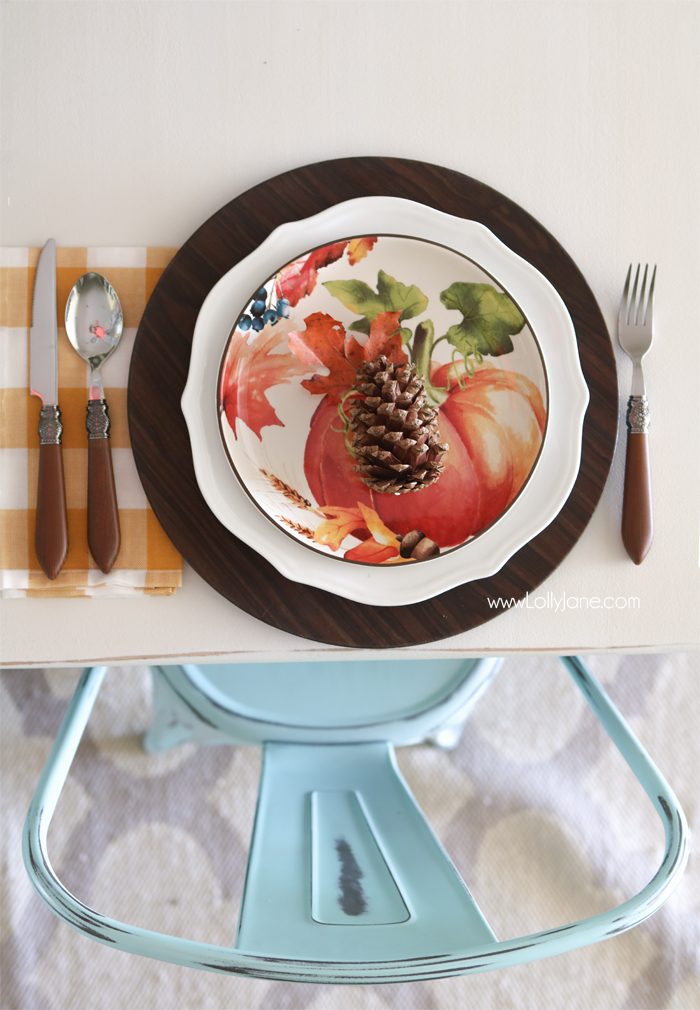 The chargers really pull the browns from the space together and *pop* against my freshly painted white farmhouse table!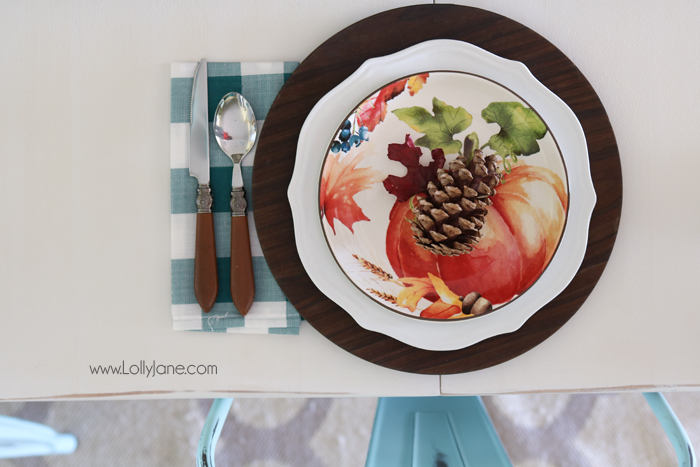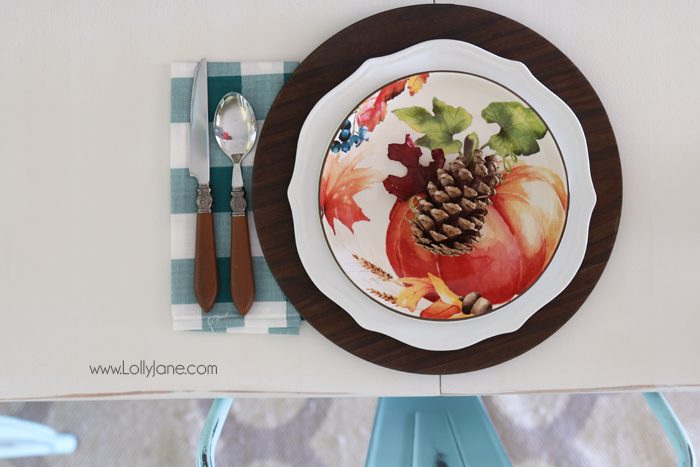 I paired the chargers with my scallop Better Homes and Gardens dinnerware plates that you may remember from my smaller farmhouse chic shelves. Topped with a scented pinecone really screams (and smells like) autumn, I think!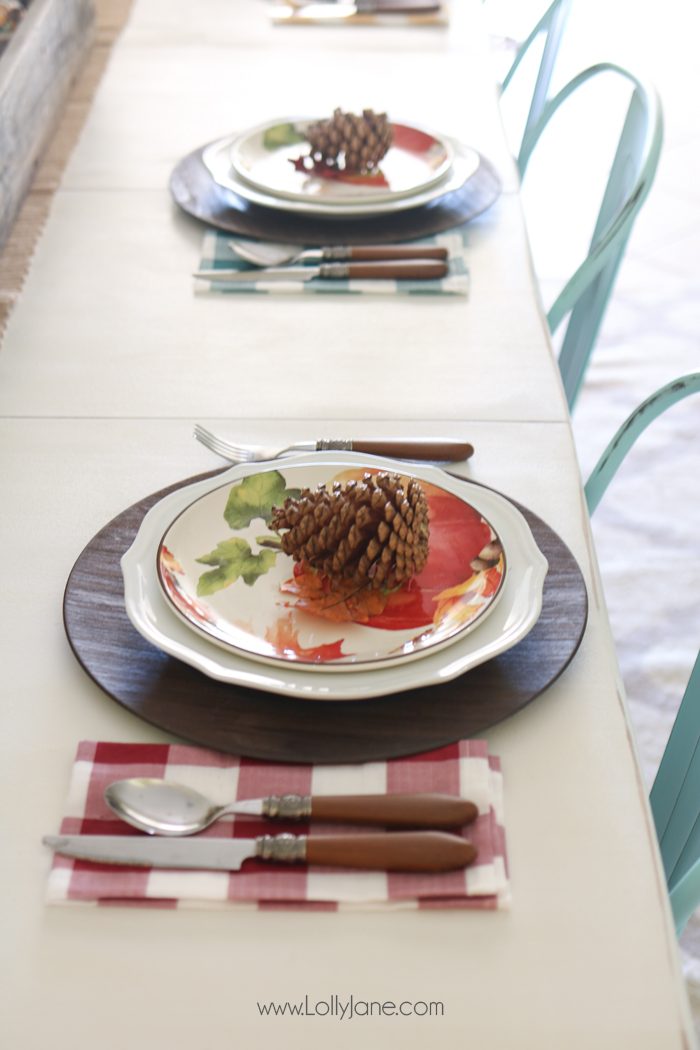 On the table, beside the oversized old toolbox, sits one of our free autumn prints. (You can snag our "Be Thankful" printable art here.)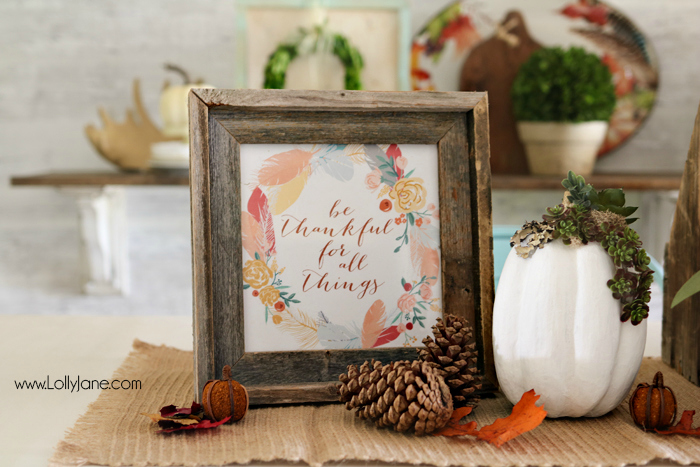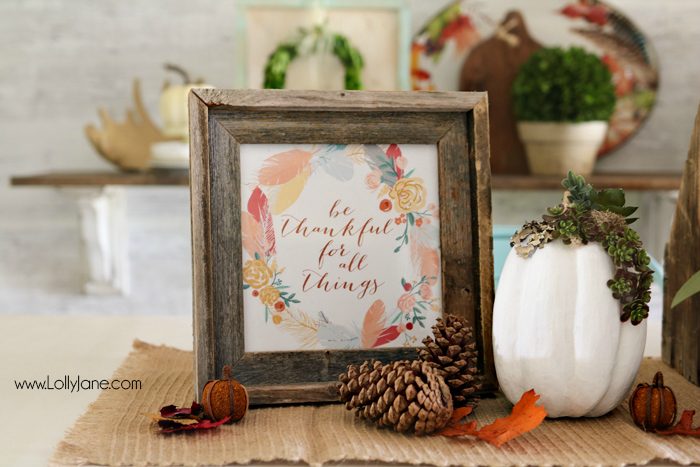 Here's a closer peek at my painted table, oooh la la! Love it with my aqua metal chairs.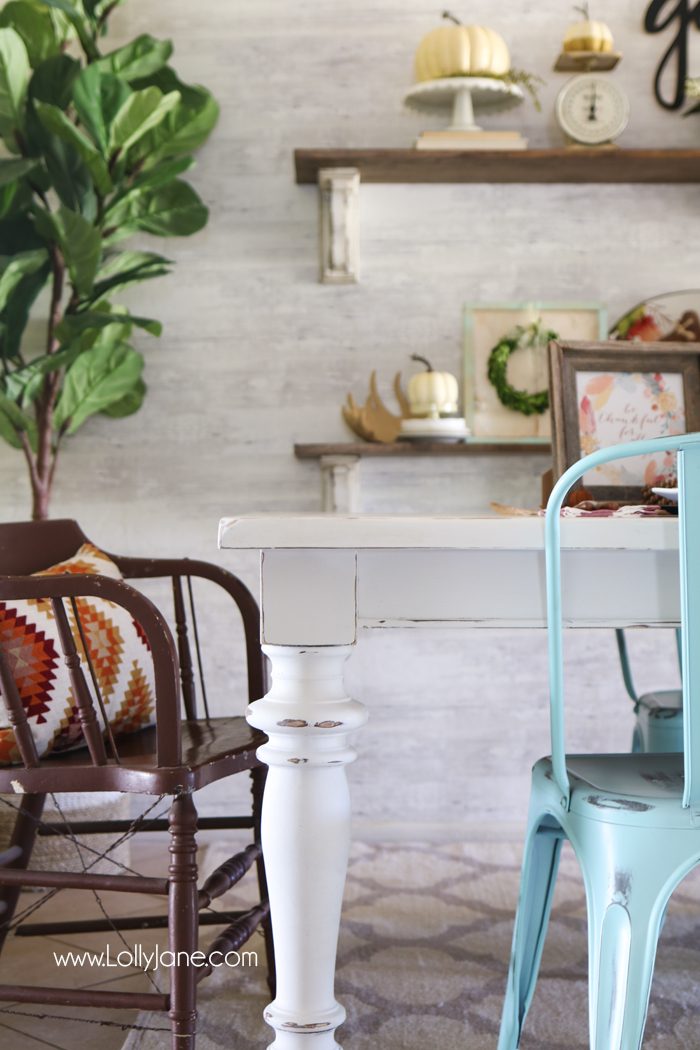 I've gotta fill up my 8′ shelves with something so to add more texture, another printable art from yours truly is paired with this pretty Better Home and Gardens throw, such a great combo!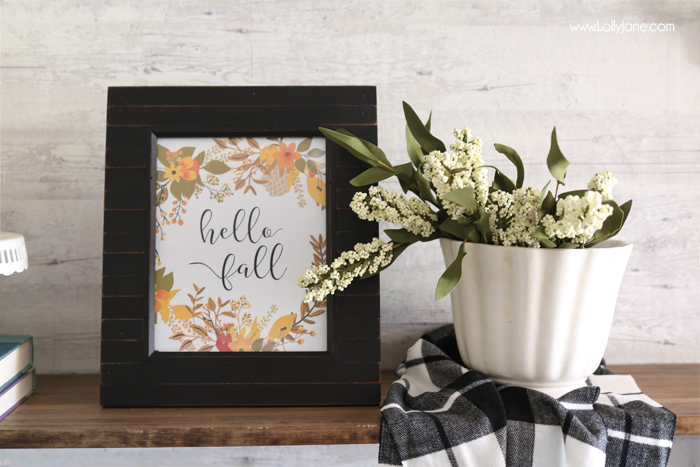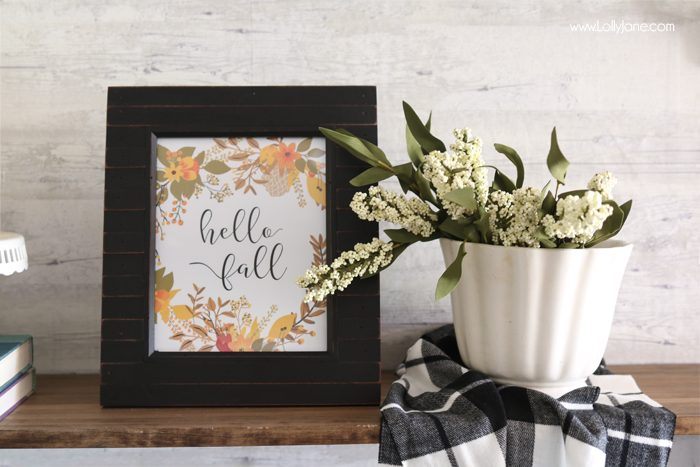 Check out more of our posts with fab BHG products like our Farmhouse Chic Dining Room Shelves,

our Cozy Christmas Master Bedroom Farmhouse Retreat,

or our Affordable Porch Patio Refresh!