Whole Wheat Chocolate Chip Cookies
Our Favorite Whole Wheat Chocolate Chip Cookies Recipe! These Cookies are Soft but Chewy. the whole wheat is subtle so it doesn't feel any healthier than your typical chocolate chip cookie!
Everyone has their go-to chocolate chip recipe. This one came from my mother and has been baked with love in my family since I was a tyke; I've made these yummy cookies so many times growing up and now with my own children on many occasions that I have the recipe memorized.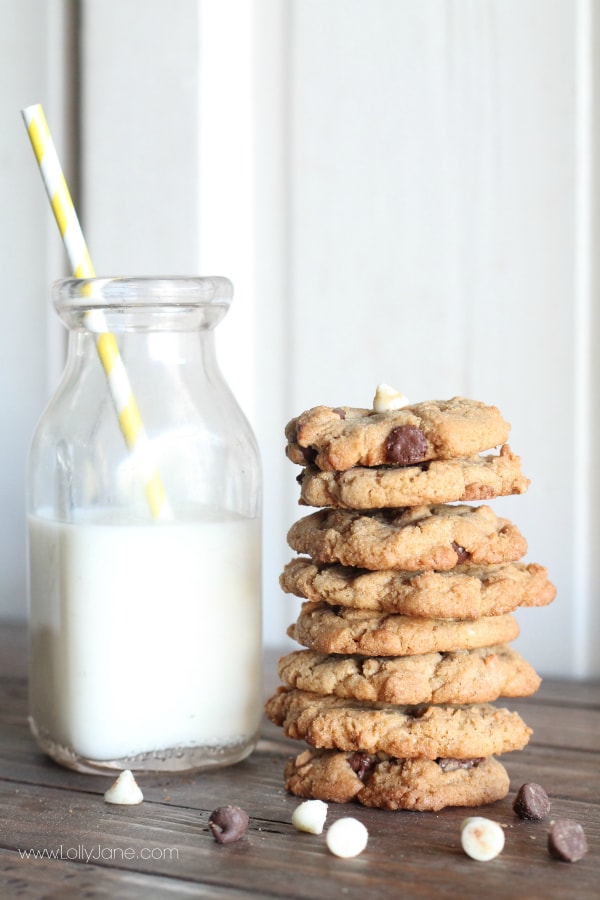 I love this time of year and am happy to see so many friends and family publicly counting what they are grateful for. I am grateful for the opportunities I've had to bake a batch of these cookies to put in my kids lunch, to send with my husband for his co-workers, to give to a family member with an encouraging note, to surprise a friend just because, to include for our monthly church groups "cookie night", to bring to our extended family Sunday dinners or to bake when I'm in the mood for something sweet. It's amazing how freshly baked chocolate chip cookies can lighten a load, lift a mood or simply make someone smile. 🙂 Don't let the whole wheat fool you; these are still so full of flavor and delicious! 🙂
More Popular Cookies Recipes to Try:
Whole Wheat Chocolate Chip Cookies Ingredients:
1 C Brown Sugar
1 C Sugar
1/2 C Butter
1/2 C Oil
2 Eggs
1 Tsp Vanilla
1 Tsp Baking Soda
1 Tsp Baking Powder
1 Tsp Salt
3 C Whole Wheat Flour *Can use regular flour
2 C Chocolate Chips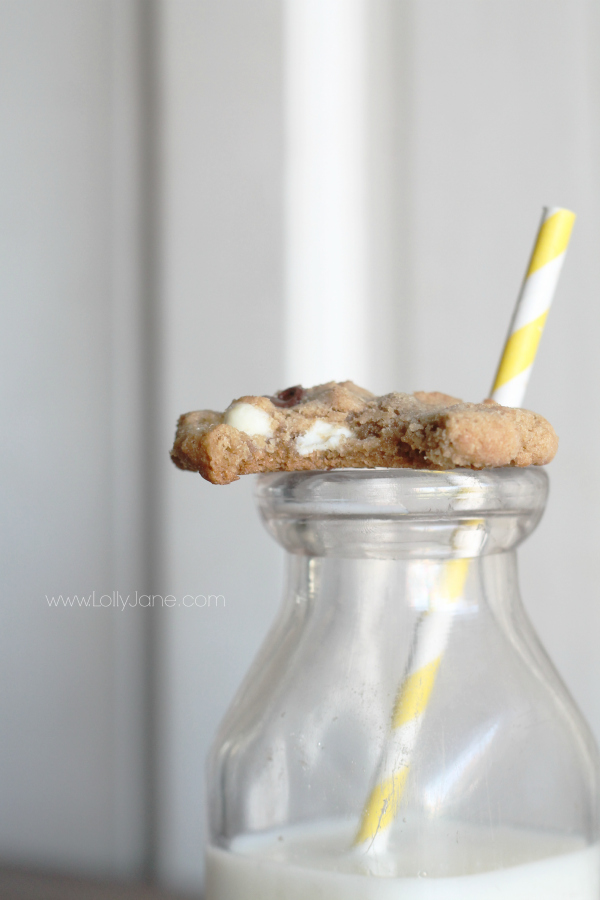 How to Make Whole Wheat Chocolate Chip Cookies:
Preheat oven to 375° F.
Combine flour, baking soda and salt in small bowl.
Beat butter, sugar, brown sugar and vanilla in large mixer bowl until creamy.
Add eggs, one at a time, beating well after each addition.
Gradually beat in flour mixture.
Stir in chips.
Drop by rounded tablespoon onto ungreased baking sheets.
Bake for 7 to 9 minutes or until golden brown.
Cool on baking sheets for 2 minutes; remove to wire racks to cool completely.
Whole Wheat Chocolate Chip Cookies Variations
REGULAR CHOCOLATE CHIP COOKIES: Use regular flour instead of whole wheat, still delicious and doesn't affect the recipe.
CHANGE THE ADD-INS: Use dark chips, caramel chips, nuts, raisins, craisins, etc…customize to your taste buds!
CHOCOLATE CHIP COOKIE BARS: Preheat oven to 350° F. Grease 15 x 10 jelly roll pan. Prepare dough as above. Spread into prepared pan. Bake for 20 to 25 minutes or until golden brown. Cool in pan on wire rack. Makes 4 dozen bars.
SLICE AND BAKE COOKIE VARIATION: Prepare dough as above. Divide in half; wrap in waxed paper. Refrigerate for 1 hour or until firm. Shape each half into 15-inch log; wrap in wax paper. Refrigerate for 30 minutes.* Preheat oven to 375° F. Cut into 1/2-inch-thick slices; place on ungreased baking sheets. Bake for 8 to 10 minutes or until golden brown. Cool on baking sheets for 2 minutes; remove to wire racks to cool completely. Makes about 5 dozen cookies. *May be stored in refrigerator for up to 1 week or in freezer for up to 8 weeks. 
FOR HIGH ALTITUDE BAKING (5,200 feet): Increase flour to 2 1/2 cups. Add 2 teaspoons water with flour and reduce both granulated sugar and brown sugar to 2/3 cup each. Bake drop cookies for 8 to 10 minutes and pan cookie for 17 to 19 minutes.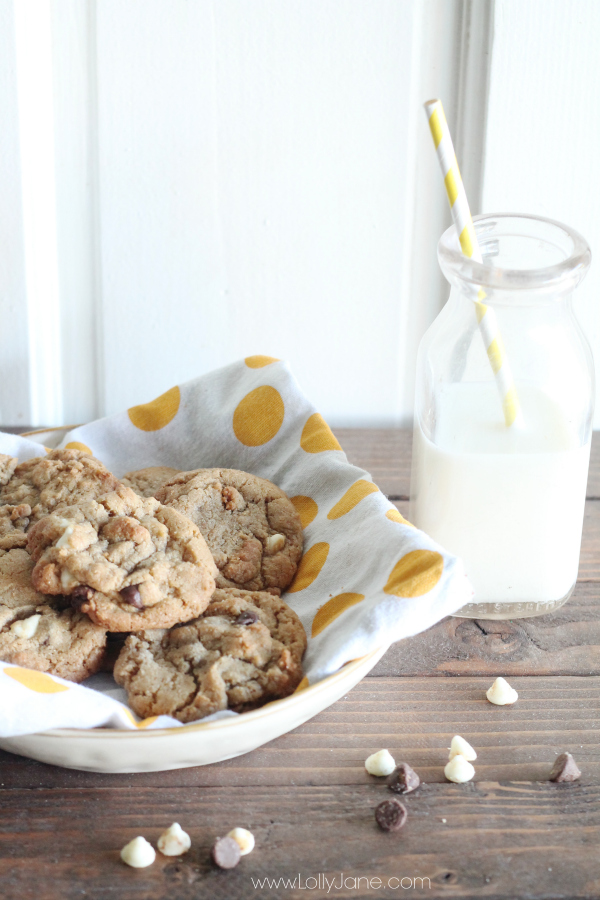 We thought you might have fun getting to know a little bit more about our families so we asked them some questions. Here's what they had to say:
KIDS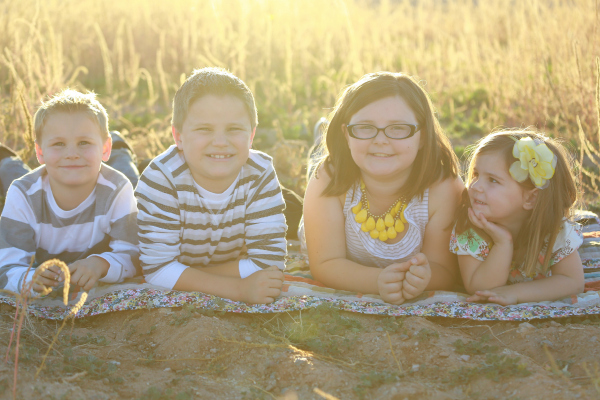 What are your favorite holiday traditions as a family?
Ryleigh, age 10: having a huge dinner with all the grandkids.
What is your favorite recipe that your mom has made?
Breck, age 8: Mom makes yummy pumpkin rolls on Thanksgiving.
Do you have any family favorite games, movies, activities, hobbies?
Ryleigh: We go around and say what we're thankful for at Thanksgiving dinner.
Are you tired of taking pictures for Mom's blog? 🙂
Breck: I don't see my mom blog that much.
NATE the hubby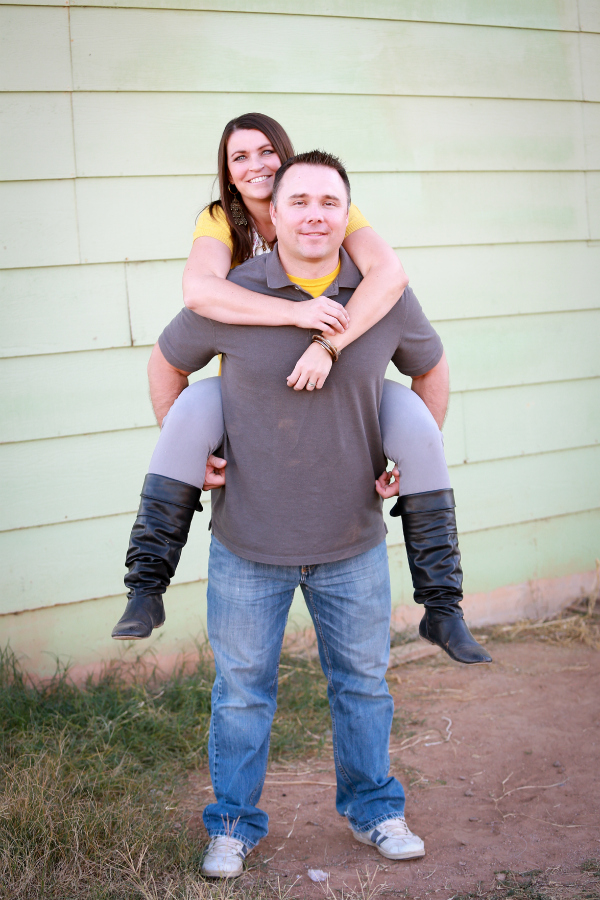 What do you do for a living?
I take out the trash. (LOL..that's always his answer, aka he's a police officer.)
How did you two meet?
Kelli's roommate was dating my high school buddy and set us up. I fell in love with her right then.
And what do you love most about your wife?
Loyalty to our family.
How much time do you think your wife spends on her blog per week?
20 hours
What is your favorite project/recipe she's made?
Our bedroom makeover and her taco soup is bomb.
What's my favorite thing about Kelli blogging?
The money and free stuff.
And my least favorite thing about blogging?
Conferences when she leaves.
Well I'm glad to know my kids don't see me blogging so much these days, I think I did a lot more when they were younger but have been trying to change my ways so yippee!  Sure am grateful for that supportive hubby of mine. He works unique hours so he can help me out here and there.  He appreciates my blog for the goodies but he also appreciates me staying home with the kids and knows it's a fun hobby too.  I need that daily craft release, lol!!
I'd love to hear why you're grateful for YOUR family!