cute basket of sunshine ideas with printable tag
Disclosure: this is a sponsored post on behalf of Minute Maid as part of their #doingood campaign. All opinions and projects are 100% mine.
If you're a longtime reader then you will most likely remember how this blog started… with Kelli. She is a woman of many talents and her daily schedule is jam-packed. Every day she's running her 4 children around to various sports and activities, keeping up with her police sergeant husband, taking care of their family's newest furry 4-legged family member (her husband's new k-9 partner), going to church service, balancing her social life, and volunteering at her children's school. Oh yes, and running a blog alongside 2 other businesses from her home studio. Whew! I'm not exaggerating when I say that Kelli runs circles around me! I'm constantly seeking ways to help lighten her load. Besides helping run our blog, which usually is in the form of a yummy beverage since she has a thing for bubbly drinks!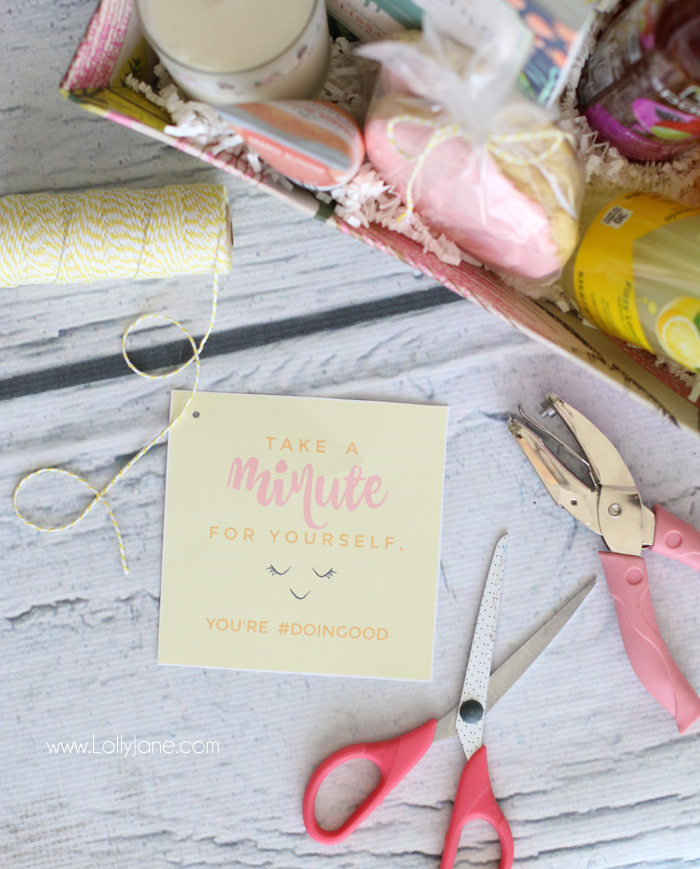 Instead of just checking in with a drink, I spent some time collecting a few of her favorite things to bring her a "basket of sunshine." I was inspired by Minute Maid's belief of what's true for juice is true for families- when you put good in, you get good out. Kelli puts in so much good but often compares herself to others, wondering if she doesn't give enough. I know we can all be hard on ourselves so a package of goodies sent to someone who needs a boost of cheer can really put a new spring in their step to help them keep on keepin' on!
I was inspired by Minute Maid's "Reverse Care Package" idea. It's common for us moms to put together care packages for our children, whether they're away at summer camp or off in school. With the help of Minute Maid, we're reversing this tradition and surprising parents with a care package of their very own! It's an unexpected expression of love and gratitude in the form of a special delivery to remind them they are #doingood. Check out Minute Maid's newest video below to see how one daughter did this for her parents.
For Kelli's care package, I whipped up the free printable tag below that says, "
Take a minute for yourself, you're #doingood.
"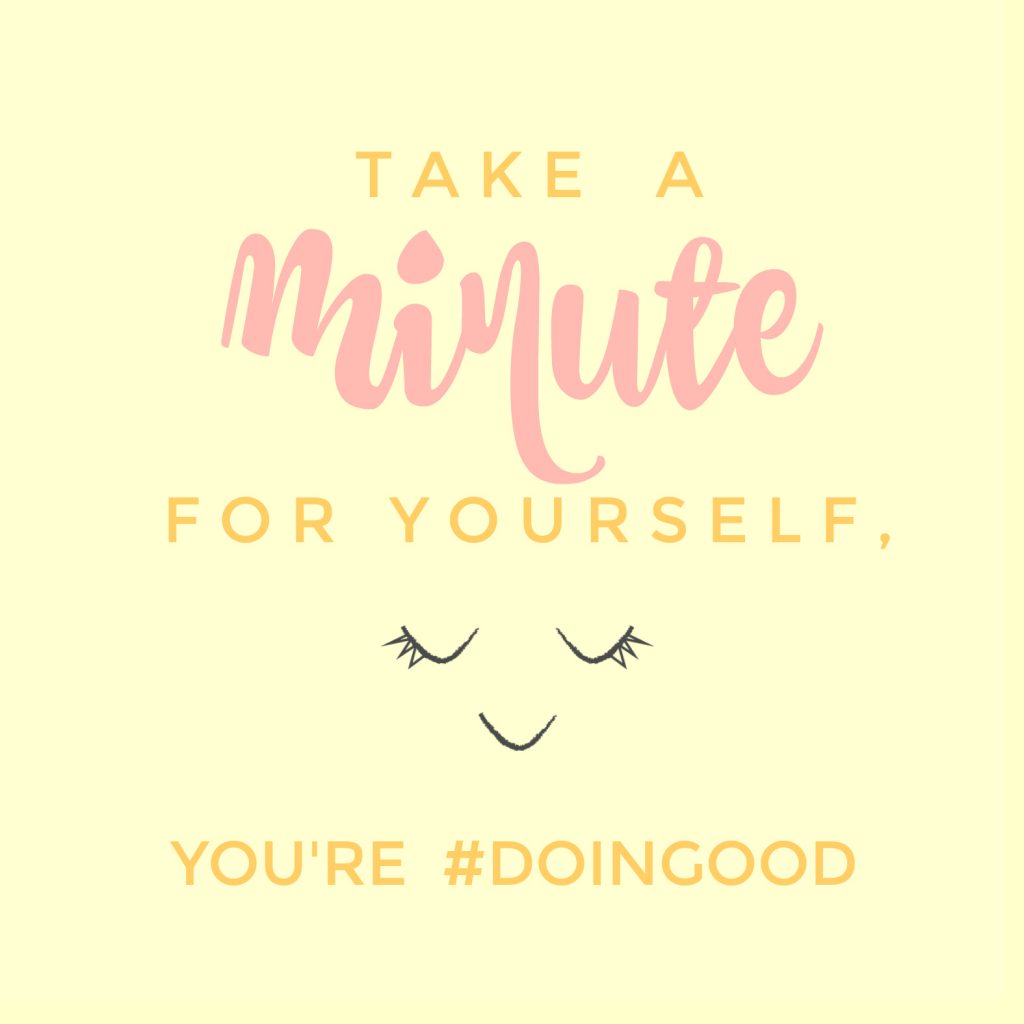 Free printable:
Each week Kelli bakes a fresh batch of cookies for our Sunday dinner and delivers an extra batch to a neighbor. Our sugar cookies are popular for all age groups so I whipped up my own batch using the recipe from our talented friend Yvonne of Tried & Tasty. I made mine with a citrus-twist by adding Minute Maid.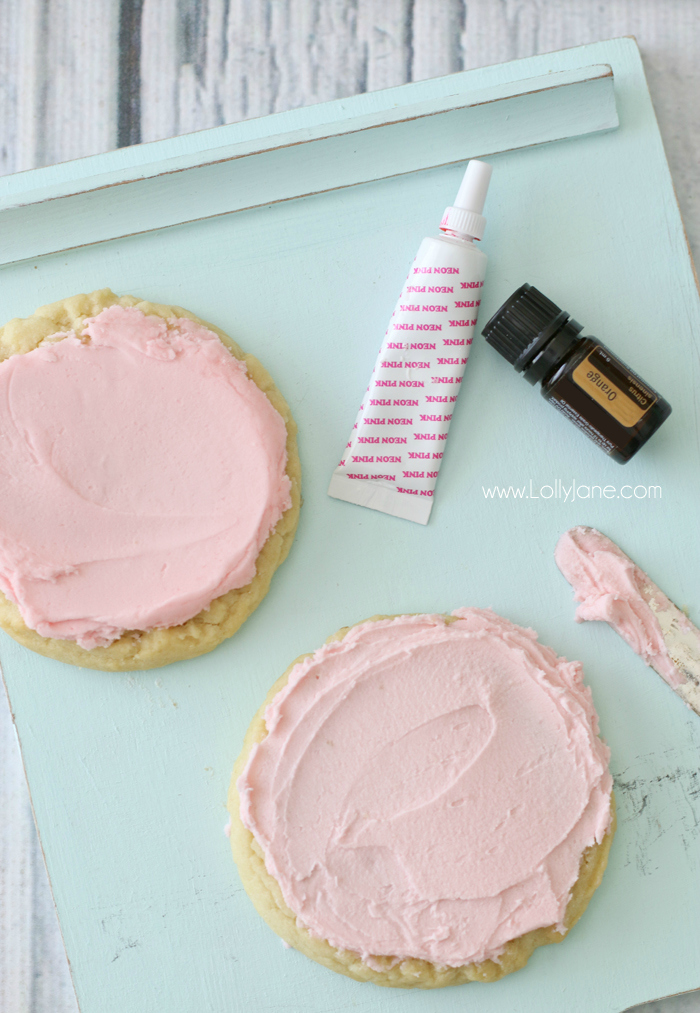 Ingredients:
For the cookies:
5½ c. + 2 tbsp. flour

1 tsp. salt

Orange or citrus essential oil

½ tsp. baking soda

½ tsp. cream of tartar

1 c. (2 sticks) butter, room temperature

1¼ c. sugar, + ¼ c.

¾ c. powdered sugar

¾ c. canola oil (could also use vegetable oil)

2 tbsp. Minute Maid sparkling lemonade

1 tsp. vanilla

2 eggs, room temperature
For the frosting:
5 tbsp. butter, room temperature

⅓ c. + 1 tbsp. sour cream

Orange or citrus essential oil

3 ½ to 4 ½ c. powdered sugar

¼ tsp. vanilla

1-2 drops pink food coloring
Instructions
Preheat oven to 350 degrees F. In a medium-sized mixing bowl, mix together flour, salt, baking soda, and cream of tarter; set aside. In the bowl of a standing mixer, cream butter and both granulated & powdered sugars together for 2 minutes until fluffy. Slowly stream in the oil while beating. Add a few drops of orange oils and vanilla then beat in the eggs one at a time until well combined. Slowly add the flour mixture to all the wet ingredients, mixing until combined (scrape down the sides of the bowl as needed). Roll dough into 2 inch balls to make approx. 36 cookies. Place ¼ cup sugar in a small dish. Place rolled dough on a baking sheet about 3 inches apart. Using a drinking glass (or something that is 2.5 inches in diameter), dip into sugar. Press the glass into a ball of dough until it is ½ inch thick (the dough will form a jagged edge and spill past the edge of the glass). Repeat the process of dipping the glass into sugar and pressing it into a ball of dough. Bake for 8 minutes only. Gently remove cookies from pan onto a cooling rack and let them cool completely. Place them in an air tight Tupperware in the fridge. For the frosting: cream butter and sour cream. Slowly add powdered sugar a little at a time, alternating with adding the lime juice. Add extra lime juice or powdered sugar if needed to reach desired consistency. Lastly, add food coloring and vanilla; mix until combined. Spread over cold cookies and serve immediately or let the icing dry (it will dry to the touch) and then store in an air-tight container in the fridge.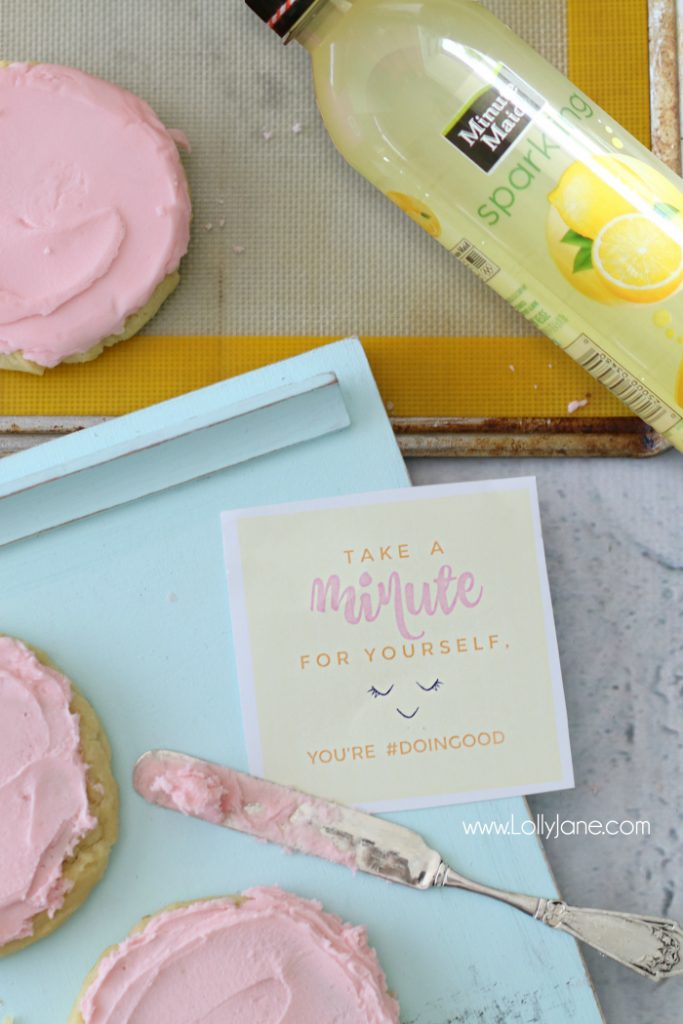 If you're short on time, your own reverse care package can be simple and to the point. Give a Minute Maid Sparkling Juice with a 2-pack of these cookies and leave a friendly note on our tag. It's a sweet and simple gesture to remind and reassure a mom or friend in your life that they're #doingood!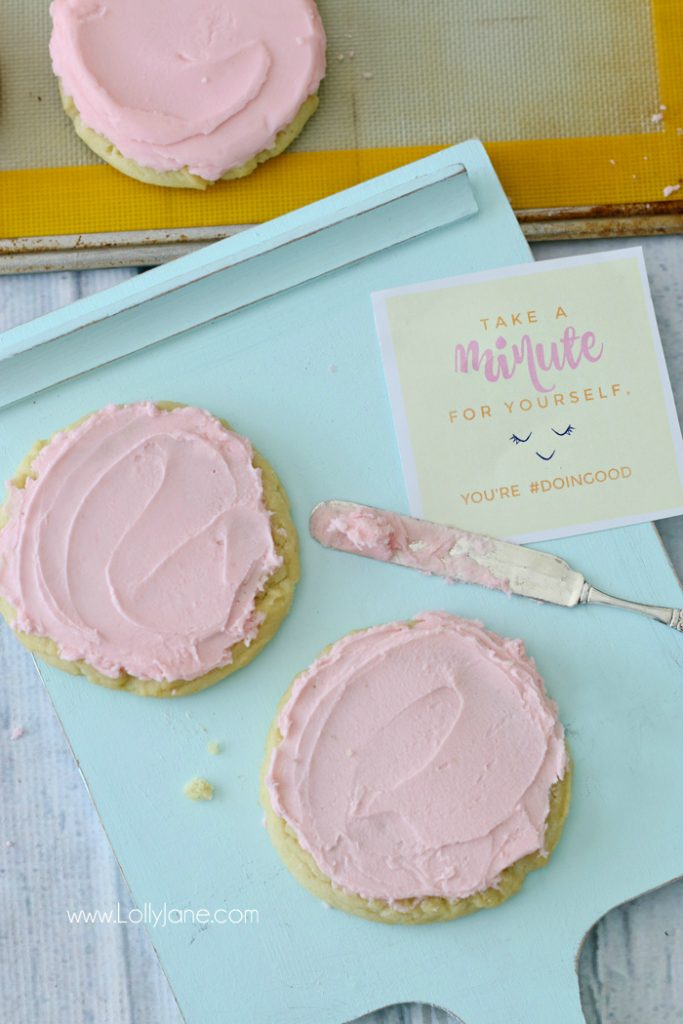 Just slide the cookie (or two!) in a pouch and glue the tag on. Pair with a Minute Maid Fizzy Lemonade, Sparkling Mixed Berry or Sparkling Tropical Citrus. Deliver and watch the smile spread on her face!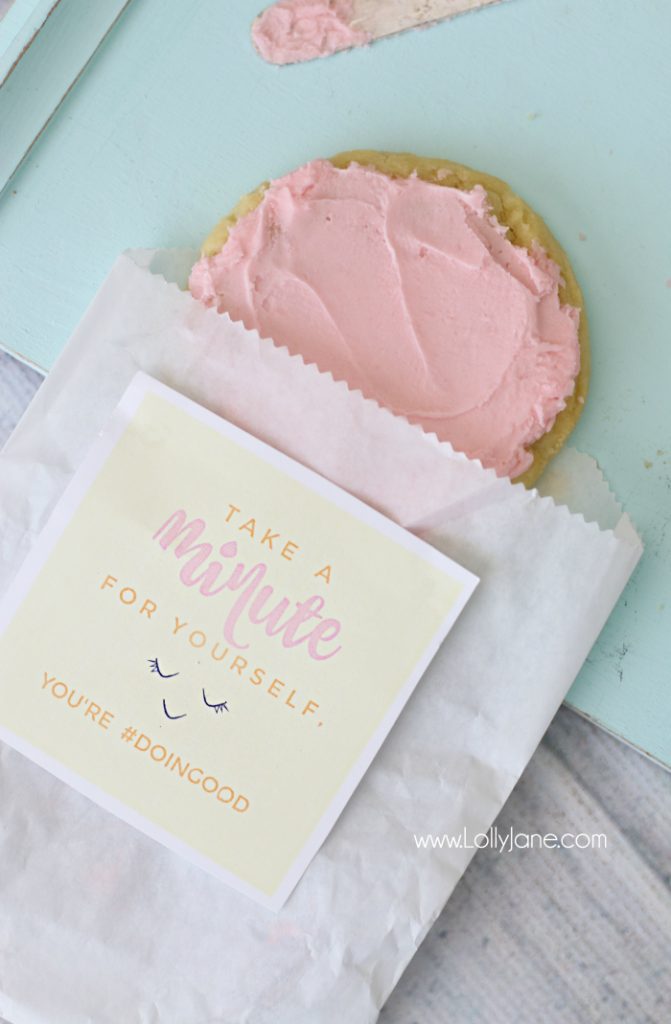 If you want to put a package together to offer a few 5-minute breaks for a busy momma or friend, here are a few suggestions:
Throw blanket.

Candle to freshen the air that will freshen the mood.

Lotion to pamper.

Freshly baked cookies to let her know you're thinking of her.

Chocolate of course!

Minute Maid Sparkling for a tasty touch of goodness.

Little gift like a new tassel to hang from her purse or use as a bookmark.

Plant: succulent or fresh flowers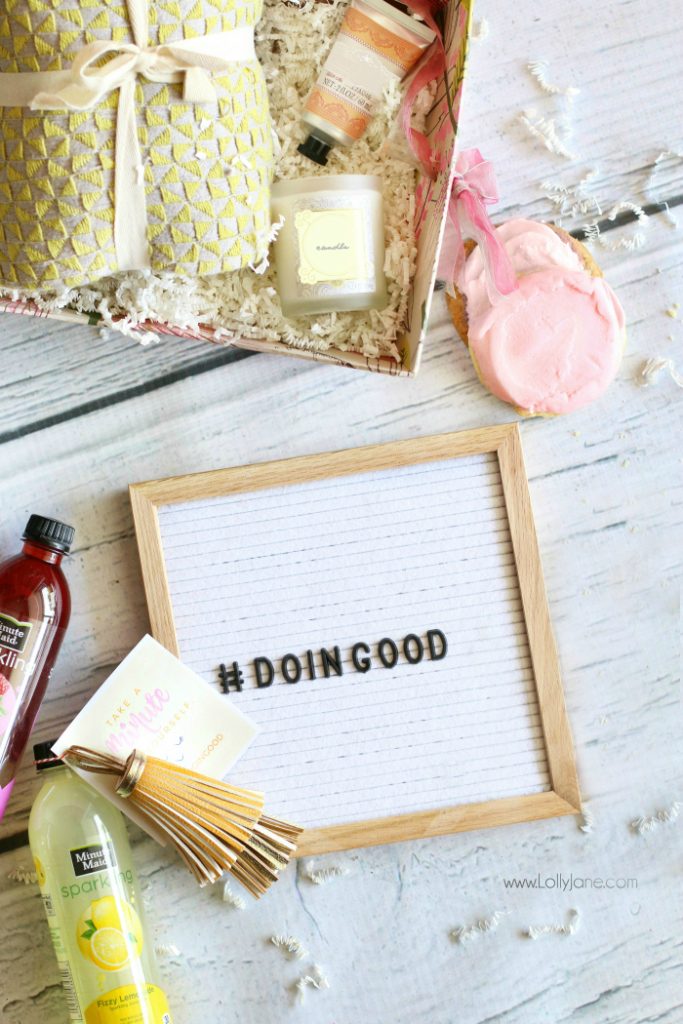 I paired my goodies with a floral basket and left it on Kelli's pretty doorstep. My kids' FAVORITE thing to do is to ring the bell of someone's house then hide… after a moment of looking around they pop out and cheer! So fun, and they just adore their auntie Kell!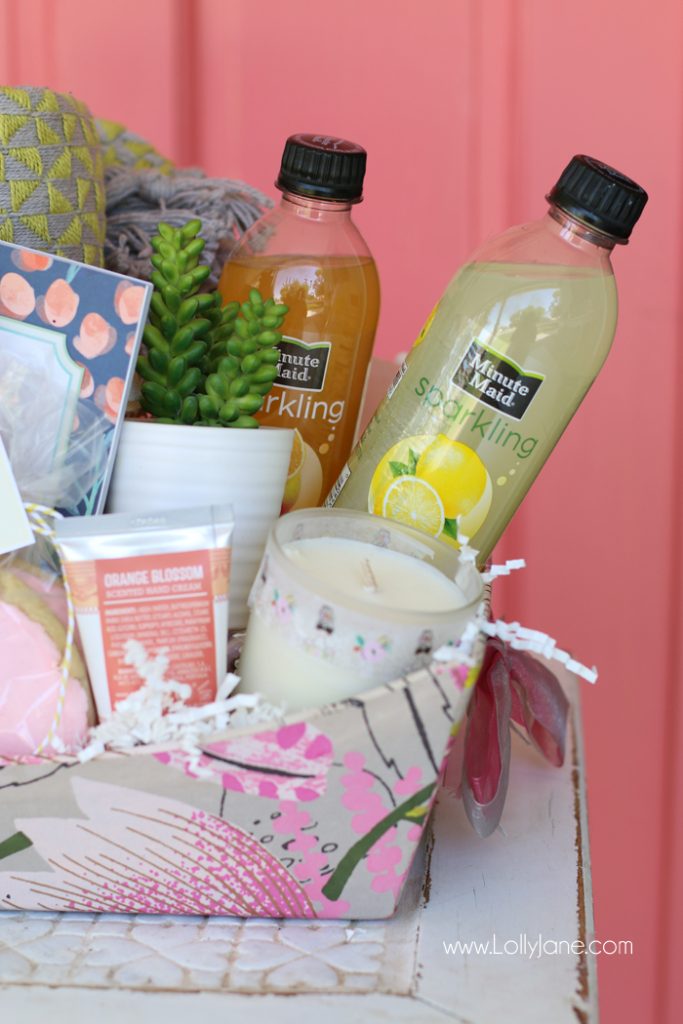 Make your own and don't forget to include our tag for the extra reassurance that they are #doingood! Head to MinuteMaid.com/carepackage for even more inspiration.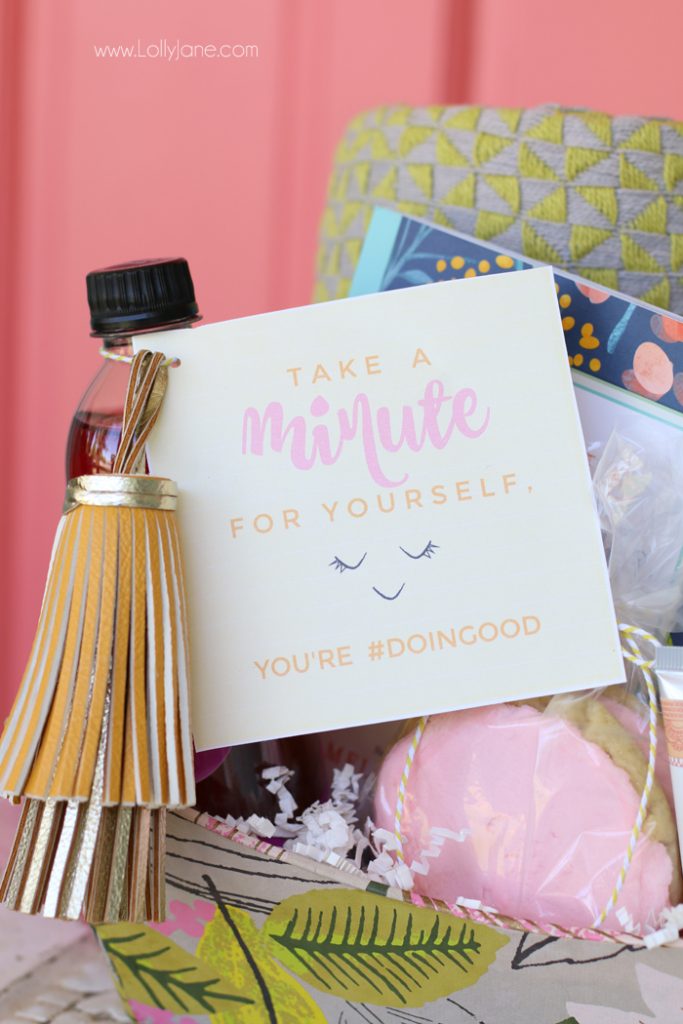 PS: Want the ULTIMATE prize to give to someone who deserves a treat? You could win a magical Walt Disney World vacation from Minute Maid! Visit minutemaid.com/doingood for details.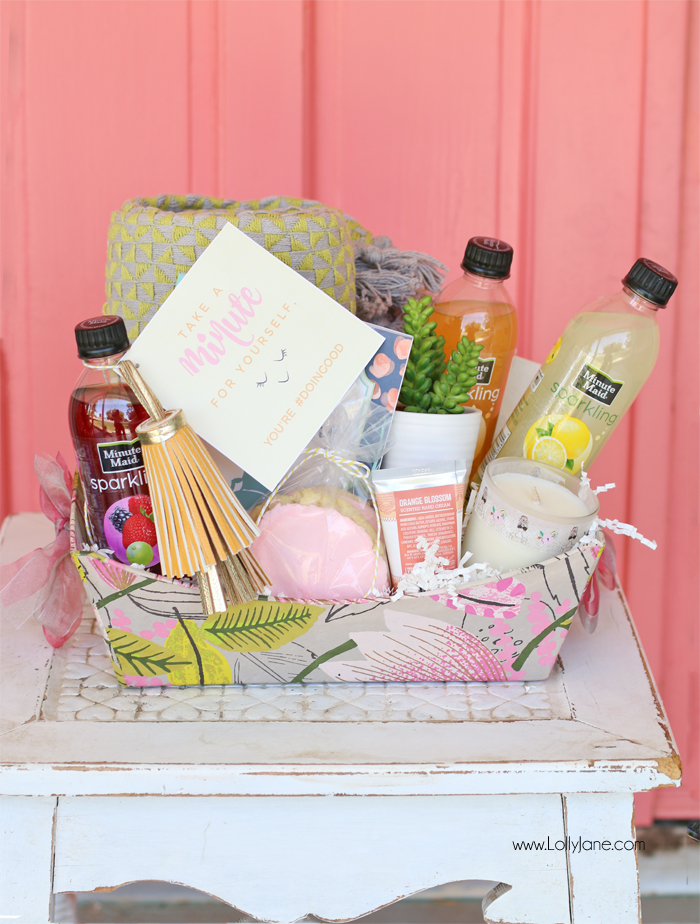 In the meantime, check out Minute Maid on Twitter, Facebook, Instagram, or Pinterest. Click the trending hashtag #doingood for more ideas on how you can put good in to get good out!