So we found this bag of Red Velvet M&M's while grocery shopping earlier this month and we are now kind of obsessed… after making our Red Velvet M&M cookies we had some leftovers and created another moist and chewy (and super EASY!) cookie, Red velvet M&M cake mix cookies: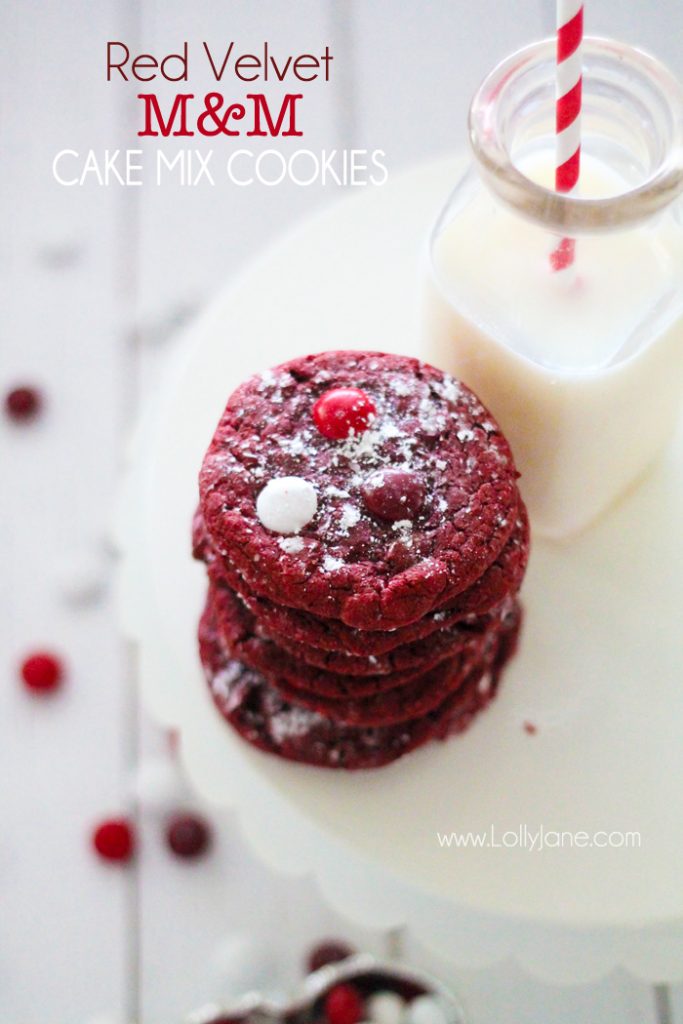 I'm sure you've had the easiest recipe known to man, cake mix cookies. They were created for busy moms, we just know it! If you have a box of cake mix on hand + 15 minutes, you are set to impress the giver of the cookie! 😉 We snagged this recipe from the box of a Duncan Hines Red Velvet Cake mix and simply added 3 red velvet M&M's into them. Easy, moist, chewy and delish!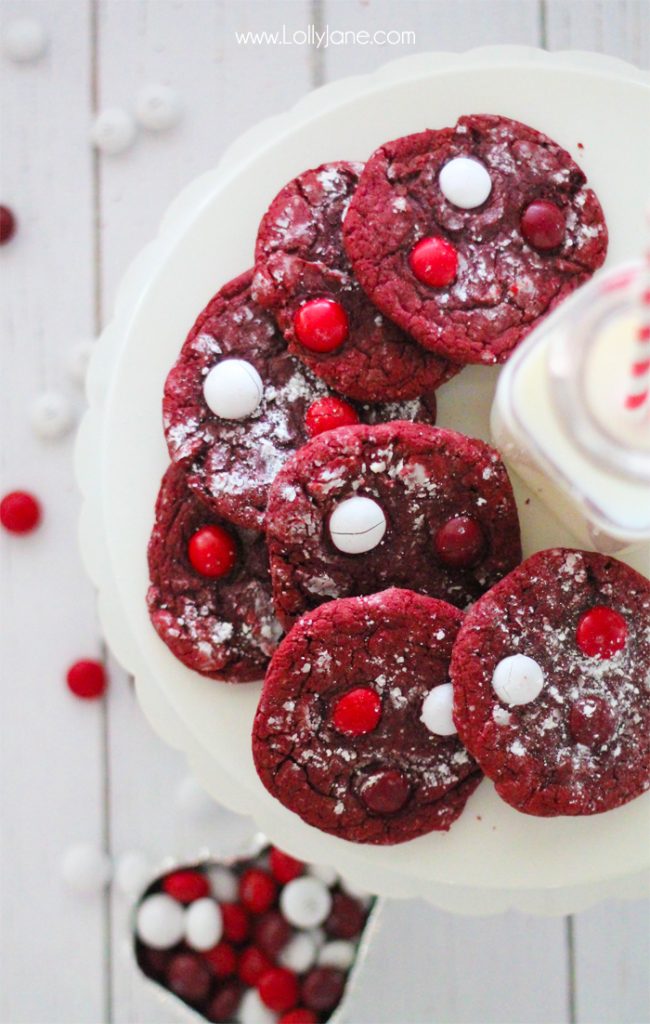 You can skip the powdered sugar, too but however you make these, they are sure to please… kids, school or work Valentine's Day parties or just to use up the cake mix sitting in your pantry that is looking lonely! 😉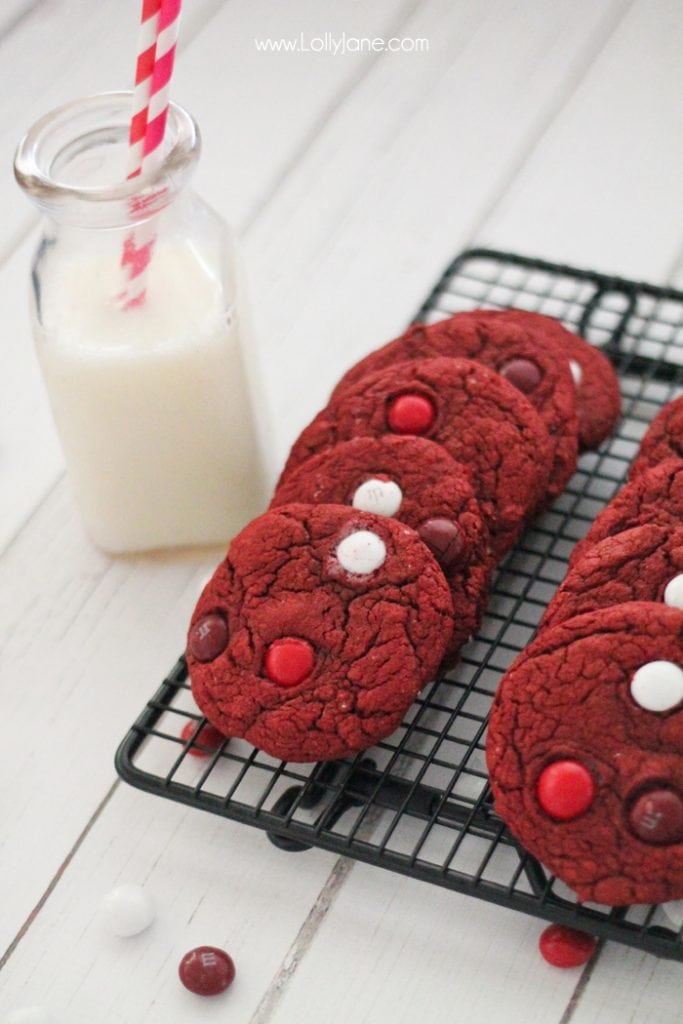 Ingredients:
1 box Duncan Hines Red Velvet cake mix
2 eggs
1/3 cup vegetable oil
Powdered sugar (optional)
Bag of Red Velvet M&M's
Directions:
Preheat oven to 375 degrees.
Combine one (1) box of Duncan Hines Red Velvet cake mix, two (2) eggs and one-third (1/3) cup vegetable oil using a hand blender or wire whisk.
Form teaspoon size balls and place on a lightly greased cookie sheet or baking pan about one inch (1″) apart. Sligtly pat down the top of each ball.
Press 3 Red Velvet M&M's into each cookie, (note: you can add more but the flavor is strong so beware.)
Cook for 8-10 minutes, (the top of the cookie will crack).
While hot, lightly sprinkle the top of the cookie with powdered sugar, (optional).
And a peek at those yummy Red Velvet M&M cookies too!
For a more chocolately cookie, also made with a cake mix, check out our Rolo Cookies. Yummers!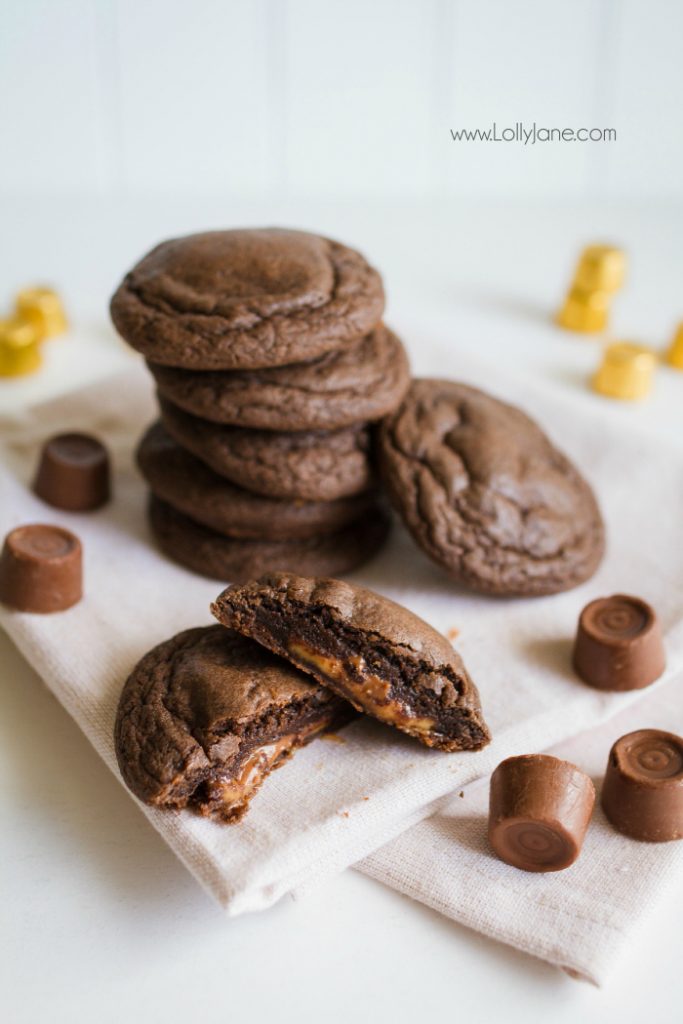 You can see the rest of our desserts too, enjoy!