Picture Frame Canvas Hack: Affordable Art!
Looking for an inexpensive way to frame a canvas? Check out this picture frame canvas hack to create affordable art!
We've shared a tutorial on how to stretch a canvas over then built an easy frame around a canvas.
We also shared a diy canvas frame without using any power tools.
Today's diy canvas frame is the easiest yet, no tools at all! Our happy accident while thrifting: finding a picture frame that fit the size of our easy diy painted canvas! Such a great framed canvas hack, right?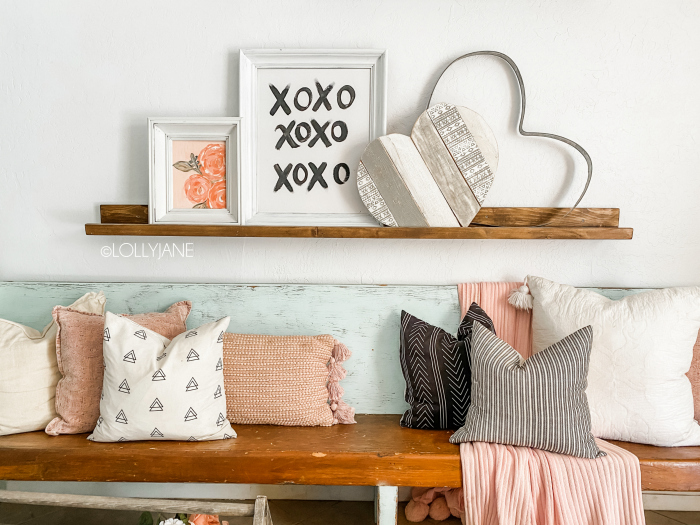 We were sitting around last Sunday afternoon when my 16 year old brought in a handful of leftover canvases from her little sister's painting themed birthday party. We spent the next couple of hours playing around with acrylic paint, each coming up with our own design.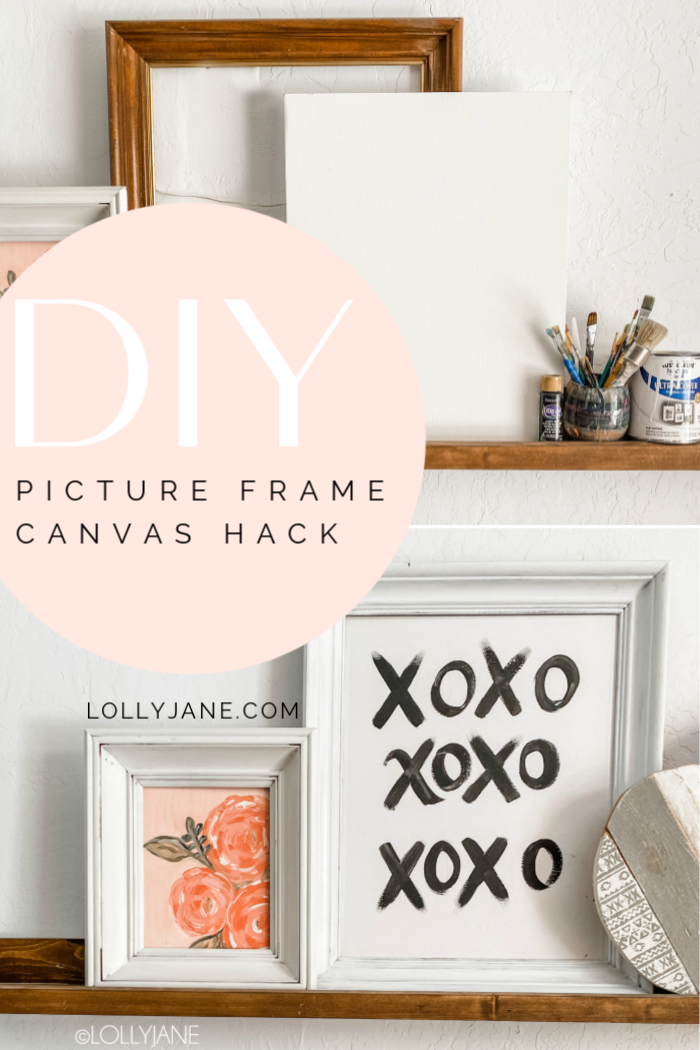 I went for a pink floral canvas, so easy to paint using circle motions with 2 pink colors and plain ol' white. I asked my teen to paint me a large scale floral abstract canvas so I could display it with my farmhouse style mantel decor later on.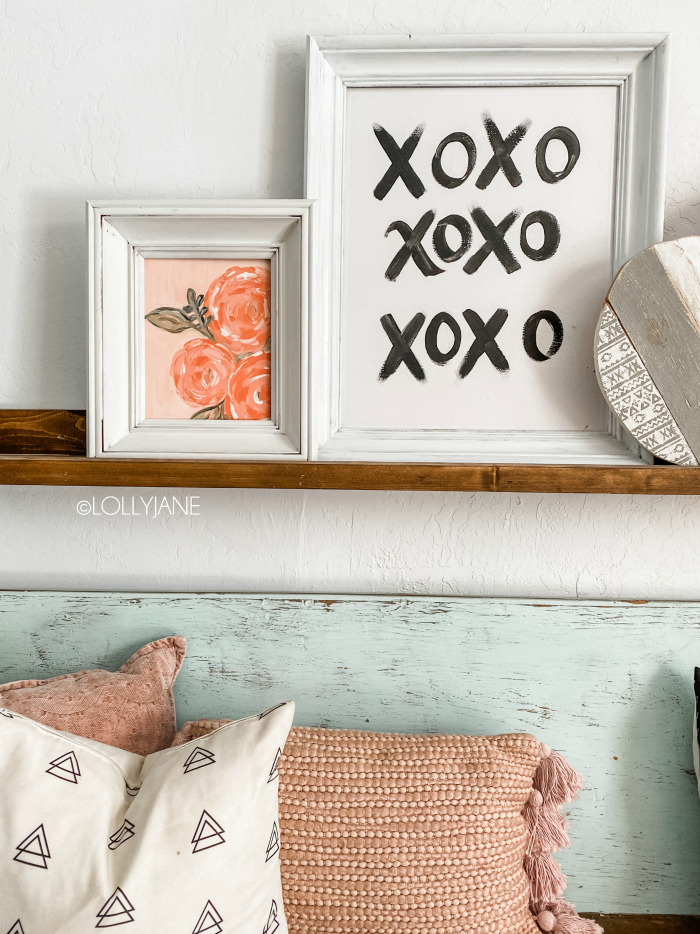 A few days later, I was at the thrift store and found some chunky picture frames for a few bucks each. I called home and asked my kids' to measure the canvas sizes; lo and behold, same sizes.
I came home and dry fit the canvases into the wood frames: perfect pairing!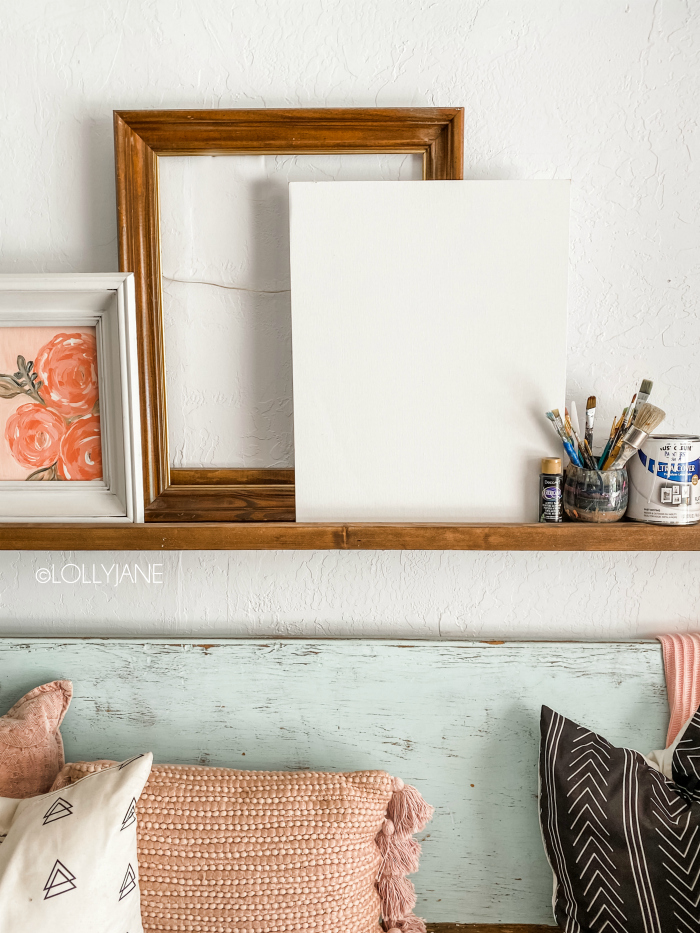 I painted the picture frames white so they'd match my decor and also to create unity..the original frames were different wood colors and I didn't love the orange tint on the smaller frame.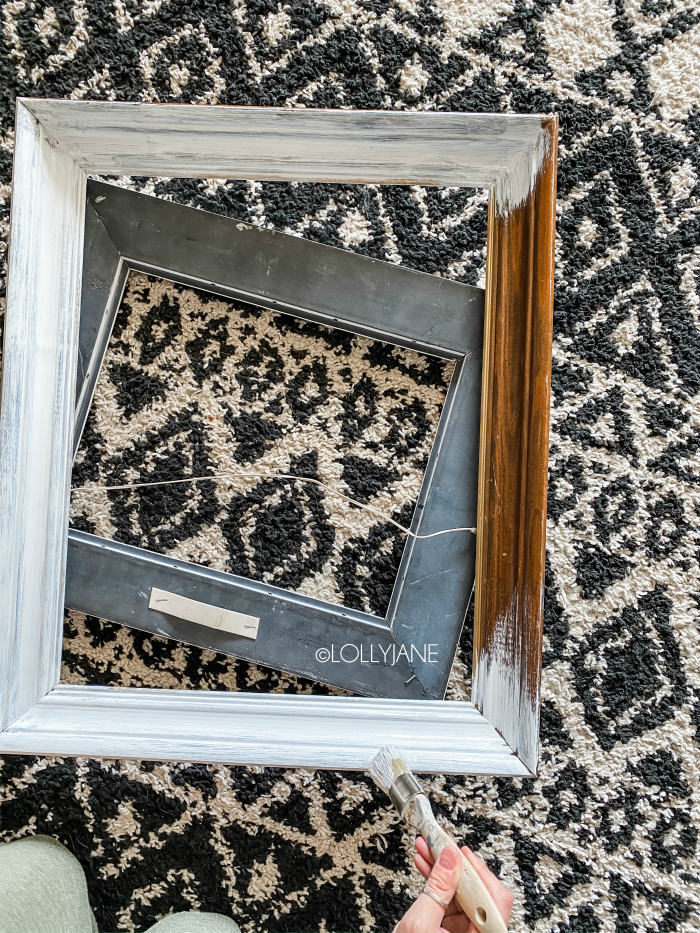 I love a good thrift store frame makeover and these canvases make the perfect Valentine's Day mantel decor, too!
diy painted canvas
To easily create Valentine's decor, we hand painted x's and o's onto a thrifted 16 x20 canvas after using a pencil to sketch a quick design.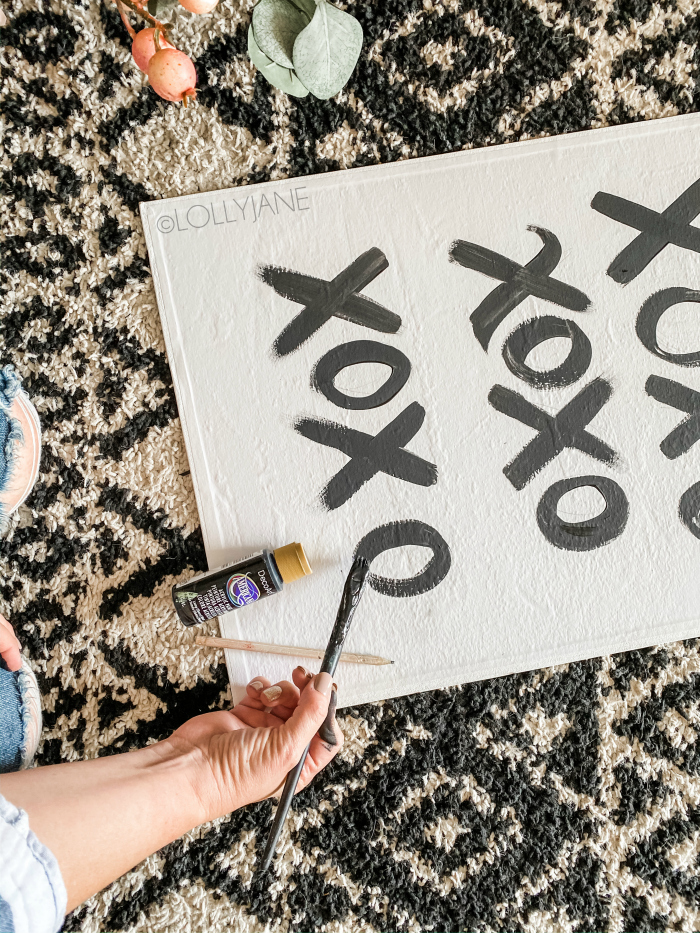 This is the same concept we used to create the floral painted canvas, we just free-handed it.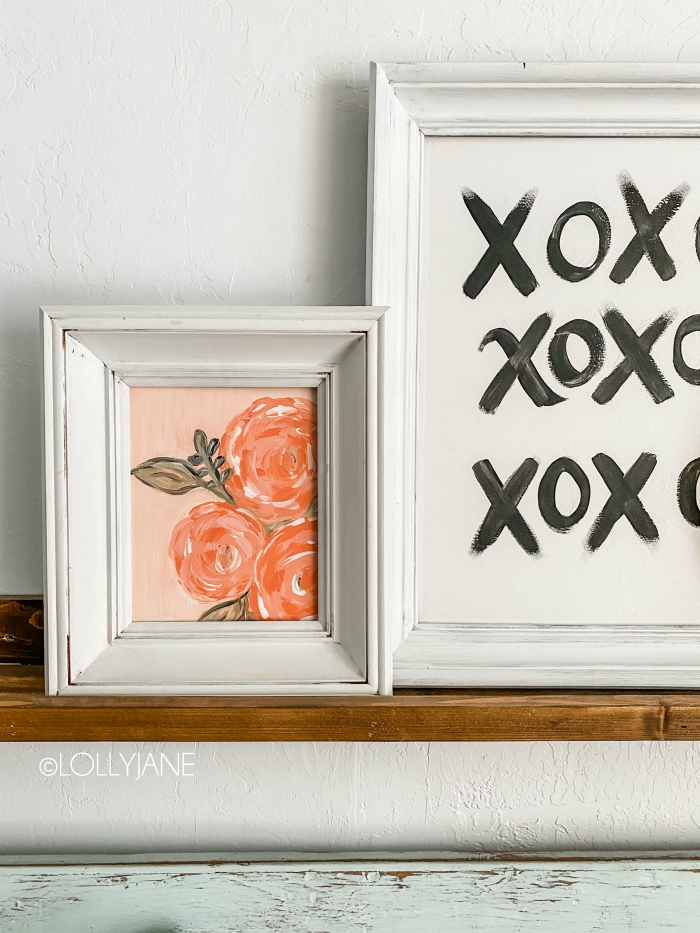 picture frame canvas hack
Are you wondering how to secure a canvas to a picture frame back? Can you put a canvas in a picture frame? Yes, yes you can!
A canvas is usually thicker than the frame is deep. Most picture frames are about 3/8" to 1" deep. When you place the canvas in the frame, the back of the typically sits above the back of the frame.
So how do you secure a canvas in a picture frame?
Canvas offset clips! They come in a variety of sizes and are created specifically for the gap between the canvas and frame to keep it held together tightly.
We personally set the canvas in the frame and laid it against the wall to display it. It was a tight enough fit that we didn't use the clips.
You can also use hot glue if you want a permanent hold but we love the option of frame swapping in the future.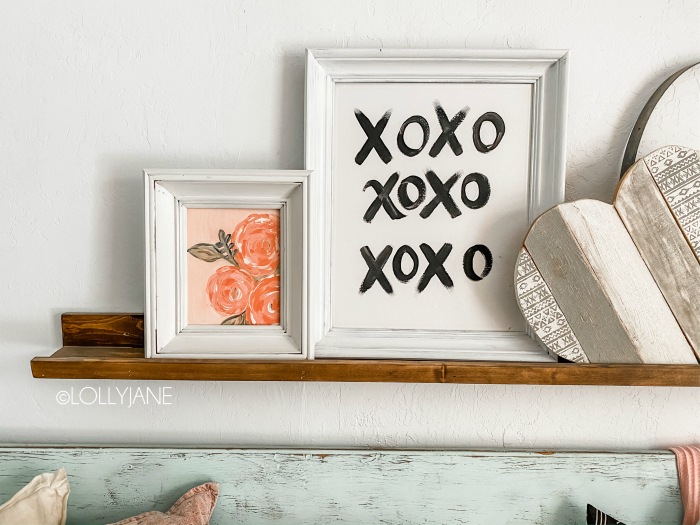 MORAL OF THE STORY:
Don't pass over chunky picture frames at the thrift store, especially well built ones and wood ones. Even if it isn't exactly your style, keep in mind you can paint it to match your personal decor.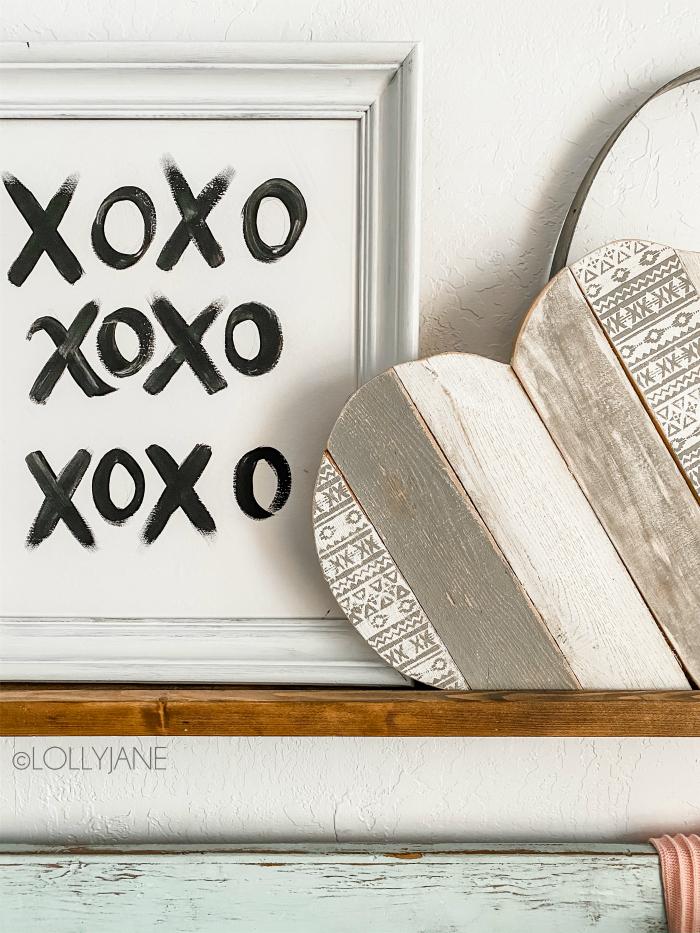 And those blank canvases marked down to a buck or two? Endless possibilities!
Canvases are SO expensive at hobby stores. Even with a 40% off coupon. Yet people donate them like crazy. Take advantage!
how to display a canvas
If you're looking for easy Valentine's Day mantel ideas, look no further. If you're looking for affordable Valentine's Day decor, you've come to the right place. We're all about budget friendly holiday decor around these parts!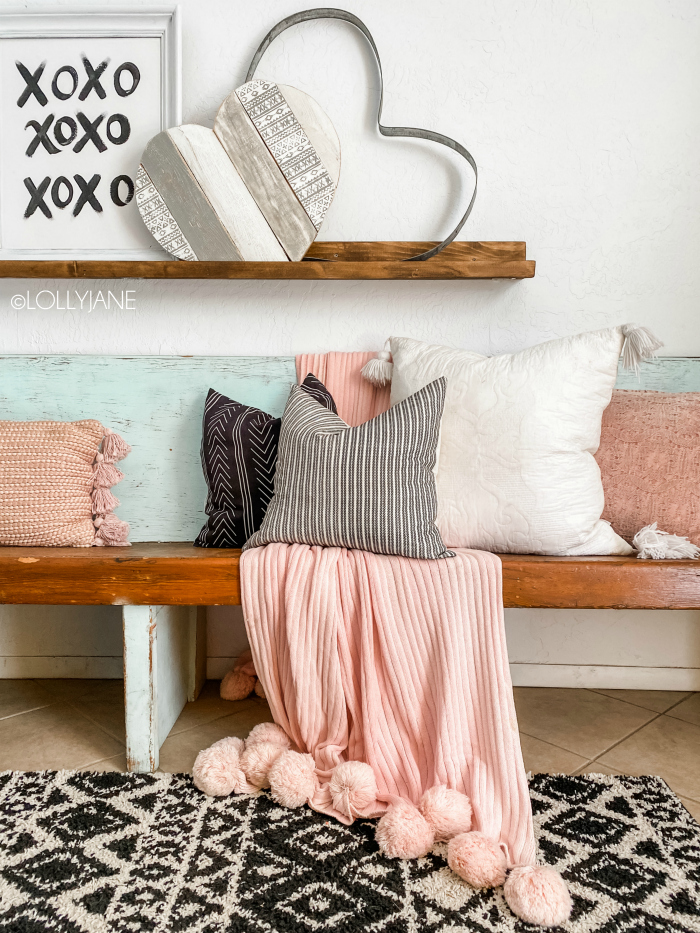 Mix your new canvas picture framed art with wood hearts and metal hearts for quick Valentines Day decor.
TIP: Paint the backside of the canvas if you find a flat canvas, stretched would be difficult but then you'd be able to create two-sided art!

READ MORE ABOUT THIS SPACE
PLEASE PIN SO YOUR FRIENDS CAN MAKE A WREATH OR TWO, AS WELL!
We'd LOVE to see your own version, tag us on Instagram using #lollyjaneblog