Hi guys! It's Amy and I'm happy to be visiting here from My 3 Monsters again. It seems like the whole world is obsessed with flamingos lately — with good reason! I love their pretty pinky coral color and long graceful shape. This week I had to put together a simple Back to School get-together for the group of 8-11 year old girls I teach at church, and I immediately decided on a flamingo theme. {Especially after reading
this cute article in a church magazine
.} What a PERFECT opportunity to hop on the flamingo bandwagon, right?! We called it the Back-to-School "Flamingle". Hope you're inspired by my born to stand out flamingo print and party ideas!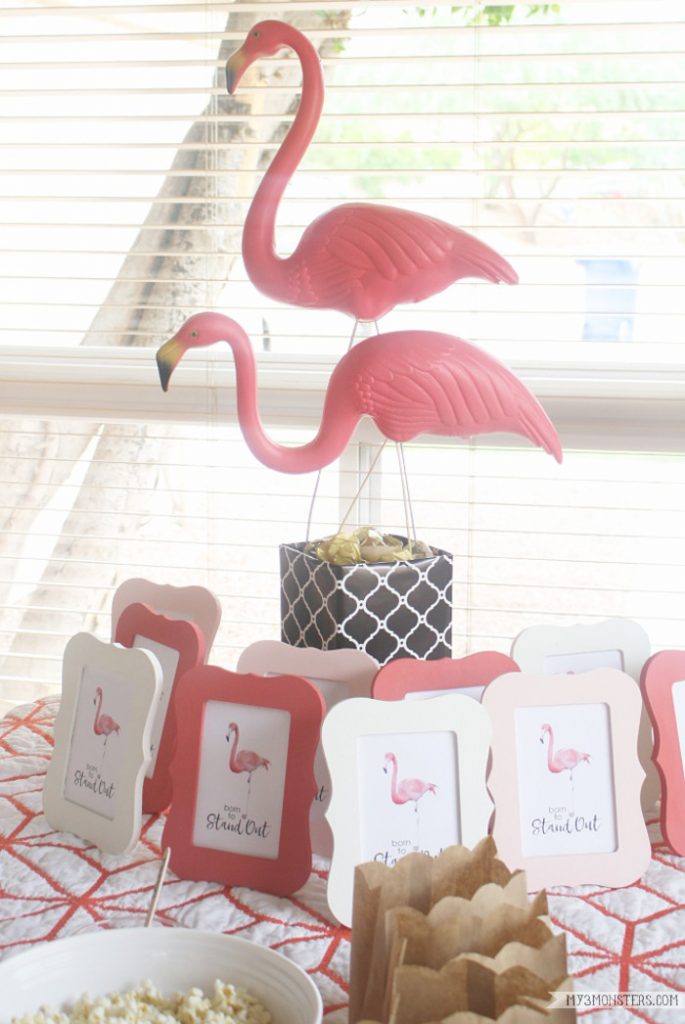 We began by talking about how we can stand out from the crowd in positive ways by filling our lives with goodness in all that we do. I love the idea that a flamingo is not ashamed of it's bright pink color — it's SUPPOSED to be pink. Likewise, we don't need to be ashamed of those things that make each of us special and unique. My little gals really embraced the message and were thrilled with the "Born to Stand Out" flamingo printables they got to take home. We finished off the evening with a popcorn and toppings bar and a movie that was uplifting and inspiring. It was simple, inexpensive, and
so so so
girly and cute.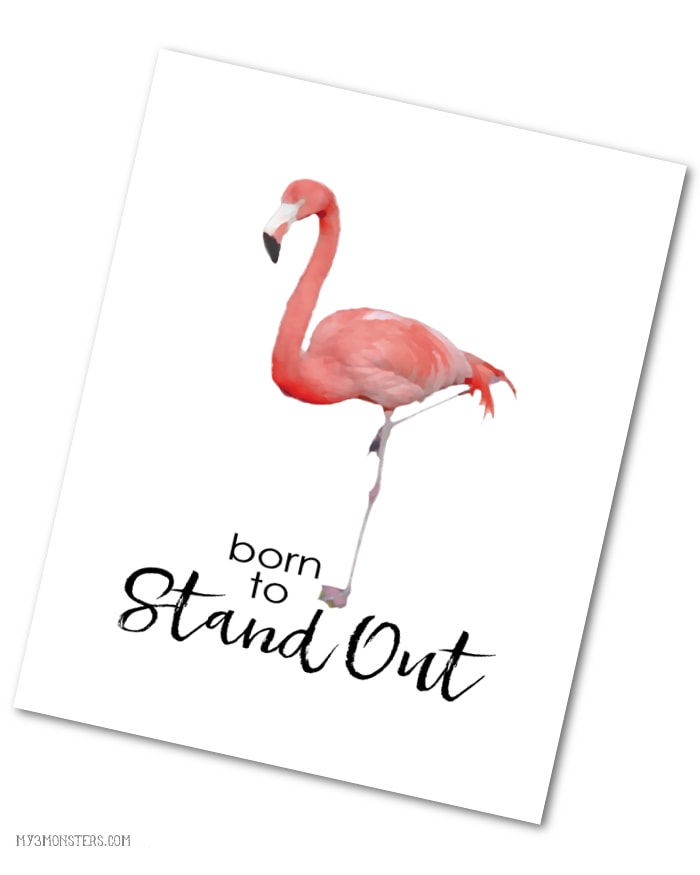 You can
download the flamingo printable here
in 2 different sizes —
4×6 inches
and
8×10 inches
. The 4×6's were perfect to fit into little $1.00 wood frames I found at Michaels and painted various shades of coral, pink and white. The 8×10's would be really cute framed and hanging in a girl's bedroom. In fact, I may just make one for my daughter who is leaving for college next week!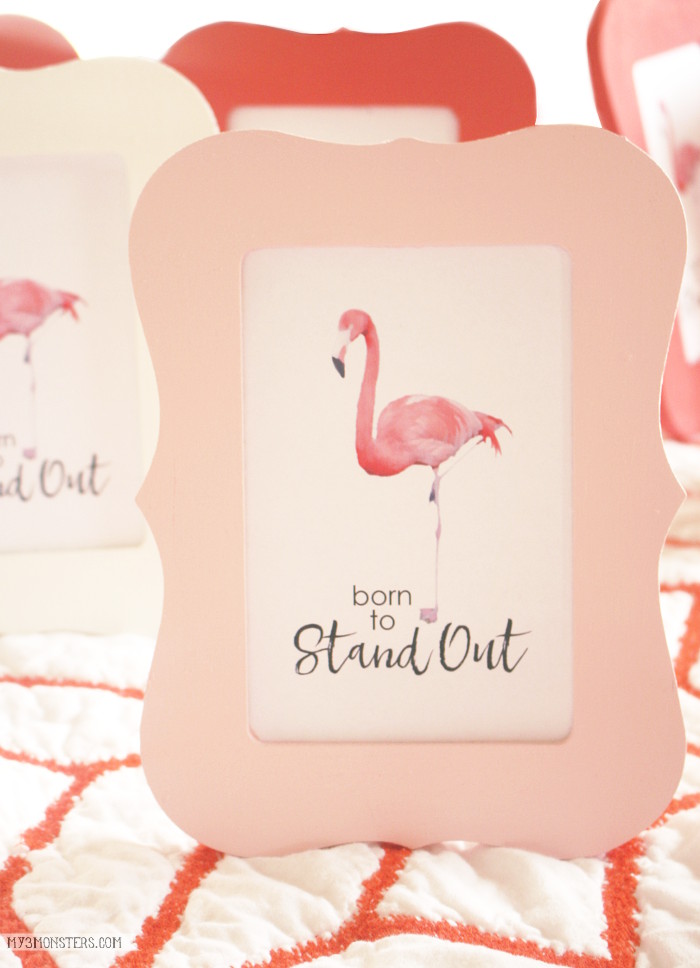 For some reason, little girls go nuts for mixing gummy bears into popcorn. I don't really get it, but the popcorn bar was a hit. I just trimmed the tops of some brown paper lunch bags into a scallop pattern to make super-cute popcorn bags. Juice in clear cups with bright straws was the perfect pairing!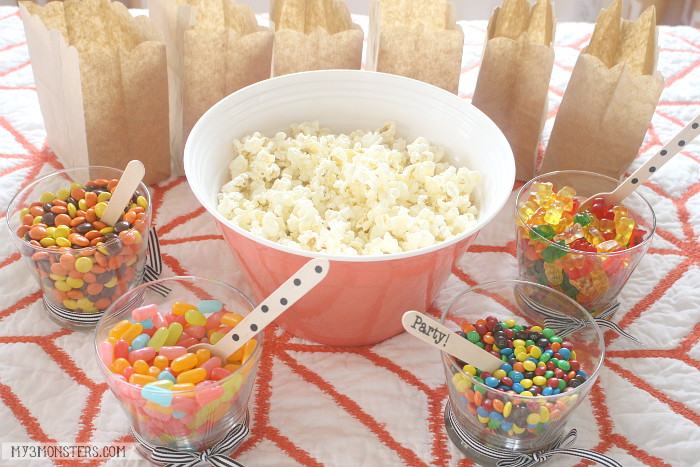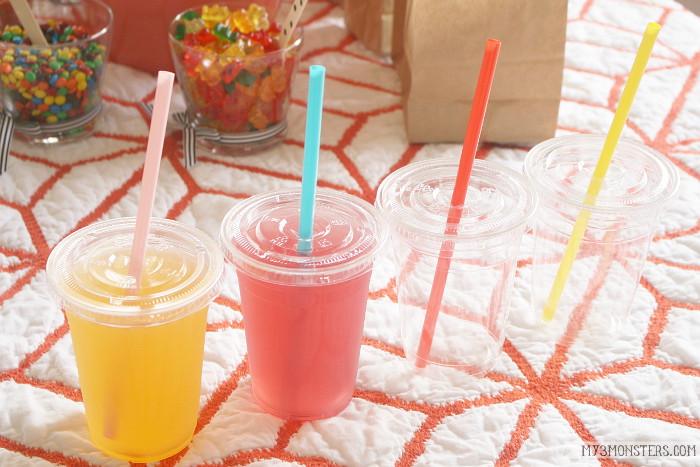 I hope you like these flamingo printables as much as my girls did! If you do, you may want to check these ideas out like my Inspirational Quote Printables with Interchangable Frames: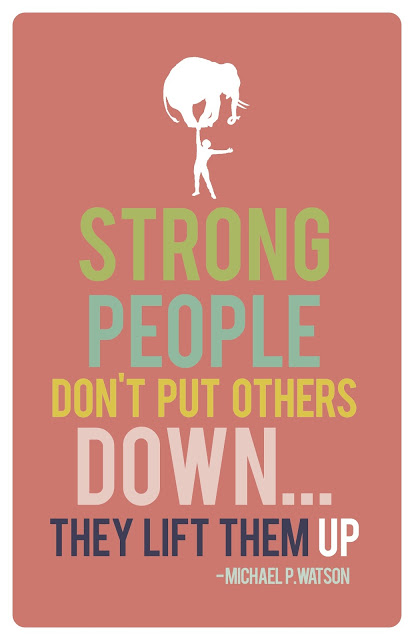 Plus a tutorial on How to Print on a Paper Bag: