Rockin' Moroccan stenciled bedroom
We busted our rears to finish this Moroccan stencil bedroom makeover in just 5 days the first week of June…and then didn't post the pics for three months. Oops.  I guess we needed to wait until real life slowed down and we got into the groove of our kids getting back into their school schedules.  This was a CRAZY project.  We are really active in our church and know how vital it is for youth these days to be uplifted.  Our church sends the 12-18 year old girls to Girls Camp every summer for a few days.  Lots of laughter and bonding and spiritual growth.  They need to raise $50/girl to help with cost so our church does a fundraiser. We offered a room makeover for the live auction…and raised over $1000! Whoop!! So here is the product of that money, happy that so many girls were able to benefit from our hard work!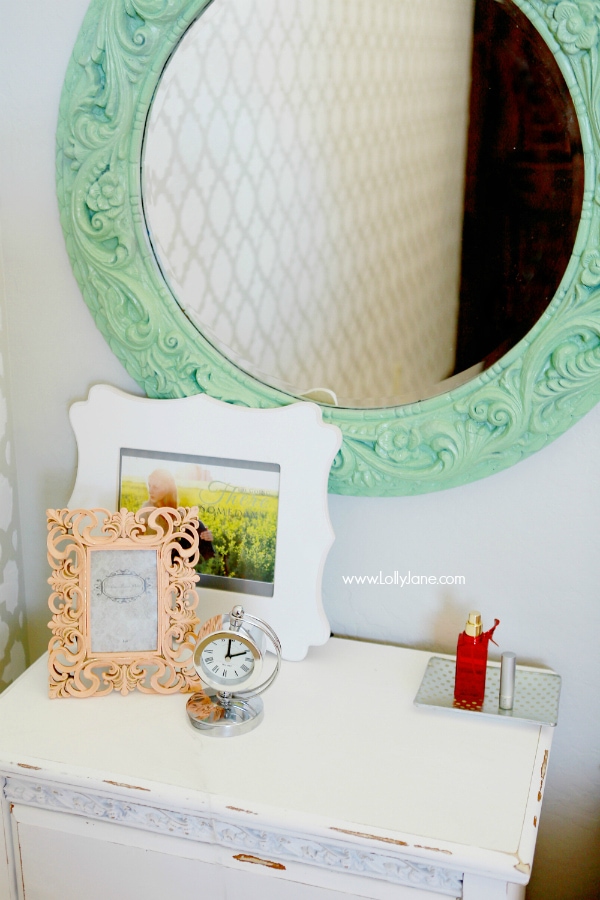 Check out the before colors…chocolate, pink, bubblegum, lime…makes me want a sherbet ice cream (; Miss L was ready for a more grown up space.  She perused our girl bedroom ideas and sent us some pins she liked for our inspiration.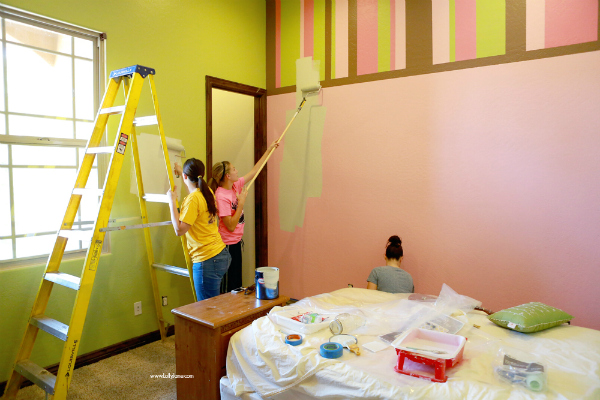 We are obsessed with this perfect gray paint, it's the best shade of gray we've found!! It's called "Timberwolf" by Dutch Boy although we had Home Depot mix it for us this time around.  We also used it in my oldest daughter's tween bedroom AND my 5 year old's bedroom.  (Which I started 8 months ago and haven't finished… yikes).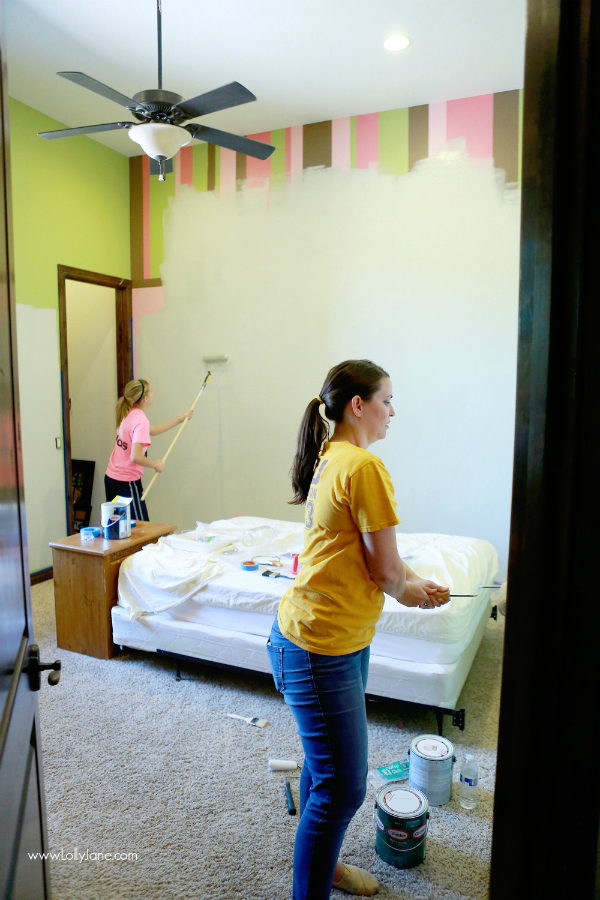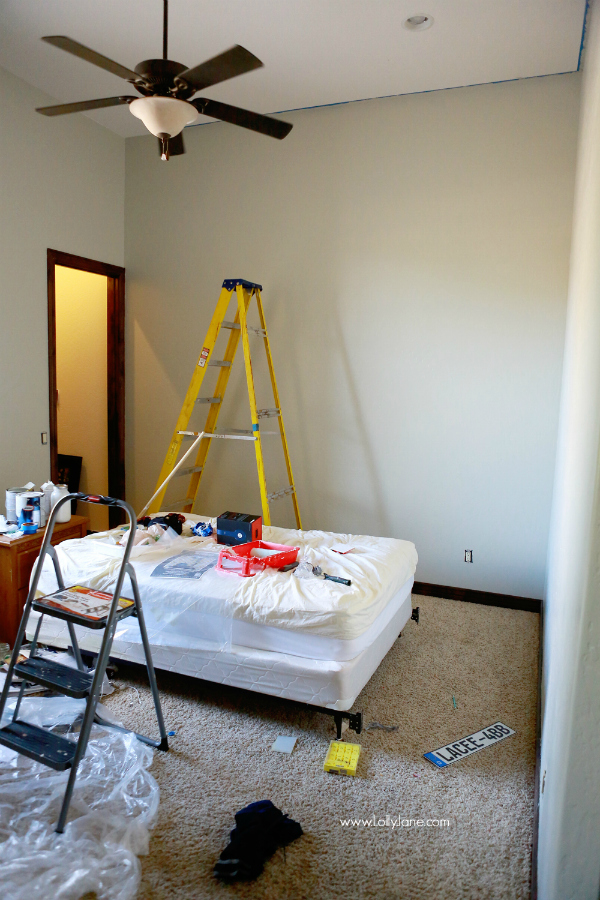 We told Miss L she needed an accent wall because her 15′ walls…YES, 15 FEET, people!!! were so big that it'd make a great statement!  She chose Cutting Edge Stencil's rockin' Moroccan.  Okay, it's not called Rockin' but it SHOULD be cuz it rocks.  I got the stencil started for this cute 14 year old and away she went!!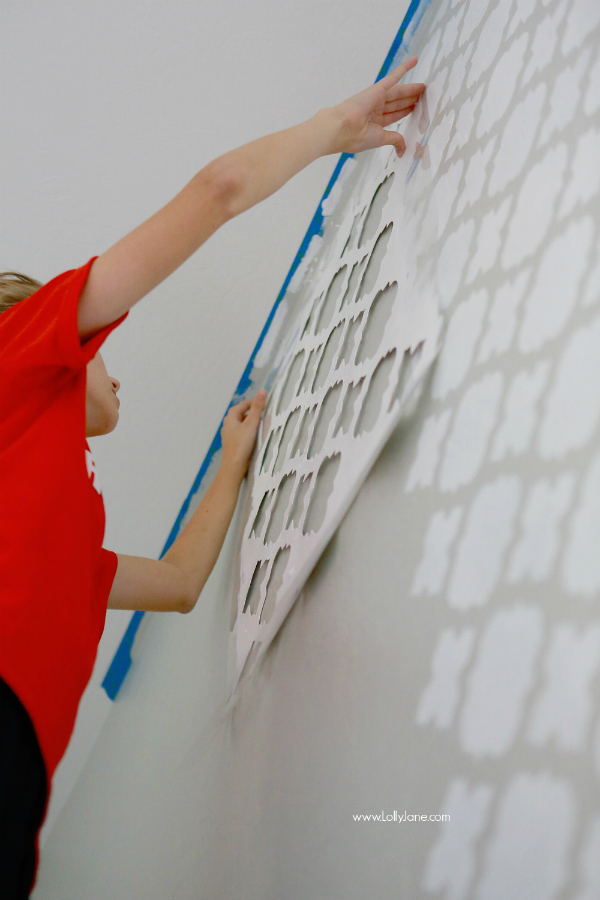 I put a good 6 hours into it when she took over…I think it took about 4 more hours + touch-ups to complete.  Tedious? Yes.  Worth it? Most definitely.  It's so pretty!!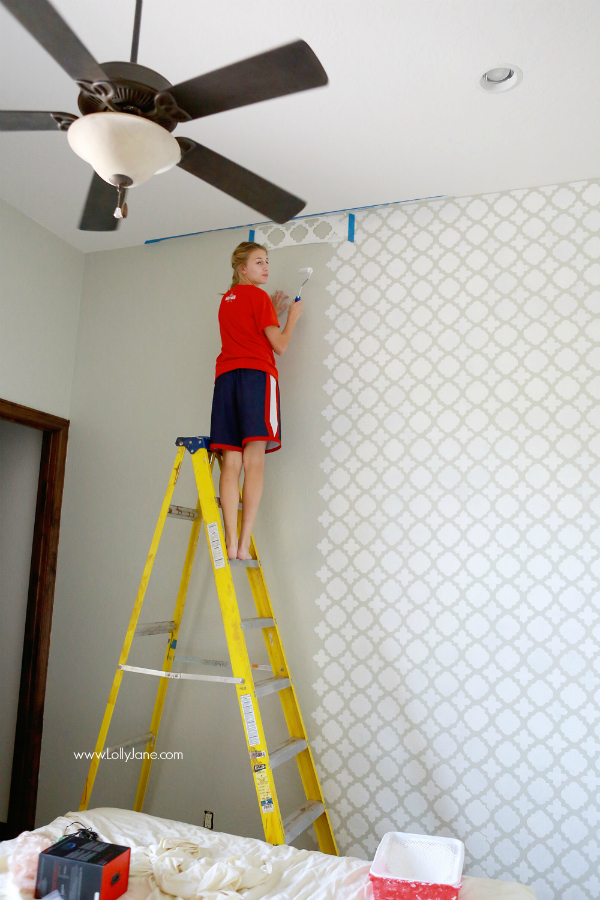 Doesn't it look fabulous with her mint + coral accessories??  We made that tufted head board. *shoulder pat* First, and last, one! It took forever.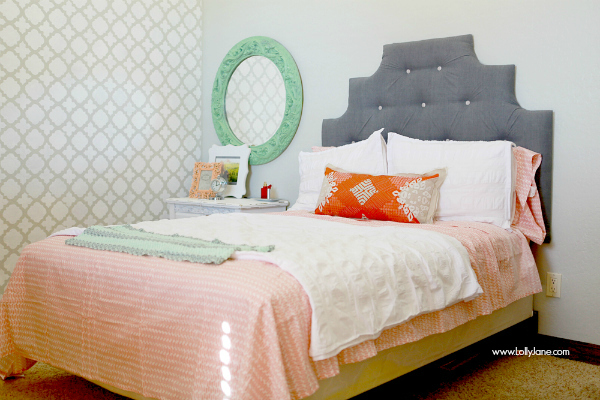 Miss L kept saying she wanted simple, simple, simple.  So we added a quick diy bulletin board from an old frame, a cute lamp + utensil turned pencil holder, repainted a pretty desk + upholstered/painted a thrifted chair.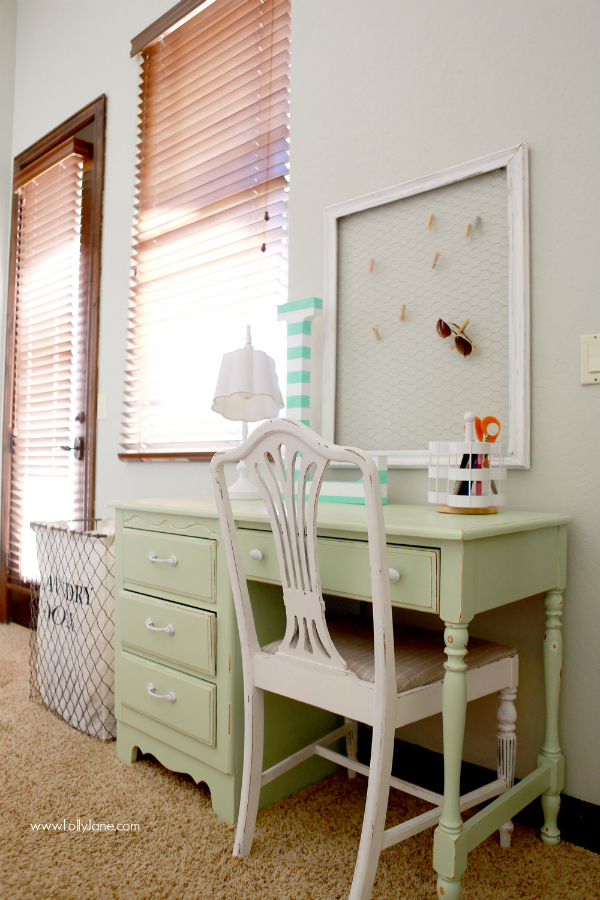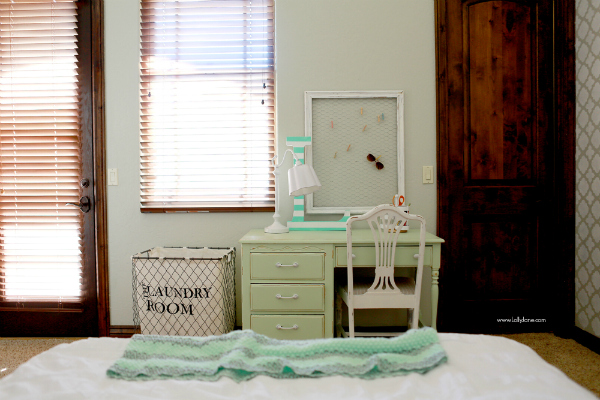 You HAVE to see the before pic of this armoire!! It was acutally a tv armoire…post to come.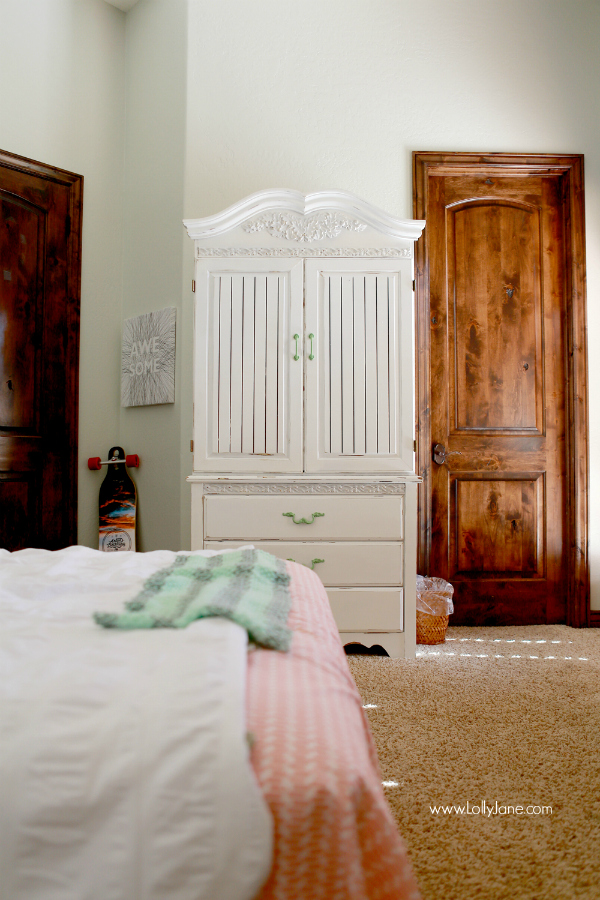 We have A LOT of tutorials coming your way!  The reason we could keep this bedroom makeover under our $500 budget.  Our cost breakdown for the whole space:
Upholstered Headboard: peg board, batting, fabric, buttons: $100.
Armoire & Desk: free.
Chair, $6 thrifted.
Fabric, JoAnn's, $3/coupon.
Letter L + clothespins, JoAnn's, $6/coupons.
Mirror: $8 thrifted.
Bulletin board, thrifted frame, $5. Painted and chicken wire'd it: free.
Coral Sheets from Target: $19/sale.
Duvet/Shams: $30 Kohl's/coupon.
Clock, side table frame, lamp, utensil holder, canvas, Target, $54.
Paint (2 gallons, gray. 1 gallon, white. Spray paint, mint.): $96
Total cost: $297
Please pin it so your friends can get ideas for their girl's room as well (: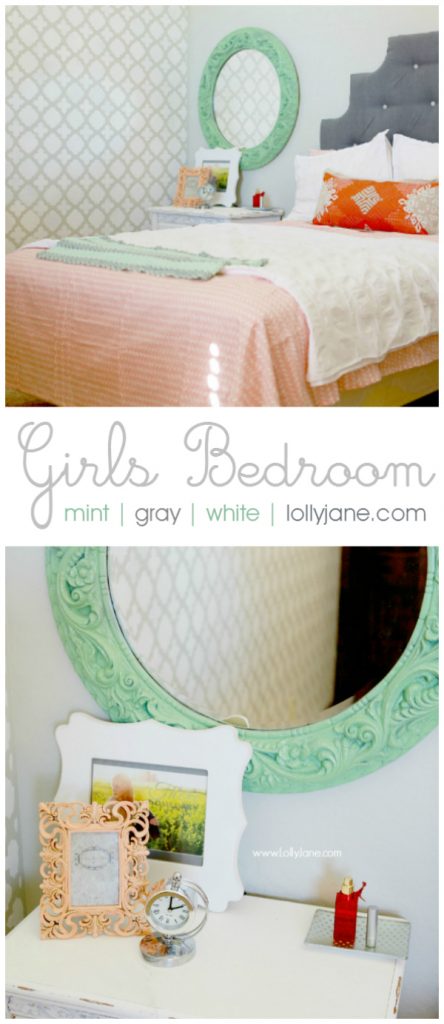 We'll continue to update this post with details….here is the mint mirror makeover!  Happy what a quick few minutes with spray paint can accomplish (;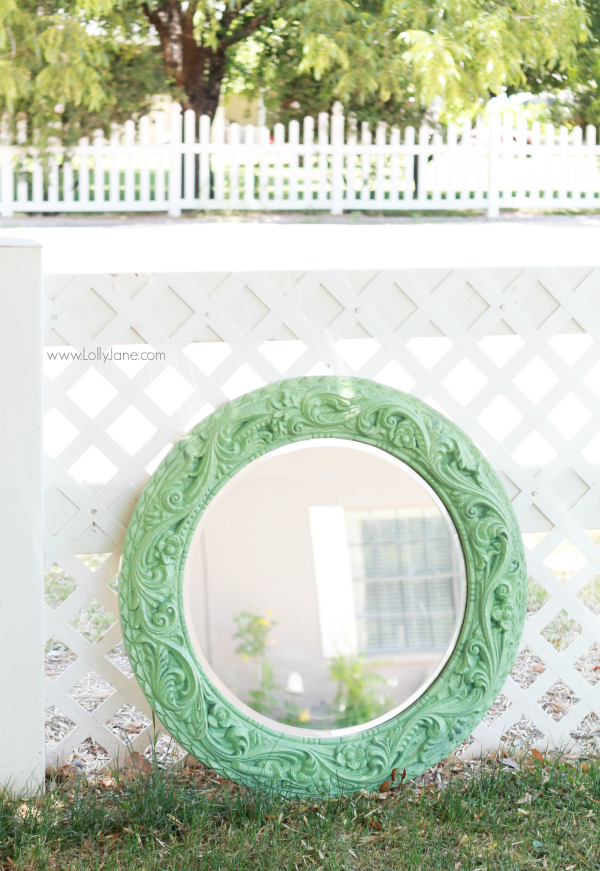 Check out our many stenciled projects, we love how easy it is to change the look of a room with them.  Still love our stenciled dining room and our herringbone stenciled craft room that's been featured in 2 magazines.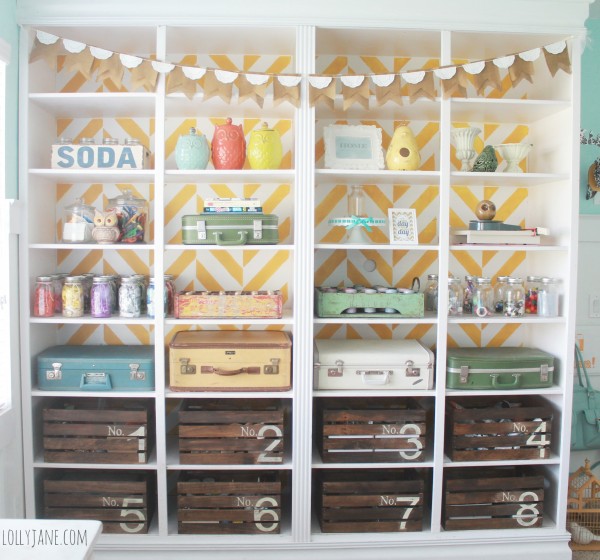 Big thanks to our fav stencil supplier, Cutting Edge Stencils!  They sponsored us to attend SNAP conference earlier this year and we can't get enough of their gorgeous products!  We've even used them to make signs like our lace USA sign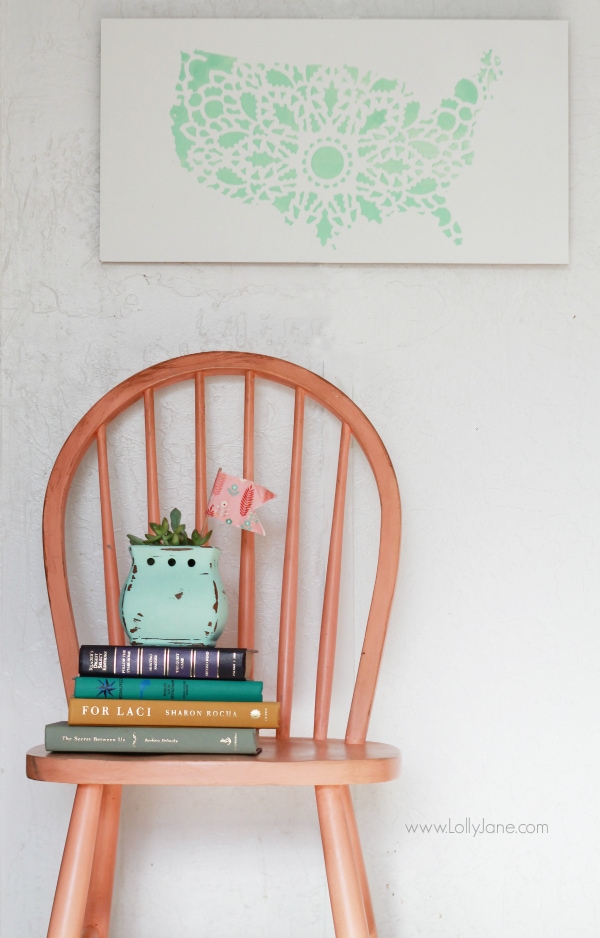 plus our Home is Where the Heart is pallet art!