Our dad is an agronomist. He's basically a doctor of dirt…which means he tests soil for various farmer and lets them know what's wrong with their crops. You'd think his offspring would have automatic green thumbs, right? Wrong! Our oldest brother's wife does but the rest of us? We take after our mom (; When Wayfair + Porch.com paired up for a #greenthumbchallenge, we were determined to drop the "d" from #greenthumbchallenged and prove we can GROW something good! If you're an Insta fan, you'll have seen the #ljkelhouserefresh sneak peeks of my freshly painted blue house with yellow doors that got everyone's attention. Here's the reveal of my house along with my freshly planted garden, including some AZ shade garden tips if you're stuck with no sun in the sunniest state of all, ironically!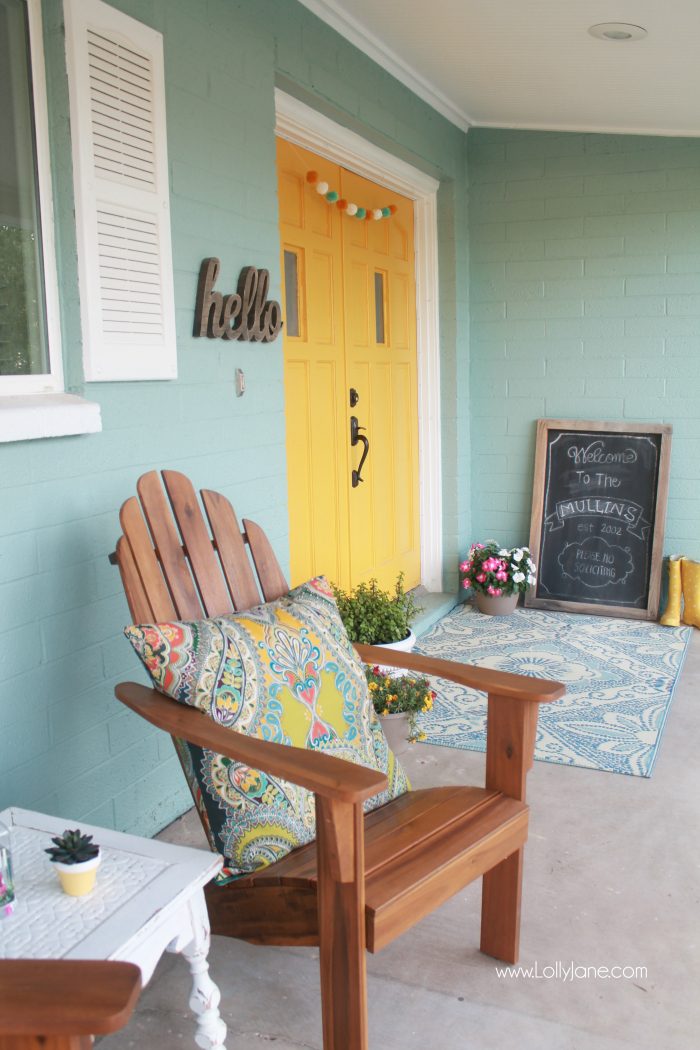 Although I changed the address numbers for safety sake, I adore this Princeton Column address plaque from Wayfair! Lots of color options and fonts, love how our guests can easily spot it from the street too!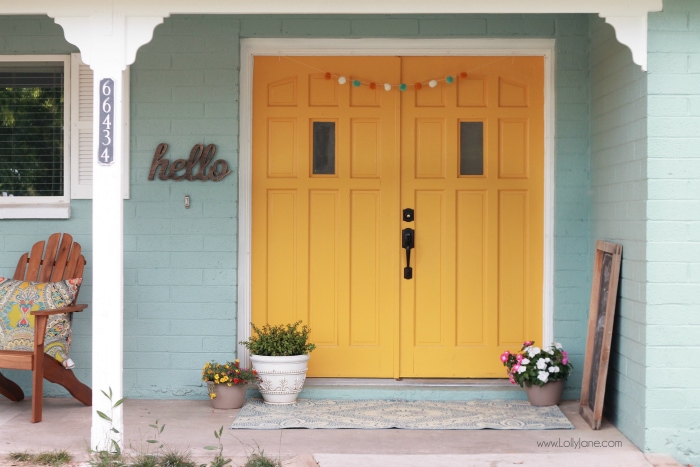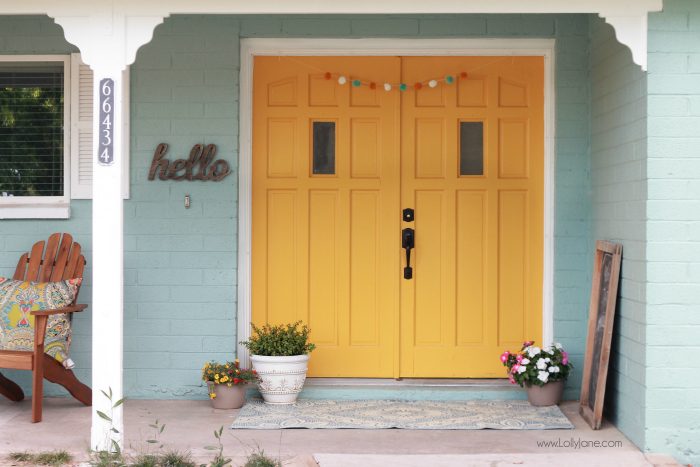 We love the cheery mustard door greeting! We added a little 'hello' above the doorbell and some fresh flowers provided by Porch.com! Let's tour the garden, shall we?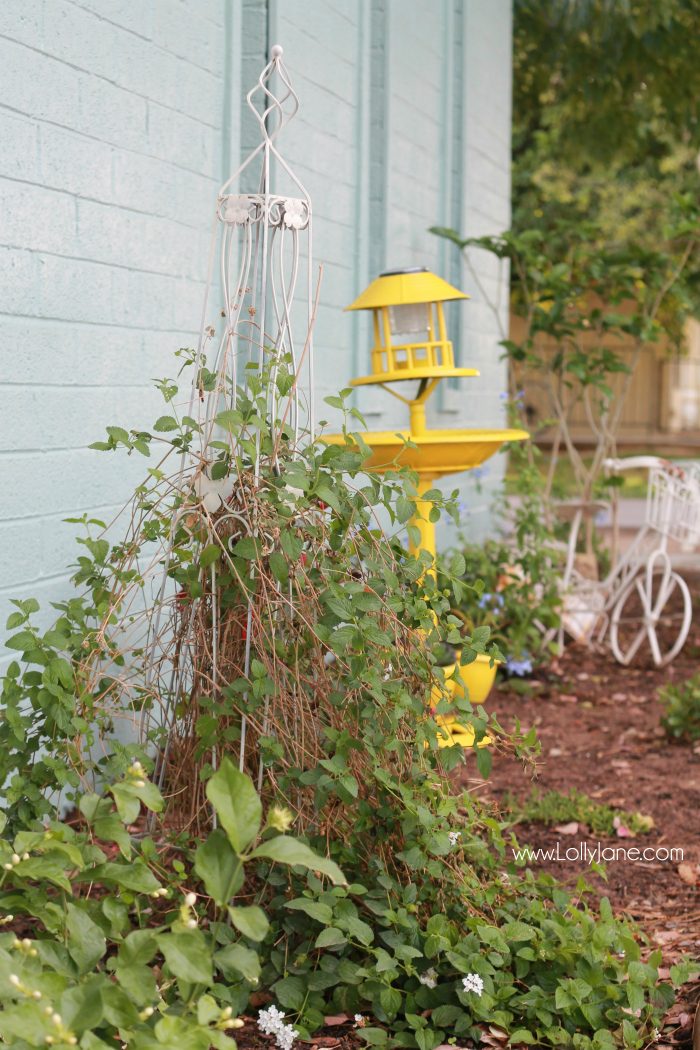 I love this wood french rectangular planter from Wayfair. I was hoping it would fit on my coral garden cart but it's a smidge too long. Funny story about our house color: I had it matched the bench below. The bench was abondoned on the side of the road and hubby knows my love of free roadside finds so he brought it home. I drug the bench from under a big tree in our front yard so I can still utilize the planter but need to paint the bench since it blends into the house now.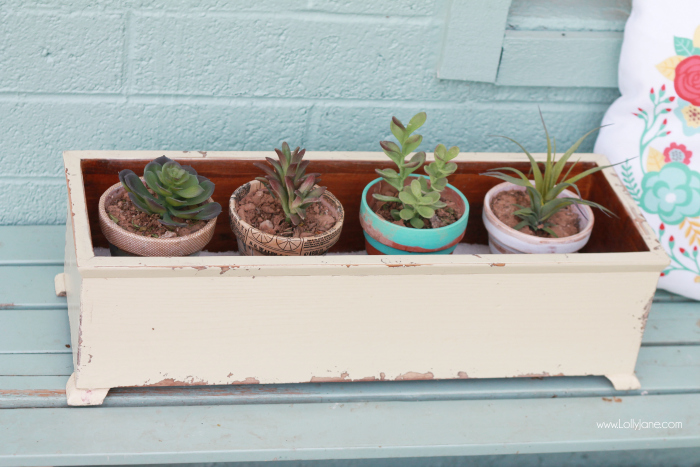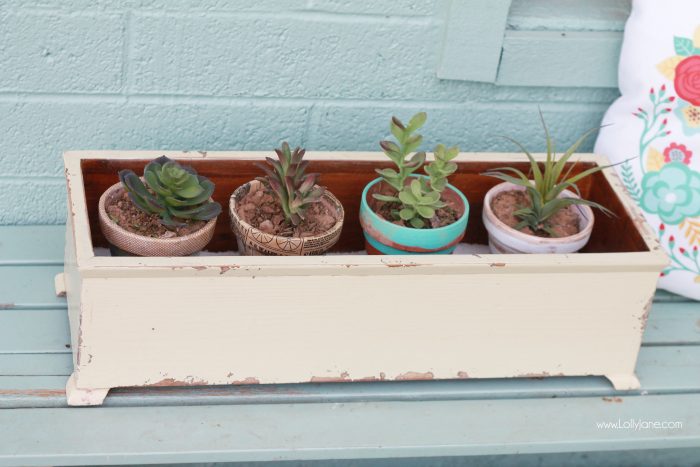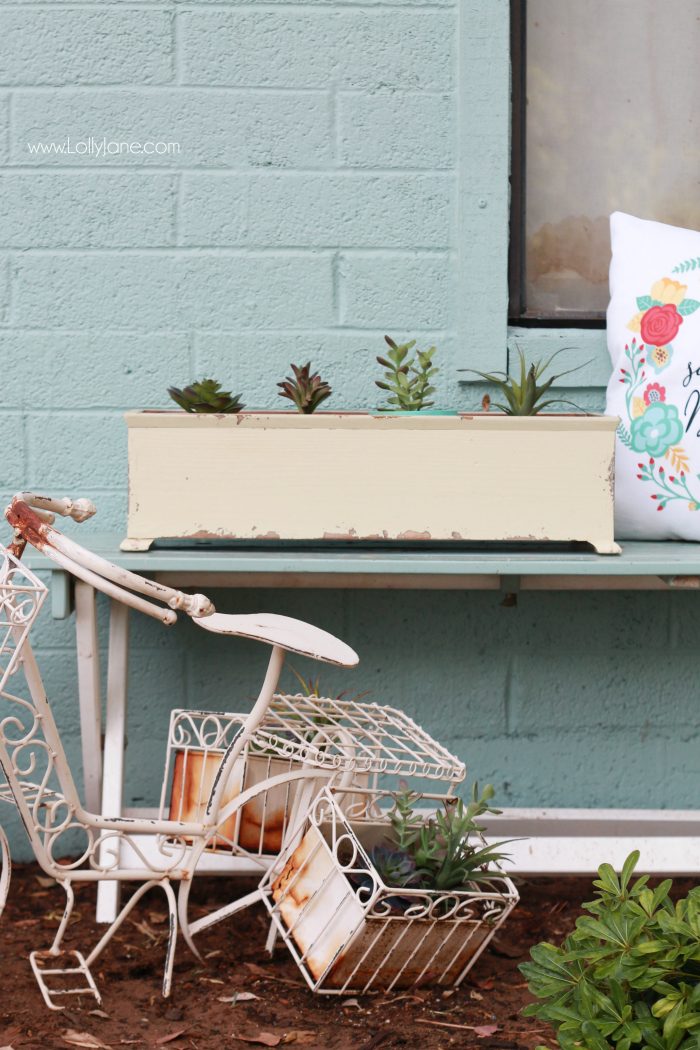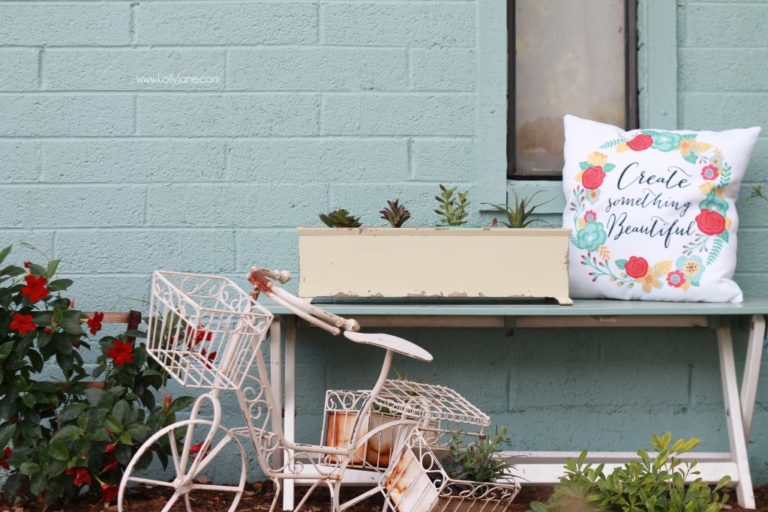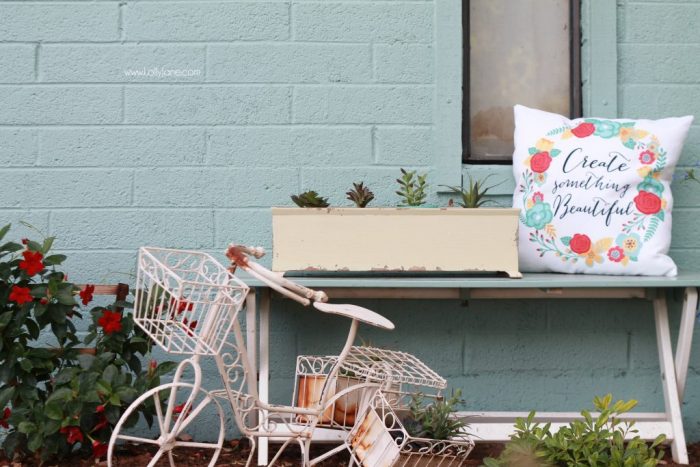 Being an Arizona native, you know we've got to throw some pretty cacti and succulents in our garden!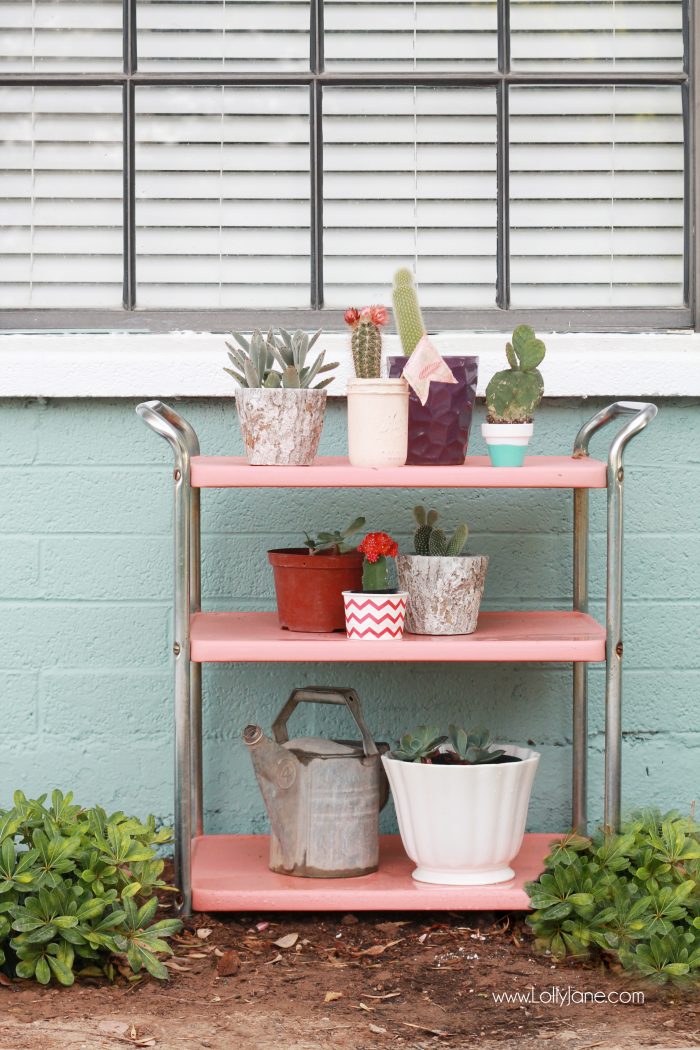 Although we don't love a full desert landscape and lean more on the farmhouse feel, we do love a mini cactus here and there. And if you've been around LJ long enough, you know we're pretty obsessed with succulents.
This faux birch wood Sage&Co industrial planter is pretty adorable, right? I loved them so much I nabbed two!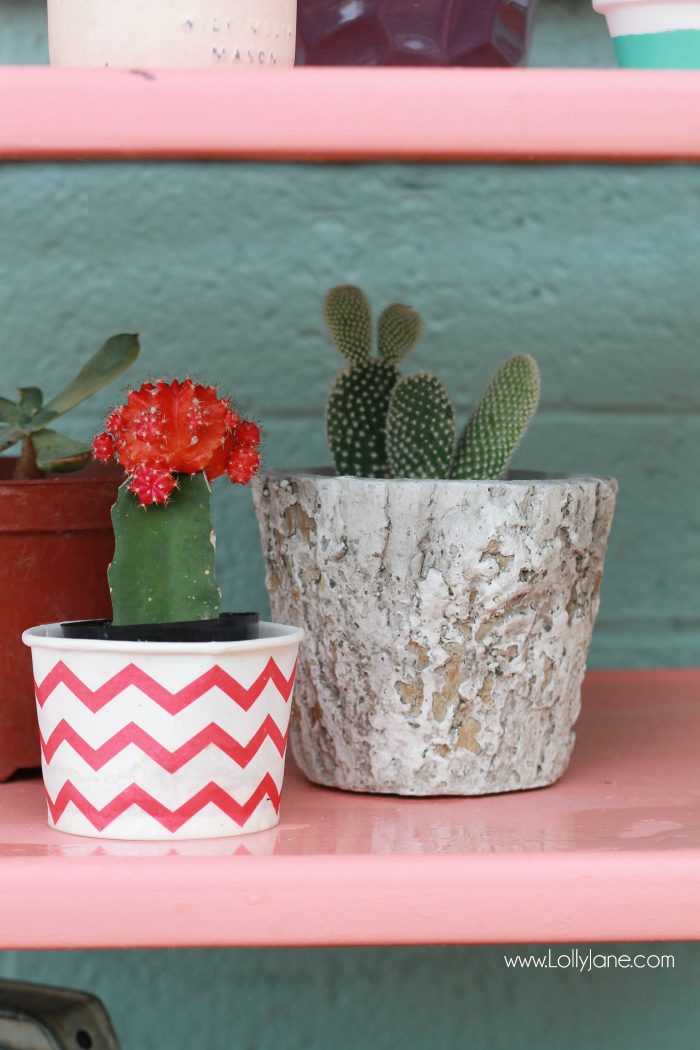 A couple cactus garden tips for you:
There IS a special cactus + succulent soil potting mix. I got mine at a local nursery for $5.
We are huge fans of gifting succulents in painted mason jars, you WILL need to add rocks to the bottom for effective draining.
Do NOT over water. They need to be watered weekly, that's it. A good long drink will do it!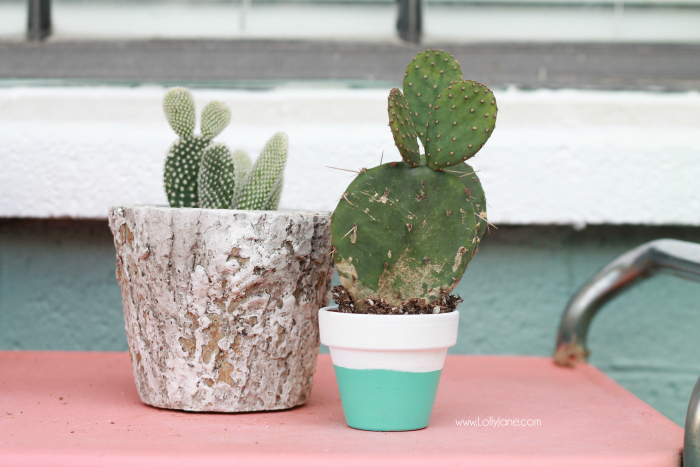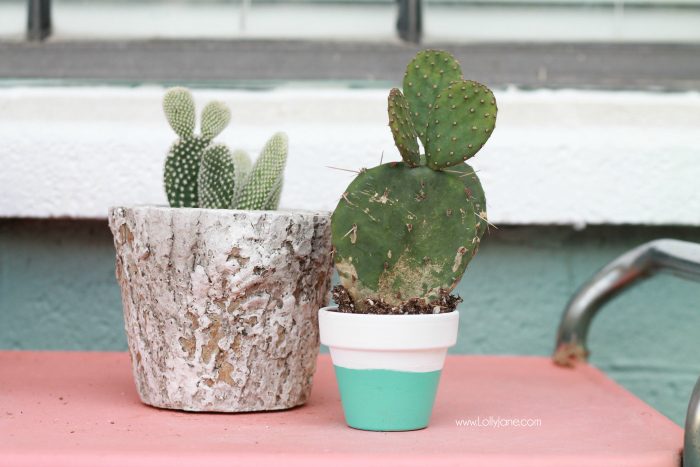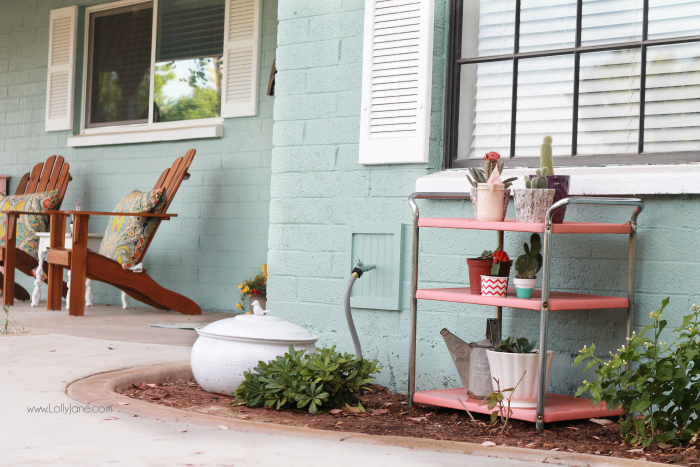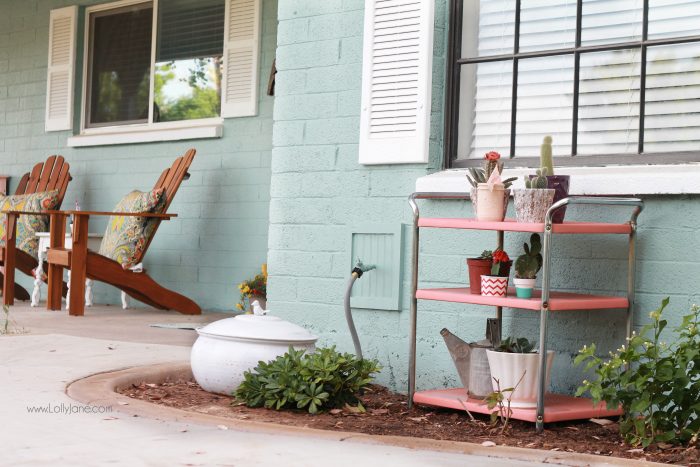 On the other end of the garden by the garage is a fun lantern birdbath planter. I thought it would be fun to add a birdbath for the kids to watch them up close instead of attempting to chase them, ha! We spray painted it yellow to match the front door (;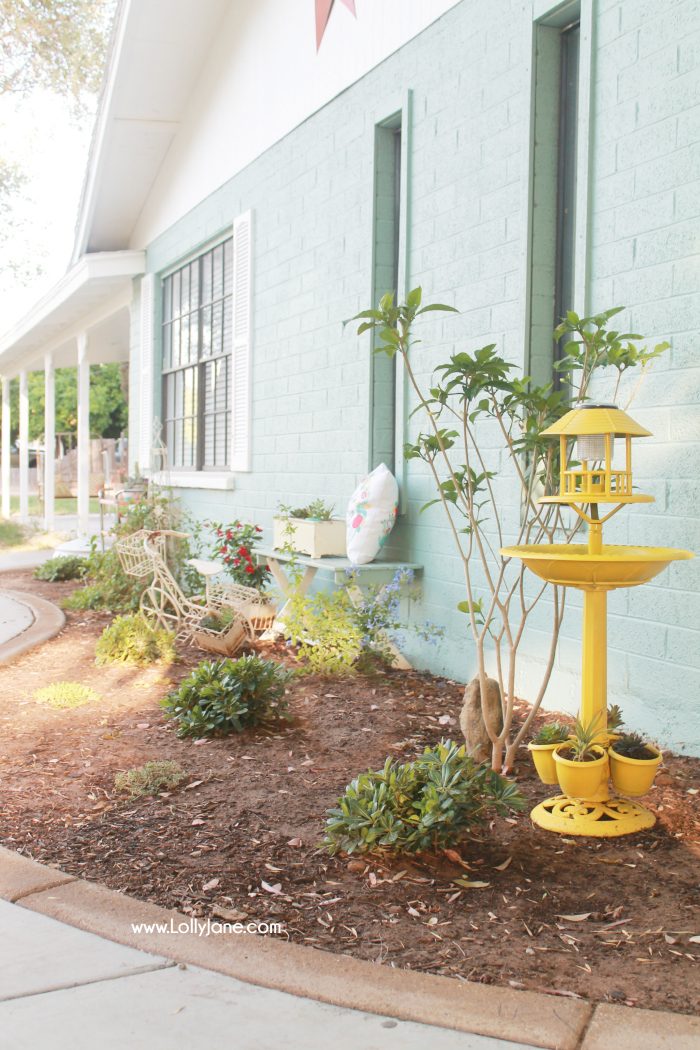 Here is a before of the house color and the before garden: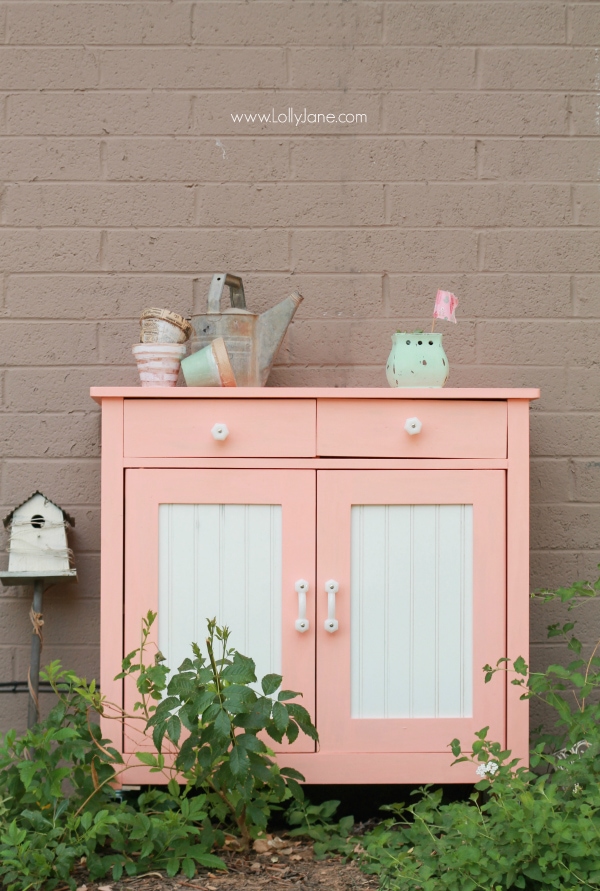 Ugh that old, drab brown color makes me sooo happy the house is now blue! (The paint code is 417152525780 and I had it mixed at Home Depot via Glidden Paint.) See how pretty my yellow bells and white flowering lantana were? Turns out they needed more sun so they withered away until I replanted them in my neighbor's sunny yard. I was able to baby one existing lantana by threading it through a garden trellis, its still alive so that's good! With the help of Porch, I headed to my local nursery to stock up on shade appropriate plants since my house is north facing and the sun never touches this garden, bummer.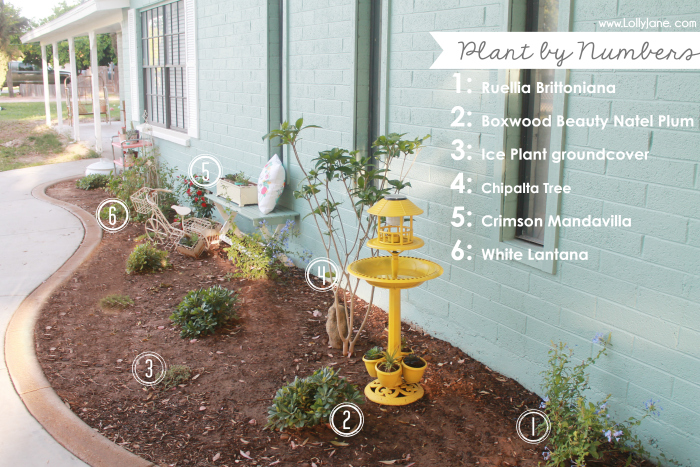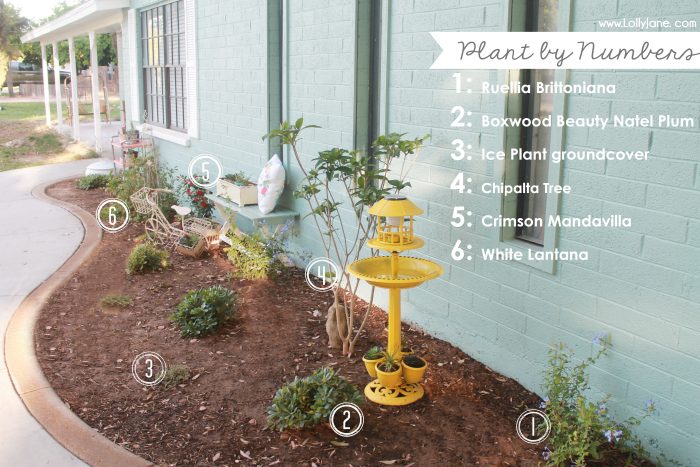 I ran into an old high school buddy, Luke Brannon, who happens to own his own landscaping company now. He generously swung by and shared some tips with me (give him a call if you need help in the Phoenix area 480-254-9298). I ripped out the whole garden except the one lantana and started fresh. Bummer because the plants are all babies and since it's a shaded area, they'll grow slowly. But over time and with good watering, they'll be full and pretty soon enough. I'm thinking of adding bright white river rock over the dirt since the ground cover will take awhile to fill in as well. Thanks for sponsoring todays post, Wayfair!

Check out all of our tips and tricks like these adorable painted mason jars filled with artificial succulents (;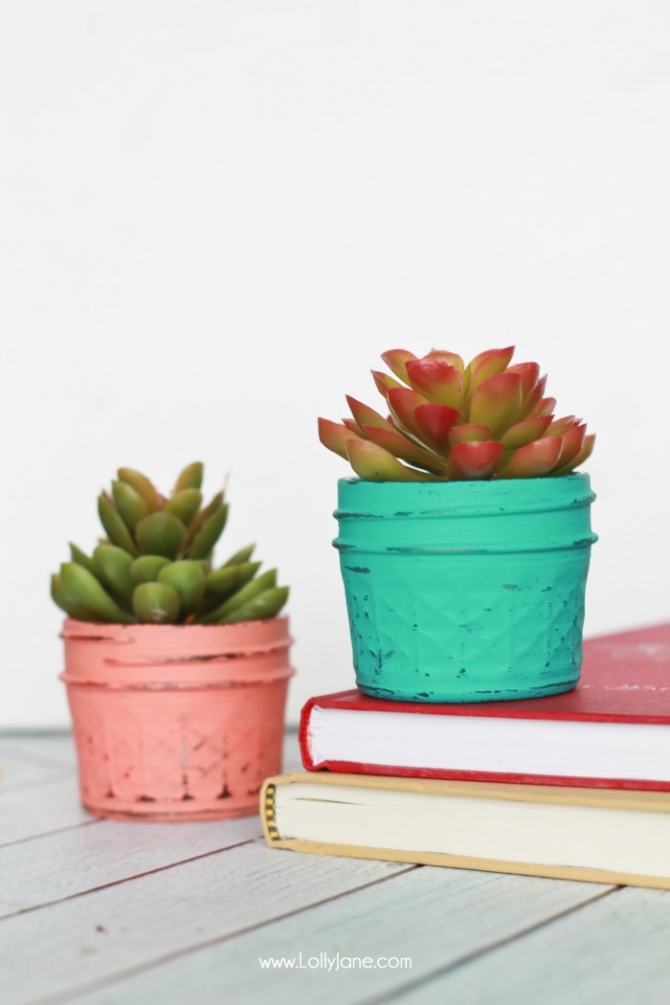 and you'll love these 20+ home decor ideas too!