Kitchen Remodel Inspiration | BEST RTA CABINETS
Are you wanting to renovate your kitchen on a budget? We've found the best RTA cabinets for kitchen renovations that will save you thousands! Lots of kitchen remodel inspiration for renovating in 2022!
I'm beyond thrilled to *almost* have a new kitchen! We started our renovation nearly a year ago and at one point, I was convinced we'd never move back in after continual setbacks and running out of money multiple times, ha!
One of the few companies we didn't have issues with was Lily Ann Cabinets. In full transparency, they DM'd us on Instagram to ask if we'd like to collaborate.
Before I wrote them back, I created an account on my own, ordered free kitchen cabinet samples and requested a free 3D kitchen cabinet rendering. I wanted to know what a true user experience was before I introduced them to you.
S N E A K * P E E K !!
Here's a snippet of what Lily Ann came up with for my kitchen plus a few of my personal tweaks on it. ADORE IT!! I love the hood they offer but want to add a little wood into the room so I may add some to the hood plus to the open shelves to the left. I also added the appliances we'll likely end up with so I can visualize the space more personally. And now I'm even more excited!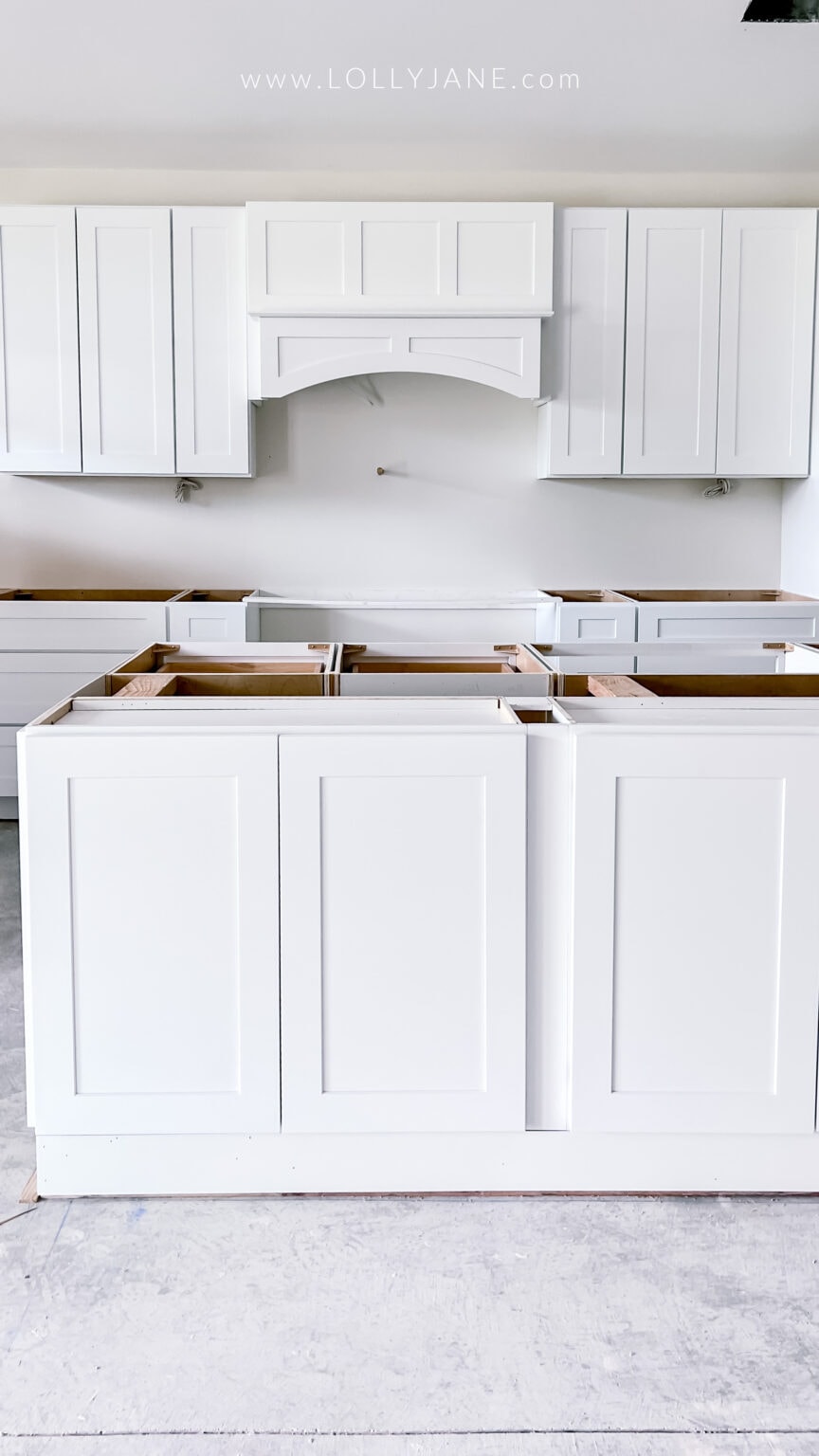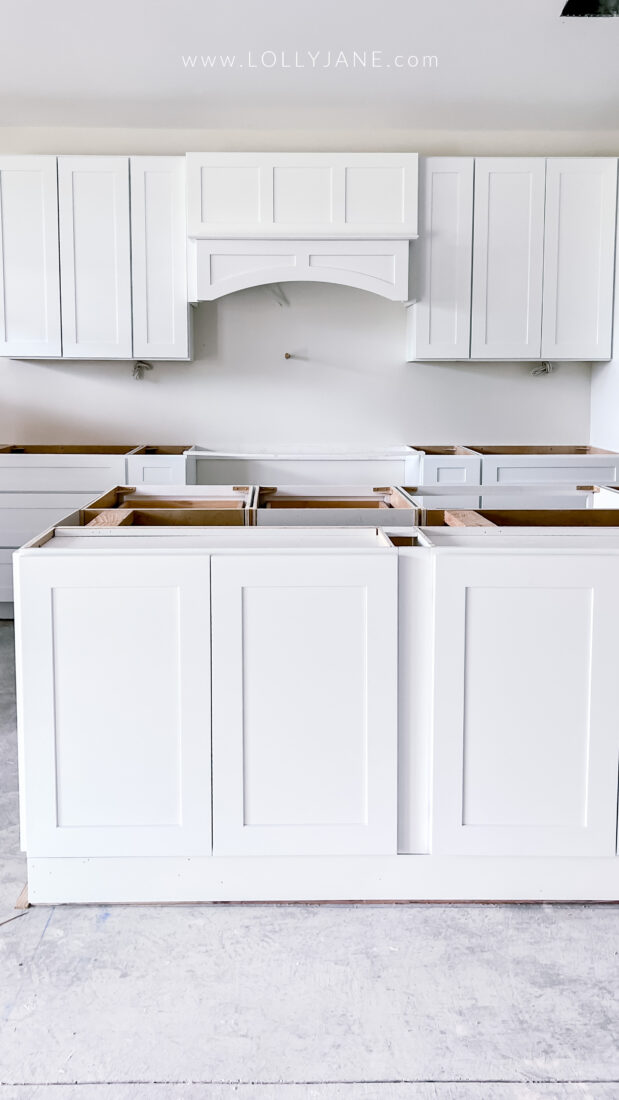 Here's my experience, inspiration and ordering process if you're looking for affordable but quality cabinets. Can't wait to update you next week as the cabinets are being installed this week, whoop!
Kitchen Inspiration 2022 Trends
When I was designing this kitchen, I knew my windows were going to be the star of the show since when you walk in from the front door, that's the first thing you see. I purposefully didn't add any uppers on that wall to showcase them. Here are the kitchens I found myself coming back to for inspiration, they're truly show shoppers.
Open Shelves
Jenna's kitchen is a similar layout to mine so I was immediately invested in her renovation. I especially love Jenna Sue's shelves for daily and holiday styling. And the natural wood shelves are so charming.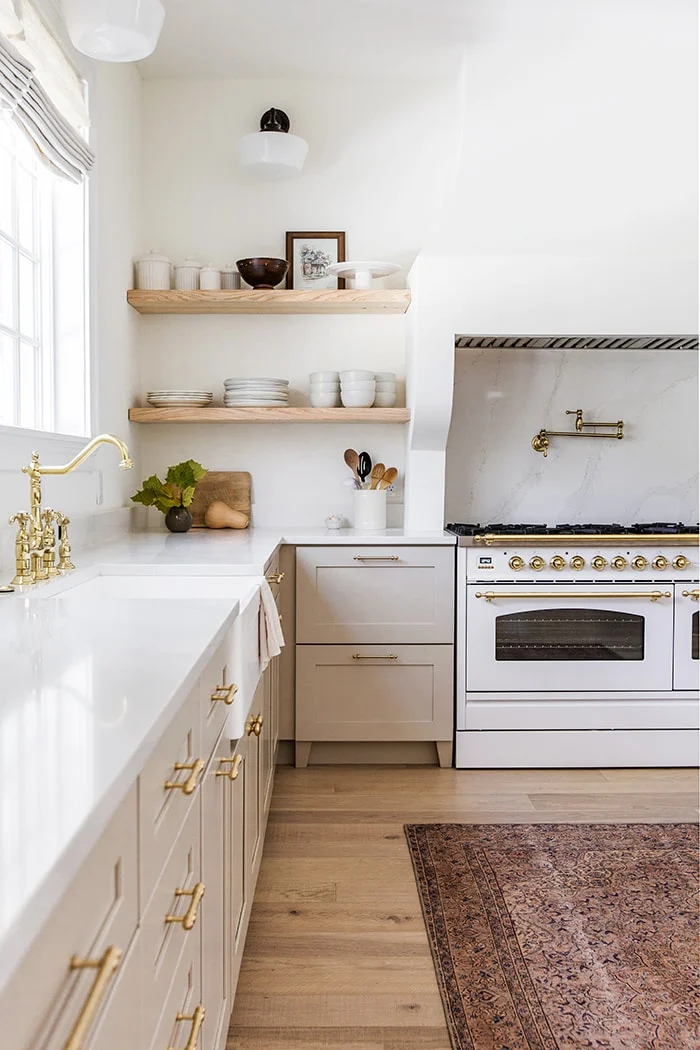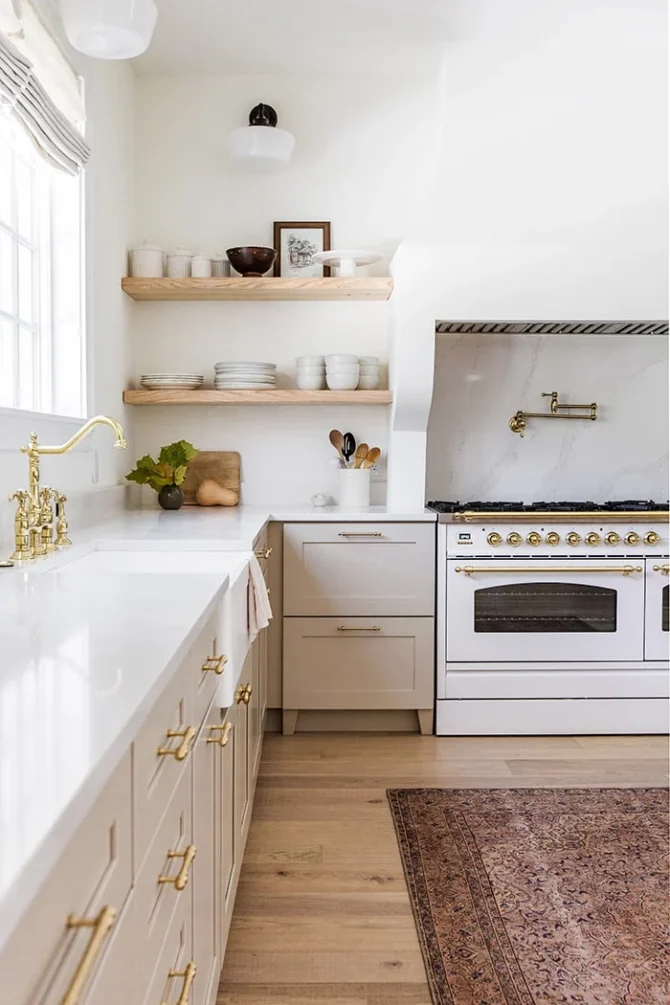 White Cabinets with Gold Hardware
I love Lindsey Pedey's kitchen with the white cabinets and gold hardware. It makes them stand out and really elevates the room. It also made me excited to splurge on a white range with gold hardware so they blend with the cabinets instead of standing out.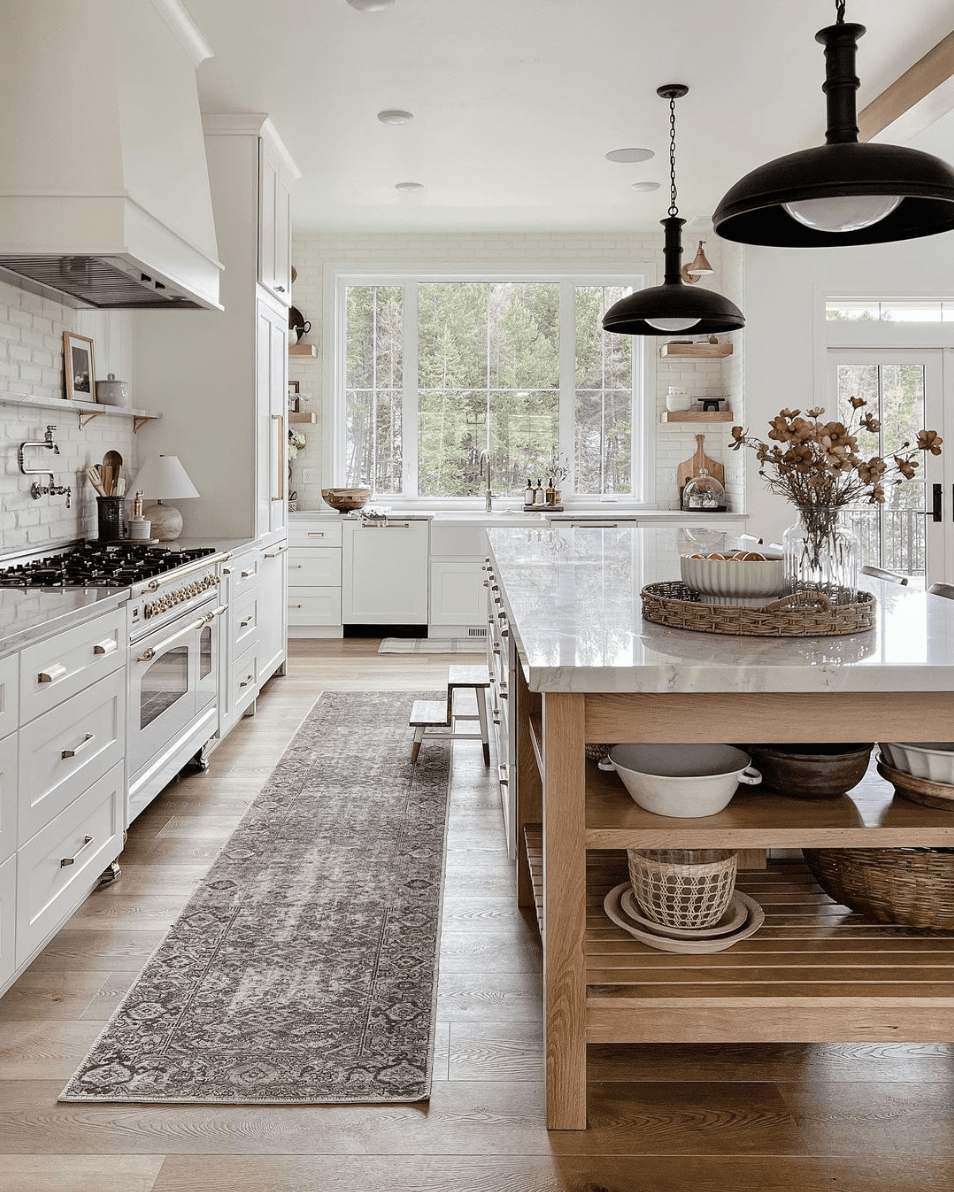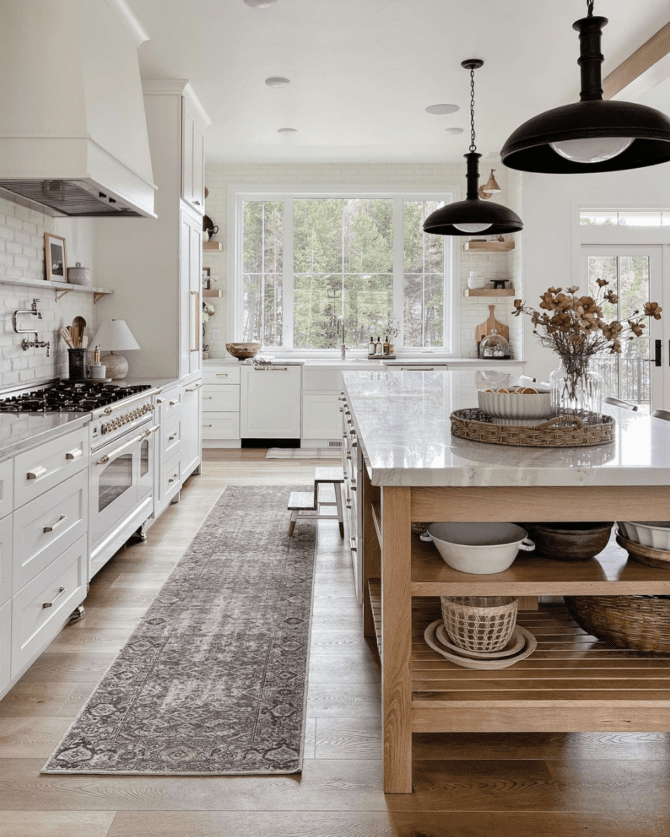 Natural Wood Kitchen Accents
This is the kitchen that I've had pinned for over a year. I love everything about it. It's from Ashley Montgomery Design and is stunning. I love the warmth of the natural wood accents which is why I want to add a piece of wood trim around my RTA hood from Lily Ann, what a beautiful and affordable way to customize a hood!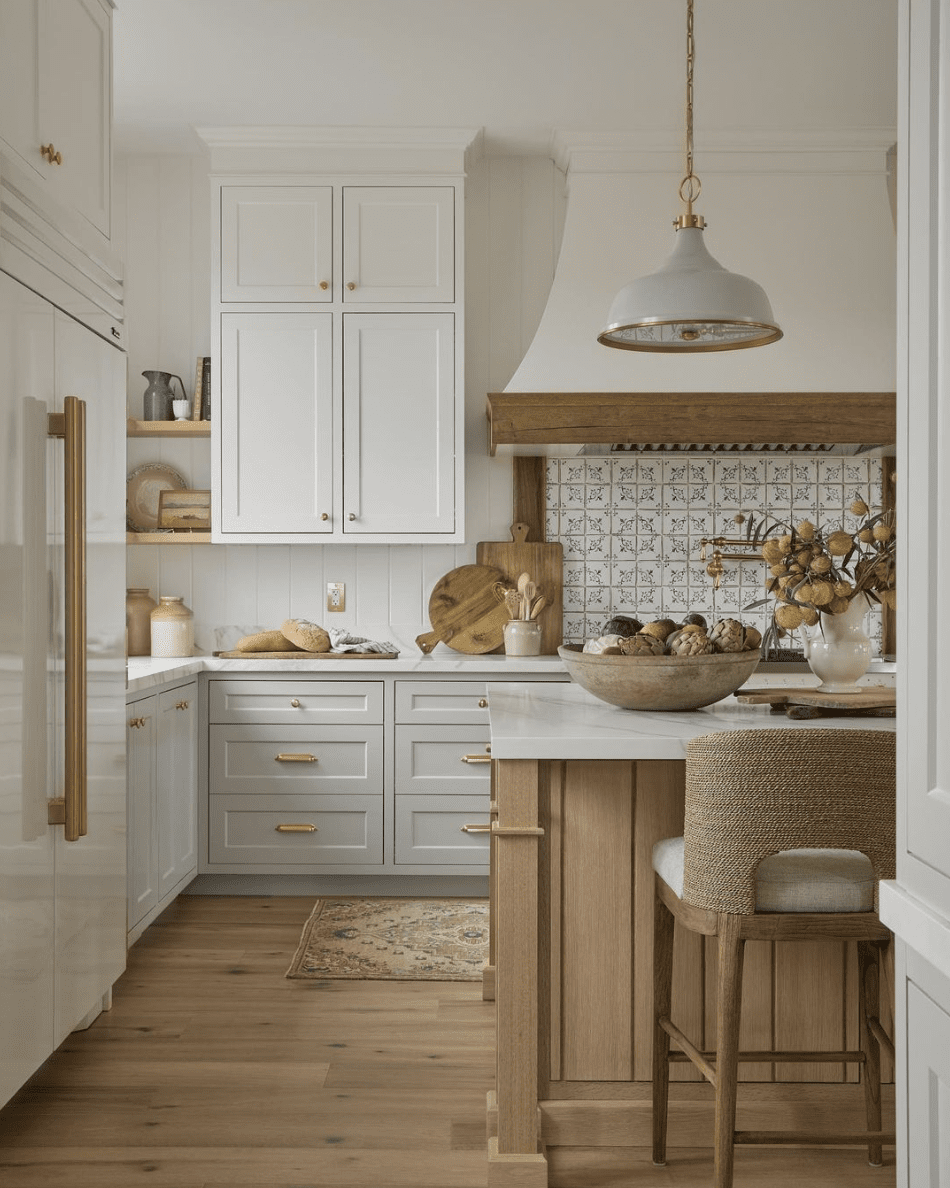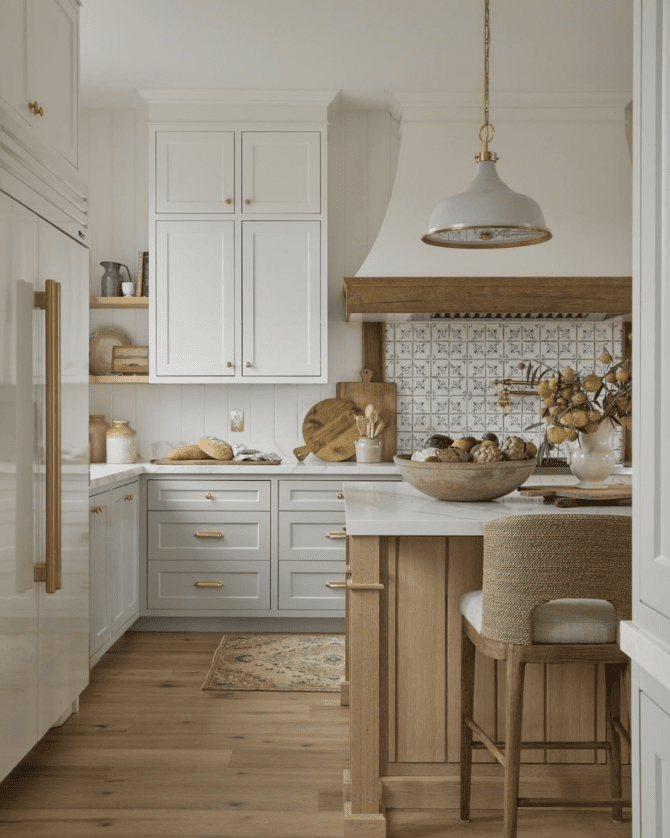 Free Kitchen Cabinet Samples
The cabinet door samples arrived within the week and I was very satisfied with the quality. The cabinets are made from furniture/cabinet grade A 7-ply and 7-ply plywood. The face frames and doors of the cabinets are either maple, birch, oak or walnut with no particleboard or cheap fillers.
After comparing Colorado White to Summit White, I decided on Colorado White Shakers which has birch frames and doors. They're so timeless and will match any decor style.
Free Kitchen Cabinet 3D Rendering
One of the things that made me fall in love with Lily Ann's website was the free 3D rendering. FREE! And super fast! Darryl designed my kitchen for me in just a couple days. Once I saw it in 3D, I was able to see what I loved and what I didn't like any more so I was able to make changes easily.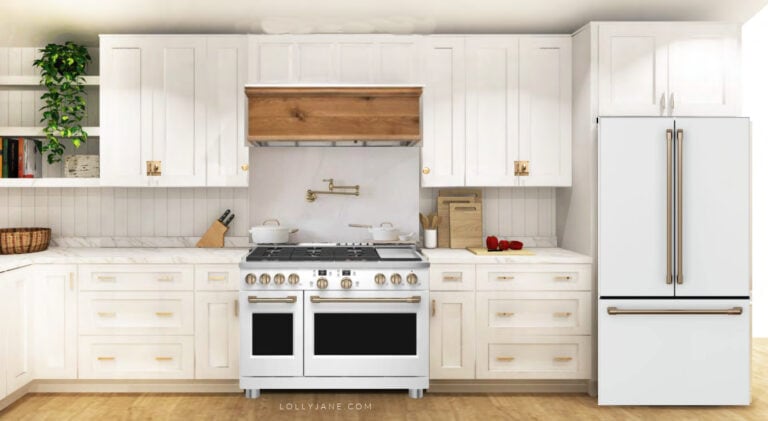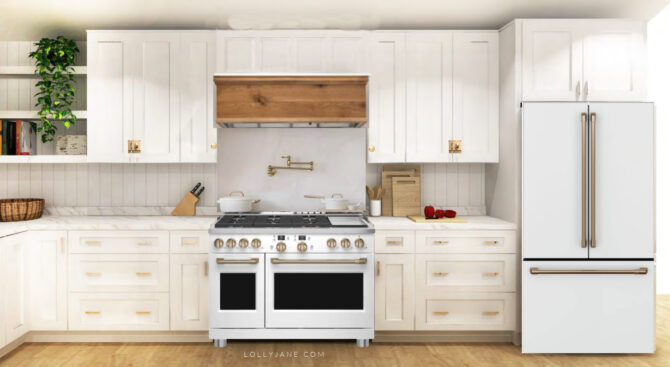 When we had our renovations plans drawn, it was so hard to make it come to life for me because I'm so visual. I uploaded my plans and had a 3D Rendering back in a day! Such a helpful feature. Did I mention it was free?!
ORIGINAL PLANS:
Here are our original house plans that we came up with with a tight budget in mind. We've been wanting to do this remodel for over 10 years but could never afford it. We've super over what we thought our budget would be but finding affordable cabinets sure helped keep costs down!
If we had gobs of money, we would have done a few things differently but this was the most economical design and we love the added square footage of a large kitchen for our growing family. (We're new grandparents, wahoo! Can't wait to host the new family for Thanksgiving this year!)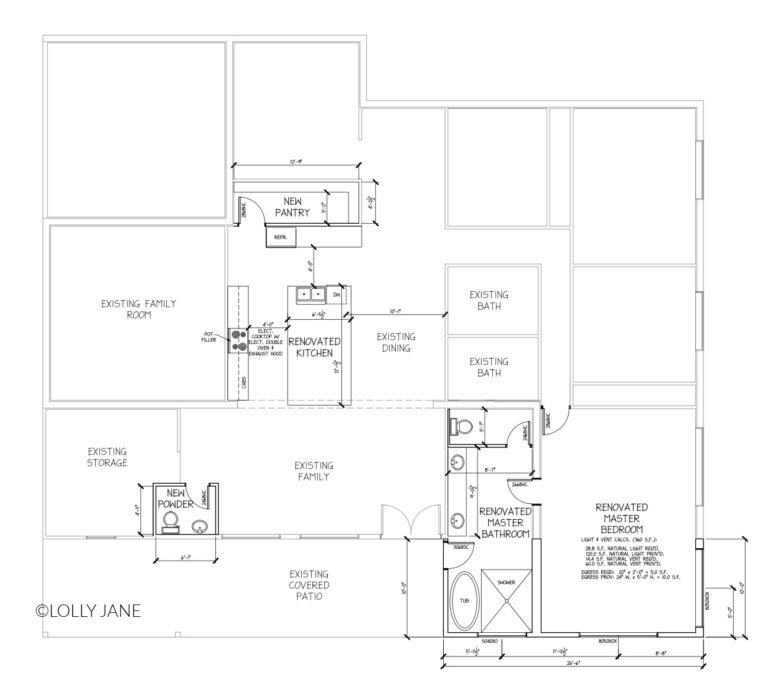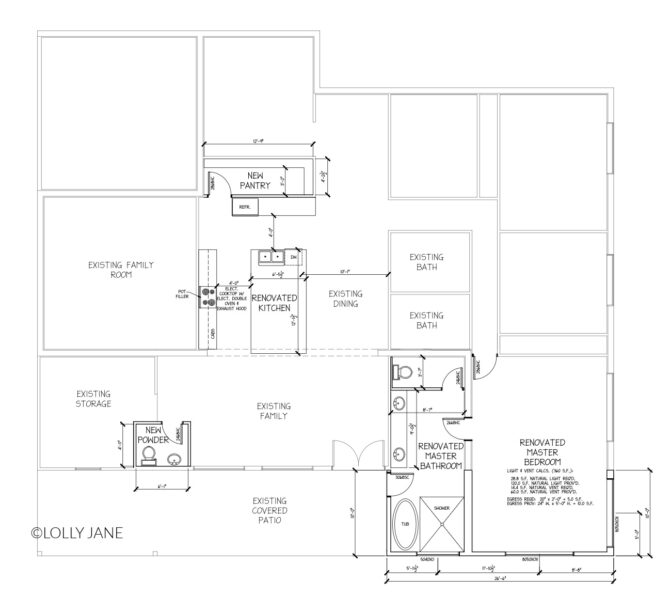 ALTERED PLANS:
Here's a copy of my plans AFTER my good friend Nikki Grandy played with them. She's the one who encouraged me to push the kitchen all the way to the back of the house instead of leaving it where it was. So glad I listened to her!
The only room we didn't change from our original plans is the primary bedroom and bathroom.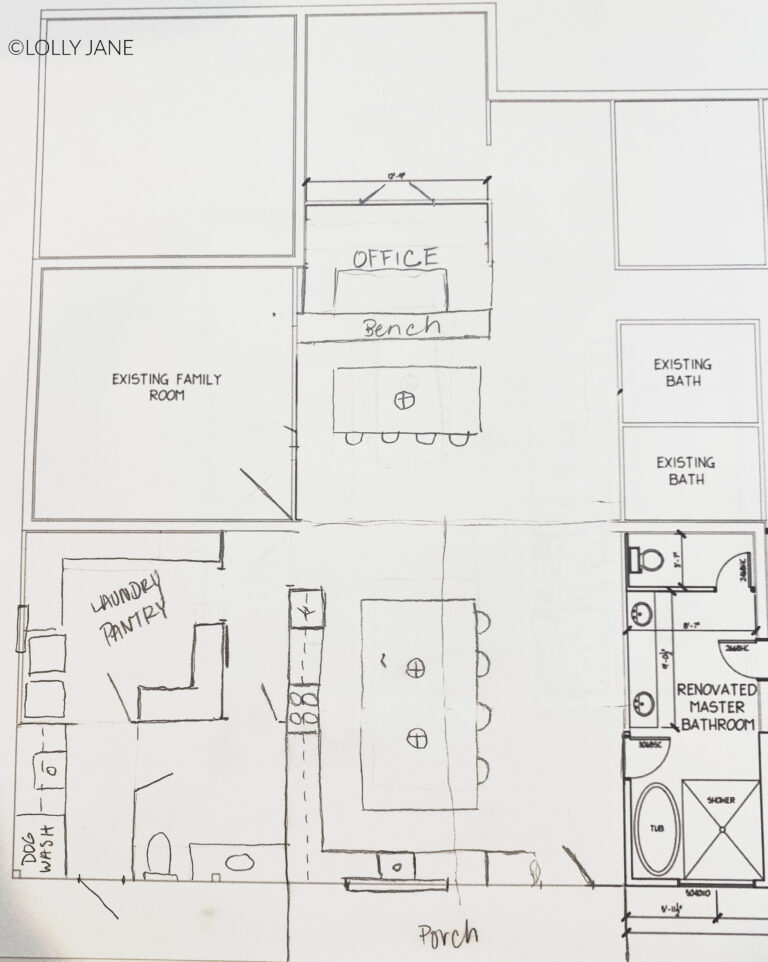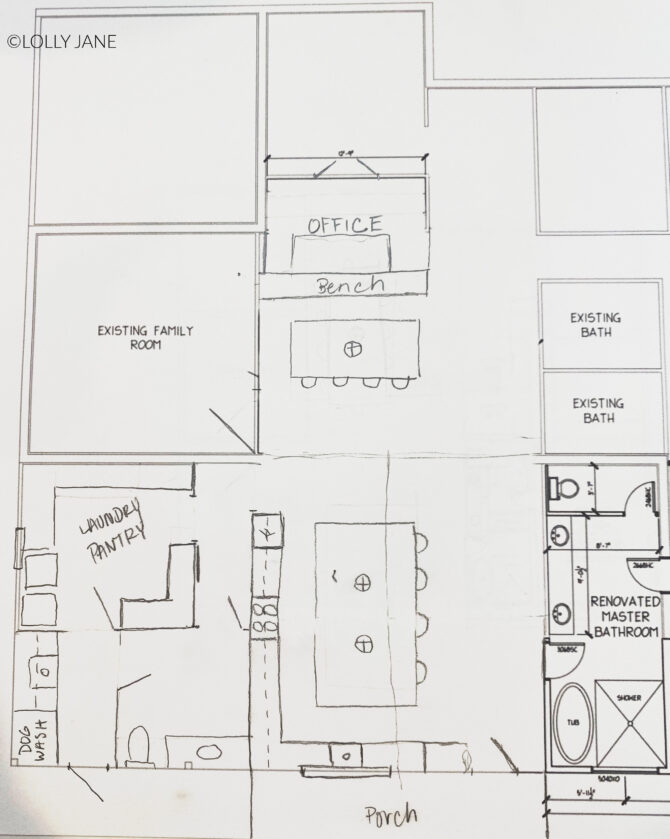 3D RENDERING:
I mean, once you take a look at these free kitchen renderings, how can you not proceed? ?
Our old kitchen was a U-Shape whereas the new kitchen in an L-Shape. We left 4′ around the island for plenty of room for 2 or more people to work together at once. I walked around in the empty space and imagined unloading the dishwasher to putting away the dishes to moving dinner from the oven to the island and love the flow of it.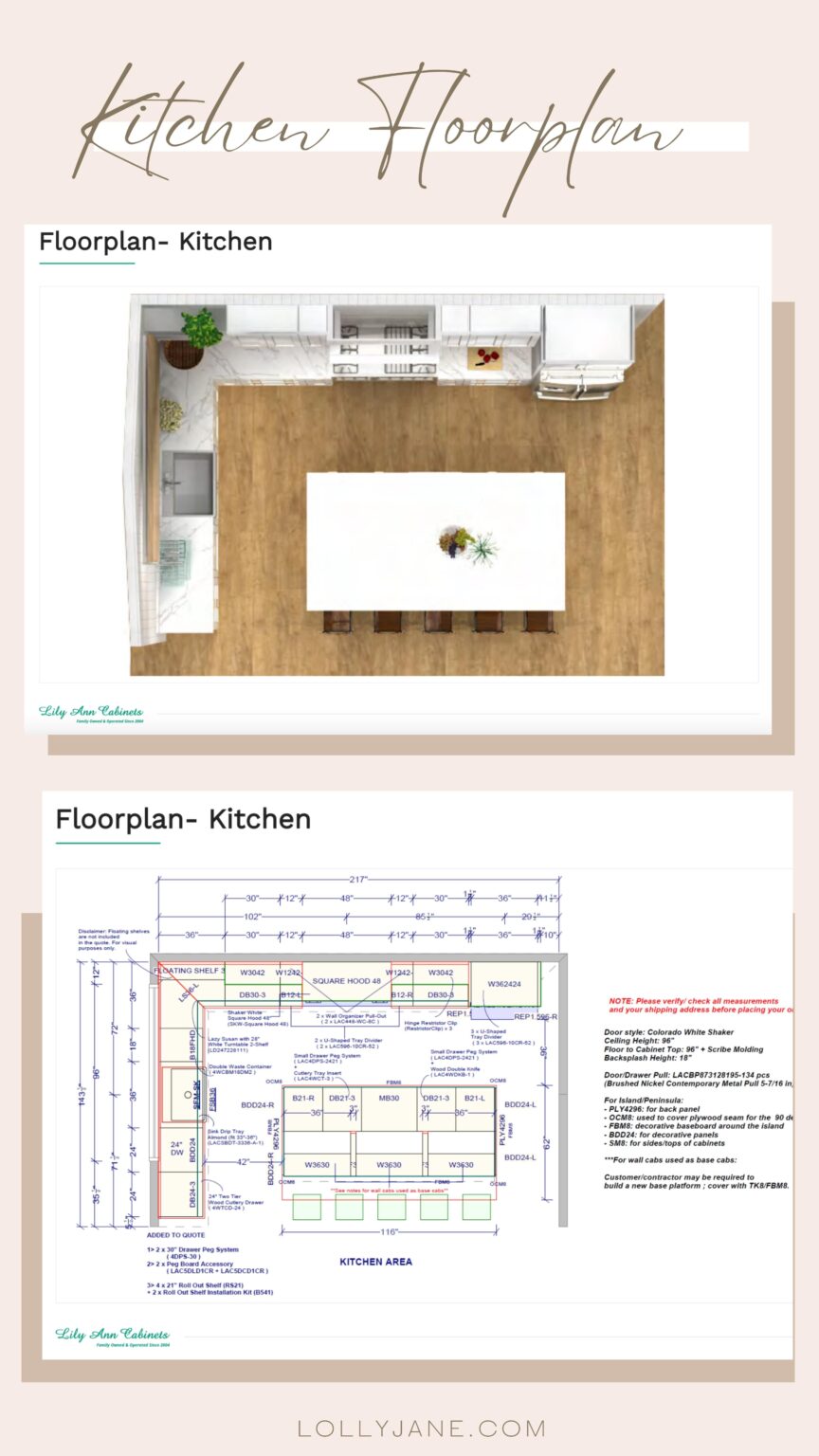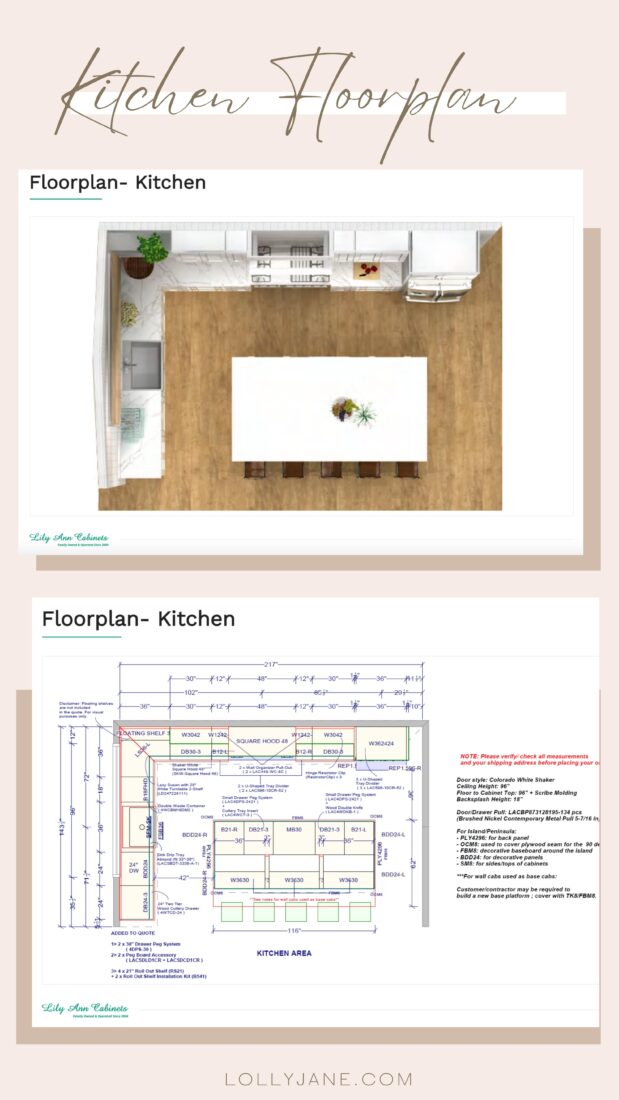 We opted for no lowers on the south wall since we have a huge island with double lower cabinets for storage. I'm excited for the open shelves to break up the cabinets and add some personal touches.
I love to decorate for the seasons and holidays so that'll be a nice little spot to bring in the festivities without junking up the counters.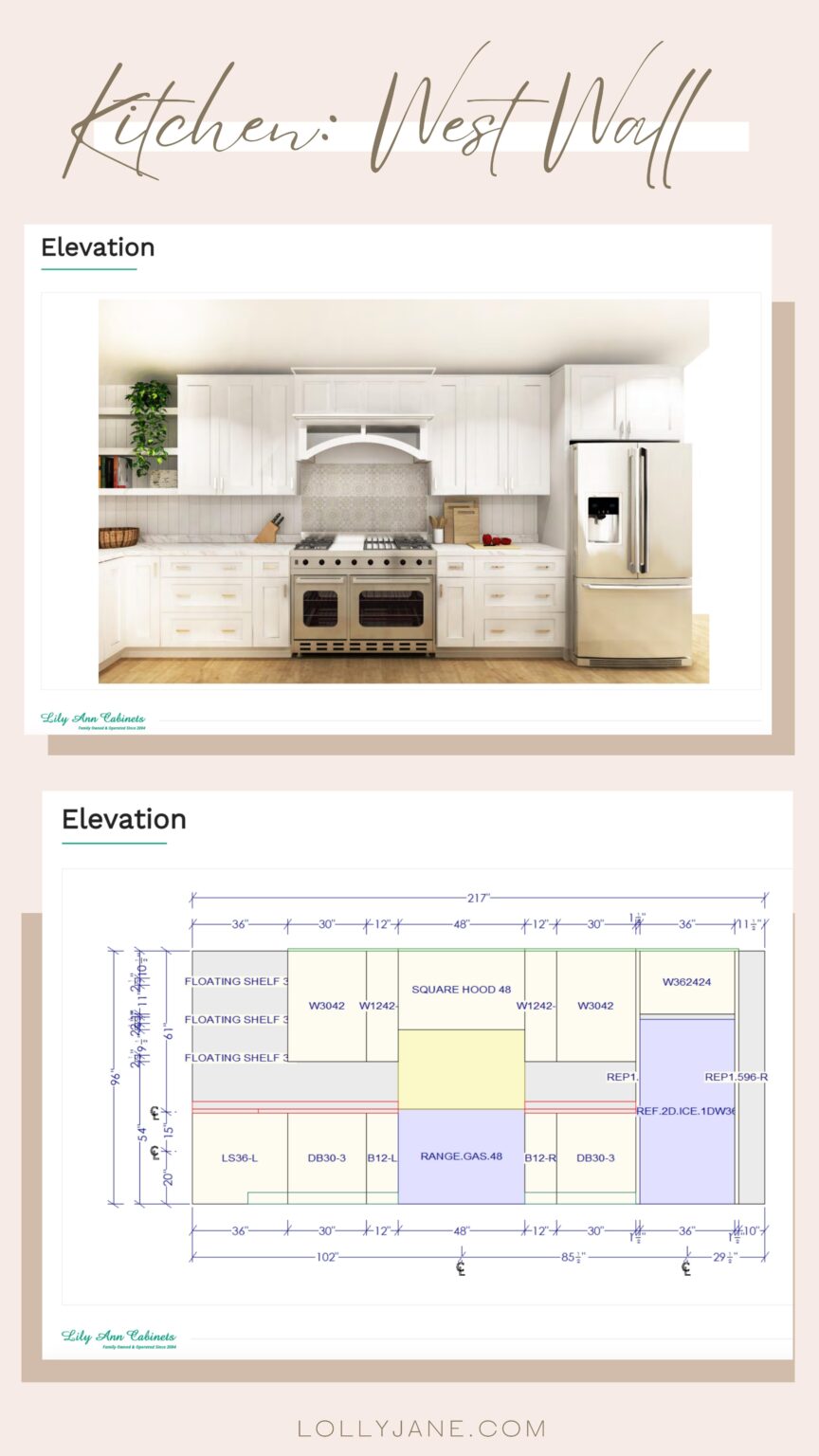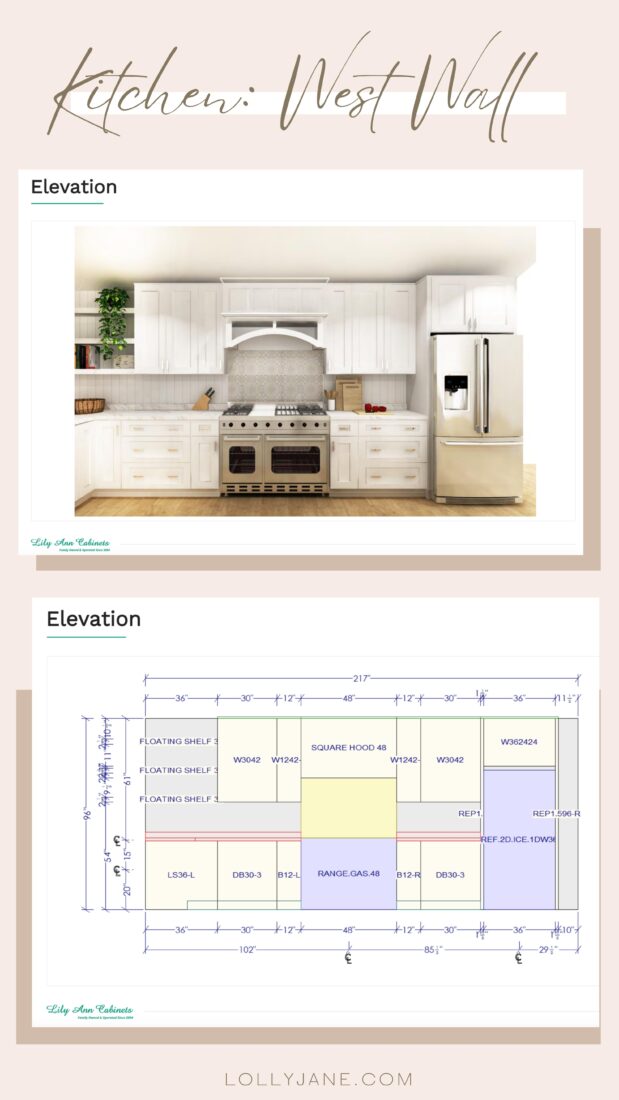 My main focus of the kitchen are the big, white windows with gorgeous grids. They're from Cougar Windows and I love them so much! Bonus: use code LOLLY for 10% off!
Although the rendering shows them covered up, we'll trim them out and find minimal coverings to keep them showcased. Our last kitchen was in the middle of the house so it had zero natural lighting. I'm SO excited for the Arizona sunshine to filter in!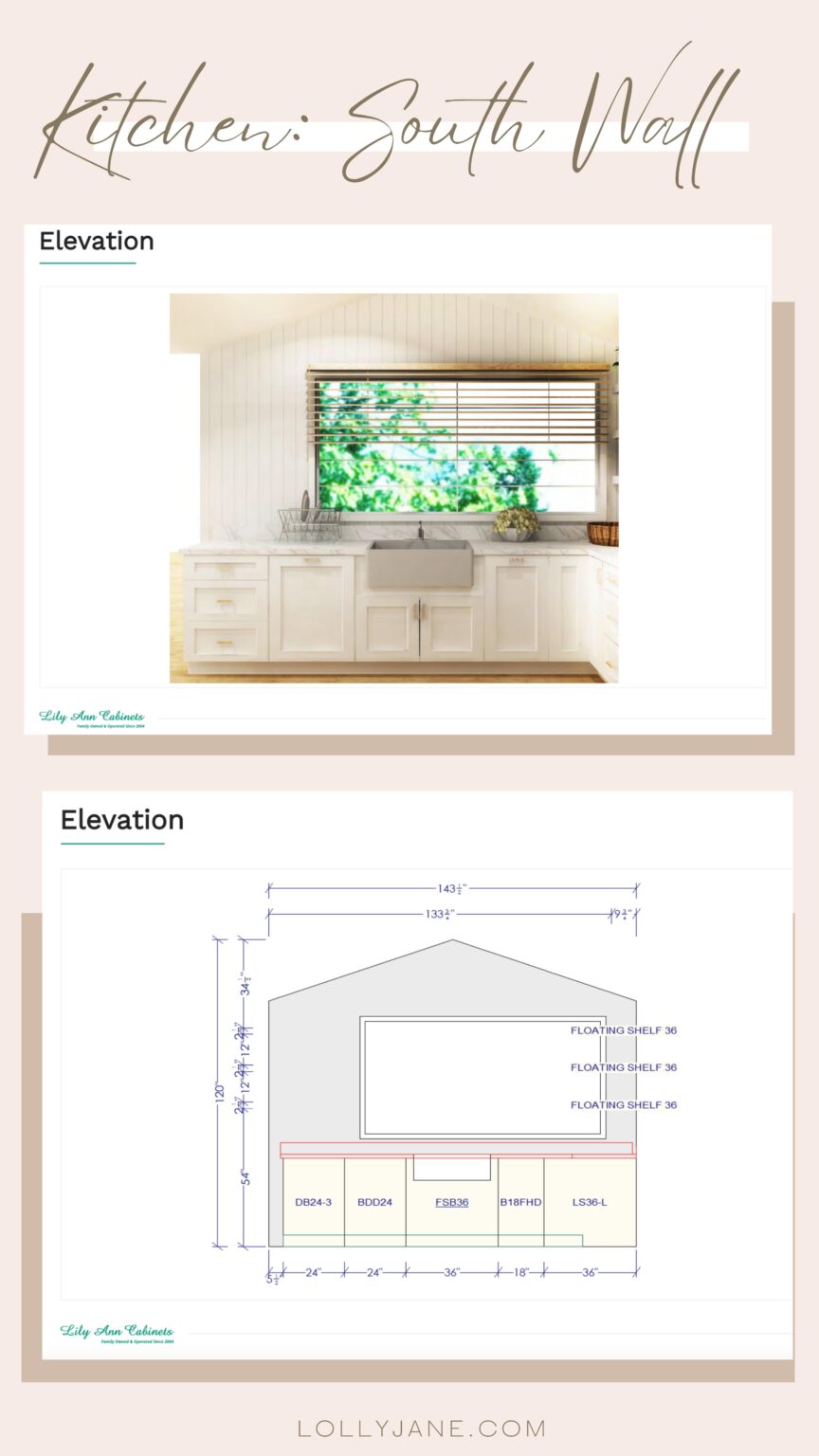 I love a big island! This beauty is almost 10′ long and I can already envision making cookies with the grandkids all gathered around, just like I used to do with my not-so-little kiddos.
I was going to put the microwave in butler pantry but Darryl added it to the island and I loved it so I'm keeping it there. We're big family movie night people and popcorn is a must-have so we'll love having it handy and at kid-level so they can help.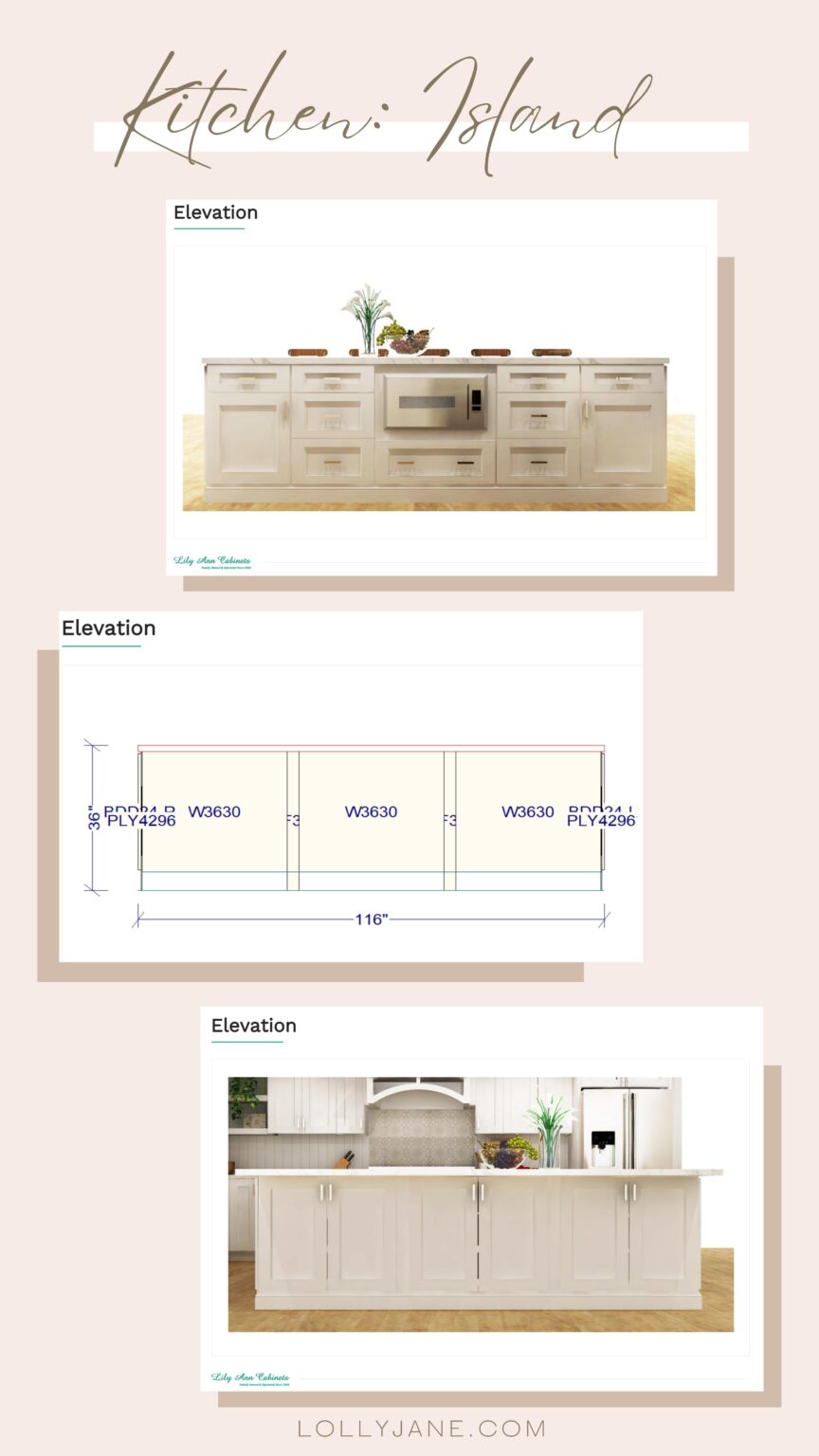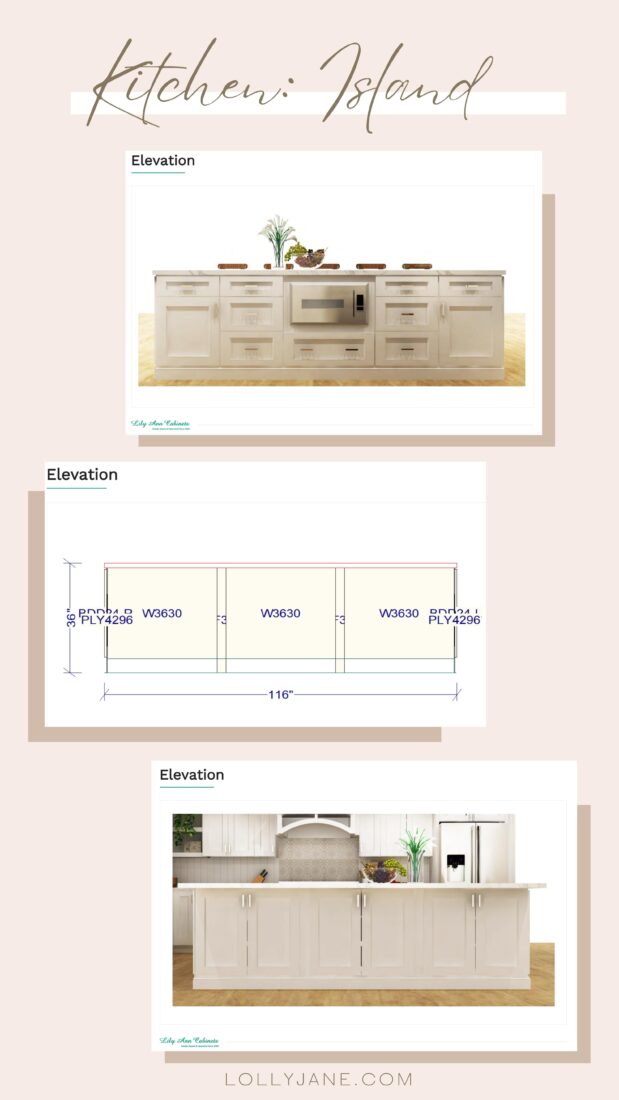 How to Order Kitchen Cabinets Online
Your designer will send you a custom design packet. You can download it to your phone or computer then scroll for a real life version of your future space, it's amazing! Once you approve your rendering, you simply click "Purchase Now", it really is that easy.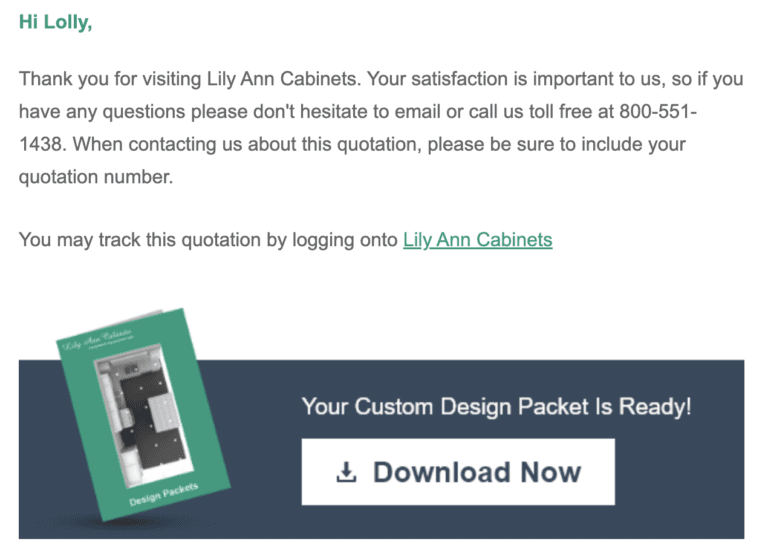 FAQ Kitchen Remodel
What is the average cost to replace kitchen cabinets?
I got several quotes for my kitchen. The lowest was $15k whereas the highest was $29k. Prices vary from pre-assembled to custom made. A friend recently renovated and paid nearly $60k just for her cabinets. They're custom and gorgeous but that wasn't an option for us. All of my quotes were pre-assembled so it was confusing why they were all priced so far apart when I was aiming for simple white shakers for all of them. We chose Lily Ann Cabinets who is a family-owned company, made in Michigan and ships within days of ordering.
What is the cheapest way to buy kitchen cabinets?
Ready-to-Assemble or RTA cabinets are your best bet to keep costs down. They are new cabinets, individually packaged, ready for easy assembly on site. They ship quickly and are less expensive than assembled cabinets and typically cost about 30% less than custom cabinets. Installed properly, they'll easily last 20-30 years.
How much should a 10×10 kitchen remodel cost?
This is dependent upon your finishes, hardware, counters and wall coverings but from my experience, if you're replacing everything, you're looking at $15-30k or $75-$150 per square foot. Of course the market in 2022 is wild so it may be higher but rumor is it's coming down.
If you're looking for temporary or more affordable ideas, we love how our epoxy counters turned out, our mom still loves her painted backsplash plus our painted floors held up really well for over a year before we started demo 🙂
Is it cheaper to buy cabinets or have them built?
The most budget-friendly option is to order RTA cabinets, assemble and install yourself. Lily Ann has detailed videos on the step-by-step for cabinet installation but you can also hire out for assembly and install. We got 3 quotes for both steps, all were around the same price: $2500-3000.
LILY ANN CABINET DISCOUNT CODE
Update: Lily Ann is giving you a discount! Just use code LOLLYJANE5 for a percentage off your purchase! ?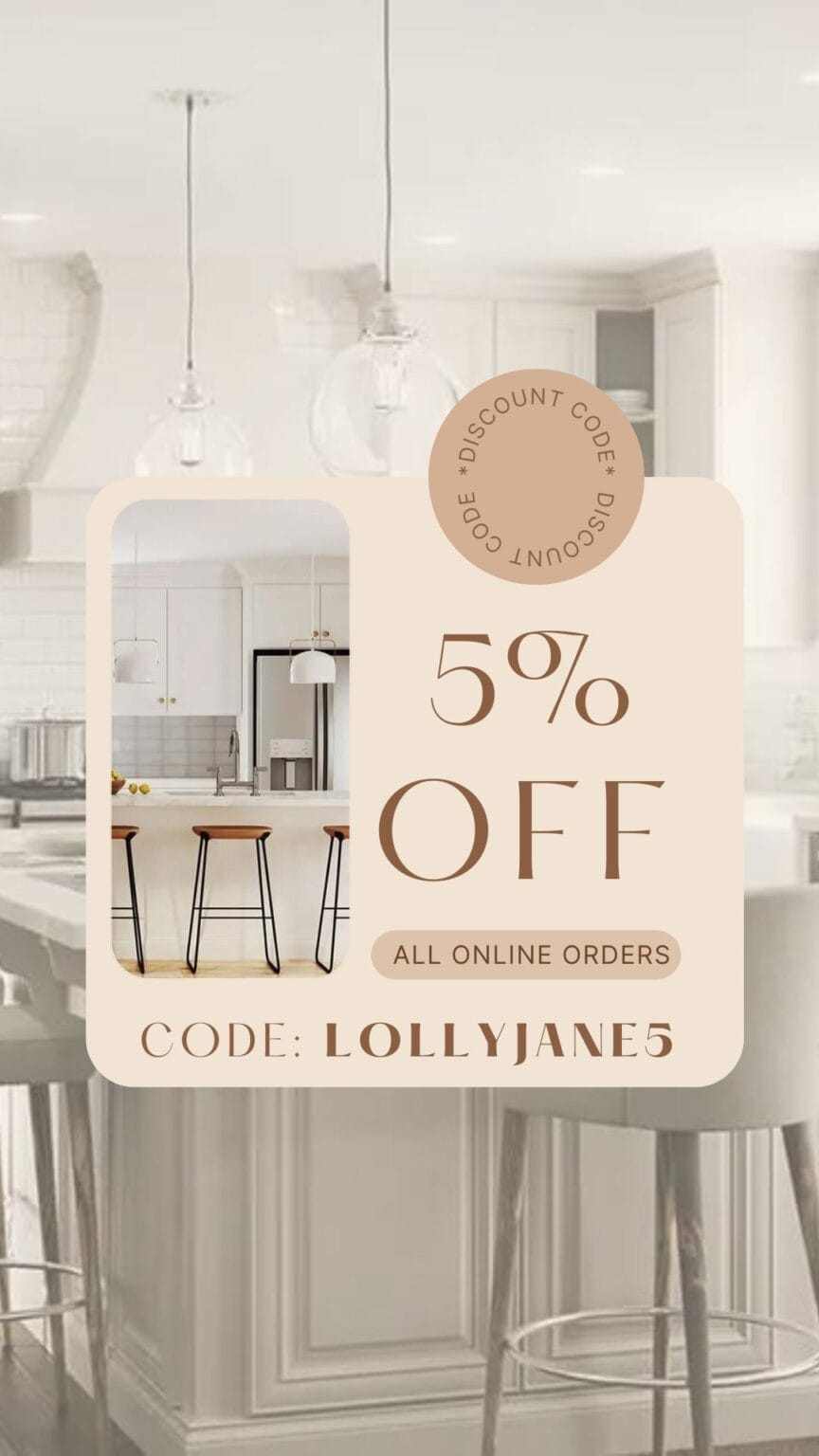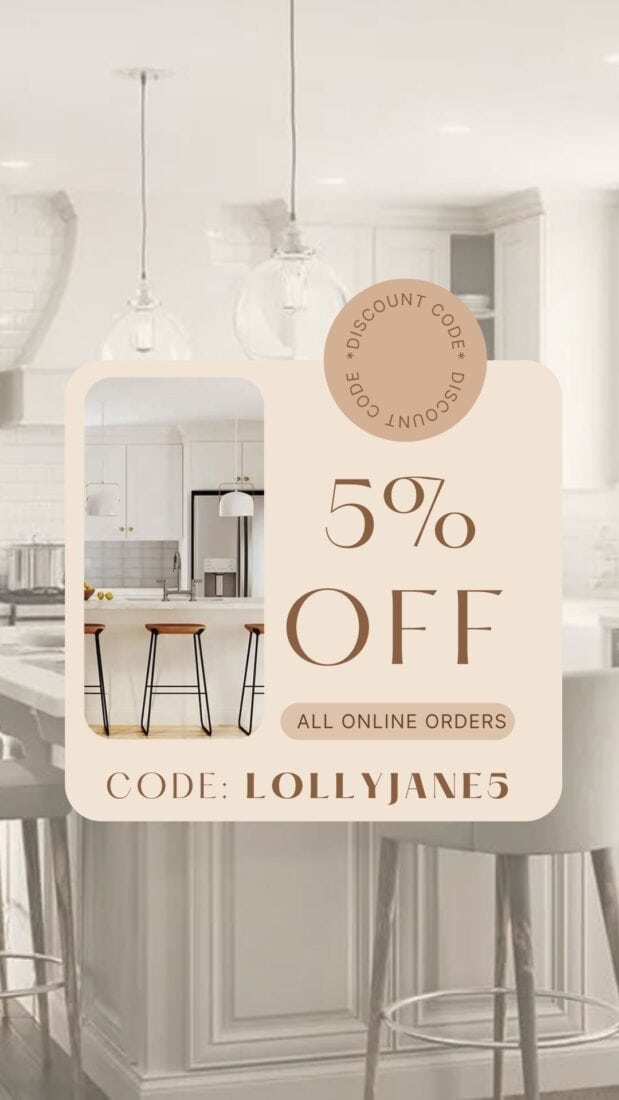 Come back next week for an update on the kitchen remodel with newly installed cabinets! I'm sure we'll have plywood counters for a few months but we're aiming to move back in by Thanksgiving. Think we can do it?