How to Paint Any Type of Floors!
Hate your indoor flooring? cover them up! We'll teach you how to paint Any Type of floors… From linoleum to tile, laminate, concrete, vinyl or wood… Rust-Oleum's HOME Floor Coating will transform your floors in no time.
I'm sure you've seen all these gorgeous patterned floors in bathrooms, laundry rooms, kitchens, and even pantries! At first glance, it looks like tile but upon further inspection it's really a just paint and a stencil. Absolutely brilliant.
Do you have an outdated floor but don't have the budget to upgrade?
Do you hate your tile floors? Are you living on linoleum like we were?
Do you want a change but don't want to go through demo?
Do you wish you could update your floors for less than $100?
Well you've come to the right blog as we've stenciled a dozens of spaces and are confident that YOU CAN DO THIS, too!!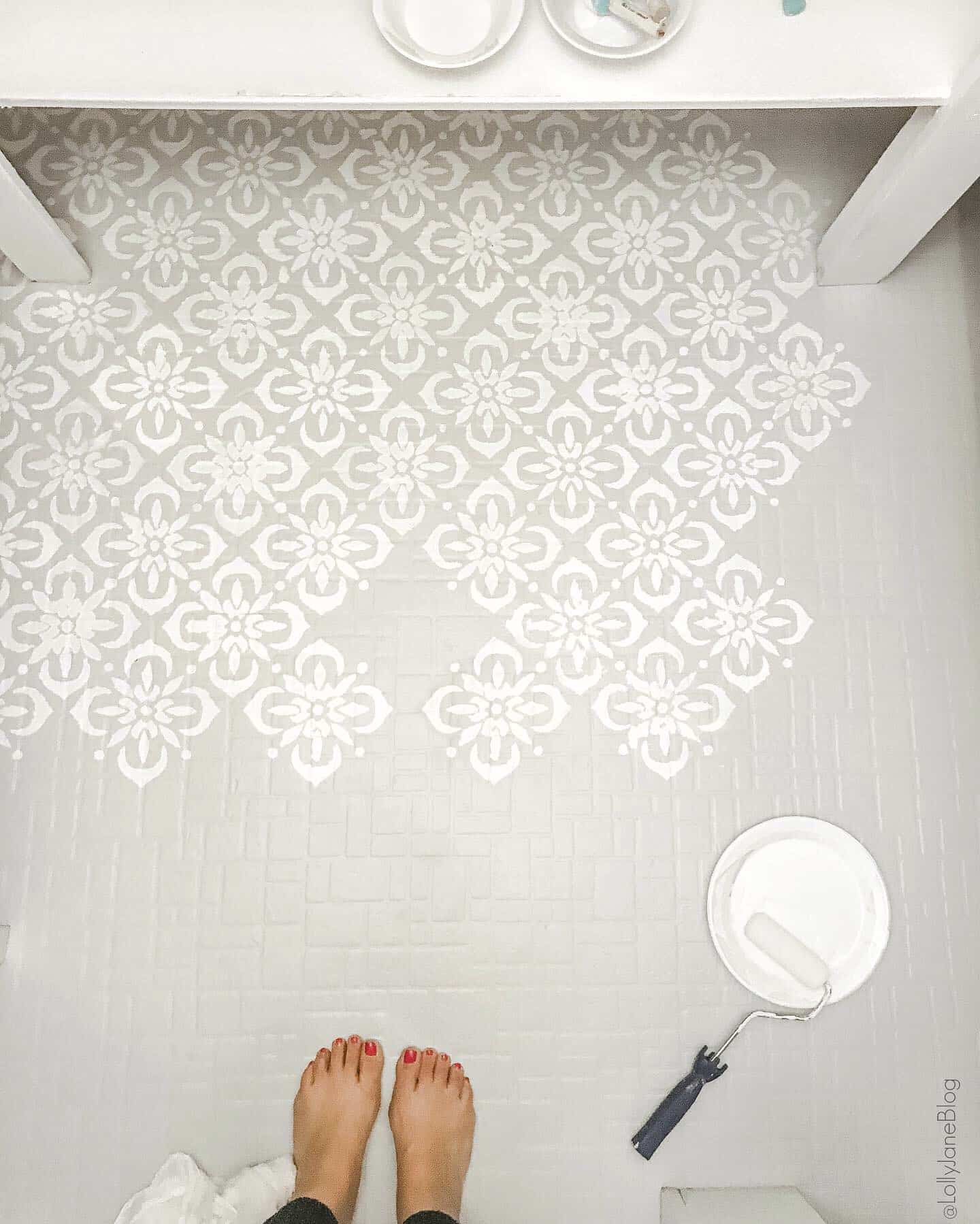 You see, once upon a time we stenciled my kids bathroom with chalk paint because back then, it was a guessing game of which paint was best for painting stencil floors. That chalk paint held up just fine (thank you Rust-Oleum!) but it's because we sealed it with 3412 layers of polyurethane. Ha!
Lo and behold, the time has arrived for paint that is MADE JUST FOR FLOORS. And not just tile floors, folks… vinyl, hard wood, concrete, and even linoleum. Dare I say, 40 year old linoleum? Yes, yes I do. Read on to see how I painted my linoleum floors in just a few days!
MATERIALS + TOOLS NEEDED TO PAINT FLOORS
Since Rust-Oleum's HOME Floor Coating line of paint is only available at Home Depot, you can nab all of the materials and tools needed for this project.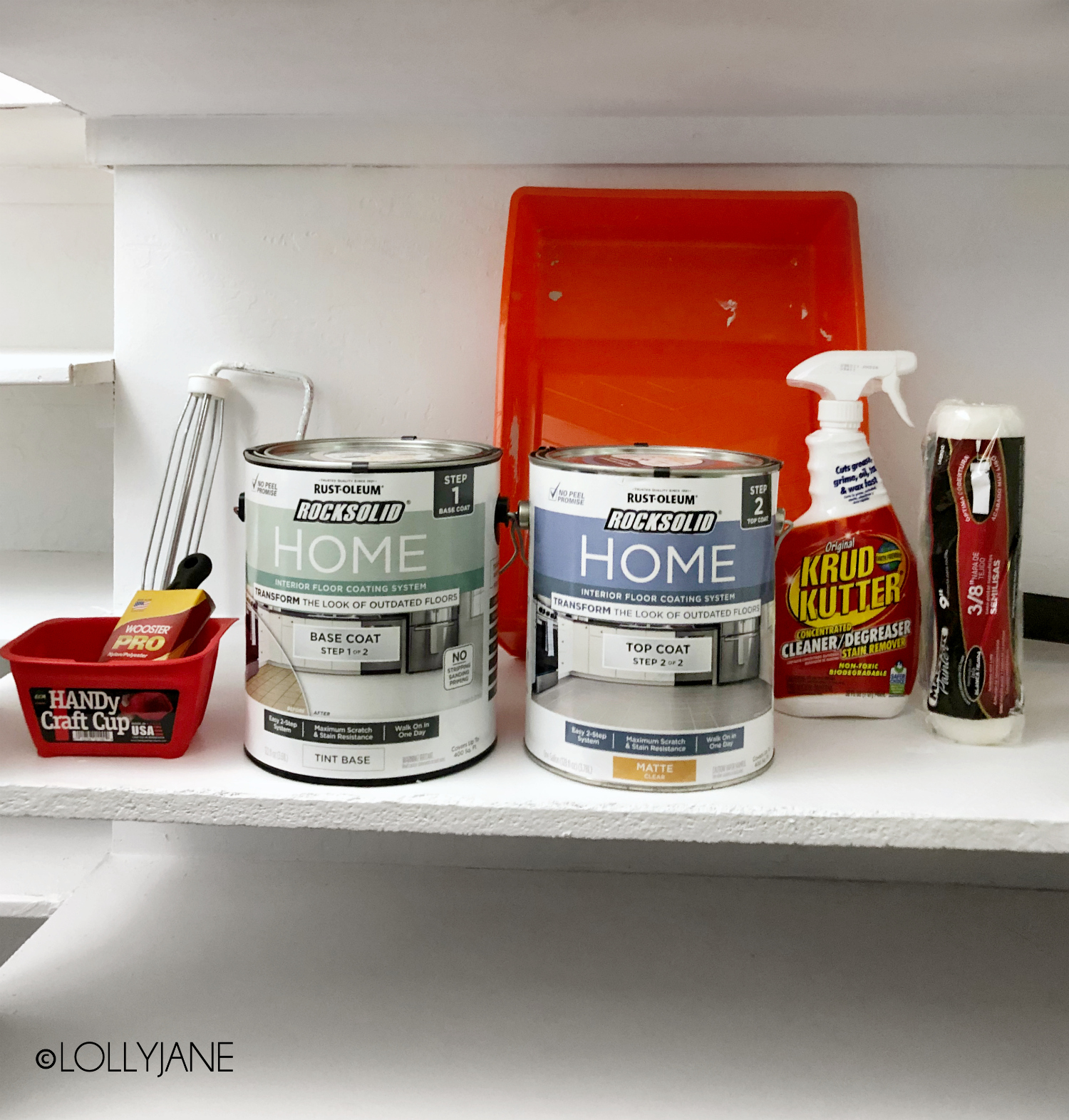 Materials
Paint
UPDATE: If you're working on a smaller room, new paint sizes come in both quart and gallon. They also sell kits now!
Stencil
Preparation for painted floors:
Don't skip the prep! With Rust-Oleum's HOME Floor Coating paint, you can skip the sanding and priming BUT you must give the floors a thorough cleaning. A little elbow grease now will make for a smooth application of paint later.
Cleaning the surface beforehand is more than just sweeping and mopping; a good degreaser will cut the unseen grime and gets to the nitty gritty of the floor. We highly recommend Krud Kutter as it's a cleaner, degreaser, AND stain remover in one. Just spray on, let sit for a minute, then wipe away… it's a small effort BUT a crucial step in preparation for paint as paint won't stick to a grimy surface.
STEP 1: BASE COAT
Now for the fun part, PAINT! Before we get to the floor tutorial, we couldn't leave my original 40-year old wood shelves unpainted while the floors got a makeover so we used Painter's Touch in flat white those a quick refresh.
Look at this before, guys.
YIKES, right?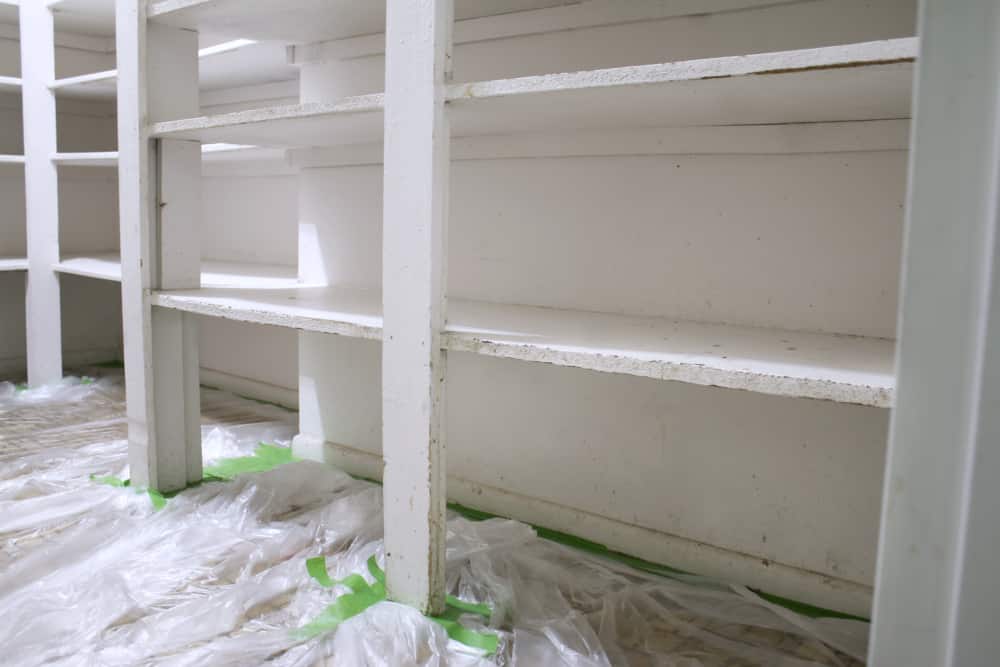 We love Rust-Oleum's ENTIRE paint line! Remember our darling plastic playhouse makeover that was transformed with spray paint alone?
Best paint ever.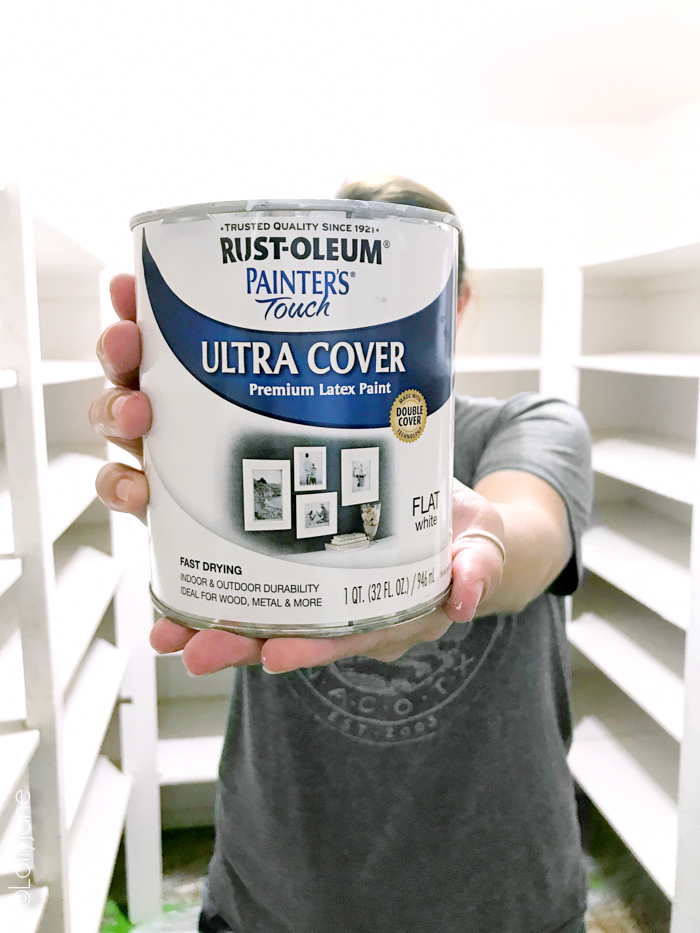 We used a paint sprayer for ease on these shelves but do not advise spraying for painting floors- use your recommended nap roller for that surface.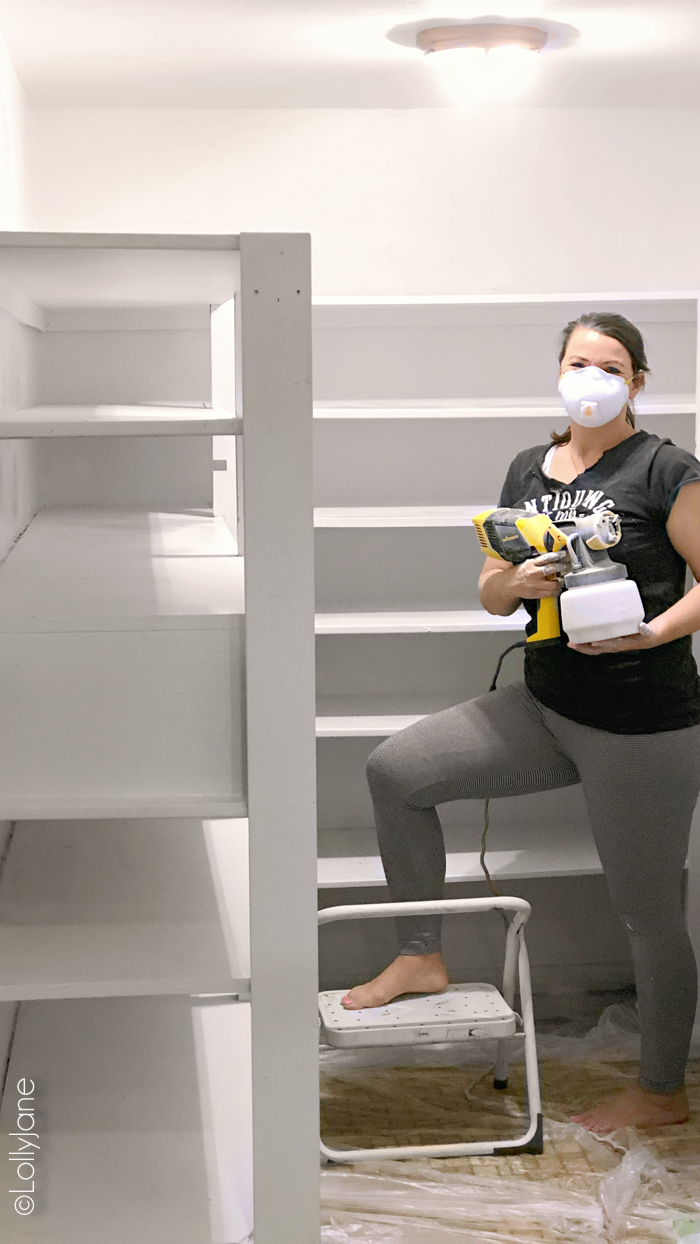 And now…drumroll, please… ?… the moment you've all been waiting for: Every single detail you want to know on how to paint your floors!
Rust-Oleum has basically done all of the work for you minus painting your actual floors for you.
The HOME Floor Coating line is a 3-part process:
Preparation
Base Coat
Top Coat
We'll go over each step more thoroughly but your very first step for the base coat is to choose a color, or if you're planning to stencil your floors, 2 colors. You can purchase HOME Floor Coating at your local Home Depot (coming to Amazon in May 2020) and the paint counter can tint it for you.
For our first base coat we chose one of our favorite hues of the 32 color options, Icy Gray.
The second base coat was White, which didn't need to be tinted.
They're a perfect combination, if I do say so myself!
I was worried Icy Gray wouldn't be contrasting enough between the 2 hues when I opened up my can but boy oh boy was I happy to be so wrong… it's truly stunning!
Here's a peek: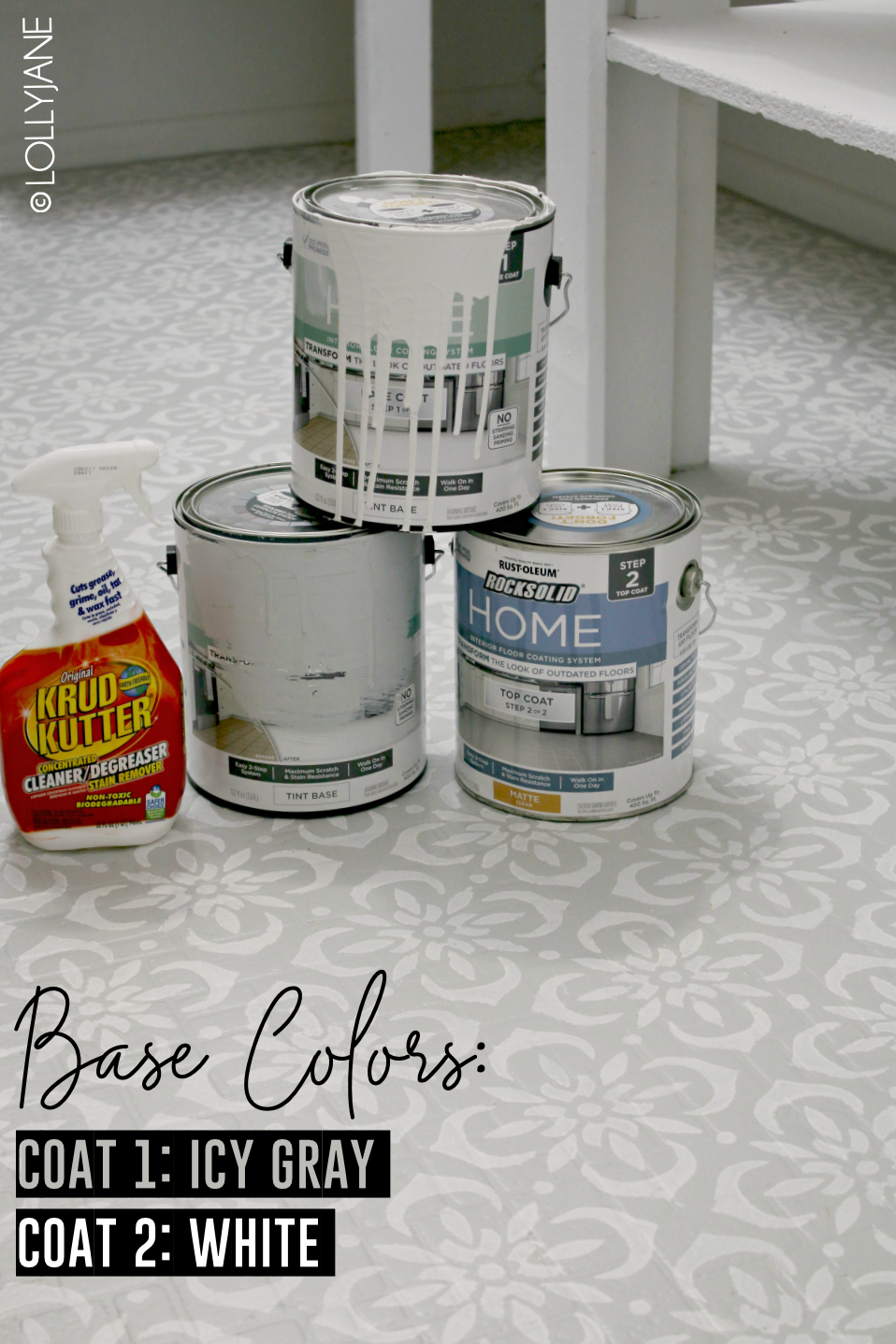 STEP 1 OF PAINTING YOUR BASE COAT:
Edge the sides of your space and around base boards/legs of shelves/fixtures, (like a toilet if this was in a bathroom, for example,) and etc. We simply used a 2″ paintbrush and went around the base boards of the walls and legs of the shelving unit.
Note: We have an experienced steady hand with a paint brush but if you don't, we advise using painters tape to tape off your baseboards and other areas to avoid massive touch ups later.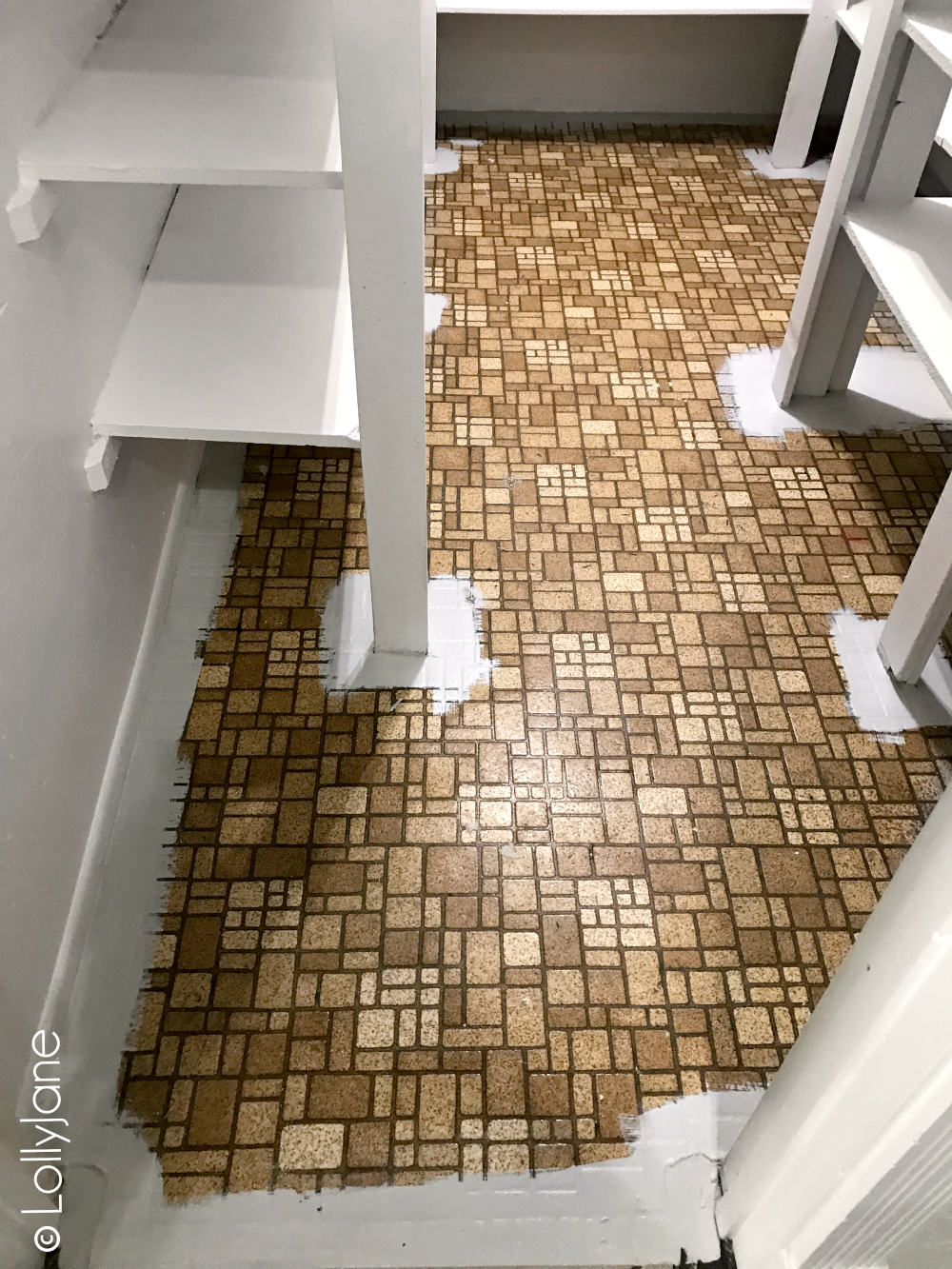 Also, shout out to this little paint cup that makes edging so easy… no need to lug the heavy painters tray around with you!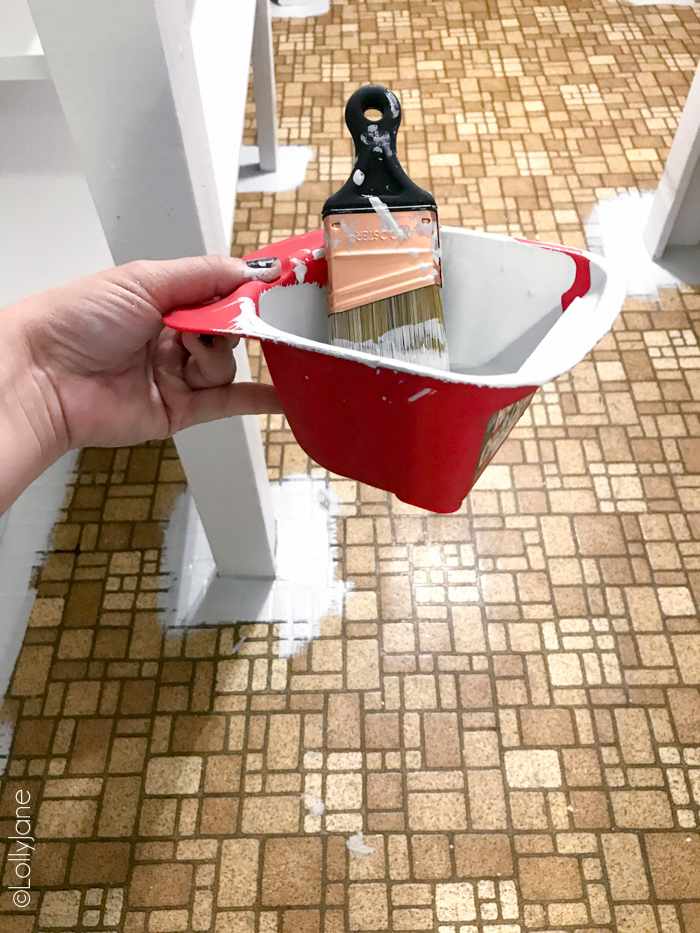 STEP 2 OF PAINTING YOUR BASE COAT:
Time to ROLL. After all of your edging is done, use the recommended 3/8 in. nap roller cover and start rolling. We worked a few feet at a time and only needed one coat for full coverage, awesome!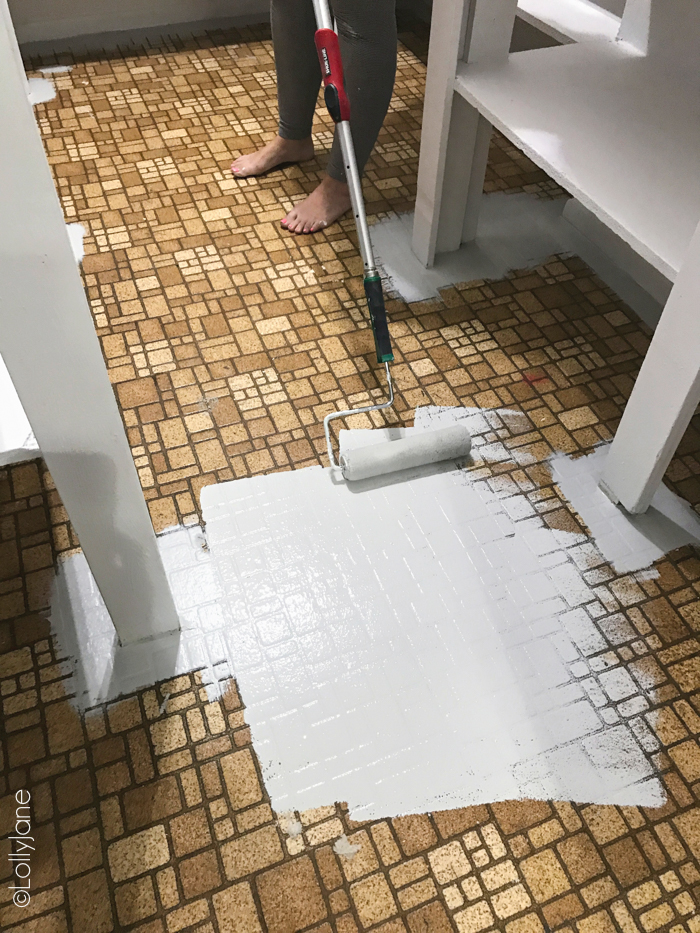 We love painting so this was so fun for us to see the INSTANT transformation of covering up ugly, outdated 40 year old linoleum.
Look how excited I was to paint over these floors, LOL!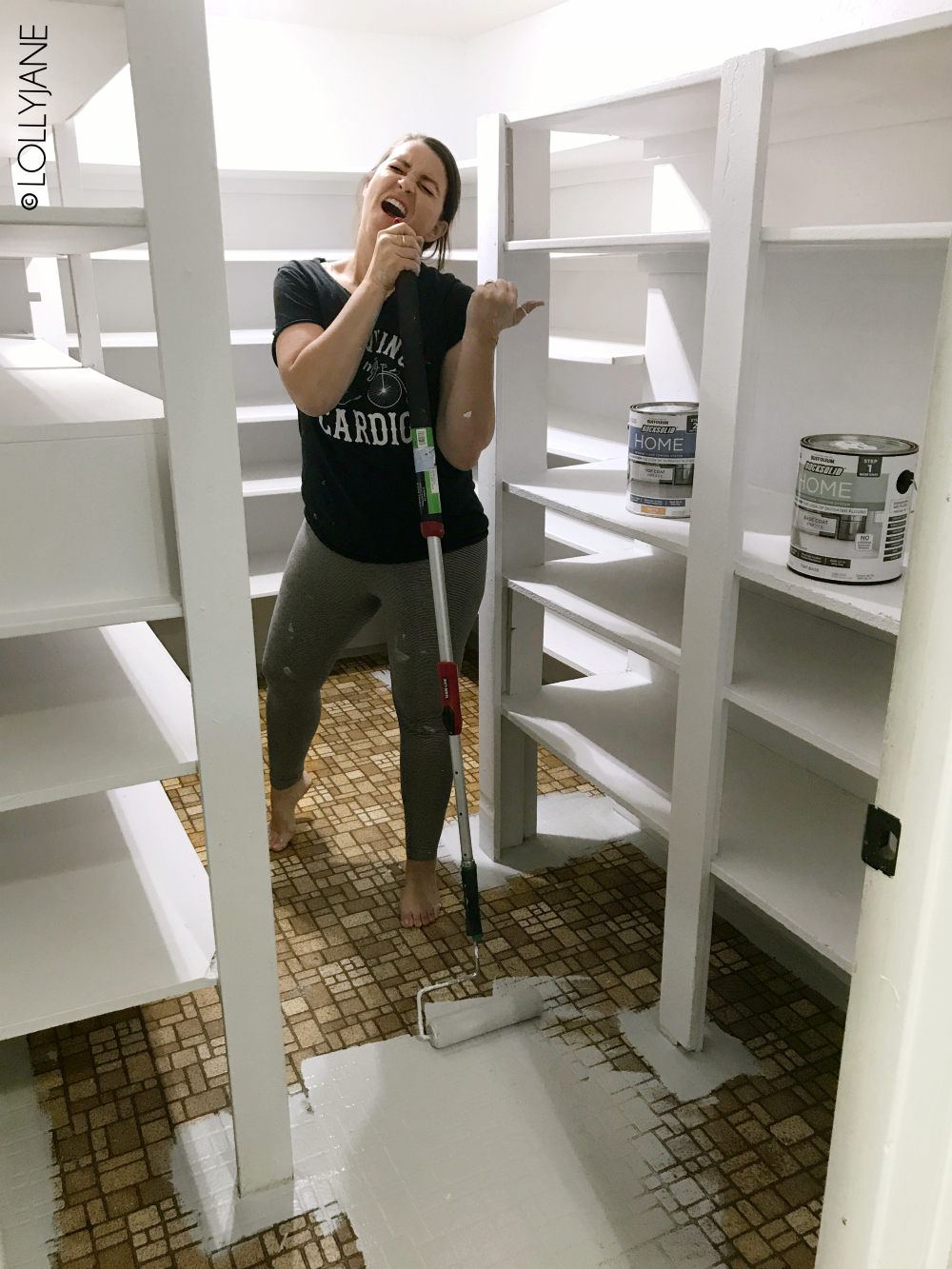 Isn't it amazing to see that quick before/after already?!
We kept saying WOW over and over again and repeatedly commented to each other how the white base coat instantly brightened up the pantry AND also went from outdated to updated.
Amazing.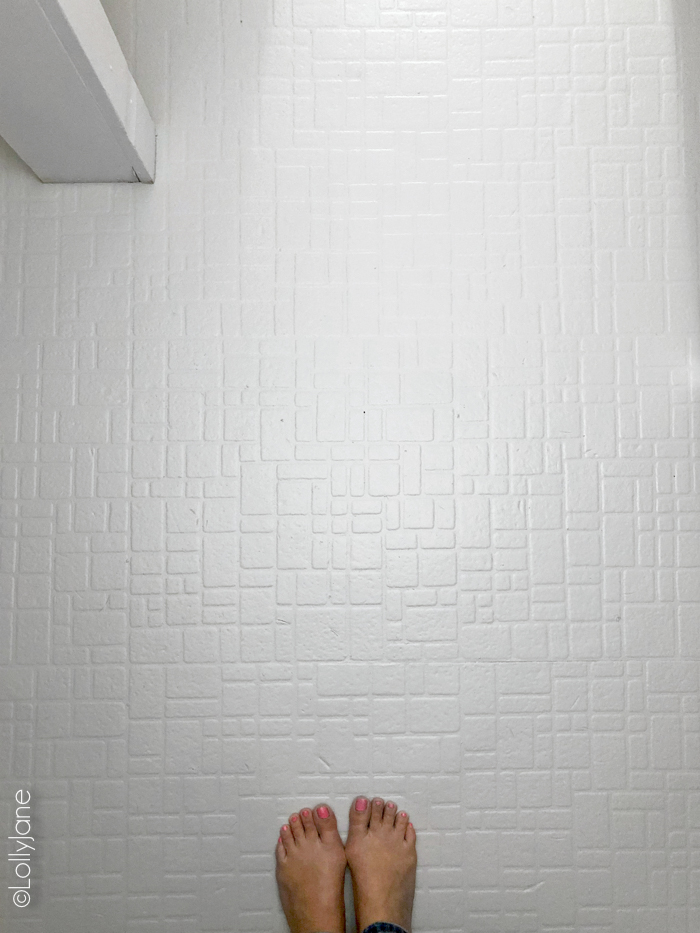 HOME Floor Coating paint can also cover ceramic tile, porcelain tile, laminate, concrete, vinyl, hardwood floors, and more!
It's kind of like magic ?
If you're not stenciling, then you're done with the base coat and it's time to seal this puppy>>>jump down to Step 3 below to finish!
If you are stenciling, read on.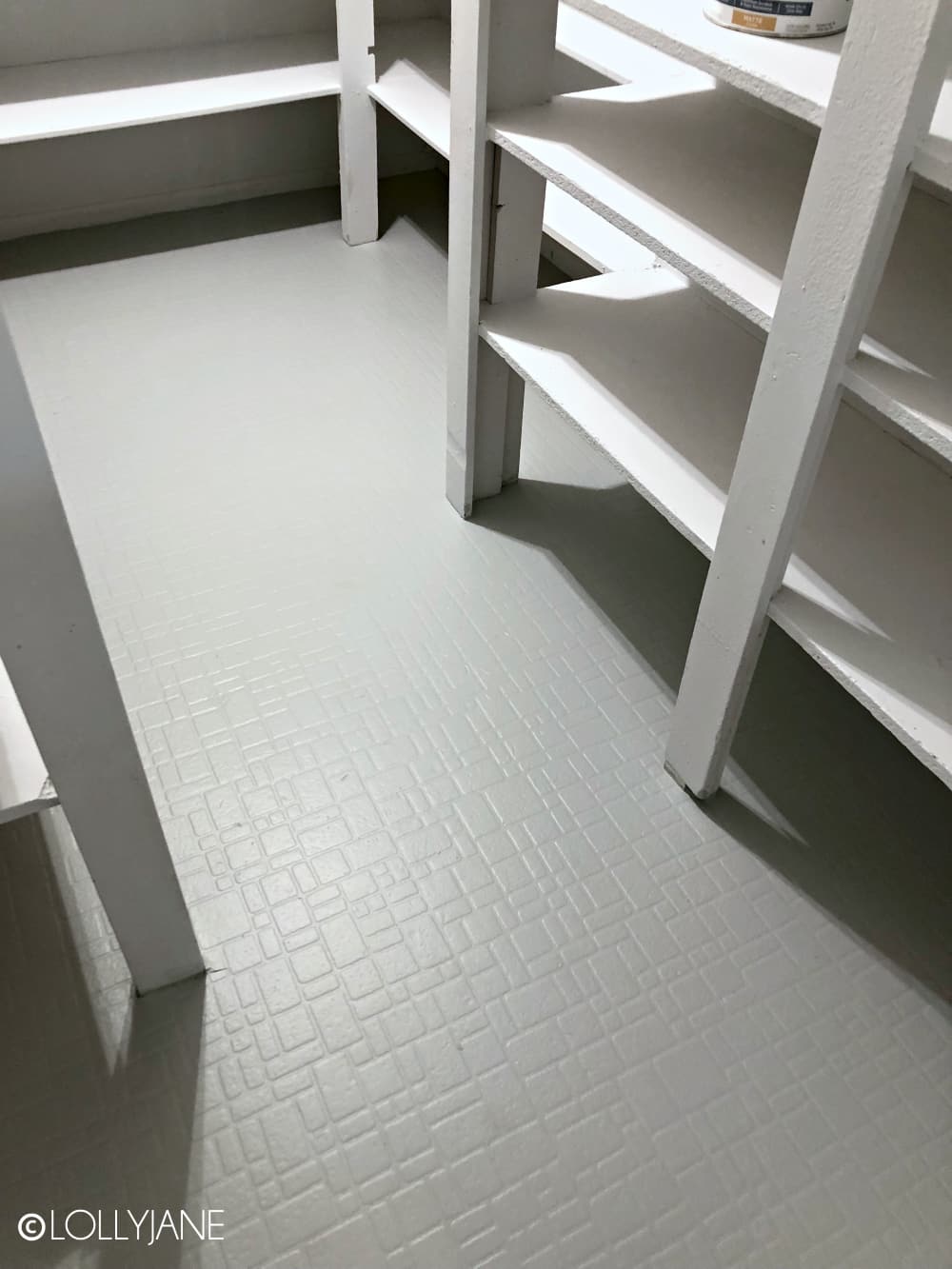 how to paint stencil floors
(OPTIONAL) STEP 3 OF PAINTING YOUR BASE COAT:
If you're using a stencil, now is the time to use it!
We scoured our local hobby store for a 12″ stencil (similar one here) and simply laid it down against the wall, used a small 4″ foam roller and painted White over Icy Gray.
Read our full blog post on how to stencil tile floors here but don't use Rust-Oleum's chalk paint (even though it's rad, save it for furniture!) be sure to use the HOME Floor Coating line as it's specially formulated for floors after so many bloggers used chalk paint for floors, it's amazing.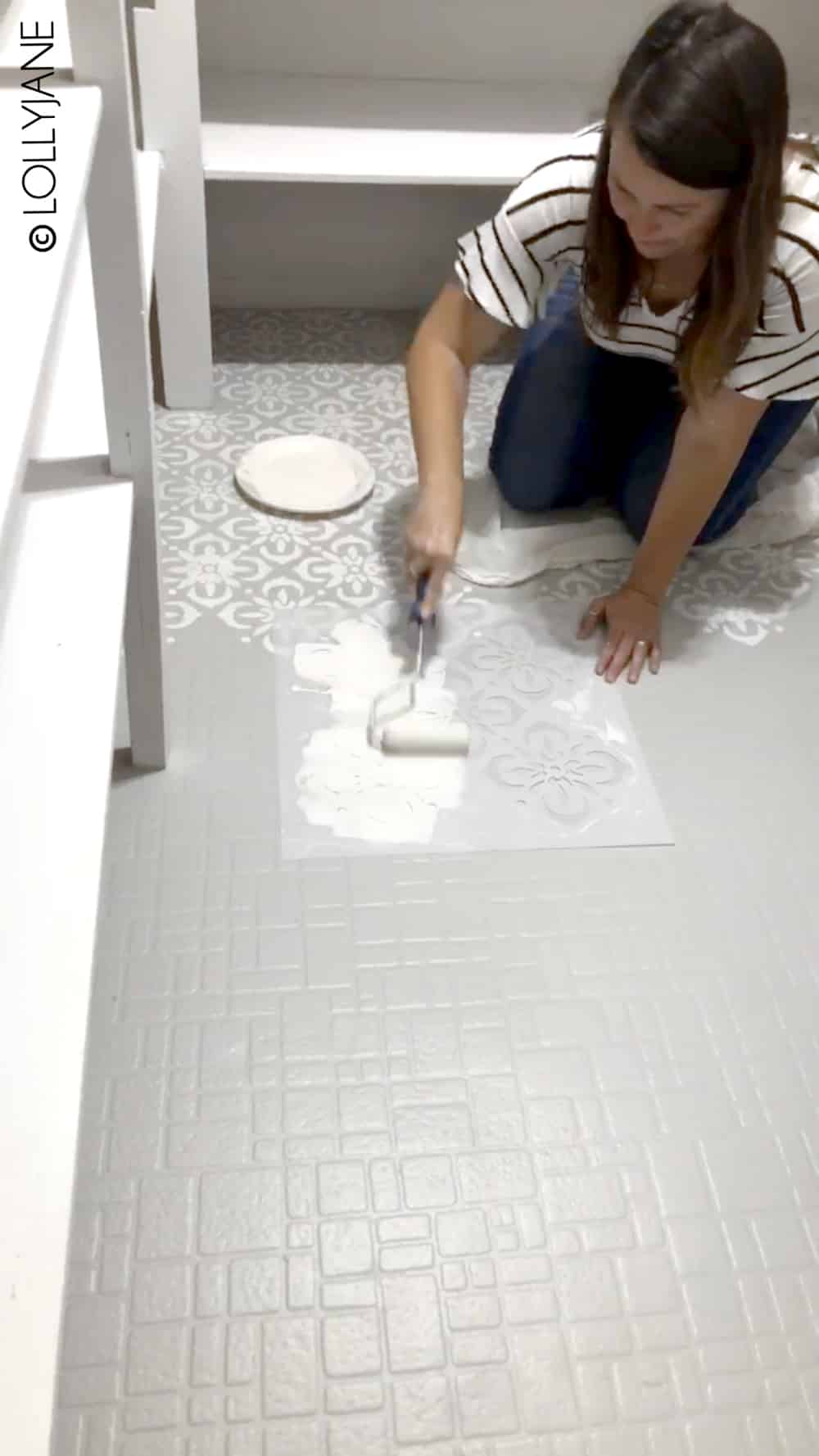 We were able to roll over our stencil with 3 sections before wiping it down as the paint starts to dry and it gets gummy; just keep some baby wipes or paper towels handy and be sure your paint hasn't leaked under the stencil before laying it down each time as that is what causes bleeding.
A quick glance after each roll and wiping spillage on the underside of your stencil can prevent touch ups later, trust us.
Note: Wait 6 hours at least before applying your top coat.
Back to
STEP 2: TOP COAT/SEALER
The top coat is what seals your new floors, it goes hand in hand with your base coat– like PB&J!
Think of it like your top coat when doing your nails: it protects all your hard work!
Step 2 is non-negotiable… don't shortcut this process if you want it to be fail proof: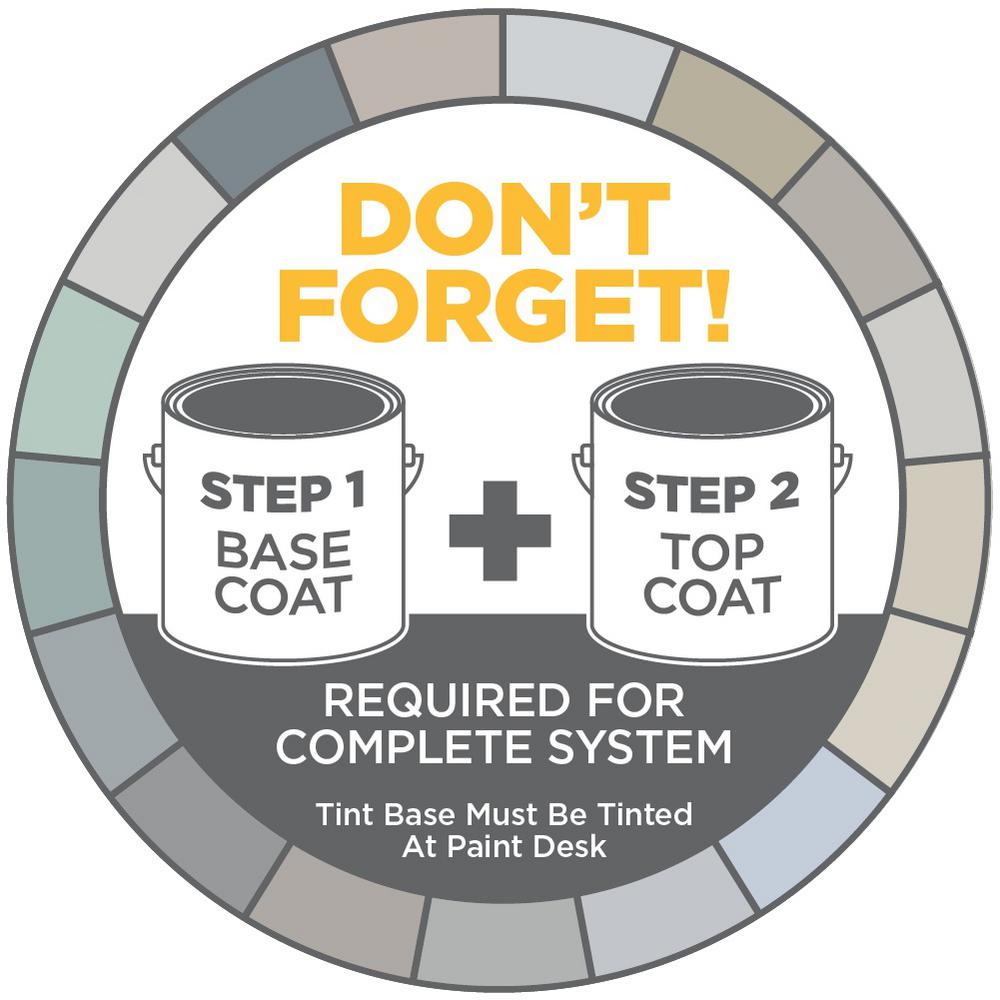 how to seal PAINTED floors
I cannot emphasize enough how important it is to seal your floors! We applied Rust-Oleum's HOME Floor Coating in a clear matte finish using a 1/4″ nap roller; simply edge like before then roll it over the base coat color(s) then let dry for a full 24 hours before walking on it.
That's really it!
You can have new floors within a day… just like that. ✨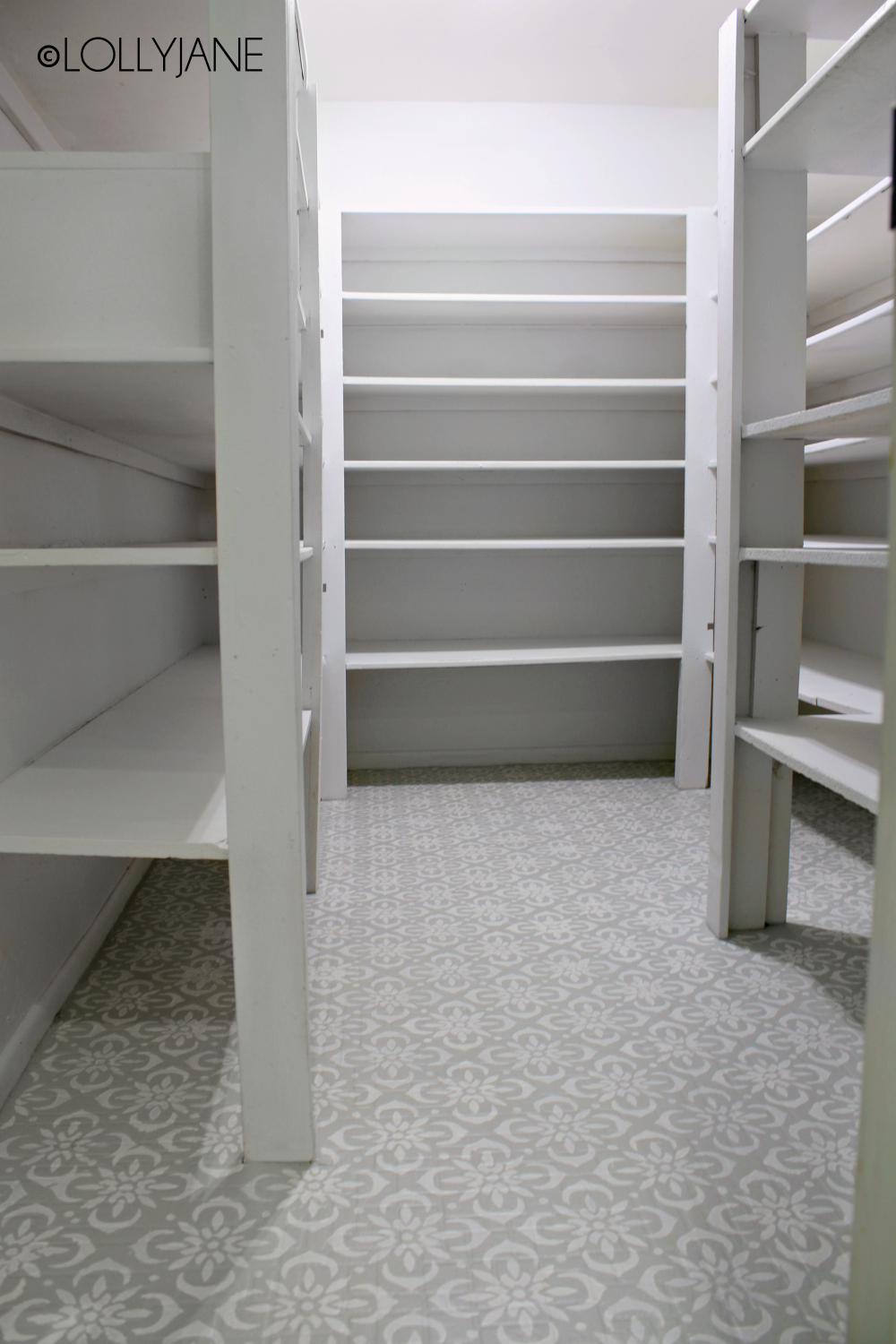 Come back next week for the FULL PANTRY REVEAL (eek!) and to see the full before/after of the shelves PLUS see how we dressed these shelves up for every day living as a family of 6!
Sneak peek here:

A huge thank you to Rust-Oleum for letting us try their new amazing HOME Floor Coating line, all opinions are our very own but YOU WILL LOVE IT, guaranteed!!!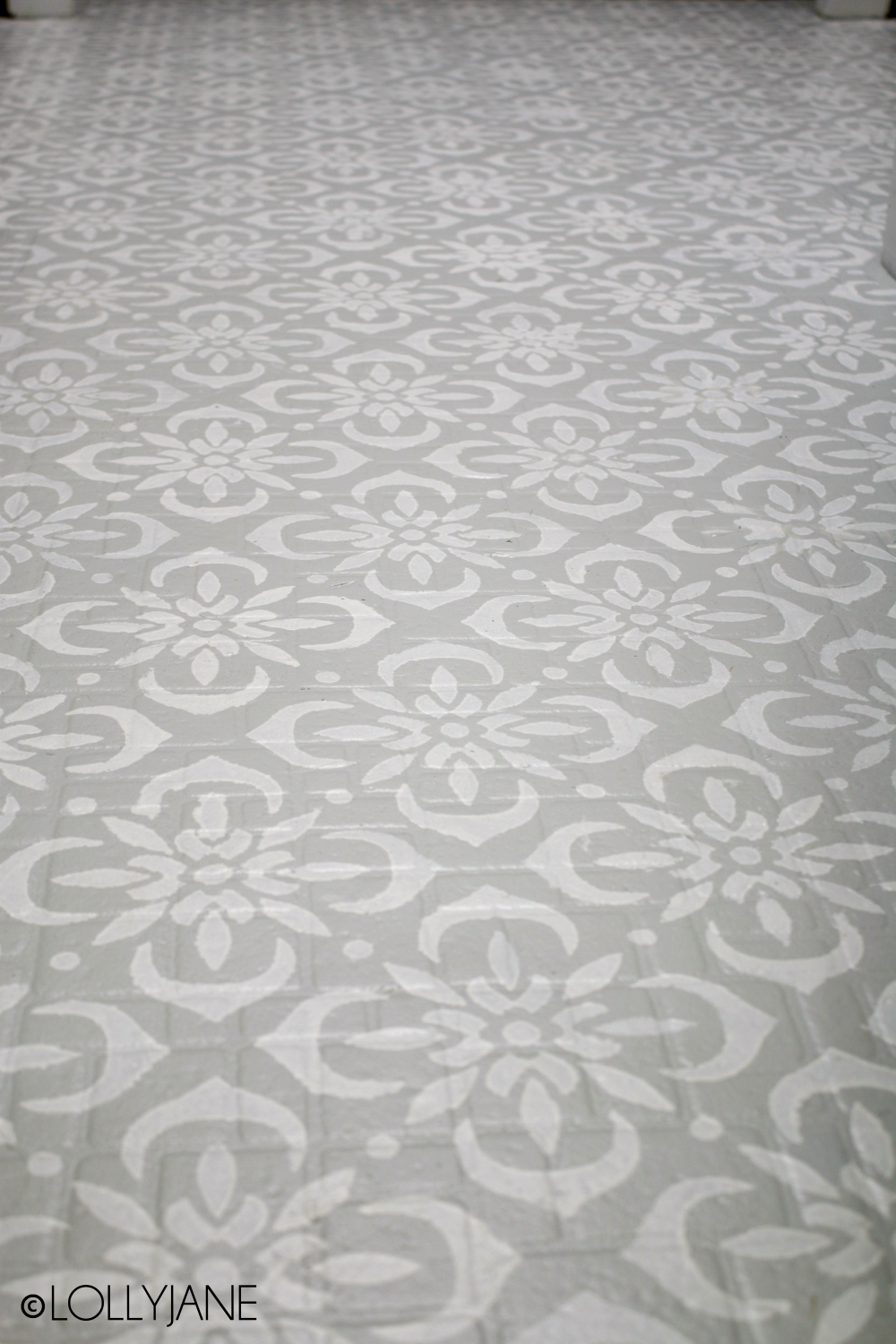 Check out our Pantry Makeover (with storage ideas!)
Our follow up post is live with the full pantry makeover! It is sooo good, check it out here!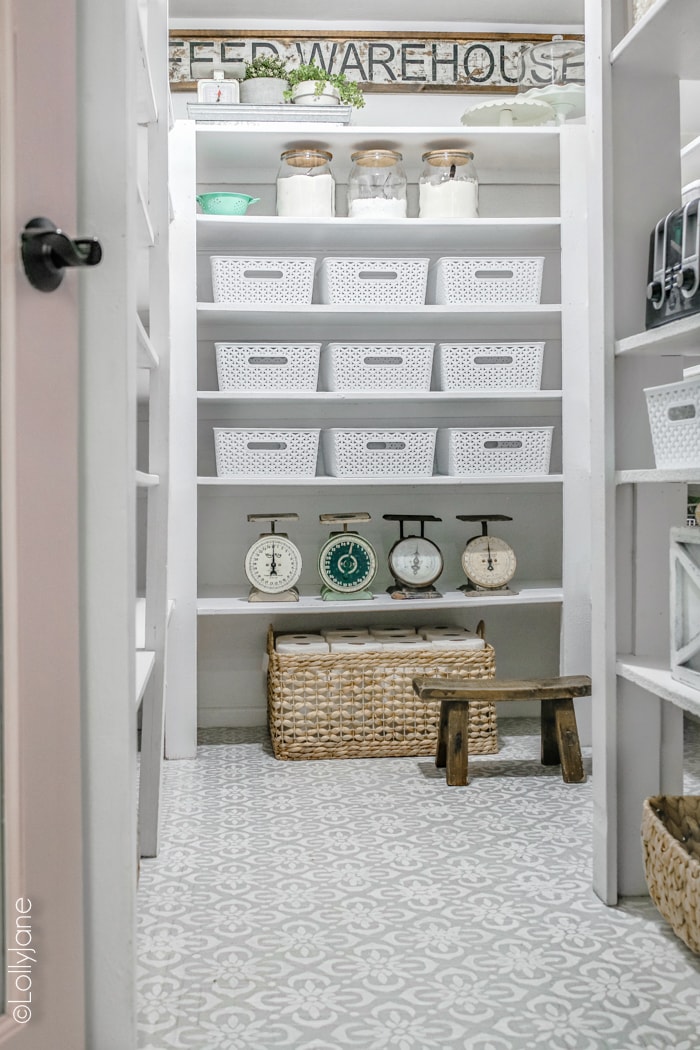 Also visit our pantry a year later to see how the painted floors have held up plus how we added cursive pantry labels to more organization!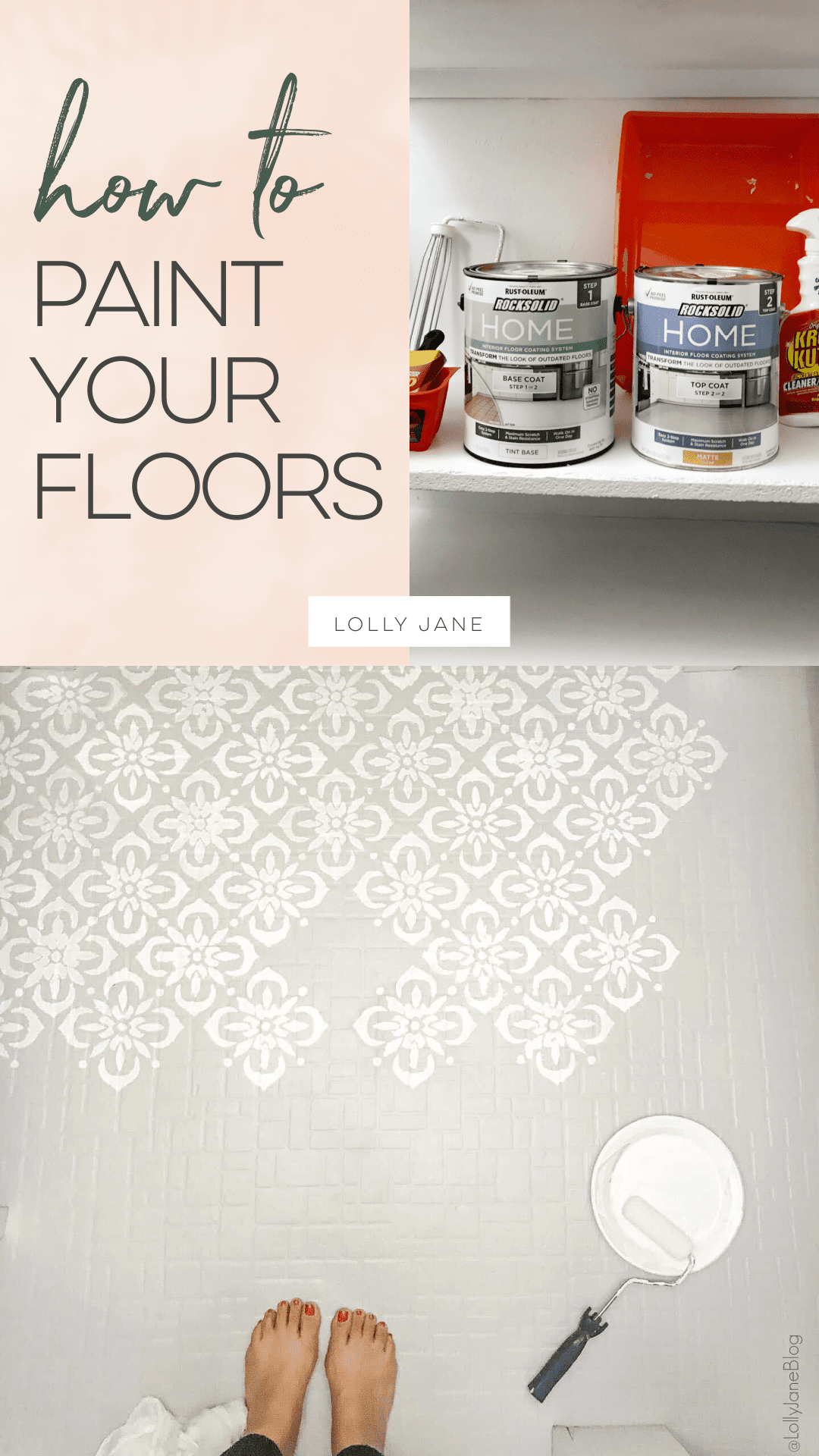 EDITED April 2020: Rust-Oleum renamed and updated their label in April 2020; these photos of the previous design do not reflect the changes as this post was made in 2019 😉 
Leave any and all questions in the comments!
xoxo