Primary Bedroom Modular Closet Design
Looking to maximize your closet? Create a free modular 3d design for your primary bedroom closet, bedroom, bath or laundry room for an organized life!
I'm thrilled to have found a solution to our small primary bedroom closet! We originally had 2 his-and-hers closets, about 5′ x 3.5′ x 8′ each. They included the standard tall particle board shelf running the full length across the closet with a basic hanging bar. That's it. If you're height challenged like myself, that top shelf is a pain to reach so I usually just chucked my jeans and sweaters up there since those items are too bulky for my dresser.
I recently learned the opposite of a walk-in closet is a reach-in closet, thanks to Modular Closets! Because I'm a tee shirt and jeans girl, I'm happy with my reach-in closet, I just needed some major storage solutions. I hated how much wasted space there was in our old closets.
After working with a Modular Closets designer, we decided to take out the dividing wall to create one closet. It's not a load bearing wall so we removed it to create the new space that measures 10′ X 3.5 X 8′. Sara, the designer, asked me 5 simple questions about my must-haves in a new closet.
Things to Consider When Customizing A Modular Closet
What type of door will the closet have?
What will you be keeping in this closet?
Do you need any drawers?
Shoe shelves?
Do you fold or hang most of your clothes?
After I answered her, she quickly came up with this design: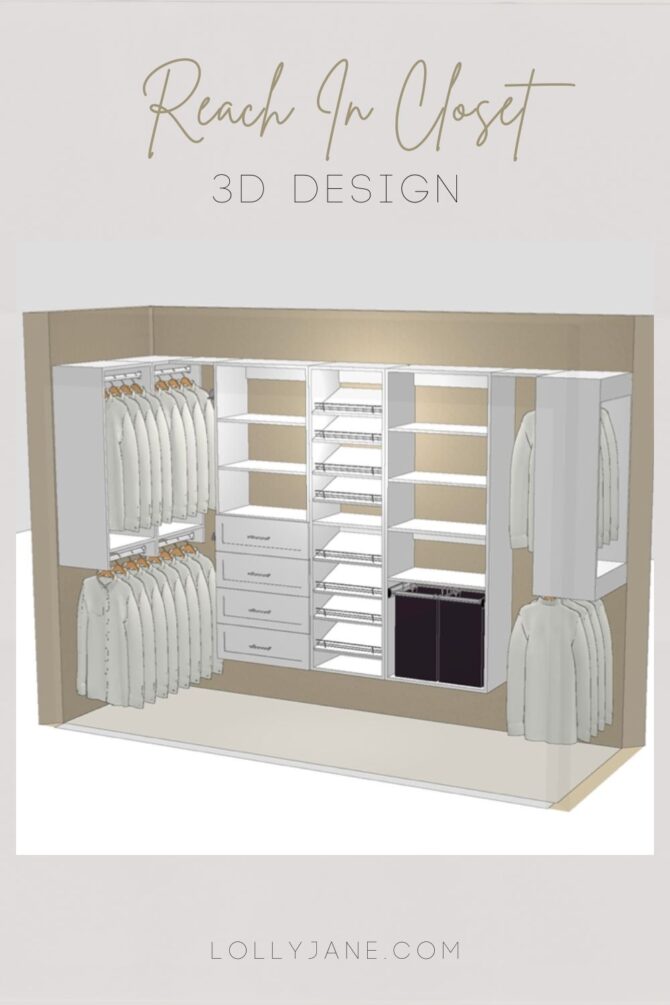 Talk about maximizing every inch! ? Did you catch the built-in hampers!? I'm SO excited to get my rolling clothes cart out of my bedroom walking space! It's going to be so streamlined now!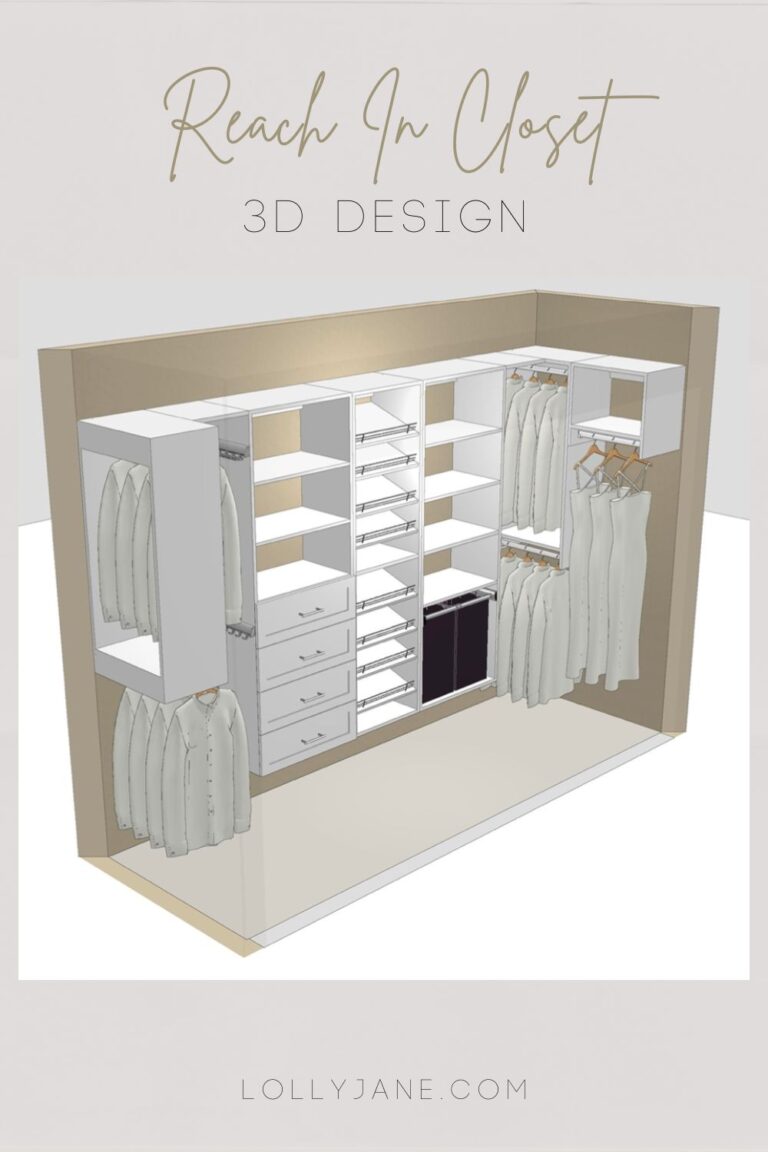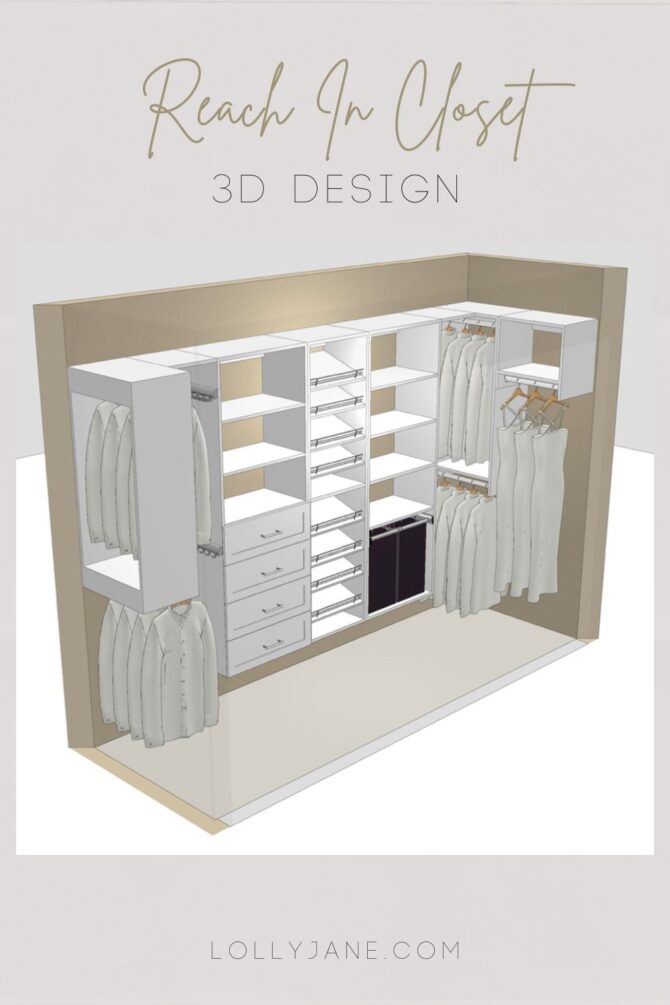 Here's my very unprofessional mock up of my future modular closet in my currently-under-construction-primary bedroom! The good news is it can only go up from here, lol! Imagine lots of trim and casing and pretty doors with gold hardware. CAN'T WAIT!!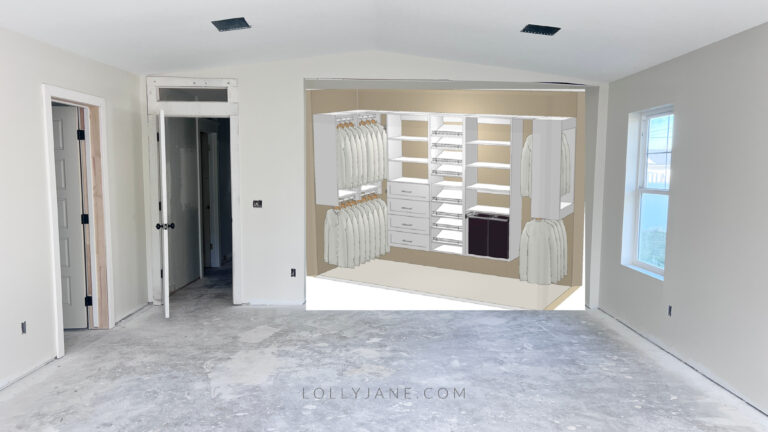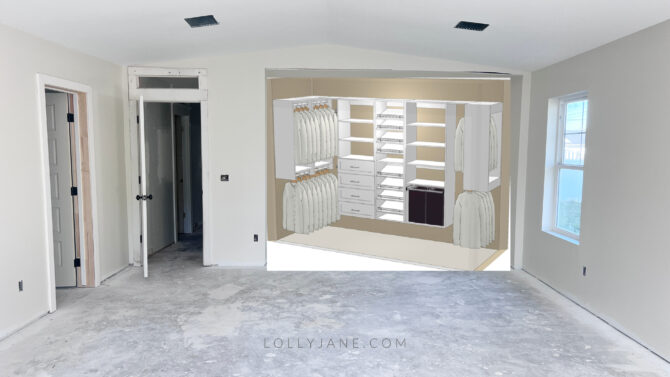 Are you getting jazzed for the possibilities of a modular closet system? Kitchen, pantry, laundry room, bedroom, bathroom, basement…so many options! Even more exciting is getting is by spending less! We're excited that Modular Closets is offering our readers a 20% discount, whoop!
Modular Closet Black Friday Sale 2022 + DISCOUNT!
The best part if you're reading this right now: Modular Closets' Black Friday/Cyber Monday deal starts today! They are holding their BIGGEST sale of the year: 20% off + free shipping on ALL ORDERS (usually only on $400+ orders) with code LOLLY20!! This easy access deal runs today through the end of Cyber Week!
Primary Bedroom Closet Inspiration
When I sent Sara my closet inspiration, the designs below are what I referenced. I love how they make the whole room feel custom.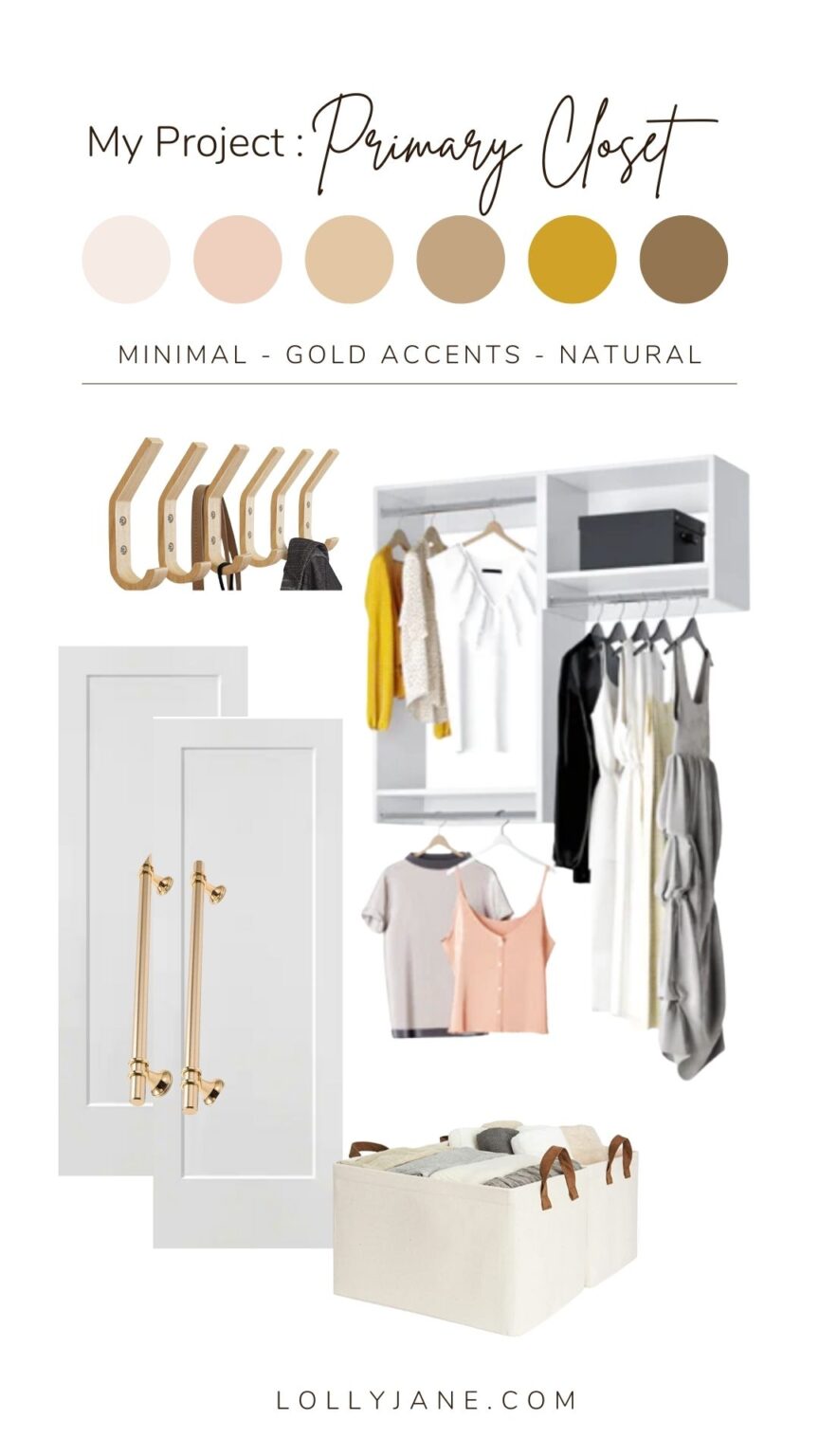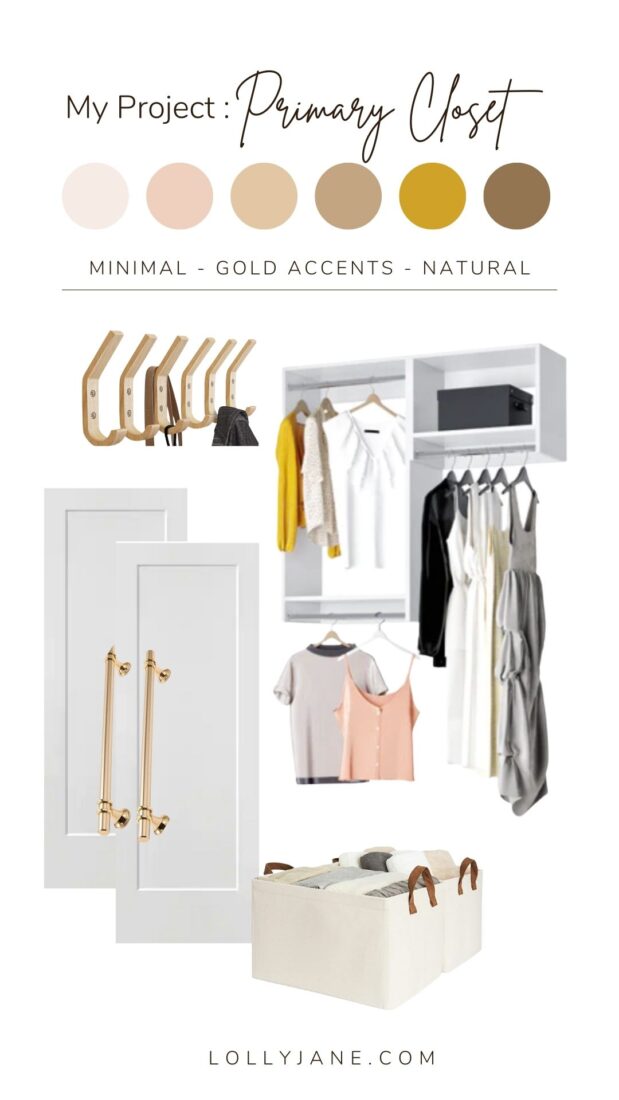 Modular Closet Kit | 8″ Champagne Pulls | Shaker Door | Wooden Hooks | Collapsible Storage Bins
These paneled closet doors from Randi Garrett Designs are gorgeous. I personally prefer a pull out door versus a slider but am so in love with how crisp and fresh they look!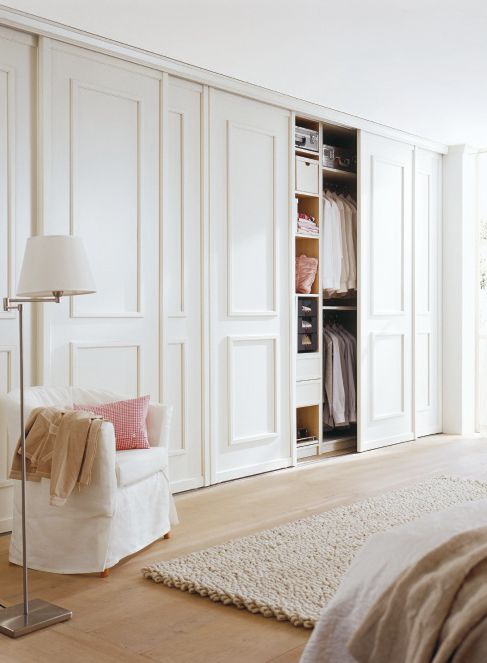 I love these pull-open closet doors from Bespoke Interiors, especially with the mirrors on the inside, what a great use of space!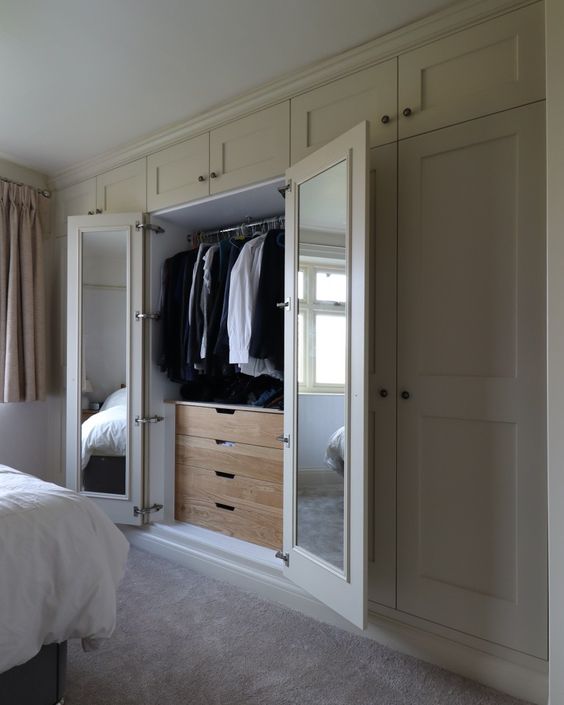 You could easily recreate this look from Issuu with a set of predesigned closets then add your own doors. Which is what we're planning to do, such great inspiration!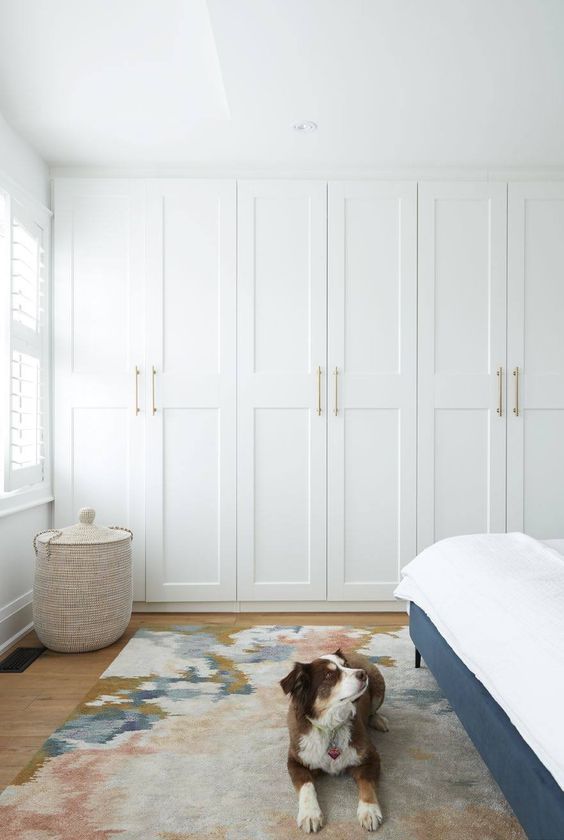 Keep up with the rest of our renovation on Instagram, we've shared a lot of details and videos you won't want to miss! This week we've taken a peek inside our new kitchen cabinets because we are organization junkies. It may be a little pricey up front but it ultimately saves time in the end and is so worth it.
Follow along the rest of my home improvement projects, we have so much good stuff coming your way! Hopefully our new kitchen will be done by Christmas so we can style our DIY open shelves again. I miss my old space, even it the 40 year old cabinets were literally falling off the ceiling, ha!