IKEA Norden Sideboard Makeover
You'll love this easy IKEA hack Makeover that transforms an affordable piece of furniture into an expensive looking sideboard with a couple cans of stain and a Step by step guide.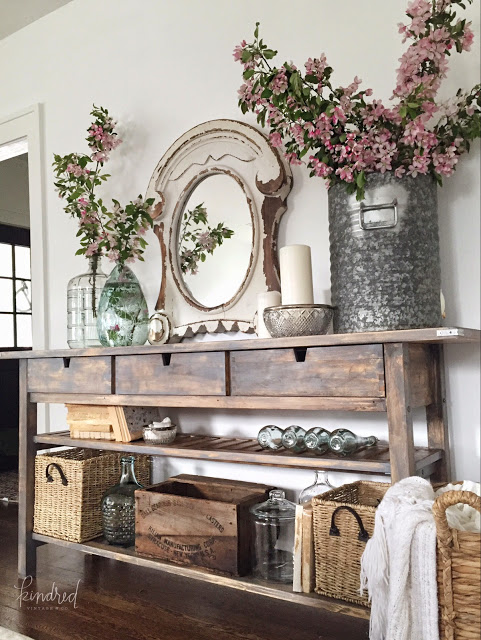 Hello there! Susan here from Kindred Vintage and I would just like to start off by saying how thrilled I am to be guest posting here at Lolly Jane Blog today!  Since day one of discovering Kelli and Kristi on Instagram I have adored their energetic, fun personalities and their colorful creativity! Needless to say I am so grateful for the opportunity to share how I redid our IKEA Norden sideboard makeover with you! (NOTE that this sideboard table hasn't since been discontinued but this tutorial can be applied to any IKEA piece of the same finish.) I am so pleased with the way it turned out and how it went from any ordinary to a piece of IKEA furniture to one with loads of character and charm. 
IKEA Norden Sideboard Makeover
A short bit about myself some of you may know me through the Instagram community, some of you may not but nonetheless, my name is Susan from Kindred Vintage. I am a stay at home momma, a wife to one of the most wonderful man in the world and a mother to two of the most darling little girls.  I adore my family, good friends, coffee, vintage goods, decorating, red wine and being surrounded by beautiful spaces.  The thrill of the thrifting hunt, finding that imperfectly perfect piece and giving unloved gems beautiful new life has always been a passion of mine.  I enjoy adding character to spaces through unique furniture and mixing the old with the new.  The motto I live by; fill your home with only the things that you absolutely adore, because in my opinion, those things represent you and that is what  truly makes just any old house a home.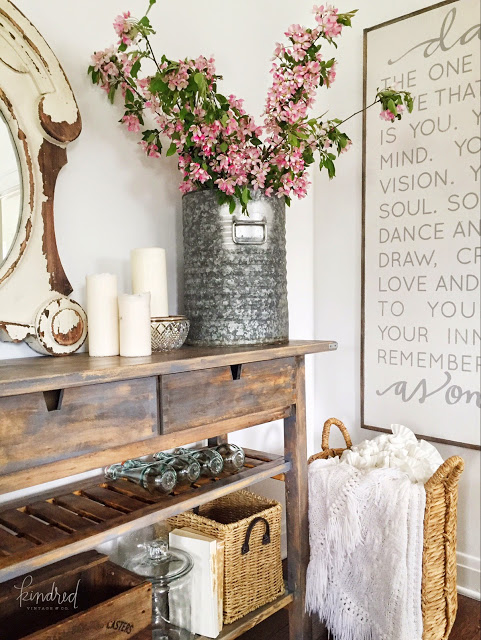 More Tutorials to Give Furniture New Life
Today I'm going to share my latest DIY project that transformed our Ikea sideboard from ordinary to rustic chic. Here's the before picture of this easy Ikea hack.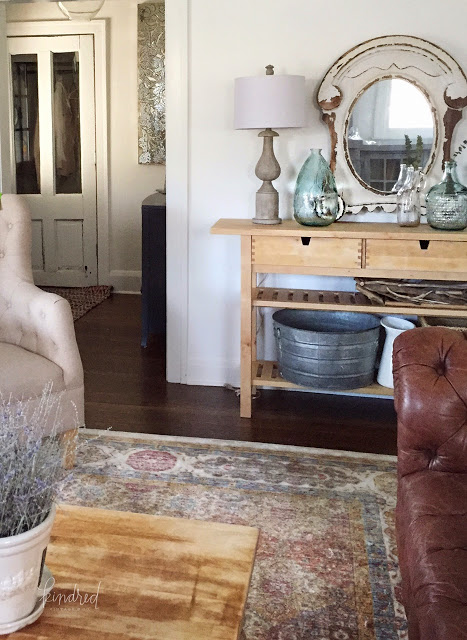 How to Make Over an IKEA Norden Sideboard
The process was fun and easy! It can be replicated on any raw wood surface, too. If you're looking to recreate something similar, simply follow these steps.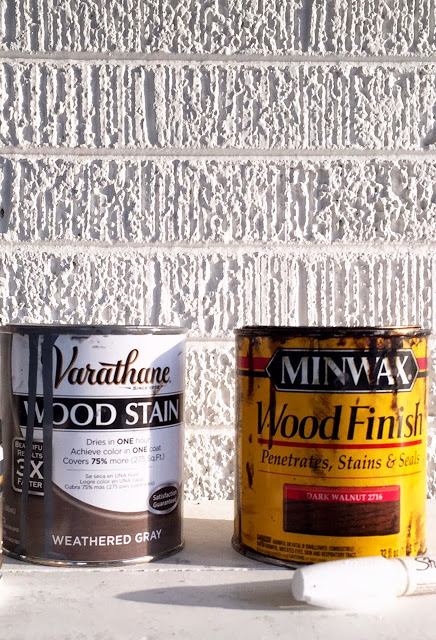 Painting Supplies to Make Over Ikea Furniture
Please note some of these links may be affiliate links. That means we may make a few pennies per dollar at NO added extra cost to you!
Paper towels
Screw driver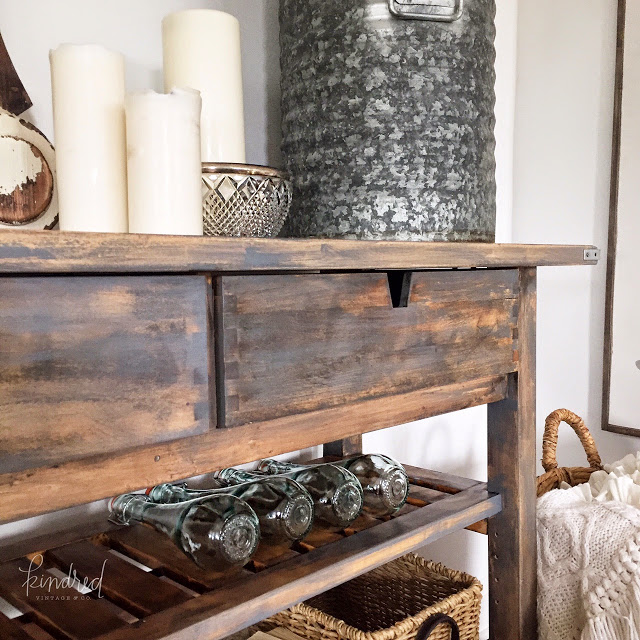 How to Stain Ikea Furniture
Sand down wood to get off any old stain or finish in order to make the surface smooth.

Apply Dark Walnut Stain with your cotton rag making sure to coat the entire surface.
Wipe off excess with paper towels.
Wait two to three minutes for stain to settle in.
Wipe down sideboard with a rag to take off any access stain.
Apply Weathered Gray Stain with your rag, on top of the dark walnut stain you just applied.
Applyn as little or as much as you would like, depending on how weathered of a look you are going for.
When you have achieved your preferred look, let the stain dry for a few hours before waxing.
Once the stain has completely dried, apply a liberal amount of clear wax to the sideboard.
Screw on L brackets to the corners of the table top to add some decorative flair.