15+ DIY outdoor garden ideas
What's one of the most common arguments spouses have? I'll tell you one thing I'm constantly on top of my hubby about is our lawn. We live on 1 1/2 acres. Of grass. A lot of grass. Which is a ton to keep up with. I get it…I was raised in the house next door with 2 1/2 acres. And guess what MY weekly job was?-mowing. As a teen I didn't mind it much because we had a fun riding lawn mower. I'd hook my walkman up….
Like, totally rad (; I would put on a tank, hook up my latest punk CD and mow mow and mow some more. Then I would bust out the weed whacker and clean up the trees. All 25 of them. And then I'd blow the driveway off. And don't forget to bag up the grass and feed it to the cows.
And I had to complete all this before I could go hang out with my friends for the weekend.
Present day: my son mows and I get to work on making the garden cute!

We've already got a handle on indoor gardening, just check out our DIY mason jar succulents, great for indoor or outdoor spaces!
Here are 15 DIY outdoor garden ideas that I can't wait to get started on!
Outdoor Garden + Bird Bath |Home Stories A to Z
Gnome Garden Markers |Swallow's Heart
Colander Garden|Bonnie Plants
Hanging Flower Pots |Source Unknown
Rain Boot Flower Garden |Chic Site
Tire Planter |DIY Enthusiasts
Succulent Monogram |House and Fig
Hanging Wood Planter |Shanty 2 Chic
Self Watering Recycled Soda Bottle |The Concrete Garden
Beaded Garden Stakes |The Speckled Dog via Lolly Jane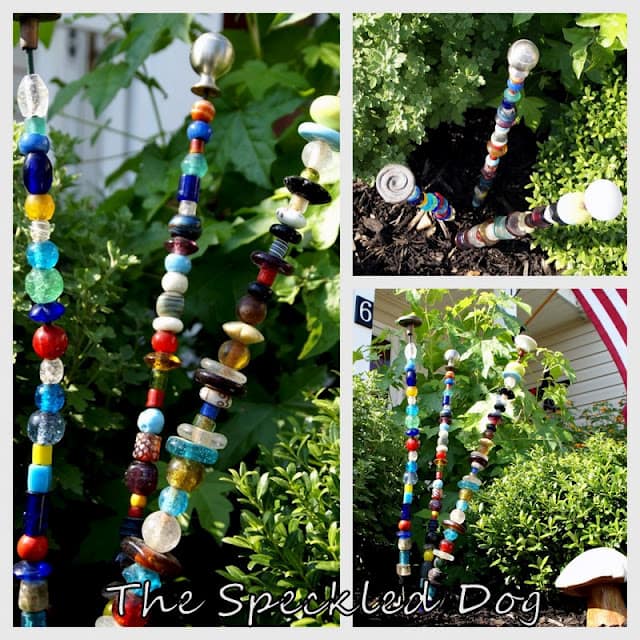 DIY Tuna Can turned Lanterns |In My Own Style
DIY Penny Ball Yard Art |House of Hawthornes
And for the kiddos…
DIY Gnome Home |SnapGuide
Outdoor Stone Tic Tac Toe |Chicken Scratch NY
DIY Toadstools |Twig + Toadstool
Don't forget to check out TaskEasy where they make it simple for property owners to get lawn care, snow clearing and holiday lighting tasks completed by reputable local contractors. They provide fair market pricing for the customer to review and approve. Once approved, TaskEasy schedules a licensed contractor to complete the task, guaranteeing total customer satisfaction.
Thank you, TaskEasy, for hooking me up with amazing lawn care! And thank YOU, dear readers, for supporting companies that keep Lolly Jane around! xo
Keep up with TaskEasy: blog | Facebook | Twitter | G+
Love all these DIY garden ideas? Be sure to check out all of our inspirational roundups like our 25+ summer ideas and recipes,

plus 14 adorable DIY projects!