Learn how to make this EASY DIY Concrete Pumpkin Planter in no time, goes perfectly with your modern or neutral fall or Halloween decorations… just stick florals or treats inside for the ultimate centerpiece!
DIY Concrete Pumpkin Planter
Making a concrete pumpkin planter is easier than you think and is the perfect neutral decor that's so on trend right now. Brighten it up with fall florals to use as a centerpiece, so pretty! 🧡🍂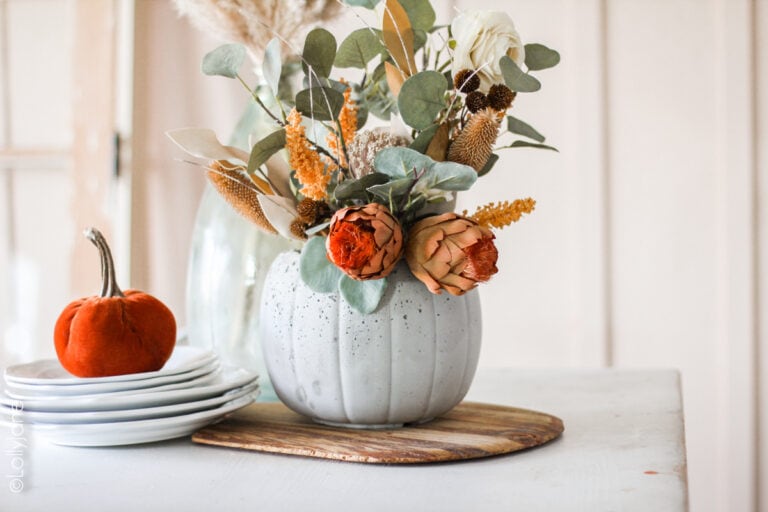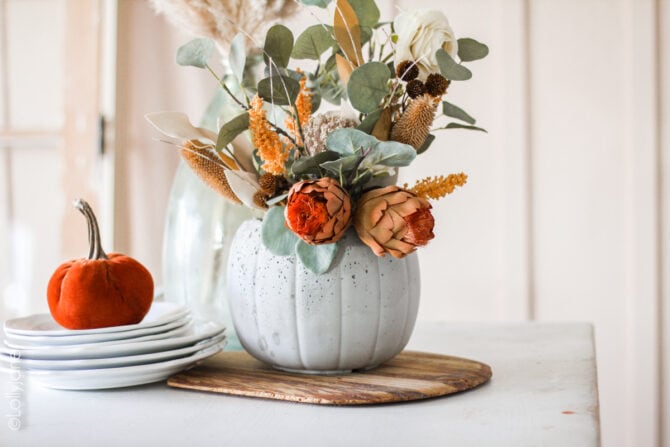 Do these florals look familiar? They should because I borrowed them from my freshly DIY'd fall wreath. Check out the wreath and these other trending fall favorite decorations: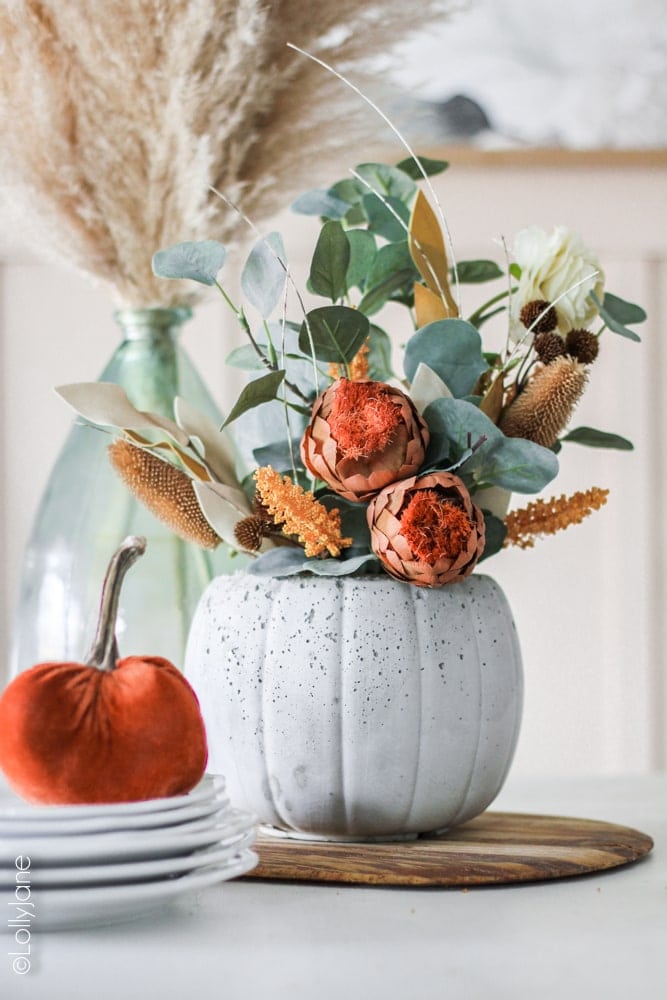 Supplies to make a CONCRETE PUMPKIN PLANTER
To make a concrete pumpkin planter you'll need to gather just a few supplies. I made a Walmart run for the pumpkin pails + cooking spray and the hardware store for everything else.
Quikrete Countertop Mix (1 bag of 80# Quickcrete = 4 planters)
Water
Plastic pumpkin pails
Foam or plastic cup
Gloves (unless you don't mind dry hands)
Drop cloth
Mask (there will be lots of rogue powder!)
CONCRETE PUMPKIN PLANTER
I would call this a one-hour craft but, due to dry time, it takes a full day from start to finish. However, you can have the most labor intensive part of this cute project prepped, mixed and poured in less than 30 minutes! I followed Instructables tutorial and modified it a bit on my own as I made a "fall batch" with coloring but Karen's post is excellent and very detailed. 👌🏼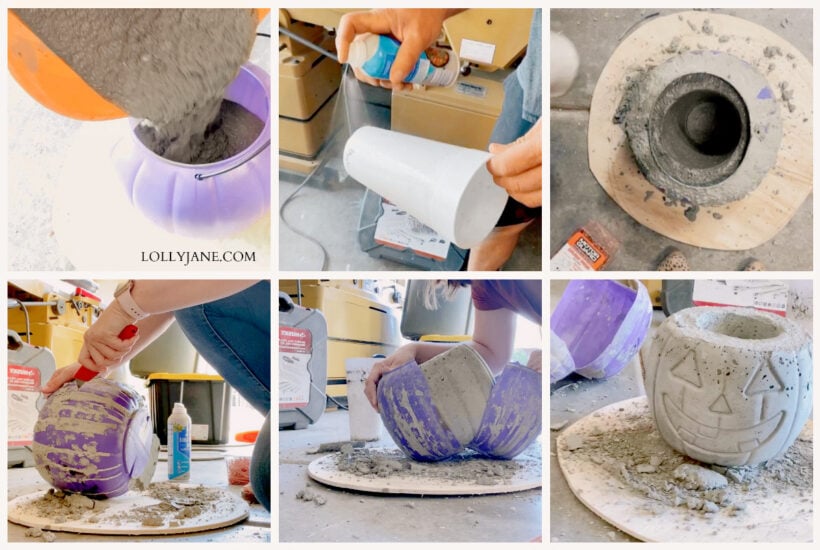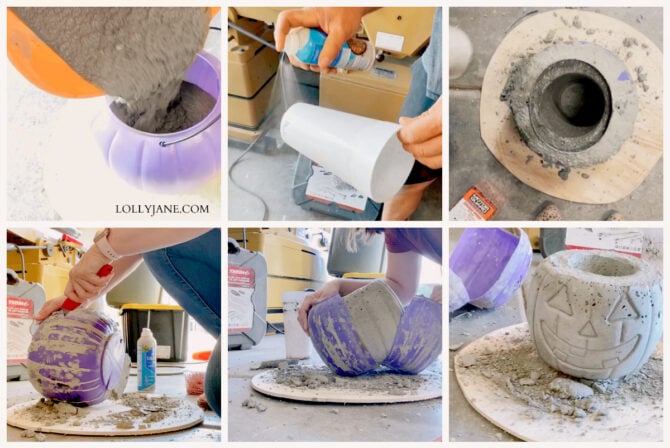 HOW TO MAKE A CONCRETE PUMPKIN PLANTER
Remove handle of pail.
Spray the inside of the pail + the outside of your cup with cooking spray for easy release
Mix concrete according to the package directions; you want the consistency to be like brownie batter. (Note: You can also add colors in at this step: Bob Vila has a great tutorial for this, concrete coloring found here.)
Pour the wet mix into the pail about 1/2″ before it overflows.
Use a concrete vibrator tool, sander or simply tap the pail to get rid of air bubbles. As you can see, I didn't tap/vibrate the top so well but still cute.
Now to planter-ify this cutie! Simply shove your cup of choice in the center of your wet mix and push it down into the pail. As you can see, some of the wet concrete will spilled over the top. No biggie.
To keep the cup in place while it dries (overnight) place something heavy on top to steady it.
Once dry, remove the cup from the middle first (you may need pliers to wiggle it out of place if it's being stubborn.) Score the sides of the pumpkin pail with a razor blade then peel back layers until you deliver your new concrete pumpkin baby! Aww. So presh.
Fill with florals and enjoy!
Eek! That little jack-o-lantern face… I die of cuteness overload! 🎃✨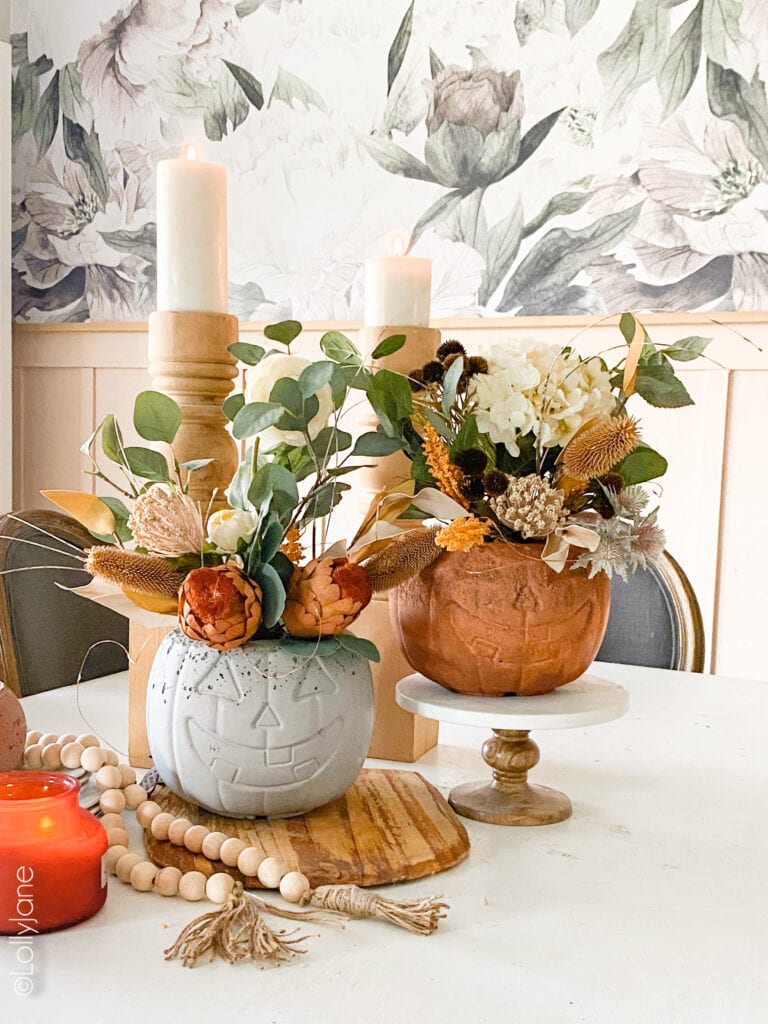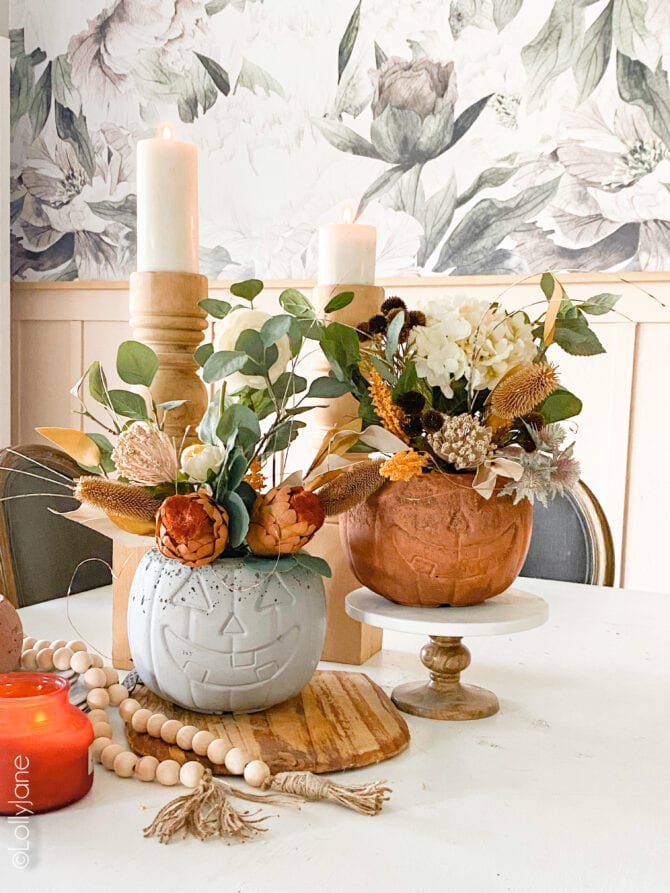 Simply turn it around for fall to look like a pumpkin vs. a silly Halloween face. Here's what you start with fresh out of the form: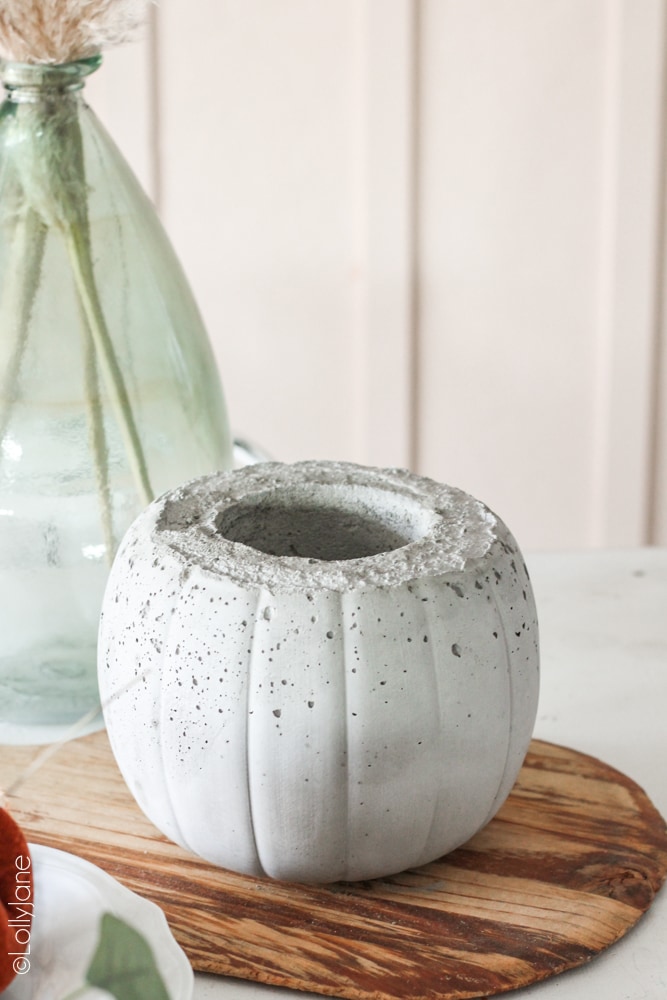 Fall pumpkin planter as a centerpiece or floral arrangement
To create a fall floral arrangement with your pumpkin planter, simply add fall florals, pampas grass, branches from your yard, reeds or anything else that screams FALL to you inside the hole. (PS: My fall florals are all faux and from JoAnn store.)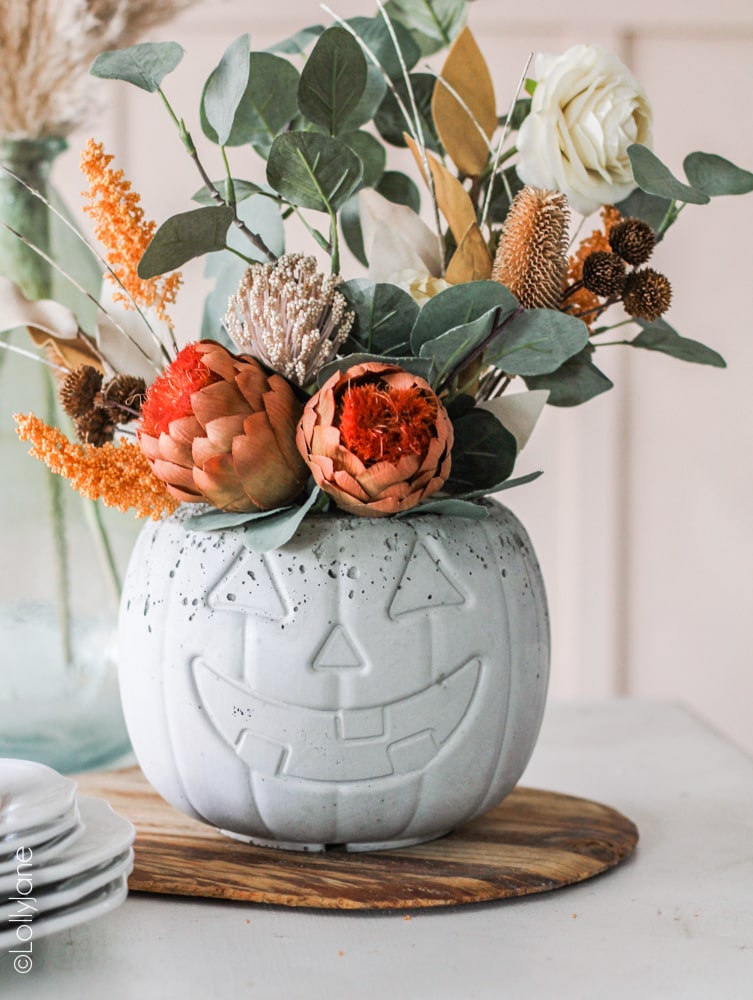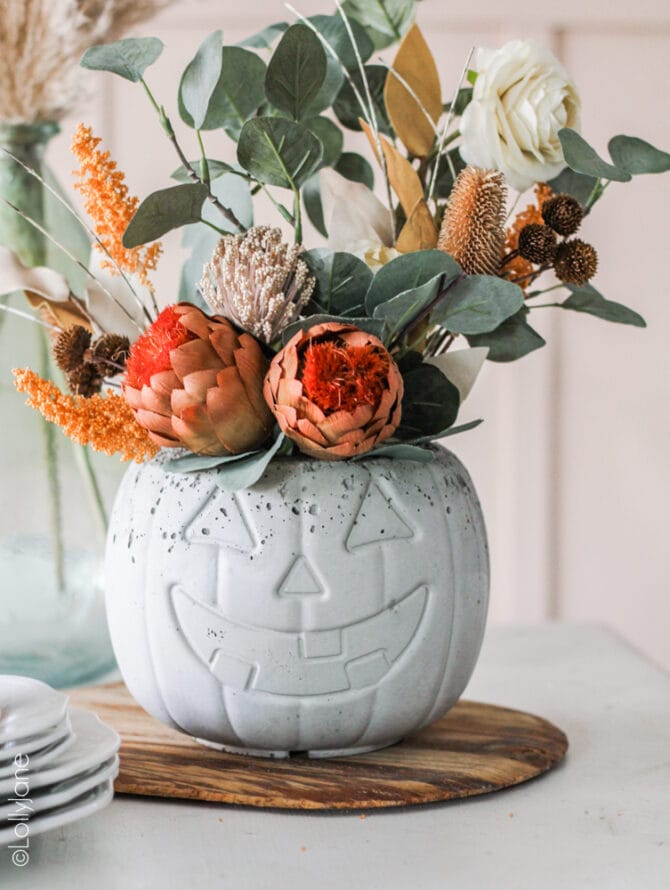 Funny story: I had my centerpiece turned around for straight fall and my husband walked by and turned the jack-o-lantern face back then said to me, "No one puts baby in the corner." Haha! (Name that movie for 5 points, LOL)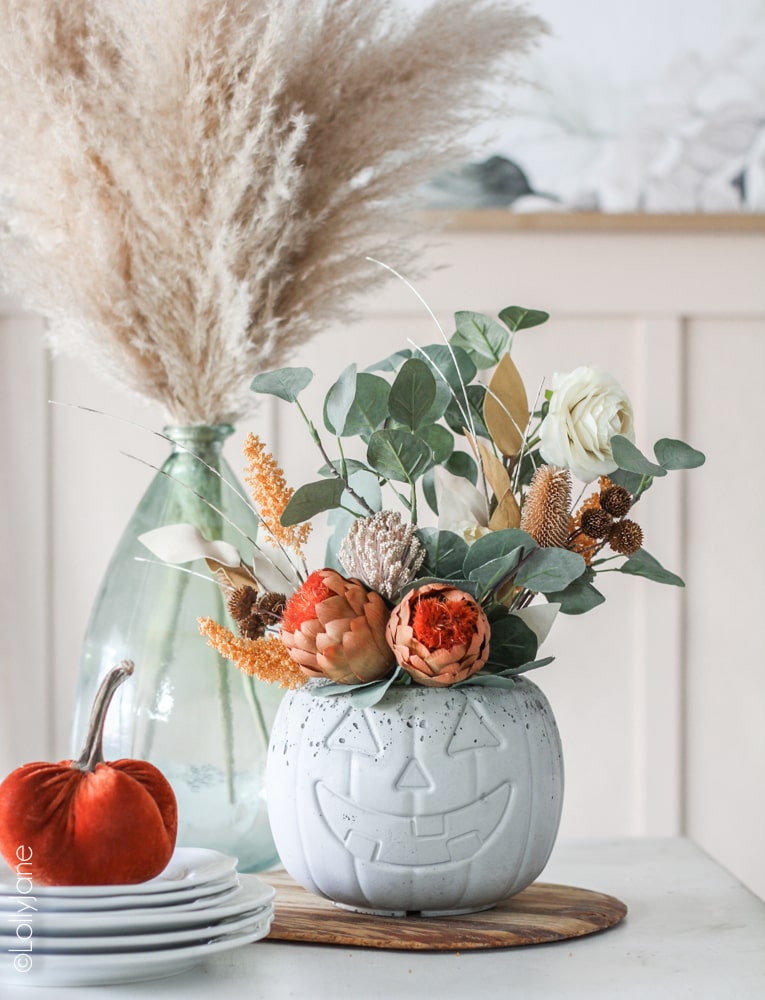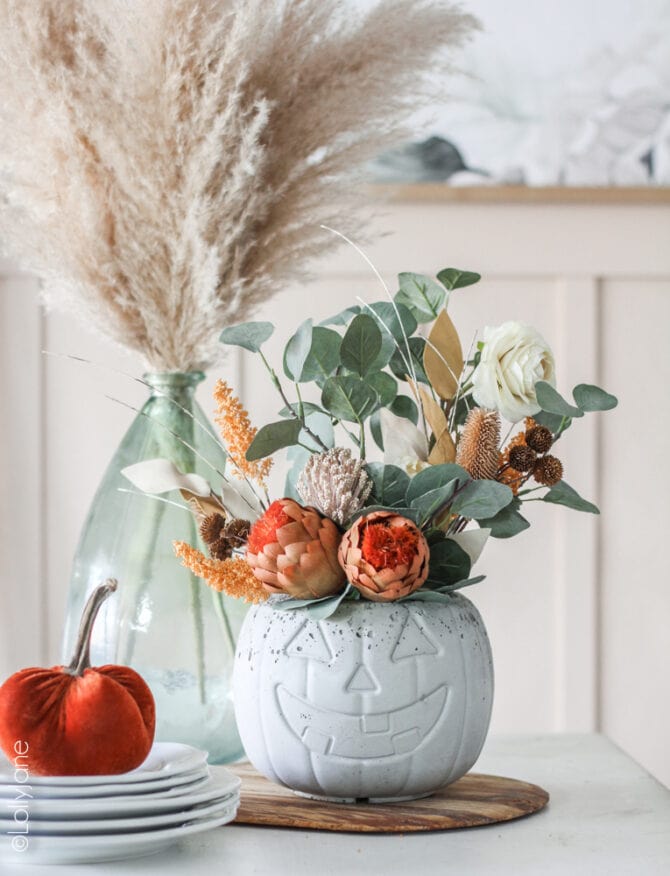 I admit I do like it best with the little spooky face showing so for now it's fall-oween around here!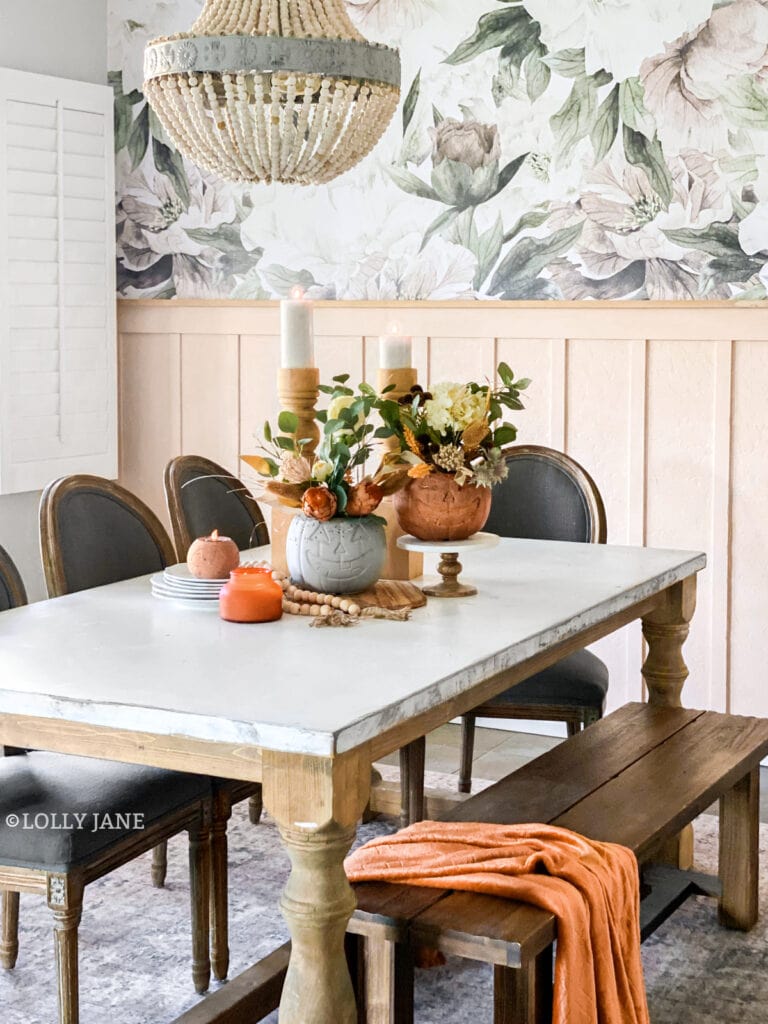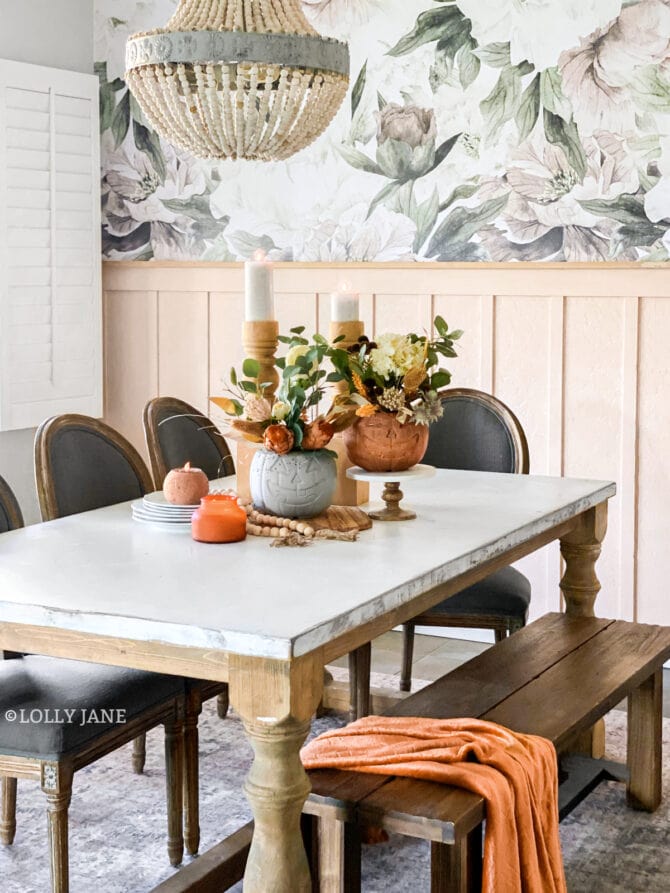 Check out more fall goodness here!